Jordanian lawmaker is charged with smuggling guns into occupied West Bank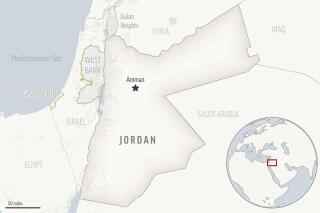 AMMAN, Jordan (AP) — A Jordanian lawmaker has been indicted on charges that he illegally smuggled scores of rifles and handguns into the occupied West Bank through an Israeli-controlled crossing, his lawyer said Wednesday.
The alleged gun-running scandal that gripped headlines last month has threatened to further strain ties between Israel and its Arab neighbor to the east despite their nearly three-decade-old peace treaty.
The apparent effort by a Jordanian parliament member to sneak guns into a restive West Bank — where young Palestinians are increasingly getting their hands on rifles and opening fire at Israeli security forces — has raised fears of Jordanian support for Palestinian militancy that undercuts the country's moderate, pro-Western monarchy.
The Jordanian lawmaker, Imad al-Adwan, was charged in a state security court in Amman last week, his lawyer Ali Mubaideen told The Associated Press. After being interrogated, al-Adwan, 35, was charged with four counts of illegally exporting weapons and "carrying out actions that breach security and threaten community peace," Mubaideen added.
Israel's Shin Bet security service has said al-Adwan successfully managed to smuggle arms, gold and other items like electronic cigarettes into the West Bank at least a dozen times since early 2022 in exchange for unspecified sums of money. He was caught on April 22 at an Israeli-controlled crossing with at least 200 weapons. Israel handed him over to Jordanian authorities last month.
Al-Adwan, a member of one of Jordan's biggest tribes, has served for the past three years as a legislator in a newly formed political party called Irada, which aims to modernize the country's political system.
Violence in the occupied West Bank has surged to heights unseen in some two decades. The territory has been awash with illegal weapons, Israeli military officials say, including arms smuggled from Jordan.
At least 112 Palestinians and 20 Israelis have been killed in the West Bank and east Jerusalem this year, according to a tally by The Associated Press. At least half of the Palestinians have been affiliated with militant groups.
After Prime Minister Benjamin Netanyahu's far-right government took office late last year, tensions between the neighbors have spiked over Israeli settlement construction, the long impasse in the Israeli-Palestinian peace process and disputes over the handling of security at the Al-Aqsa Mosque in Jerusalem, a hotly contested holy site over which Jordan has official custodianship.
Jordan controlled the West Bank and east Jerusalem before Israel captured the areas in the 1967 Mideast war.