Husband of 2-time Olympic champion Justyna Kowalczyk killed in avalanche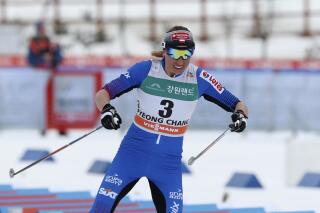 WARSAW, Poland (AP) — The husband of two-time Olympic champion Justyna Kowalczyk was killed Thursday in an avalanche in the Swiss Alps, the Polish Mountaineering Support Foundation said.
Sports climber Kacper Tekieli, who was 38, last posted on Facebook on Tuesday from Konkordia Hut in Fiescherthal, Switzerland.
"He was most wonderful," a post on Kowalczyk's official Facebook page said in Polish, followed by "He was the most beautiful person in the world" in English.
Tekieli was a climbing instructor who climbed in the Himalayas on the Makalu, the fifth highest mountain in the world, and on Broad Peak, as well as in the Alps. He married Kowalczyk in 2020. The couple have a 20-month-old son.
Kowalczyk, a cross-country skier who won gold medals at the 2010 Vancouver Olympics and the 2014 Sochi Games, has retired from competition.
___
AP sports: https://apnews.com/hub/sports and https://twitter.com/AP_Sports