Kane sets scoring record in England's 2-1 win over Italy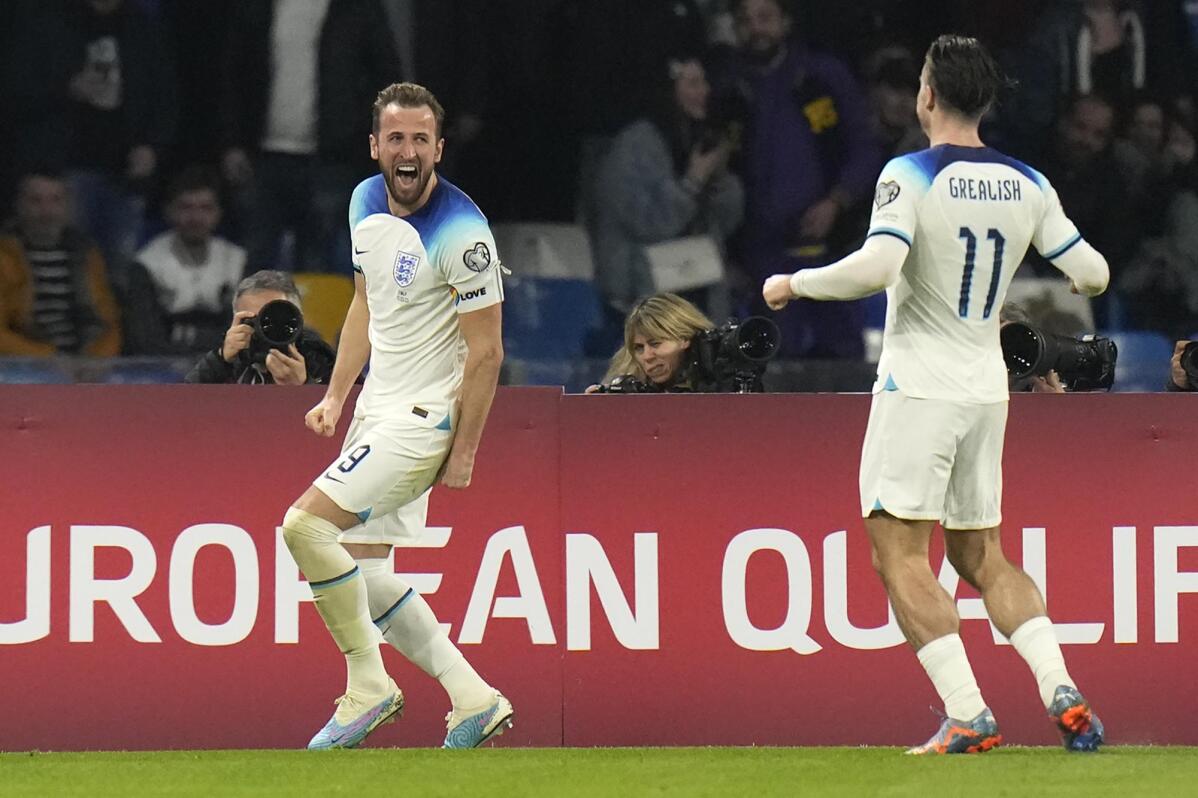 1 of 11

|
England's Harry Kane celebrates after scoring his side's second goal during the Euro 2024 group C qualifying soccer match between Italy and England at the Diego Armando Maradona stadium in Naples, Italy, Thursday, March 23, 2023. (AP Photo/Alessandra Tarantino)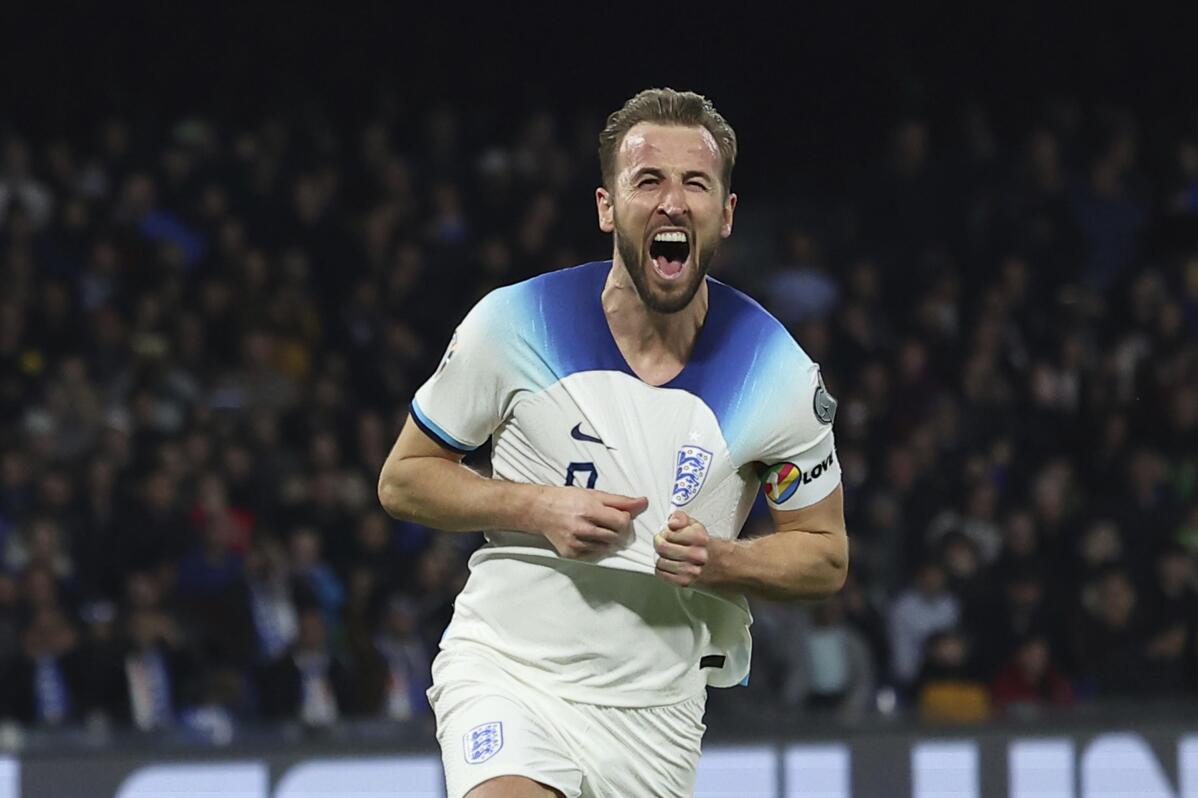 2 of 11

|
England's Harry Kane celebrates after scoring to 0-2 during the Euro 2024 group C qualifying soccer match between Italy and England at the Diego Armando Maradona stadium in Naples, Italy, Thursday, March 23, 2023. (Alessandro Garofalo/Lapresse via AP)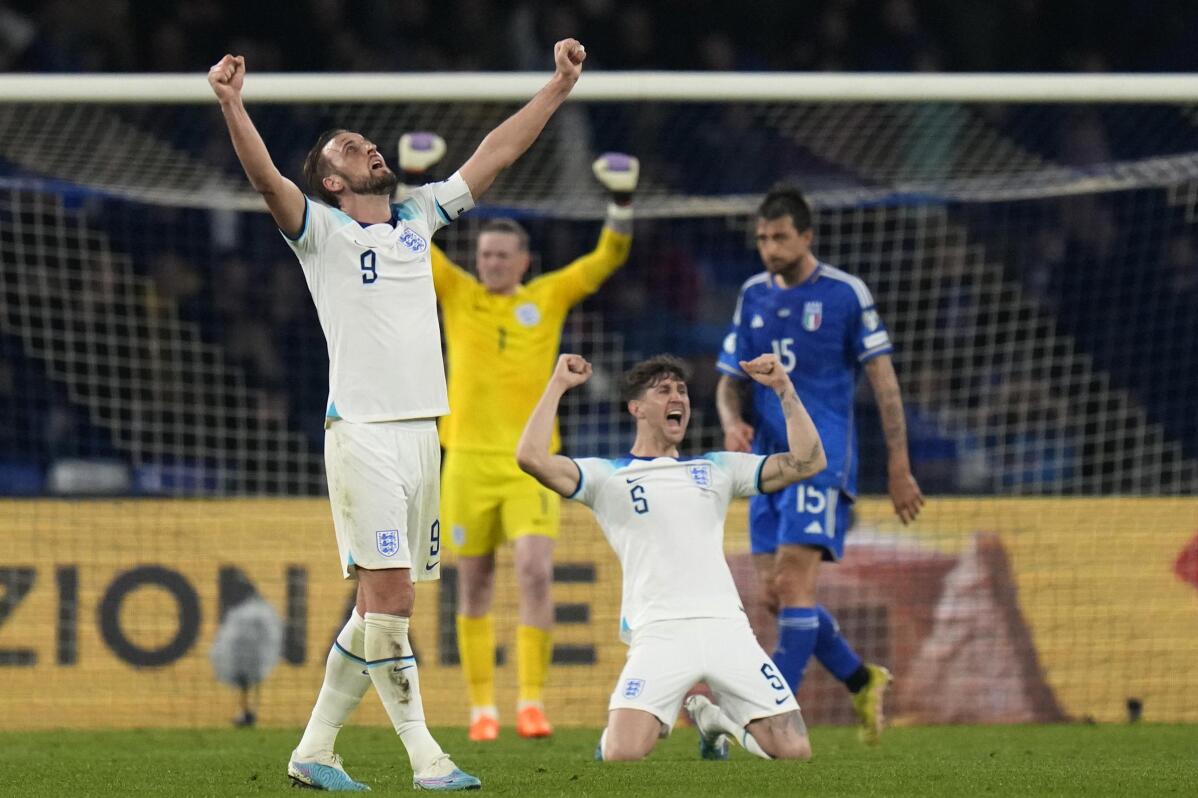 3 of 11

|
England's Harry Kane celebrates at the end of the Euro 2024 group C qualifying soccer match between Italy and England at the Diego Armando Maradona stadium in Naples, Italy, Thursday, March 23, 2023. (AP Photo/Alessandra Tarantino)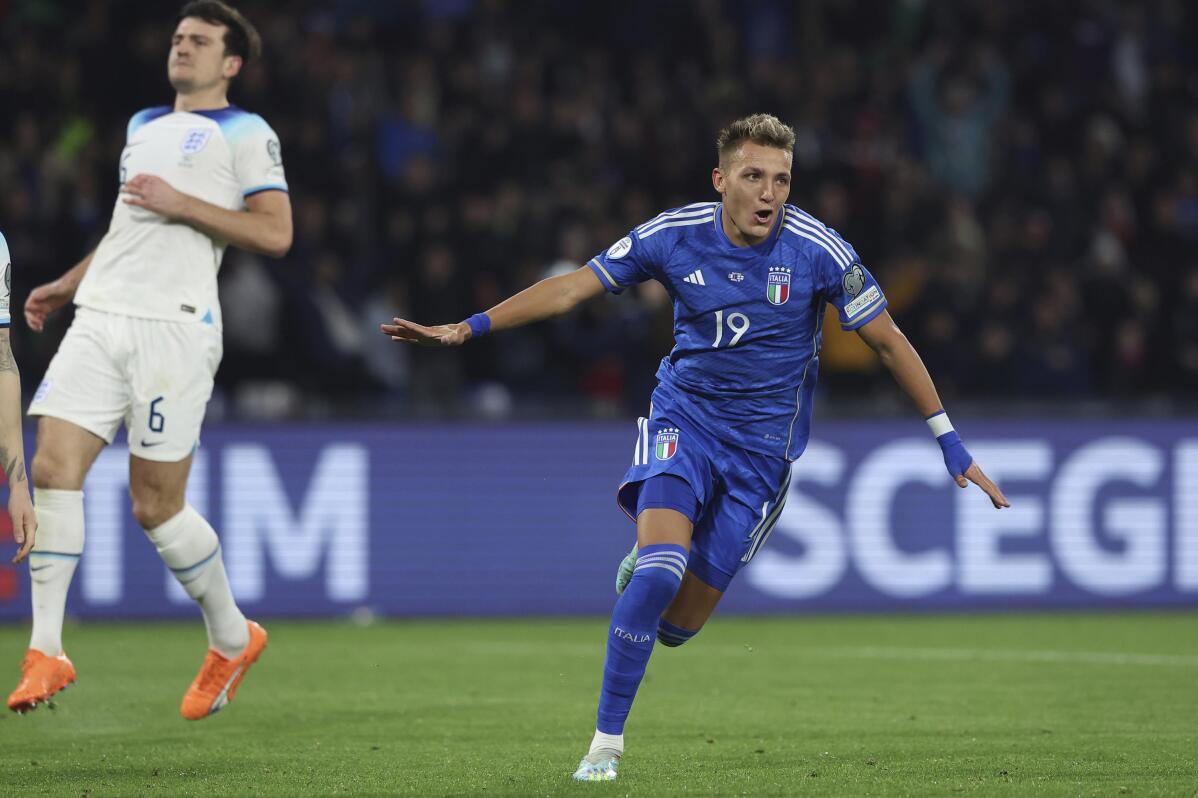 4 of 11

|
Italy's Mateo Retegui celebrates after scoring to 1-2 during the Euro 2024 group C qualifying soccer match between Italy and England at the Diego Armando Maradona stadium in Naples, Italy, Thursday, March 23, 2023. (Alessandro Garofalo/Lapresse via AP)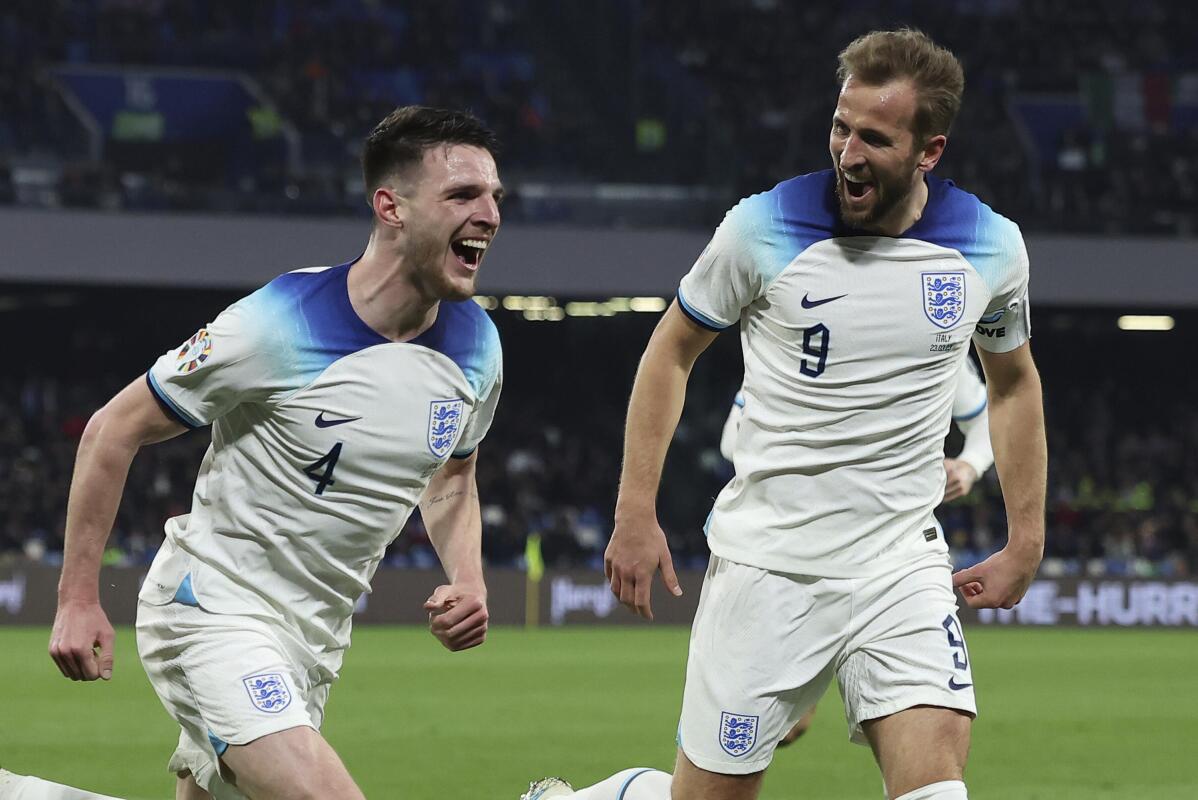 5 of 11

|
England's Declan Rice, left, celebrates with Harry Kane after scoring his side's first goal during the Euro 2024 group C qualifying soccer match between Italy and England at the Diego Armando Maradona stadium in Naples, Italy, Thursday, March 23, 2023. (Alessandro Garofalo/Lapresse via AP)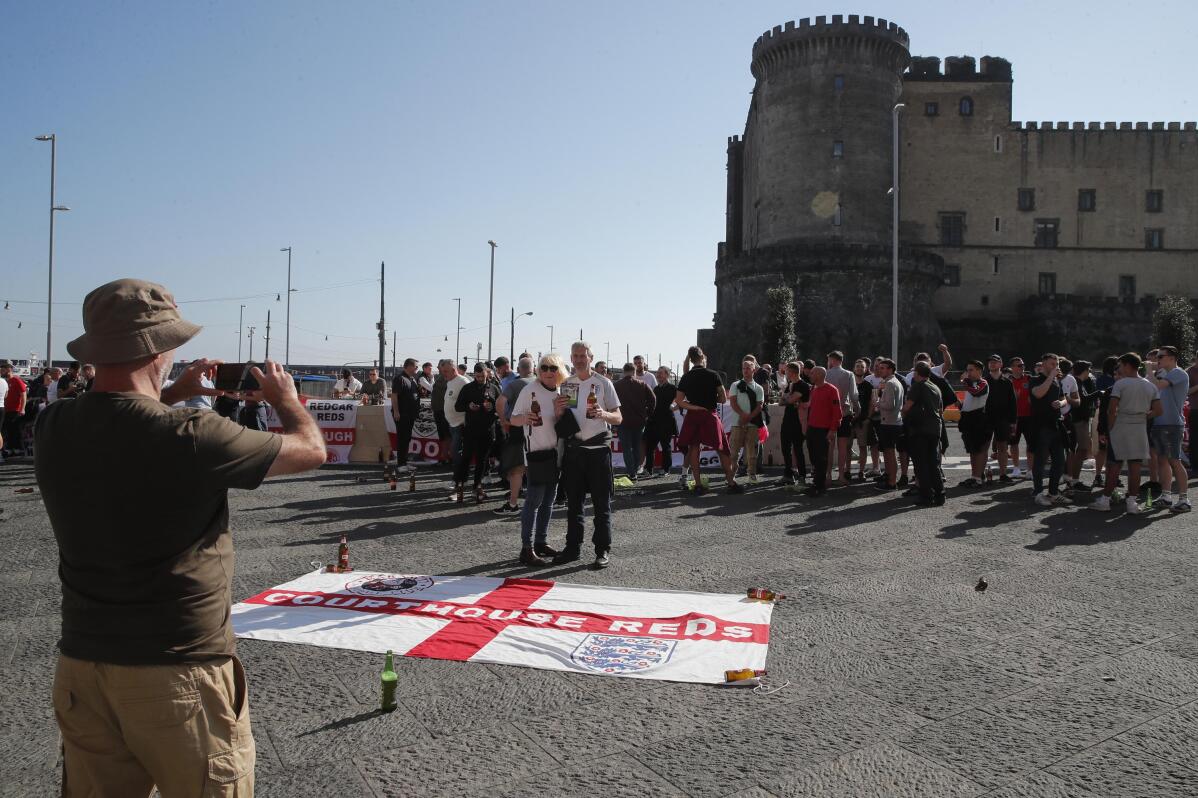 6 of 11

|
England supporters take photos as they cheer before the Euro 2024 group C qualifying soccer match between Italy and England in Naples downtown, Italy, Thursday, March 23, 2023. (AP Photo/Salvatore Laporta)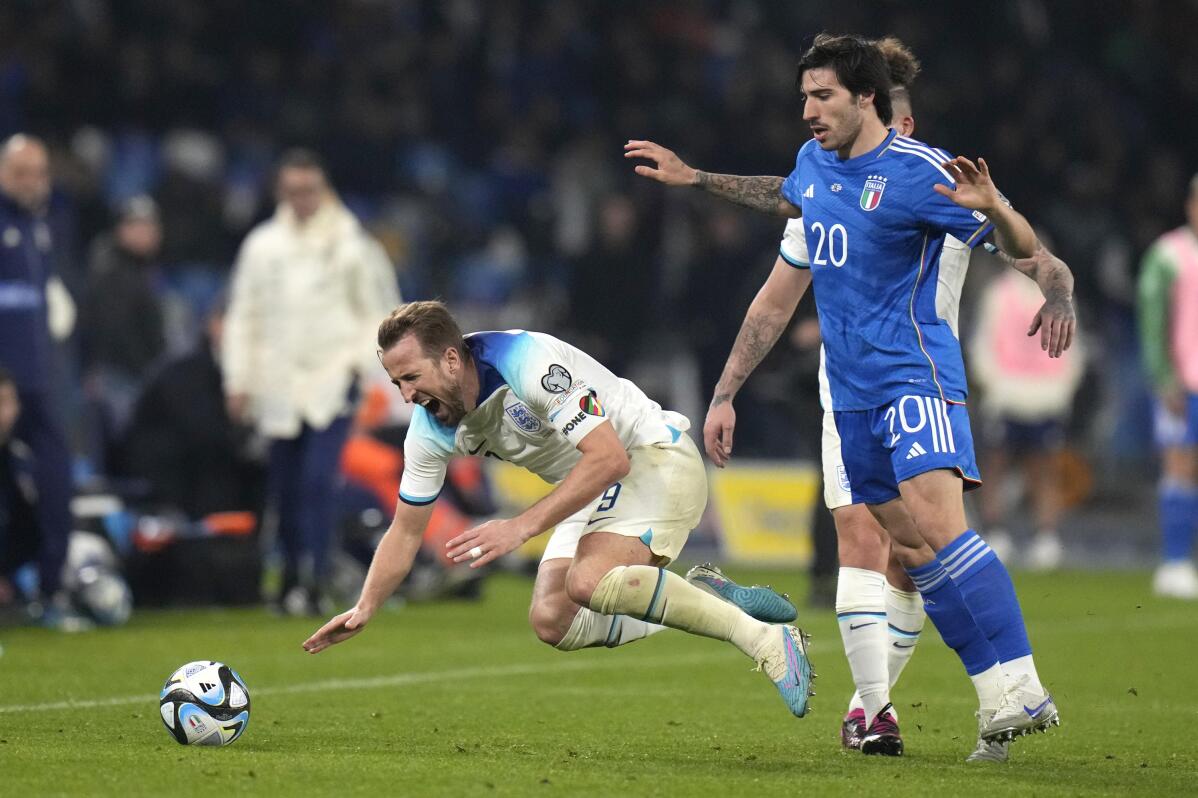 7 of 11

|
Italy's Sandro Tonali tackles England's Harry Kane during the Euro 2024 group C qualifying soccer match between Italy and England at the Diego Armando Maradona stadium in Naples, Italy, Thursday, March 23, 2023. (AP Photo/Alessandra Tarantino)
8 of 11

|
Italy's national soccer team jerseys hang down from balconies of the Quartieri Spagnoli (Spanish Neighborhoods) in Naples, Italy, Thursday, March 23, 2023 ahead of the Euro 2024 soccer match between Italy and England. (Alessandro Garofalo/LaPresse via AP)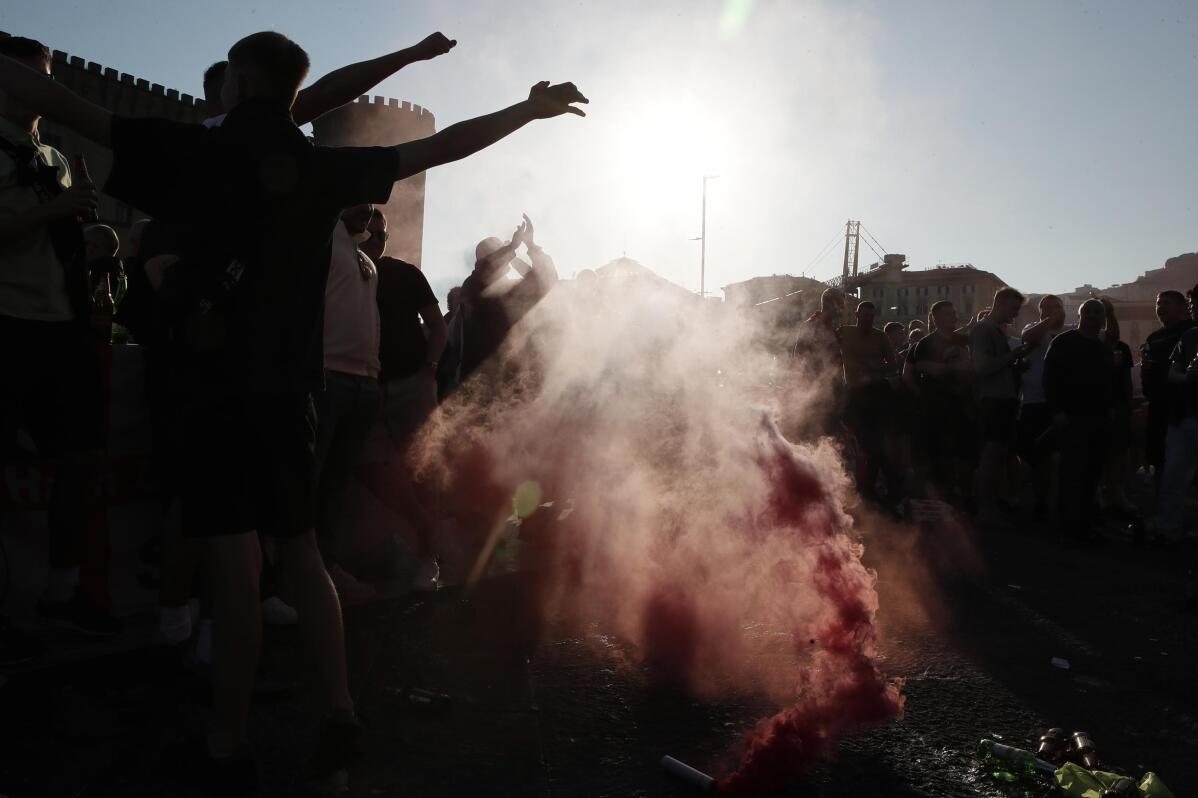 9 of 11

|
England's supporters cheer before the Euro 2024 group C qualifying soccer match between Italy and England in Naples downtown, Italy, Thursday, March 23, 2023. (AP Photo/Salvatore Laporta)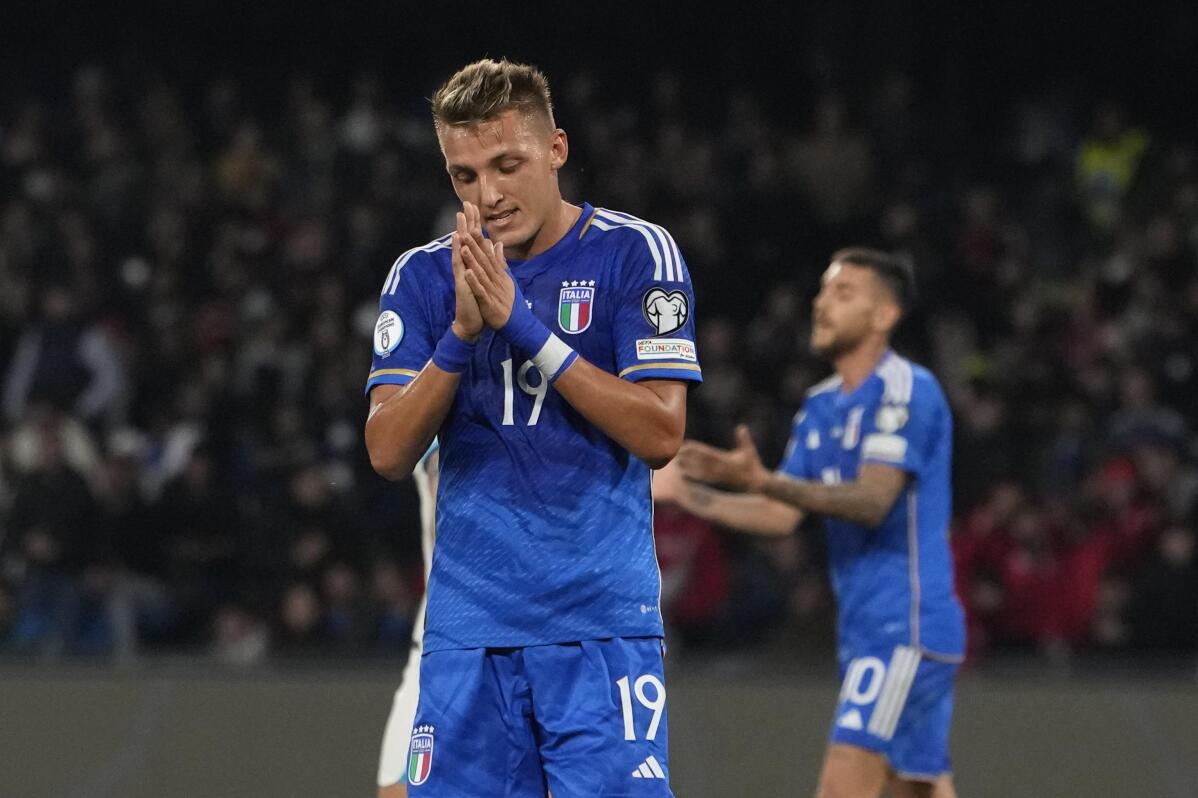 10 of 11

|
Italy's Mateo Retegui reacts after missing an opportunity to score during the Euro 2024 group C qualifying soccer match between Italy and England at the Diego Armando Maradona stadium in Naples, Italy, Thursday, March 23, 2023. (AP Photo/Alessandra Tarantino)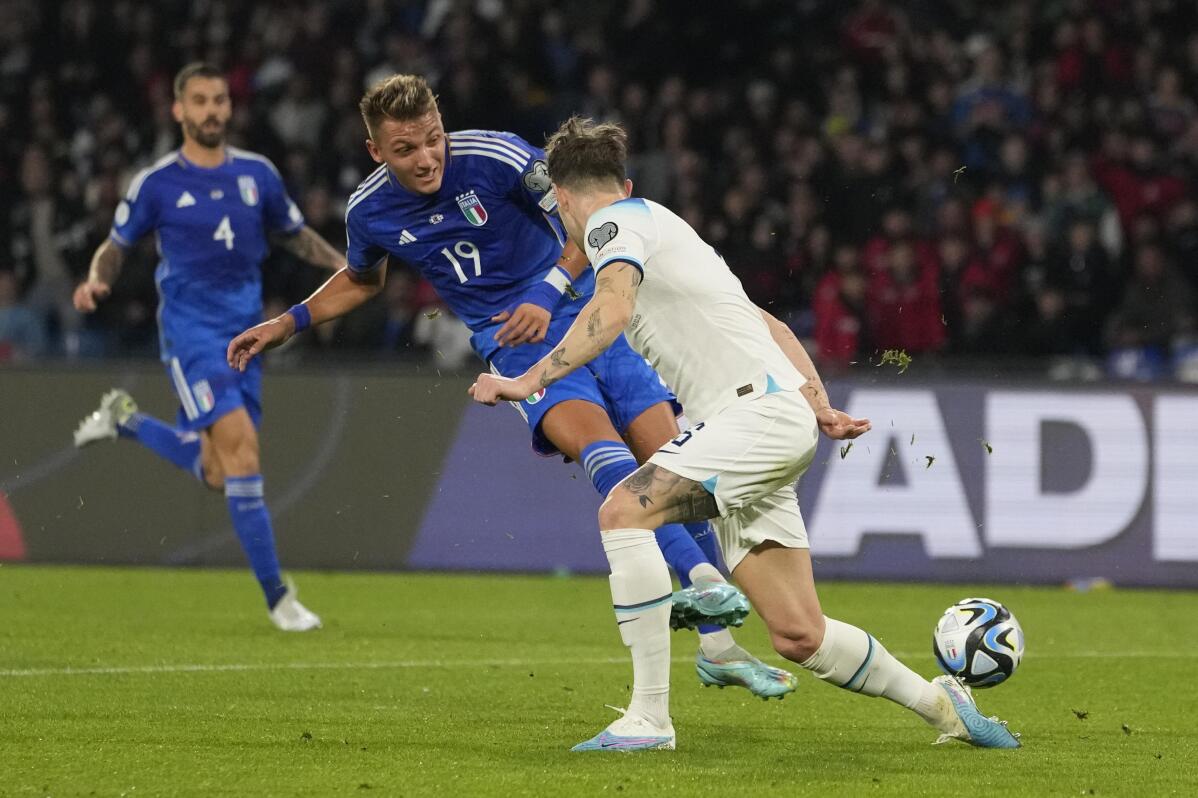 11 of 11

|
Italy's Mateo Retegui takes a shot at goal during the Euro 2024 group C qualifying soccer match between Italy and England at the Diego Armando Maradona stadium in Naples, Italy, Thursday, March 23, 2023. (AP Photo/Alessandra Tarantino)
Kane sets scoring record in England's 2-1 win over Italy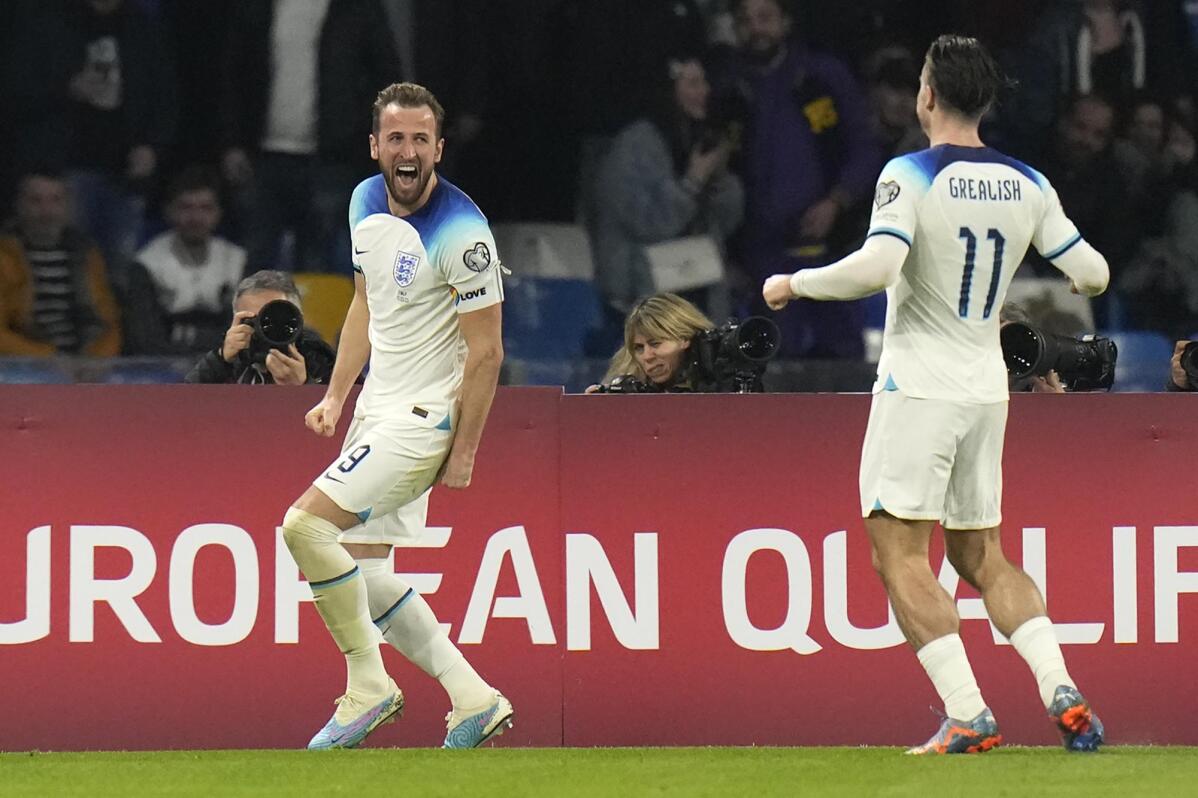 1 of 11

|
England's Harry Kane celebrates after scoring his side's second goal during the Euro 2024 group C qualifying soccer match between Italy and England at the Diego Armando Maradona stadium in Naples, Italy, Thursday, March 23, 2023. (AP Photo/Alessandra Tarantino)
1 of 11
England's Harry Kane celebrates after scoring his side's second goal during the Euro 2024 group C qualifying soccer match between Italy and England at the Diego Armando Maradona stadium in Naples, Italy, Thursday, March 23, 2023. (AP Photo/Alessandra Tarantino)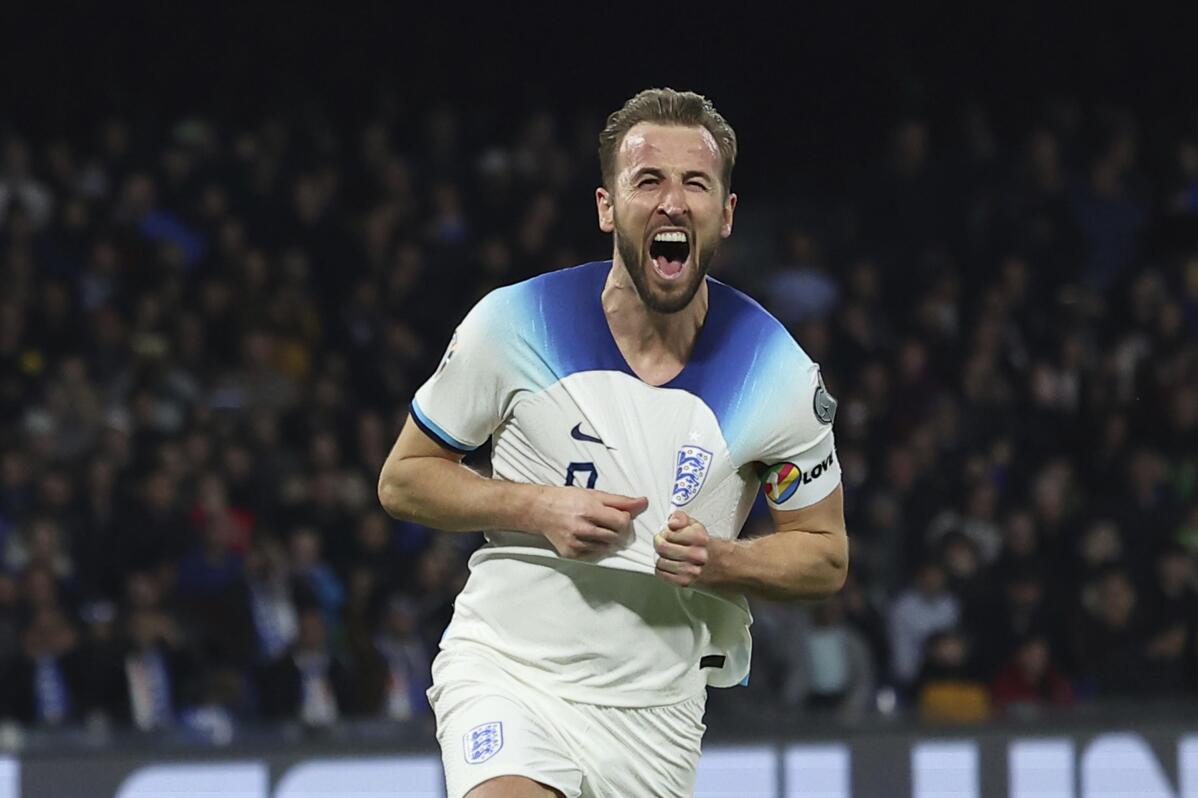 2 of 11

|
England's Harry Kane celebrates after scoring to 0-2 during the Euro 2024 group C qualifying soccer match between Italy and England at the Diego Armando Maradona stadium in Naples, Italy, Thursday, March 23, 2023. (Alessandro Garofalo/Lapresse via AP)
2 of 11
England's Harry Kane celebrates after scoring to 0-2 during the Euro 2024 group C qualifying soccer match between Italy and England at the Diego Armando Maradona stadium in Naples, Italy, Thursday, March 23, 2023. (Alessandro Garofalo/Lapresse via AP)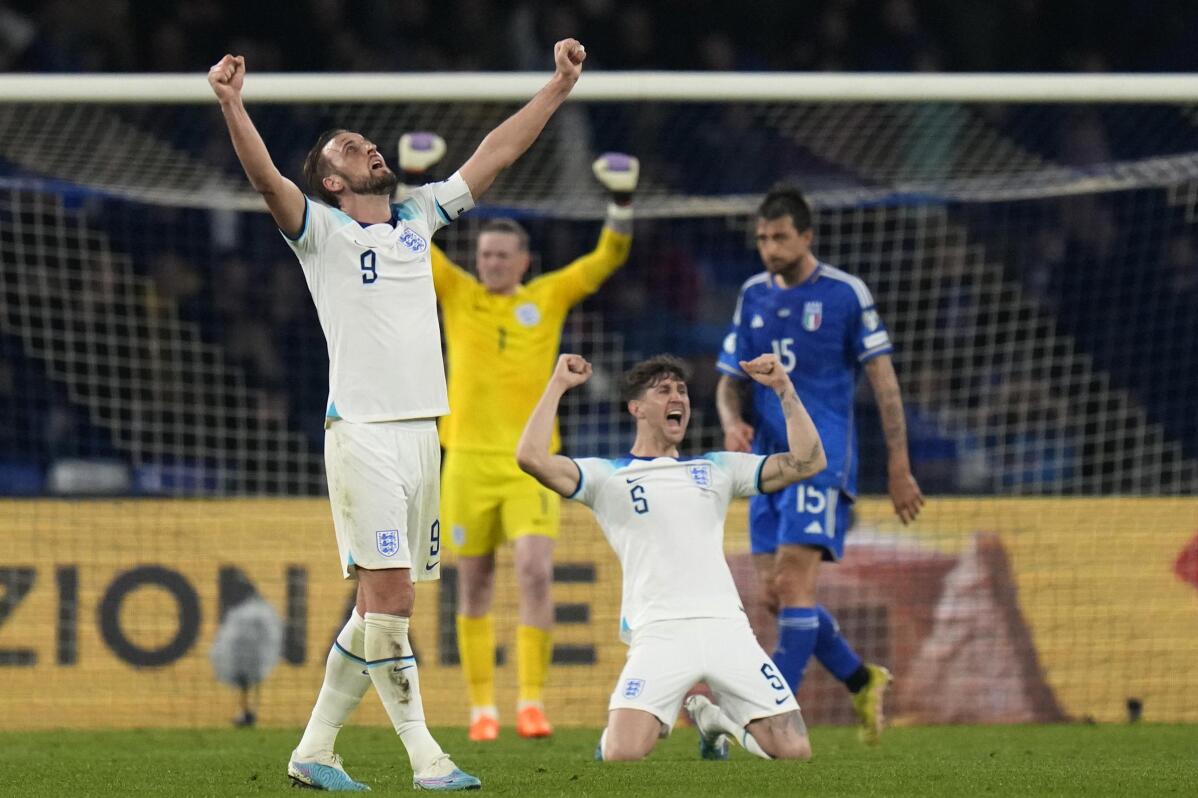 3 of 11

|
England's Harry Kane celebrates at the end of the Euro 2024 group C qualifying soccer match between Italy and England at the Diego Armando Maradona stadium in Naples, Italy, Thursday, March 23, 2023. (AP Photo/Alessandra Tarantino)
3 of 11
England's Harry Kane celebrates at the end of the Euro 2024 group C qualifying soccer match between Italy and England at the Diego Armando Maradona stadium in Naples, Italy, Thursday, March 23, 2023. (AP Photo/Alessandra Tarantino)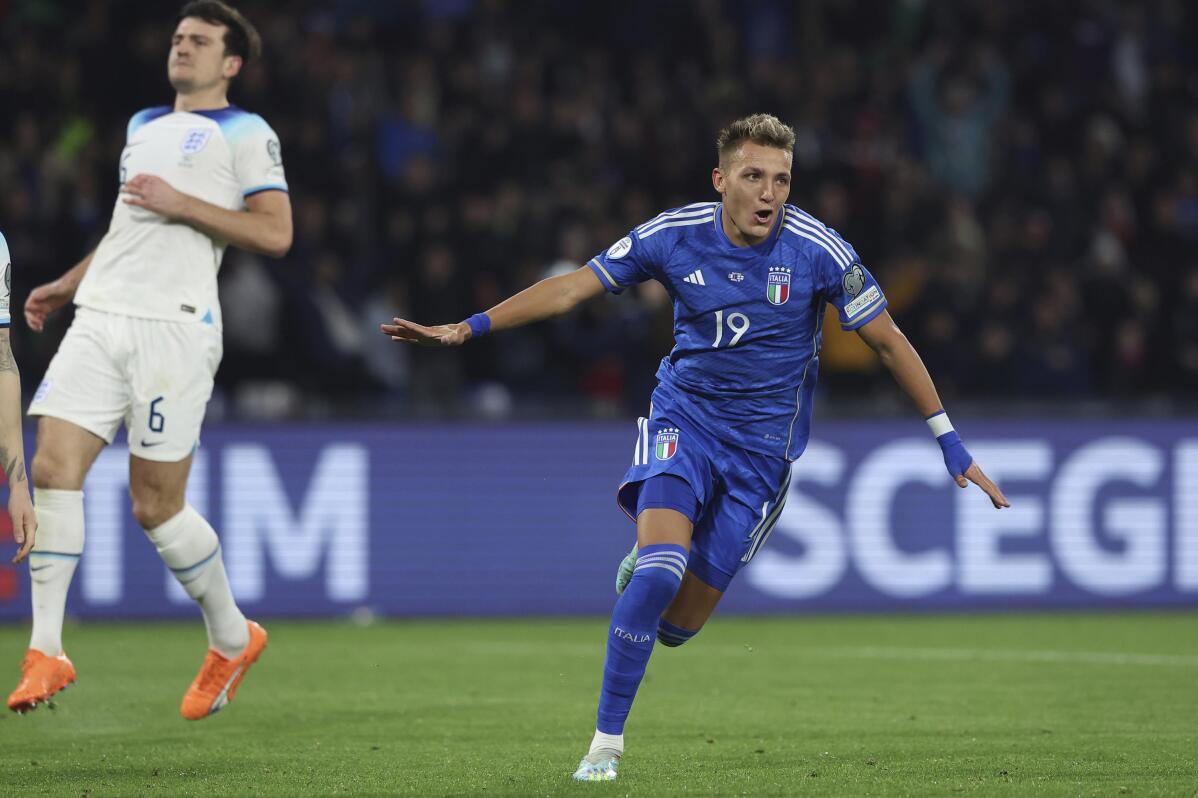 4 of 11

|
Italy's Mateo Retegui celebrates after scoring to 1-2 during the Euro 2024 group C qualifying soccer match between Italy and England at the Diego Armando Maradona stadium in Naples, Italy, Thursday, March 23, 2023. (Alessandro Garofalo/Lapresse via AP)
4 of 11
Italy's Mateo Retegui celebrates after scoring to 1-2 during the Euro 2024 group C qualifying soccer match between Italy and England at the Diego Armando Maradona stadium in Naples, Italy, Thursday, March 23, 2023. (Alessandro Garofalo/Lapresse via AP)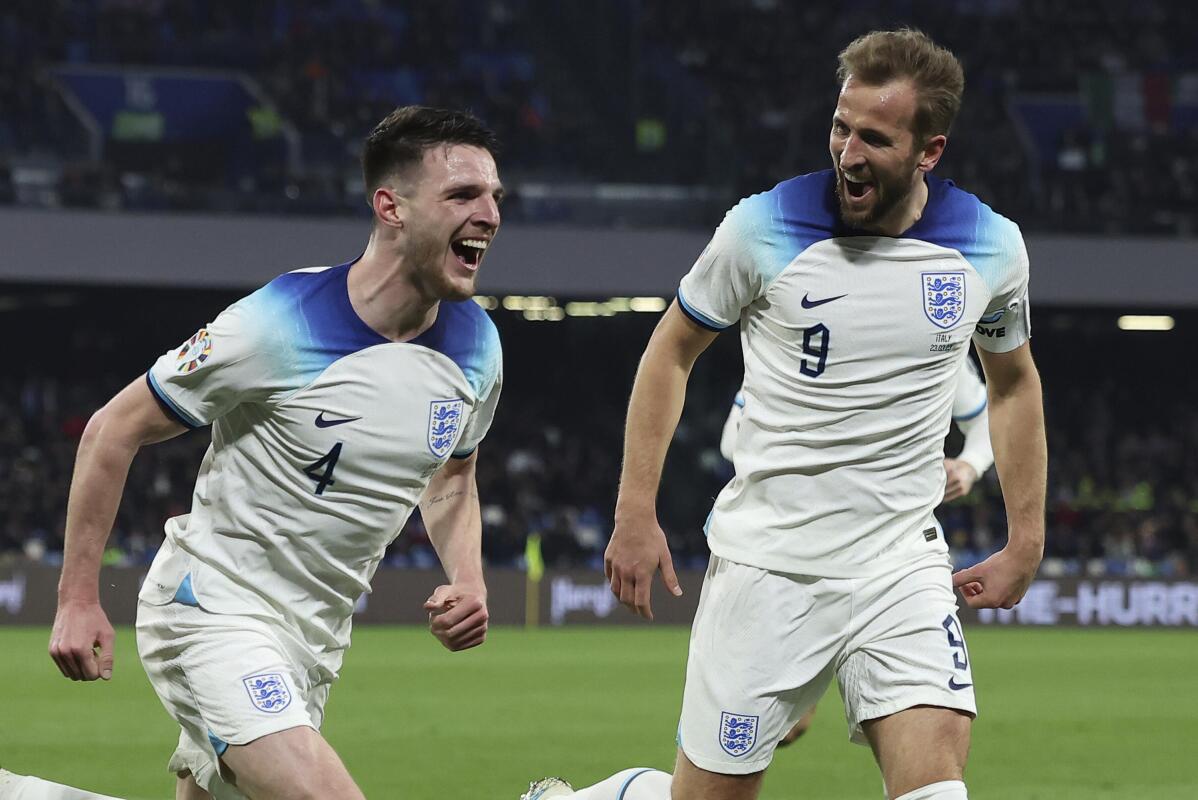 5 of 11

|
England's Declan Rice, left, celebrates with Harry Kane after scoring his side's first goal during the Euro 2024 group C qualifying soccer match between Italy and England at the Diego Armando Maradona stadium in Naples, Italy, Thursday, March 23, 2023. (Alessandro Garofalo/Lapresse via AP)
5 of 11
England's Declan Rice, left, celebrates with Harry Kane after scoring his side's first goal during the Euro 2024 group C qualifying soccer match between Italy and England at the Diego Armando Maradona stadium in Naples, Italy, Thursday, March 23, 2023. (Alessandro Garofalo/Lapresse via AP)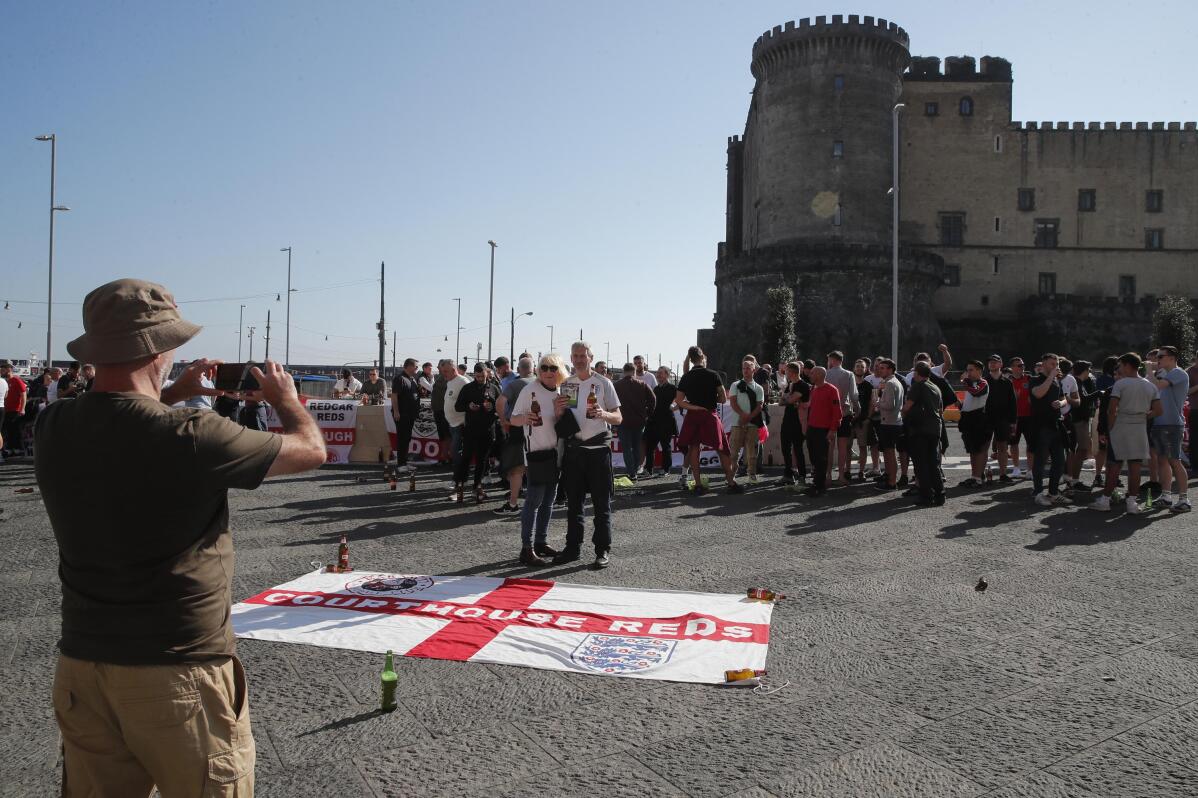 6 of 11

|
England supporters take photos as they cheer before the Euro 2024 group C qualifying soccer match between Italy and England in Naples downtown, Italy, Thursday, March 23, 2023. (AP Photo/Salvatore Laporta)
6 of 11
England supporters take photos as they cheer before the Euro 2024 group C qualifying soccer match between Italy and England in Naples downtown, Italy, Thursday, March 23, 2023. (AP Photo/Salvatore Laporta)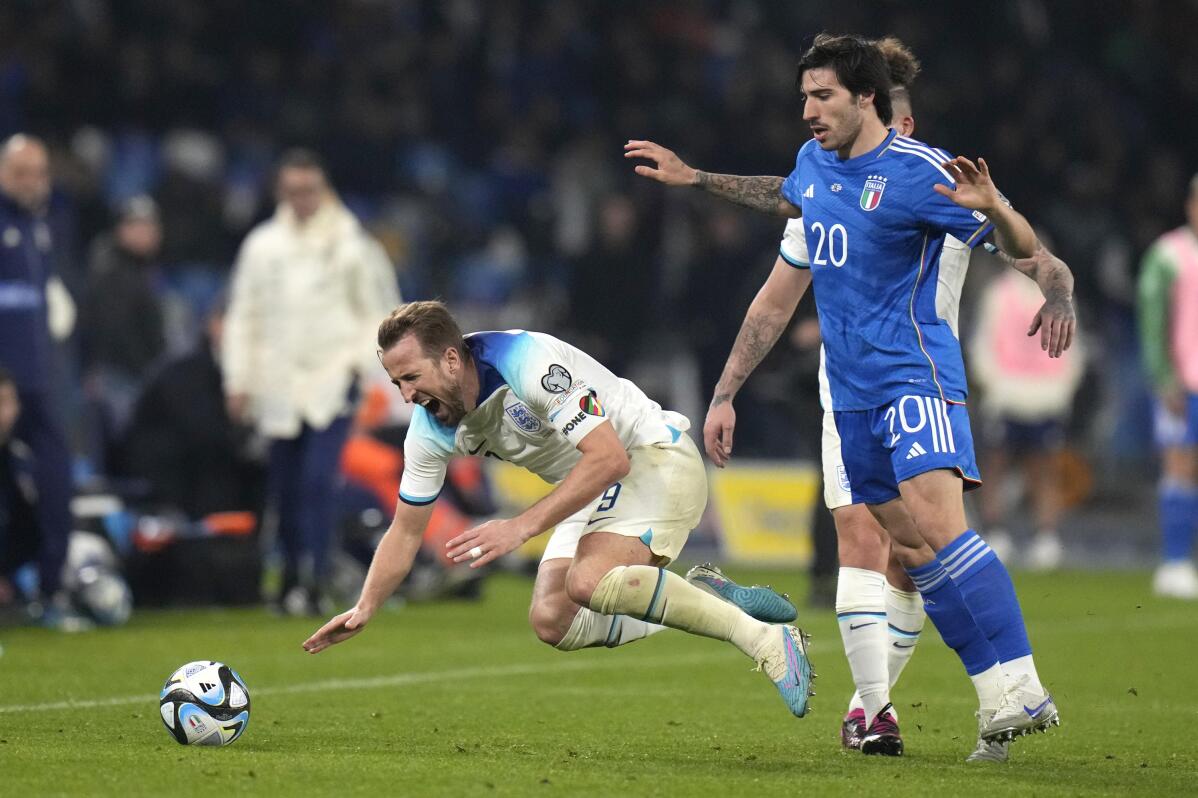 7 of 11

|
Italy's Sandro Tonali tackles England's Harry Kane during the Euro 2024 group C qualifying soccer match between Italy and England at the Diego Armando Maradona stadium in Naples, Italy, Thursday, March 23, 2023. (AP Photo/Alessandra Tarantino)
7 of 11
Italy's Sandro Tonali tackles England's Harry Kane during the Euro 2024 group C qualifying soccer match between Italy and England at the Diego Armando Maradona stadium in Naples, Italy, Thursday, March 23, 2023. (AP Photo/Alessandra Tarantino)
8 of 11

|
Italy's national soccer team jerseys hang down from balconies of the Quartieri Spagnoli (Spanish Neighborhoods) in Naples, Italy, Thursday, March 23, 2023 ahead of the Euro 2024 soccer match between Italy and England. (Alessandro Garofalo/LaPresse via AP)
8 of 11
Italy's national soccer team jerseys hang down from balconies of the Quartieri Spagnoli (Spanish Neighborhoods) in Naples, Italy, Thursday, March 23, 2023 ahead of the Euro 2024 soccer match between Italy and England. (Alessandro Garofalo/LaPresse via AP)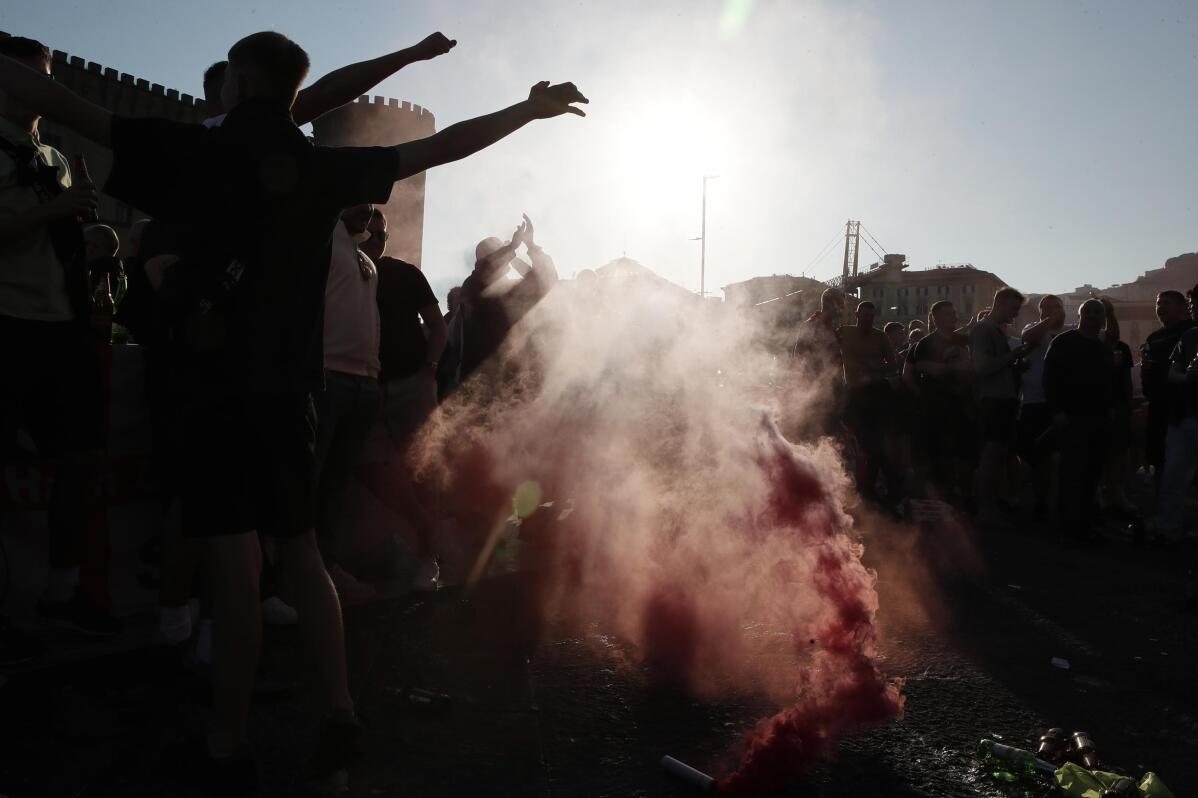 9 of 11

|
England's supporters cheer before the Euro 2024 group C qualifying soccer match between Italy and England in Naples downtown, Italy, Thursday, March 23, 2023. (AP Photo/Salvatore Laporta)
9 of 11
England's supporters cheer before the Euro 2024 group C qualifying soccer match between Italy and England in Naples downtown, Italy, Thursday, March 23, 2023. (AP Photo/Salvatore Laporta)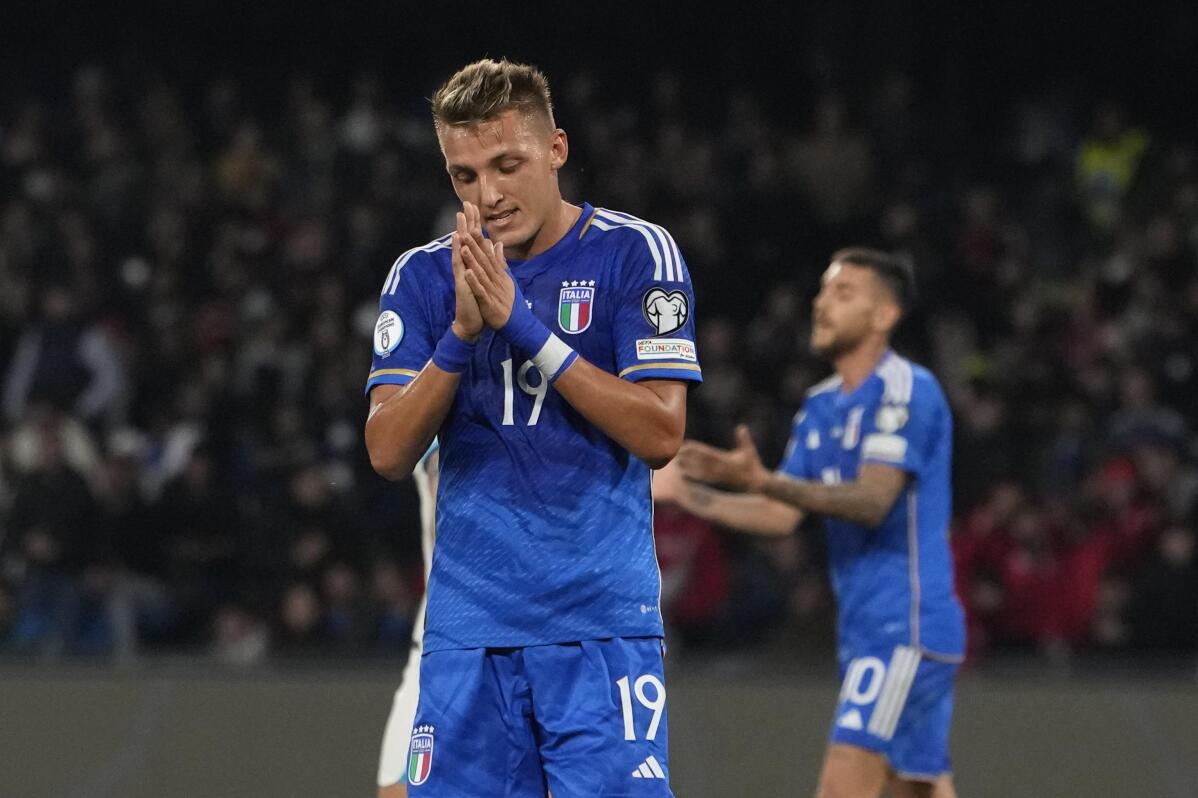 10 of 11

|
Italy's Mateo Retegui reacts after missing an opportunity to score during the Euro 2024 group C qualifying soccer match between Italy and England at the Diego Armando Maradona stadium in Naples, Italy, Thursday, March 23, 2023. (AP Photo/Alessandra Tarantino)
10 of 11
Italy's Mateo Retegui reacts after missing an opportunity to score during the Euro 2024 group C qualifying soccer match between Italy and England at the Diego Armando Maradona stadium in Naples, Italy, Thursday, March 23, 2023. (AP Photo/Alessandra Tarantino)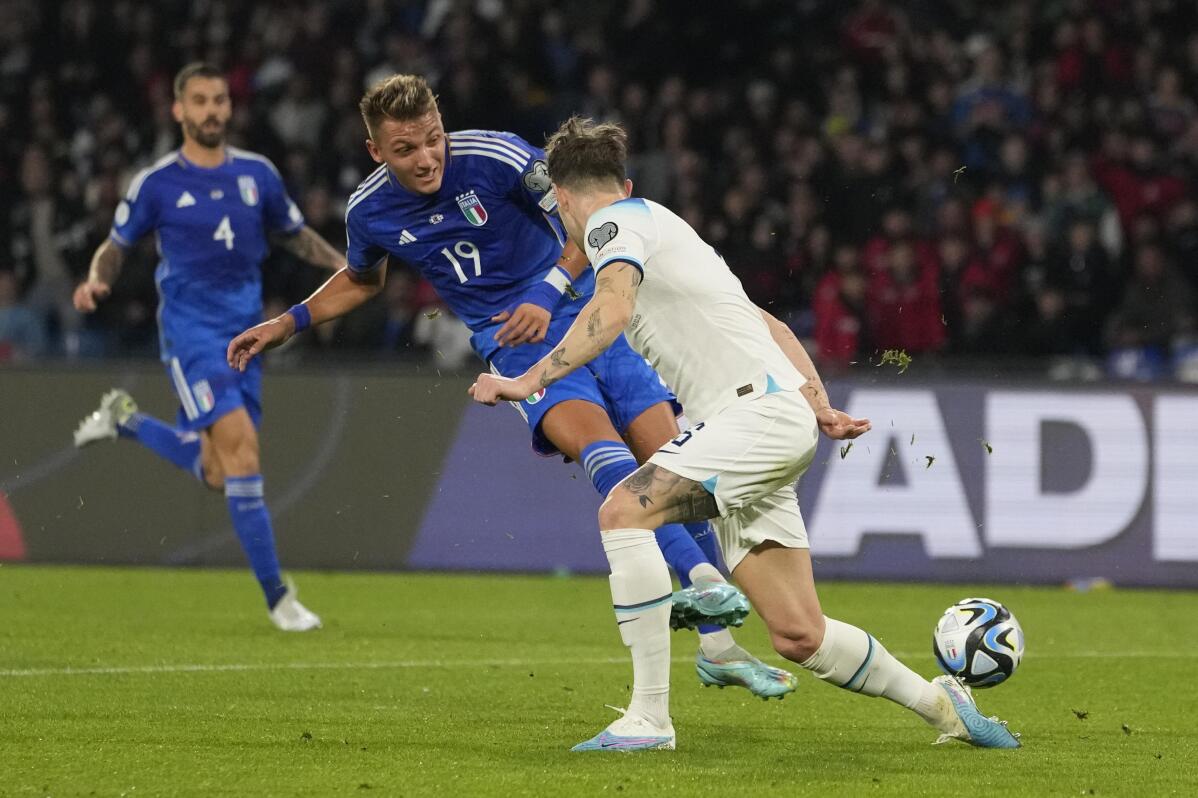 11 of 11

|
Italy's Mateo Retegui takes a shot at goal during the Euro 2024 group C qualifying soccer match between Italy and England at the Diego Armando Maradona stadium in Naples, Italy, Thursday, March 23, 2023. (AP Photo/Alessandra Tarantino)
11 of 11
Italy's Mateo Retegui takes a shot at goal during the Euro 2024 group C qualifying soccer match between Italy and England at the Diego Armando Maradona stadium in Naples, Italy, Thursday, March 23, 2023. (AP Photo/Alessandra Tarantino)
NAPLES, Italy (AP) — Harry Kane broke Wayne Rooney's national team scoring record and England held on for a 2-1 win at Italy on the opening night of European Championship qualifying on Thursday.
It was a small measure of revenge for England against the team it lost to in the European Championship final two years ago. Italy also won the last meeting in September in the Nations League.
It marked England's first win over Italy in a competitive match since a World Cup qualifier at Wembley back in 1977 — and its first away win over Italy since 1961.
"We haven't won in Italy for so long," Kane said. "To score and win the game is special."
It was another blow to an Italy squad that had failed to qualify for a second straight World Cup.
"We knew it was a difficult game, but we conceded two goals from two corners," Italy coach Roberto Mancini said. "The first half was tougher, obviously. But we dominated the second half and tried to get at least a draw, which I think would have been a fair result. It's disappointing, but there's a long road ahead.
"We might be starting with an uphill struggle this time, but let's hope we end it better."
Kane earned and converted a penalty toward the end of the first half for his 54th goal with England after Declan Rice's opener at the Diego Armando Maradona Stadium.
"It means everything," Kane said. "It had to be a penalty of course and once it hit the back of the net it was just so much emotion."
Argentine-born striker Mateo Retegui pulled one back for Italy on his debut early in the second half.
England played the final 12 minutes with 10 men after Luke Shaw picked up a second yellow card for a foul on Retegui.
Also in Group C, North Macedonia beat Malta 2-1.
The penalty was assigned following a VAR review after it was determined that defender Giovanni Di Lorenzo touched the ball with his hand while attempting to prevent Kane from reaching a corner.
Kane then stepped up to the spot and sent Italy goalkeeper Gianluigi Donnarumma the wrong way as he drilled a shot inside the right post in the 44th minute.
Rooney played for England from 2003 to 2018, while Kane made his England debut in 2015.
Kane was also involved in the first goal, when he had a shot blocked following a corner and Rice redirected in the rebound.
Also, Jack Grealish missed an easy chance to make it 3-0 for England.
It was nearly all England until Italy came alive after the break and Retegui finished off a counterattack following a passing sequence involving Marco Verratti and Lorenzo Pellegrini.
"(Retegui) had difficulties in the first half, as the England defenders are physically strong and limited him," Mancini said. "He moved better after the break, but he is young, he plays his football in Argentina, so he needs time."
Italy wore shirts that featured a dedication to former striker and delegation chief Gianluca Vialli, who died in January at age 58 from pancreatic cancer. "Luca, Azzurri per sempre" (Luca, Azzurri forever) was printed on the back of the collars.
Italy visits Malta on Sunday, when England hosts Ukraine.
___
More AP soccer: https://apnews.com/hub/Soccer and https://twitter.com/AP_Sports