Katie Taylor worries loss of Olympic boxing would be 'huge blow' to the sport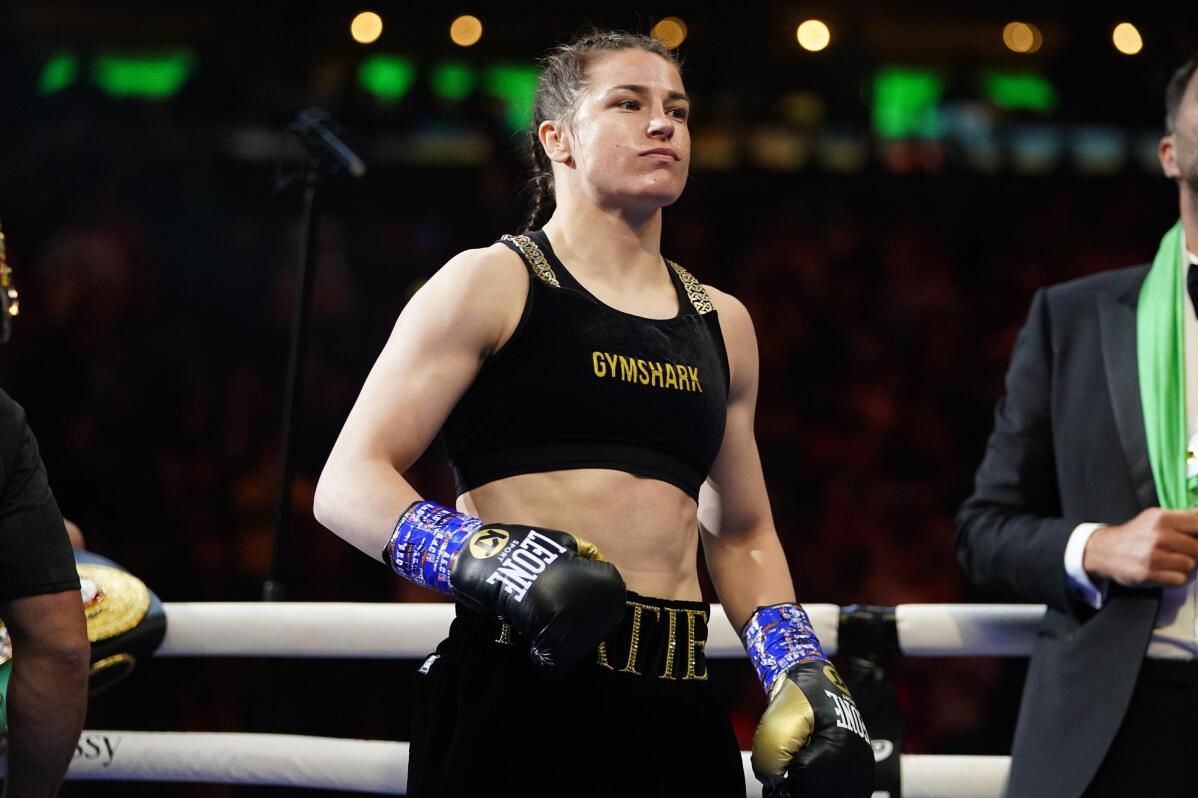 1 of 7

|
FILE - Ireland's Katie Taylor arrives for a lightweight championship boxing match against Amanda Serrano on April 30, 2022, in New York. Taylor and Claressa Shields have used their Olympic success as a springboard into the pro ranks — headlining cards, selling out big arenas and garnering more media attention to help push the women's game into the mainstream. (AP Photo/Frank Franklin II, File)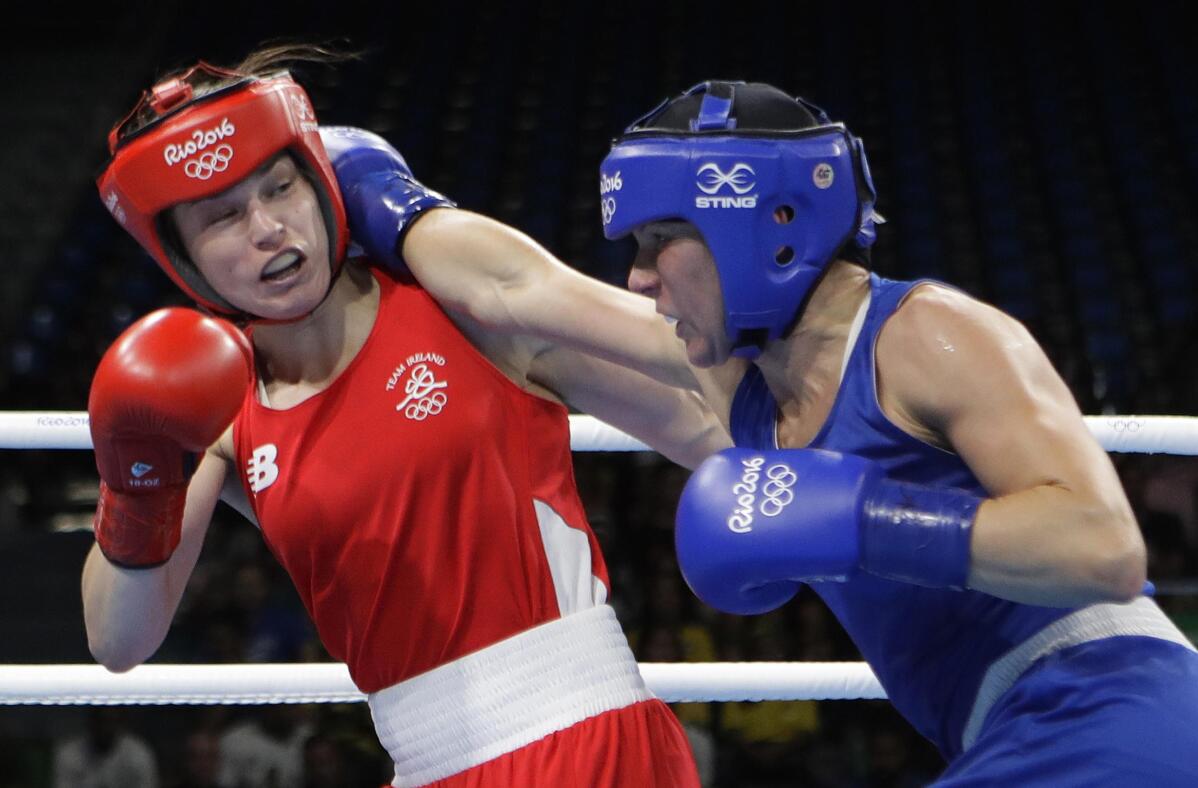 2 of 7

|
FILE - Finland's Mira Potkonen, right, fights Ireland's Katie Taylor during a women's lightweight 60-kg quarterfinals boxing match at the 2016 Summer Olympics in Rio de Janeiro, Brazil, on Aug. 15, 2016. Katie Taylor and Claressa Shields have used their Olympic success as a springboard into the pro ranks — headlining cards, selling out big arenas and garnering more media attention to help push the women's game into the mainstream. (AP Photo/Frank Franklin II, File)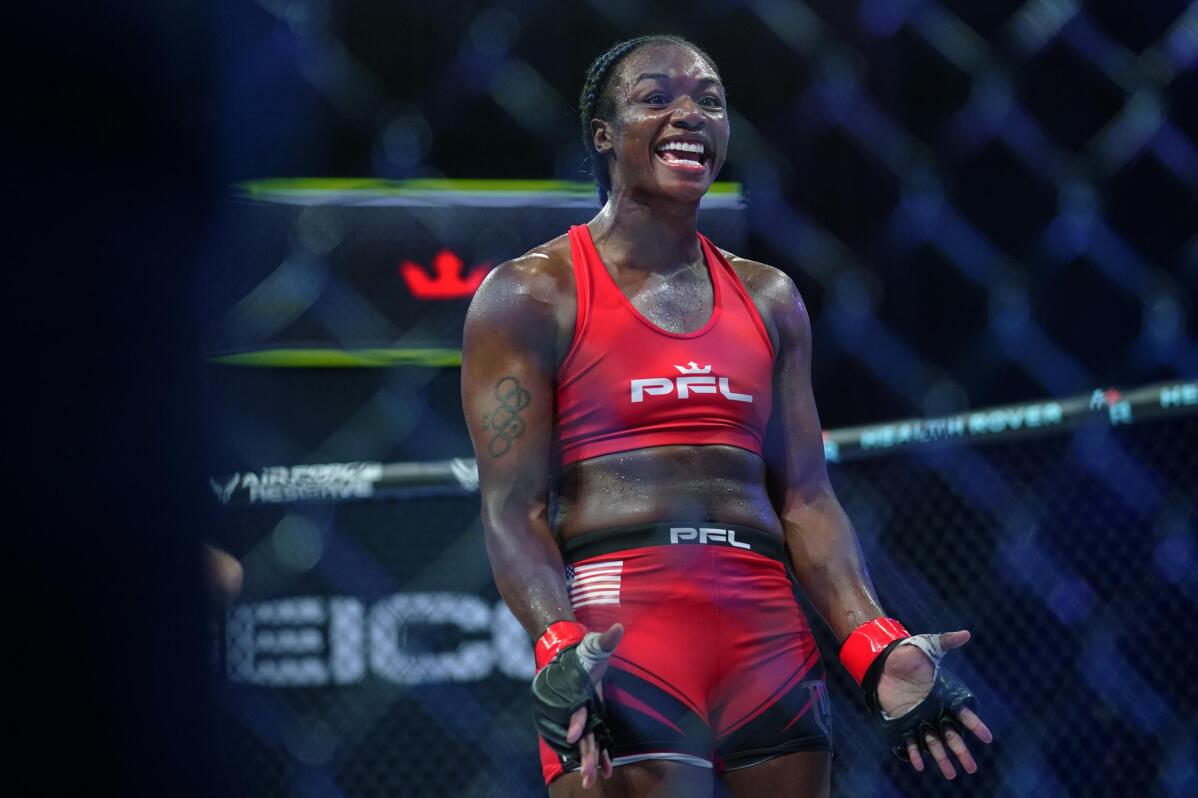 3 of 7

|
FILE - Claressa Shields reacts after winning a Professional Fighters League mixed martial arts bout against Brittney Elkin in Atlantic City, N.J., on June 11, 2021. Katie Taylor and Claressa Shields have used their Olympic success as a springboard into the pro ranks — headlining cards, selling out big arenas and garnering more media attention to help push the women's game into the mainstream. (AP Photo/Matt Rourke, File)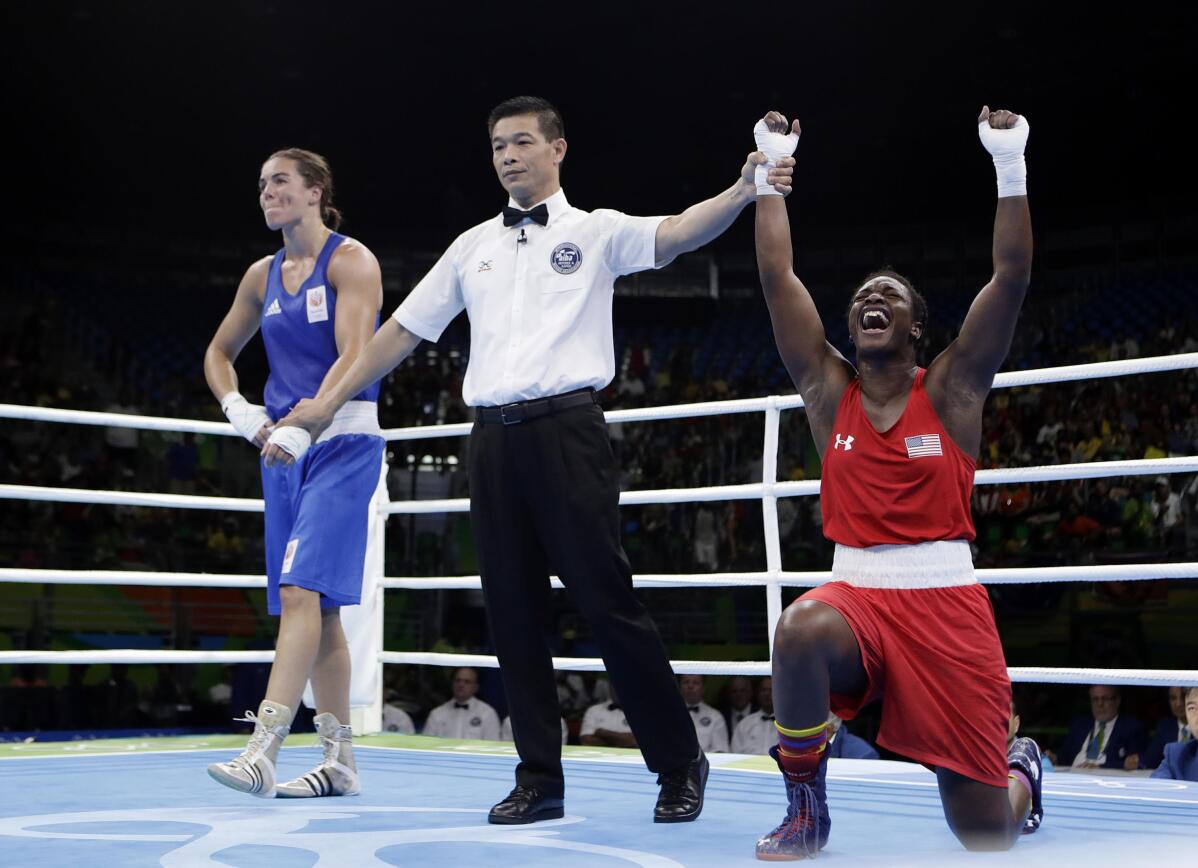 4 of 7

|
FILE - United States' Claressa Maria Shields, right, reacts as she won her gold medal for the women's middleweight 75-kg boxing against Netherlands' Nouchka Fontijn at the 2016 Summer Olympics in Rio de Janeiro, Brazil, on Aug. 21, 2016. Katie Taylor and Claressa Shields have used their Olympic success as a springboard into the pro ranks — headlining cards, selling out big arenas and garnering more media attention to help push the women's game into the mainstream. (AP Photo/Frank Franklin II, File)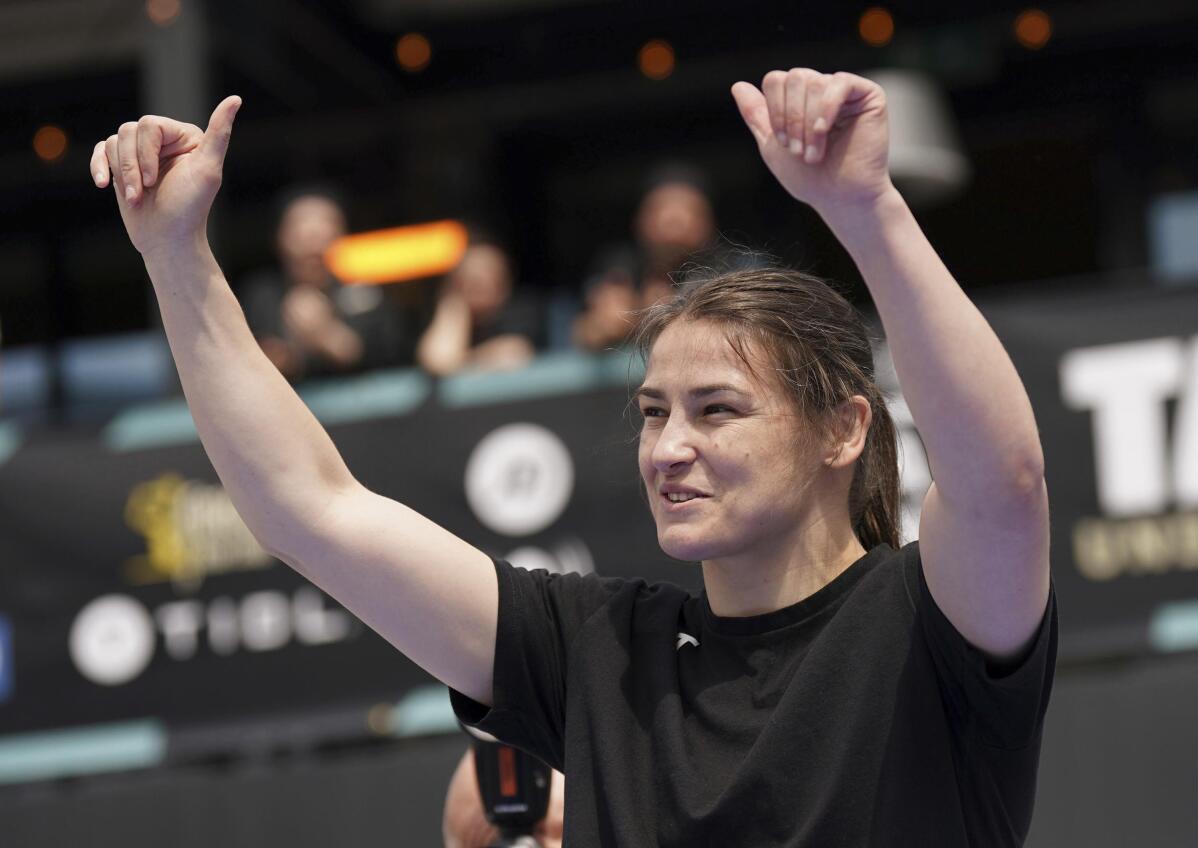 5 of 7

|
Ireland's Katie Taylor waves to supporters during the public workout ahead of her Saturday's lightweight championship boxing fight against Chantelle Cameron, at Pembroke Square, Dublin, Ireland, Wednesday May 17, 2023. (Niall Carson/PA via AP)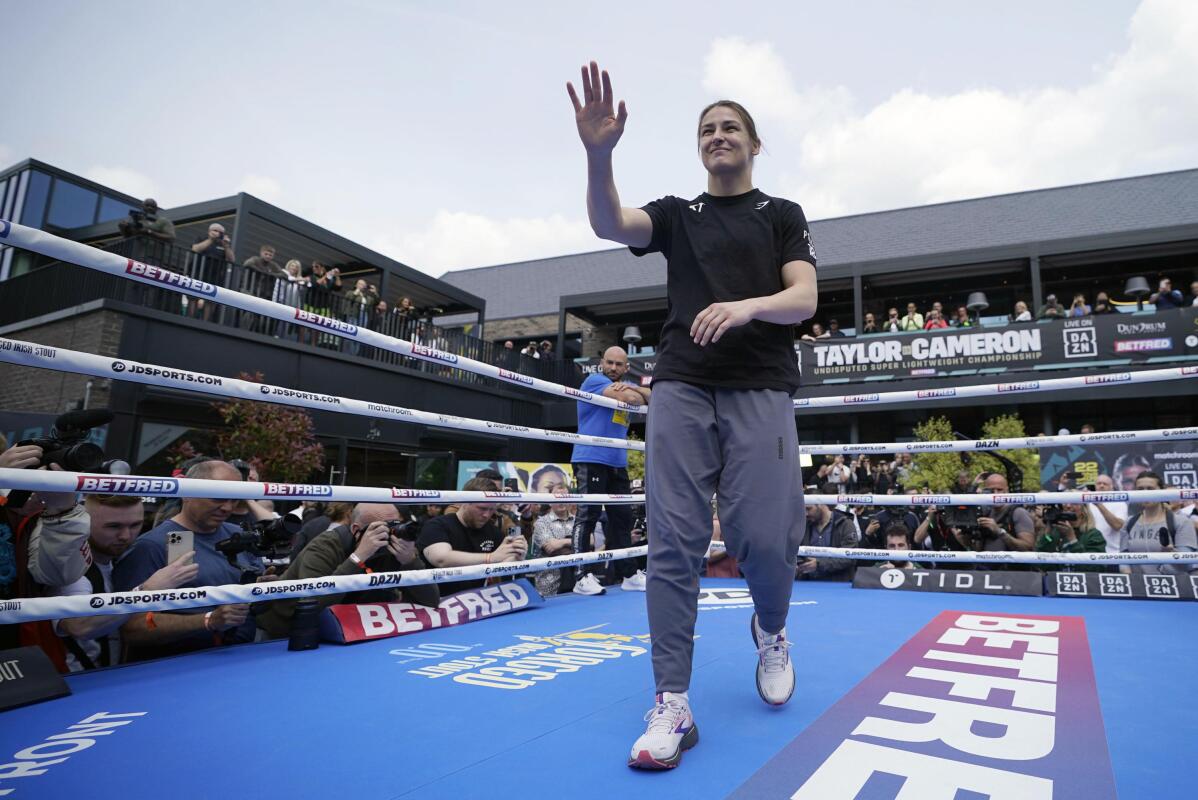 6 of 7

|
Ireland's Katie Taylor waves to supporters during the public workout ahead of her Saturday's lightweight championship boxing fight against Chantelle Cameron, at Pembroke Square, Dublin, Ireland, Wednesday May 17, 2023. (Niall Carson/PA via AP)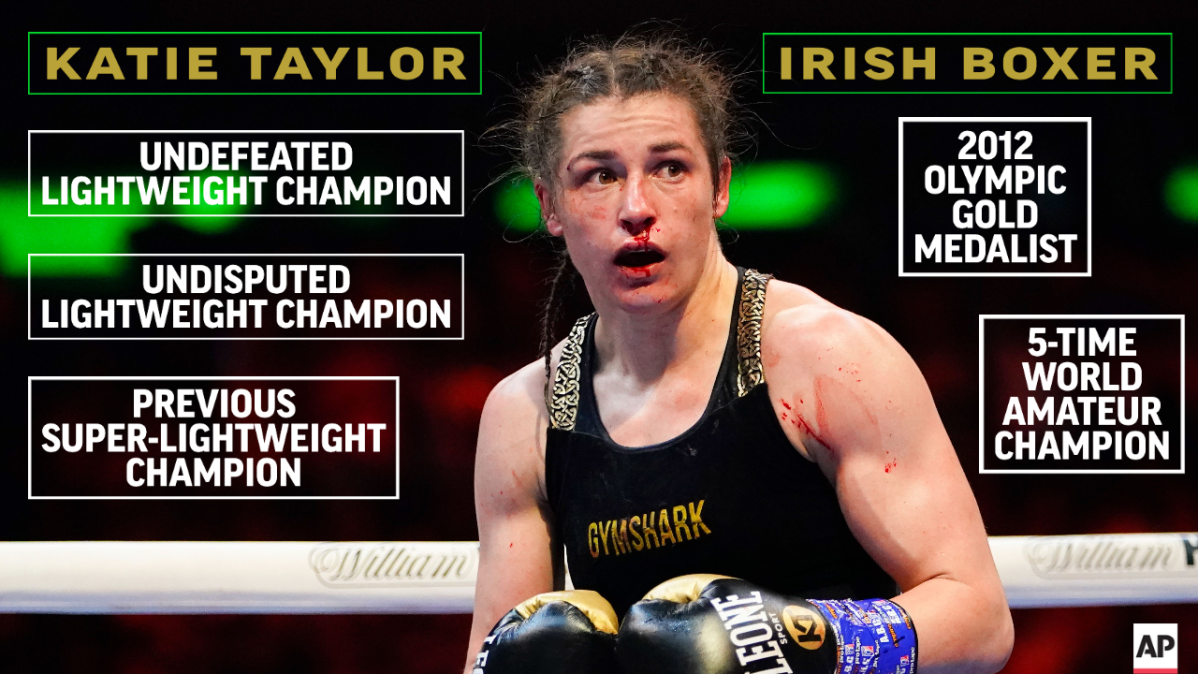 Katie Taylor worries loss of Olympic boxing would be 'huge blow' to the sport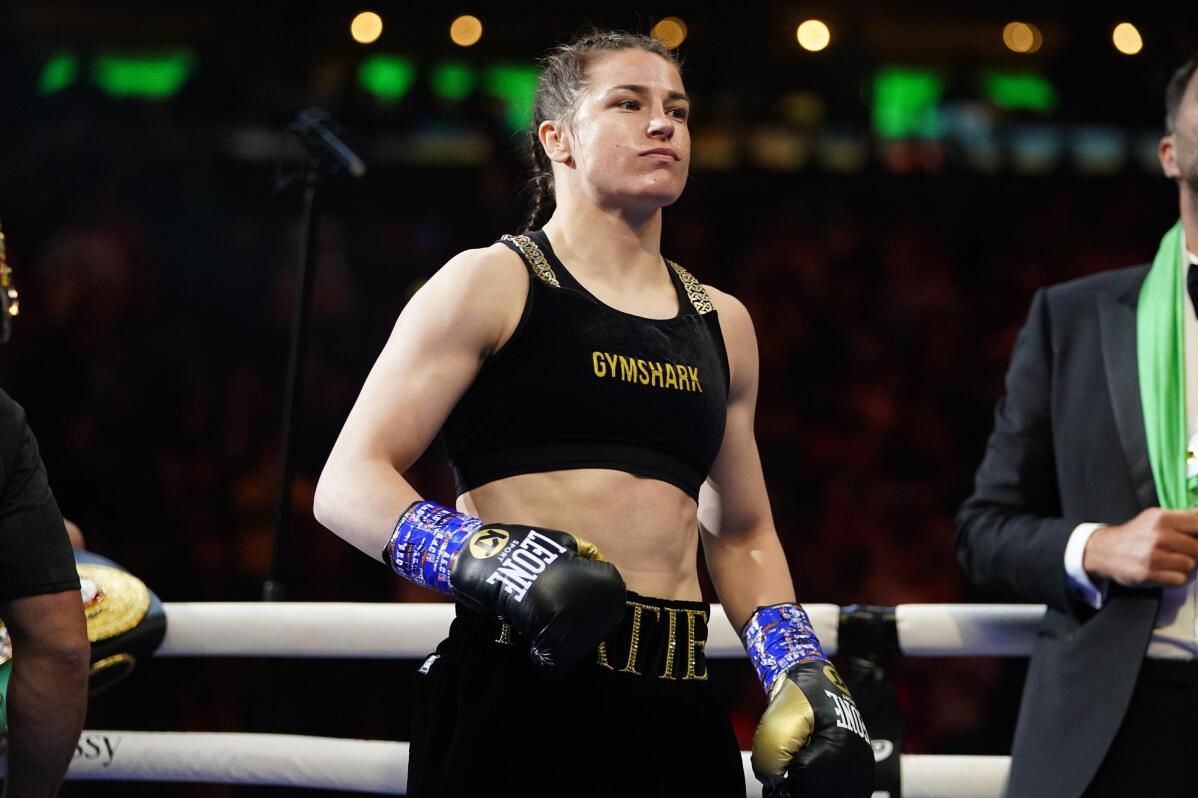 1 of 7

|
FILE - Ireland's Katie Taylor arrives for a lightweight championship boxing match against Amanda Serrano on April 30, 2022, in New York. Taylor and Claressa Shields have used their Olympic success as a springboard into the pro ranks — headlining cards, selling out big arenas and garnering more media attention to help push the women's game into the mainstream. (AP Photo/Frank Franklin II, File)
1 of 7
FILE - Ireland's Katie Taylor arrives for a lightweight championship boxing match against Amanda Serrano on April 30, 2022, in New York. Taylor and Claressa Shields have used their Olympic success as a springboard into the pro ranks — headlining cards, selling out big arenas and garnering more media attention to help push the women's game into the mainstream. (AP Photo/Frank Franklin II, File)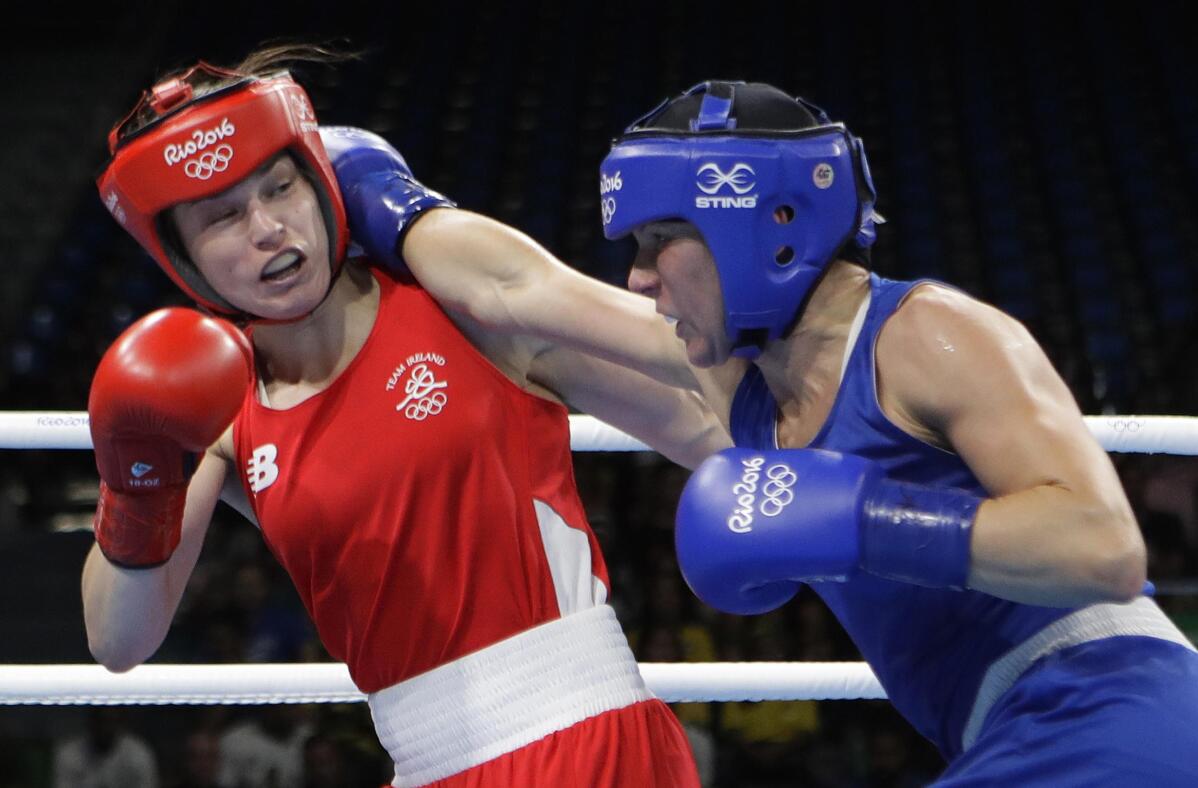 2 of 7

|
FILE - Finland's Mira Potkonen, right, fights Ireland's Katie Taylor during a women's lightweight 60-kg quarterfinals boxing match at the 2016 Summer Olympics in Rio de Janeiro, Brazil, on Aug. 15, 2016. Katie Taylor and Claressa Shields have used their Olympic success as a springboard into the pro ranks — headlining cards, selling out big arenas and garnering more media attention to help push the women's game into the mainstream. (AP Photo/Frank Franklin II, File)
2 of 7
FILE - Finland's Mira Potkonen, right, fights Ireland's Katie Taylor during a women's lightweight 60-kg quarterfinals boxing match at the 2016 Summer Olympics in Rio de Janeiro, Brazil, on Aug. 15, 2016. Katie Taylor and Claressa Shields have used their Olympic success as a springboard into the pro ranks — headlining cards, selling out big arenas and garnering more media attention to help push the women's game into the mainstream. (AP Photo/Frank Franklin II, File)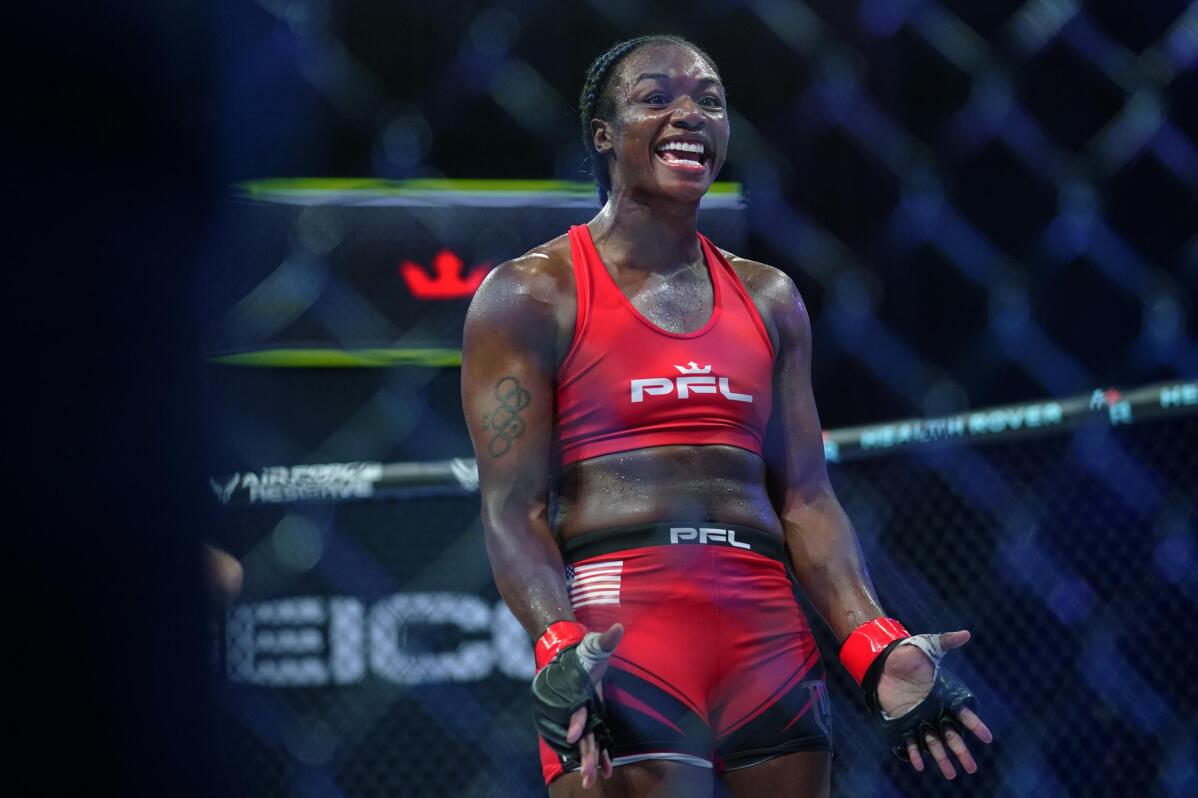 3 of 7

|
FILE - Claressa Shields reacts after winning a Professional Fighters League mixed martial arts bout against Brittney Elkin in Atlantic City, N.J., on June 11, 2021. Katie Taylor and Claressa Shields have used their Olympic success as a springboard into the pro ranks — headlining cards, selling out big arenas and garnering more media attention to help push the women's game into the mainstream. (AP Photo/Matt Rourke, File)
3 of 7
FILE - Claressa Shields reacts after winning a Professional Fighters League mixed martial arts bout against Brittney Elkin in Atlantic City, N.J., on June 11, 2021. Katie Taylor and Claressa Shields have used their Olympic success as a springboard into the pro ranks — headlining cards, selling out big arenas and garnering more media attention to help push the women's game into the mainstream. (AP Photo/Matt Rourke, File)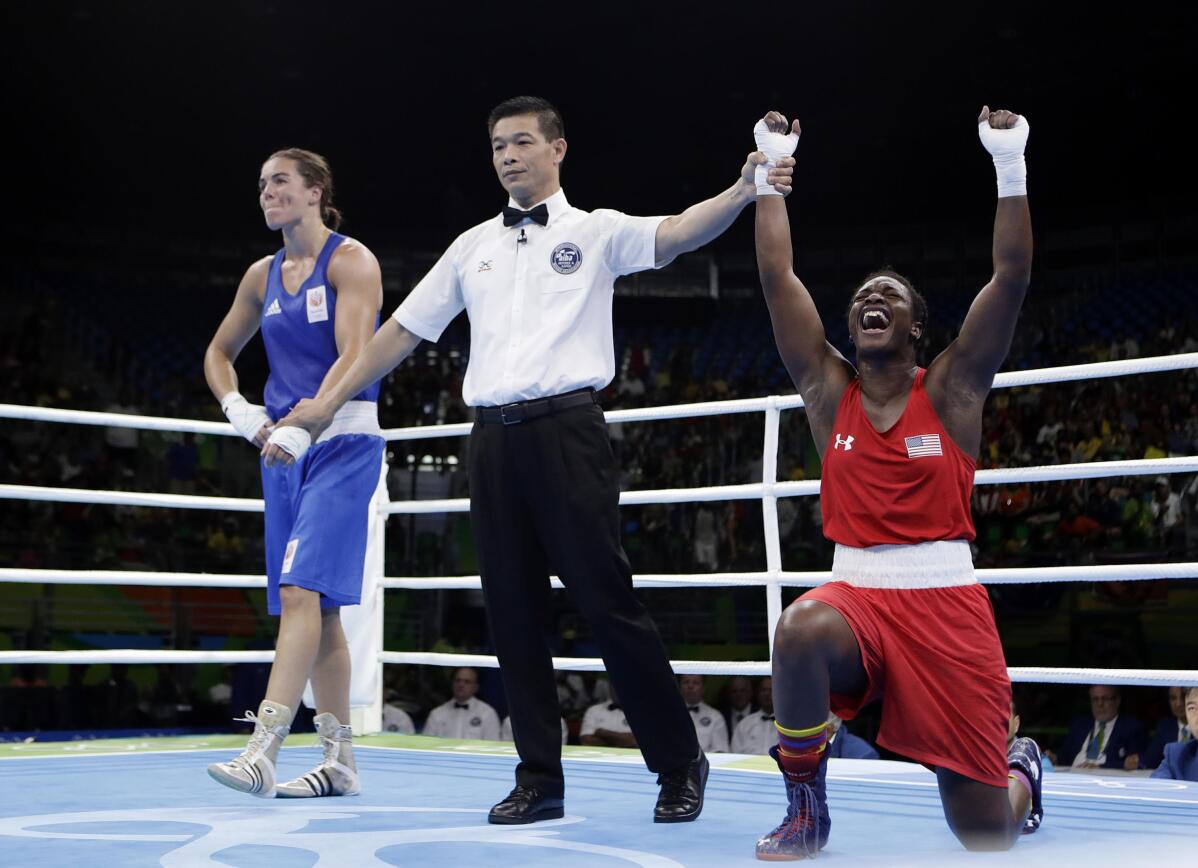 4 of 7

|
FILE - United States' Claressa Maria Shields, right, reacts as she won her gold medal for the women's middleweight 75-kg boxing against Netherlands' Nouchka Fontijn at the 2016 Summer Olympics in Rio de Janeiro, Brazil, on Aug. 21, 2016. Katie Taylor and Claressa Shields have used their Olympic success as a springboard into the pro ranks — headlining cards, selling out big arenas and garnering more media attention to help push the women's game into the mainstream. (AP Photo/Frank Franklin II, File)
4 of 7
FILE - United States' Claressa Maria Shields, right, reacts as she won her gold medal for the women's middleweight 75-kg boxing against Netherlands' Nouchka Fontijn at the 2016 Summer Olympics in Rio de Janeiro, Brazil, on Aug. 21, 2016. Katie Taylor and Claressa Shields have used their Olympic success as a springboard into the pro ranks — headlining cards, selling out big arenas and garnering more media attention to help push the women's game into the mainstream. (AP Photo/Frank Franklin II, File)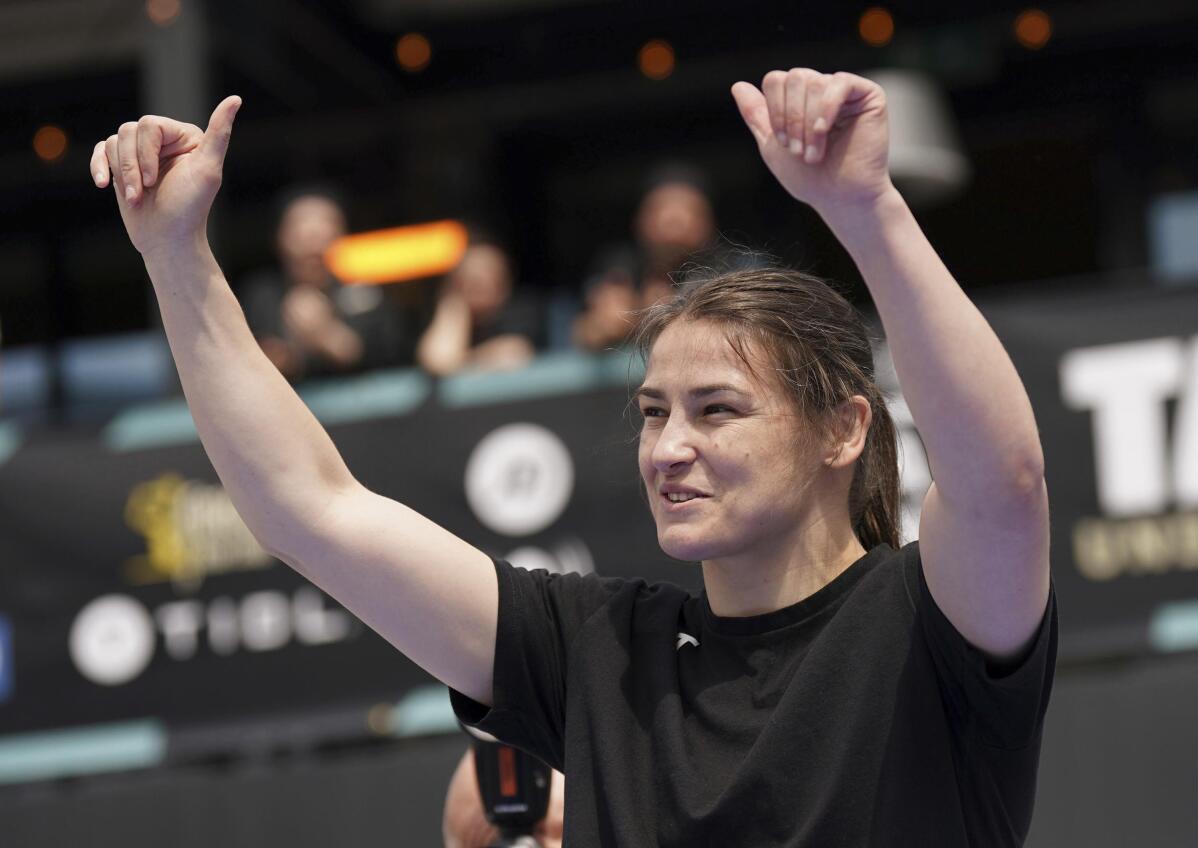 5 of 7

|
Ireland's Katie Taylor waves to supporters during the public workout ahead of her Saturday's lightweight championship boxing fight against Chantelle Cameron, at Pembroke Square, Dublin, Ireland, Wednesday May 17, 2023. (Niall Carson/PA via AP)
5 of 7
Ireland's Katie Taylor waves to supporters during the public workout ahead of her Saturday's lightweight championship boxing fight against Chantelle Cameron, at Pembroke Square, Dublin, Ireland, Wednesday May 17, 2023. (Niall Carson/PA via AP)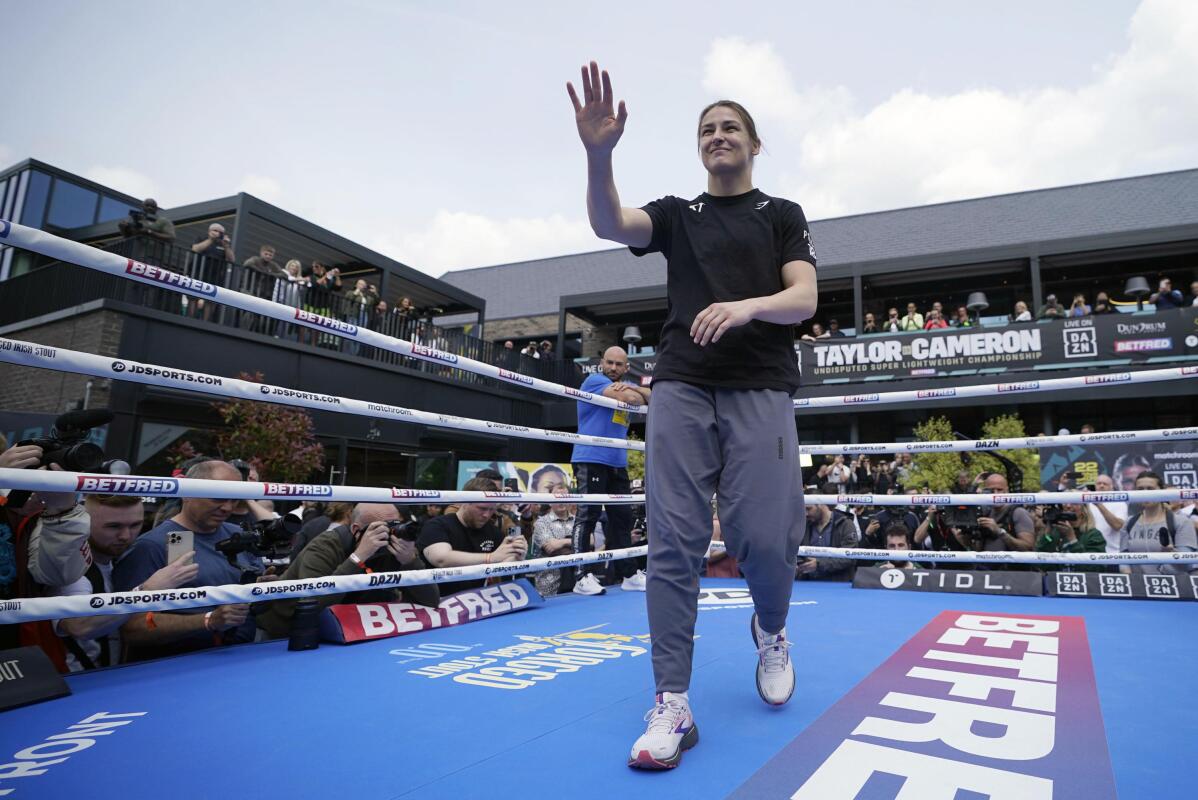 6 of 7

|
Ireland's Katie Taylor waves to supporters during the public workout ahead of her Saturday's lightweight championship boxing fight against Chantelle Cameron, at Pembroke Square, Dublin, Ireland, Wednesday May 17, 2023. (Niall Carson/PA via AP)
6 of 7
Ireland's Katie Taylor waves to supporters during the public workout ahead of her Saturday's lightweight championship boxing fight against Chantelle Cameron, at Pembroke Square, Dublin, Ireland, Wednesday May 17, 2023. (Niall Carson/PA via AP)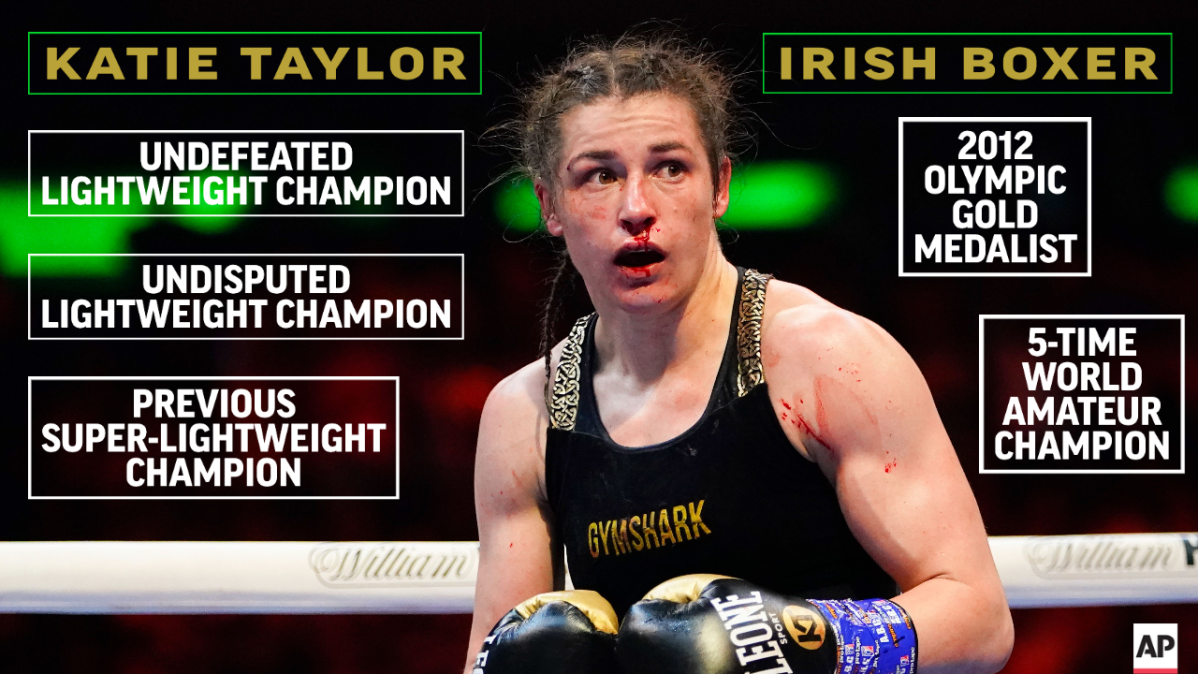 LONDON (AP) — Katie Taylor had Olympic dreams long before she became one of the faces of women's professional boxing.
The Irish fighter won a gold medal at the 2012 London Games, setting her on course for a hugely successful pro career.
She's worried that future generations won't get the same chance because of a long-running dispute between Olympic officials and the International Boxing Association. The International Olympic Committee has declined to confirm boxing's place in the 2028 Los Angeles Games.
"It will be a huge blow to boxing overall, even professional boxing," Taylor told The Associated Press ahead of her fight against Chantelle Cameron in Dublin on Saturday. "The biggest incentive for amateur boxers is the Olympics. If they (don't) have that, I think it might put a lot of people off the sport. It could be a big blow for the sport as a whole really."
The impact on women's boxing could be particularly damaging considering it only made its Olympic debut in 2012.
Taylor and Claressa Shields have used their Olympic success as a springboard into the pro ranks — headlining cards, selling out big arenas and garnering more media attention to help push the women's game into the mainstream.
"I hope they can sort out their issues because the Olympics is a huge part of boxing," said Taylor, the undefeated and undisputed lightweight champion who will challenge for Cameron's super-lightweight belts on Saturday.
The 2024 Paris Olympics isn't in question — the IOC plans to run the qualifying and final tournaments like its boxing task force did for the Tokyo Games in 2021.
The IOC cut ties with the sport's governing body in 2019 because of concerns about governance and fair judging. It also has distrust about the IBA's ties to Russia.
An investigation found that some bouts at the 2016 Rio de Janeiro Olympics were fixed by "complicit and compliant" referees and judges. In Rio, Ireland's Michael Conlan accused Russia and the sports governing body of corruption after his bantamweight quarterfinal loss to Vladimir Nikitin.
In recent weeks, boxing officials in the United States and Britain announced plans to preserve the sport's place at the Olympics by launching a new federation to rival the IBA, formerly known as AIBA.
Boxing has been part of every Olympic program but one since 1904, and the IOC has said it still could be added for 2028. Roland Garros, the home of the French Open, is one of the main venues for boxing at next year's Paris Games.
Boxing is Ireland's most-successful Olympic sport. Eighteen of the country's 35 medals are in boxing.
In Tokyo, Kellie Anne Harrington became only the second female Irish boxer to win an Olympic medal when she took gold in the lightweight division — like Taylor did earlier.
"Ever since I was a kid, my dream was to win an Olympic gold medal. That's all I dreamt of," the 36-year-old Taylor said. "It's quite sad that if it does go out ... kids are going to grow up without that dream."
___
More AP coverage of the Paris Olympics: https://apnews.com/hub/2024-paris-olympic-games and https://twitter.com/AP_Sports