Female athletes making waves, topping lists in Irish sports scene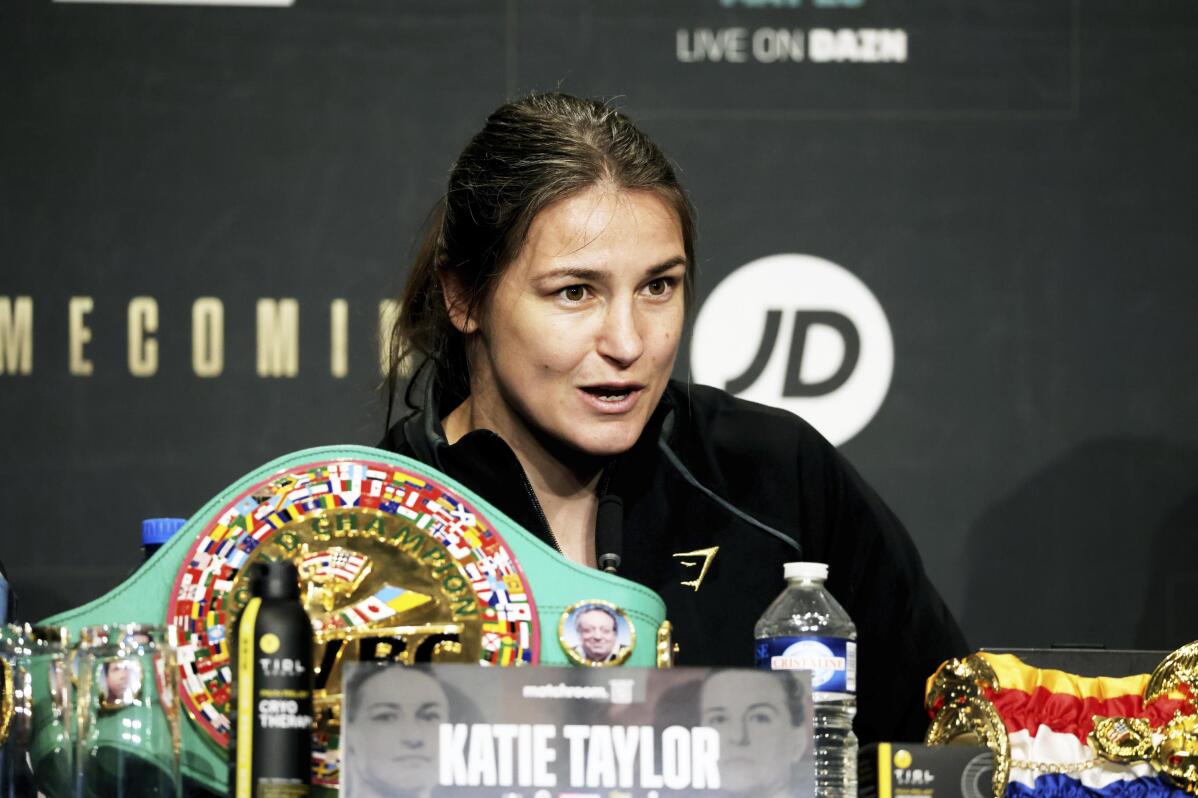 1 of 3

|
Ireland's Katie Taylor, the undisputed Lightweight champion, speaks to the media during a press conference in Dublin, Ireland, Thursday, May 18, 2023. Taylor's success has been paving the way for young Irish fighters as women's boxing gains popularity around the world. (AP Photo/Peter Morrison)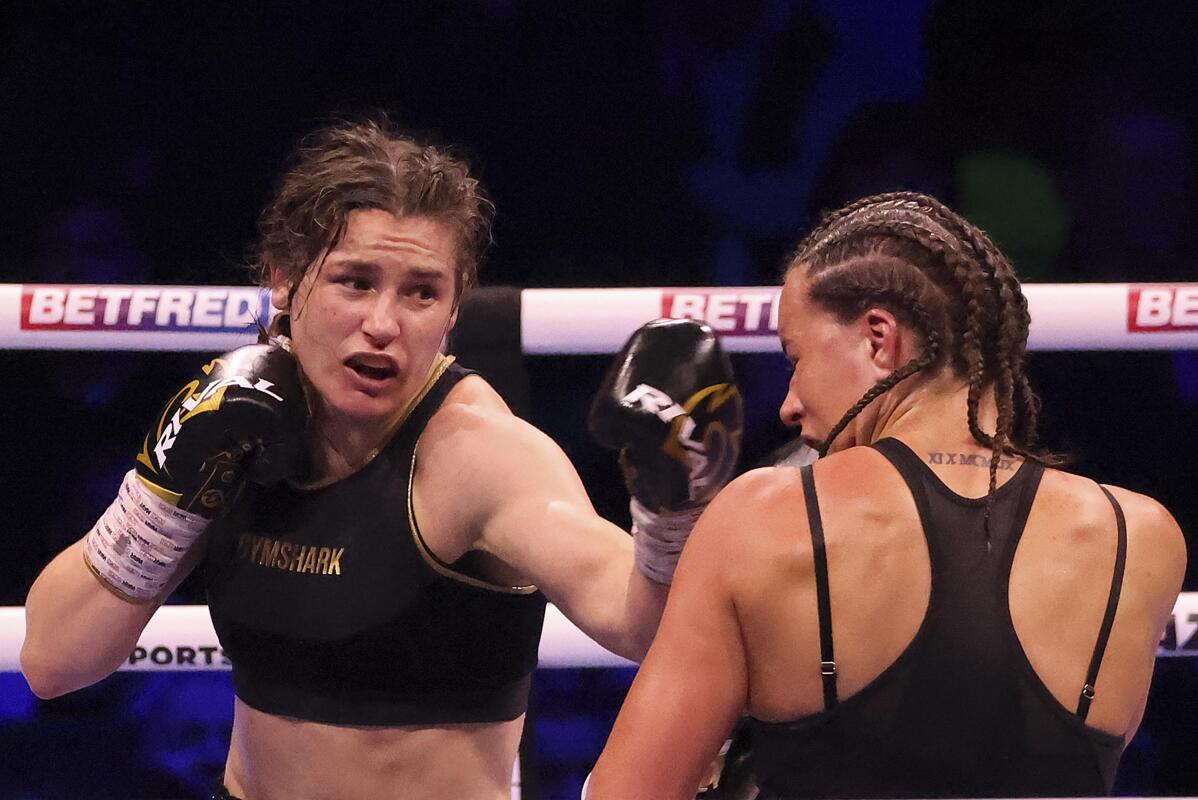 2 of 3

|
Ireland's Katie Taylor, left, lands a punch on Britain's Chantelle Cameron during their light-welterweight boxing world title fight at the 3Arena in Dublin, Ireland, Saturday, May 20, 2023.(AP Photo/Peter Morrison)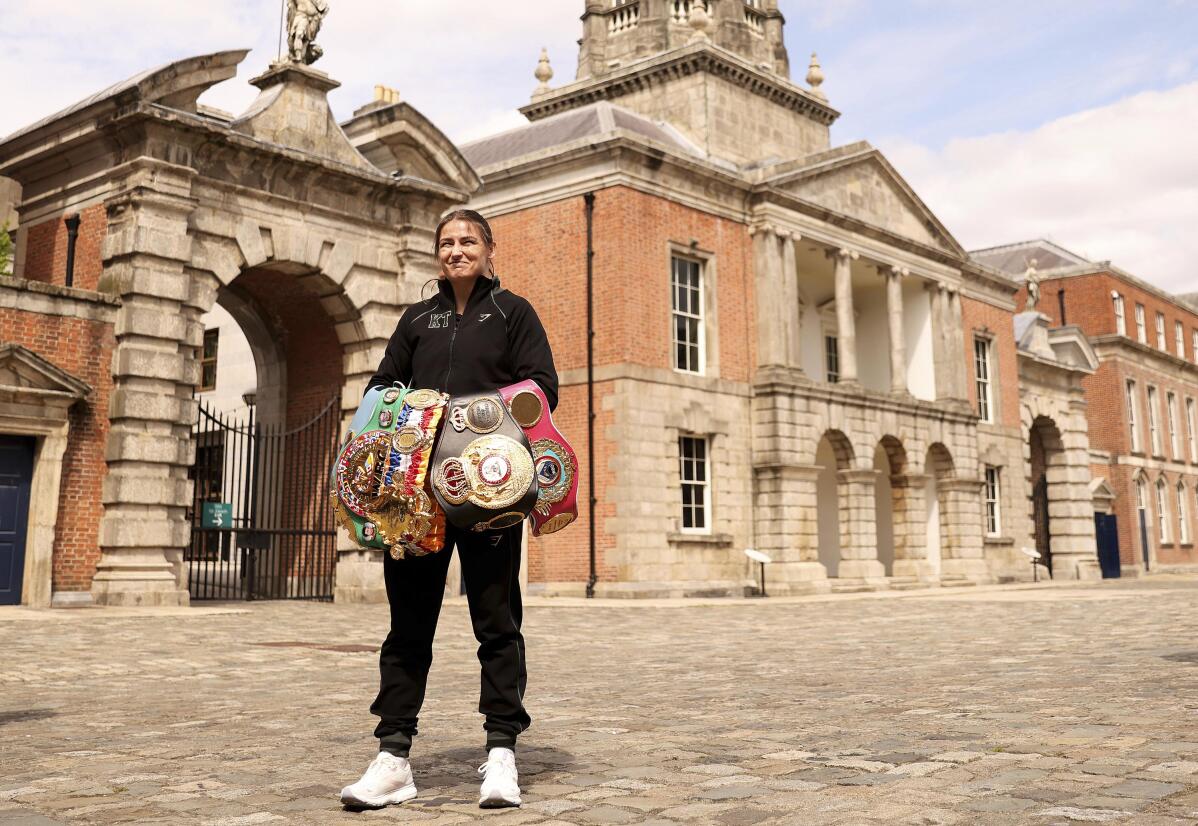 3 of 3

|
Ireland's Katie Taylor, the undisputed Lightweight champion, poses with her belts during a press conference in Dublin, Ireland, Thursday, May 18, 2023. Taylor's success has been paving the way for young Irish fighters as women's boxing gains popularity around the world. (AP Photo/Peter Morrison)
Female athletes making waves, topping lists in Irish sports scene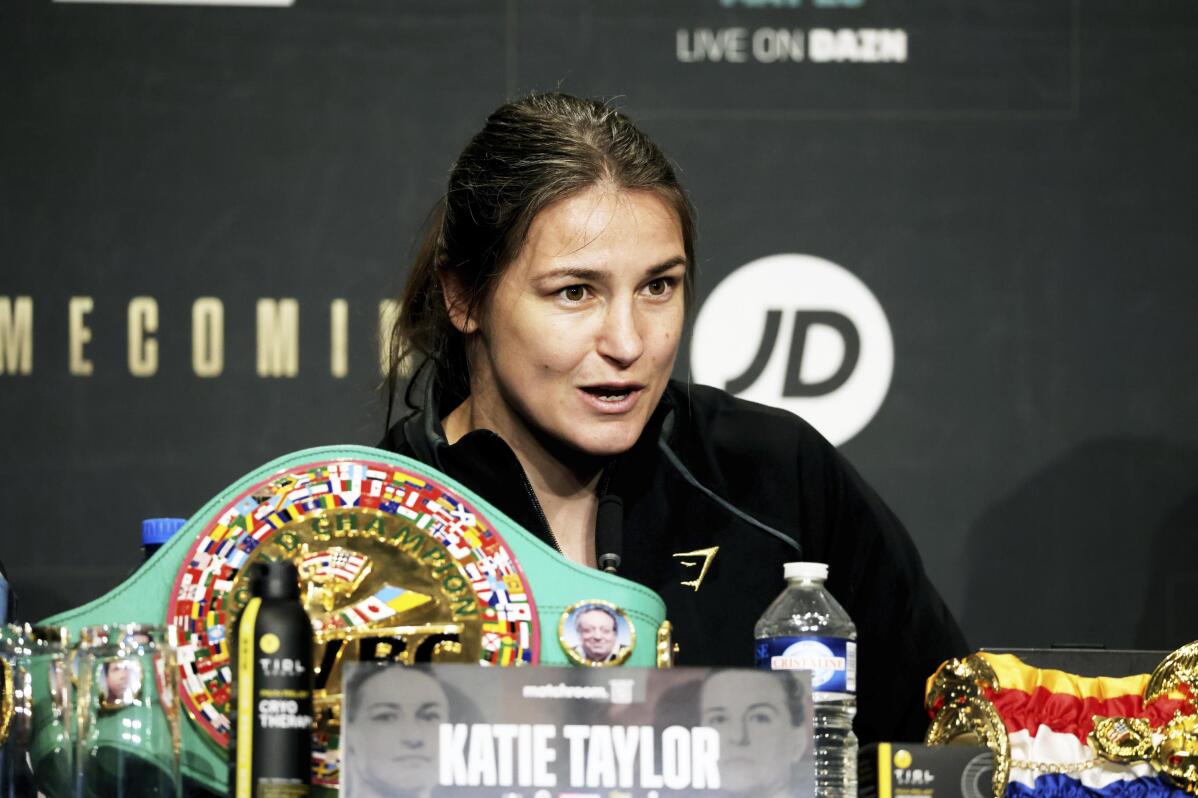 1 of 3

|
Ireland's Katie Taylor, the undisputed Lightweight champion, speaks to the media during a press conference in Dublin, Ireland, Thursday, May 18, 2023. Taylor's success has been paving the way for young Irish fighters as women's boxing gains popularity around the world. (AP Photo/Peter Morrison)
1 of 3
Ireland's Katie Taylor, the undisputed Lightweight champion, speaks to the media during a press conference in Dublin, Ireland, Thursday, May 18, 2023. Taylor's success has been paving the way for young Irish fighters as women's boxing gains popularity around the world. (AP Photo/Peter Morrison)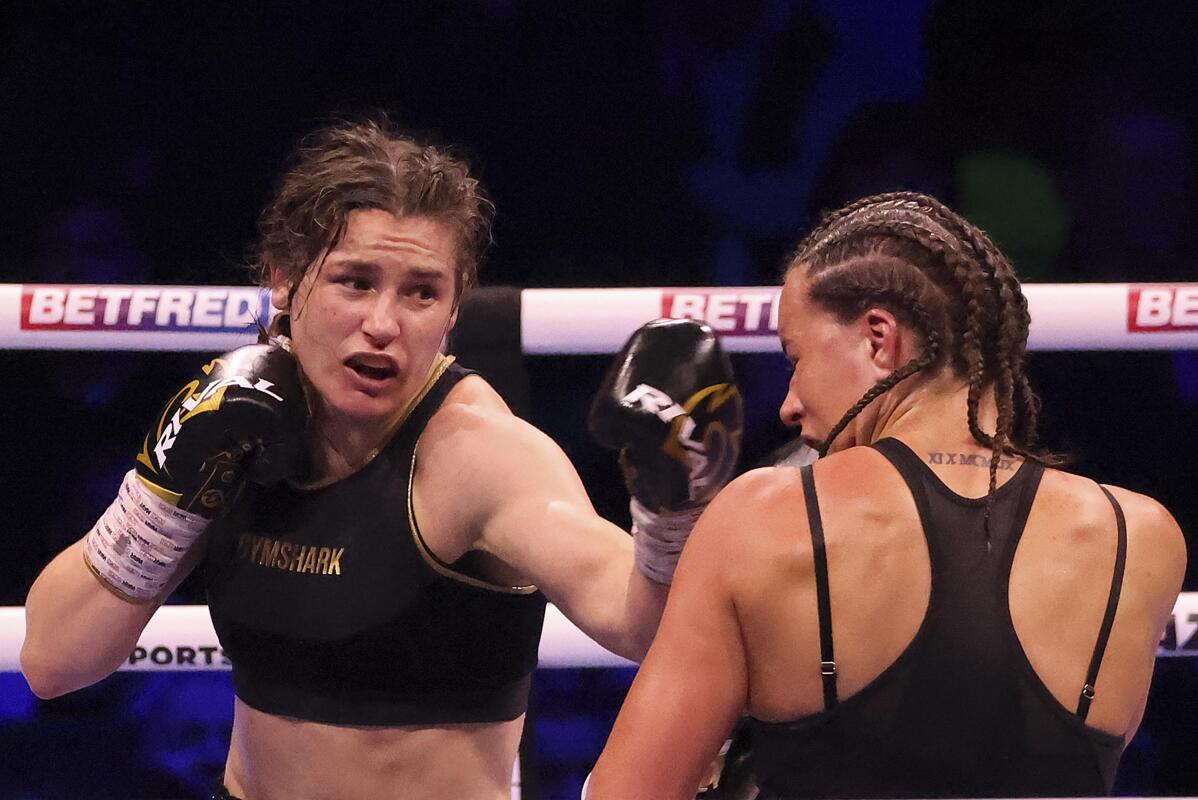 2 of 3

|
Ireland's Katie Taylor, left, lands a punch on Britain's Chantelle Cameron during their light-welterweight boxing world title fight at the 3Arena in Dublin, Ireland, Saturday, May 20, 2023.(AP Photo/Peter Morrison)
2 of 3
Ireland's Katie Taylor, left, lands a punch on Britain's Chantelle Cameron during their light-welterweight boxing world title fight at the 3Arena in Dublin, Ireland, Saturday, May 20, 2023.(AP Photo/Peter Morrison)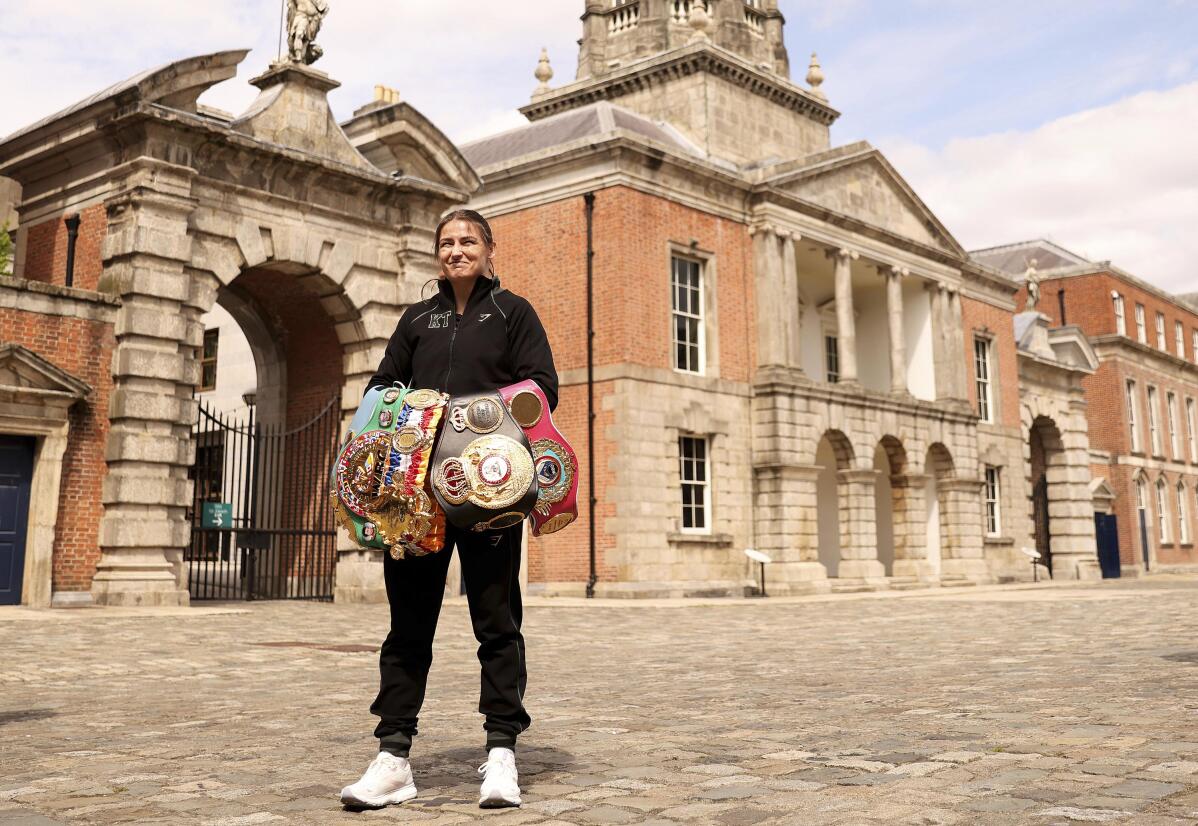 3 of 3

|
Ireland's Katie Taylor, the undisputed Lightweight champion, poses with her belts during a press conference in Dublin, Ireland, Thursday, May 18, 2023. Taylor's success has been paving the way for young Irish fighters as women's boxing gains popularity around the world. (AP Photo/Peter Morrison)
3 of 3
Ireland's Katie Taylor, the undisputed Lightweight champion, poses with her belts during a press conference in Dublin, Ireland, Thursday, May 18, 2023. Taylor's success has been paving the way for young Irish fighters as women's boxing gains popularity around the world. (AP Photo/Peter Morrison)
DUBLIN (AP) — Katie Taylor brought elite boxing back to Ireland. The women's national soccer team qualified for its first World Cup.
Women are on a roll in Ireland — and have been for a while now.
Taylor has been selected as the "most-admired" athlete in Ireland for six straight years, and women have been three of the top four in back-to-back years.
Trailblazing jockey Rachael Blackmore and Olympic boxing champion Kellie Harrington have followed Taylor on the Teneo Sport and Sponsorship Index, and the women's soccer squad earned "team of the year" honors for 2022 after qualifying for the upcoming Women's World Cup in Australia and New Zealand.
Rugby player Jonathan Sexton was tied for third the past two years, but no male athlete has topped Taylor since mixed martial artist Conor McGregor edged her in 2016.
"When we were growing up there were no real opportunities for women to participate that much in sport," boxing fan Aoife Thompson said at the weigh-in for Taylor's bout against Chantelle Cameron.
"Now we have the likes of Katie Taylor, Kellie Harrington, we have loads of (Gaelic Athletic Association) stars you'd recognize all over the country now which you wouldn't have gotten a few years ago," she added. "In terms of (women's) sport growing in Ireland it's really recent over the last few years and it's just brilliant to see."
Taylor's big homecoming ended in defeat, but the 2012 Olympic gold medalist remains revered in her home country.
National pride seems to be as much a factor as support of specific sports. Boxing, for example, doesn't make the Teneo list of favorite sports — with soccer, rugby and Gaelic Games regularly taking the top three spots. The men's soccer team is in rebuilding mode, but the men's rugby team is one of the favorites heading into the Rugby World Cup in September after winning the Six Nations tournament.
While fierce in the ring, the 36-year-old Taylor is soft-spoken and humble outside it. She's never in a headline about yachts, barroom dustups or traffic offenses. She's also deeply religious, which still resonates particularly among older Irish.
Taylor and national soccer team captain Katie McCabe led this year's list of most marketable personalities in Ireland, according to a survey by Onside consultancy group.
"There's a space that's been created now," said Sinead Thompson, who had joined her sister at the Taylor weigh-in. "The media has opened up to (cover) matches. You'll see on a panel, there's a lot of women. It's just going to expand and expand."
Public service broadcaster TG4 began airing Irish women's soccer league games in 2021, and Britain's top league — where McCabe plays for Arsenal — is available in Ireland.
"You never had that before," Sinead Thompson said of prime-time women's games. "Women are being acknowledged for their pure talent."
The women's soccer team will play at Ireland's national stadium for the first time when it hosts Northern Ireland in a UEFA Women's Nations League game in September.
Fans had wanted Aviva Stadium to host the World Cup-sendoff game — a friendly against powerhouse France on July 6 — but the Landsdowne Road field is slated for renovations.
___
More AP boxing: https://apnews.com/hub/boxing and https://twitter.com/AP_Sports