Kentucky Bourbon Trail attendance reaches record heights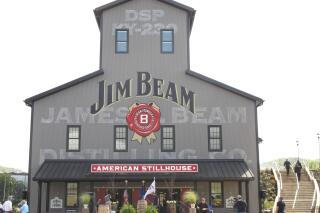 FRANKFORT, Ky. (AP) — Bourbon tourism reached new heights last year in Kentucky, where visitors flocked to large and small distilleries as the whiskey-making attractions shook off any pandemic-era hangover.
Attendance at distilleries along the Kentucky Bourbon Trail surpassed 2 million in 2022 for the first time ever, the Kentucky Distillers' Association announced. Venerable bourbon producers and industry newcomers alike benefited from the surge.
Total visits exceeded 2.1 million last year, easily beating the pre-pandemic record of 1.7 million stops in 2019, the distillers' group said. In the past decade, the "amber adventure" has had a 370% surge in attendance — a boon to the state known around the world for bourbon production, it said.
"The success of Kentucky's bourbon industry isn't slowing down anytime soon," Kentucky Gov. Andy Beshear said.
The distillers' association created the Kentucky Bourbon Trail in 1999 to give visitors an intimate, educational look behind the state's most historic distilleries. Total attendance at its 18 participating distilleries nearly reached 1.4 million last year, the group said.
The Kentucky Bourbon Trail Craft Tour launched in 2012 to showcase smaller distilleries had its best year. Now featuring 24 distilleries, its total attendance last year was 738,287.
Spirit companies have invested huge sums into new or expanded visitor centers to play up the industry's heritage and allow guests to soak in the sights and smells of bourbon-making.
During the height of the pandemic, distilleries in the region were closed temporarily to visitors.
Some producers eased back into tourism by allowing limited numbers of visitors. Once virus restrictions were lifted, bourbon tourism bounced back with a full resurgence.
Research shows that bourbon tourists tend to be younger, spend between $400 and $1,200 on their trip, travel in large groups, and stay longer than the average visitor to Kentucky, the distillers' association said. More than 70% of visitors are from outside Kentucky.
"This is a home run demographic for local communities, generating valuable revenue and tax dollars while boosting a hospitality industry that's still recovering from the COVID pandemic," said Kentucky Distillers' Association President Eric Gregory.
To encourage responsible drinking on the tour, distilleries offer water and nonalcoholic beverages and many have food or snacks available. The association said it promotes the use of designated drivers and transportation companies to stem impaired driving. Also, state law restricts free sample sizes at distilleries and many voluntarily limit cocktail sales at their in-house bar or restaurant, the distillers' group said.
The growth in bourbon tourism has created some challenges. Most distilleries now require reservations, so booking stops in advance is crucial, said Mandy Ryan, director of the association's Kentucky Bourbon Trail experiences.
Kentucky now boasts more than 11.4 million barrels of bourbon aging in warehouses across the state, the most in its storied distilling history, the association said. Distillers filled more than 2.6 million barrels last year, marking the fourth straight year production topped the 2 million mark.