Suns' Kevin Durant out after injuring ankle in pregame slip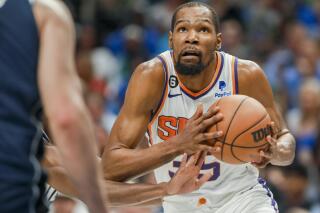 PHOENIX (AP) — Kevin Durant's home debut with the Phoenix Suns will have to wait a little longer.
The 13-time All-Star slipped on the floor during pregame warmups and was ruled out Wednesday night against the Oklahoma City Thunder because of left ankle soreness.
The game was supposed to be Durant's home debut with his new team. He has played in three games since being traded to the Suns, but all were on the road.
"We'll get more testing done tomorrow," Suns coach Monty Williams said. "Right now, it's just an ankle sprain and we don't have anything official to report."
Video showed Durant driving to the basket during warmups when he rolled his left ankle as he jumped. He immediately hopped up and continued his pregame work, but several minutes later, the Suns confirmed that Durant would miss the game.
He was not on the bench during the game. Torrey Craig started in Durant's place and the Suns rolled to a 132-101 victory for their fourth straight win. Devin Booker scored 44 points.
Durant averaged 26.7 points and 7.3 rebounds in his three games with Phoenix. He wasn't in the locker room when it was opened for postgame media access.
"I know how much he loves to play and wanted to play," guard Chris Paul said. "But stuff happens."
Phoenix traded for Durant and T.J. Warren in a blockbuster deal in February, sending Mikal Bridges, Cam Johnson, Jae Crowder, four first-round picks and other draft compensation to the Brooklyn Nets.
The Suns have looked like a juggernaut in the three games Durant has played, winning all of them. But the slip was a reminder that the 34-year-old has missed a lot of time with injuries over the past four seasons.
Durant was out the entire 2019-20 campaign because of an Achilles injury. He has missed time this season with a sprained knee ligament. Now, an ankle injury.
"He's out there, working his tail off, getting ready for the game and twists his ankle," Williams said. "You can't get frustrated about that. It's life, you know what I'm saying? I felt bad for him because he feels bad."
___
AP NBA: https://apnews.com/hub/NBA and https://twitter.com/AP_Sports