4 killed in Kentucky fire and shootings are identified
1 of 2

|
Sgt. Scott Rafferty with the Kentucky State Police Critical Incident Response Team flies a drone while mapping the site of a fatal Ohio County shooting at a home, Thursday, May 20, 2021, in McHenry, Ky. Investigators found the bodies of two men and a woman at the home on Wednesday and a fourth body was discovered inside a barn that had been damaged by fire, seen at right, Thursday morning. (Greg Eans/The Messenger-Inquirer via AP)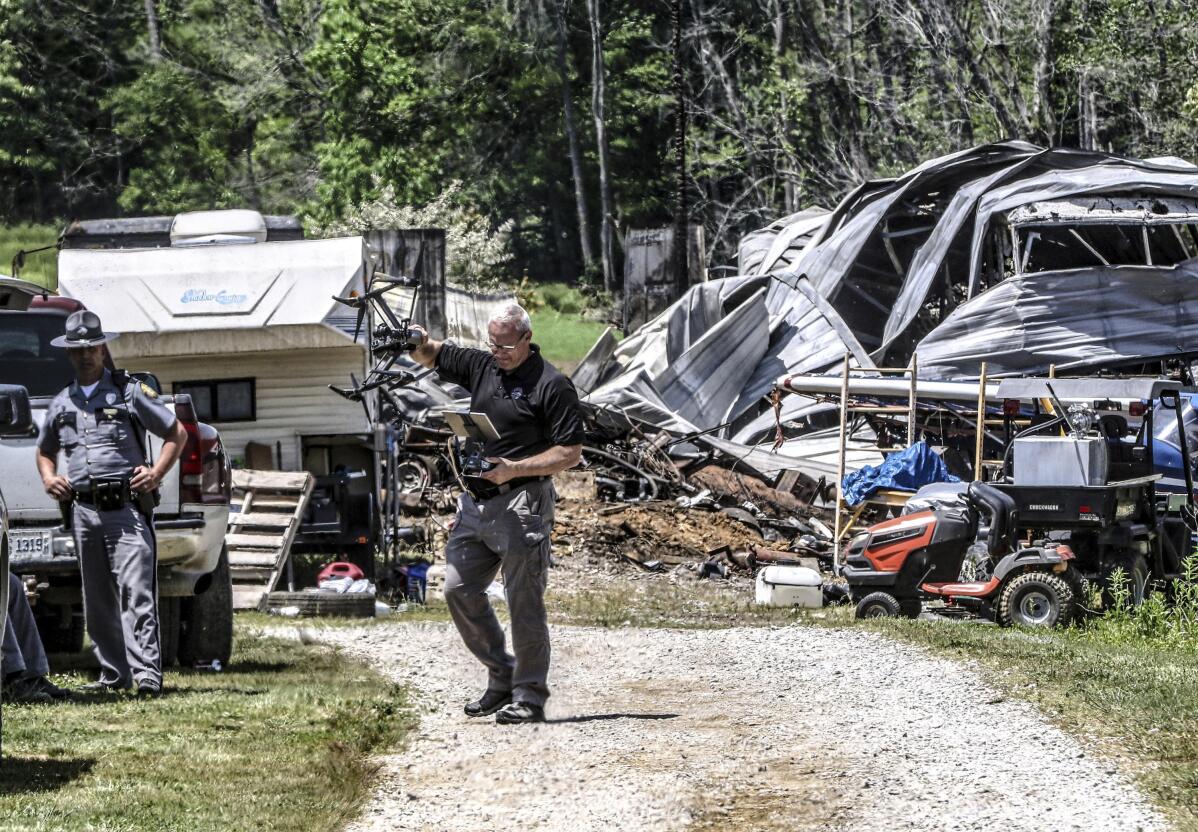 2 of 2

|
Sgt. Scott Rafferty with the Kentucky State Police Critical Incident Response Team prepares a drone for flight in order to map out the site of a fatal Ohio County shooting, Thursday, May 20, 2021, in McHenry, Ky. Police responded Wednesday afternoon to a home near Beaver Dam to find three victims outside the residence with apparent gunshot wounds, a statement from Kentucky State Police said. A detached structure near the home was ablaze and a body was found inside it Thursday morning, the statement said. (Greg Eans/The Messenger-Inquirer via AP)
4 killed in Kentucky fire and shootings are identified
1 of 2

|
Sgt. Scott Rafferty with the Kentucky State Police Critical Incident Response Team flies a drone while mapping the site of a fatal Ohio County shooting at a home, Thursday, May 20, 2021, in McHenry, Ky. Investigators found the bodies of two men and a woman at the home on Wednesday and a fourth body was discovered inside a barn that had been damaged by fire, seen at right, Thursday morning. (Greg Eans/The Messenger-Inquirer via AP)
1 of 2
Sgt. Scott Rafferty with the Kentucky State Police Critical Incident Response Team flies a drone while mapping the site of a fatal Ohio County shooting at a home, Thursday, May 20, 2021, in McHenry, Ky. Investigators found the bodies of two men and a woman at the home on Wednesday and a fourth body was discovered inside a barn that had been damaged by fire, seen at right, Thursday morning. (Greg Eans/The Messenger-Inquirer via AP)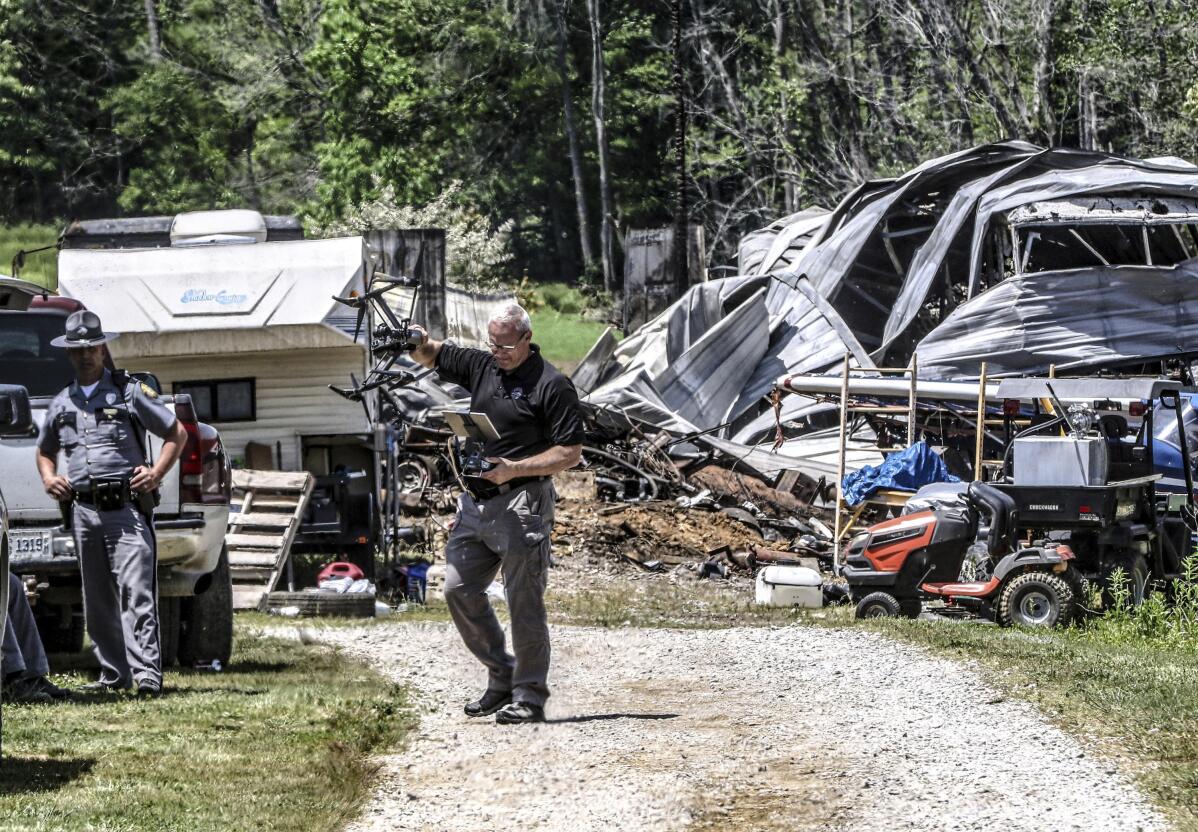 2 of 2

|
Sgt. Scott Rafferty with the Kentucky State Police Critical Incident Response Team prepares a drone for flight in order to map out the site of a fatal Ohio County shooting, Thursday, May 20, 2021, in McHenry, Ky. Police responded Wednesday afternoon to a home near Beaver Dam to find three victims outside the residence with apparent gunshot wounds, a statement from Kentucky State Police said. A detached structure near the home was ablaze and a body was found inside it Thursday morning, the statement said. (Greg Eans/The Messenger-Inquirer via AP)
2 of 2
Sgt. Scott Rafferty with the Kentucky State Police Critical Incident Response Team prepares a drone for flight in order to map out the site of a fatal Ohio County shooting, Thursday, May 20, 2021, in McHenry, Ky. Police responded Wednesday afternoon to a home near Beaver Dam to find three victims outside the residence with apparent gunshot wounds, a statement from Kentucky State Police said. A detached structure near the home was ablaze and a body was found inside it Thursday morning, the statement said. (Greg Eans/The Messenger-Inquirer via AP)
BEAVER DAM, Ky. (AP) — Kentucky State Police have identified all four people killed in a shooting incident and fire last week.
Calvin Leisure III, 38, of Beaver Dam, was found in the living quarters of a building destroyed by fire in Ohio County, police said Monday. His manner of death was not disclosed.
Three others suffered gunshot wounds, police said. They were Leisure's sister, Nora J. Owings, 44, and father, Calvin Leisure Jr., 66, both of Beaver Dam; and Owings' son, Hunter L. Owings, 20, of Centertown, police said.
Police found those three victims outside the residence on Wednesday.
No other details were provided. The investigation was continuing.