Ethics agency to better protect gymnasts for LA Olympics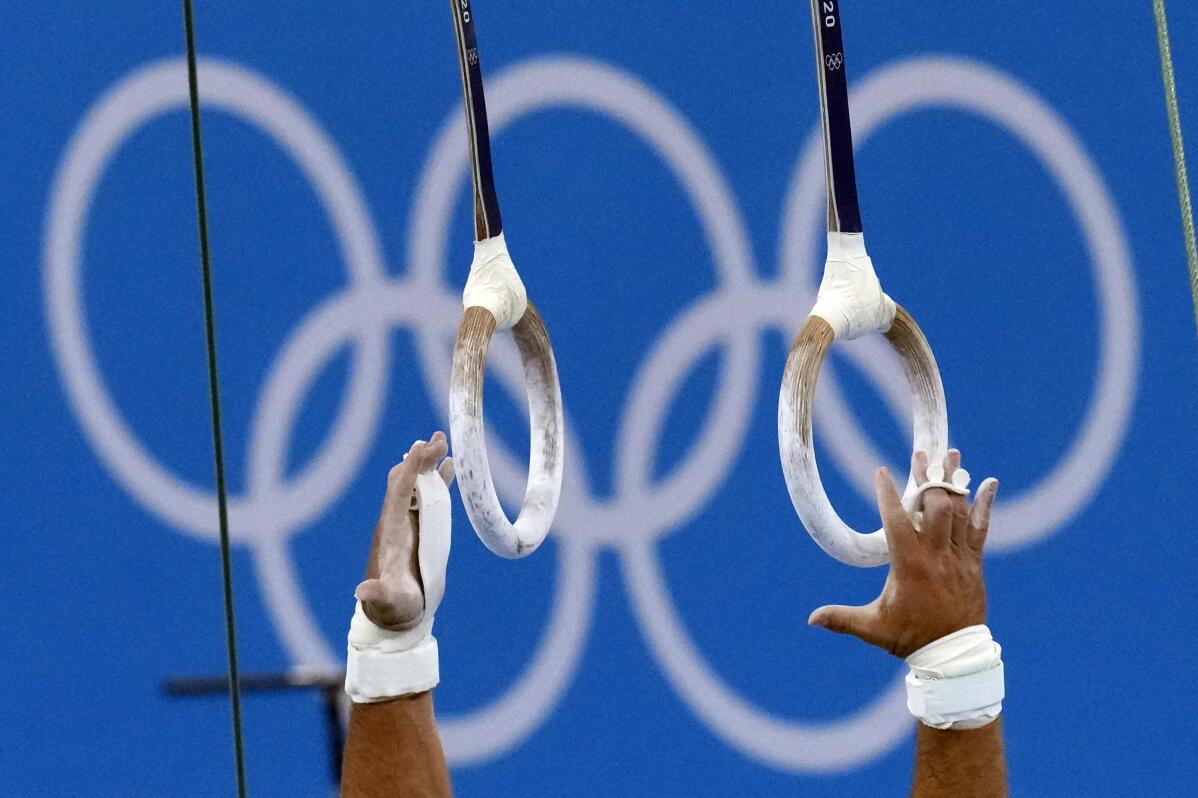 1 of 2

|
FILE - An athlete reaches for the rings during competition in artistic gymnastics at the 2020 Summer Olympics, Monday, Aug. 2, 2021, in Tokyo, Japan. Created to help protect athletes after the USA Gymnastics sexual abuse scandal, the sport's international investigations agency has set new safeguarding standards with a view to the 2028 Los Angeles Olympics. (AP Photo/Gregory Bull, File)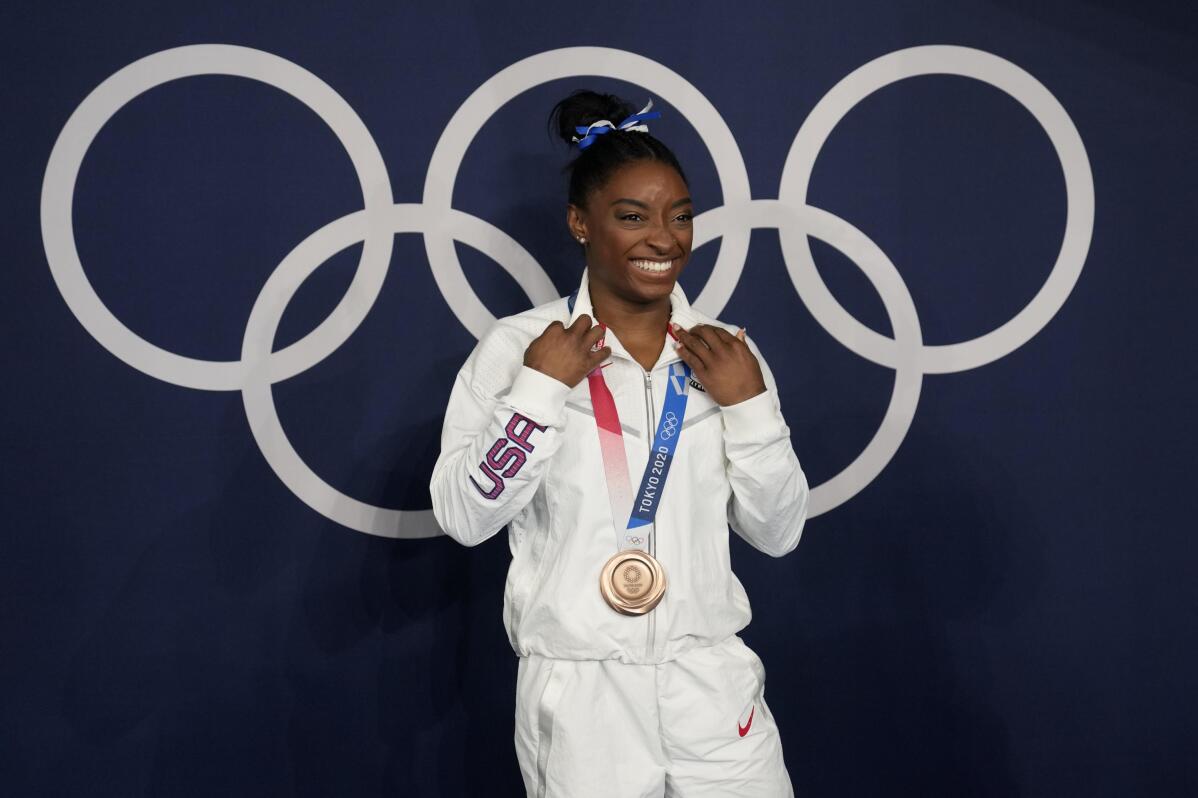 2 of 2

|
FILE - Simone Biles, of the United States, poses wearing her bronze medal from balance beam competition during artistic gymnastics at the 2020 Summer Olympics, Tuesday, Aug. 3, 2021, in Tokyo, Japan. The sport of gymnastics' international investigations agency was created in 2019 to help protect athletes after the American sexual abuse scandal. The Gymnastics Ethics Foundation has now published its strategy to set new standards in safeguarding before the 2028 Los Angeles Olympics. The "Gymnasts 2028" details goals for its work to protect athletes from harassment and abuse, investigate complaints, prosecute disciplinary cases and monitor national federations. (AP Photo/Natacha Pisarenko,File)
Ethics agency to better protect gymnasts for LA Olympics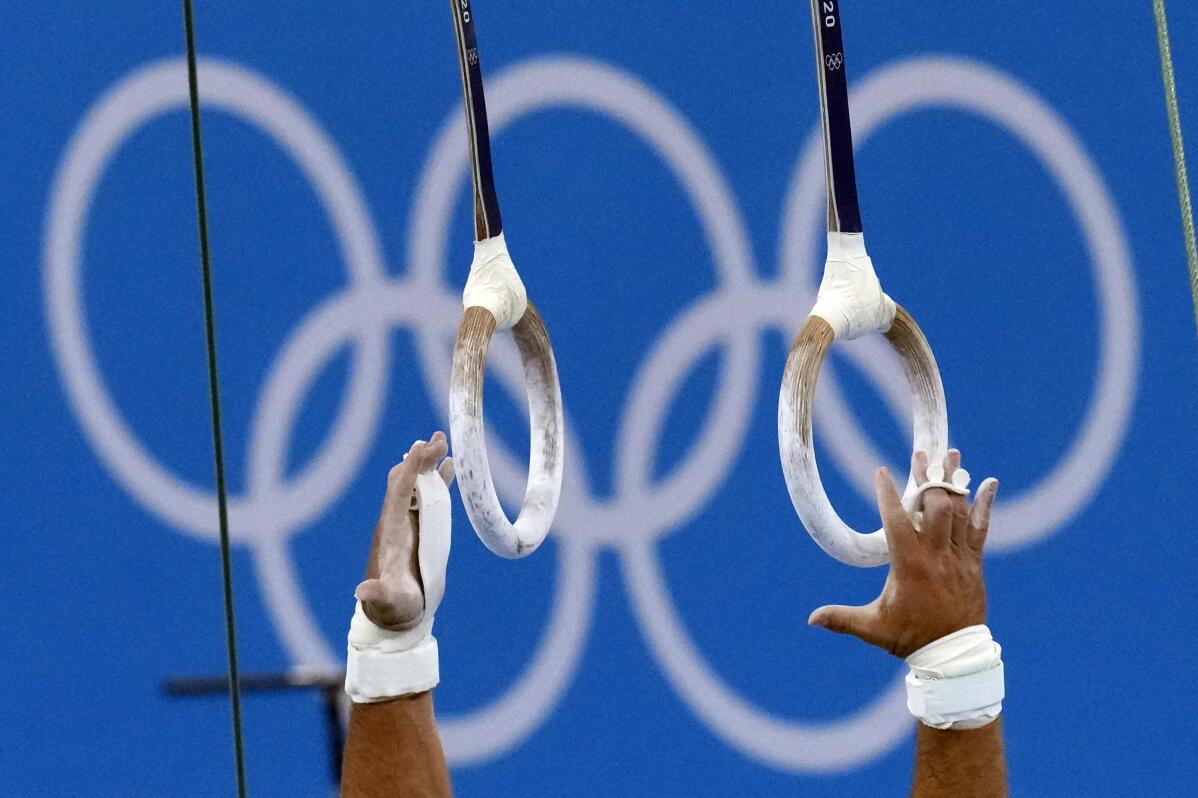 1 of 2

|
FILE - An athlete reaches for the rings during competition in artistic gymnastics at the 2020 Summer Olympics, Monday, Aug. 2, 2021, in Tokyo, Japan. Created to help protect athletes after the USA Gymnastics sexual abuse scandal, the sport's international investigations agency has set new safeguarding standards with a view to the 2028 Los Angeles Olympics. (AP Photo/Gregory Bull, File)
1 of 2
FILE - An athlete reaches for the rings during competition in artistic gymnastics at the 2020 Summer Olympics, Monday, Aug. 2, 2021, in Tokyo, Japan. Created to help protect athletes after the USA Gymnastics sexual abuse scandal, the sport's international investigations agency has set new safeguarding standards with a view to the 2028 Los Angeles Olympics. (AP Photo/Gregory Bull, File)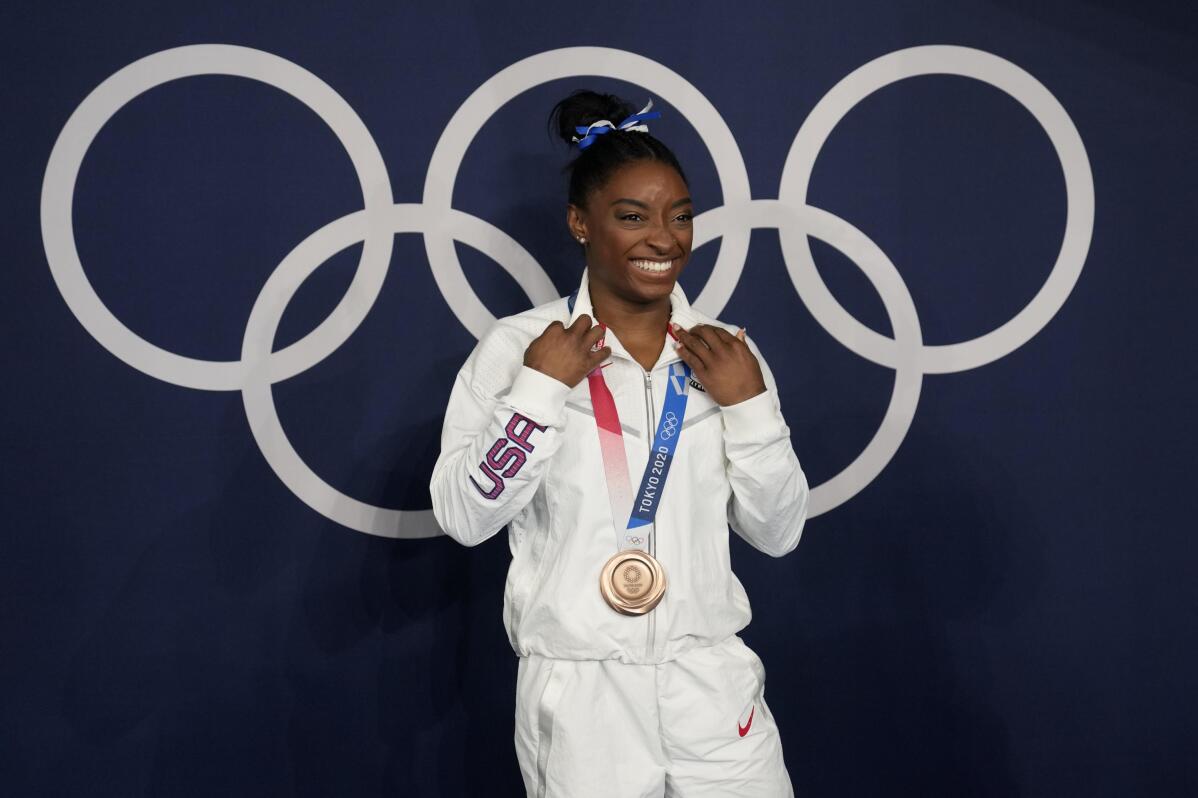 2 of 2

|
FILE - Simone Biles, of the United States, poses wearing her bronze medal from balance beam competition during artistic gymnastics at the 2020 Summer Olympics, Tuesday, Aug. 3, 2021, in Tokyo, Japan. The sport of gymnastics' international investigations agency was created in 2019 to help protect athletes after the American sexual abuse scandal. The Gymnastics Ethics Foundation has now published its strategy to set new standards in safeguarding before the 2028 Los Angeles Olympics. The "Gymnasts 2028" details goals for its work to protect athletes from harassment and abuse, investigate complaints, prosecute disciplinary cases and monitor national federations. (AP Photo/Natacha Pisarenko,File)
2 of 2
FILE - Simone Biles, of the United States, poses wearing her bronze medal from balance beam competition during artistic gymnastics at the 2020 Summer Olympics, Tuesday, Aug. 3, 2021, in Tokyo, Japan. The sport of gymnastics' international investigations agency was created in 2019 to help protect athletes after the American sexual abuse scandal. The Gymnastics Ethics Foundation has now published its strategy to set new standards in safeguarding before the 2028 Los Angeles Olympics. The "Gymnasts 2028" details goals for its work to protect athletes from harassment and abuse, investigate complaints, prosecute disciplinary cases and monitor national federations. (AP Photo/Natacha Pisarenko,File)
GENEVA (AP) — Created to help protect athletes after the USA Gymnastics sexual abuse scandal, the sport's international investigations agency has set new safeguarding standards with a view to the 2028 Los Angeles Olympics.
The Gymnastics Ethics Foundation published a "Gymnasts 2028" strategy Thursday to better protect athletes from harassment and abuse, investigate complaints, prosecute disciplinary cases and monitor national federations.
"The idea is to really put gymnasts at the center of our thinking throughout everything we do," Alex McLin, the independent foundation's director, told The Associated Press in an interview.
The GEF was created and funded by the sport's governing body, the International Gymnastics Federation, in the fallout from the scandal of long-time U.S. team doctor Larry Nassar, who is now in prison.
Since 2019, the foundation has worked to address systemic issues it describes as "the inherent power imbalances between gymnasts, coaches, judges, and administrators, a culture of control, tolerance of harmful and unethical behaviors, the vulnerabilities of young gymnasts."
"We realized early on that the sort of issues we were facing would likely take a decade to address," said McLin, an American who is an expert on sports governance.
That made 2028, when Los Angeles will host the Olympics "a good benchmark for us to organize ourselves," he said.
A generation of leaders have left USA Gymnastics since Nassar's abuse of hundreds of athletes emerged in 2016, and a new management structure of women's teams was put in place.
"US Gymnastics has gone through an incredible transition where it's a completely different organization from what it used to be," McLin said. "That shift is not happening with the same speed everywhere but that momentum is certainly there."
Since 2020, claims of bullying and abusive cultures were made by gymnasts in countries including Australia, Britain, the Netherlands and Switzerland.
"A large majority of what we do relates to cases of maltreatment," said McLin, whose organization has handled at least 135 cases in its first four years.
Two cases not connected to abuse but related to unethical conduct led to bans for a pair of prominent officials well-connected in Olympic circles: Russian rhythmic gymnastics coach Irina Viner and Australian sports executive Kitty Chiller.
"We are conscious that these are not decisions that could be taken necessarily by the (International Gymnastics Federation) previously in the former setup because of the political considerations," McLin acknowledged.
Viner's two-year ban for criticizing judges in Tokyo will exclude her from next year's Paris Olympics, even if Russian athletes are allowed back into competition.
Her strict, critical coaching style was starkly shown in a documentary, "Over The Limit," made ahead of the 2016 Rio de Janeiro Olympics. The film followed the preparations of eventual gold medalist Margarita Mamun.
"There is a level of awareness that simply wasn't there before and that can only be good," McLin said, praising such programs and investigative reporting into a bullying culture in gymnastics. "What we need is better prevention, but that starts with awareness."
Seeking to be more sensitive handling complaints by young athletes, the GEF wants to manage cases in a less adversarial way. McLin also wants to ensure the investigators picked for specific cases, plus the disciplinary and appeal judges, have the skills to be aware of trauma suffered by athletes.
"We need to be respectful of all of those who have suffered and for whom, even in 2028, watching the Olympics I am sure will be triggering to some," McLin said. "That is something we can never lose sight of."
___
More AP coverage of the Paris Olympics: https://apnews.com/hub/2024-paris-olympic-games and https://twitter.com/AP_Sports