Coroner: Lake Mead bones were Vegas man missing since 1998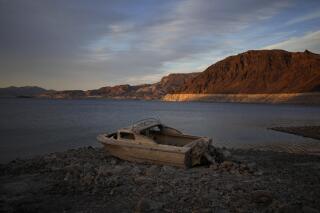 LAS VEGAS (AP) — Human remains found last summer at drought-stricken Lake Mead have been identified as a Las Vegas man missing since July 1998, authorities said Wednesday.
Claude Russell Pensinger was 52 at the time, the Clark County coroner's office said, noting that his bones were found over the course of three days last July and August on newly exposed shoreline near the Boulder Beach swimming area. A cause of death was not determined, a coroner's statement said.
A telephone call to possible family members was not returned, and Las Vegas police Officer Robert Wicks said it will take time to determine if the department has a missing person report related to Pensinger.
His identification came after investigators last month identified remains found in another part of the Colorado River reservoir behind Hoover Dam as Donald P. Smith, a 39-year-old North Las Vegas resident. He was reported to have drowned in April 1974. His death was ruled an accident.
Authorities are still trying to identify a man who police say was shot in the head and stuffed into a barrel. He was found in May 2022 near a popular swimming and boating area. Detectives said his clothing dated from the mid-1970s to early 1980s. The death is being investigated as a homicide.
Remains found in May 2022 were identified a few months later as those of Thomas Erndt, a 42-year-old Las Vegas father whose family said he drowned in 2002 while boating in the Callville Bay area.