Lamar Jackson says he has requested trade from Ravens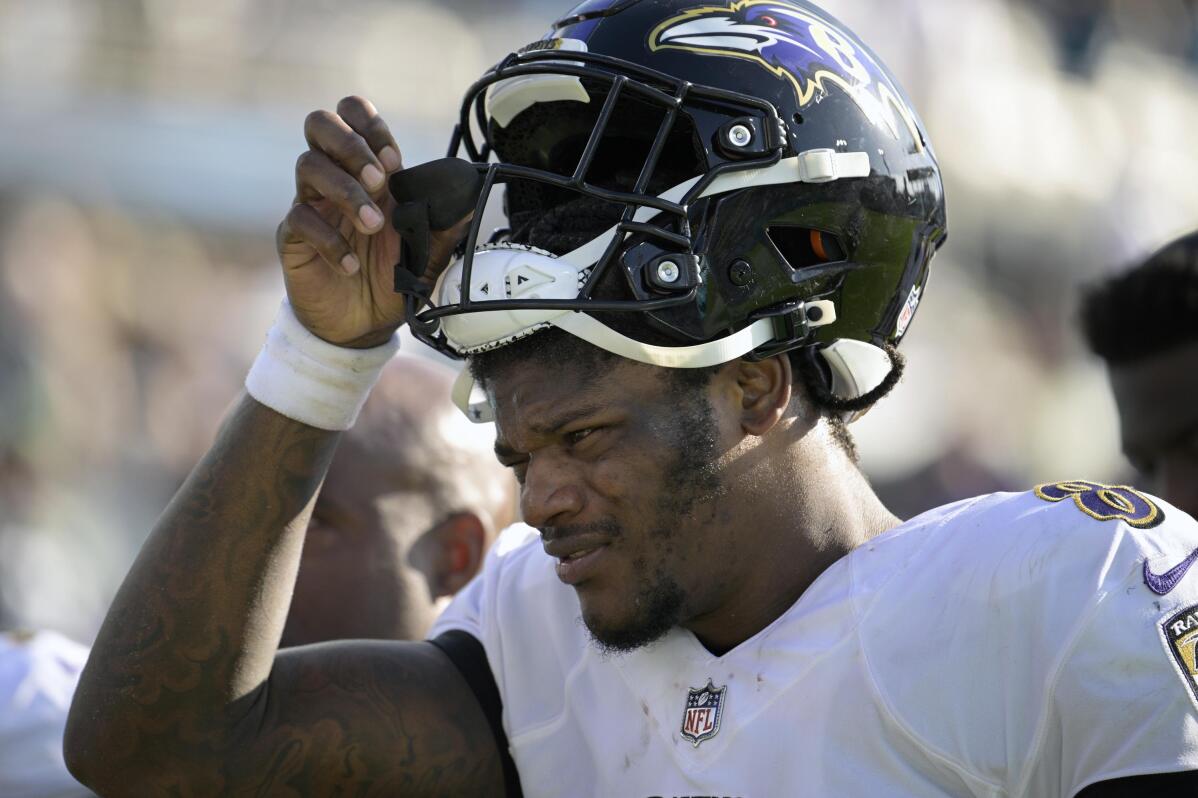 1 of 2

|
FILE - Baltimore Ravens quarterback Lamar Jackson (8) leaves the field after the end of the first half of an NFL football game against the Jacksonville Jaguars, Sunday, Nov. 27, 2022, in Jacksonville, Fla. Lamar Jackson said Monday, March 27, 2023, he has requested a trade from the Ravens. (AP Photo/Phelan M. Ebenhack)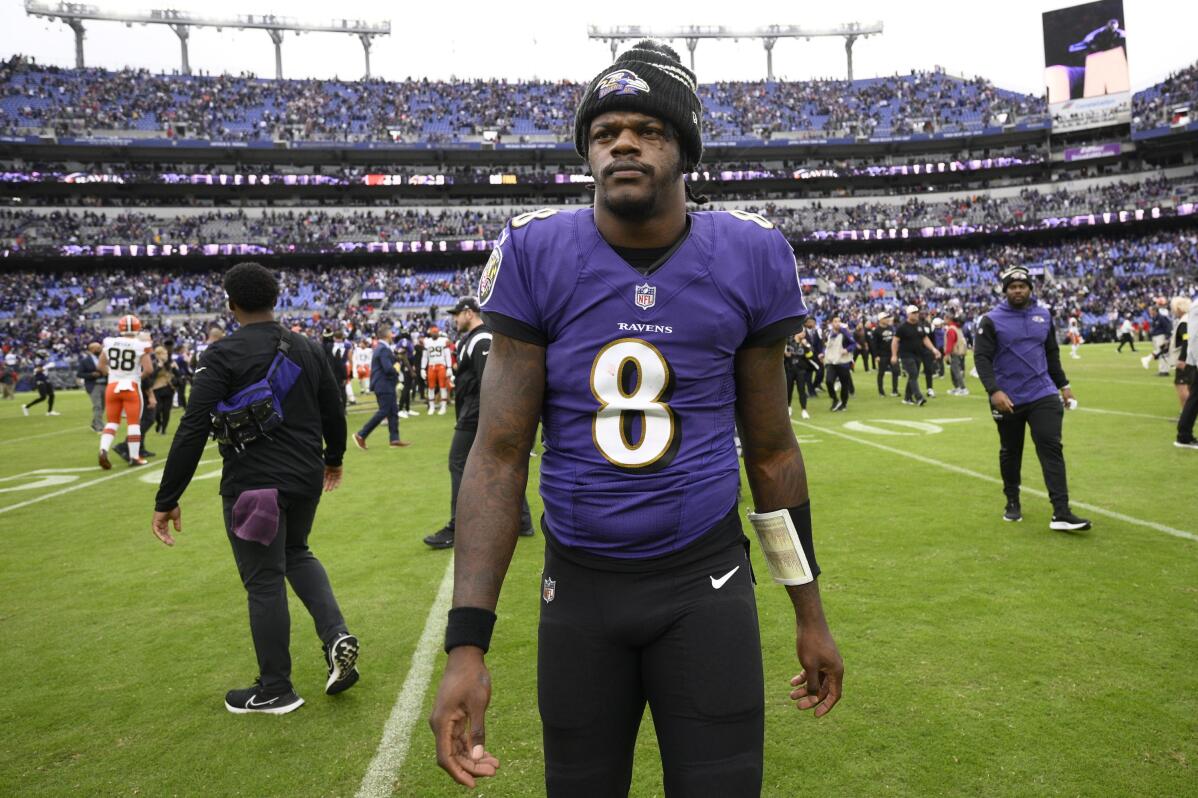 2 of 2

|
FILE - Baltimore Ravens quarterback Lamar Jackson (8) walks on the field after an NFL football game against the Cleveland Browns, Sunday, Oct. 23, 2022, in Baltimore. Lamar Jackson said Monday, March 27, 2023, he has requested a trade from the Ravens. (AP Photo/Nick Wass, File)
Lamar Jackson says he has requested trade from Ravens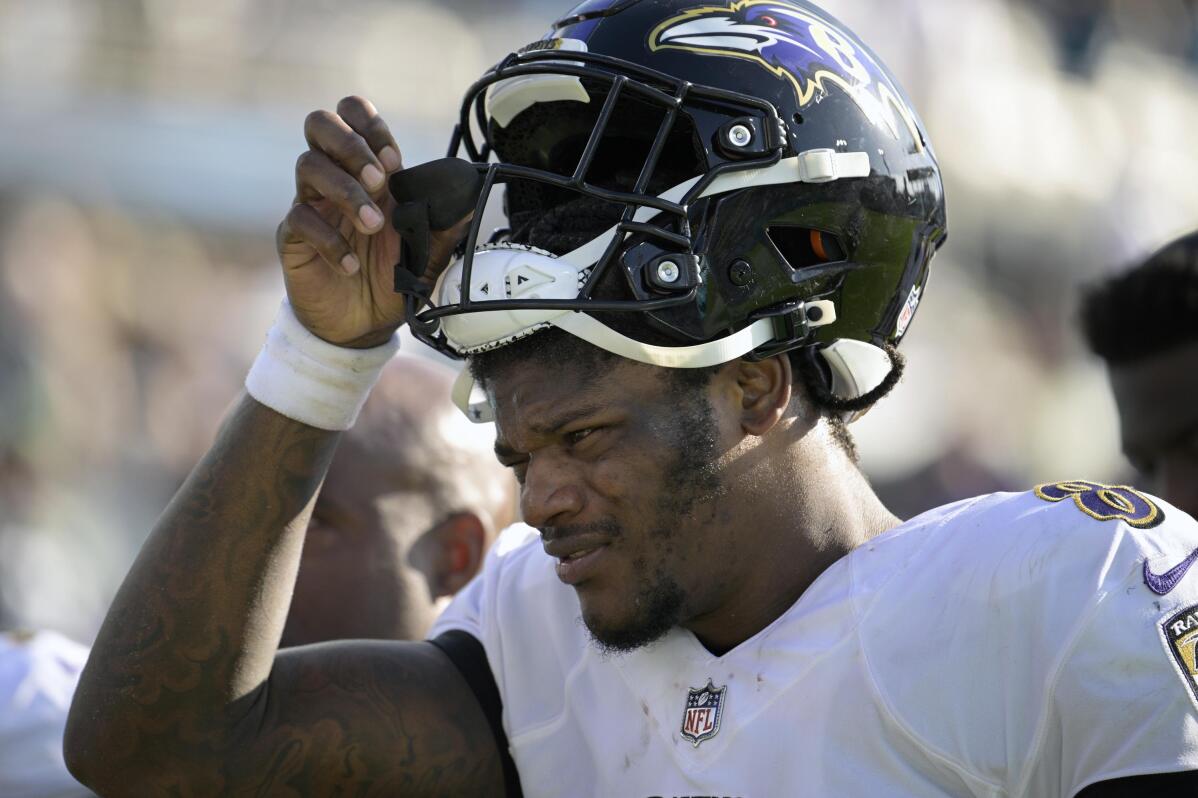 1 of 2

|
FILE - Baltimore Ravens quarterback Lamar Jackson (8) leaves the field after the end of the first half of an NFL football game against the Jacksonville Jaguars, Sunday, Nov. 27, 2022, in Jacksonville, Fla. Lamar Jackson said Monday, March 27, 2023, he has requested a trade from the Ravens. (AP Photo/Phelan M. Ebenhack)
1 of 2
FILE - Baltimore Ravens quarterback Lamar Jackson (8) leaves the field after the end of the first half of an NFL football game against the Jacksonville Jaguars, Sunday, Nov. 27, 2022, in Jacksonville, Fla. Lamar Jackson said Monday, March 27, 2023, he has requested a trade from the Ravens. (AP Photo/Phelan M. Ebenhack)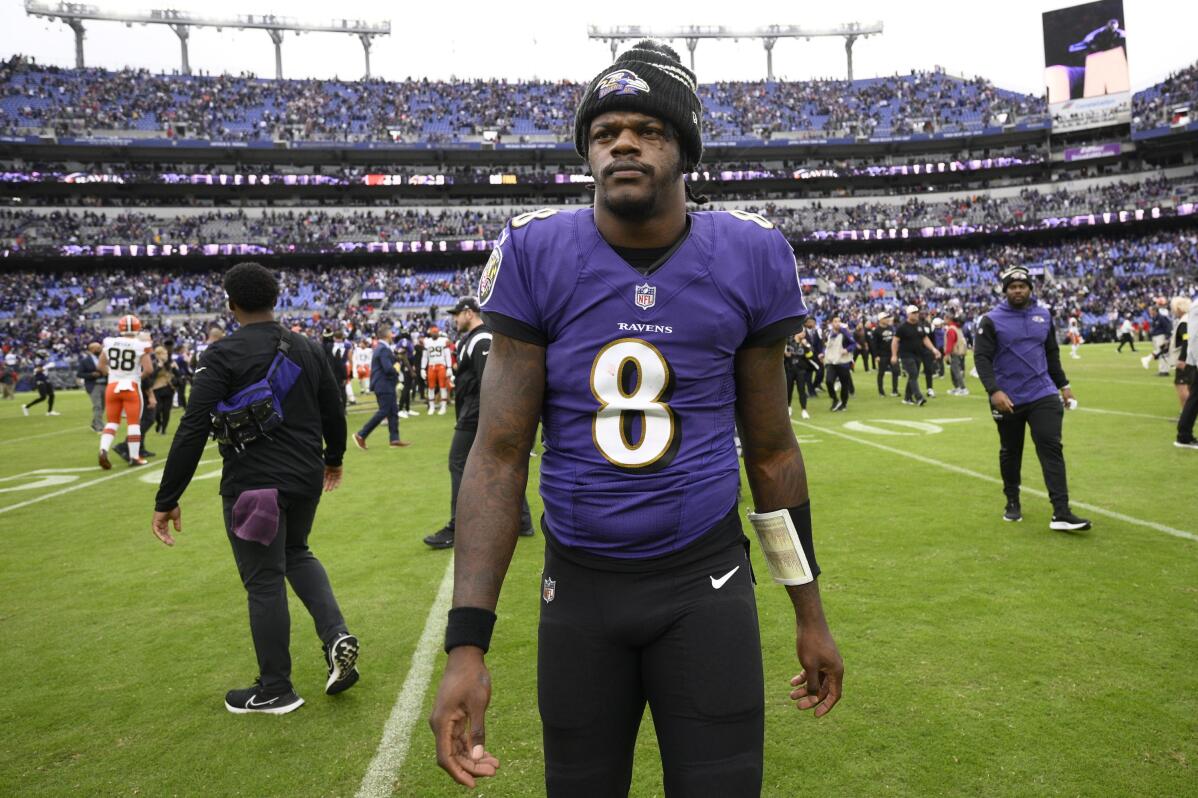 2 of 2

|
FILE - Baltimore Ravens quarterback Lamar Jackson (8) walks on the field after an NFL football game against the Cleveland Browns, Sunday, Oct. 23, 2022, in Baltimore. Lamar Jackson said Monday, March 27, 2023, he has requested a trade from the Ravens. (AP Photo/Nick Wass, File)
2 of 2
FILE - Baltimore Ravens quarterback Lamar Jackson (8) walks on the field after an NFL football game against the Cleveland Browns, Sunday, Oct. 23, 2022, in Baltimore. Lamar Jackson said Monday, March 27, 2023, he has requested a trade from the Ravens. (AP Photo/Nick Wass, File)
Lamar Jackson said Monday he has requested a trade from the Baltimore Ravens, saying the team "has not been interested in meeting my value."
In a series of tweets, the star quarterback said he requested a trade as of March 2. On March 7, the Ravens put the nonexclusive franchise tag on Jackson and said they were still hopeful they could reach a long-term deal with him.
"As of March 2nd I requested a trade from the Ravens organization for which the Ravens has not been interested in meeting my value," Jackson said on Twitter. "Any and everyone that's has met me or been around me know I love the game of football and my dream is to help a team win the super bowl."
Jackson may not need a trade to join a new team. The nonexclusive franchise tag allows him to negotiate with other clubs. However, it also gives Baltimore a chance to match any agreement he makes. The decision to make the trade request public may be an attempt to deter the Ravens from matching another team's offer — or an attempt to spur more interest among other teams by declaring that he wants out of Baltimore.
If Jackson makes a deal with another team and the Ravens don't match, that team would owe Baltimore two first-round draft picks.
Ravens coach John Harbaugh spoke extensively about Jackson on Monday at the league's owners meetings in Phoenix.
"I haven't seen the tweet. That's an ongoing process," Harbaugh said. "I'm following it very closely, just like everybody else is here, and looking forward to a resolution. I'm excited, thinking about Lamar all the time, thinking about him as our quarterback. We're building our offense around that idea."
Jackson was the 2019 NFL MVP. His passing and running ability make him one of the game's biggest stars. At age 25, he already is one of six quarterbacks in NFL history with 10,000 yards passing and 4,000 rushing.
Jackson has been hurt at the end of the past two seasons, and the Ravens haven't reached the AFC championship game with him. If he remains with Baltimore, he'll have a new coordinator. The Ravens hired Georgia's Todd Monken for that position after the end of last season.
Harbaugh said he anticipates Jackson being Baltimore's quarterback at the start of next season.
"You've got to plan for all the contingencies for sure," Harbaugh said. "But I'm pretty fired up about Lamar Jackson. I mean, Lamar Jackson is a great player. Lamar came back in great shape last year. He's fired up to play. That's the Lamar that I'm looking forward to seeing. Can't wait to get back on the grass and go to work, and I'm confident that's going to happen."
Harbaugh tried to stay upbeat about the prospects of Jackson's return. If Jackson does come back and play this season on Baltimore's $32.4 million franchise tag, it could certainly be an awkward situation, and the coach will have his work cut out for him trying to soothe any hard feelings.
"Nothing's changed in terms of the relationships, how we feel about Lamar, how we want to build our team," Harbaugh said.
Jackson does not have an agent. In a memo sent to teams last week and obtained by The Associated Press, the NFL management council said a person who is not an NFLPA-certified agent may be contacting clubs and attempting to persuade them to negotiate with Jackson. The memo reminded teams that, under the collective bargaining agreement, if a player is representing himself, an offer sheet can only be negotiated with that player.
Jackson said on Twitter the person in question never tried to negotiate for him.
___
AP Pro Football Writer Rob Maaddi contributed to this report. Follow Noah Trister at https://twitter.com/noahtrister
___
AP NFL: https://apnews.com/hub/nfl and https://twitter.com/AP_NFL