CMT changes award show format after Vegas shooting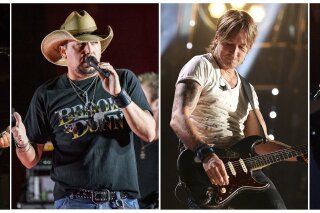 NASHVILLE, Tenn. (AP) — CMT is forgoing formal award presentations during this year's Artists of the Year show and devoting the entire live show to "a night of hope and healing through the power of music" following a mass shooting at a country music festival in Las Vegas.
The cable network said Thursday the new format for the Oct. 18 show will focus on the fans, as well as those affected by recent devastating hurricanes and wildfires. The show will air live from Nashville's Schermerhorn Symphony Center at 8 p.m. Eastern.
"It doesn't feel right to be patting ourselves on the back that night like we would normally do, but instead turn the focus a little bit toward the fans and thank them for what they've done for the artists," Margaret Comeaux, the show's executive producer, told The Associated Press.
Each of the show's honorees, which include Jason Aldean, Luke Bryan, Florida Georgia Line, Chris Stapleton and Keith Urban, agreed with the changes, Comeaux said.
Musicians will participate in public service announcements throughout the night and all the honorees, including Aldean, who was the headliner at the Route 91 Harvest Festival on Oct. 1 when a gunman opened fire on fans, will have an opportunity to give a message to fans.
The show will also direct fans to the CMT One Country website, which has resources for volunteer opportunities, charities and relief organizations.
The show will begin with a performance of "Rise Up" by Andra Day along with Grammy winners Little Big Town. Day and Common will perform their collaboration "Stand Up for Something" with Little Big Town and Lee Ann Womack.
Stapleton said the shooting that killed 58 people and left nearly 500 injured was the "worst news to wake up to" and that he has felt both fear and sorrow since it occurred. But he said that he believes that music has the capacity to heal in times of national tragedy.
"The right song in the right moment, even in your darkest hour when you're alone or feeling alone, can let you know that somebody else has been in that darkest hour or has felt the way that you do," Stapleton said. "And it helps bring us together and helps us feel all part of one community."
Stapleton said victims of the shooting will need financial support for medical bills and mental health counseling. But artists can also help by just returning to the stage.
"Keep playing music and keep going to watch people play music and go to concerts and listen to music," Stapleton said. "And not let fear win. That's a hard thing to think about and say when this is such a fresh thing. We can't yield to that."
__
Online:
www.cmt.com/artists-of-the-year
__
Follow Kristin M. Hall at Twitter.com/kmhall