ACLU: Federal agencies setting 'trap' to deport immigrants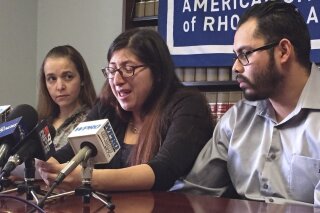 BOSTON (AP) — Federal immigration agencies have launched a coordinated campaign to arrest and deport immigrants seeking to become legal U.S. residents through marriage, according to documents released this week in a class-action lawsuit filed by the American Civil Liberties Union.
The documents, which include depositions and correspondence from federal officials, show the extent to which officials for the U.S. Citizenship and Immigration Services have been coordinating with their counterparts at Immigration and Customs Enforcement to facilitate arrests at citizenship offices in New England.
The ACLU, in its arguments, criticizes the efforts as a deportation "trap" that violates the constitutional rights of immigrants otherwise following the rules to become legal residents.
"The government created this path for them to seek a green card," Matthew Segal, legal director for the ACLU of Massachusetts, said in an interview Tuesday. "The government can't create that path and then arrest folks for following that path."
ICE spokesman John Mohan responded that allegations of "inappropriate coordination" between the two agencies are "unfounded" and that coordination between the two Department of Homeland Security agencies is "lawful and legitimate." He declined to elaborate, citing the pending litigation.
USCIS spokesman Michael Bars declined to comment on the legal filing, but said his agency, in general, notifies law enforcement of individuals with an outstanding warrant or removal order and leaves it to them to decide if an arrest is necessary.
The ACLU lawsuit argues that Homeland Security regulations created under former President Barack Obama allow immigrants with U.S.-citizen spouses to stay in the country while they seek a green card — even if they're already subject to deportation.
"That regulation is still the law of the land," Segal said Tuesday. "So arresting these folks is not about law and order. These are people with a path to legalization and the government is trying to block that."
The federal government, in seeking to dismiss the lawsuit, argues in part that federal District Court has no jurisdiction in the matter.
The ACLU's more than 250-page legal brief includes emails between ICE officials outlining how it coordinates arrests with USCIS in New England.
Andrew Graham, a Boston-based ICE officer, said the agency generally receives from USCIS lists of immigrants seeking legal residency who have already been ordered for deportation, had re-entered the country illegally or were considered "an egregious criminal alien."
Graham said ICE then works with USCIS to schedule interviews so that ICE agents can be present to make an arrest. He noted ICE prefers to spread out the interviews to ease the workload on its agents and to prevent generating "negative media interest" from the arrests.
"At the end of the day we are in the removal business and it's our job to locate and arrest them," Graham wrote in part.
The ACLU's legal brief is the latest in the class-action suit filed earlier this year on behalf of immigrants who have been or fear being separated from their U.S.-citizen spouses.
The case will be argued Aug. 20 in Boston federal court and names five couples, including lead plaintiffs Lilian Calderon and Luis Gordillo, of Rhode Island.
Gordillo is a U.S. citizen, but Calderon is a native of Guatemala who came to the country with her family at the age of 3. She was ordered to leave in 2002 after her father was denied asylum.
The 30-year-old mother of two was detained by ICE in January after she and her husband attended an interview at the USCIS office in Johnston, Rhode Island, to confirm their marriage.
Calderon was released in February after the ACLU challenged the detention.