Lebanese, EU legal teams to cooperate in Central Bank probe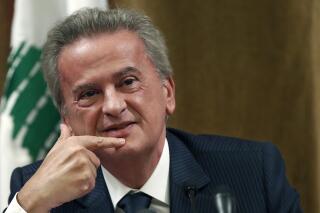 BEIRUT (AP) — Lebanese authorities and a European judicial team on Tuesday agreed to exchange information about their separate corruption probes of Lebanon's Central Bank governor, officials said.
The announcement came during a visit by a European delegation from France, Germany, and Luxembourg — its third visit to Lebanon to interrogate suspects and witnesses in an ongoing investigation of Governor Riad Salameh and associates over several financial crimes.
The officials met after Raja Salameh, the brother of the 72-year-old embattled governor, did not attend a scheduled hearing on Tuesday morning, citing an illness, Lebanese judicial officials said. They spoke on condition of anonymity to discuss the case. The governor and his brother are accused of embezzlement, money laundering, and illicit enrichment.
The European delegation first visited Lebanon in January to interrogate Riad Salameh and others from Lebanon's financial and banking sector, including some of the governor's close associates, in an ongoing probe into the laundering of some $330 million. The three European governments in March 2022 froze more than $130 million in assets linked to the investigation.
Separately, France has questioned the chairman of Lebanon's AM Bank, Marwan Kheireddine, on several charges, including money laundering. Reports in Lebanon say the governor and his associates had used commercial banks to siphon off public money.
In a two-day visit in March, the European delegation questioned Riad Salameh for eight hours, mainly about the Central Bank's assets and investments outside Lebanon, including about a Paris apartment and Forry Associates Ltd, a brokerage firm owned by Raja Salameh, who is to appear before French prosecutors in mid-May.
Salameh has repeatedly denied all allegations against him, insisting that his wealth comes from his previous job as an investment banker for Merrill Lynch, inherited properties, and through investments.
Other legal proceedings against Salameh are also underway in Lebanon.
In late February, Beirut's public prosecutor, Raja Hamoush, charged Riad Salameh, his brother, and their close associate Marianne Hoayek with corruption, including embezzling public funds, forgery, illicit enrichment, money-laundering and violation of tax laws.
Salameh — who has held his post for almost 30 years — was once hailed as the guardian of Lebanon's financial stability. However, since Lebanon's economic crisis erupted in 2019, many have criticized the governor, saying he precipitated the meltdown. The crisis has plunged three-quarters of the Mediterranean country's population of 6 million into poverty.
Salameh's term as governor is to expire in July, and while there is speculation that the authorities may renew it, he has said in interviews that he plans to step down.