IMF warns without reforms, Lebanon could see hyperinflation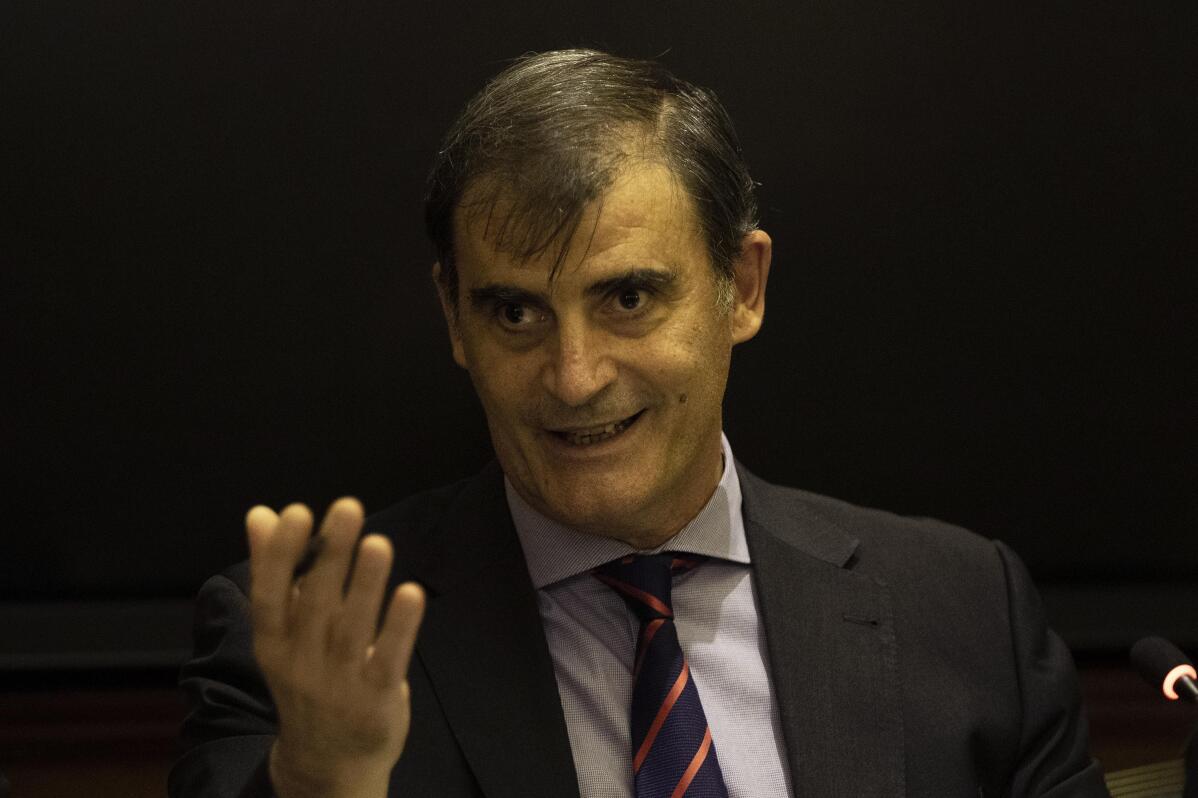 1 of 6

|
Ernesto Ramirez Rigo, the head of an International Monetary Fund mission to Lebanon speaks during a press conference in Beirut, Lebanon, Thursday, March 23, 2023. The IMF gave a grim assessment of Lebanon's prospects for getting out of its deepening financial crisis, saying that without reforms, the country is headed for hyperinflation. (AP Photo/Hassan Ammar)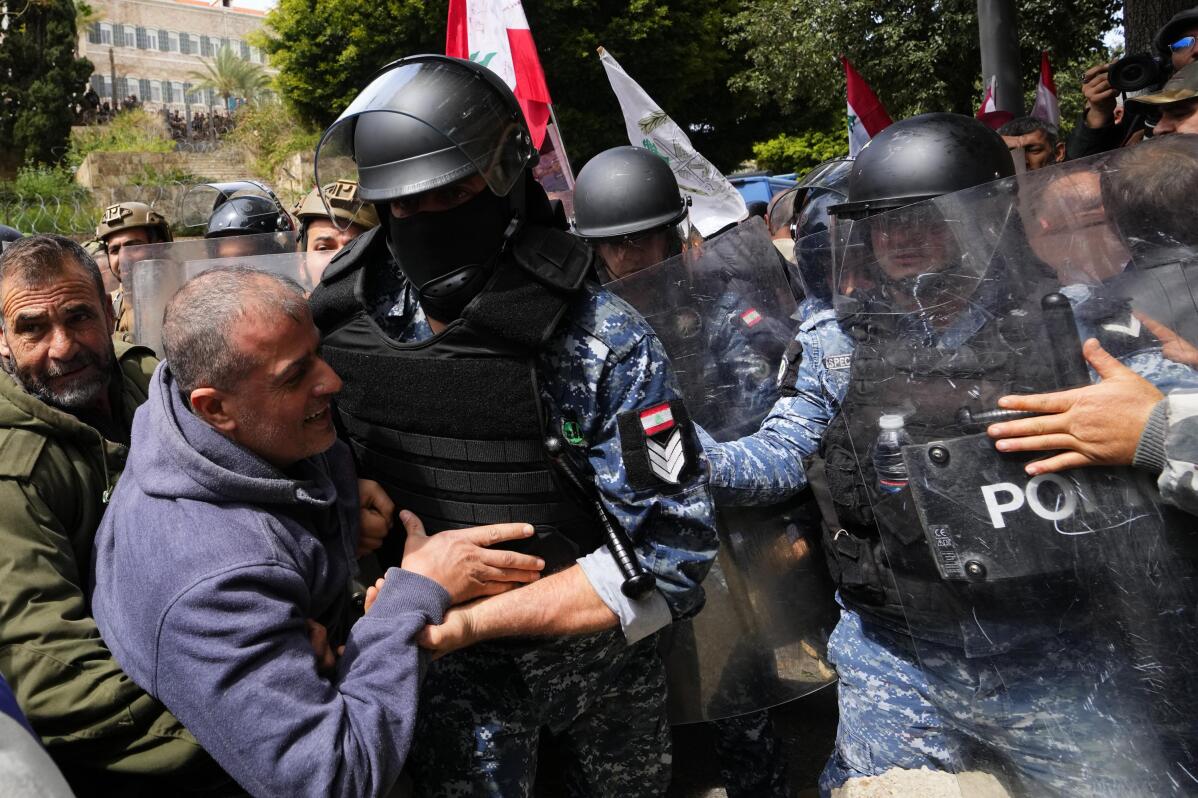 2 of 6

|
Riot police scuffle with retired members of the Lebanese security and other protesters that try to remove barbed-wire barrier and a gate in order to advance towards the government building, background, during a protest demanding better pay in Beirut, Lebanon, Wednesday, March 22, 2023. Lebanese security forces fired tear gas to disperse hundreds of protesters who tried to break through the fence leading to the government headquarters in downtown Beirut Wednesday amid widespread anger over the harsh economic conditions in the country. (AP Photo/Hassan Ammar)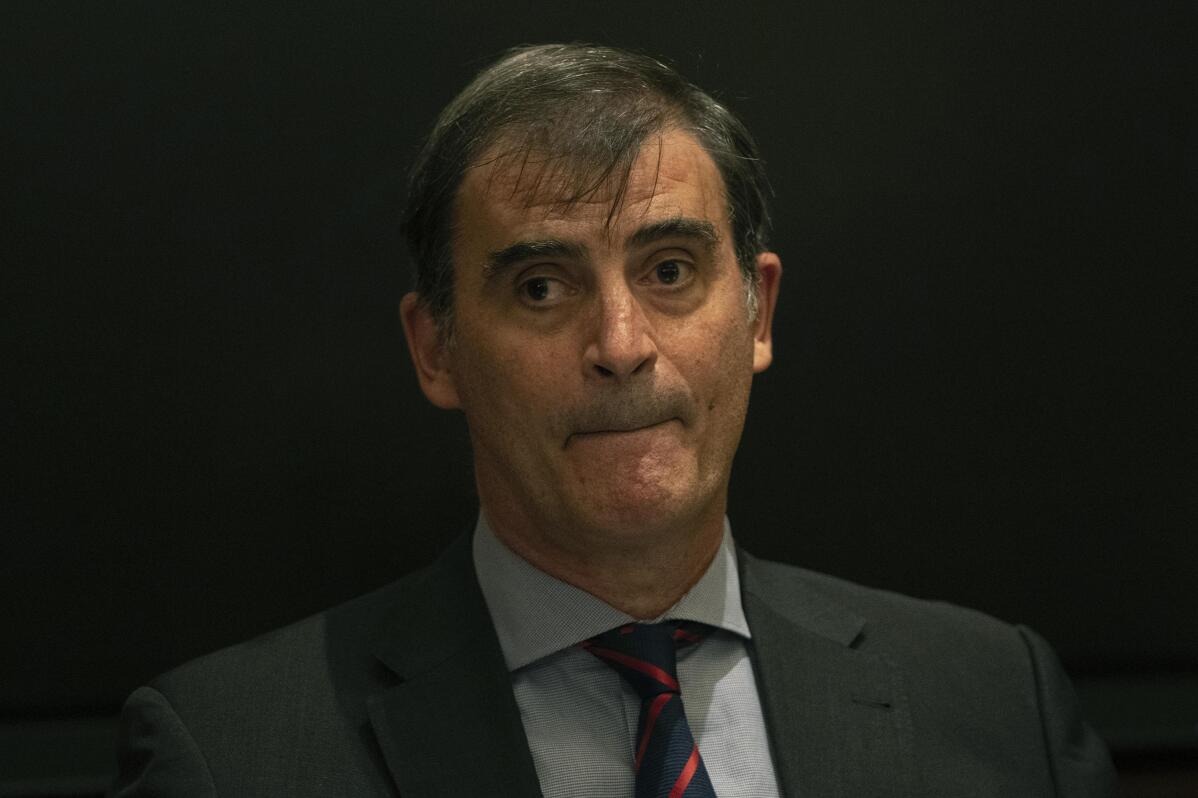 3 of 6

|
Ernesto Ramirez Rigo, the head of an International Monetary Fund mission to Lebanon gestures as he speaks during a press conference in Beirut, Lebanon, Thursday, March 23, 2023. The IMF gave a grim assessment of Lebanon's prospects for getting out of its deepening financial crisis, saying that without reforms, the country is headed for hyperinflation. (AP Photo/Hassan Ammar)
4 of 6

|
Retired members of the Lebanese security and other protesters run amid tear gas fired by riot police after the protesters try to remove barbed-wire barrier in order to advance towards the government building during a protest demanding better pay in Beirut, Lebanon, Wednesday, March 22, 2023. Lebanese security forces fired tear gas to disperse hundreds of protesters who tried to break through the fence leading to the government headquarters in downtown Beirut Wednesday amid widespread anger over the harsh economic conditions in the country. (AP Photo/Hassan Ammar)
5 of 6

|
Ernesto Ramirez Rigo, the head of an International Monetary Fund mission to Lebanon listens to a question during a press conference in Beirut, Lebanon, Thursday, March 23, 2023. The IMF gave a grim assessment of Lebanon's prospects for getting out of its deepening financial crisis, saying that without reforms, the country is headed for hyperinflation. (AP Photo/Hassan Ammar)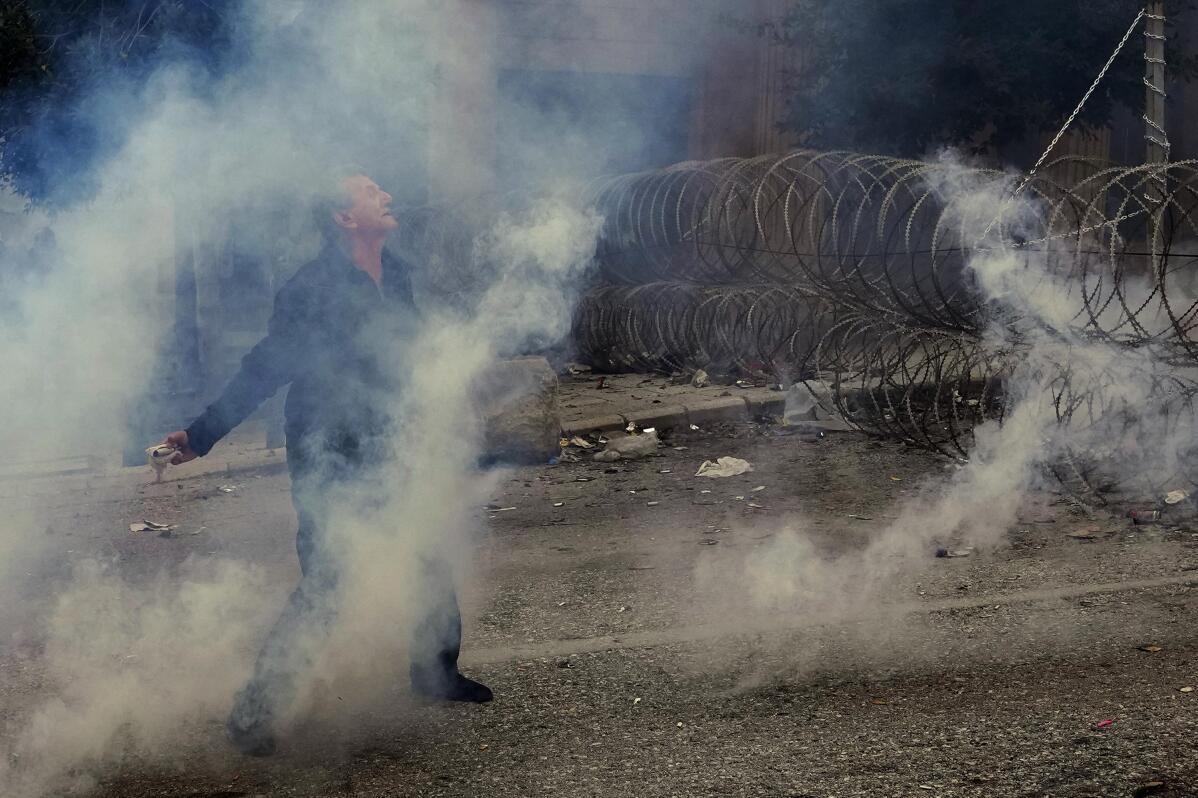 6 of 6

|
A retired member of the Lebanese security returns a tear gas canister towards riot police during a protest demanding better pay in Beirut, Lebanon, Wednesday, March 22, 2023. Lebanese security forces fired tear gas to disperse hundreds of protesters who tried to break through the fence leading to the government headquarters in downtown Beirut Wednesday amid widespread anger over the harsh economic conditions in the country. (AP Photo/Hassan Ammar)
IMF warns without reforms, Lebanon could see hyperinflation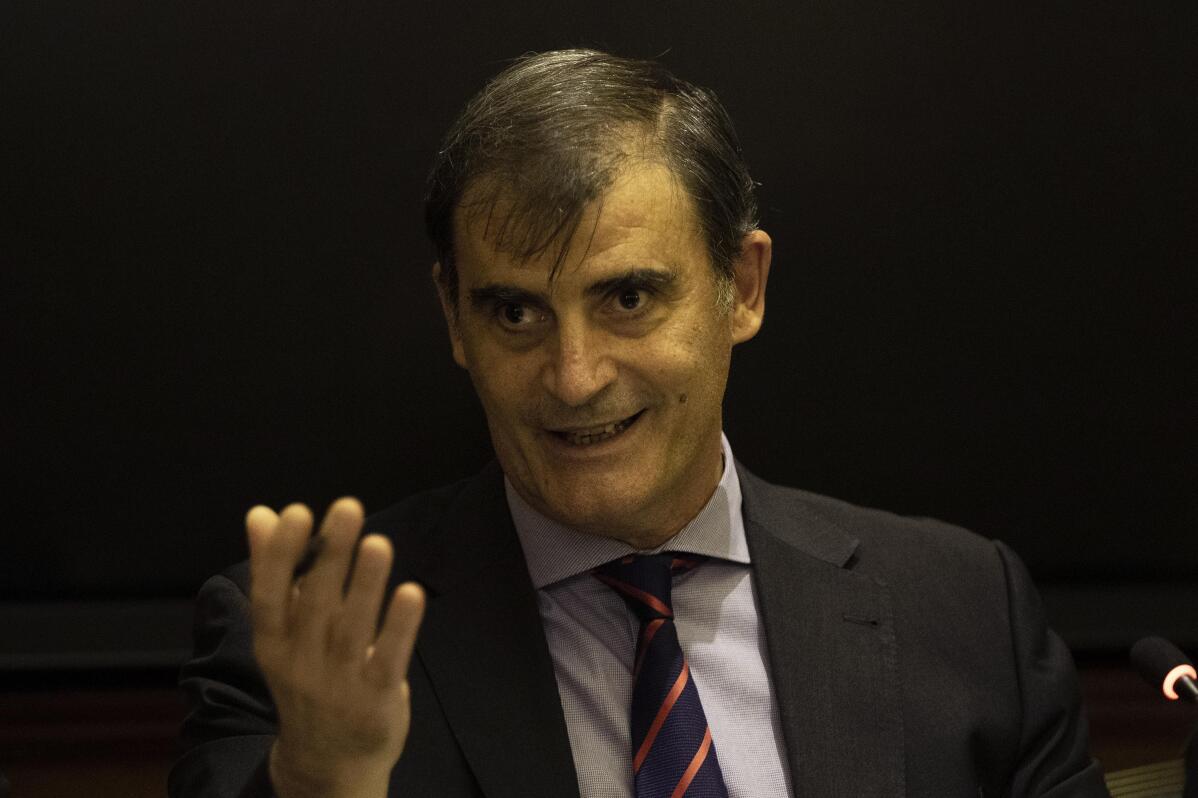 1 of 6

|
Ernesto Ramirez Rigo, the head of an International Monetary Fund mission to Lebanon speaks during a press conference in Beirut, Lebanon, Thursday, March 23, 2023. The IMF gave a grim assessment of Lebanon's prospects for getting out of its deepening financial crisis, saying that without reforms, the country is headed for hyperinflation. (AP Photo/Hassan Ammar)
1 of 6
Ernesto Ramirez Rigo, the head of an International Monetary Fund mission to Lebanon speaks during a press conference in Beirut, Lebanon, Thursday, March 23, 2023. The IMF gave a grim assessment of Lebanon's prospects for getting out of its deepening financial crisis, saying that without reforms, the country is headed for hyperinflation. (AP Photo/Hassan Ammar)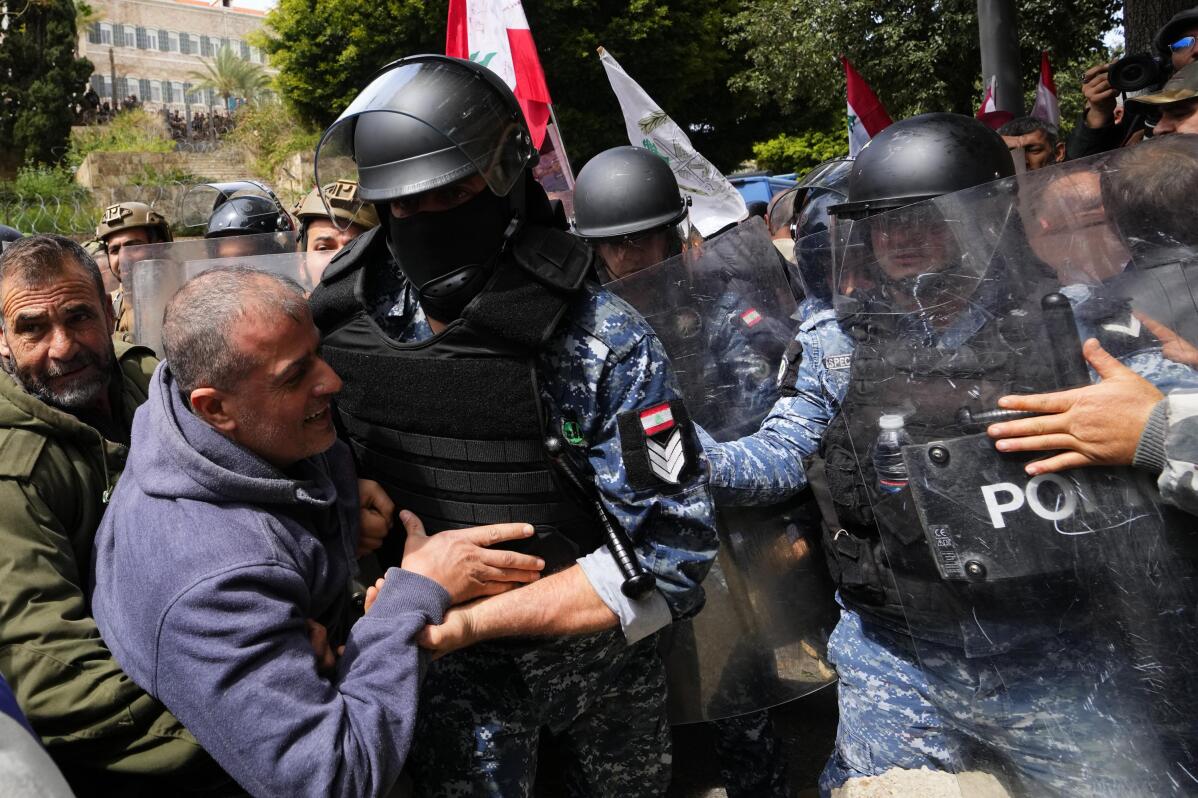 2 of 6

|
Riot police scuffle with retired members of the Lebanese security and other protesters that try to remove barbed-wire barrier and a gate in order to advance towards the government building, background, during a protest demanding better pay in Beirut, Lebanon, Wednesday, March 22, 2023. Lebanese security forces fired tear gas to disperse hundreds of protesters who tried to break through the fence leading to the government headquarters in downtown Beirut Wednesday amid widespread anger over the harsh economic conditions in the country. (AP Photo/Hassan Ammar)
2 of 6
Riot police scuffle with retired members of the Lebanese security and other protesters that try to remove barbed-wire barrier and a gate in order to advance towards the government building, background, during a protest demanding better pay in Beirut, Lebanon, Wednesday, March 22, 2023. Lebanese security forces fired tear gas to disperse hundreds of protesters who tried to break through the fence leading to the government headquarters in downtown Beirut Wednesday amid widespread anger over the harsh economic conditions in the country. (AP Photo/Hassan Ammar)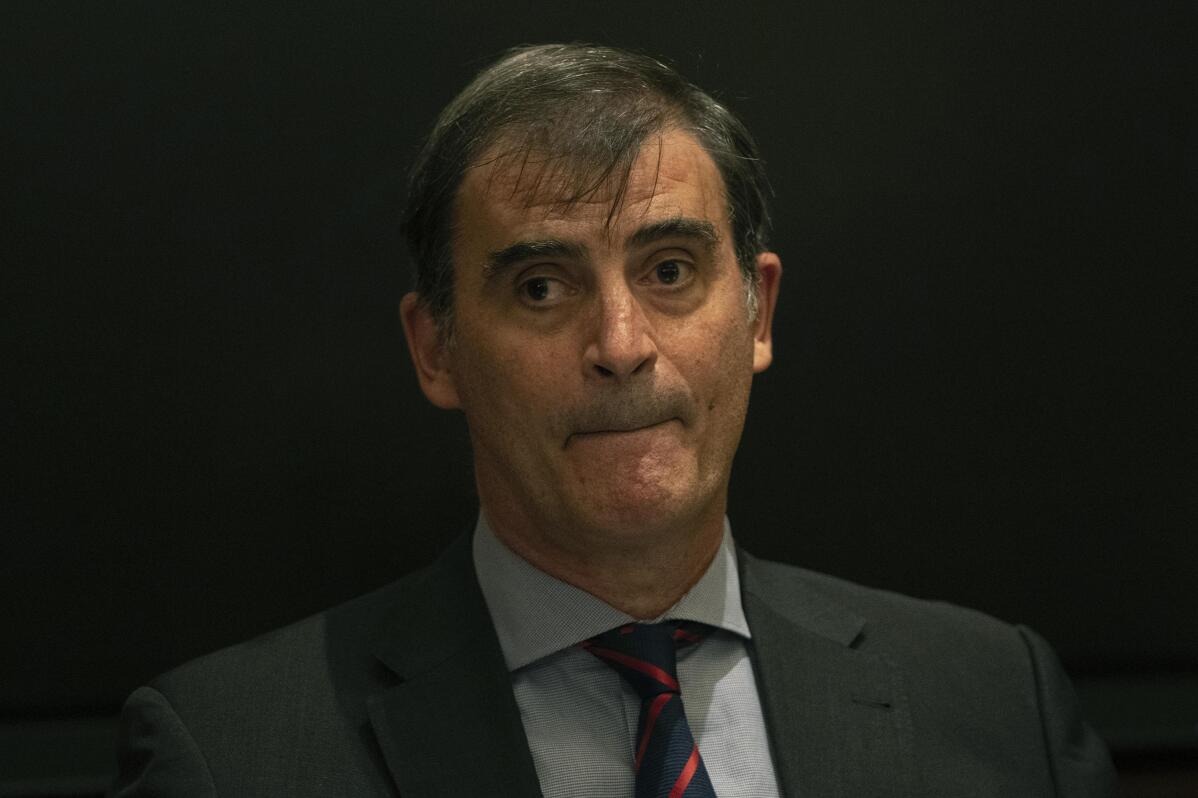 3 of 6

|
Ernesto Ramirez Rigo, the head of an International Monetary Fund mission to Lebanon gestures as he speaks during a press conference in Beirut, Lebanon, Thursday, March 23, 2023. The IMF gave a grim assessment of Lebanon's prospects for getting out of its deepening financial crisis, saying that without reforms, the country is headed for hyperinflation. (AP Photo/Hassan Ammar)
3 of 6
Ernesto Ramirez Rigo, the head of an International Monetary Fund mission to Lebanon gestures as he speaks during a press conference in Beirut, Lebanon, Thursday, March 23, 2023. The IMF gave a grim assessment of Lebanon's prospects for getting out of its deepening financial crisis, saying that without reforms, the country is headed for hyperinflation. (AP Photo/Hassan Ammar)
4 of 6

|
Retired members of the Lebanese security and other protesters run amid tear gas fired by riot police after the protesters try to remove barbed-wire barrier in order to advance towards the government building during a protest demanding better pay in Beirut, Lebanon, Wednesday, March 22, 2023. Lebanese security forces fired tear gas to disperse hundreds of protesters who tried to break through the fence leading to the government headquarters in downtown Beirut Wednesday amid widespread anger over the harsh economic conditions in the country. (AP Photo/Hassan Ammar)
4 of 6
Retired members of the Lebanese security and other protesters run amid tear gas fired by riot police after the protesters try to remove barbed-wire barrier in order to advance towards the government building during a protest demanding better pay in Beirut, Lebanon, Wednesday, March 22, 2023. Lebanese security forces fired tear gas to disperse hundreds of protesters who tried to break through the fence leading to the government headquarters in downtown Beirut Wednesday amid widespread anger over the harsh economic conditions in the country. (AP Photo/Hassan Ammar)
5 of 6

|
Ernesto Ramirez Rigo, the head of an International Monetary Fund mission to Lebanon listens to a question during a press conference in Beirut, Lebanon, Thursday, March 23, 2023. The IMF gave a grim assessment of Lebanon's prospects for getting out of its deepening financial crisis, saying that without reforms, the country is headed for hyperinflation. (AP Photo/Hassan Ammar)
5 of 6
Ernesto Ramirez Rigo, the head of an International Monetary Fund mission to Lebanon listens to a question during a press conference in Beirut, Lebanon, Thursday, March 23, 2023. The IMF gave a grim assessment of Lebanon's prospects for getting out of its deepening financial crisis, saying that without reforms, the country is headed for hyperinflation. (AP Photo/Hassan Ammar)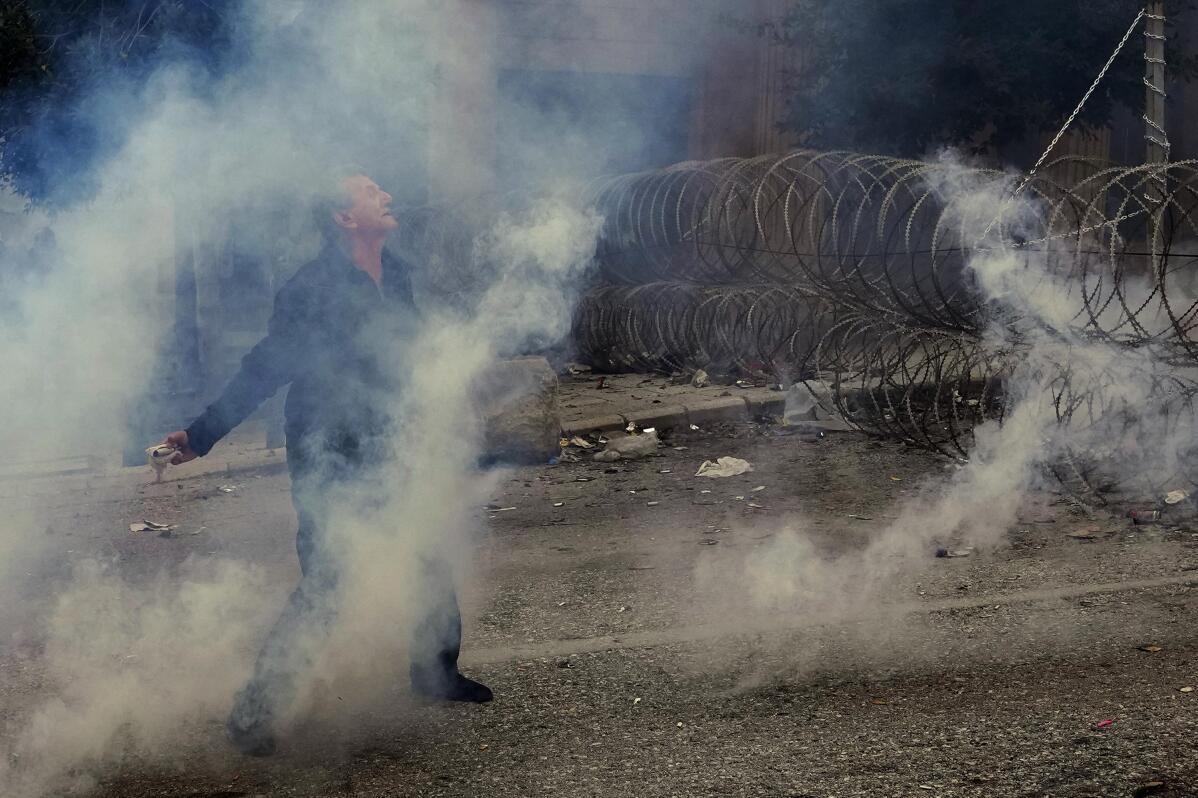 6 of 6

|
A retired member of the Lebanese security returns a tear gas canister towards riot police during a protest demanding better pay in Beirut, Lebanon, Wednesday, March 22, 2023. Lebanese security forces fired tear gas to disperse hundreds of protesters who tried to break through the fence leading to the government headquarters in downtown Beirut Wednesday amid widespread anger over the harsh economic conditions in the country. (AP Photo/Hassan Ammar)
6 of 6
A retired member of the Lebanese security returns a tear gas canister towards riot police during a protest demanding better pay in Beirut, Lebanon, Wednesday, March 22, 2023. Lebanese security forces fired tear gas to disperse hundreds of protesters who tried to break through the fence leading to the government headquarters in downtown Beirut Wednesday amid widespread anger over the harsh economic conditions in the country. (AP Photo/Hassan Ammar)
BEIRUT (AP) — The International Monetary Fund gave a grim assessment Thursday of Lebanon's prospects for getting out of its deepening financial crisis, saying that without reforms, the country is headed for hyperinflation.
Since late 2019, tiny Lebanon has fallen into the worst economic crisis in its modern history, rooted in decades of corruption and mismanagement by a political class that has ruled the country since the end of the 1975-90 civil war. Three-quarters of Lebanon's population of over 6 million, including a million Syrian refugees, now lives in poverty and inflation is soaring.
Ernesto Ramirez Rigo, the head of the IMF mission visiting Lebanon, said at a news conference Thursday at the end of their nine-day visit that continued inaction by Lebanese leaders would leave the nation in a "never-ending crisis" in which it could spiral into hyperinflation, "affecting the quality of life of many Lebanese for years to come."
The IMF visit came as progress towards finalizing a sorely needed IMF bailout package for the struggling country has largely stalled.
Since reaching a preliminary agreement with the IMF nearly a year ago, Lebanese officials have made limited progress on reforms required to clinch the deal, which include restructuring the country's debts and its ailing banking system, reforming its barely functioning public electricity system and making governance reforms.
The visit was part of the regular assessments the IMF conducts of all member countries and was not directly related to the negotiations for a bail-out. However, Rigo expressed frustration at the slow rate of progress on the reforms required to reach a deal.
He denied that the IMF is thinking of walking away from the deal altogether.
"There is no deadline, we never walk away from our country members," Rigo said. However, he said, "One would have expected a lot more in terms of implementation."
Rigo noted that even the legislation that has been passed to enact reforms has in some cases fallen short. Amendments to the country's banking secrecy law approved in October, intended to facilitate accountability in the financial sector, and a draft capital controls law do not meet the IMF's requirements, Rigo said.
The preliminary deal reached last year would have provided a bailout of about $3 billion, but Rigo said that figure would have to be revisited as the country's economic situation has changed.
Lebanon's currency, officially valued at 15,000 Lebanese pounds to the dollar, is trading at more than 100,000 for $1 on the black market, which is used for nearly all transactions.
The pound hit a new low on Tuesday, hitting 140,000 pounds to the dollar, before rebounding slightly. On Wednesday, hundreds of protesters, mainly retired soldiers, tried to break through a fence leading to the government headquarters and parliament building in downtown Beirut before security forces drove them back by firing teargas.
The IMF released a statement at the end of the visit, saying that economic activity had stabilized slightly in 2022, compared to the first two years of the crisis, in part due to some recovery in tourism and large volumes of remittances sent from abroad.
But it noted that inflation remains in the triple digits and said the collapse of public revenues has led to "drastic and disorderly cuts" to public spending and services. Lebanon's foreign reserves declined from $36 billion before the crisis to $10 billion in December, it added.