Michigan board agrees to put marijuana question on ballot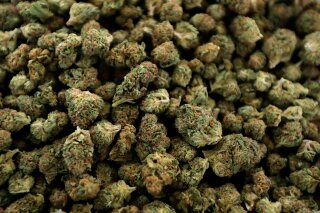 LANSING, Mich. (AP) — Michigan voters will decide in November whether to allow recreational marijuana, after officials certified Thursday that there were enough signatures to put the measure on the ballot.
The proposal, which the bipartisan state elections board allowed to proceed on a 4-0 vote, would make Michigan the 10th state and the first in the Midwest to legalize the drug for recreational purposes. It would let people 21 and older possess up to 2.5 ounces (71 grams) of marijuana and grow up to 12 plants at home. A 10 percent tax on marijuana would be assessed on top of the 6 percent state sales tax.
While lawmakers could enact the citizen-initiated bill on their own, Republican House Speaker Tom Leonard said he did not expect that to happen.
"There is not much support in the caucus. I personally do not support it. So I believe this is something that ultimately the voters are going to have to decide," he said.
Some Republicans fear the legalization effort could drive up Democratic turnout for the general election.
Organizers who secured 277,000 valid signatures out of 362,000 that were submitted cheered the advance of their proposal.
"This November, Michigan voters will finally get the chance to eliminate Michigan's outdated marijuana laws," said John Truscott, spokesman for the Coalition to Regulate Marijuana Like Alcohol. "Just like with alcohol, it is clear that prohibition doesn't work and that regulation and taxation is a far better solution."
The president of a ballot committee opposing legalization, Healthy and Productive Michigan, unsuccessfully urged the board to reject the pot initiative. Scott Greenlee said it is "fundamentally flawed" because federal law prohibits the cultivation, distribution and possession of marijuana and is "supreme."
Though the House leader signaled the recreational pot bill is headed to a statewide vote, lawmakers do have another option that appears unlikely. They could reject the legislation and propose an alternative, in which case both would be placed on the ballot.
Michigan voters legalized marijuana for medical use in 2008.
Also Thursday, the Board of State Canvassers deadlocked 2-2 on a separate initiative that would repeal a 53-year-old law that requires higher "prevailing" wages to be paid construction workers on state-financed projects such as school buildings. Nonunion contractors backing the wage measure vowed to sue to compel certification, noting that staff for board had determined enough petitions were collected.
Two Democrats agreed with unions opposing the wage measure and voted against certification despite elections bureau staff having recommended it. Staff said more than 262,000 of 382,000 signatures were valid. About 252,000 were needed.
The Democrats had concerns with allegedly irregular addresses of paid circulators.
Their no votes drew condemnation from Republicans, conservative groups and Protecting Michigan Taxpayers, the ballot group backed by a nonunion construction trade organization that wants to rescind the prevailing wage law.
"This is a pretty easy case. You saw two ministerial people put on magisterial black robes and decided that they didn't like something," said Eric Doster, an attorney for the ballot committee, which will soon sue in the state Court of Appeals.
But Democratic canvasser Julie Matuzak said "there is a real and legitimate legal conflict that needs to be sorted out, either by the Legislature or the courts." She said she voted to reject the petitions because circulators are supposed to state their residential address, and non-resident circulators should not have been able to list any address they want.
"I think that makes a mockery of what is a really important right of people to petition their government," Matuzak said.
___
Follow David Eggert on Twitter at https://twitter.com/DavidEggert00 . His work can be found at https://apnews.com/search/David%20Eggert