Greek trial of volunteer migrant rescuers to resume Friday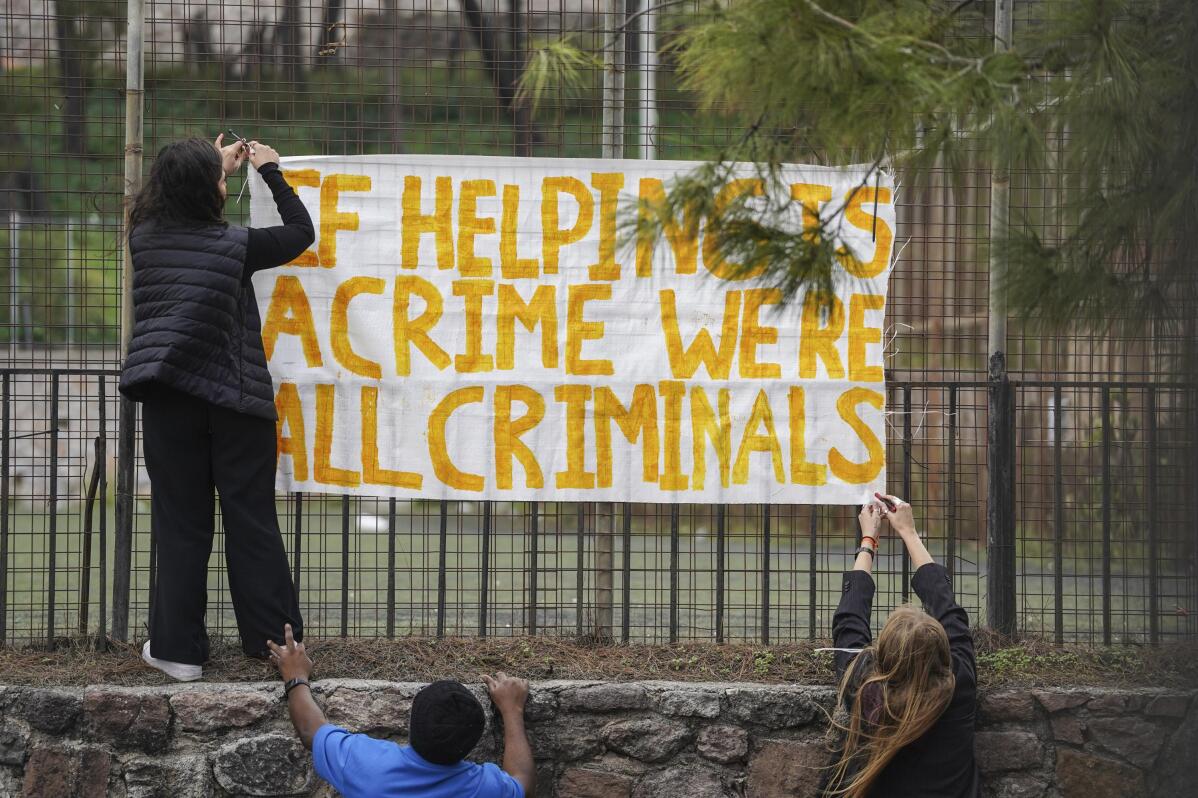 1 of 6

|
Supporters of the 24 aid workers and volunteers of 24 aid workers and volunteers accused of participating in migrant rescue operations hang up a banner outside the court in Mytilene, on the northeastern Aegean island of Lesbos, Greece, Tuesday, Jan. 10, 2023. A Greek court was set to hear a smuggling-related criminal case Tuesday against a group of 24 aid workers and volunteers. The defendants deny all charges and say all they did was help rescue endangered people. International human rights groups have widely criticized the prosecution. (AP Photo/Panagiotis Balaskas)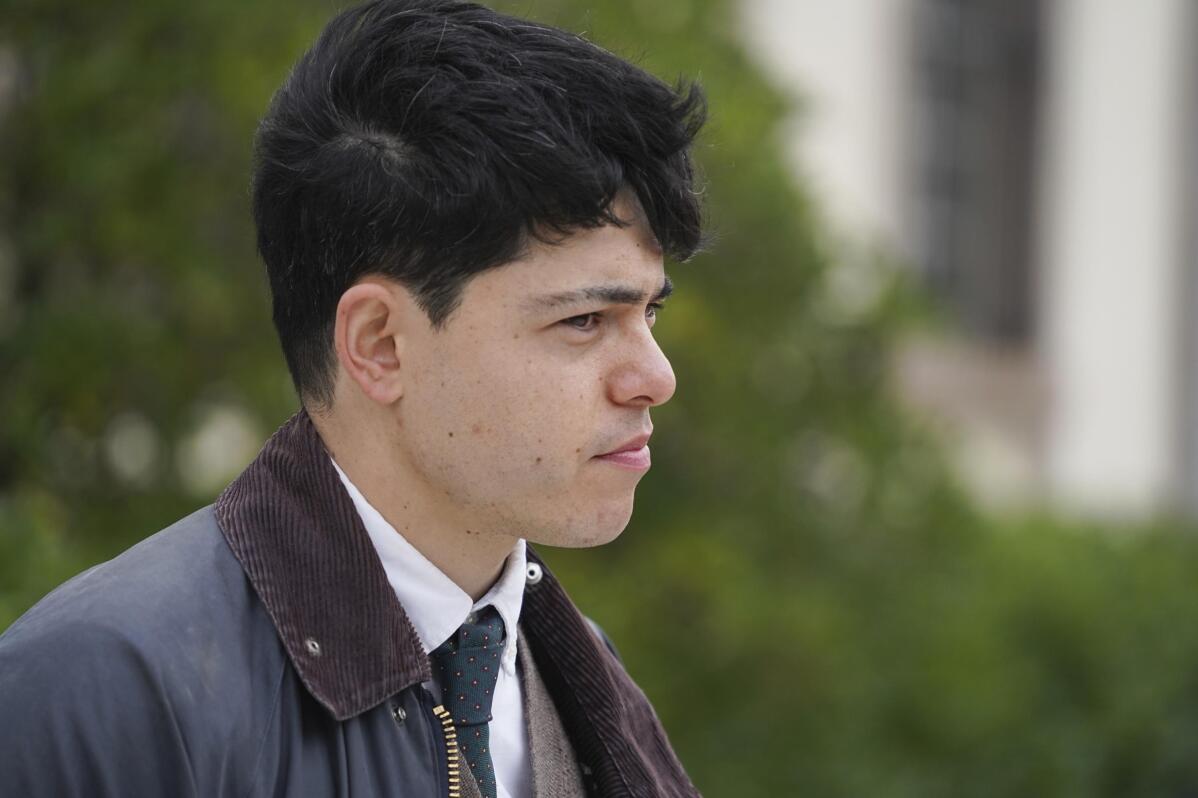 2 of 6

|
Sean Binderm, one of 24 aid workers and volunteers accused of participating in migrant rescue operations, waits outside the court in Mytilene, on the northeastern Aegean island of Lesbos, Greece, Tuesday, Jan. 10, 2023. A Greek court was set to hear a smuggling-related criminal case Tuesday against a group of 24 aid workers and volunteers. The defendants deny all charges and say all they did was help rescue endangered people. International human rights groups have widely criticized the prosecution. (AP Photo/Panagiotis Balaskas)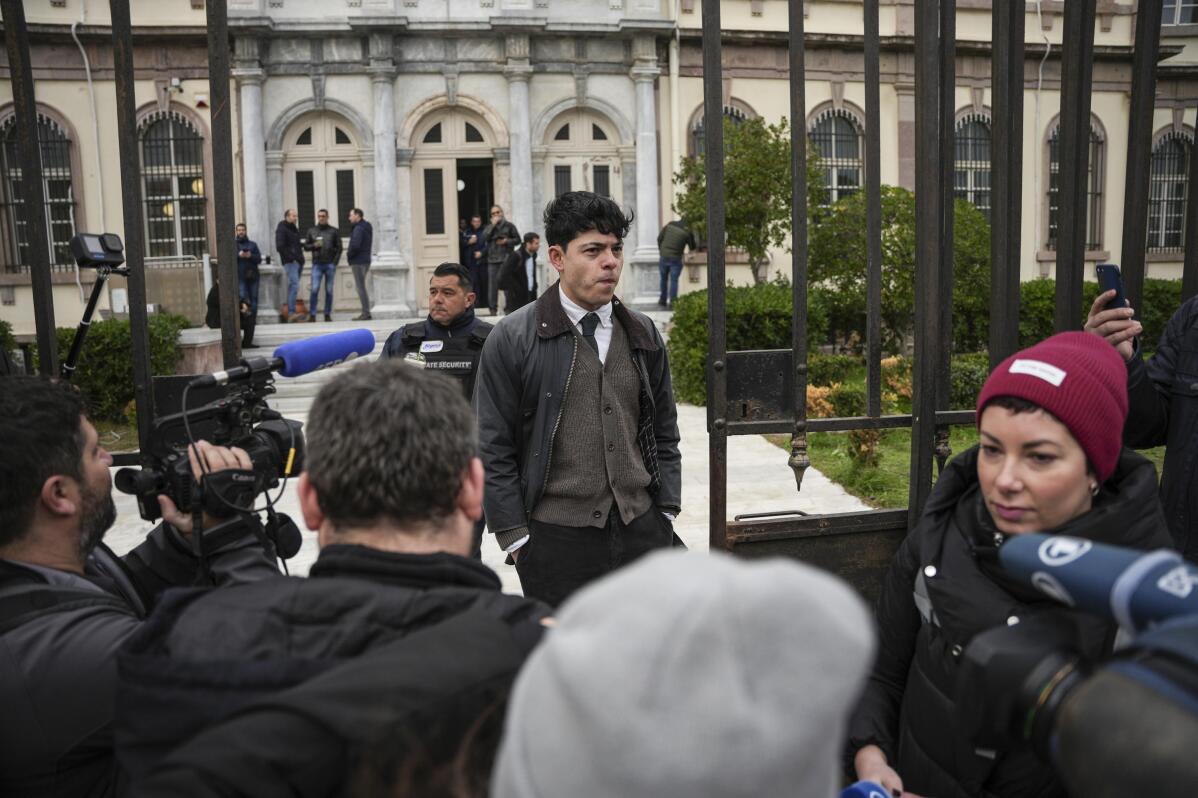 3 of 6

|
Sean Binderm, one of 24 aid workers and volunteers accused of participating in migrant rescue operations, stands at the gates of the court in Mytilene, on the northeastern Aegean island of Lesbos, Greece, Tuesday, Jan. 10, 2023. A Greek court was set to hear a smuggling-related criminal case Tuesday against a group of 24 aid workers and volunteers. The defendants deny all charges and say all they did was help rescue endangered people. International human rights groups have widely criticized the prosecution. (AP Photo/Panagiotis Balaskas)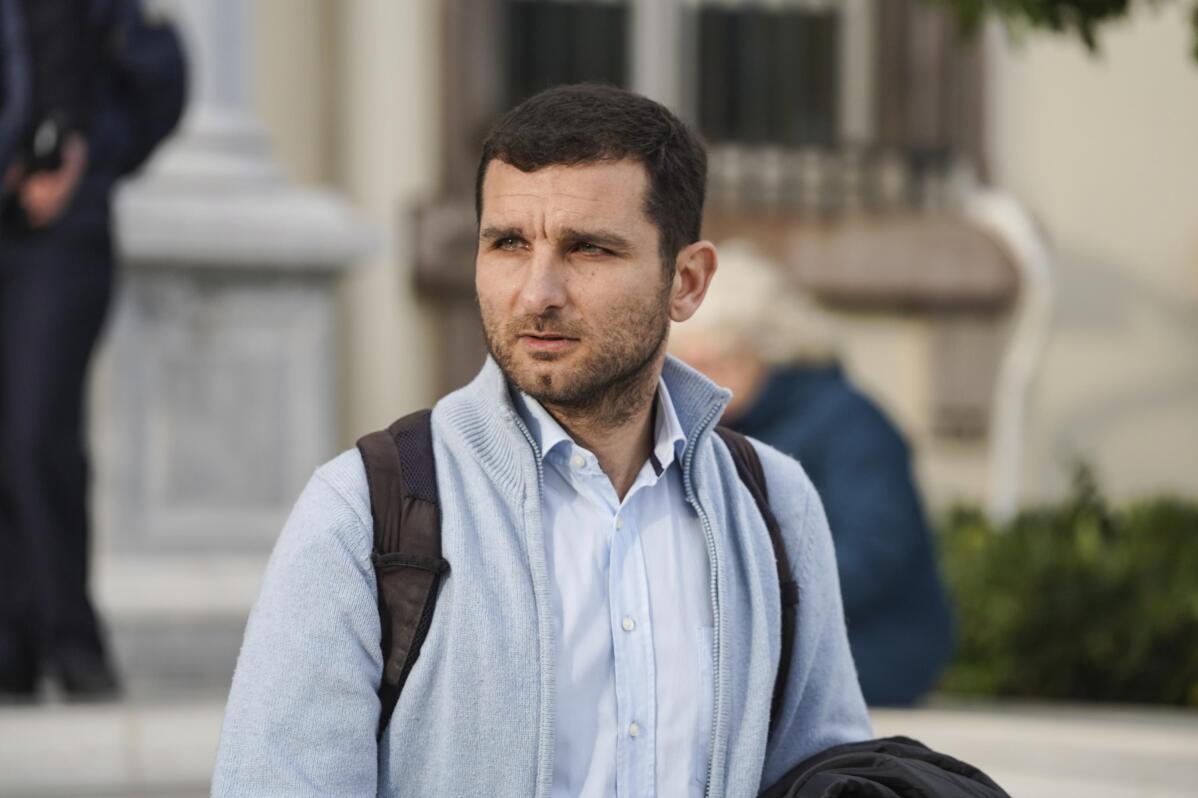 4 of 6

|
Nasos Karakitsos, one of 24 aid workers and volunteers accused one of 24 aid workers and volunteers accused of participating in migrant rescue operations, waits outside the court in Mytilene, on the northeastern Aegean island of Lesbos, Greece, Tuesday, Jan. 10, 2023. A Greek court was set to hear a smuggling-related criminal case Tuesday against a group of 24 aid workers and volunteers. The defendants deny all charges and say all they did was help rescue endangered people. International human rights groups have widely criticized the prosecution. (AP Photo/Panagiotis Balaskas)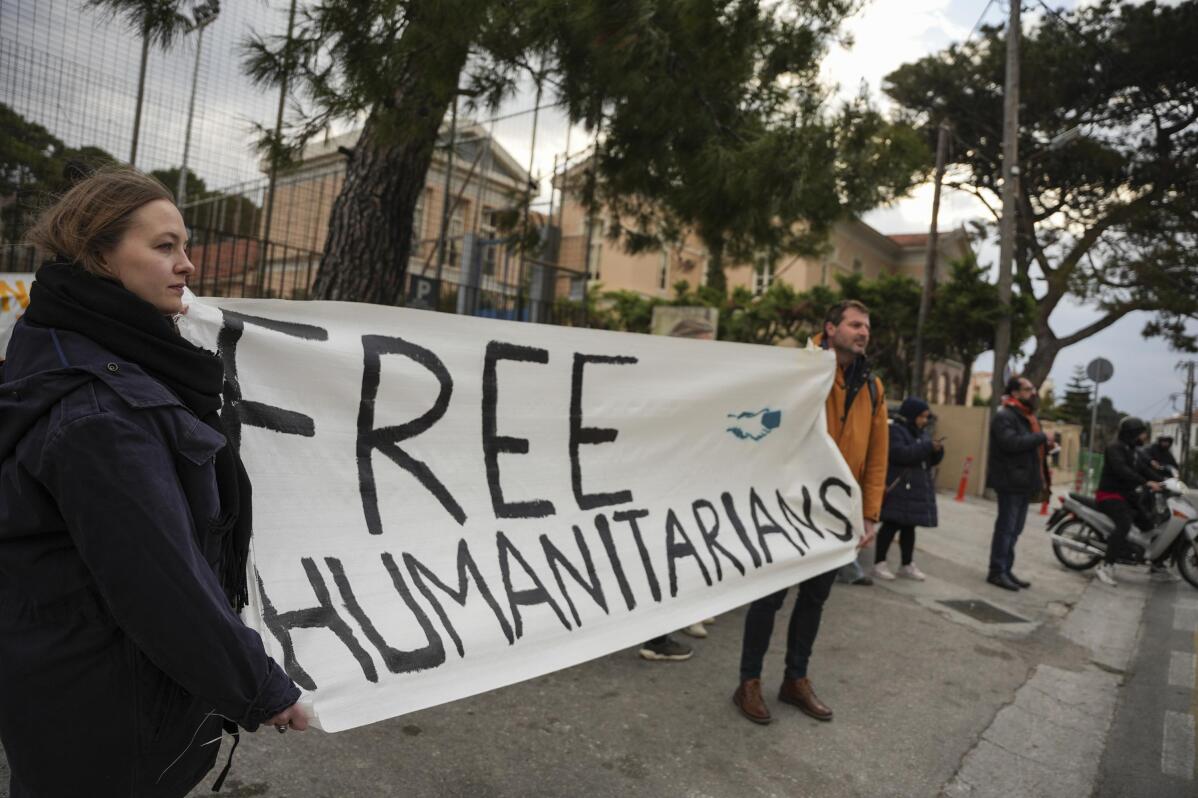 5 of 6

|
Supporters of the 24 aid workers and volunteers of 24 aid workers and volunteers accused of participating in migrant rescue operations hold up a banner outside the court in Mytilene, on the northeastern Aegean island of Lesbos, Greece, Tuesday, Jan. 10, 2023. A Greek court was set to hear a smuggling-related criminal case Tuesday against a group of 24 aid workers and volunteers. The defendants deny all charges and say all they did was help rescue endangered people. International human rights groups have widely criticized the prosecution. (AP Photo/Panagiotis Balaskas)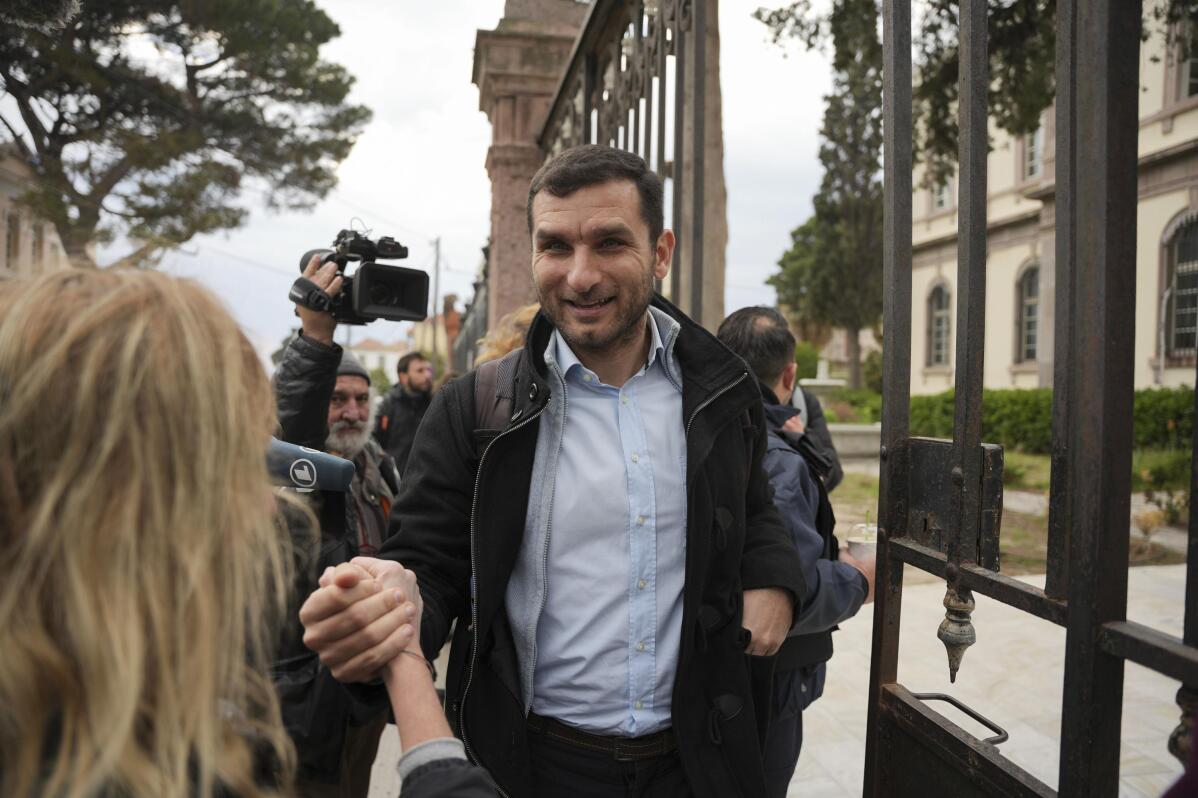 6 of 6

|
Nasos Karakitsos, one of 24 aid workers and volunteers accused of participating in migrant rescue operations, arrives at the court in Mytilene, on the northeastern Aegean island of Lesbos, Greece, Tuesday, Jan. 10, 2023. A Greek court was set to hear a smuggling-related criminal case Tuesday against a group of 24 aid workers and volunteers. The defendants deny all charges and say all they did was help rescue endangered people. International human rights groups have widely criticized the prosecution. (AP Photo/Panagiotis Balaskas)
Greek trial of volunteer migrant rescuers to resume Friday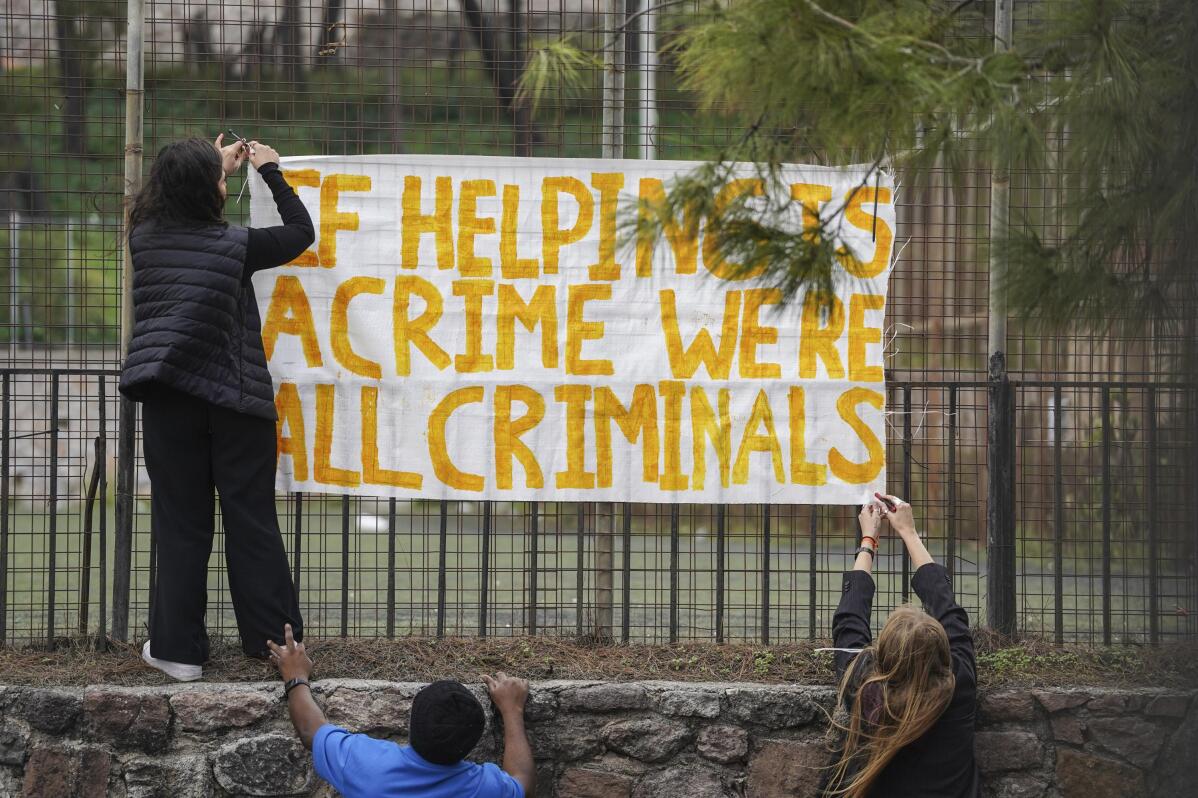 1 of 6

|
Supporters of the 24 aid workers and volunteers of 24 aid workers and volunteers accused of participating in migrant rescue operations hang up a banner outside the court in Mytilene, on the northeastern Aegean island of Lesbos, Greece, Tuesday, Jan. 10, 2023. A Greek court was set to hear a smuggling-related criminal case Tuesday against a group of 24 aid workers and volunteers. The defendants deny all charges and say all they did was help rescue endangered people. International human rights groups have widely criticized the prosecution. (AP Photo/Panagiotis Balaskas)
1 of 6
Supporters of the 24 aid workers and volunteers of 24 aid workers and volunteers accused of participating in migrant rescue operations hang up a banner outside the court in Mytilene, on the northeastern Aegean island of Lesbos, Greece, Tuesday, Jan. 10, 2023. A Greek court was set to hear a smuggling-related criminal case Tuesday against a group of 24 aid workers and volunteers. The defendants deny all charges and say all they did was help rescue endangered people. International human rights groups have widely criticized the prosecution. (AP Photo/Panagiotis Balaskas)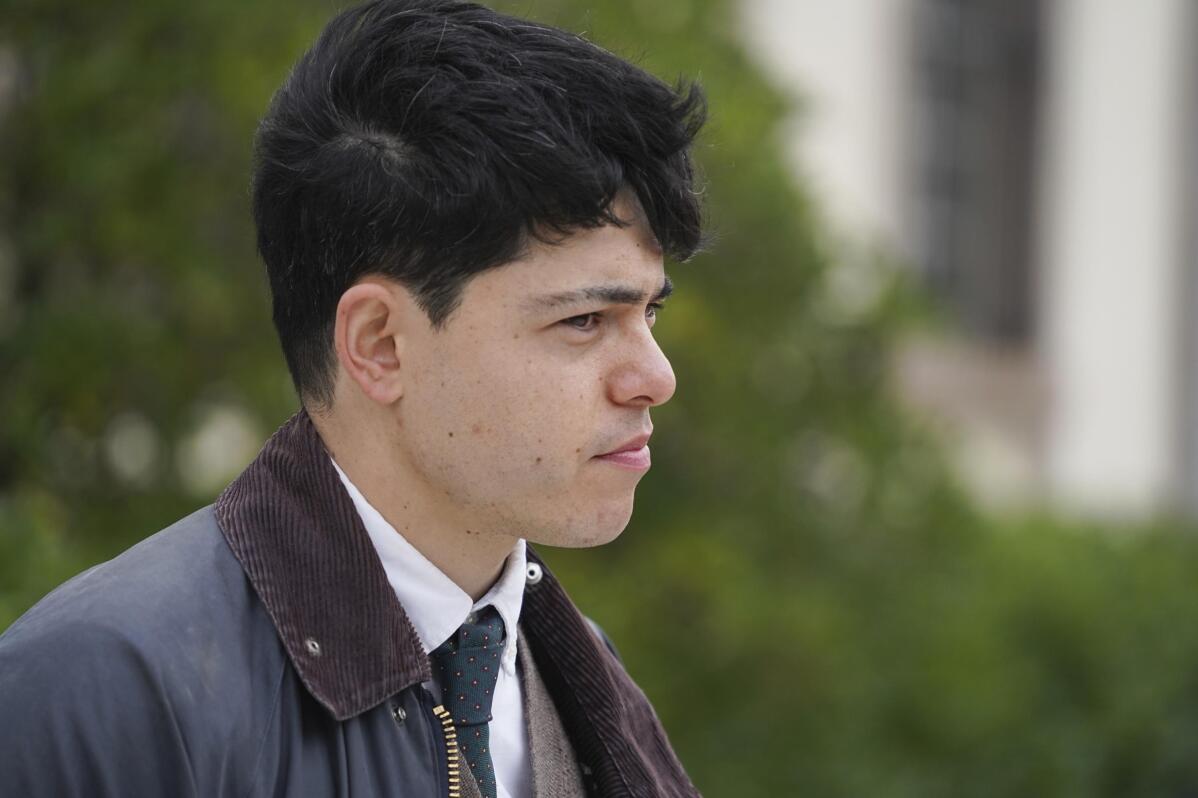 2 of 6

|
Sean Binderm, one of 24 aid workers and volunteers accused of participating in migrant rescue operations, waits outside the court in Mytilene, on the northeastern Aegean island of Lesbos, Greece, Tuesday, Jan. 10, 2023. A Greek court was set to hear a smuggling-related criminal case Tuesday against a group of 24 aid workers and volunteers. The defendants deny all charges and say all they did was help rescue endangered people. International human rights groups have widely criticized the prosecution. (AP Photo/Panagiotis Balaskas)
2 of 6
Sean Binderm, one of 24 aid workers and volunteers accused of participating in migrant rescue operations, waits outside the court in Mytilene, on the northeastern Aegean island of Lesbos, Greece, Tuesday, Jan. 10, 2023. A Greek court was set to hear a smuggling-related criminal case Tuesday against a group of 24 aid workers and volunteers. The defendants deny all charges and say all they did was help rescue endangered people. International human rights groups have widely criticized the prosecution. (AP Photo/Panagiotis Balaskas)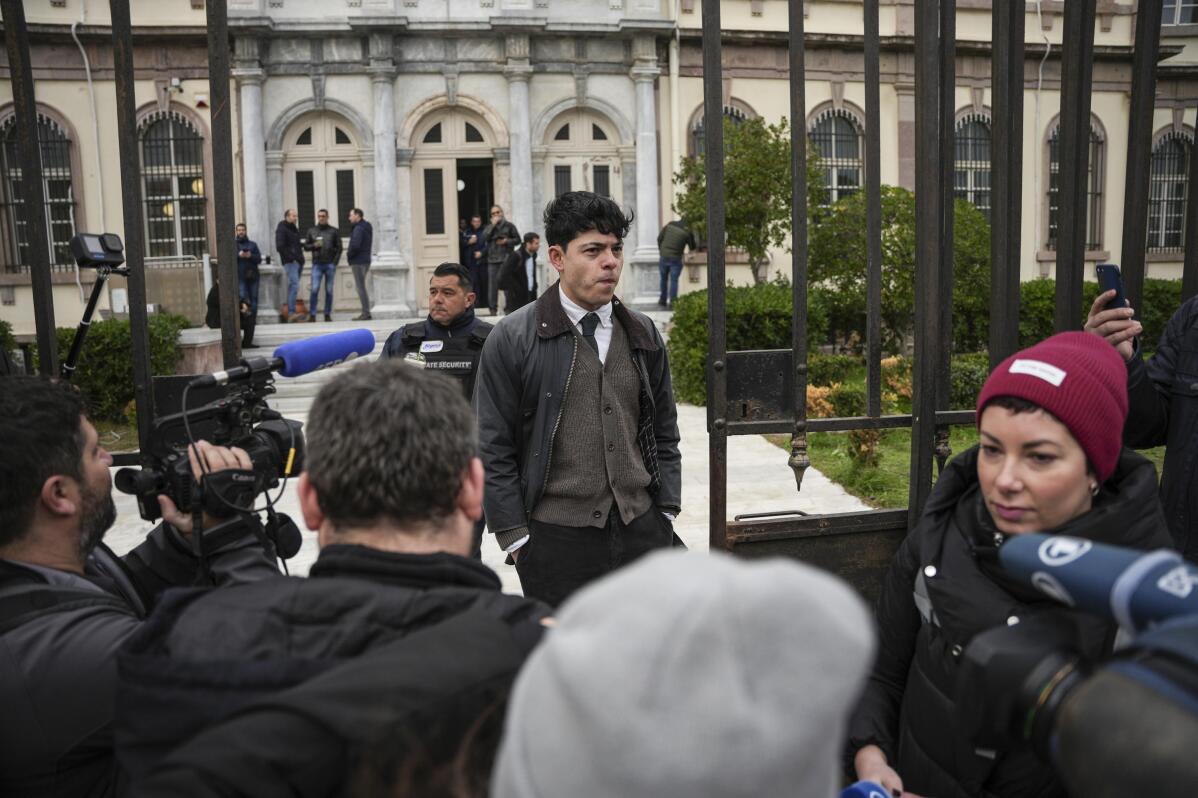 3 of 6

|
Sean Binderm, one of 24 aid workers and volunteers accused of participating in migrant rescue operations, stands at the gates of the court in Mytilene, on the northeastern Aegean island of Lesbos, Greece, Tuesday, Jan. 10, 2023. A Greek court was set to hear a smuggling-related criminal case Tuesday against a group of 24 aid workers and volunteers. The defendants deny all charges and say all they did was help rescue endangered people. International human rights groups have widely criticized the prosecution. (AP Photo/Panagiotis Balaskas)
3 of 6
Sean Binderm, one of 24 aid workers and volunteers accused of participating in migrant rescue operations, stands at the gates of the court in Mytilene, on the northeastern Aegean island of Lesbos, Greece, Tuesday, Jan. 10, 2023. A Greek court was set to hear a smuggling-related criminal case Tuesday against a group of 24 aid workers and volunteers. The defendants deny all charges and say all they did was help rescue endangered people. International human rights groups have widely criticized the prosecution. (AP Photo/Panagiotis Balaskas)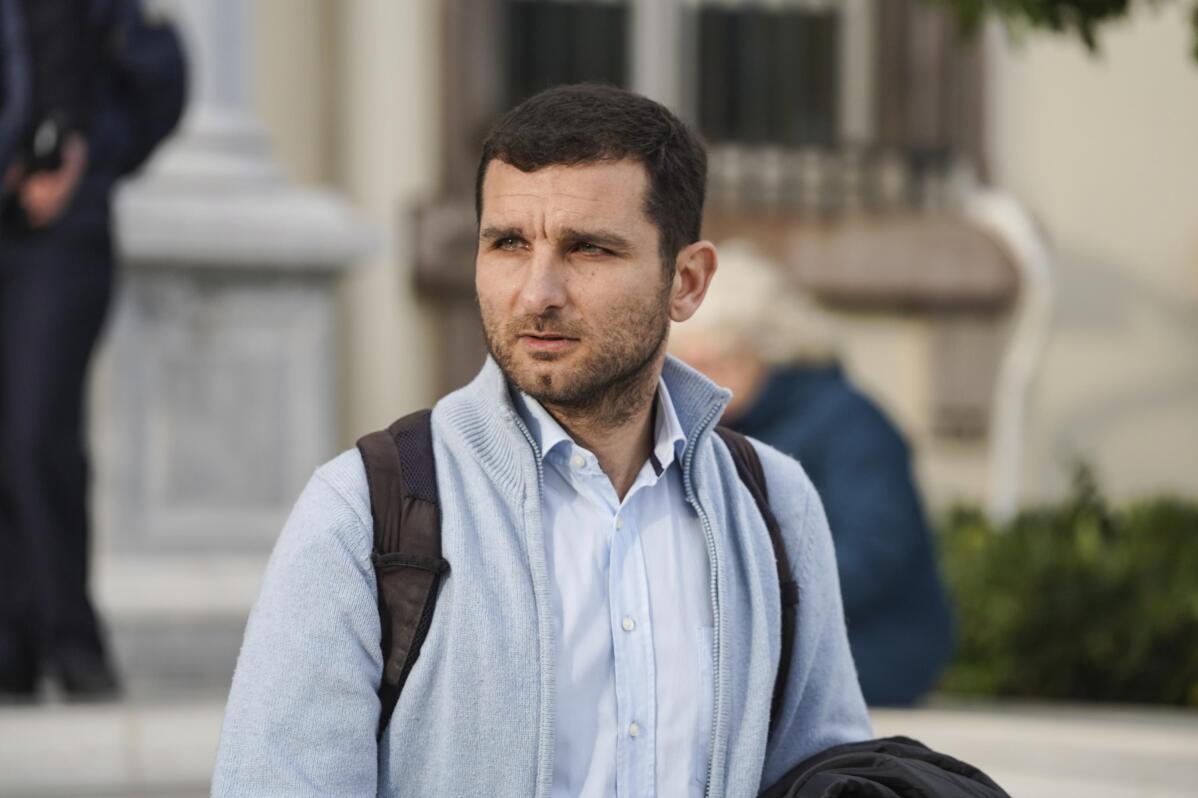 4 of 6

|
Nasos Karakitsos, one of 24 aid workers and volunteers accused one of 24 aid workers and volunteers accused of participating in migrant rescue operations, waits outside the court in Mytilene, on the northeastern Aegean island of Lesbos, Greece, Tuesday, Jan. 10, 2023. A Greek court was set to hear a smuggling-related criminal case Tuesday against a group of 24 aid workers and volunteers. The defendants deny all charges and say all they did was help rescue endangered people. International human rights groups have widely criticized the prosecution. (AP Photo/Panagiotis Balaskas)
4 of 6
Nasos Karakitsos, one of 24 aid workers and volunteers accused one of 24 aid workers and volunteers accused of participating in migrant rescue operations, waits outside the court in Mytilene, on the northeastern Aegean island of Lesbos, Greece, Tuesday, Jan. 10, 2023. A Greek court was set to hear a smuggling-related criminal case Tuesday against a group of 24 aid workers and volunteers. The defendants deny all charges and say all they did was help rescue endangered people. International human rights groups have widely criticized the prosecution. (AP Photo/Panagiotis Balaskas)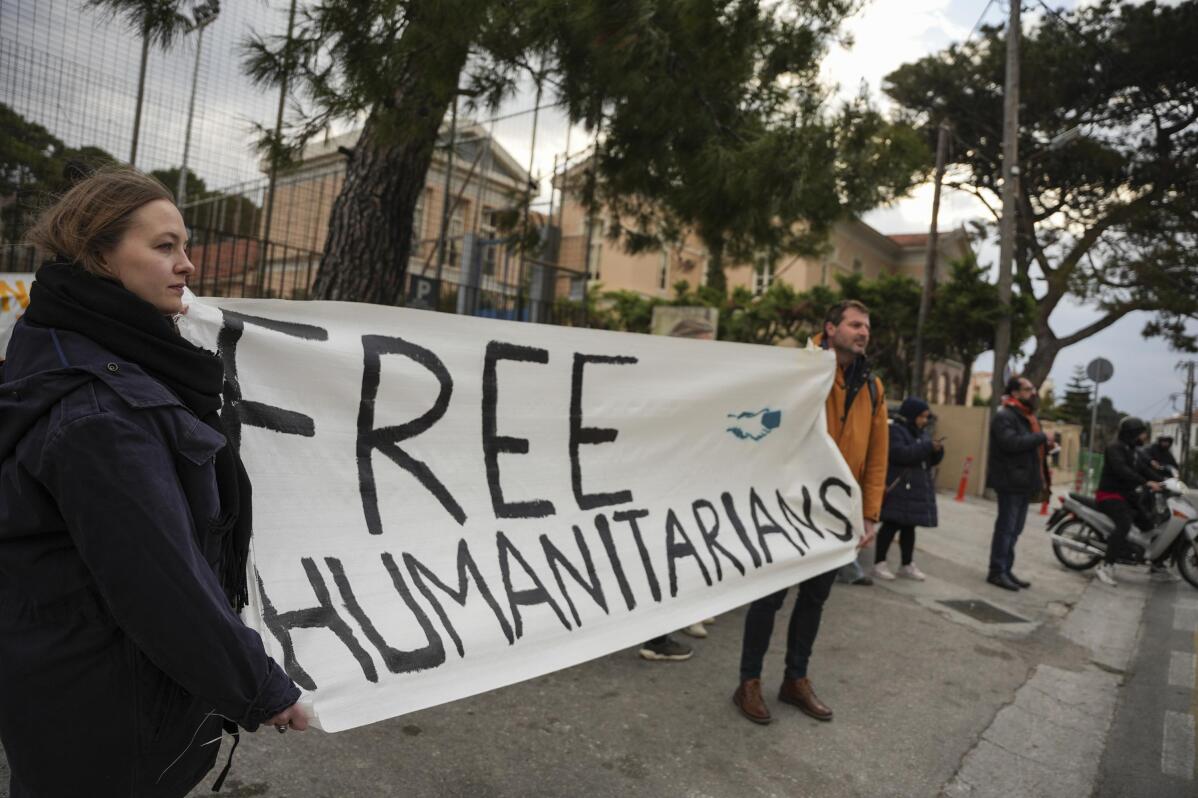 5 of 6

|
Supporters of the 24 aid workers and volunteers of 24 aid workers and volunteers accused of participating in migrant rescue operations hold up a banner outside the court in Mytilene, on the northeastern Aegean island of Lesbos, Greece, Tuesday, Jan. 10, 2023. A Greek court was set to hear a smuggling-related criminal case Tuesday against a group of 24 aid workers and volunteers. The defendants deny all charges and say all they did was help rescue endangered people. International human rights groups have widely criticized the prosecution. (AP Photo/Panagiotis Balaskas)
5 of 6
Supporters of the 24 aid workers and volunteers of 24 aid workers and volunteers accused of participating in migrant rescue operations hold up a banner outside the court in Mytilene, on the northeastern Aegean island of Lesbos, Greece, Tuesday, Jan. 10, 2023. A Greek court was set to hear a smuggling-related criminal case Tuesday against a group of 24 aid workers and volunteers. The defendants deny all charges and say all they did was help rescue endangered people. International human rights groups have widely criticized the prosecution. (AP Photo/Panagiotis Balaskas)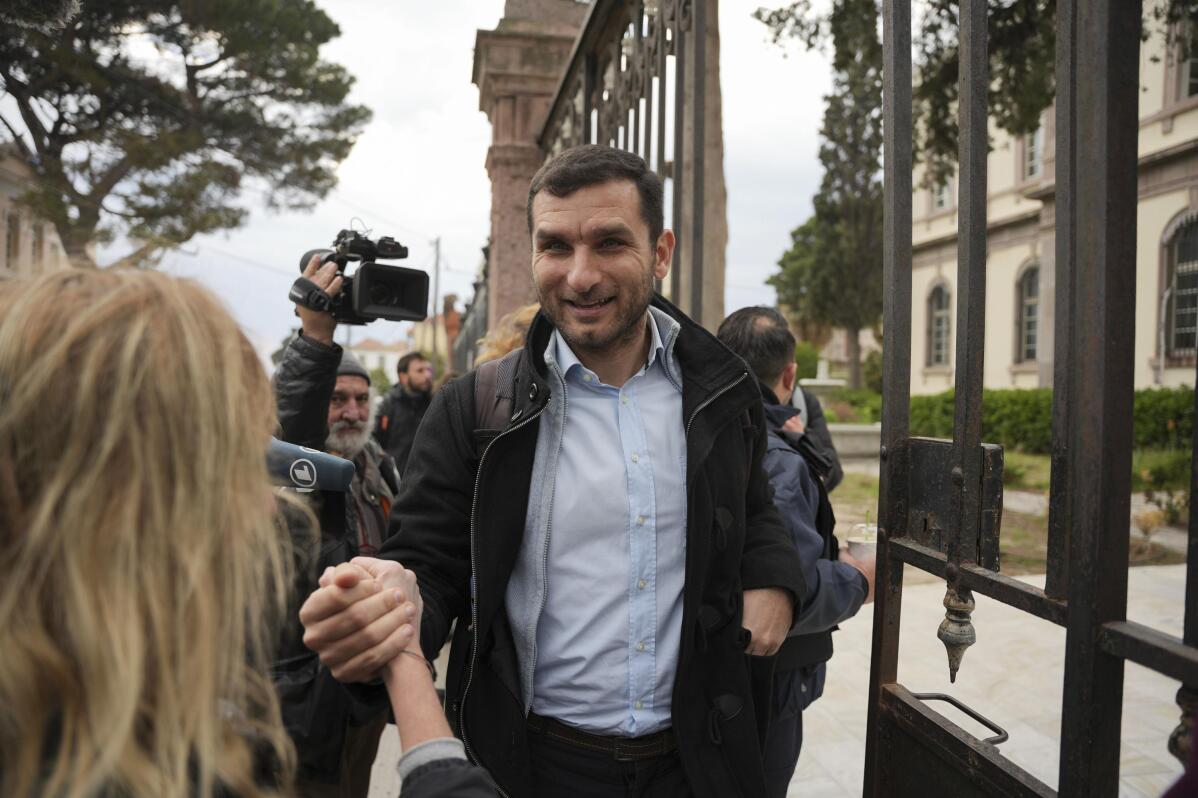 6 of 6

|
Nasos Karakitsos, one of 24 aid workers and volunteers accused of participating in migrant rescue operations, arrives at the court in Mytilene, on the northeastern Aegean island of Lesbos, Greece, Tuesday, Jan. 10, 2023. A Greek court was set to hear a smuggling-related criminal case Tuesday against a group of 24 aid workers and volunteers. The defendants deny all charges and say all they did was help rescue endangered people. International human rights groups have widely criticized the prosecution. (AP Photo/Panagiotis Balaskas)
6 of 6
Nasos Karakitsos, one of 24 aid workers and volunteers accused of participating in migrant rescue operations, arrives at the court in Mytilene, on the northeastern Aegean island of Lesbos, Greece, Tuesday, Jan. 10, 2023. A Greek court was set to hear a smuggling-related criminal case Tuesday against a group of 24 aid workers and volunteers. The defendants deny all charges and say all they did was help rescue endangered people. International human rights groups have widely criticized the prosecution. (AP Photo/Panagiotis Balaskas)
MYTILENE, Greece (AP) — Two dozen Greek and foreign aid workers and volunteers who participated in migrant rescue operations on an eastern Greek island have gone on trial in a smuggling-related case that's been widely criticized by human rights groups.
The 24 defendants deny all the charges, saying they did nothing more than help rescue people whose lives were in danger. The trial in the town of Mytilene on Lesbos began Tuesday and was adjourned until Friday.
The aid workers include prominent Syrian human rights worker Sarah Mardini, a refugee herself and competitive swimmer whose sister Yusra Mardini was part of the refugee swimming team at the Olympic Games in Rio de Janeiro in 2016 and Tokyo in 2021. The sisters' story was made into a Netflix movie.
Mardini, who was not present for Tuesday's hearing, and fellow volunteer Sean Binder spent more than three months in jail in Lesbos after their 2018 arrest on misdemeanor charges including espionage, forgery and unlawful use of radio frequencies.
The case was initially set to go ahead in 2021 but was postponed over procedural issues. The two are also under investigation for felonies, but no such charges have yet been brought.
"What is on trial today is human rights. That is the fundamental problem," Binder said outside court before Tuesday's hearing.
"We are desperate to go to trial because what we did was legal," Binder said. "And we need the judge to acknowledge that we need to get through this, because until then, there is a shadow of doubt, not over me alone, but over anybody who does search and rescue."
Defense lawyers filed objections Tuesday on procedural issues regarding the way the prosecution has been handled, said Cleo Papapantoleon, one of the lawyers, adding that the court could rule on the objections when it reconvenes on Friday.
"We've spent the entire morning giving reason after reason, irrefutable reasons why this trial could not continue. Because the prosecution has made mistake after mistake, they've violated our human rights, they've made procedural errors," Binder said after the adjournment.
"All we're asking for, all our lawyers have demanded, is that the rule of law is respected, that Greek laws are respected. We want the rule of law. And now we'll find out on Friday whether we get the rule of law or the rule of flaws," he added.
Human rights group Amnesty International has described the case against the aid workers as "farcical" and called on Greek authorities to drop the charges.
"Sarah and Sean did what any of us should do if we were in their position. Helping people at risk of drowning in one of the deadliest sea routes in Europe and assisting them on the shoreline is not a crime," Nils Muiznieks, director of Amnesty's European Regional Office, said in a statement ahead of Tuesday's hearing.
"This trial reveals how the Greek authorities will go to extreme lengths to deter humanitarian assistance and discourage migrants and refugees from seeking safety on the country's shores, something which we see in a number of European countries," he said. "It is farcical that this trial is even taking place."
Greece, which saw around a million migrants and refugees cross to its shores from nearby Turkey at the height of the refugee crisis in 2015, has clamped down on migration, erecting a fence along much of its land border with Turkey and increasing sea patrols near its islands.
Greek officials say they have a strict but fair migration policy. They also deny, despite increasing evidence to the contrary, conducting illegal summary deportations of people arriving on Greek territory without allowing them to apply for asylum, a procedure known as "pushbacks."
___
Becatoros contributed from Athens, Greece.
___
Follow AP's coverage of global migration at https://apnews.com/hub/migration