Missouri governor resigns amid swirling investigations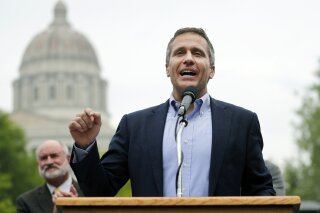 JEFFERSON CITY, Mo. (AP) — Missouri Gov. Eric Greitens announced Tuesday that he will resign, ending a tumultuous 17 months in office marked by criminal investigations and with the Legislature considering whether to try to impeach him.
He plans to leave office Friday.
The Republican governor has repeatedly denied any criminal wrongdoing. Here's a look at some of the allegations:
VETERANS' CHARITY
Greitens faces a felony charge of tampering with computer data for allegedly disclosing to his political fundraiser a list of top donors to a veterans charity he founded, The Mission Continues, without the charity's permission. The charge says the incident occurred in April 2015.
The Associated Press first reported in October 2016 — a month before Greitens' election — that his campaign had accessed a charity list containing the names, emails and phone numbers of individuals, corporations and other nonprofit organizations who gave at least $1,000 to The Mission Continues. The AP reported that Greitens' campaign had raised nearly $2 million from those who had previously given significant amounts to the veterans' charity.
Greitens acknowledged in an April 2017 settlement with the Missouri Ethics Commission that his campaign had used the charity donor list. He amended his campaign finance reports to show the list as an in-kind donation valued at $600 received in March 2015 from then-campaign manager Danny Laub.
But Laub testified this year that he wasn't the source of the donor list.
A House investigatory committee report released May 2 indicates that Greitens himself received the donor list in 2014 while CEO of the charity so he could call key supporters to explain he was stepping down. The report said Greitens later directed political aides to work off the charity's list to raise money for his gubernatorial campaign — even though he had signed an agreement never to disclose the charity's confidential donor information.
SEXUAL MISCONDUCT
On May 14, St. Louis Circuit Attorney Kim Gardner abruptly dropped a felony invasion-of-privacy charge against Greitens alleging that he took a photo of an at least partially nude woman without her consent in March 2015 and transmitted it in a way that could be accessed by a computer. Gardner said the charge could be refiled.
The woman, who is Greitens' former hairdresser, said Greitens bound her hands to exercise rings, blindfolded her and removed her clothing before taking the photo and threatening to disclose it if she ever spoke of the affair. Authorities haven't released her name.
Greitens' affair became public on Jan. 10, when St. Louis TV station KMOV aired portions of an audio recording secretly made by the woman's ex-husband in which she told him about her interaction with Greitens.
Following Greitens' indictment Feb. 22, the Missouri House created a special committee to investigate the governor. It released a graphic report April 11 containing testimony from the woman alleging that Greitens may have coerced her into oral sex after taking the unwanted photo and had slapped and shoved her during subsequent sexual encounters.
Greitens has acknowledged having a consensual affair with the woman but has denied any violence. He has not directly answered questions about whether he took the photo.
Gardner dropped the charge after a judge ruled she would have to answer questions under oath from Greitens' attorneys, who had attacked her handling of the case.
CAMPAIGN ACTIVITIES
A judge on Tuesday ordered a secretive group supportive of Greitens, A New Missouri, to turn over documents subpoenaed by a Missouri House committee considering whether to try to impeach the governor.
The committee said it was looking into whether Greitens used the A New Missouri to circumvent Missouri's campaign finance disclosure laws. A lawyer for the group, who also represents Greitens' campaign, said Tuesday that the group was considering appealing the order.
A New Missouri conceals its donors' identities the judge ruled that it could redact their names from the subpoenaed documents.
BOOK GRANT
Washington University in St. Louis said this month that it is reviewing whether Greitens improperly used the grant funding he received to write and promote his 2015 book, "Resilience."
The university served as the administrator for a grant from the John Templeton Foundation. The foundation's grant agreement prohibits using funds "to influence the outcome of any specific public election," and the university's policies also bar grant funds from being used for campaign activities.
The school announced its review after the May 2 House report included testimony in which Laub said he was paid both by Greitens and through the grant in early 2015 to simultaneously promote Greitens' political aspirations and the release of his book.
TEXT MESSAGES
A lawsuit against Greitens in Cole County alleges he violated the state's open records law while using a cellphone app that automatically deletes messages after they are read. The Confide app prevents recipients from saving, forwarding, printing or taking screenshots of messages.
Hawley also launched an investigation last year after The Kansas City Star reported Greitens and some of his staff had Confide accounts. Hawley's report, released March 1, said it didn't appear Greitens' staff violated records laws. But Hawley said he lacked authority to issue subpoena-like demands compelling people to provide information while investigating alleged Sunshine Law or record-retention law violations. Hawley has said he would reopen the investigation if granted such authority.