Hendriks throws live BP, timetable for return from cancer still unclear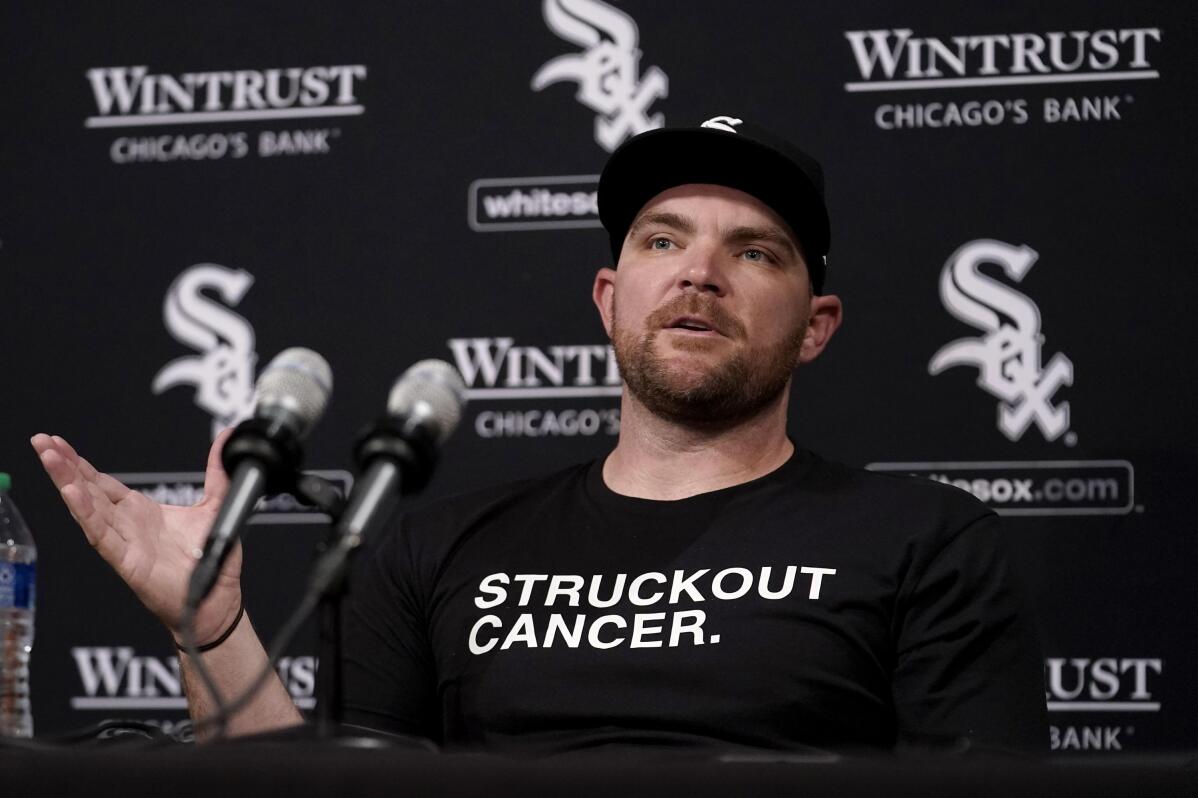 1 of 4

|
Chicago White Sox's Liam Hendriks talks to reporters before a baseball game between the White Sox and the Minnesota Twins on Wednesday, May 3, 2023, in Chicago. (AP Photo/Charles Rex Arbogast)
2 of 4

|
Chicago White Sox's Liam Hendriks talks to reporters before a baseball game between the White Sox and the Minnesota Twins on Wednesday, May 3, 2023, in Chicago. (AP Photo/Charles Rex Arbogast)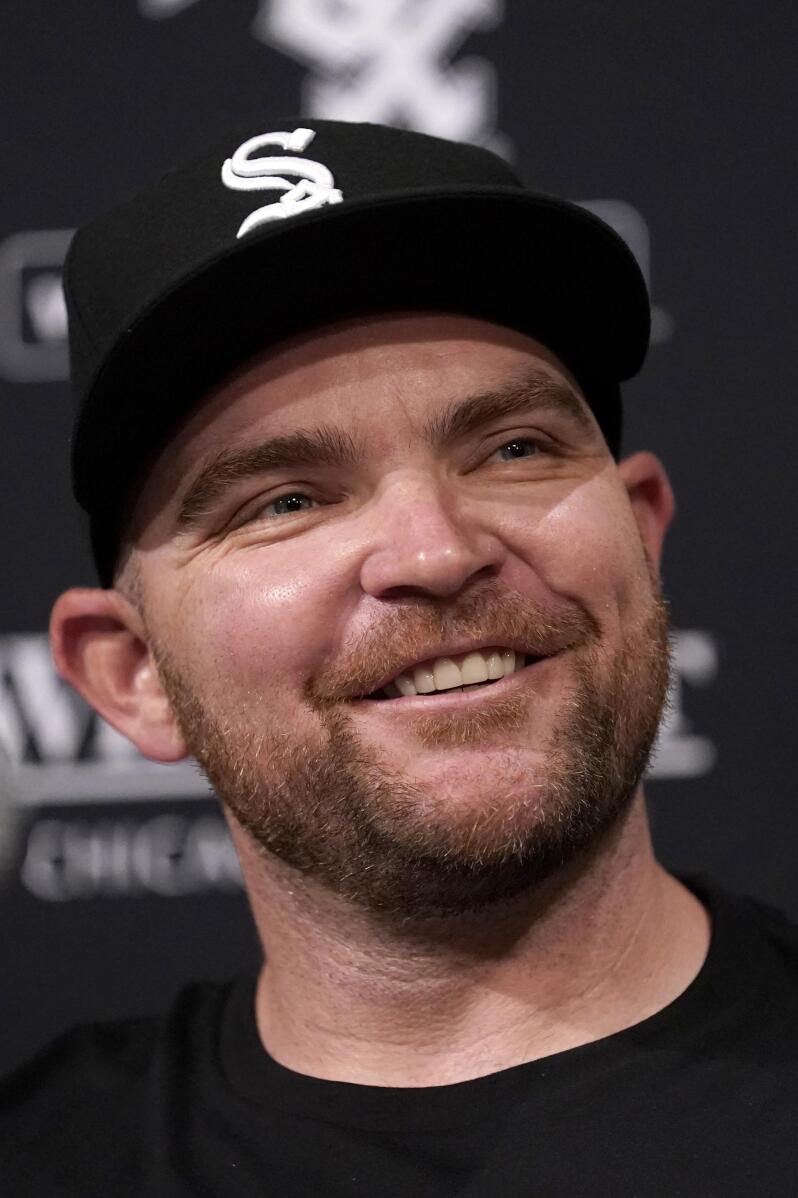 3 of 4

|
Chicago White Sox's Liam Hendriks smiles as he talks to reporters before a baseball game between the White Sox and the Minnesota Twins on Wednesday, May 3, 2023, in Chicago. (AP Photo/Charles Rex Arbogast)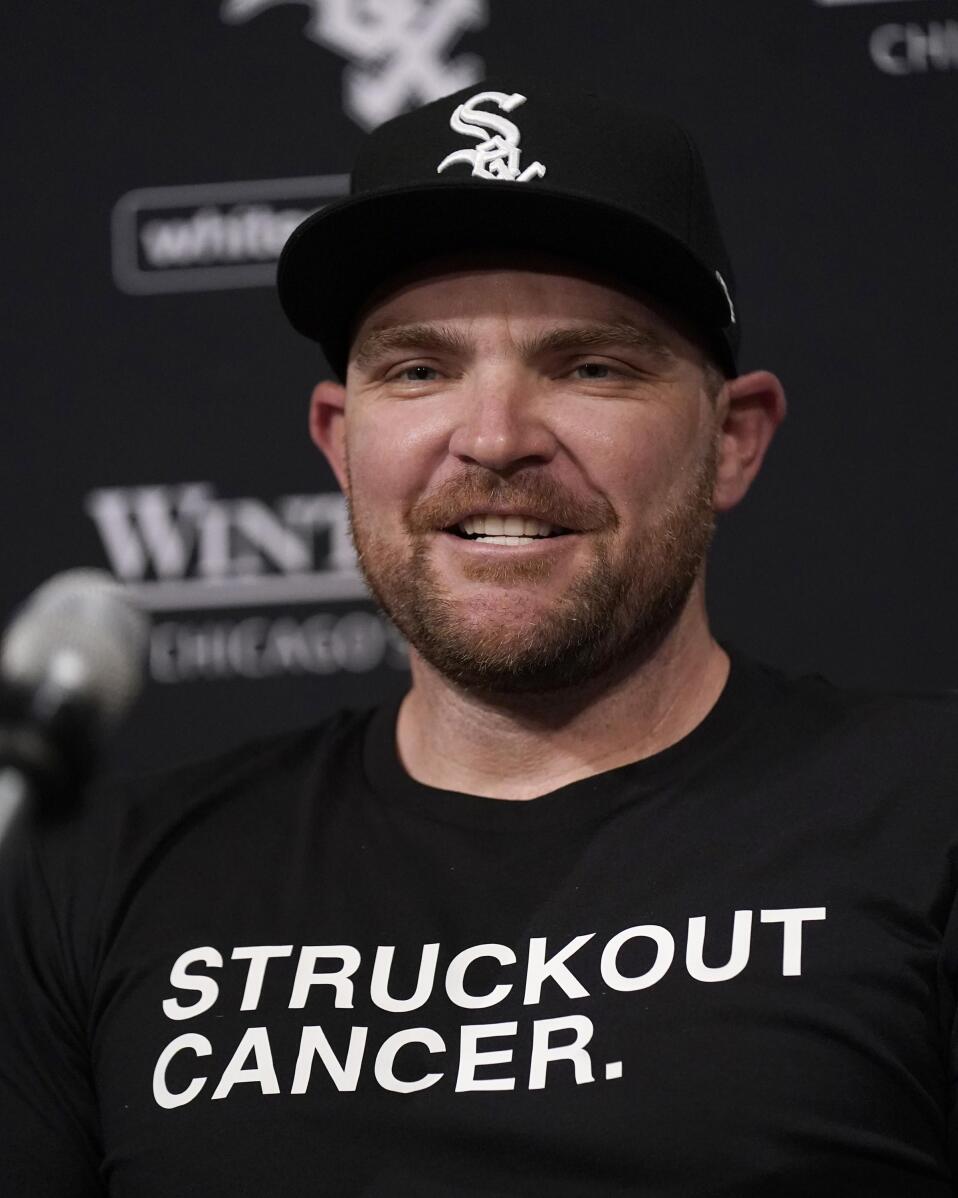 4 of 4

|
Chicago White Sox's Liam Hendriks talks to reporters before a baseball game between the White Sox and the Minnesota Twins on Wednesday, May 3, 2023, in Chicago. (AP Photo/Charles Rex Arbogast)
Hendriks throws live BP, timetable for return from cancer still unclear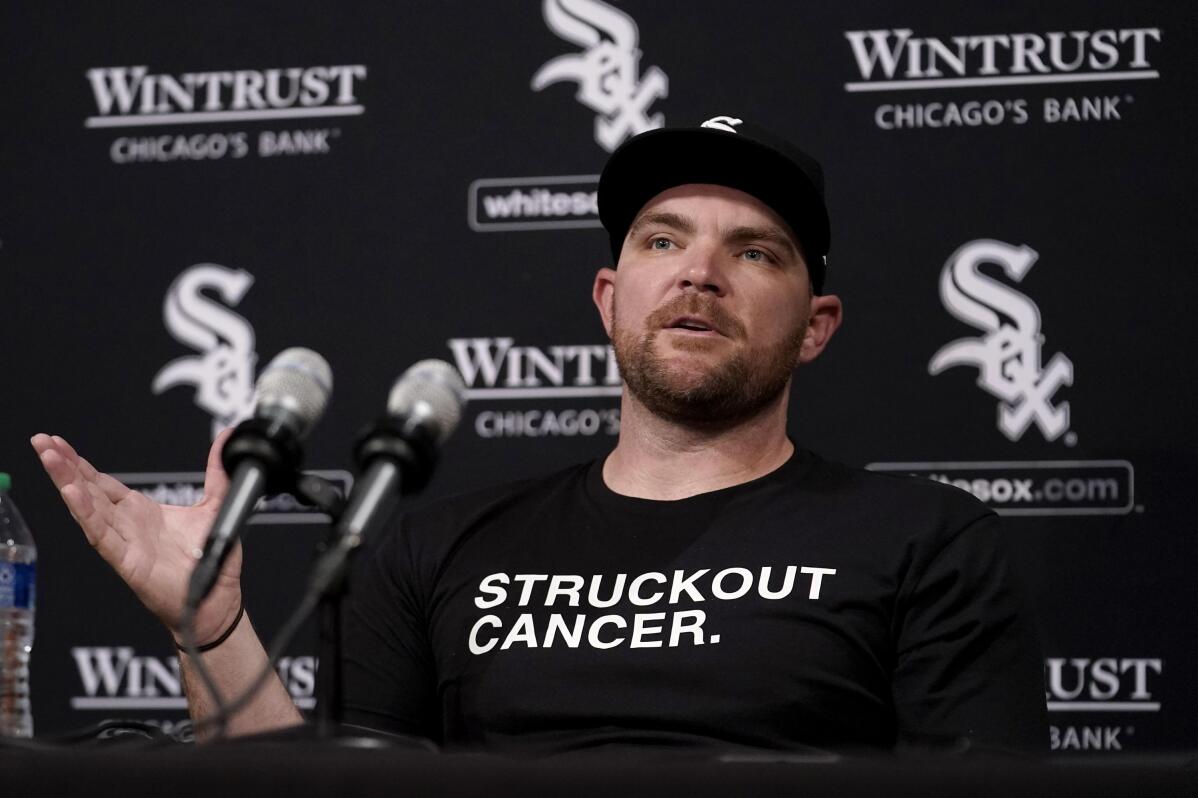 1 of 4

|
Chicago White Sox's Liam Hendriks talks to reporters before a baseball game between the White Sox and the Minnesota Twins on Wednesday, May 3, 2023, in Chicago. (AP Photo/Charles Rex Arbogast)
1 of 4
Chicago White Sox's Liam Hendriks talks to reporters before a baseball game between the White Sox and the Minnesota Twins on Wednesday, May 3, 2023, in Chicago. (AP Photo/Charles Rex Arbogast)
2 of 4

|
Chicago White Sox's Liam Hendriks talks to reporters before a baseball game between the White Sox and the Minnesota Twins on Wednesday, May 3, 2023, in Chicago. (AP Photo/Charles Rex Arbogast)
2 of 4
Chicago White Sox's Liam Hendriks talks to reporters before a baseball game between the White Sox and the Minnesota Twins on Wednesday, May 3, 2023, in Chicago. (AP Photo/Charles Rex Arbogast)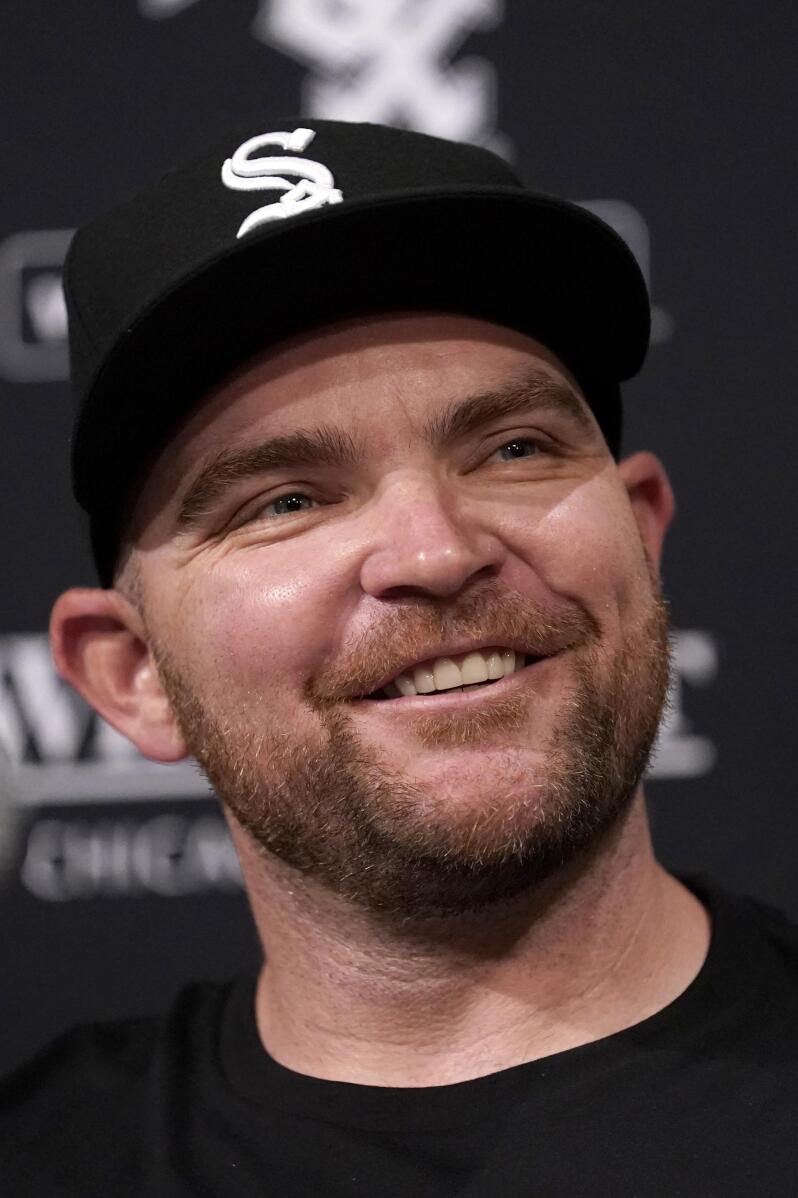 3 of 4

|
Chicago White Sox's Liam Hendriks smiles as he talks to reporters before a baseball game between the White Sox and the Minnesota Twins on Wednesday, May 3, 2023, in Chicago. (AP Photo/Charles Rex Arbogast)
3 of 4
Chicago White Sox's Liam Hendriks smiles as he talks to reporters before a baseball game between the White Sox and the Minnesota Twins on Wednesday, May 3, 2023, in Chicago. (AP Photo/Charles Rex Arbogast)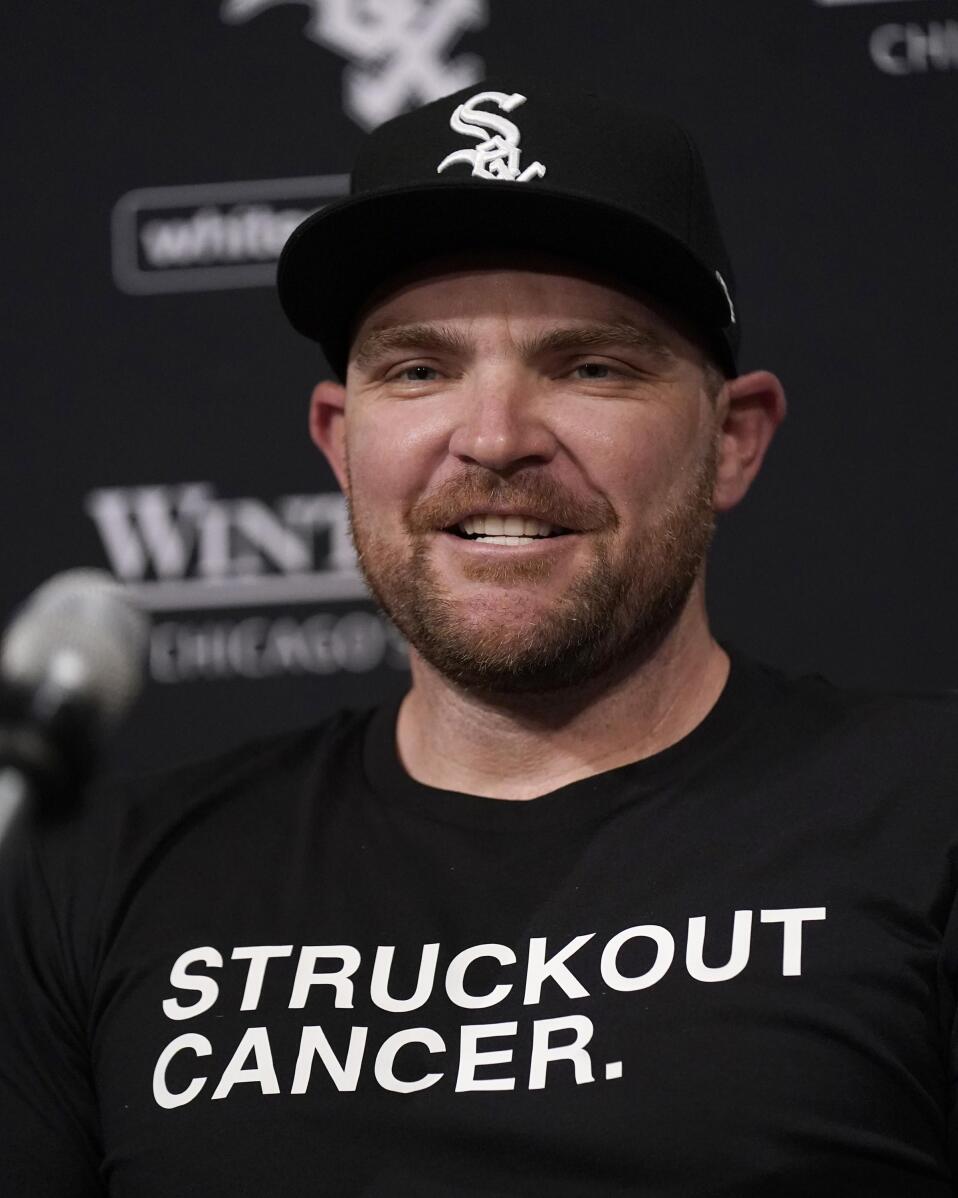 4 of 4

|
Chicago White Sox's Liam Hendriks talks to reporters before a baseball game between the White Sox and the Minnesota Twins on Wednesday, May 3, 2023, in Chicago. (AP Photo/Charles Rex Arbogast)
4 of 4
Chicago White Sox's Liam Hendriks talks to reporters before a baseball game between the White Sox and the Minnesota Twins on Wednesday, May 3, 2023, in Chicago. (AP Photo/Charles Rex Arbogast)
CHICAGO (AP) — Chicago White Sox closer Liam Hendriks took another step Friday in his comeback from cancer, throwing live batting practice, though it remains unclear when he will return to the bullpen.
Manager Pedro Grifol said Hendriks threw about 20 pitches and "felt good." But he also said several times there's still no timetable on a return and that the organization will determine the next step.
"I'm really not gonna get into this further," Grifol said. "I'm getting asked the same question over and over again. There's a process to this. We're gonna sit as a group and we're gonna take the next step together. That's it on it. That's it."
Hendriks went from noticing lumps on his neck last summer to being diagnosed with stage 4 non-Hodgkin lymphoma. He announced last month he was in remission after having immunotherapy and chemotherapy. He began a rehab assignment with Triple-A Charlotte two weeks ago and made six appearances with the minor league club before the White Sox opted to bring him back to Chicago this week.
The White Sox would obviously love to have the three-time All-Star at the back of their bullpen. Chicago was 16-29 entering Friday's game against the Kansas City Royals.
"It's Liam Hendriks, (relief) pitcher of the year," Grifol said. "He's our closer. Of course, we want him back as soon as possible. Of course, he uplifts our club. ... But we're not going to jump to make any decisions."
The 34-year-old Hendriks has 115 saves and a 3.81 ERA over 12 seasons with Minnesota, Toronto, Kansas City, Oakland and Chicago. He signed a $54 million, three-year deal with the White Sox in January 2021.
Hendriks led the American League with a career-high 38 saves in his first year with Chicago. The right-hander was third in the majors with 37 saves and made his third All-Star team in 2022, but he felt drained toward the end of the year.
___
AP MLB: https://apnews.com/hub/mlb and https://twitter.com/AP_Sports