Prince's sister says musician had no known will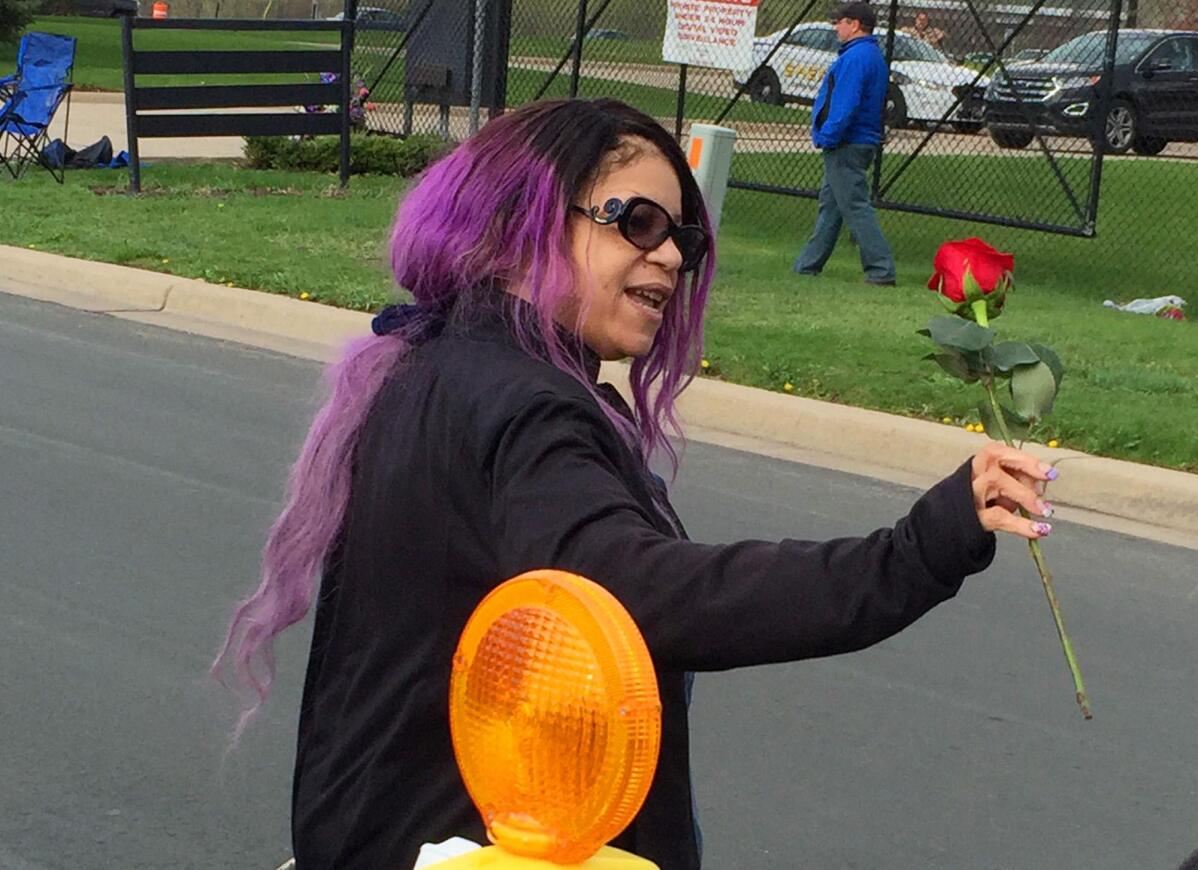 1 of 2

|
Tyka Nelson holds a rose outside Paisley Park, the home of her brother Prince in Chanhassen, Minn., on Thursday, April 21, 2016. Nelson went out to thank fans who gathered at the home to mourn the loss of the pop star who died Thursday. (AP Photo/Steve Karnowski)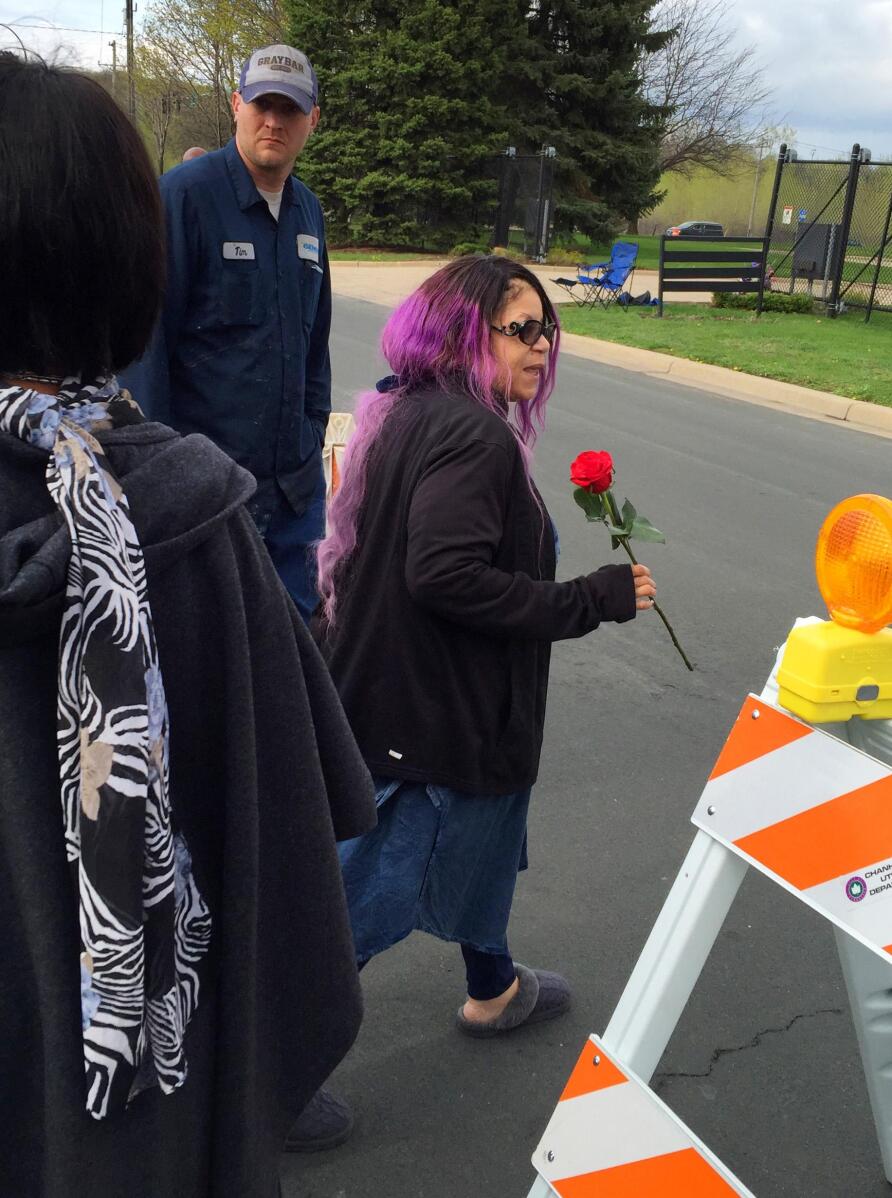 2 of 2

|
Tyka Nelson holds a rose outside Paisley Park, the home of her brother Prince in Chanhassen, Minn., on Thursday, April 21, 2016. Nelson went out to thank fans who gathered at the home to mourn the loss of the pop star who died Thursday. (AP Photo/Steve Karnowski)
Prince's sister says musician had no known will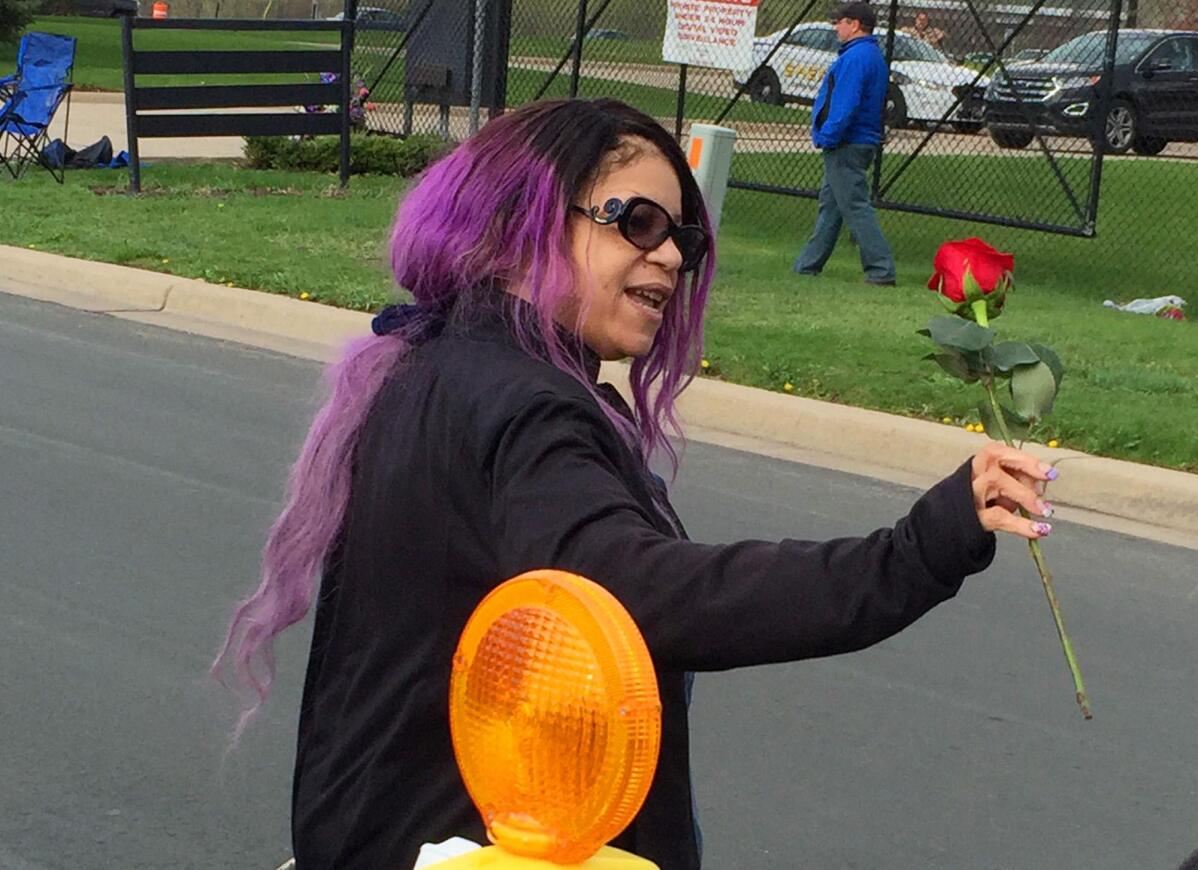 1 of 2

|
Tyka Nelson holds a rose outside Paisley Park, the home of her brother Prince in Chanhassen, Minn., on Thursday, April 21, 2016. Nelson went out to thank fans who gathered at the home to mourn the loss of the pop star who died Thursday. (AP Photo/Steve Karnowski)
1 of 2
Tyka Nelson holds a rose outside Paisley Park, the home of her brother Prince in Chanhassen, Minn., on Thursday, April 21, 2016. Nelson went out to thank fans who gathered at the home to mourn the loss of the pop star who died Thursday. (AP Photo/Steve Karnowski)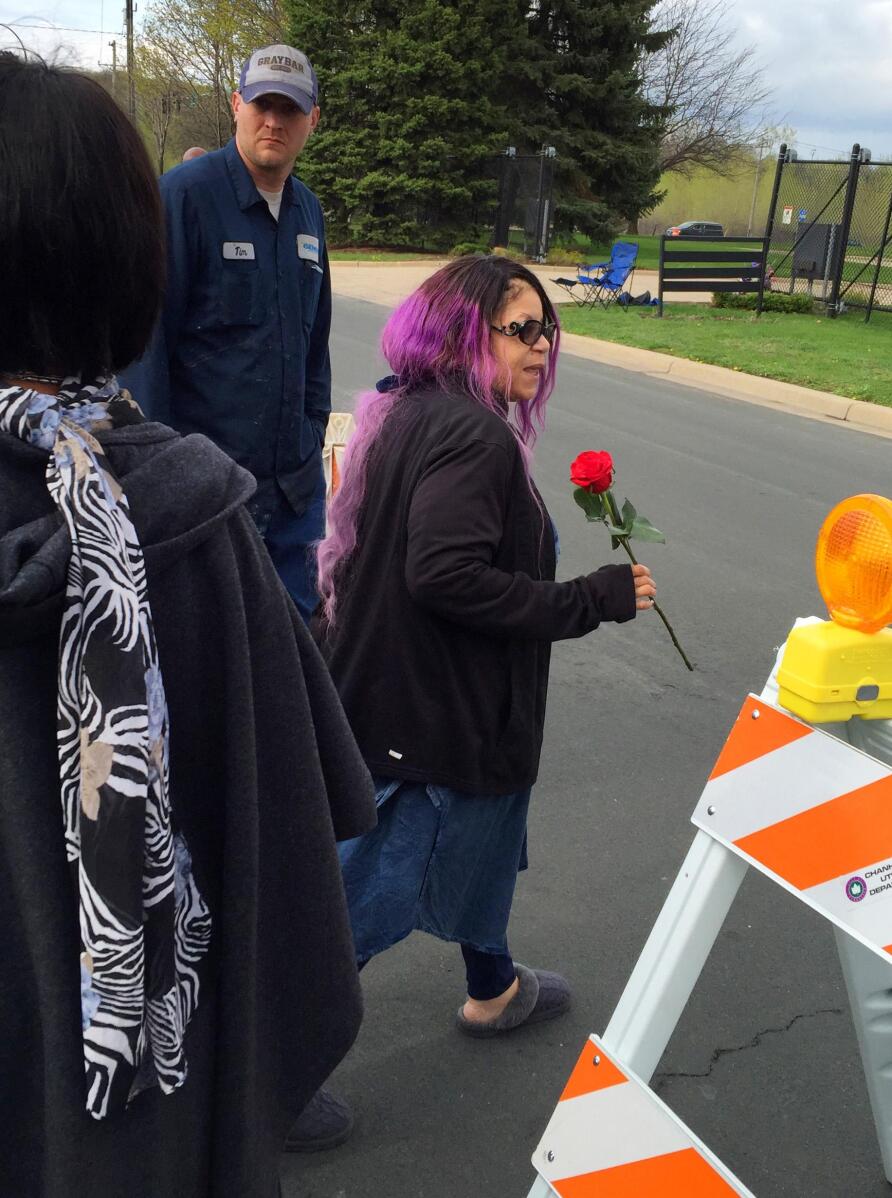 2 of 2

|
Tyka Nelson holds a rose outside Paisley Park, the home of her brother Prince in Chanhassen, Minn., on Thursday, April 21, 2016. Nelson went out to thank fans who gathered at the home to mourn the loss of the pop star who died Thursday. (AP Photo/Steve Karnowski)
2 of 2
Tyka Nelson holds a rose outside Paisley Park, the home of her brother Prince in Chanhassen, Minn., on Thursday, April 21, 2016. Nelson went out to thank fans who gathered at the home to mourn the loss of the pop star who died Thursday. (AP Photo/Steve Karnowski)
MINNEAPOLIS (AP) — Prince's sister believes the superstar musician didn't have a will and asked a Minnesota court on Tuesday to appoint a trust company to temporarily oversee his multimillion-dollar estate.
Tyka Nelson, Prince's only full sibling, said in the court filing that immediate action was necessary to manage Prince's business interests following his death last week at Paisley Park, his famous home and recording studio complex in suburban Minneapolis.
The documents don't estimate how much his estate may be worth, but Prince made hundreds of millions of dollars for record companies, concert venues and others.
And estimates of how much licensing his personal brand will generate after his death reach to the purple clouds. In just three days, the outpouring of grief and nostalgia after his death prompted fans to buy 2.3 million of his songs.
Nelson asked that Bremer Trust, a corporate trust company, be named administrator of the estate. The court documents say Bremer Bank provided financial services to Prince for many years. The court didn't immediately rule.
Prince owned a dozen properties in Minnesota, most of it undeveloped land and some houses for relatives, worth about $27 million, according to public records. He also sold more than 100 million albums, according to Warner Music Group. And Pollstar, a concert industry magazine, said that in the years that his tours topped the charts — 10 years over four decades performing — the tours raked in $225 million in ticket sales.
But what remained in Prince's hands is less than the sum of ticket and album sales, given payments to record labels, staff and to cover other expenses.
If he left no will or trust, divvying up his fortune could get complicated, said Susan Link, a top Minnesota probate lawyer. Link said attorneys will need to get Prince's siblings to agree on asset distribution, and that it could get extremely complicated if they don't.
"They will try to set the family down," said Link, who isn't involved in the case. "They're not going to try to light the match and get a big fire going and get everybody fighting about this."
However, someone could still come forward with a will or trust document. When Michael Jackson died in June 2009, longtime lawyer John Branca filed a will six days later, upending moves by Jackson's mother to become his estate's executor based on her assuming there was no will. Just last month, the estate sold off Jackson's stake in publishing company Sony/ATV to Sony Corp. for $750 million.
Public records show Prince set up more than a dozen companies, though most are now inactive. He also shuffled through lawyers and business managers regularly, meaning he could have created a will at some point without others knowing about it.
"I really can't believe in the short time since he died that they made a thorough search," University of Minnesota law professor Judith Younger said.
Irwin Feinberg, a Los Angeles trust and probate lawyer, noted that wealthy people usually create trusts to avoid the public spectacle of probate court, and that it would be unusual for Prince not to have done so.
"If a shoe is going to drop, one would think it would drop fairly soon," he said.
Prince's post-mortem earnings could match top-earning dead celebrities like Elvis Presley, estimates Mark Roesler, chief executive of CMG Worldwide, which handles licensing for the estates of Marilyn Monroe, James Dean and other late stars. Presley's estate made $55 million just in 2015, according to Forbes magazine.
Prince "was as big as they get," Roesler told The Associated Press late last week. "Will there be a business built up around Prince 60 years from now like James Dean? The answer is unequivocally, 'yes.'"
Nelson's court filing Tuesday said she had "no reason to believe" that Prince executed a will or any other documents saying what should happen to his estate upon his death. Nelson said she doesn't know her brother's assets or debts, but said he had "substantial assets" that require protection.
Her attorneys released a statement saying they're not at liberty to discuss the case "in order to uphold the privacy that Prince and the Nelson family have always maintained."
Under Minnesota law, if a person dies without a will — and with no surviving parents, children, or grandchildren — the next people in line to share in the estate are the surviving siblings, including half-siblings.
Prince wasn't married and had no known living children. Nelson is his only full sibling, though he has five half-siblings (two other half-siblings have died).
Court fights in recent years suggest money wasn't free flowing. In April 2013, Prince lost a lawsuit filed in New York State's Supreme Court brought by perfume maker Revelations Perfume and Cosmetics Inc. for failing to promote the "3121" perfume line named after his 2006 album. He touted the product once, during a massive concert in July 2007 in downtown Minneapolis that ended at 5 a.m. at the First Avenue club, a famous venue from "Purple Rain."
He was ordered to pay $4.4 million, but never did. Instead, plaintiff lawyers went searching for assets, found about $3 million in various Minnesota bank accounts and used court orders to freeze them, according to Brian Slipakoff, a lawyer who represented the perfume maker. Prince later settled for a lower amount.
"It doesn't suggest there was oodles of cash lying around," Slipakoff said last week.
Prince encountered tax difficulties several times, including owing back taxes to France in 2012, which he paid up, and overdue property taxes around $450,000 in 2010. In 2013, the IRS filed a federal tax lien against him in Carver County Court in Minnesota for $1.6 million. What happened with that case is unclear.
Records on file with Carver County, where Paisley Park is located, show that he was up to date on his property taxes when he died.
___
Nakashima reported from Los Angeles. Associated Press writers Nekesa Mumbi Moody in New York, Doug Glass in Minneapolis and Kevin Burbach in Chanhassen, Minnesota, and AP researcher Rhonda Shafner contributed to this report.