Mississippi governor says CDC mask guidance is 'foolish'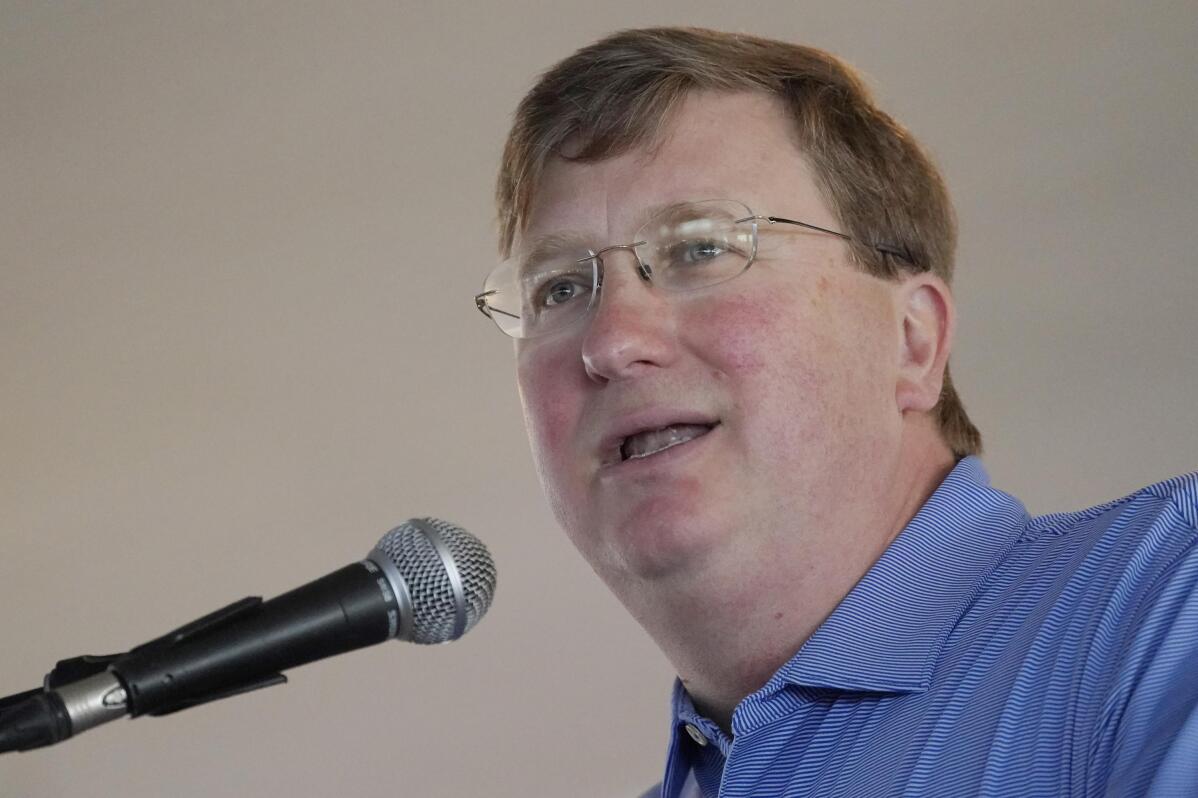 1 of 10

|
Republican Gov. Tate Reeves addresses fairgoers at the Neshoba County Fair in Philadelphia, Miss., Thursday, July 29, 2021. The fair, also known as Mississippi's Giant House Party, is an annual event of agricultural, political, and social entertainment at what might be the country's largest campground fair. (AP Photo/Rogelio V. Solis)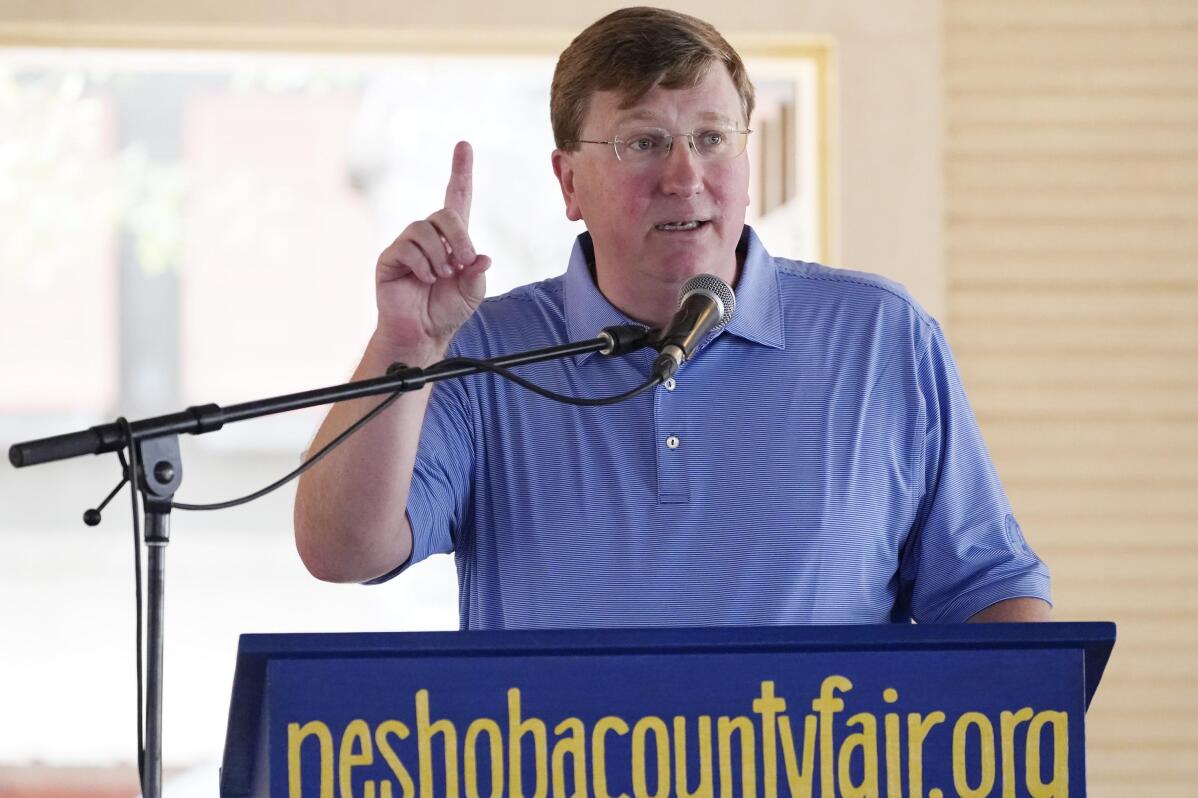 2 of 10

|
Republican Gov. Tate Reeves tells fairgoers of that he will seek additional funds for public school teachers salaries at the Neshoba County Fair in Philadelphia, Miss., Thursday, July 29, 2021. The fair, also known as Mississippi's Giant House Party, is an annual event of agricultural, political, and social entertainment at what might be the country's largest campground fair. (AP Photo/Rogelio V. Solis)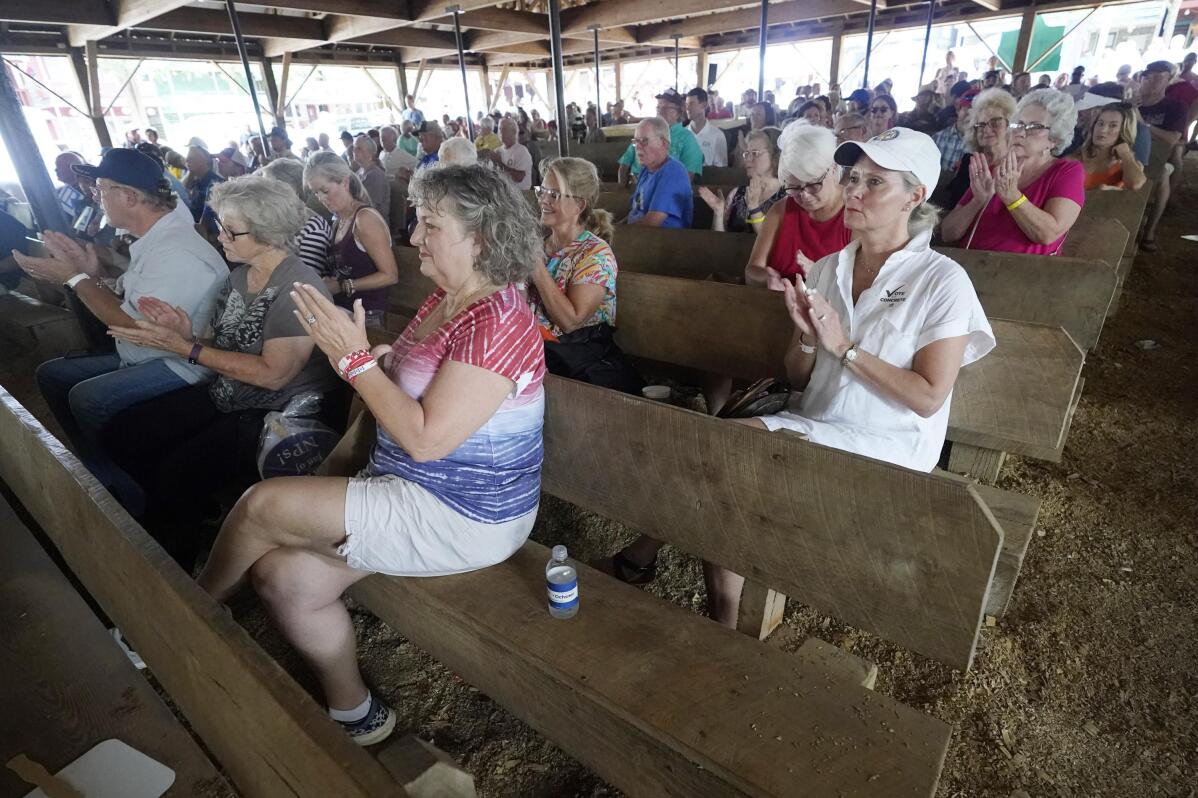 3 of 10

|
With this being an off-election year, crowds attending the political speeches were smaller usual at the Neshoba County Fair in Philadelphia, Miss., Thursday, July 29, 2021. The fair, also known as Mississippi's Giant House Party, is an annual event of agricultural, political, and social entertainment at what might be the country's largest campground fair. (AP Photo/Rogelio V. Solis)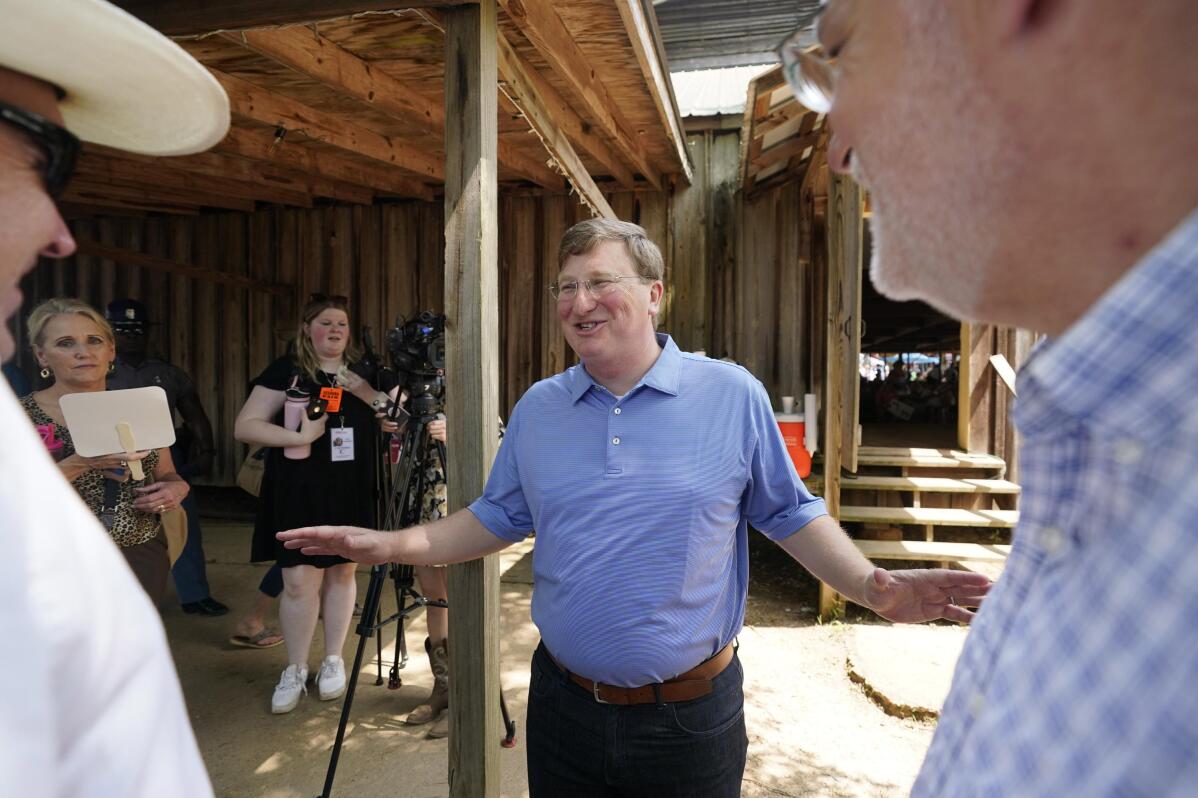 4 of 10

|
Republican Gov. Tate Reeves laughs as he greets fairgoers at the Neshoba County Fair following his speech before them in Philadelphia, Miss., Thursday, July 29, 2021. The fair, also known as Mississippi's Giant House Party, is an annual event of agricultural, political, and social entertainment at what might be the country's largest campground fair. (AP Photo/Rogelio V. Solis)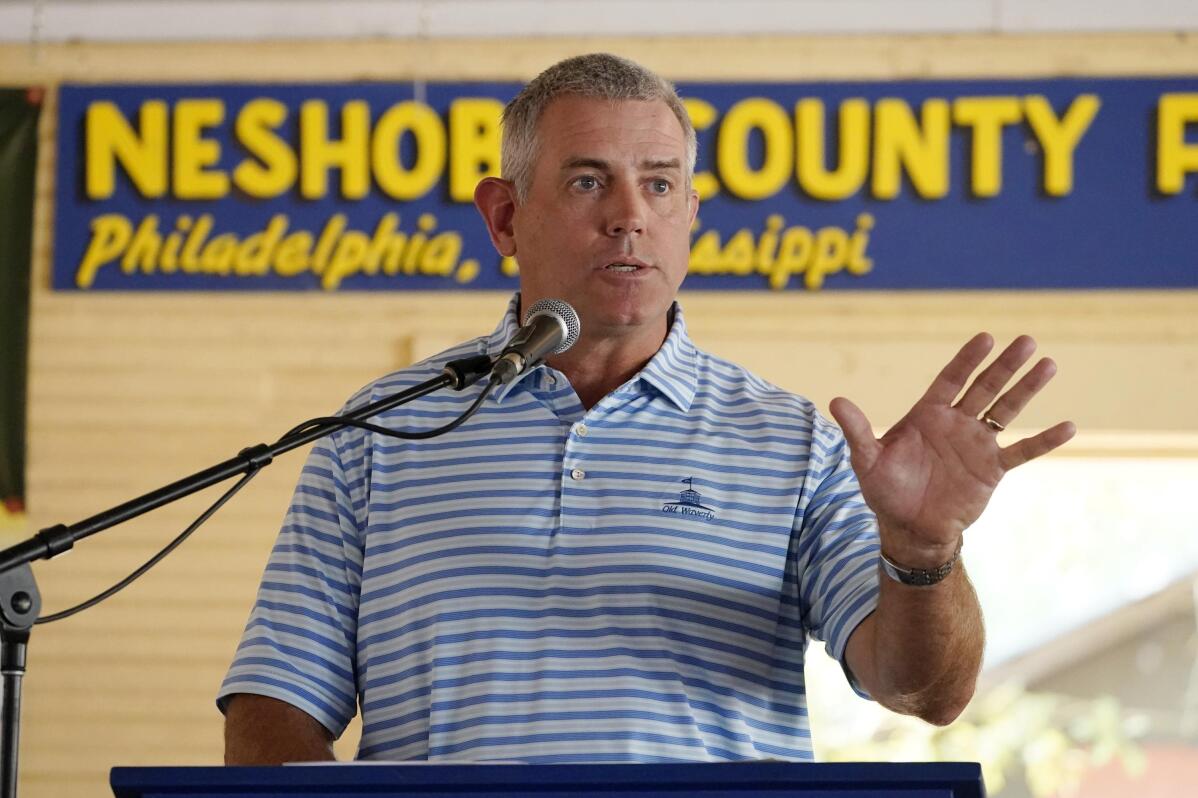 5 of 10

|
Republican Speaker of the House Philip Gunn, addresses the audience at the Neshoba County Fair in Philadelphia, Miss., Thursday, July 29, 2021. The fair, also known as Mississippi's Giant House Party, is an annual event of agricultural, political, and social entertainment at what might be the country's largest campground fair. (AP Photo/Rogelio V. Solis)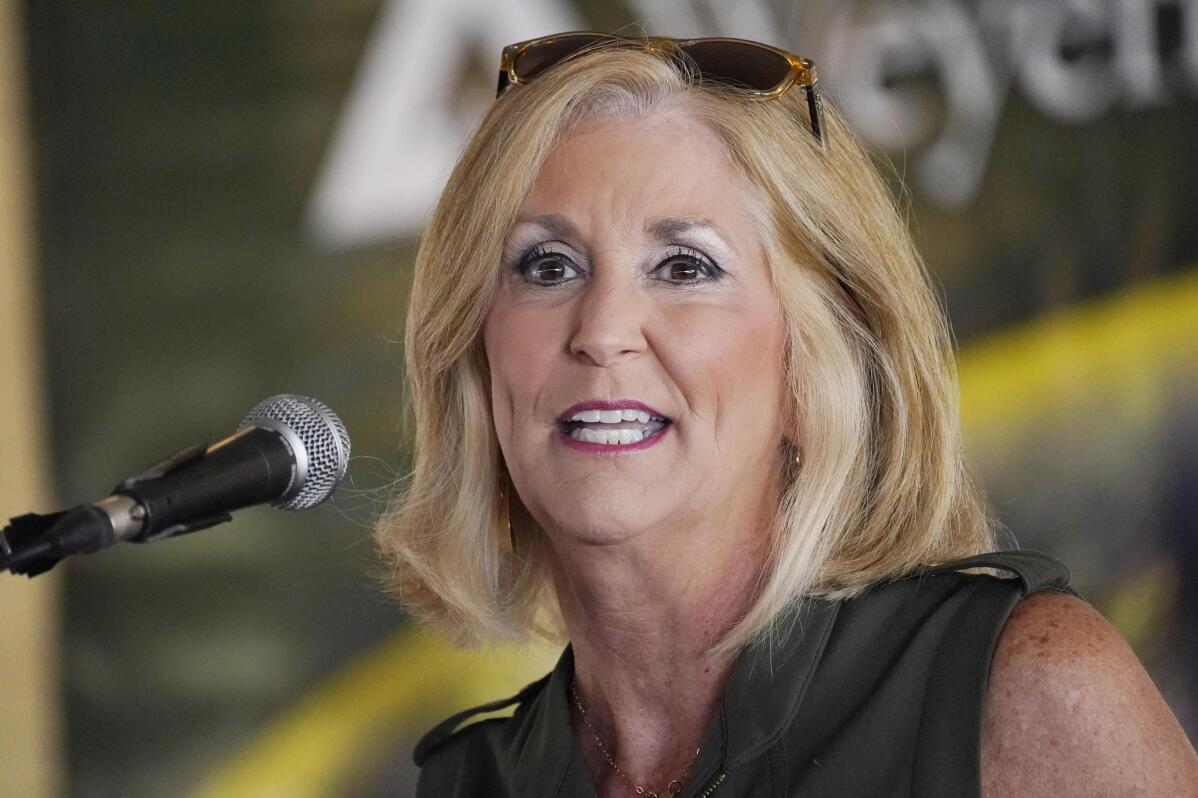 6 of 10

|
Republican Attorney General Lynn Fitch speaks about her agency's aggressive pursuit of human traffickers at the Neshoba County Fair in Philadelphia, Miss., Thursday, July 29, 2021. The fair, also known as Mississippi's Giant House Party, is an annual event of agricultural, political, and social entertainment at what might be the country's largest campground fair. (AP Photo/Rogelio V. Solis)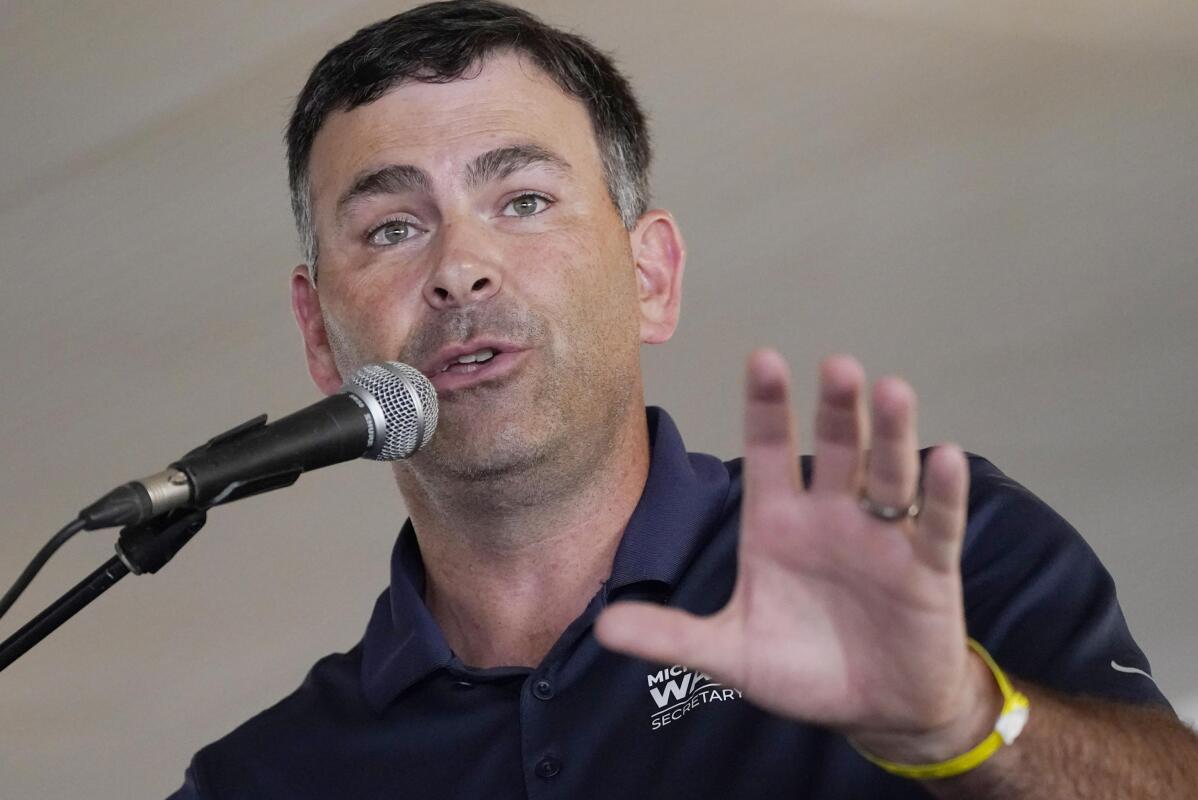 7 of 10

|
Mississippi's Republican Secretary of State Michael Watson addresses his agency's successful handling of elections during his speech at the Neshoba County Fair in Philadelphia, Miss., Thursday, July 29, 2021. The fair, also known as Mississippi's Giant House Party, is an annual event of agricultural, political, and social entertainment at what might be the country's largest campground fair. (AP Photo/Rogelio V. Solis)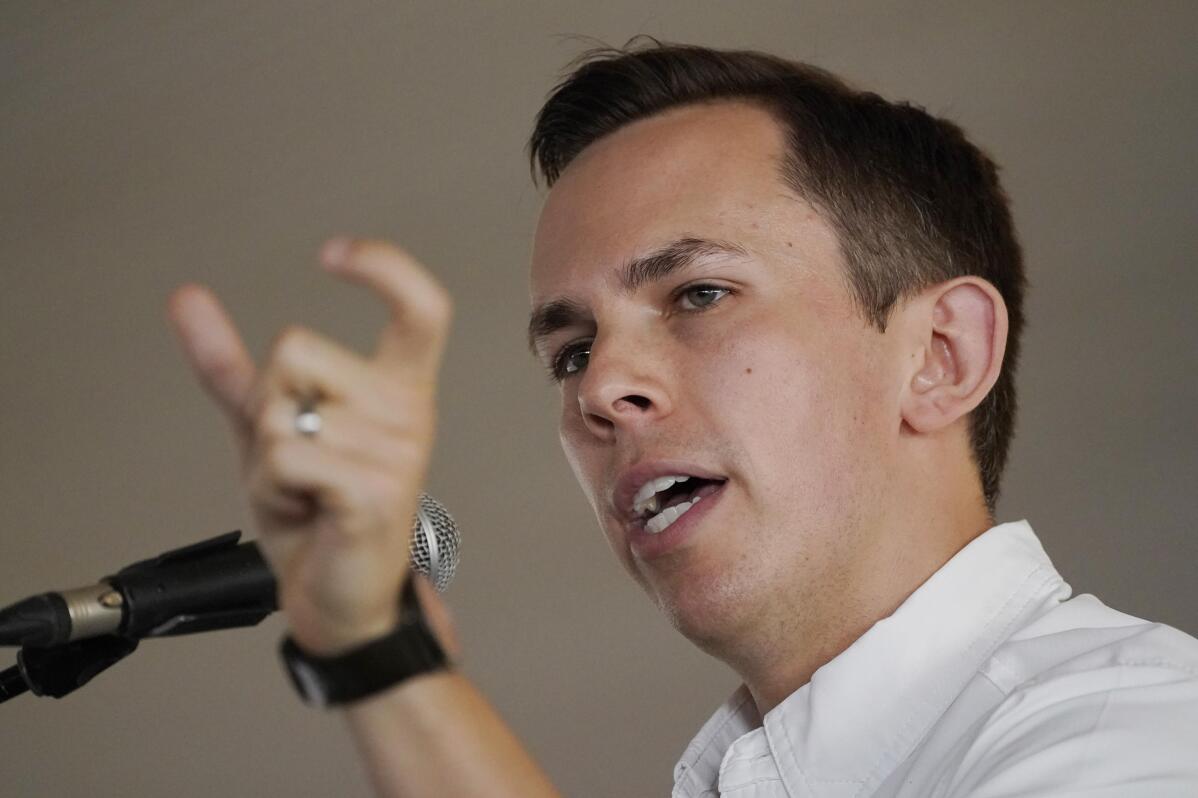 8 of 10

|
Republican State Auditor Shad White speaks about some of the successful legal actions his office has undertaken during the past two years at the Neshoba County Fair in Philadelphia, Miss., Thursday, July 29, 2021. The fair, also known as Mississippi's Giant House Party, is an annual event of agricultural, political, and social entertainment at what might be the country's largest campground fair. (AP Photo/Rogelio V. Solis)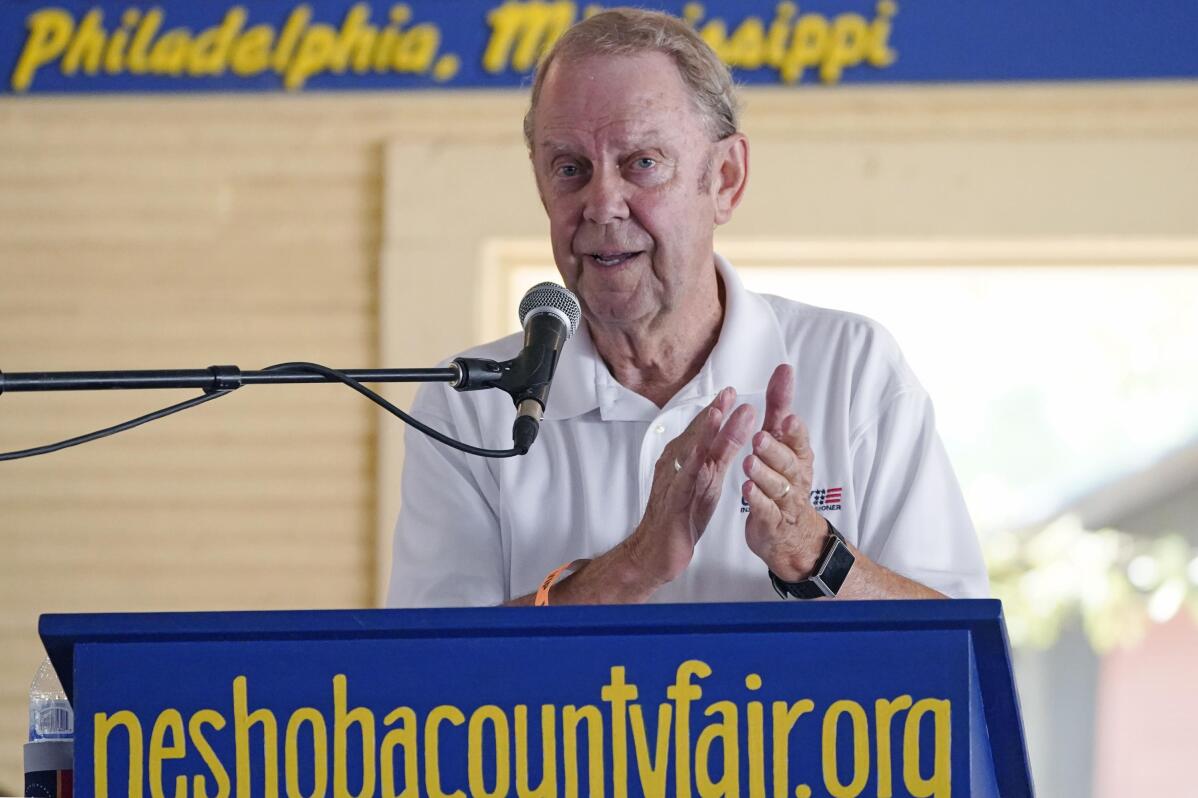 9 of 10

|
Republican Insurance Commissioner Mike Chaney applauds his instructors at the state fire fighting academy during the Neshoba County Fair in Philadelphia, Miss., Thursday, July 29, 2021. The fair, also known as Mississippi's Giant House Party, is an annual event of agricultural, political, and social entertainment at what might be the country's largest campground fair. (AP Photo/Rogelio V. Solis)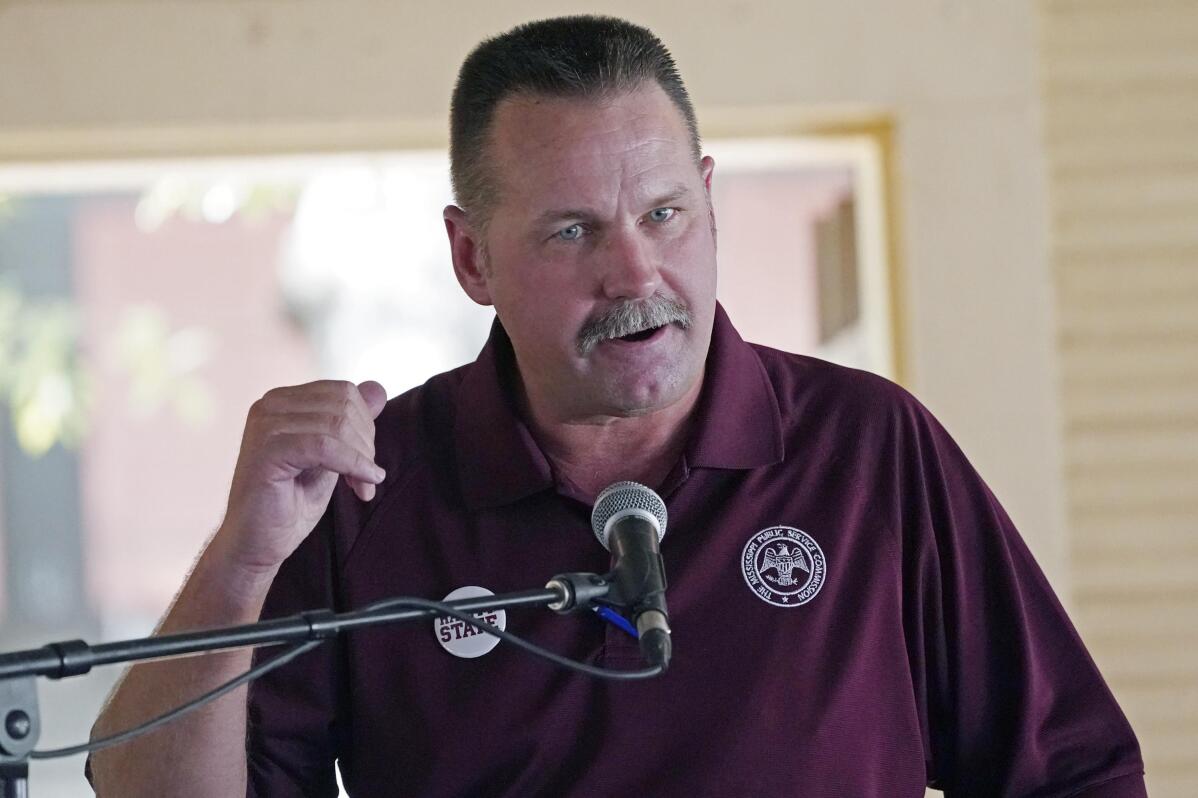 10 of 10

|
Republican Public Service Commissioner Brent Bailey for the Central District speaks about broadband development at the Neshoba County Fair in Philadelphia, Miss., Thursday, July 29, 2021. (AP Photo/Rogelio V. Solis)
Mississippi governor says CDC mask guidance is 'foolish'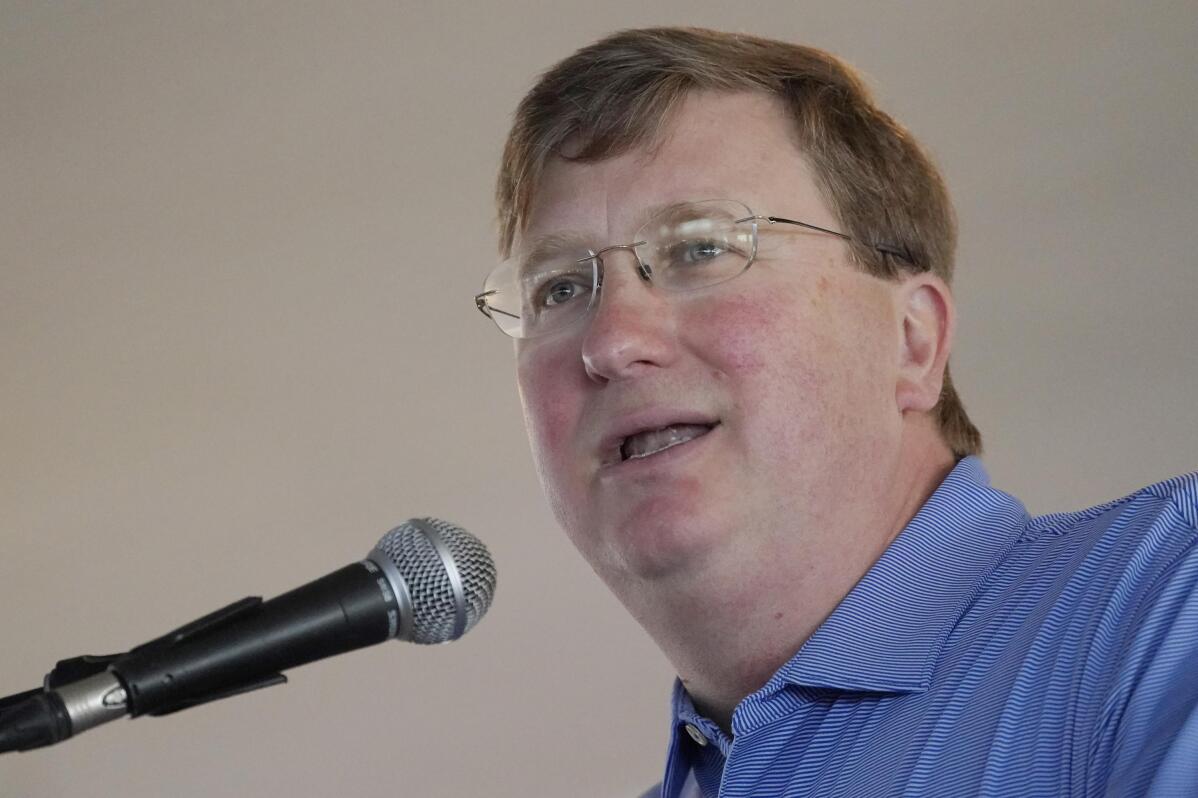 1 of 10

|
Republican Gov. Tate Reeves addresses fairgoers at the Neshoba County Fair in Philadelphia, Miss., Thursday, July 29, 2021. The fair, also known as Mississippi's Giant House Party, is an annual event of agricultural, political, and social entertainment at what might be the country's largest campground fair. (AP Photo/Rogelio V. Solis)
1 of 10
Republican Gov. Tate Reeves addresses fairgoers at the Neshoba County Fair in Philadelphia, Miss., Thursday, July 29, 2021. The fair, also known as Mississippi's Giant House Party, is an annual event of agricultural, political, and social entertainment at what might be the country's largest campground fair. (AP Photo/Rogelio V. Solis)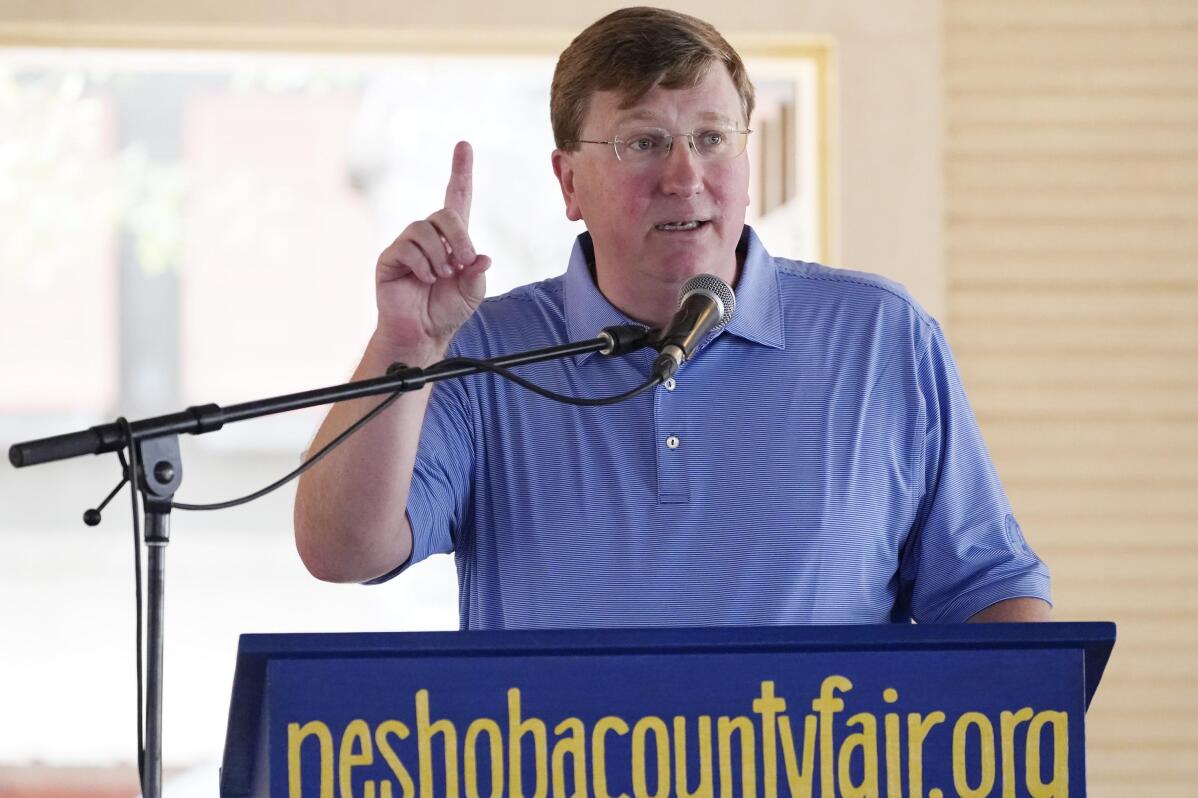 2 of 10

|
Republican Gov. Tate Reeves tells fairgoers of that he will seek additional funds for public school teachers salaries at the Neshoba County Fair in Philadelphia, Miss., Thursday, July 29, 2021. The fair, also known as Mississippi's Giant House Party, is an annual event of agricultural, political, and social entertainment at what might be the country's largest campground fair. (AP Photo/Rogelio V. Solis)
2 of 10
Republican Gov. Tate Reeves tells fairgoers of that he will seek additional funds for public school teachers salaries at the Neshoba County Fair in Philadelphia, Miss., Thursday, July 29, 2021. The fair, also known as Mississippi's Giant House Party, is an annual event of agricultural, political, and social entertainment at what might be the country's largest campground fair. (AP Photo/Rogelio V. Solis)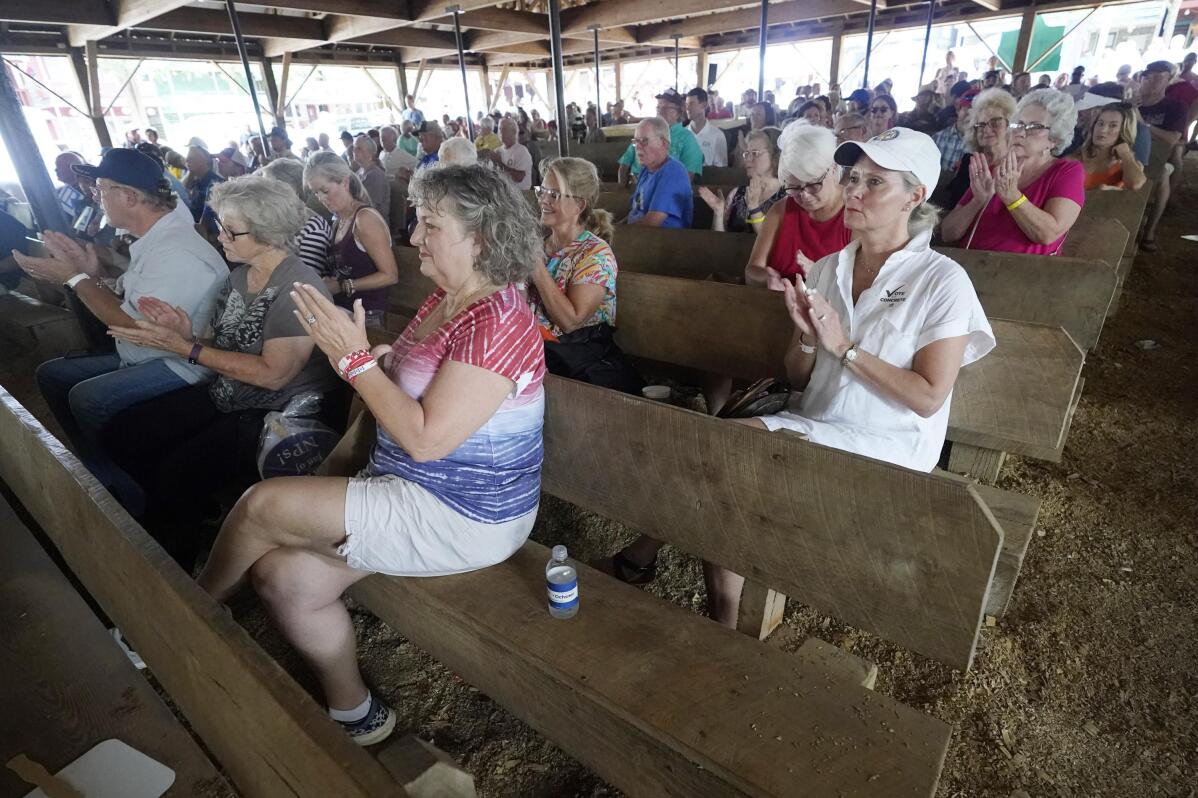 3 of 10

|
With this being an off-election year, crowds attending the political speeches were smaller usual at the Neshoba County Fair in Philadelphia, Miss., Thursday, July 29, 2021. The fair, also known as Mississippi's Giant House Party, is an annual event of agricultural, political, and social entertainment at what might be the country's largest campground fair. (AP Photo/Rogelio V. Solis)
3 of 10
With this being an off-election year, crowds attending the political speeches were smaller usual at the Neshoba County Fair in Philadelphia, Miss., Thursday, July 29, 2021. The fair, also known as Mississippi's Giant House Party, is an annual event of agricultural, political, and social entertainment at what might be the country's largest campground fair. (AP Photo/Rogelio V. Solis)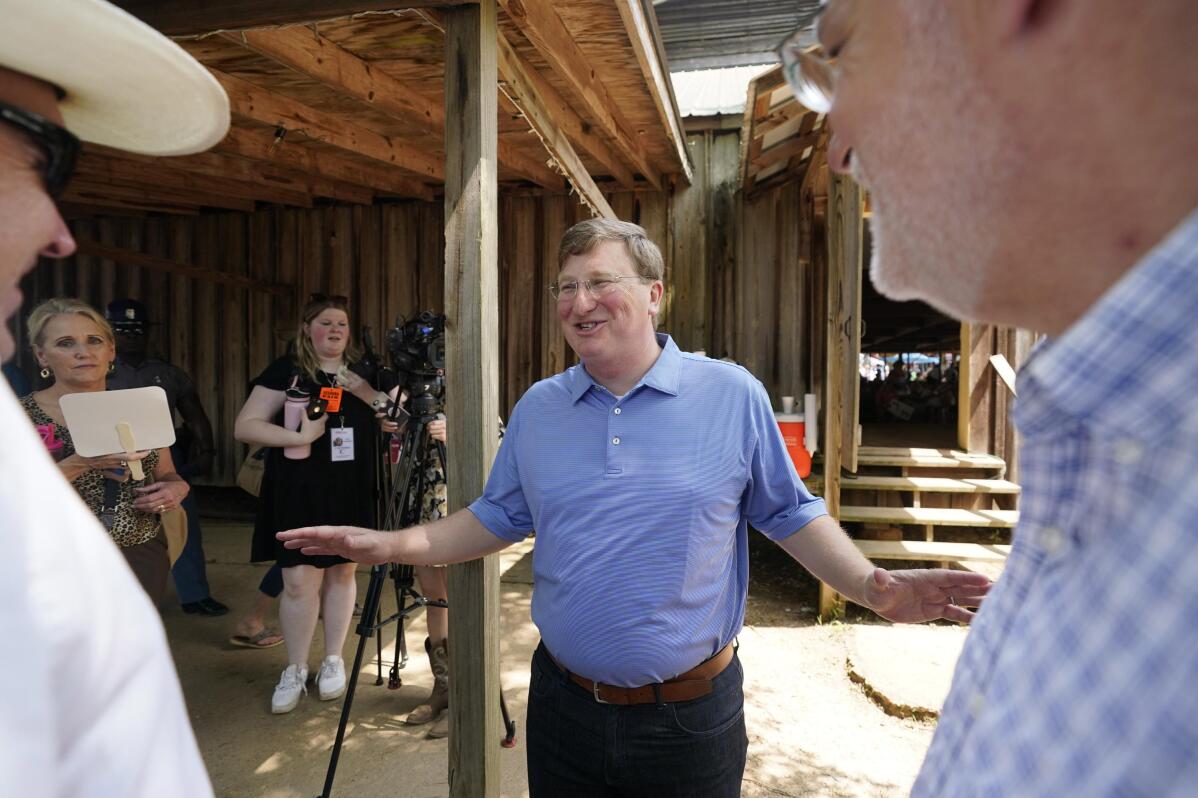 4 of 10

|
Republican Gov. Tate Reeves laughs as he greets fairgoers at the Neshoba County Fair following his speech before them in Philadelphia, Miss., Thursday, July 29, 2021. The fair, also known as Mississippi's Giant House Party, is an annual event of agricultural, political, and social entertainment at what might be the country's largest campground fair. (AP Photo/Rogelio V. Solis)
4 of 10
Republican Gov. Tate Reeves laughs as he greets fairgoers at the Neshoba County Fair following his speech before them in Philadelphia, Miss., Thursday, July 29, 2021. The fair, also known as Mississippi's Giant House Party, is an annual event of agricultural, political, and social entertainment at what might be the country's largest campground fair. (AP Photo/Rogelio V. Solis)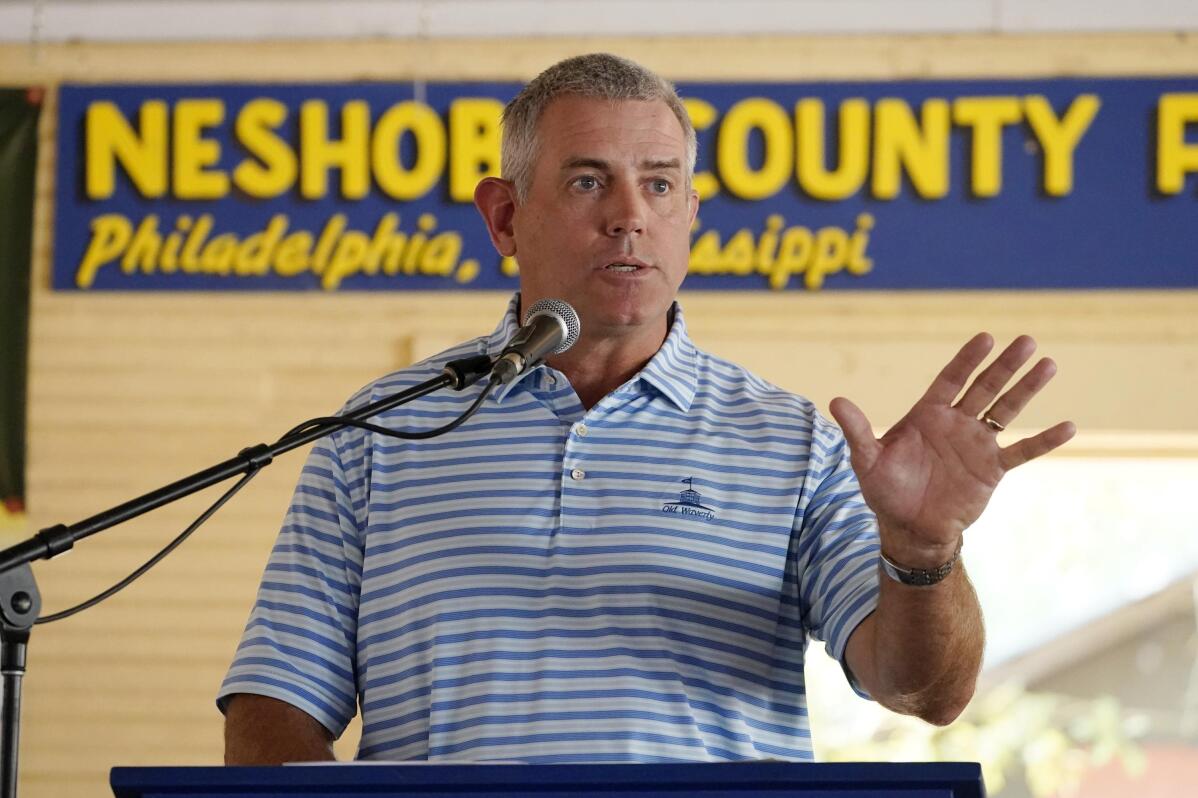 5 of 10

|
Republican Speaker of the House Philip Gunn, addresses the audience at the Neshoba County Fair in Philadelphia, Miss., Thursday, July 29, 2021. The fair, also known as Mississippi's Giant House Party, is an annual event of agricultural, political, and social entertainment at what might be the country's largest campground fair. (AP Photo/Rogelio V. Solis)
5 of 10
Republican Speaker of the House Philip Gunn, addresses the audience at the Neshoba County Fair in Philadelphia, Miss., Thursday, July 29, 2021. The fair, also known as Mississippi's Giant House Party, is an annual event of agricultural, political, and social entertainment at what might be the country's largest campground fair. (AP Photo/Rogelio V. Solis)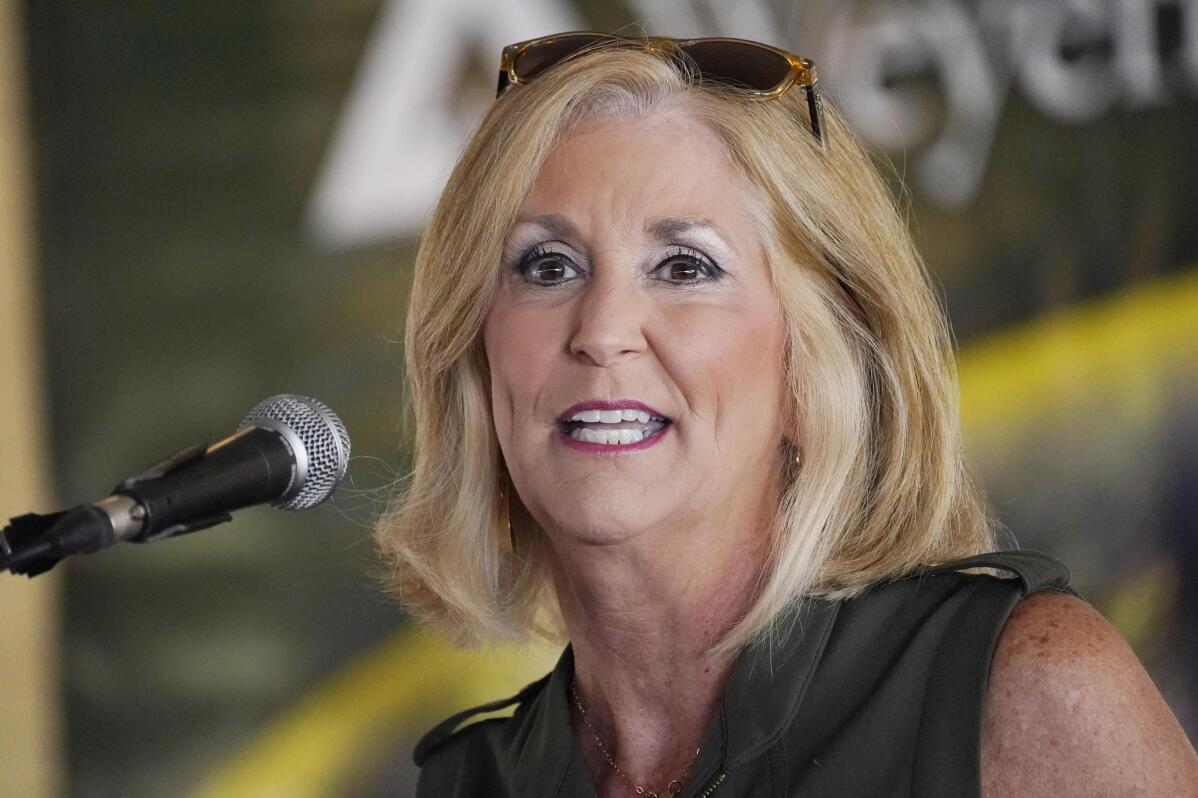 6 of 10

|
Republican Attorney General Lynn Fitch speaks about her agency's aggressive pursuit of human traffickers at the Neshoba County Fair in Philadelphia, Miss., Thursday, July 29, 2021. The fair, also known as Mississippi's Giant House Party, is an annual event of agricultural, political, and social entertainment at what might be the country's largest campground fair. (AP Photo/Rogelio V. Solis)
6 of 10
Republican Attorney General Lynn Fitch speaks about her agency's aggressive pursuit of human traffickers at the Neshoba County Fair in Philadelphia, Miss., Thursday, July 29, 2021. The fair, also known as Mississippi's Giant House Party, is an annual event of agricultural, political, and social entertainment at what might be the country's largest campground fair. (AP Photo/Rogelio V. Solis)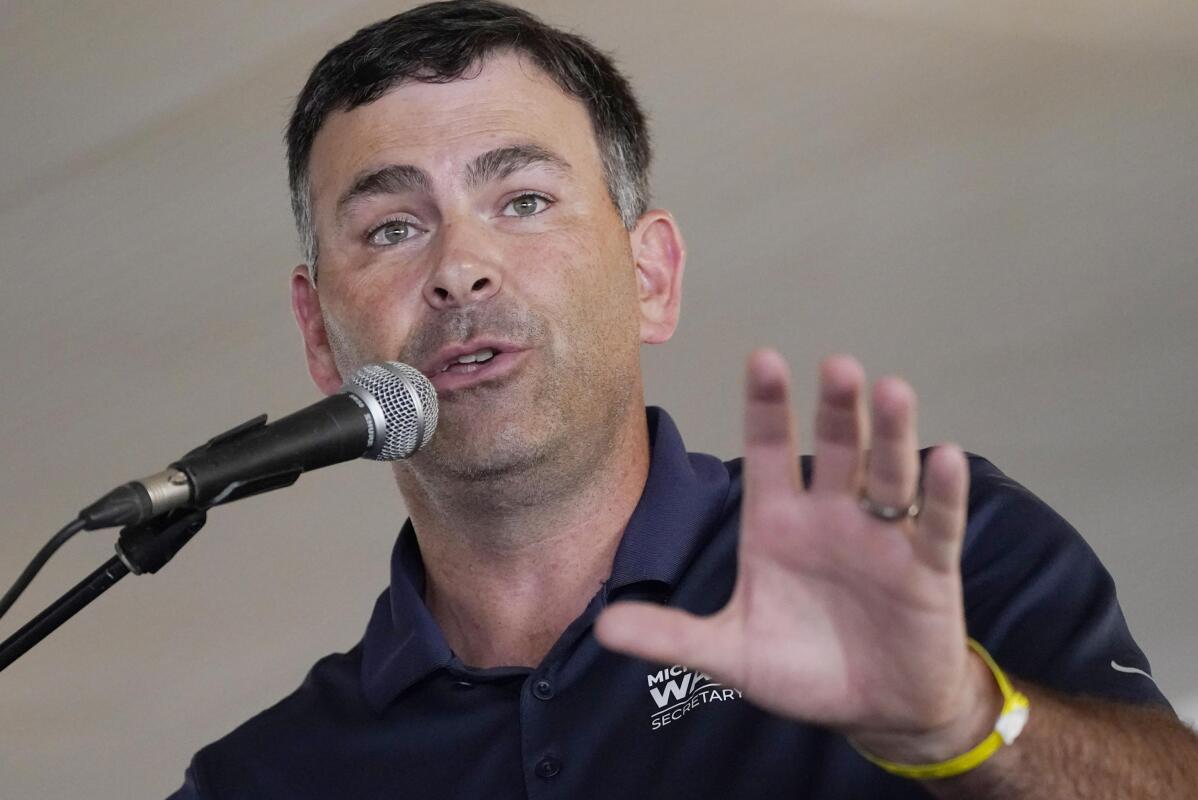 7 of 10

|
Mississippi's Republican Secretary of State Michael Watson addresses his agency's successful handling of elections during his speech at the Neshoba County Fair in Philadelphia, Miss., Thursday, July 29, 2021. The fair, also known as Mississippi's Giant House Party, is an annual event of agricultural, political, and social entertainment at what might be the country's largest campground fair. (AP Photo/Rogelio V. Solis)
7 of 10
Mississippi's Republican Secretary of State Michael Watson addresses his agency's successful handling of elections during his speech at the Neshoba County Fair in Philadelphia, Miss., Thursday, July 29, 2021. The fair, also known as Mississippi's Giant House Party, is an annual event of agricultural, political, and social entertainment at what might be the country's largest campground fair. (AP Photo/Rogelio V. Solis)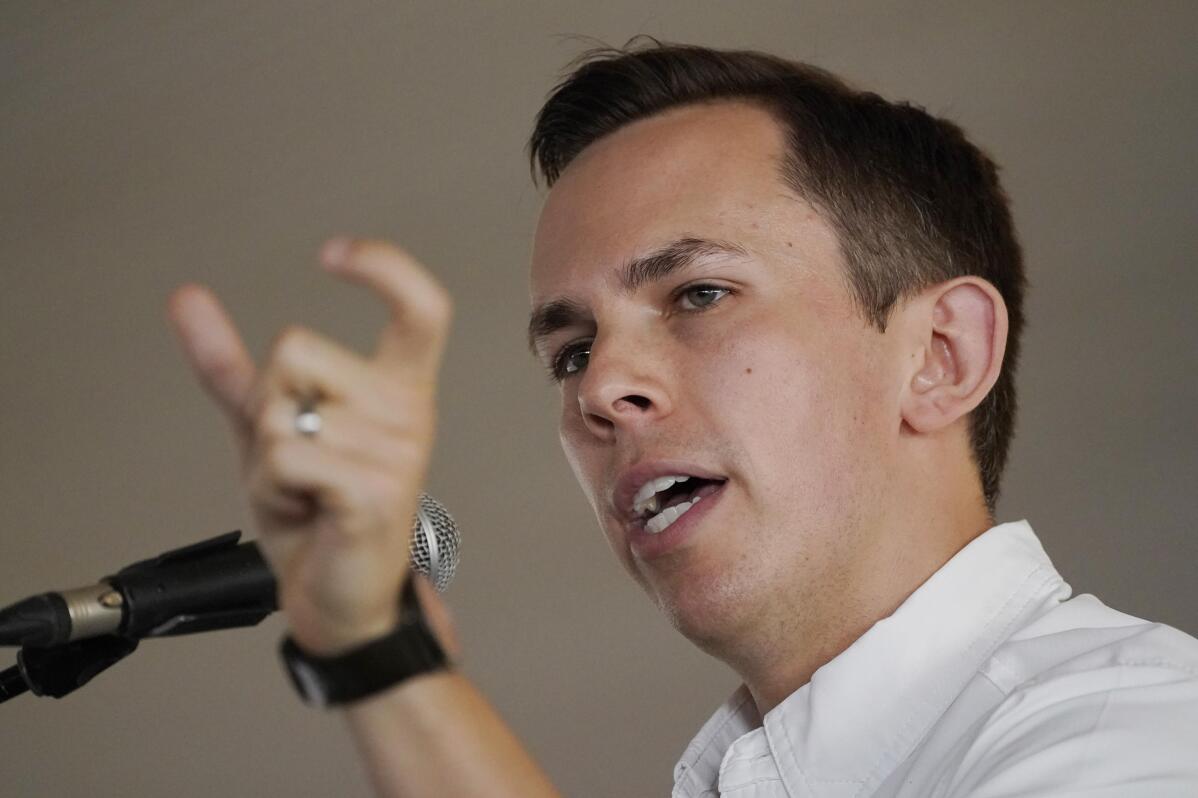 8 of 10

|
Republican State Auditor Shad White speaks about some of the successful legal actions his office has undertaken during the past two years at the Neshoba County Fair in Philadelphia, Miss., Thursday, July 29, 2021. The fair, also known as Mississippi's Giant House Party, is an annual event of agricultural, political, and social entertainment at what might be the country's largest campground fair. (AP Photo/Rogelio V. Solis)
8 of 10
Republican State Auditor Shad White speaks about some of the successful legal actions his office has undertaken during the past two years at the Neshoba County Fair in Philadelphia, Miss., Thursday, July 29, 2021. The fair, also known as Mississippi's Giant House Party, is an annual event of agricultural, political, and social entertainment at what might be the country's largest campground fair. (AP Photo/Rogelio V. Solis)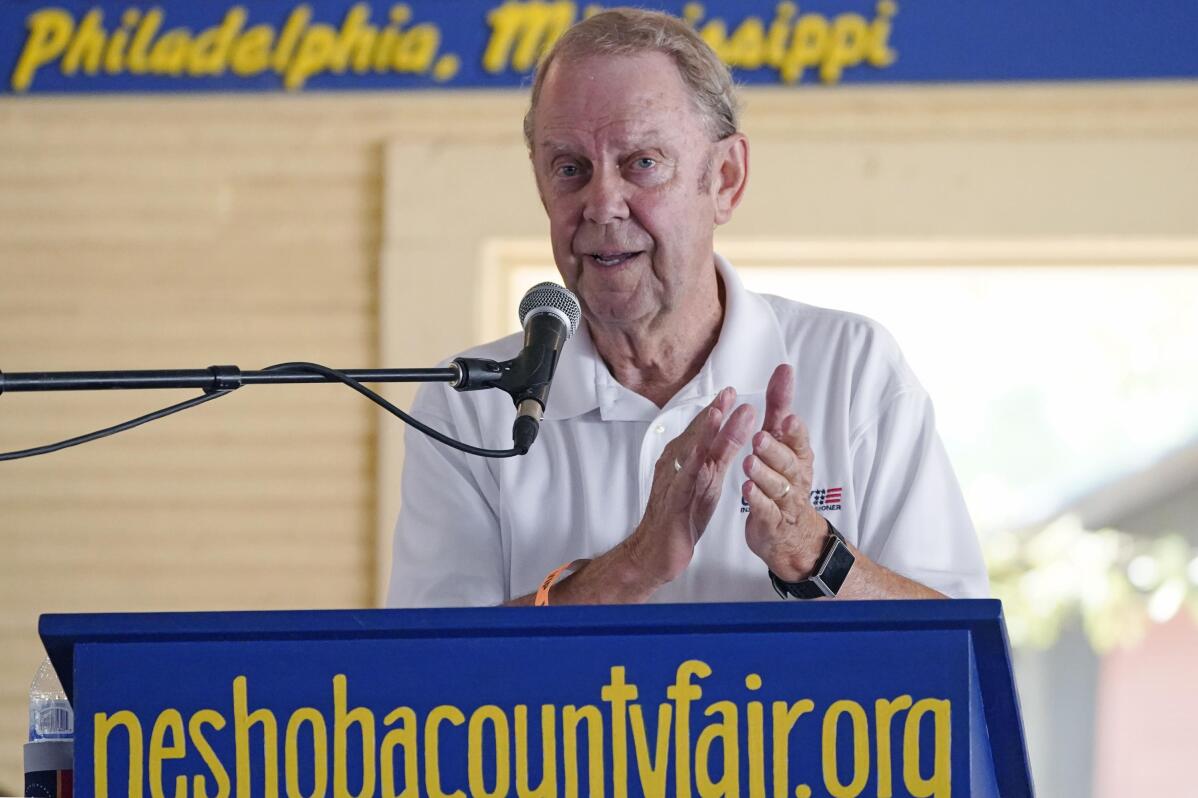 9 of 10

|
Republican Insurance Commissioner Mike Chaney applauds his instructors at the state fire fighting academy during the Neshoba County Fair in Philadelphia, Miss., Thursday, July 29, 2021. The fair, also known as Mississippi's Giant House Party, is an annual event of agricultural, political, and social entertainment at what might be the country's largest campground fair. (AP Photo/Rogelio V. Solis)
9 of 10
Republican Insurance Commissioner Mike Chaney applauds his instructors at the state fire fighting academy during the Neshoba County Fair in Philadelphia, Miss., Thursday, July 29, 2021. The fair, also known as Mississippi's Giant House Party, is an annual event of agricultural, political, and social entertainment at what might be the country's largest campground fair. (AP Photo/Rogelio V. Solis)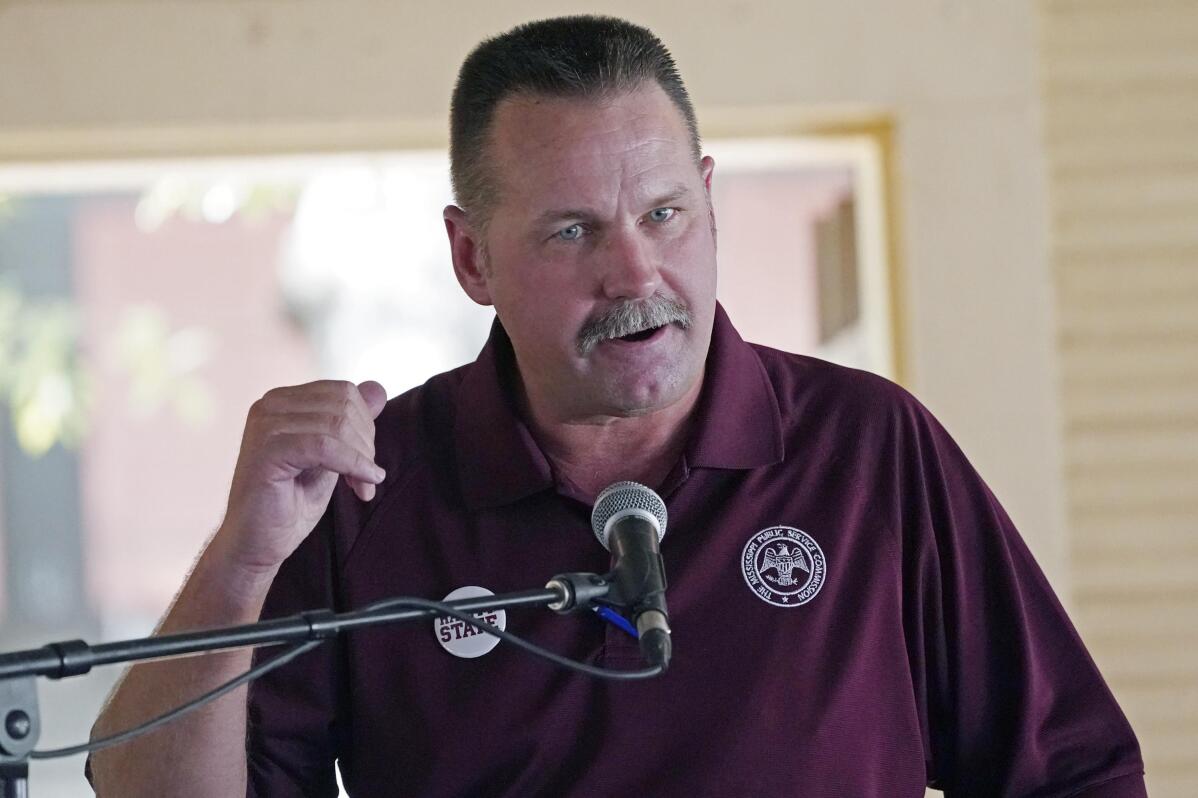 10 of 10

|
Republican Public Service Commissioner Brent Bailey for the Central District speaks about broadband development at the Neshoba County Fair in Philadelphia, Miss., Thursday, July 29, 2021. (AP Photo/Rogelio V. Solis)
10 of 10
Republican Public Service Commissioner Brent Bailey for the Central District speaks about broadband development at the Neshoba County Fair in Philadelphia, Miss., Thursday, July 29, 2021. (AP Photo/Rogelio V. Solis)
PHILADELPHIA, Miss. (AP) — Cases of COVID-19 are surging in Mississippi, but Republican Gov. Tate Reeves said at a political gathering Thursday that a federal recommendation for people to wear masks indoors is "foolish" and "harmful."
The Centers for Disease Control and Prevention reversed course on some of its guidelines Tuesday, recommending that even vaccinated people return to wearing masks indoors in parts of the U.S. where the virus is spreading rapidly.
"It reeks of political panic so as to appear they are in control," Reeves said during an outdoor speech at the Neshoba County Fair. "It has nothing — let me say that again — it has nothing to do with rational science. In Mississippi, we believe in freedom."
Mississippi has one of the lowest COVID-19 vaccination rates in the nation. Reeves went on camera to get his own vaccination early this year. At the fair Thursday, he said former President Donald Trump's Operation Warp Speed "delivered that miracle vaccine, and he did it in record time."
Reeves noted that 1.2 million Mississippi residents have been vaccinated.
"Others have chosen a different path," he said. "And I will always defend those individuals' right to decide what is best for them and their families."
Reeves said this week he will not set a mask mandate for schools
A few Mississippi school districts have already started classes, and others will begin by mid-August. Some districts have mask mandates for the new academic year, but others say wearing a mask in school is optional. Last week, the state Health Department recommended masks be worn indoors in school settings by all unvaccinated people 2 and older.
The Neshoba County Fair, which bills itself as "Mississippi's Giant Houseparty," typically attracts thousands of people to the red clay hills of east central Mississippi. For two days, politicians speak under a tin-roofed pavilion, and most gear their messages to a largely conservative crowd.
The fair was canceled in 2020 because of the COVID-19 pandemic, but organizers decided months ago to go ahead with it this year.
COVID-19 cases have been proliferating in Mississippi in recent weeks because of the delta variant. The Mississippi State Department of Health reported 1,908 new cases Thursday. New case numbers the past few days have been comparable to those reported in February, before vaccinations were widely available.
___
Follow AP's coverage of the pandemic at https://apnews.com/hub/coronavirus-pandemic.