Don't look down! NYPD unit does its work at dizzying heights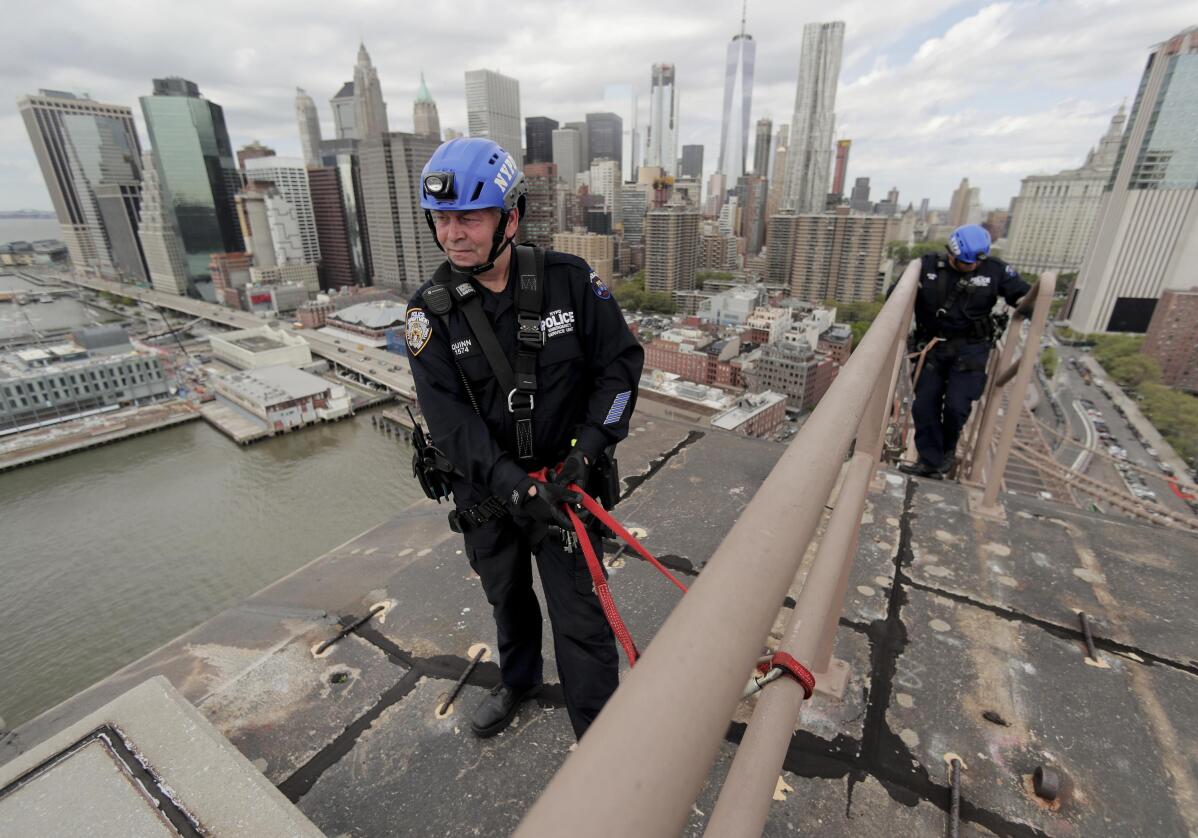 1 of 11

|
In this Tuesday, May 2, 2017, photo, Emergency Services Unit officer Quinn secures his safety line as other members of the unit finish ascending the south support cable for the Brooklyn Bridge during a training exercise, in New York. Training exercises such as the recent climb up a suspension cable to the top of the iconic bridge, protected only by a safety harnesses clipped to a wire, are designed to get team members thinking beyond the risk to their own lives so they can help save someone else's. (AP Photo/Julie Jacobson)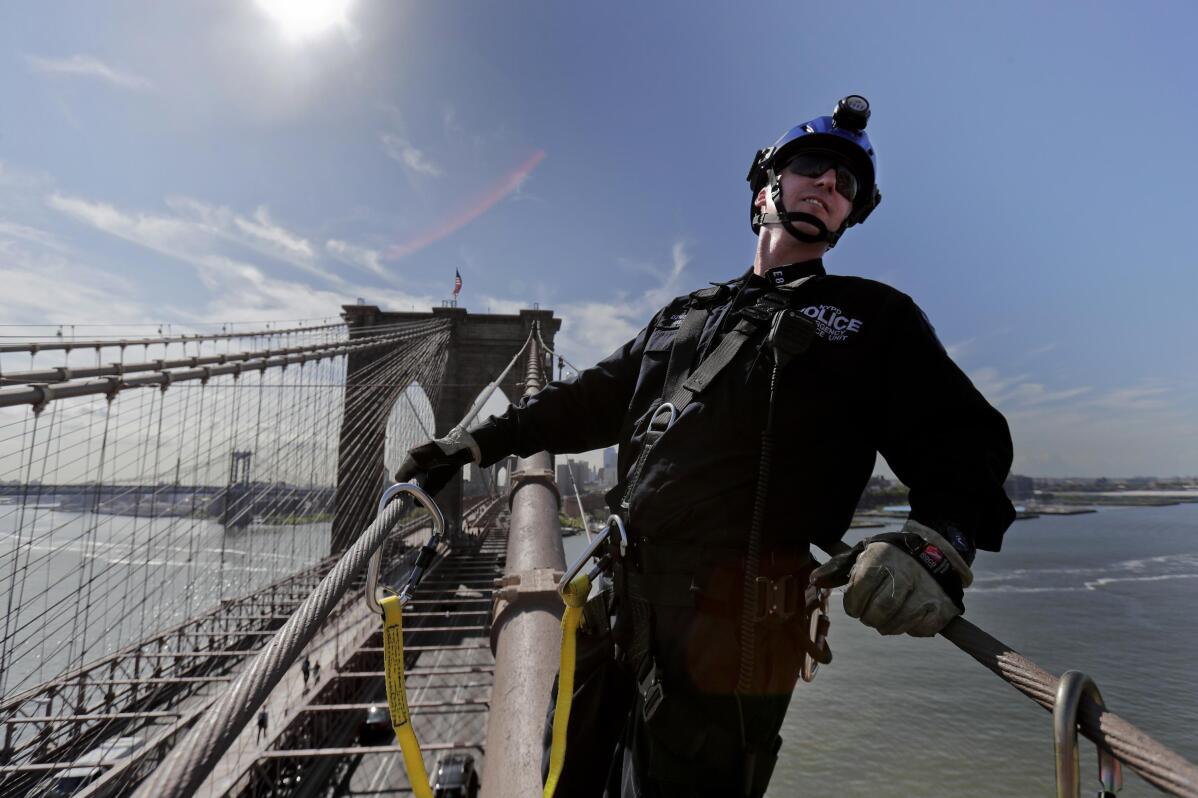 2 of 11

|
In this Tuesday, May 2, 2017, New York Police detective Slawek Dziubek turns to check on fellow Emergency Services Unit officers during a training exercise climb up the south cable of the Brooklyn Bridge, in New York. The New York Police Department's Emergency Services Unit is an elite team that handles the city's most dangerous rescues. The 400-officer unit is among the most highly-trained in the nation and is the most coveted assignment at the nation's largest department. (AP Photo/Julie Jacobson)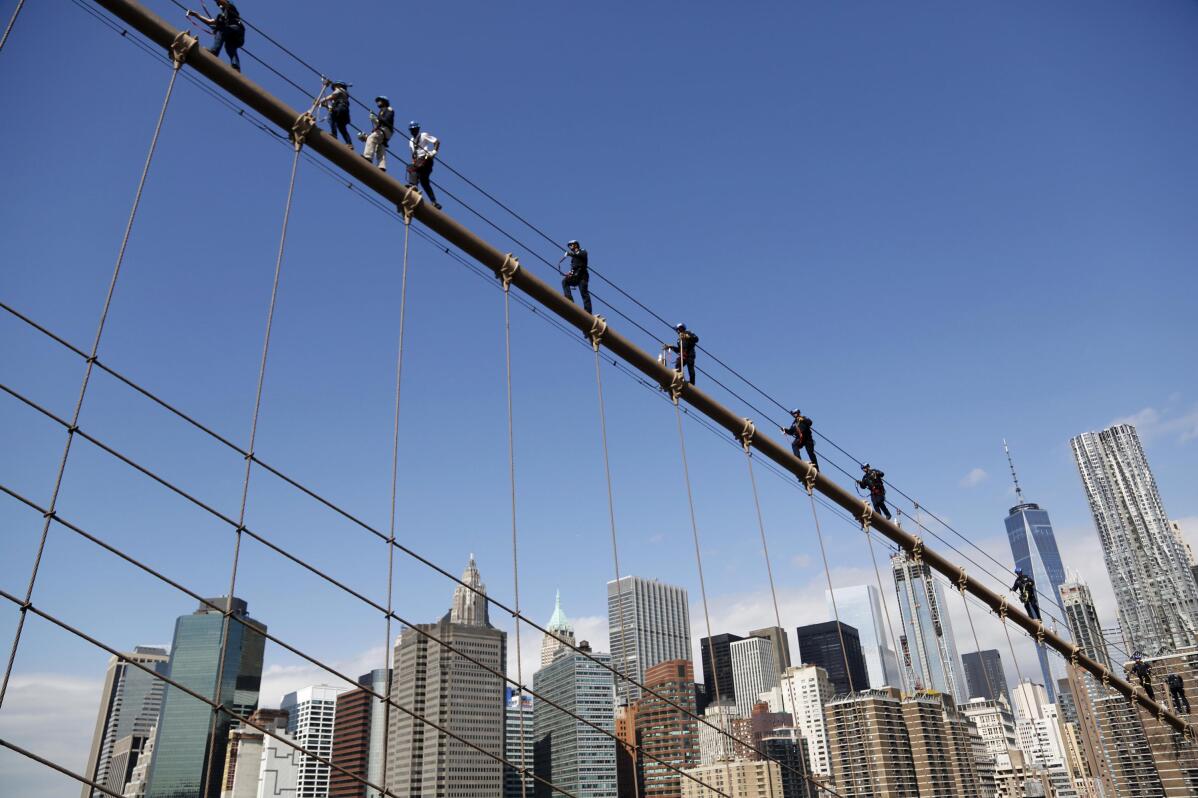 3 of 11

|
In this Tuesday, May 2, 2017 photo, New York City police officers, including members of the Emergency Services Unit, walk up a cable to the top of the Brooklyn Bridge in New York. The 400-team unit, an elite group of officers trained to handle the city's most dangerous rescues, trains for months not only on technical rescue techniques, but also on how to talk to people to get them down safely. (AP Photo/Seth Wenig)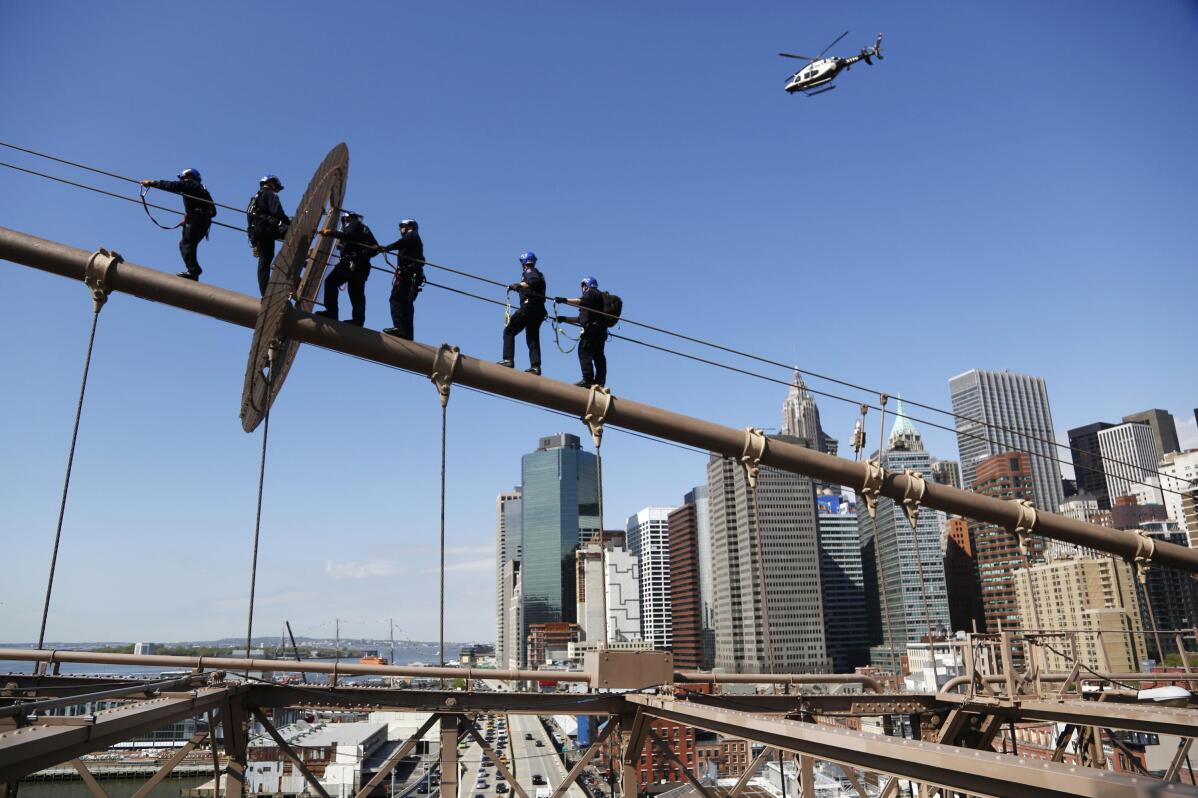 4 of 11

|
In this Tuesday, May 2, 2017 photo, a NYPD helicopter flies overhead as New York City police officers, including members of the Emergency Services Unit, walk up a cable to the top of the Brooklyn Bridge in New York. The 400-team unit, an elite group of officers trained to handle the city's most dangerous rescues, trains for months not only on technical rescue techniques, but also on how to talk to people to get them down safely. (AP Photo/Seth Wenig)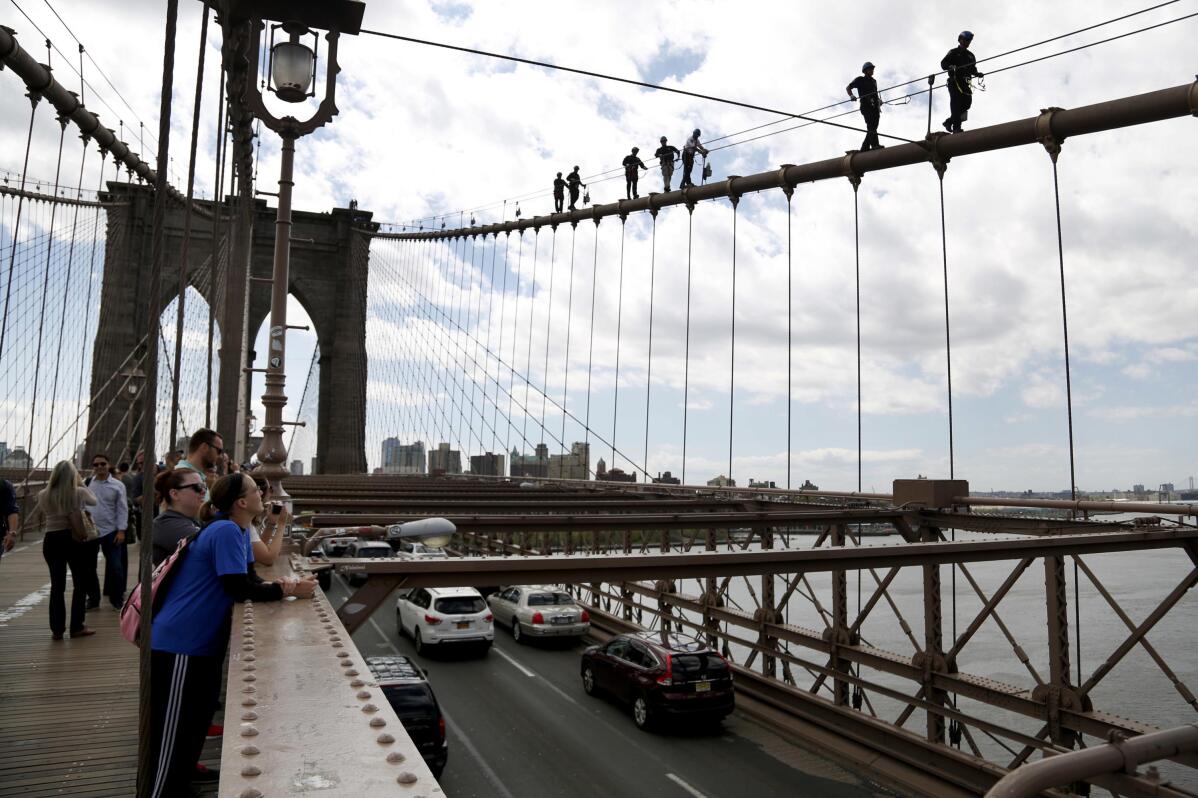 5 of 11

|
In this Tuesday, May 2, 2017 photo, pedestrians watch as New York City police officers, including members of the Emergency Services Unit, walk down a cable on the Brooklyn Bridge during a training exercise in New York. The 400-team unit, an elite group of officers trained to handle the city's most dangerous rescues, trains for months not only on technical rescue techniques, but also on how to talk to people to get them down safely. (AP Photo/Seth Wenig)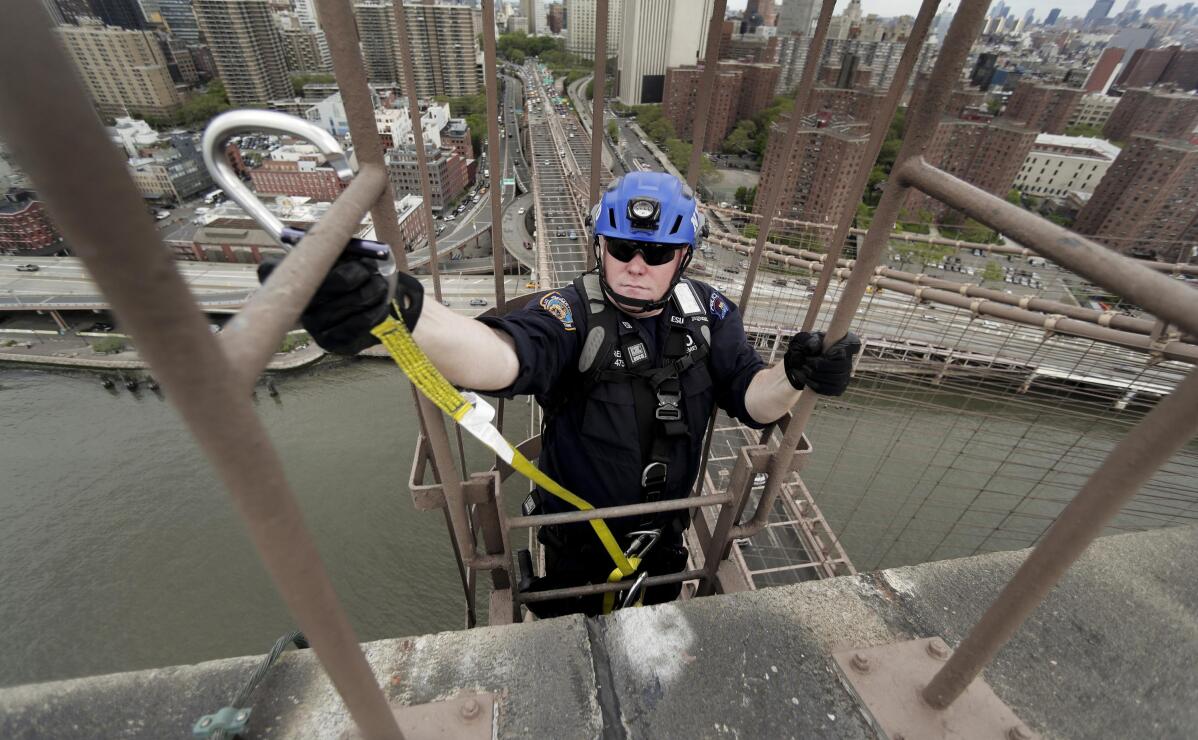 6 of 11

|
In this Tuesday, May 2, 2017 photo, a New York Police Emergency Services Unit officer hooks a carabiner onto a rail as he reaches the top of the Brooklyn Bridge during a training exercise, in New York. Training exercises such as the recent climb up a suspension cable to the top of the iconic bridge, protected only by a safety harnesses clipped to a wire, are designed to get team members thinking beyond the risk to their own lives so they can help save someone else's. (AP Photo/Julie Jacobson)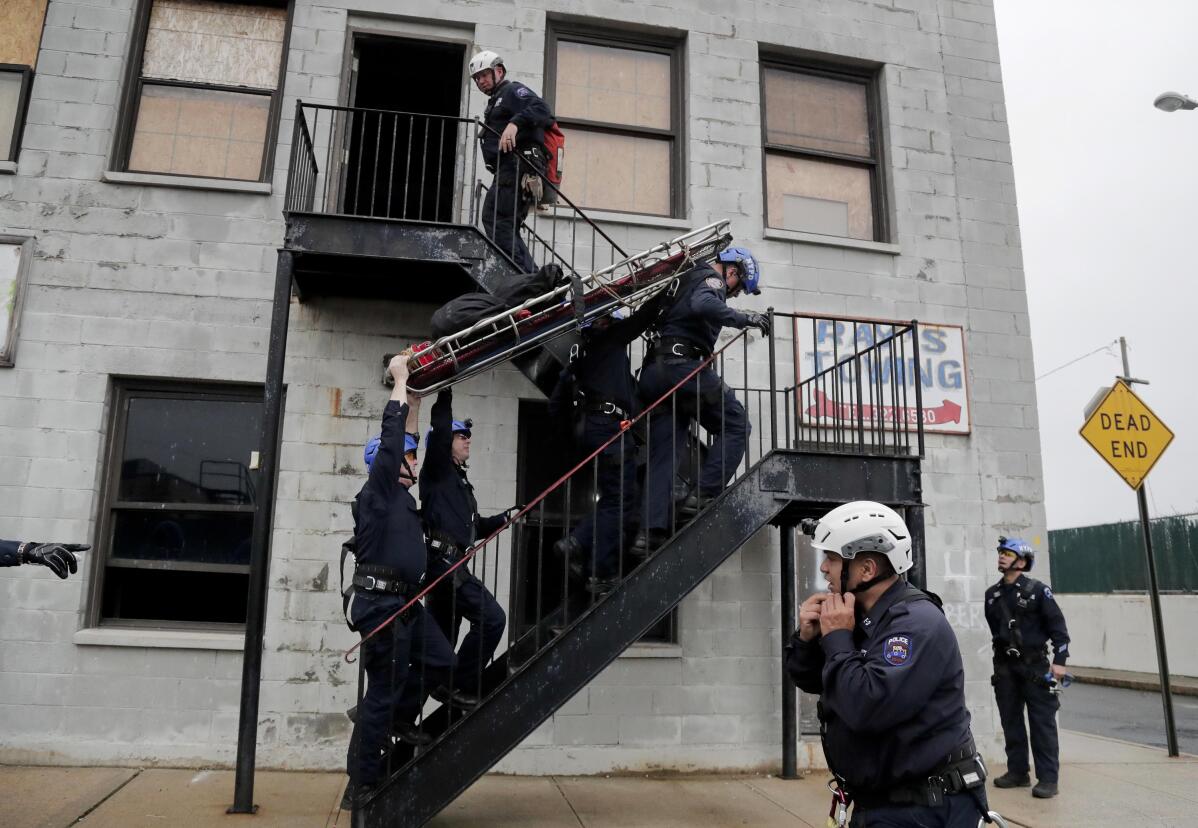 7 of 11

|
In this Wednesday, April 26, 2017, photo, members of the New York Police Department Emergency Services Unit conduct a rescue exercise at their training facility, in New York. The New York Police Department's Emergency Services Unit is an elite team that handles the city's most dangerous rescues. The 400-officer unit is among the most highly-trained in the nation and is the most coveted assignment at the nation's largest department. (AP Photo/Julie Jacobson)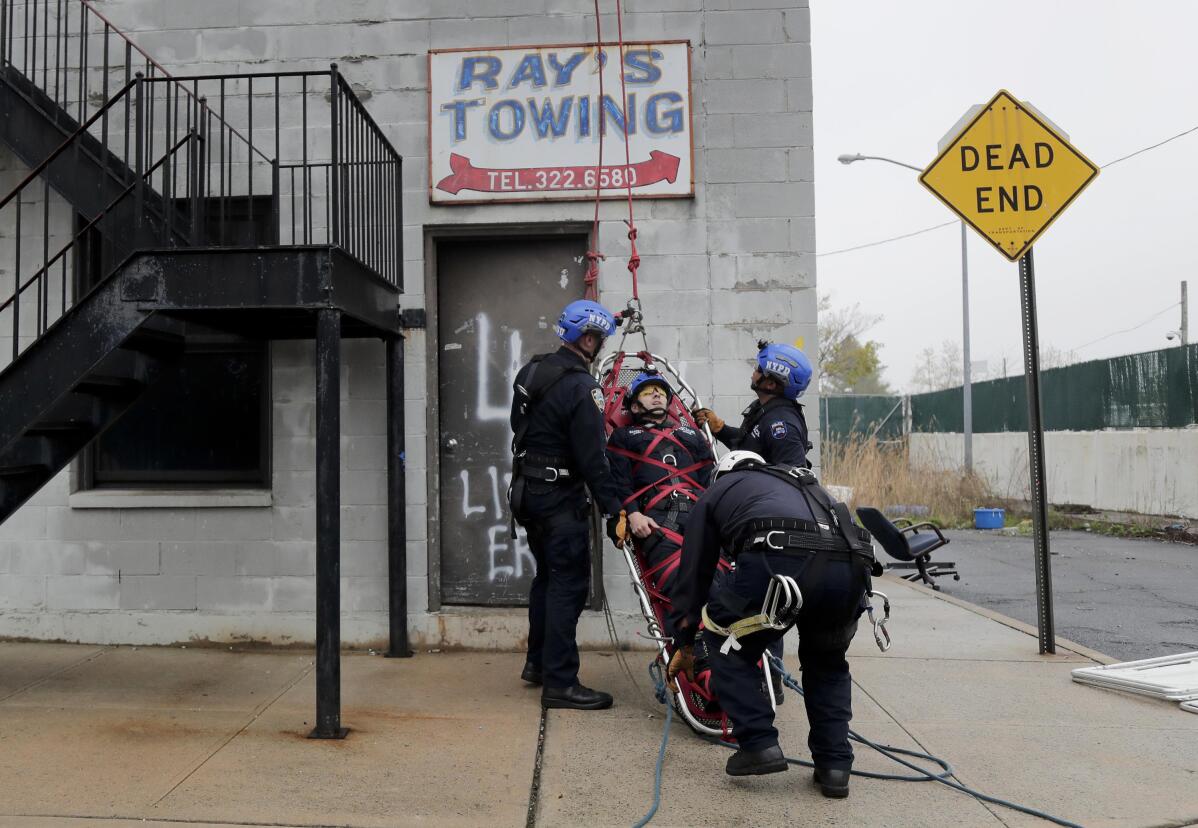 8 of 11

|
In this Wednesday, April 26, 2017, photo, members of the New York Police department Emergency Services Unit conduct a training exercise at their training facility, in New York. The elite New York Police Department unit specializes in dangerous, often high-rise rescues. (AP Photo/Julie Jacobson)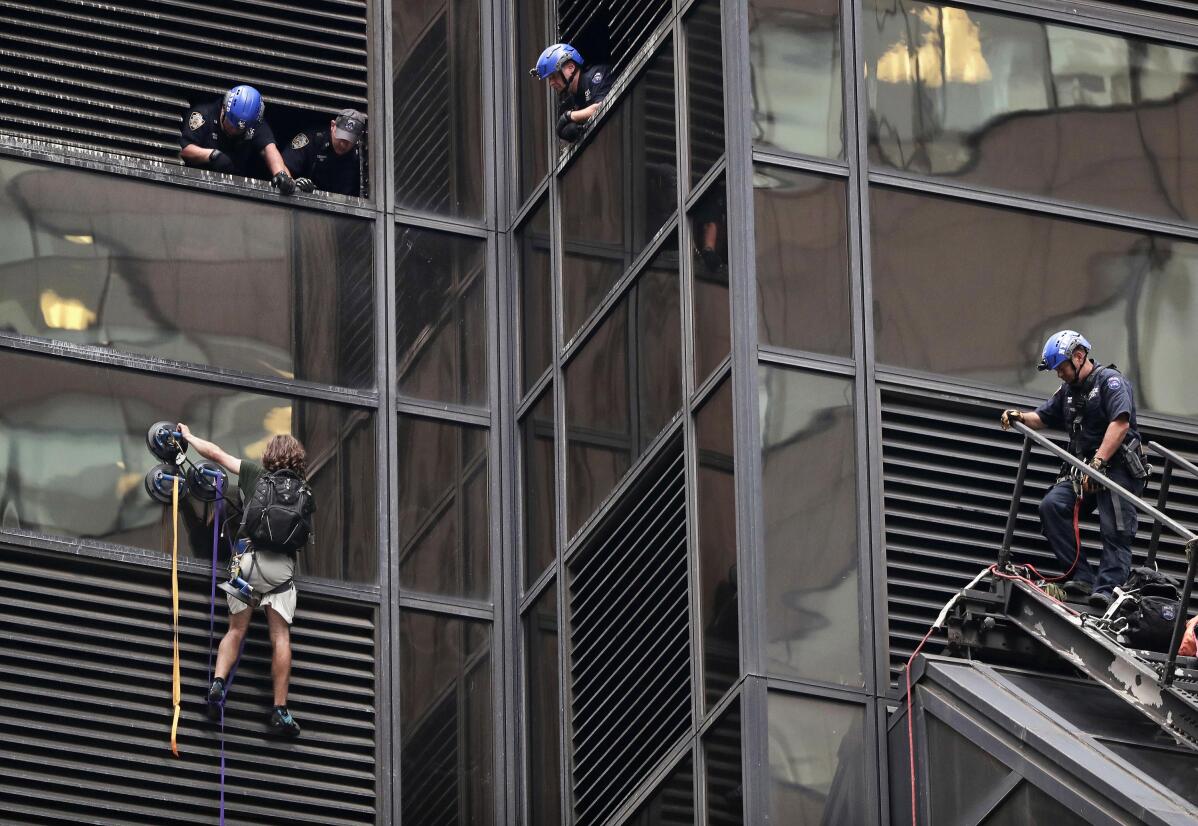 9 of 11

|
FILE - In this Aug. 10, 2016 file photo, members of the New York Police Department's Emergency Services Unit, work to rescue climber Stephen Rogata as he scaled the facade of Trump Tower in New York using suction cups, hoping to speak with Donald Trump. The elite New York Police Department unit specializes in dangerous, often high-rise rescues. Recent rescues by members of the 400-officer Emergency Services Unit have included window washers dangling 17 stories up the side of a skyscraper, distraught people threatening suicide on the George Washington Bridge and Rogata. (AP Photo/Julie Jacobson, File)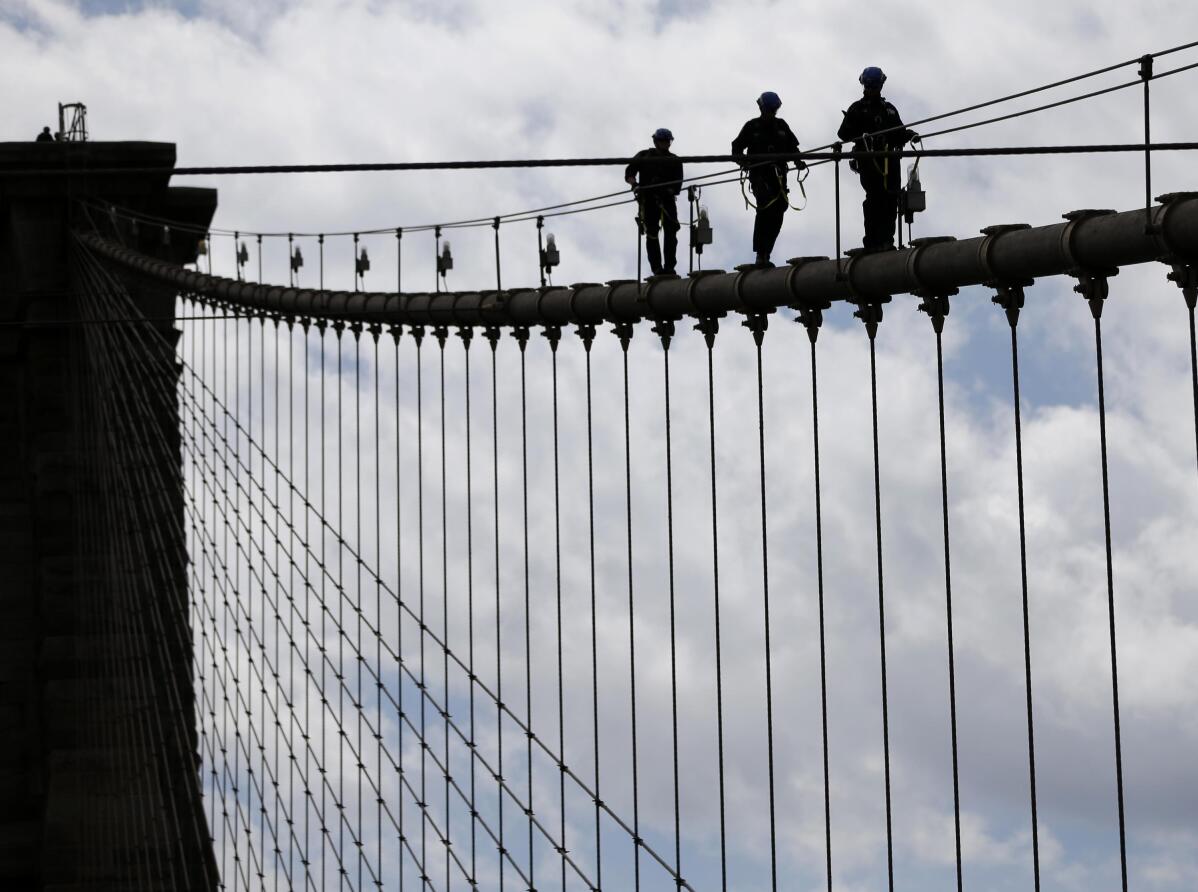 10 of 11

|
In this Tuesday, May 2, 2017 photo, New York City police officers, including members of the Emergency Services Unit, walk down a cable on the Brooklyn Bridge during a training exercise in New York. The 400-team unit, an elite group of officers trained to handle the city's most dangerous rescues, trains for months not only on technical rescue techniques, but also on how to talk to people to get them down safely. (AP Photo/Seth Wenig)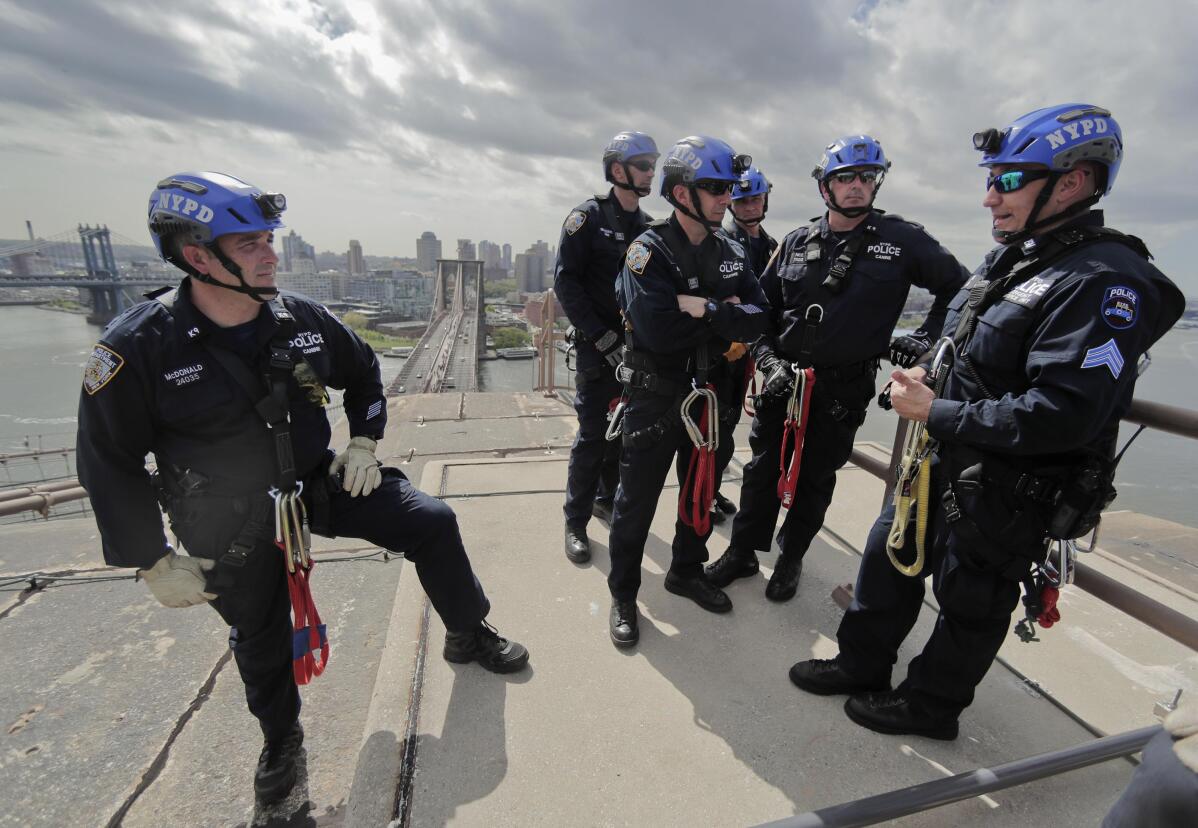 11 of 11

|
In this Tuesday, May 2, 2017 photo, New York Police sergeant John Flynn, right, briefs several Emergency Services Unit officers during a training exercise on top of the Brooklyn Bridge, in New York. Dizzying heights that would terrify most people are as comfortable as a playground jungle gym to Flynn and other members of an elite police unit that specializes in dangerous, often high-rise rescues. (AP Photo/Julie Jacobson)
Don't look down! NYPD unit does its work at dizzying heights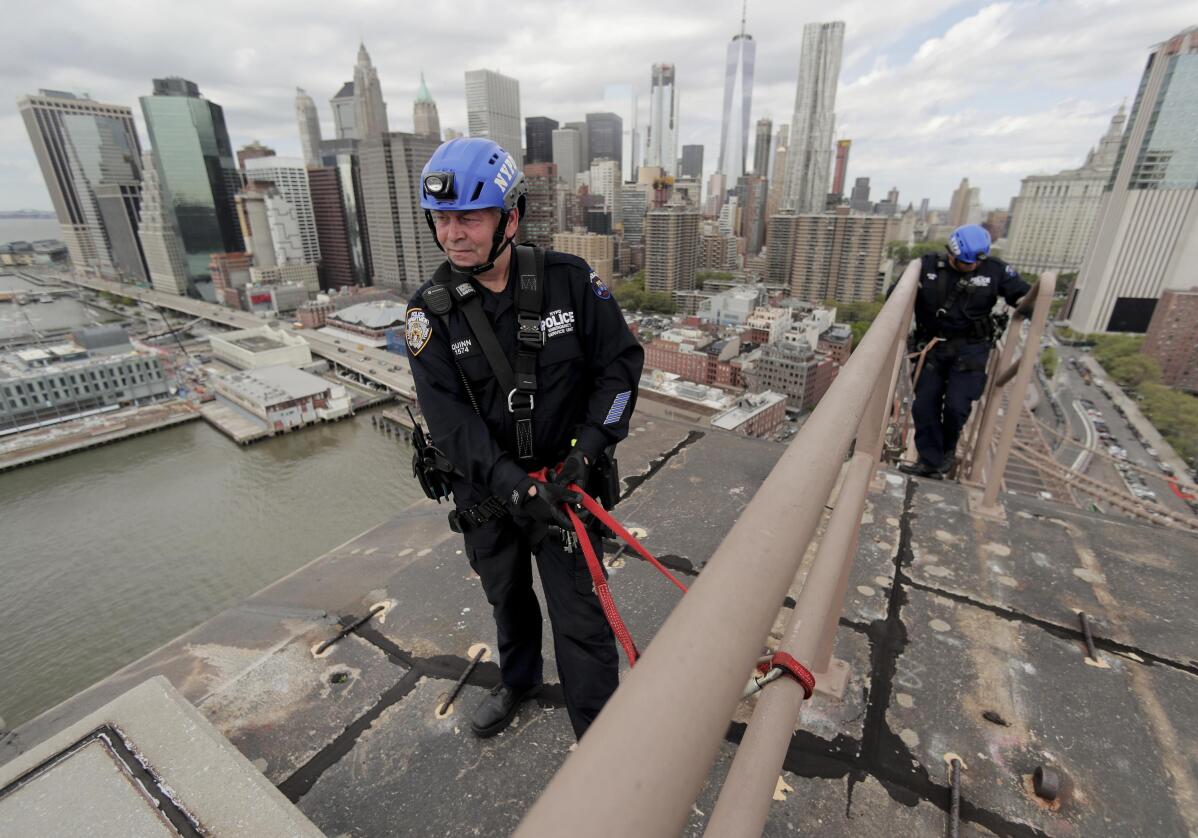 1 of 11

|
In this Tuesday, May 2, 2017, photo, Emergency Services Unit officer Quinn secures his safety line as other members of the unit finish ascending the south support cable for the Brooklyn Bridge during a training exercise, in New York. Training exercises such as the recent climb up a suspension cable to the top of the iconic bridge, protected only by a safety harnesses clipped to a wire, are designed to get team members thinking beyond the risk to their own lives so they can help save someone else's. (AP Photo/Julie Jacobson)
1 of 11
In this Tuesday, May 2, 2017, photo, Emergency Services Unit officer Quinn secures his safety line as other members of the unit finish ascending the south support cable for the Brooklyn Bridge during a training exercise, in New York. Training exercises such as the recent climb up a suspension cable to the top of the iconic bridge, protected only by a safety harnesses clipped to a wire, are designed to get team members thinking beyond the risk to their own lives so they can help save someone else's. (AP Photo/Julie Jacobson)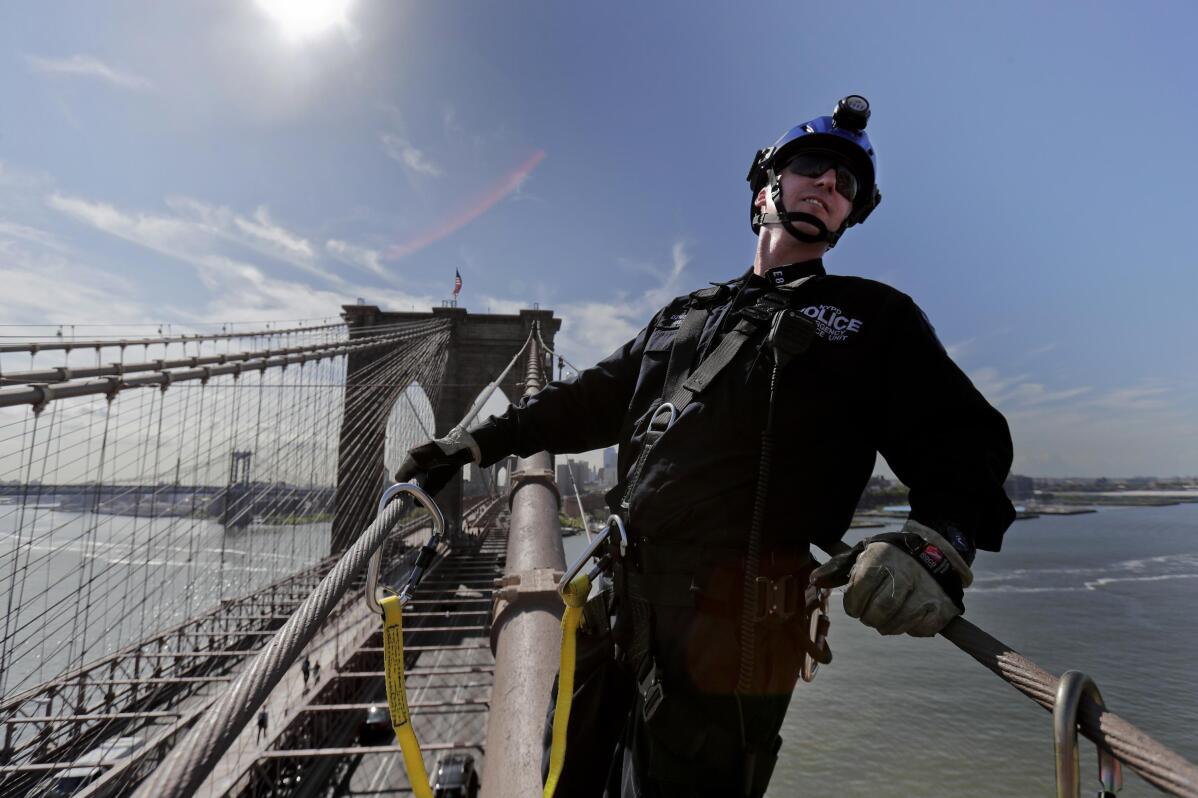 2 of 11

|
In this Tuesday, May 2, 2017, New York Police detective Slawek Dziubek turns to check on fellow Emergency Services Unit officers during a training exercise climb up the south cable of the Brooklyn Bridge, in New York. The New York Police Department's Emergency Services Unit is an elite team that handles the city's most dangerous rescues. The 400-officer unit is among the most highly-trained in the nation and is the most coveted assignment at the nation's largest department. (AP Photo/Julie Jacobson)
2 of 11
In this Tuesday, May 2, 2017, New York Police detective Slawek Dziubek turns to check on fellow Emergency Services Unit officers during a training exercise climb up the south cable of the Brooklyn Bridge, in New York. The New York Police Department's Emergency Services Unit is an elite team that handles the city's most dangerous rescues. The 400-officer unit is among the most highly-trained in the nation and is the most coveted assignment at the nation's largest department. (AP Photo/Julie Jacobson)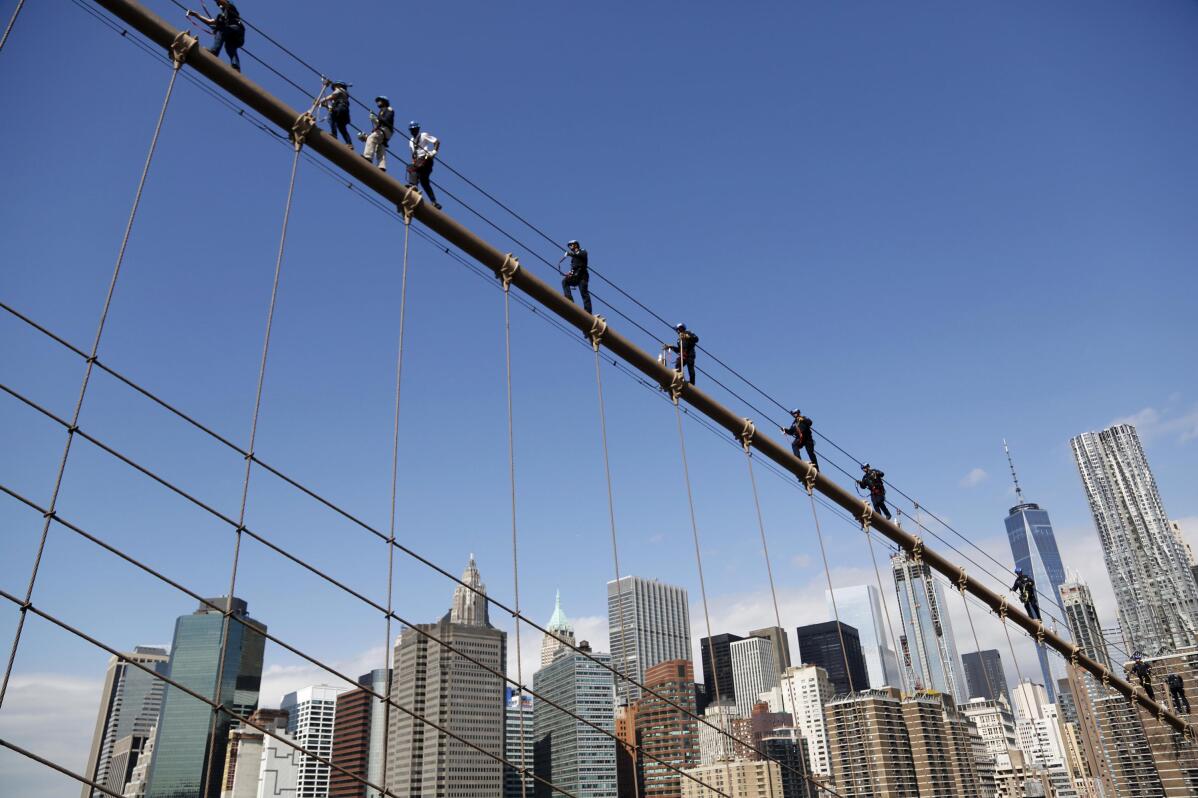 3 of 11

|
In this Tuesday, May 2, 2017 photo, New York City police officers, including members of the Emergency Services Unit, walk up a cable to the top of the Brooklyn Bridge in New York. The 400-team unit, an elite group of officers trained to handle the city's most dangerous rescues, trains for months not only on technical rescue techniques, but also on how to talk to people to get them down safely. (AP Photo/Seth Wenig)
3 of 11
In this Tuesday, May 2, 2017 photo, New York City police officers, including members of the Emergency Services Unit, walk up a cable to the top of the Brooklyn Bridge in New York. The 400-team unit, an elite group of officers trained to handle the city's most dangerous rescues, trains for months not only on technical rescue techniques, but also on how to talk to people to get them down safely. (AP Photo/Seth Wenig)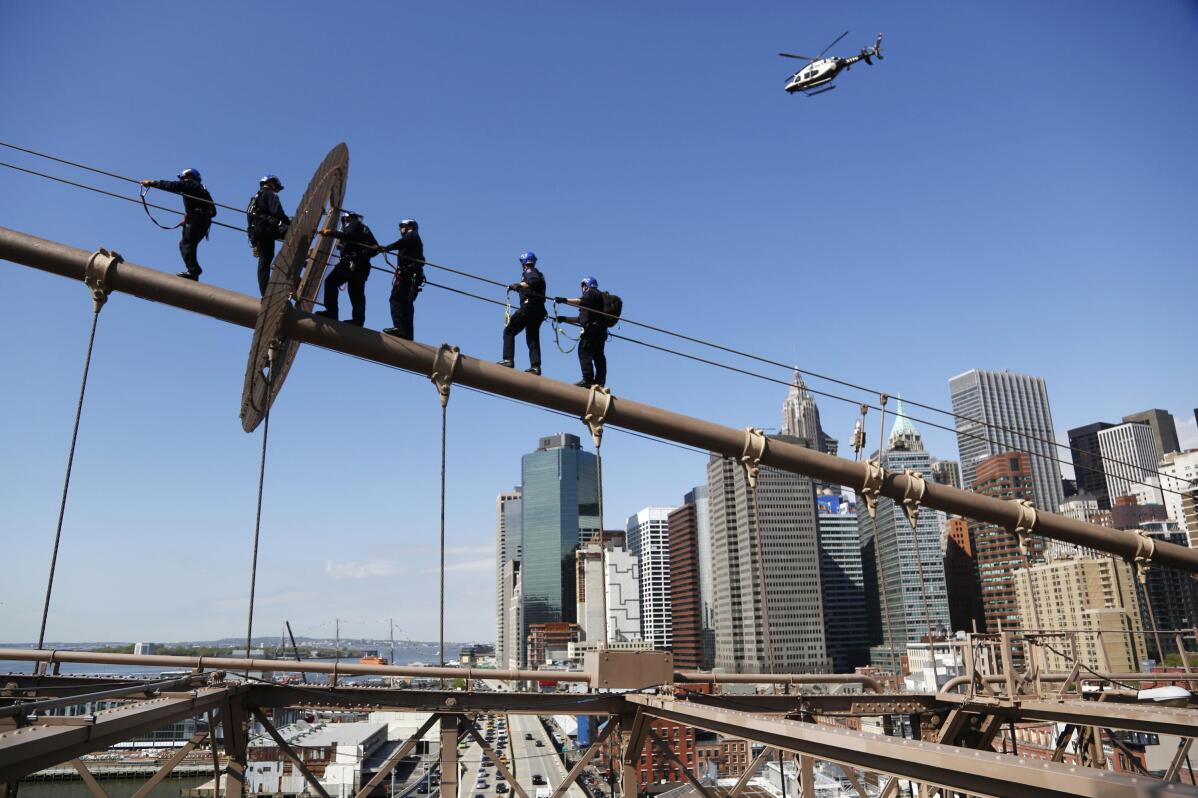 4 of 11

|
In this Tuesday, May 2, 2017 photo, a NYPD helicopter flies overhead as New York City police officers, including members of the Emergency Services Unit, walk up a cable to the top of the Brooklyn Bridge in New York. The 400-team unit, an elite group of officers trained to handle the city's most dangerous rescues, trains for months not only on technical rescue techniques, but also on how to talk to people to get them down safely. (AP Photo/Seth Wenig)
4 of 11
In this Tuesday, May 2, 2017 photo, a NYPD helicopter flies overhead as New York City police officers, including members of the Emergency Services Unit, walk up a cable to the top of the Brooklyn Bridge in New York. The 400-team unit, an elite group of officers trained to handle the city's most dangerous rescues, trains for months not only on technical rescue techniques, but also on how to talk to people to get them down safely. (AP Photo/Seth Wenig)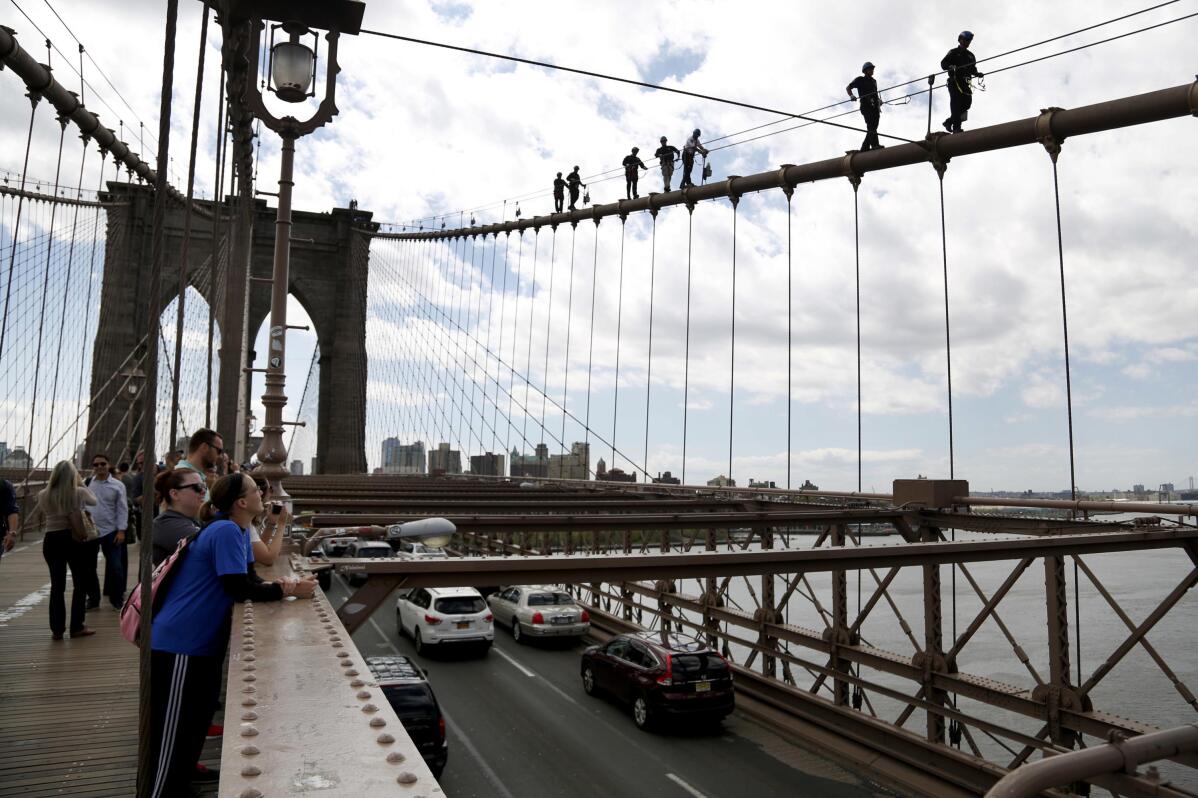 5 of 11

|
In this Tuesday, May 2, 2017 photo, pedestrians watch as New York City police officers, including members of the Emergency Services Unit, walk down a cable on the Brooklyn Bridge during a training exercise in New York. The 400-team unit, an elite group of officers trained to handle the city's most dangerous rescues, trains for months not only on technical rescue techniques, but also on how to talk to people to get them down safely. (AP Photo/Seth Wenig)
5 of 11
In this Tuesday, May 2, 2017 photo, pedestrians watch as New York City police officers, including members of the Emergency Services Unit, walk down a cable on the Brooklyn Bridge during a training exercise in New York. The 400-team unit, an elite group of officers trained to handle the city's most dangerous rescues, trains for months not only on technical rescue techniques, but also on how to talk to people to get them down safely. (AP Photo/Seth Wenig)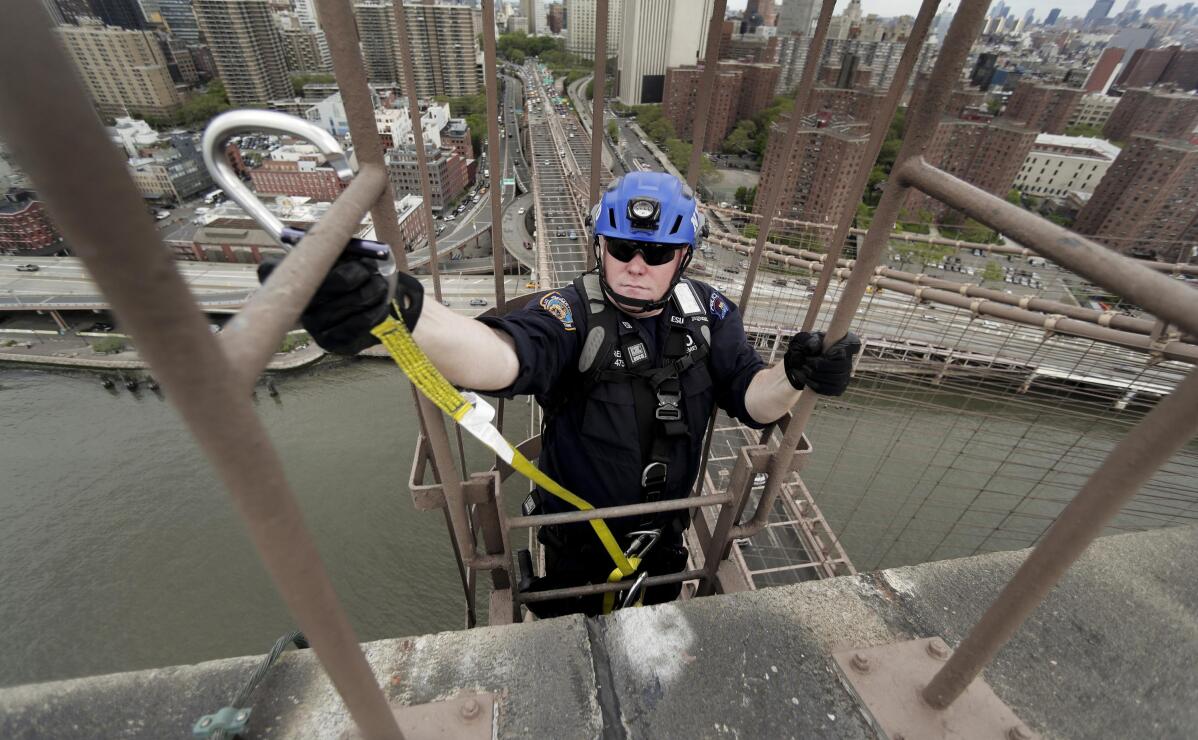 6 of 11

|
In this Tuesday, May 2, 2017 photo, a New York Police Emergency Services Unit officer hooks a carabiner onto a rail as he reaches the top of the Brooklyn Bridge during a training exercise, in New York. Training exercises such as the recent climb up a suspension cable to the top of the iconic bridge, protected only by a safety harnesses clipped to a wire, are designed to get team members thinking beyond the risk to their own lives so they can help save someone else's. (AP Photo/Julie Jacobson)
6 of 11
In this Tuesday, May 2, 2017 photo, a New York Police Emergency Services Unit officer hooks a carabiner onto a rail as he reaches the top of the Brooklyn Bridge during a training exercise, in New York. Training exercises such as the recent climb up a suspension cable to the top of the iconic bridge, protected only by a safety harnesses clipped to a wire, are designed to get team members thinking beyond the risk to their own lives so they can help save someone else's. (AP Photo/Julie Jacobson)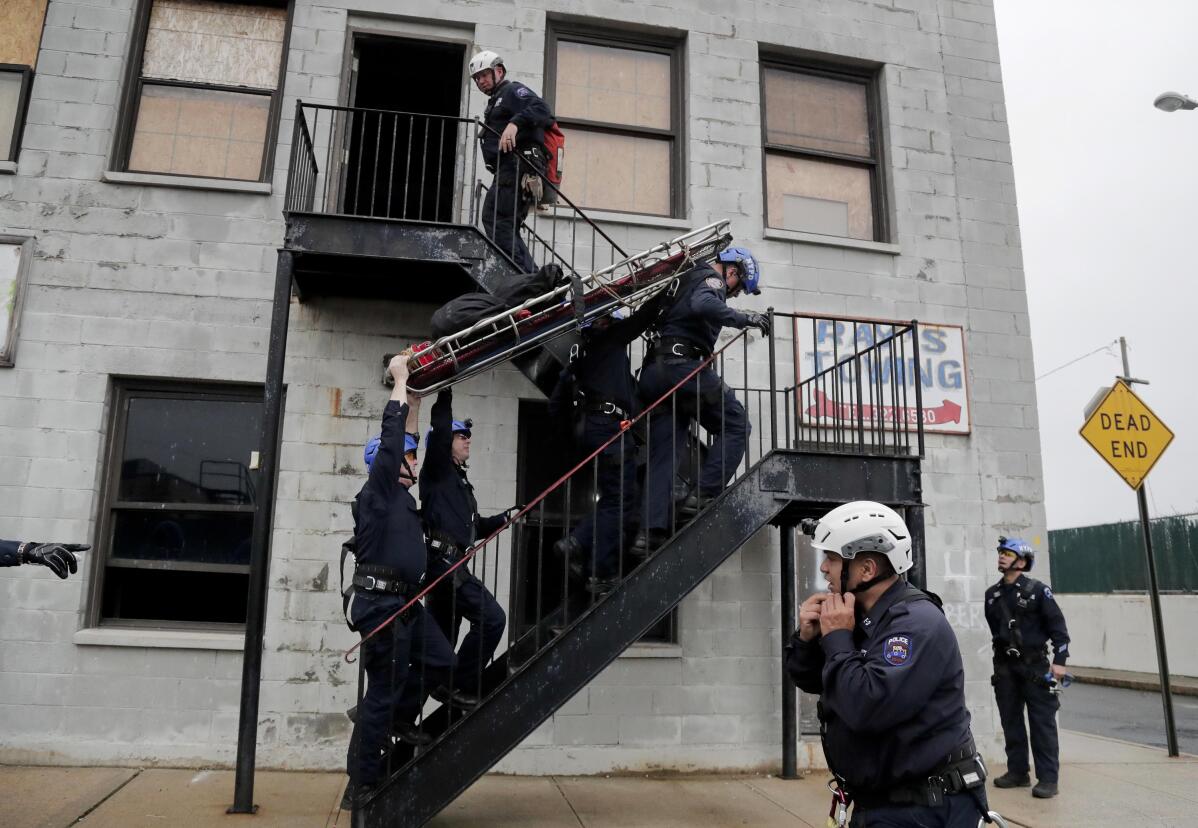 7 of 11

|
In this Wednesday, April 26, 2017, photo, members of the New York Police Department Emergency Services Unit conduct a rescue exercise at their training facility, in New York. The New York Police Department's Emergency Services Unit is an elite team that handles the city's most dangerous rescues. The 400-officer unit is among the most highly-trained in the nation and is the most coveted assignment at the nation's largest department. (AP Photo/Julie Jacobson)
7 of 11
In this Wednesday, April 26, 2017, photo, members of the New York Police Department Emergency Services Unit conduct a rescue exercise at their training facility, in New York. The New York Police Department's Emergency Services Unit is an elite team that handles the city's most dangerous rescues. The 400-officer unit is among the most highly-trained in the nation and is the most coveted assignment at the nation's largest department. (AP Photo/Julie Jacobson)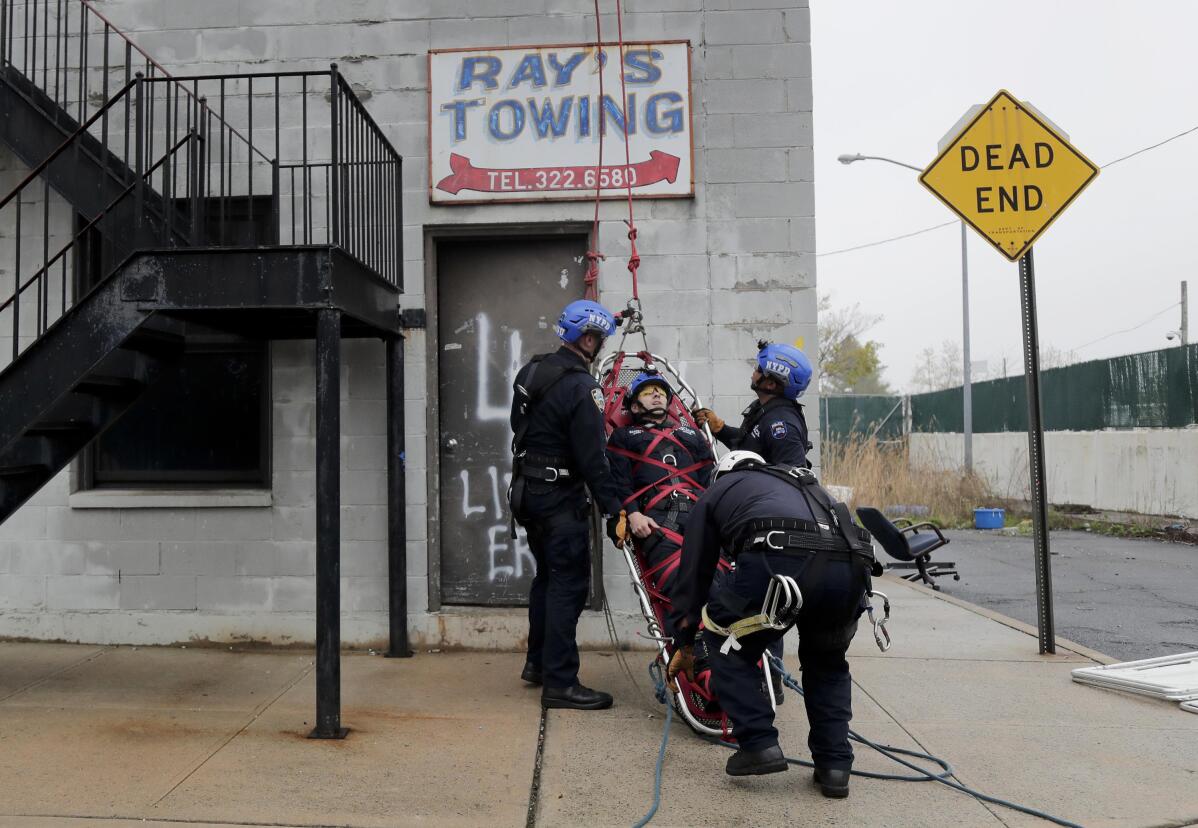 8 of 11

|
In this Wednesday, April 26, 2017, photo, members of the New York Police department Emergency Services Unit conduct a training exercise at their training facility, in New York. The elite New York Police Department unit specializes in dangerous, often high-rise rescues. (AP Photo/Julie Jacobson)
8 of 11
In this Wednesday, April 26, 2017, photo, members of the New York Police department Emergency Services Unit conduct a training exercise at their training facility, in New York. The elite New York Police Department unit specializes in dangerous, often high-rise rescues. (AP Photo/Julie Jacobson)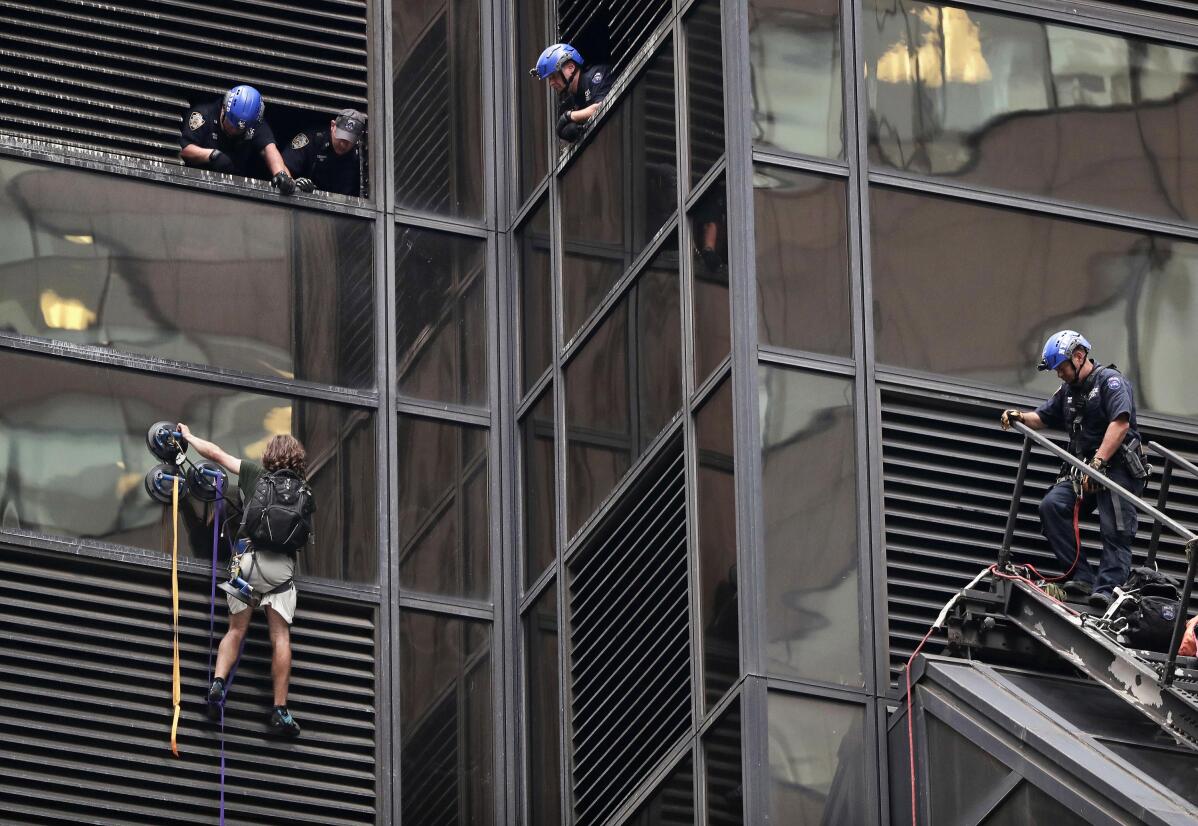 9 of 11

|
FILE - In this Aug. 10, 2016 file photo, members of the New York Police Department's Emergency Services Unit, work to rescue climber Stephen Rogata as he scaled the facade of Trump Tower in New York using suction cups, hoping to speak with Donald Trump. The elite New York Police Department unit specializes in dangerous, often high-rise rescues. Recent rescues by members of the 400-officer Emergency Services Unit have included window washers dangling 17 stories up the side of a skyscraper, distraught people threatening suicide on the George Washington Bridge and Rogata. (AP Photo/Julie Jacobson, File)
9 of 11
FILE - In this Aug. 10, 2016 file photo, members of the New York Police Department's Emergency Services Unit, work to rescue climber Stephen Rogata as he scaled the facade of Trump Tower in New York using suction cups, hoping to speak with Donald Trump. The elite New York Police Department unit specializes in dangerous, often high-rise rescues. Recent rescues by members of the 400-officer Emergency Services Unit have included window washers dangling 17 stories up the side of a skyscraper, distraught people threatening suicide on the George Washington Bridge and Rogata. (AP Photo/Julie Jacobson, File)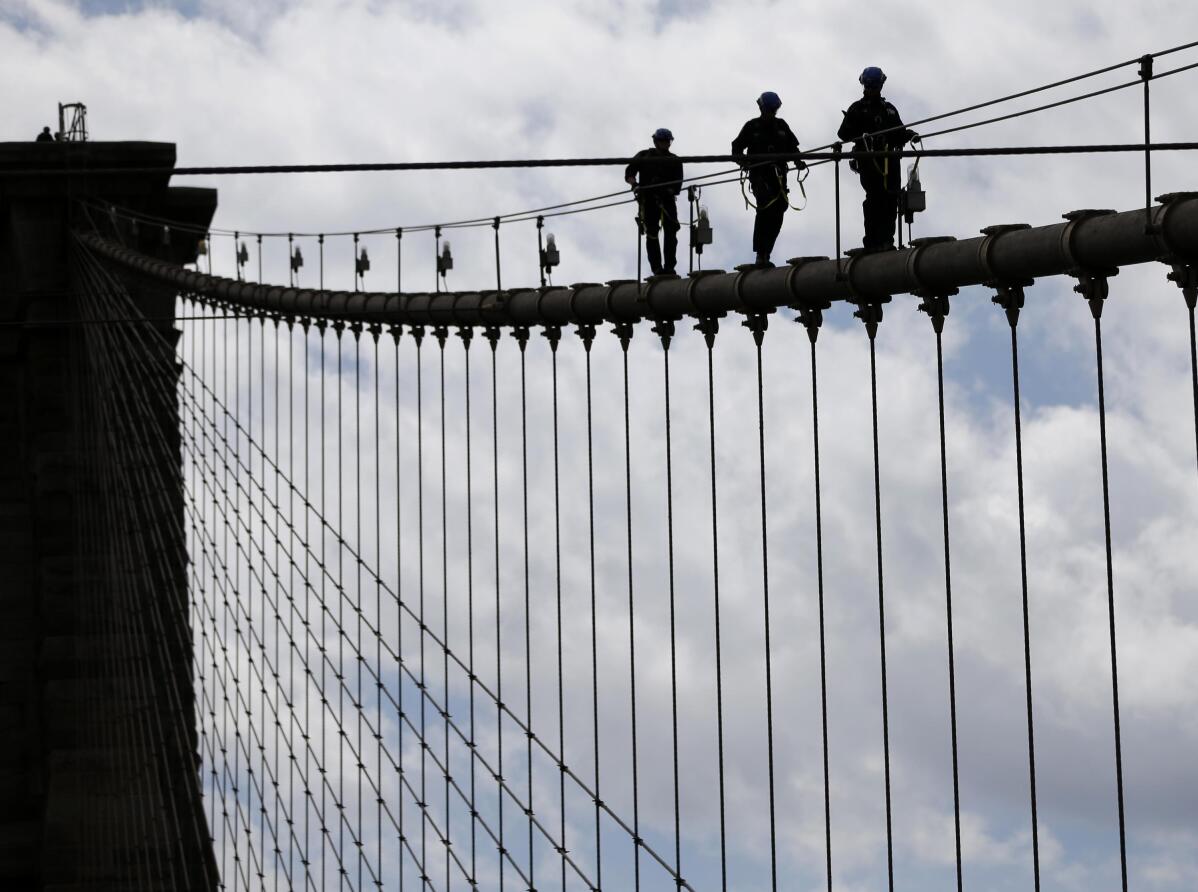 10 of 11

|
In this Tuesday, May 2, 2017 photo, New York City police officers, including members of the Emergency Services Unit, walk down a cable on the Brooklyn Bridge during a training exercise in New York. The 400-team unit, an elite group of officers trained to handle the city's most dangerous rescues, trains for months not only on technical rescue techniques, but also on how to talk to people to get them down safely. (AP Photo/Seth Wenig)
10 of 11
In this Tuesday, May 2, 2017 photo, New York City police officers, including members of the Emergency Services Unit, walk down a cable on the Brooklyn Bridge during a training exercise in New York. The 400-team unit, an elite group of officers trained to handle the city's most dangerous rescues, trains for months not only on technical rescue techniques, but also on how to talk to people to get them down safely. (AP Photo/Seth Wenig)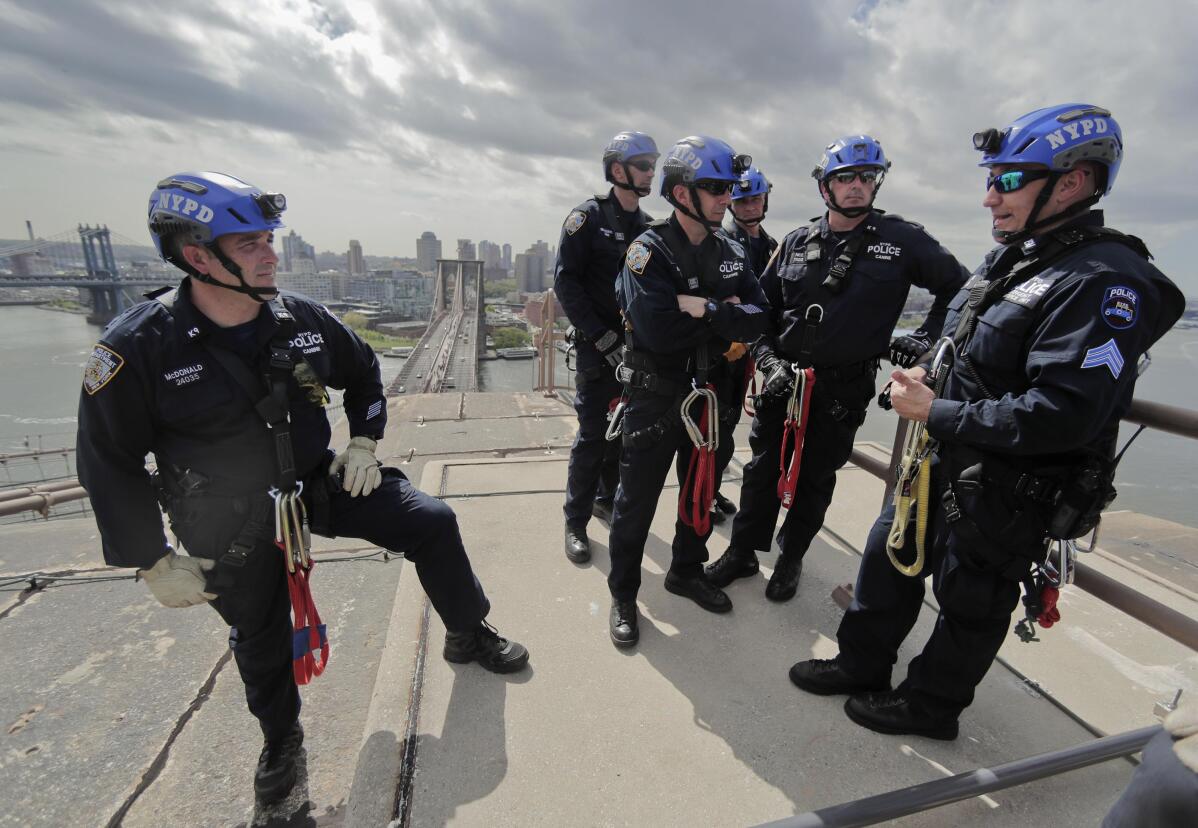 11 of 11

|
In this Tuesday, May 2, 2017 photo, New York Police sergeant John Flynn, right, briefs several Emergency Services Unit officers during a training exercise on top of the Brooklyn Bridge, in New York. Dizzying heights that would terrify most people are as comfortable as a playground jungle gym to Flynn and other members of an elite police unit that specializes in dangerous, often high-rise rescues. (AP Photo/Julie Jacobson)
11 of 11
In this Tuesday, May 2, 2017 photo, New York Police sergeant John Flynn, right, briefs several Emergency Services Unit officers during a training exercise on top of the Brooklyn Bridge, in New York. Dizzying heights that would terrify most people are as comfortable as a playground jungle gym to Flynn and other members of an elite police unit that specializes in dangerous, often high-rise rescues. (AP Photo/Julie Jacobson)
NEW YORK (AP) — Police Sgt. John Flynn didn't even flinch as he started his descent from the top of the Brooklyn Bridge, briskly walking down a narrow suspension cable with only a safety harness between him and a possible 27-story fall to the glinting East River below.
"It becomes like second nature to you," he said of the dizzying height. "Three stories is no different from 30 stories."
Being part of the Manhattan skyline was just another day at the office for Flynn and other members of an elite unit that specializes in dangerous, often high-rise rescues. Training exercises like a recent climb up the iconic bridge are designed to get team members thinking beyond the risk to their own lives so they can help save someone else's.
Successful rescues over the years have included window washers dangling 17 stories up the side of a skyscraper, distraught people threatening suicide on the Manhattan Bridge and a young thrill-seeker who used suction cups to climb the glass walls of Trump Tower. They've even saved a paraglider who crashed into the torch of the Statue of Liberty.
"You're working from the minute you get the call," said Flynn, a rope rescue instructor. "You're thinking about how to best approach the climb, and how to approach the person even before you meet them, how to help them."
The New York Police Department's 400-officer Emergency Services Unit is among the most highly trained in the nation in both rescues and law enforcement, and it's one of the most coveted assignments at the 35,000-member department. Candidates must have at least five years on patrol and make it through an eight-month training program followed by rigorous testing.
They go on to work as SWAT teams, jump out of helicopters, rappel down skyscrapers and dive into waters in scuba gear.
"The officers are handling multiple different jobs all in the same tour," said Deputy Chief Vincent Giordano, the commanding officer of the unit. "They're prepared for anything, and they train for anything."
New York has the second-most skyscrapers in the world, just behind Hong Kong, with about 325 buildings over 500 feet. While the fire department also is trained to handle high-rise rescues, the NYPD unit is brought in on cases in which people are resisting help, suicidal or otherwise mentally unstable.
Most of the officers on the bridge drill had climbed taller structures and gone up the bridge under more stressful circumstances. Flynn, for instance, helped talk a jumper down from the top in 2013. The man stood at the very edge, and it took hours to get him down.
"It's very hard," Flynn said. "You've just convinced this person they should live, and then you've got to get them down."
But they don't save all of those who are intent on taking their own lives, and those cases haunt members of the unit. "You're just doing your best to try to save someone," said Detective Jose Otero.
Others resist help because they are trying to make a point. That was the case last August, when Detective Chris Williams, a 14-year member of the unit, was about to end his shift for the day and got a call that a protester was using suction cups and ropes to climb from the fifth floor to the 21st floor of Trump Tower.
Climber Stephen Rogata said he just wanted to talk to then-GOP nominee Donald Trump, and refused any help or efforts to get him to surrender for his own good.
"I explained to him that Trump was not at home," Williams said. "It's going to rain, and you don't want to be on the side of this glass building in the rain."
While Williams talked, police took out a window above Rogata and officers set up a rigging system. But Rogata refused to clip into the safety line.
Williams decided it was time to take matters into his own hands. "That's when I grabbed him by his arms and did a long drag and pulled him inside the window," he said.
The scene played out on national television, but the officers are used to an audience. During the bridge drill, crowds below gathered to watch, and 911 calls poured in. A local television helicopter circled as officers, accompanied by three journalists from The Associated Press, climbed the sloping suspension cable to the top of the southern stone tower.
Detective Williams dangled on the side of a vertical ladder at the very top, helping others ascend.
"It's all about trusting the equipment, and your partner," he said. "And yeah, I guess, yourself."