Gooch backs up Australian win with LIV lead in Singapore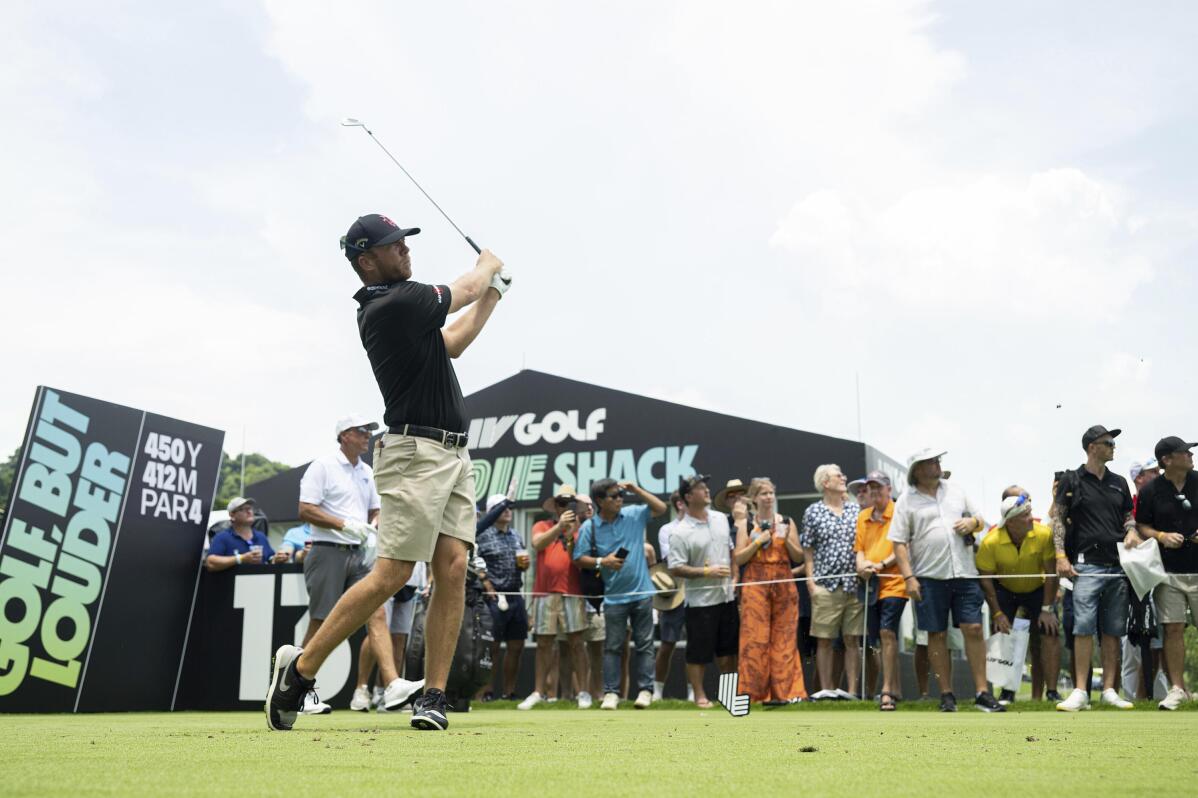 1 of 10

|
Talor Gooch of RangeGoats GC hits his shot from the 13th hole during the first round of LIV Golf Singapore at the Sentosa Golf Club on Friday, April 28, 2023 in Sentosa, Singapore. (Charles Laberge/LIV Golf via AP)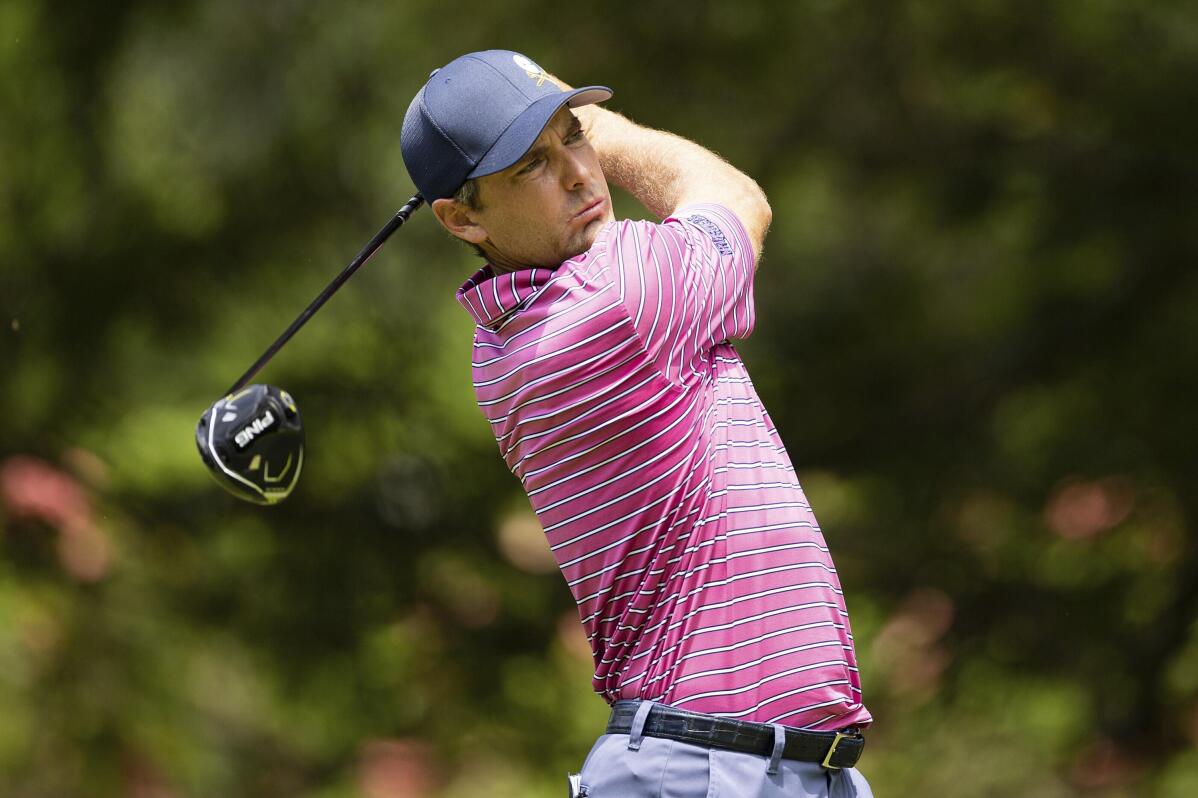 2 of 10

|
Charles Howell III of Crushers GC hits his shot from the fifth tee during the first round of LIV Golf Singapore at the Sentosa Golf Club on Friday, April 28, 2023 in Sentosa, Singapore. (Doug DeFelice/LIV Golf via AP)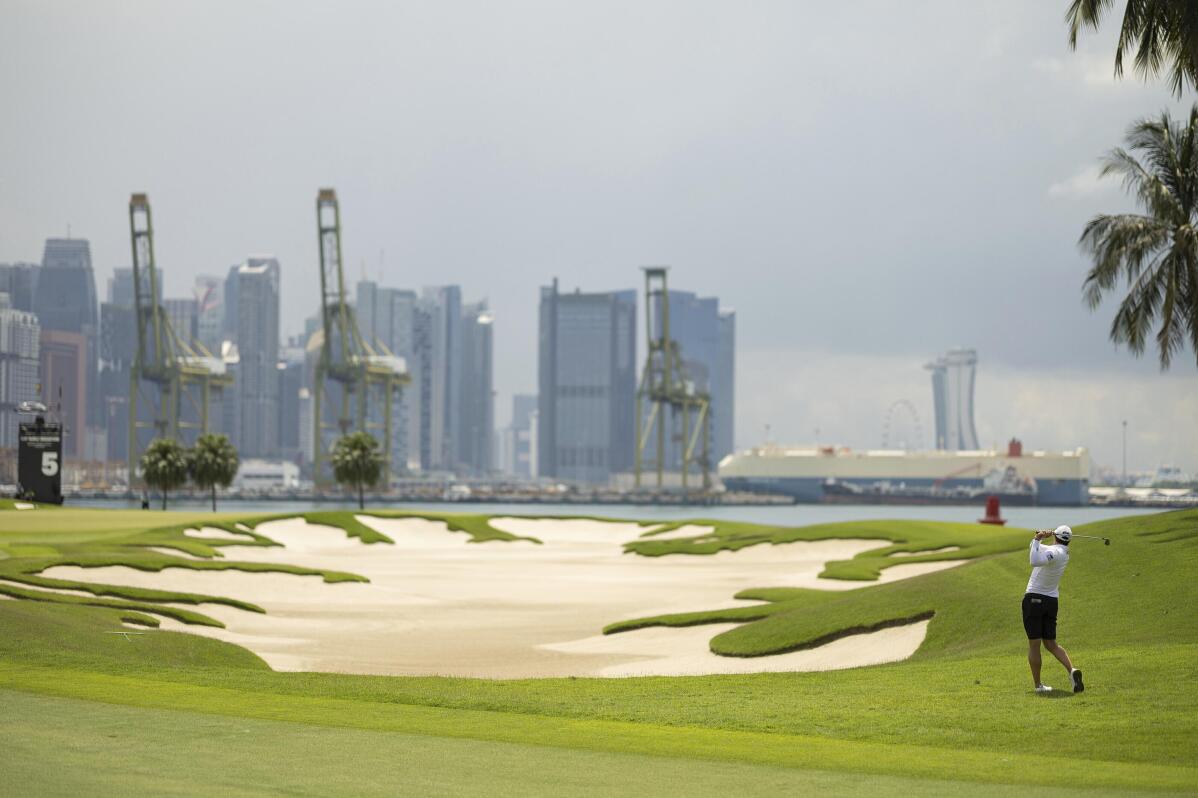 3 of 10

|
Peter Uihlein of 4Aces GC hits his shot from the fairway on the fifth hole during the first round of LIV Golf Singapore at the Sentosa Golf Club on Friday, April 28, 2023 in Sentosa, Singapore. (Doug DeFelice/LIV Golf via AP)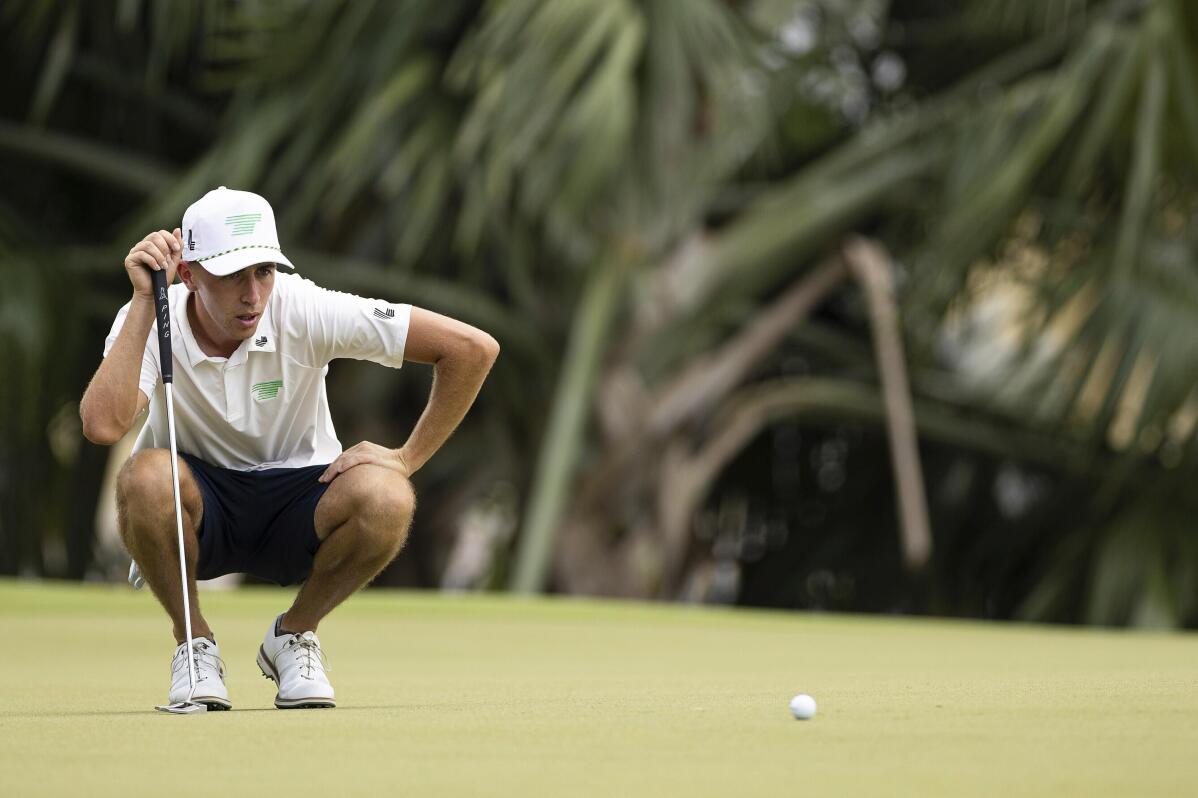 4 of 10

|
David Puig of Torque GC reads his putt on the seventh green during the first round of LIV Golf Singapore at the Sentosa Golf Club on Friday, April 28, 2023 in Sentosa, Singapore. (Doug DeFelice/LIV Golf via AP)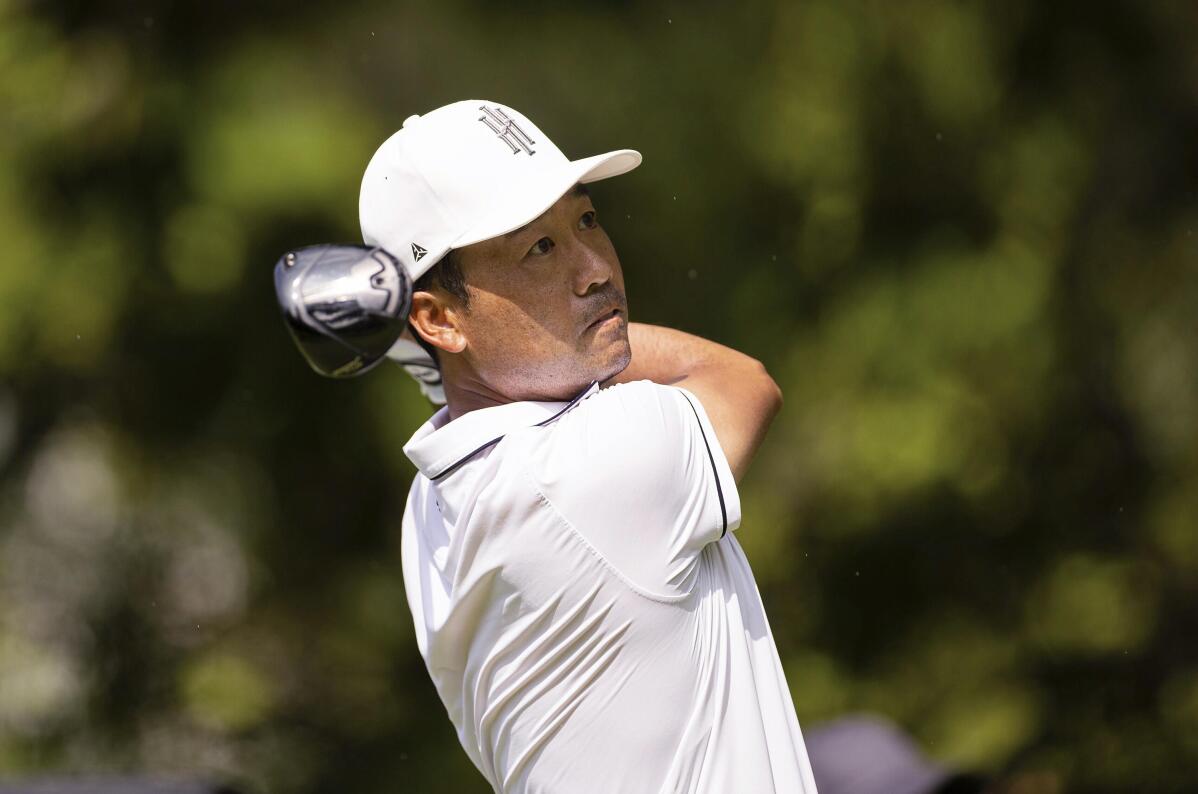 5 of 10

|
Kevin Na watches his shot from the fifth tee during the first round of LIV Golf Singapore at Sentosa Golf Club on Friday, April 28, 2023, on Sentosa Island in Singapore. (Doug DeFelice/LIV Golf via AP)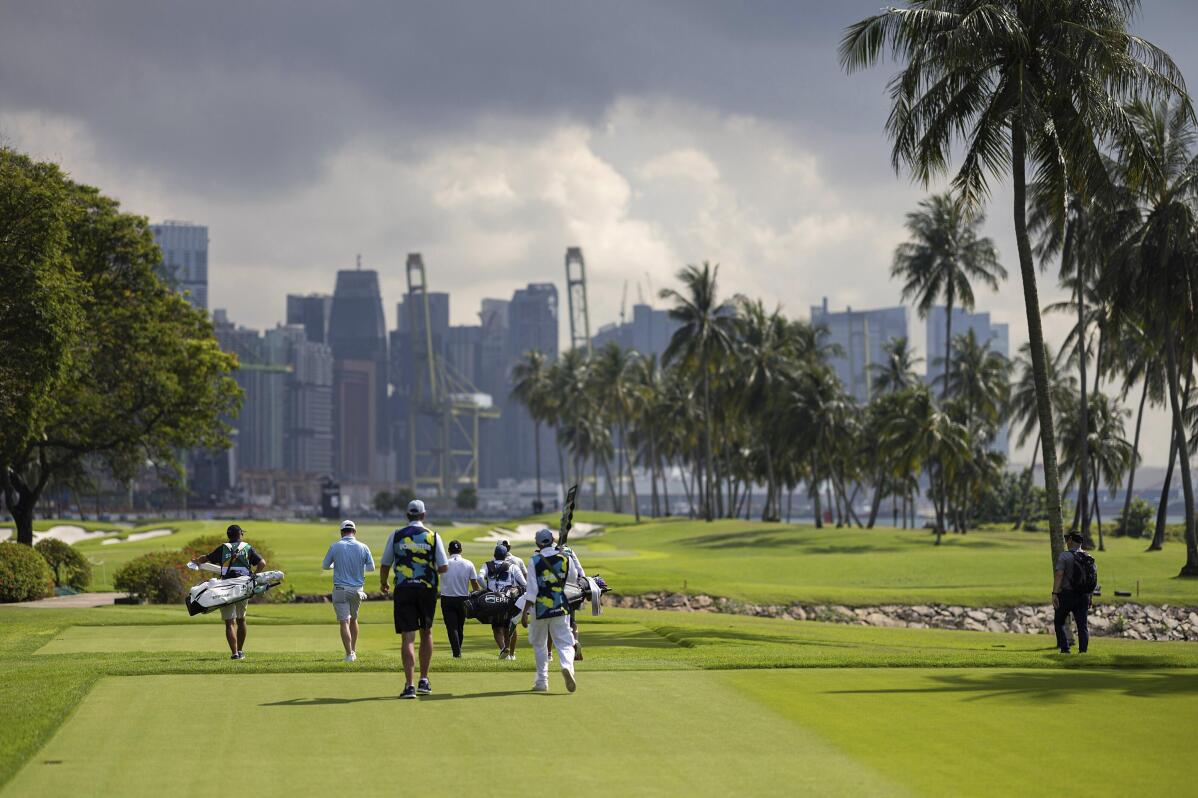 6 of 10

|
Joaquín Niemann, Patrick Reed and Branden Grace walk toward the fifth green during the first round of LIV Golf Singapore at Sentosa Golf Club on Friday, April 28, 2023, on Sentosa Island in Singapore. (Doug DeFelice/LIV Golf via AP)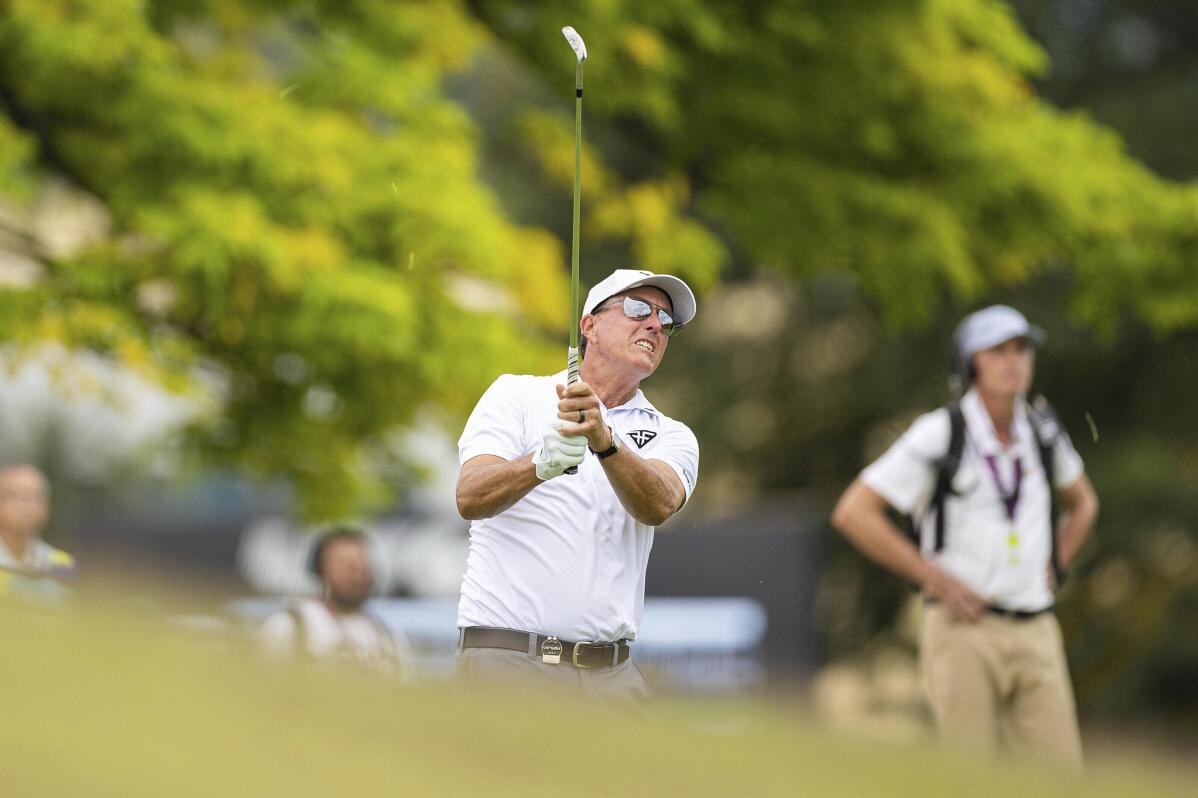 7 of 10

|
Captain Phil Mickelson of HyFlyers GC hits his shot from the fairway on the 16th hole during the first round of LIV Golf Singapore at the Sentosa Golf Club on Friday, April 28, 2023 in Sentosa, Singapore. (Doug DeFelice/LIV Golf via AP)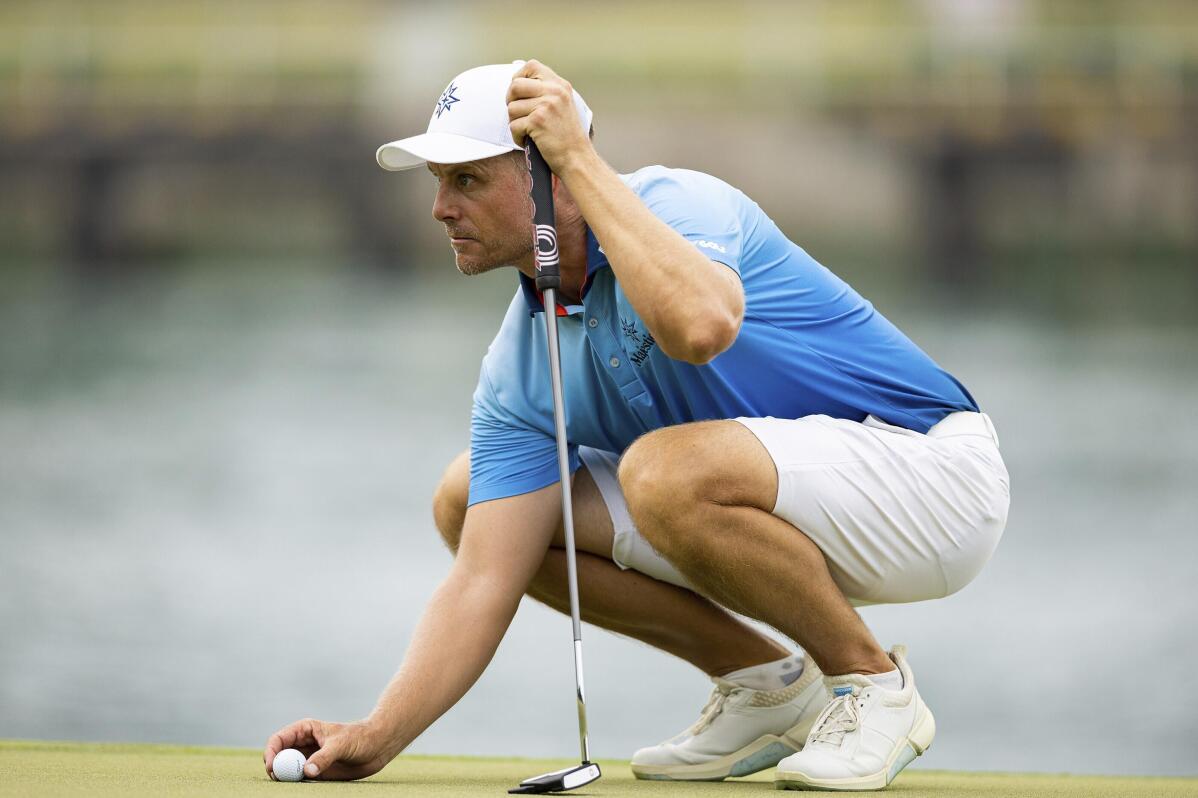 8 of 10

|
Co-Captain Henrik Stenson of Majesticks GC lines his putt on the sixth green during the first round of LIV Golf Singapore at the Sentosa Golf Club on Friday, April 28, 2023 in Sentosa, Singapore. (Doug DeFelice/LIV Golf via AP)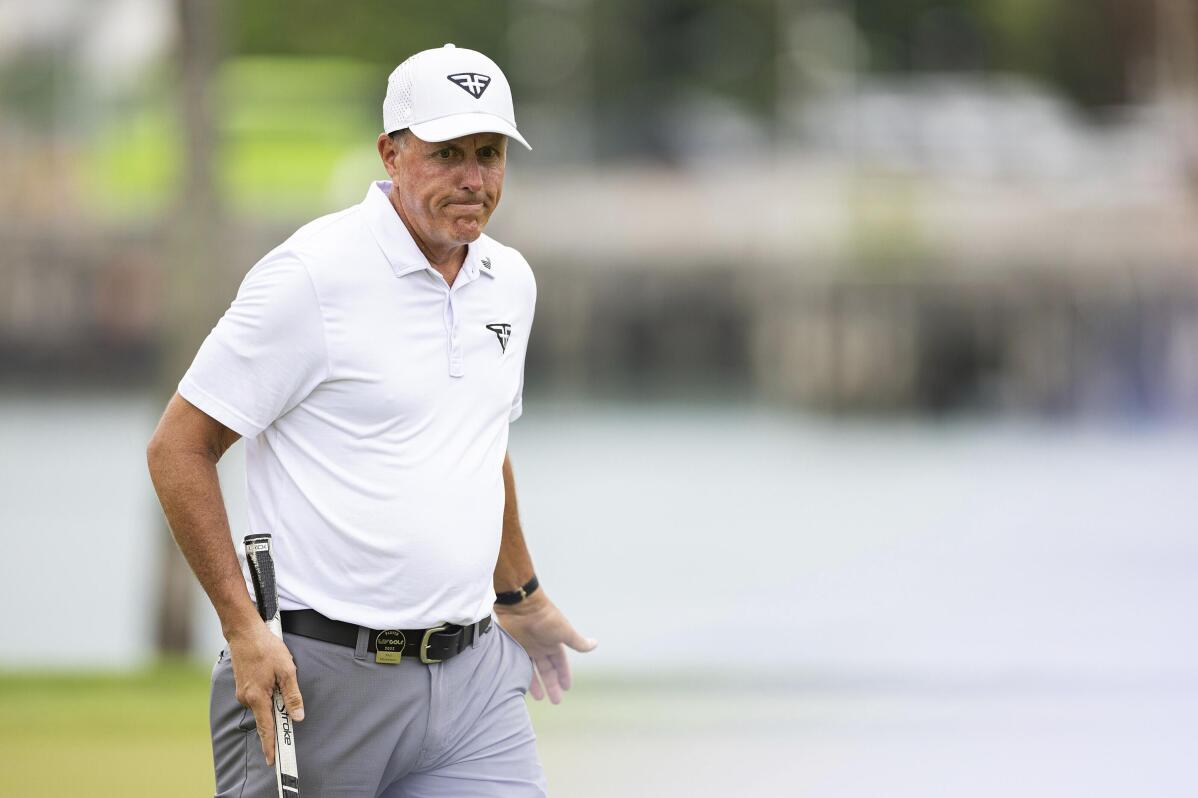 9 of 10

|
Captain Phil Mickelson of HyFlyers GC reacts on the 15th green during the first round of LIV Golf Singapore at the Sentosa Golf Club on Friday, April 28, 2023 in Sentosa, Singapore. (Doug DeFelice/LIV Golf via AP)
10 of 10

|
Joaquín Niemann watches his shot from the fifth tee during the first round of LIV Golf Singapore at Sentosa Golf Club on Friday, April 28, 2023, on Sentosa Island in Singapore. (Doug DeFelice/LIV Golf via AP)
Gooch backs up Australian win with LIV lead in Singapore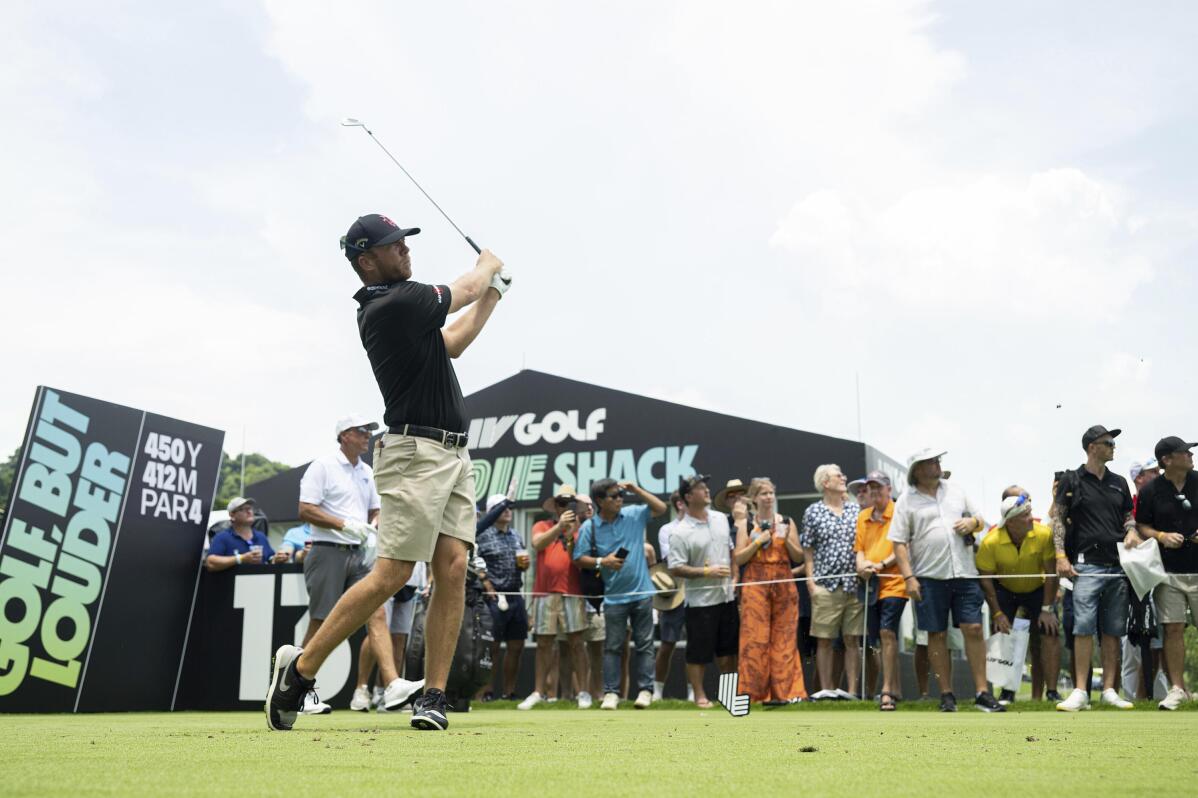 1 of 10

|
Talor Gooch of RangeGoats GC hits his shot from the 13th hole during the first round of LIV Golf Singapore at the Sentosa Golf Club on Friday, April 28, 2023 in Sentosa, Singapore. (Charles Laberge/LIV Golf via AP)
1 of 10
Talor Gooch of RangeGoats GC hits his shot from the 13th hole during the first round of LIV Golf Singapore at the Sentosa Golf Club on Friday, April 28, 2023 in Sentosa, Singapore. (Charles Laberge/LIV Golf via AP)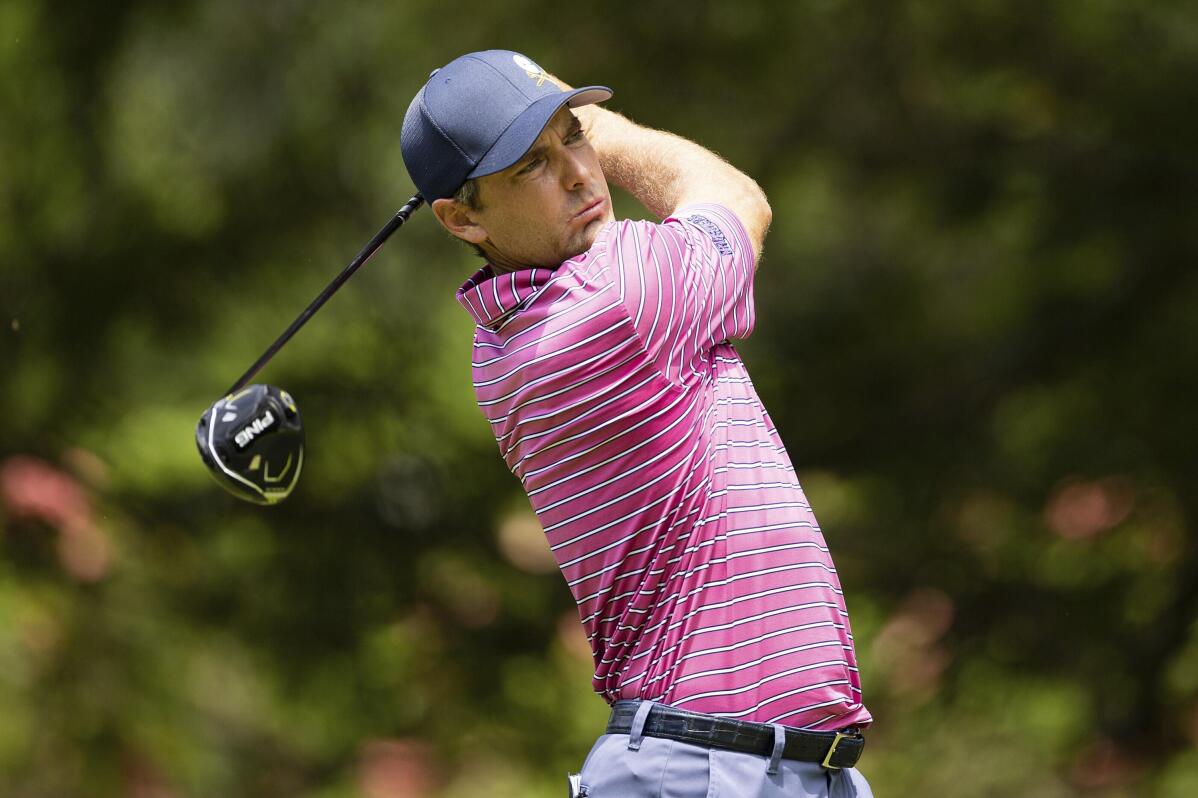 2 of 10

|
Charles Howell III of Crushers GC hits his shot from the fifth tee during the first round of LIV Golf Singapore at the Sentosa Golf Club on Friday, April 28, 2023 in Sentosa, Singapore. (Doug DeFelice/LIV Golf via AP)
2 of 10
Charles Howell III of Crushers GC hits his shot from the fifth tee during the first round of LIV Golf Singapore at the Sentosa Golf Club on Friday, April 28, 2023 in Sentosa, Singapore. (Doug DeFelice/LIV Golf via AP)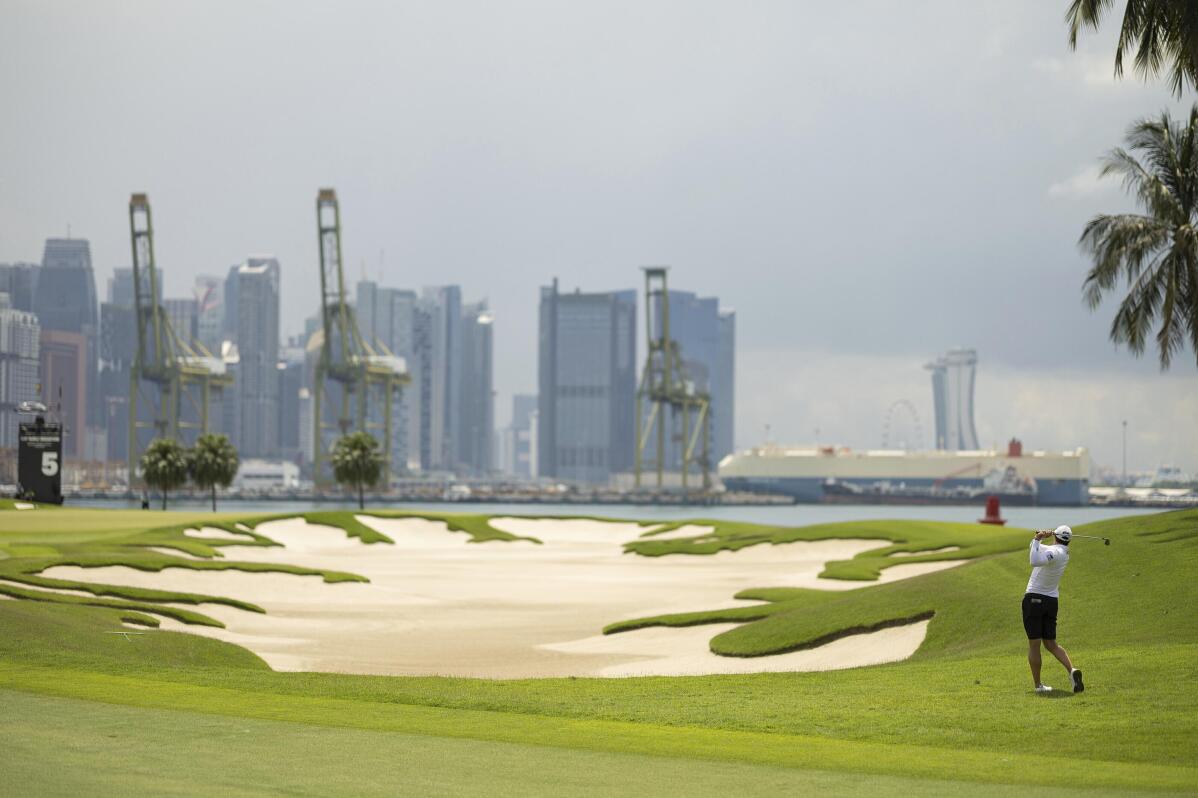 3 of 10

|
Peter Uihlein of 4Aces GC hits his shot from the fairway on the fifth hole during the first round of LIV Golf Singapore at the Sentosa Golf Club on Friday, April 28, 2023 in Sentosa, Singapore. (Doug DeFelice/LIV Golf via AP)
3 of 10
Peter Uihlein of 4Aces GC hits his shot from the fairway on the fifth hole during the first round of LIV Golf Singapore at the Sentosa Golf Club on Friday, April 28, 2023 in Sentosa, Singapore. (Doug DeFelice/LIV Golf via AP)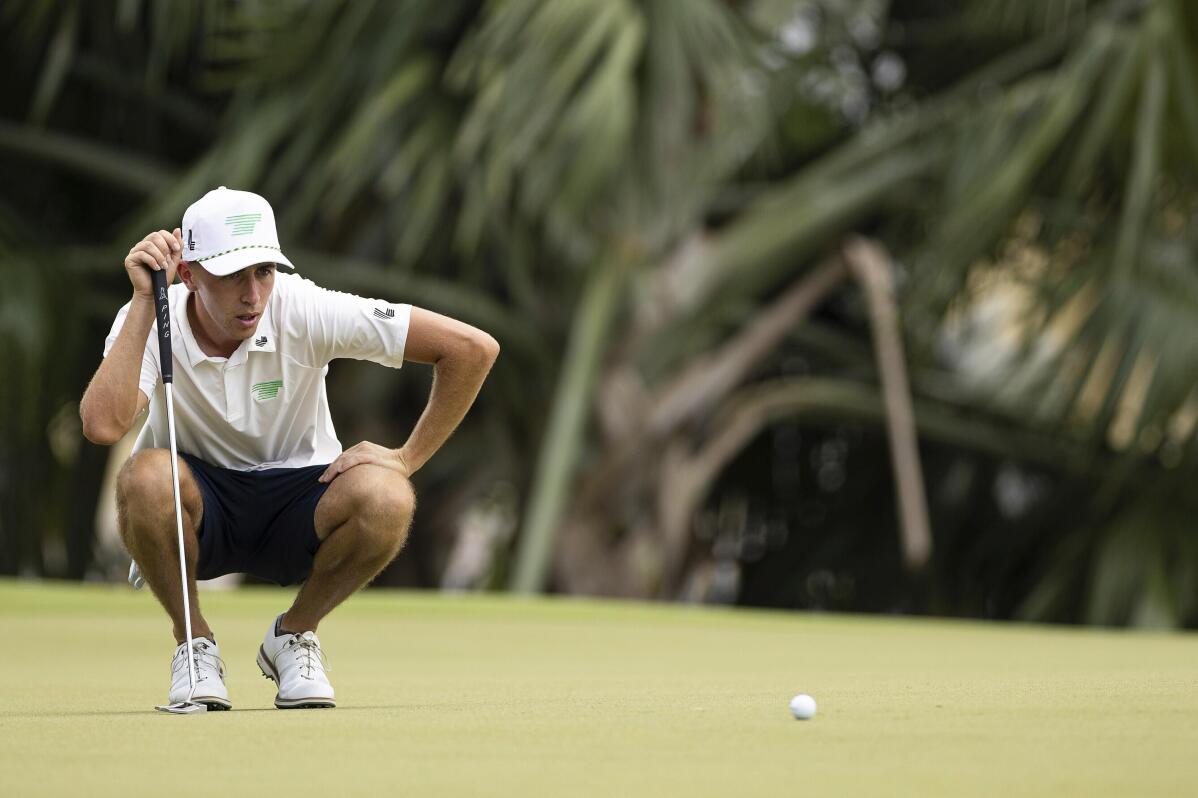 4 of 10

|
David Puig of Torque GC reads his putt on the seventh green during the first round of LIV Golf Singapore at the Sentosa Golf Club on Friday, April 28, 2023 in Sentosa, Singapore. (Doug DeFelice/LIV Golf via AP)
4 of 10
David Puig of Torque GC reads his putt on the seventh green during the first round of LIV Golf Singapore at the Sentosa Golf Club on Friday, April 28, 2023 in Sentosa, Singapore. (Doug DeFelice/LIV Golf via AP)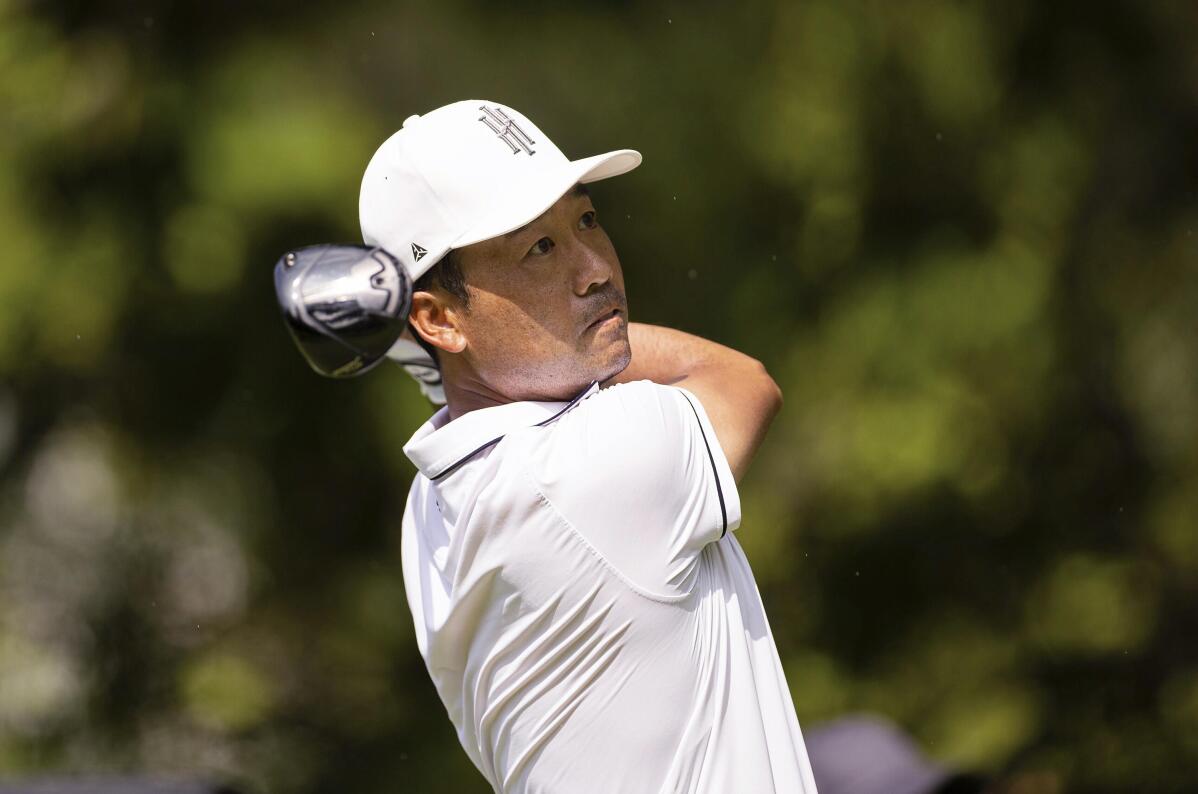 5 of 10

|
Kevin Na watches his shot from the fifth tee during the first round of LIV Golf Singapore at Sentosa Golf Club on Friday, April 28, 2023, on Sentosa Island in Singapore. (Doug DeFelice/LIV Golf via AP)
5 of 10
Kevin Na watches his shot from the fifth tee during the first round of LIV Golf Singapore at Sentosa Golf Club on Friday, April 28, 2023, on Sentosa Island in Singapore. (Doug DeFelice/LIV Golf via AP)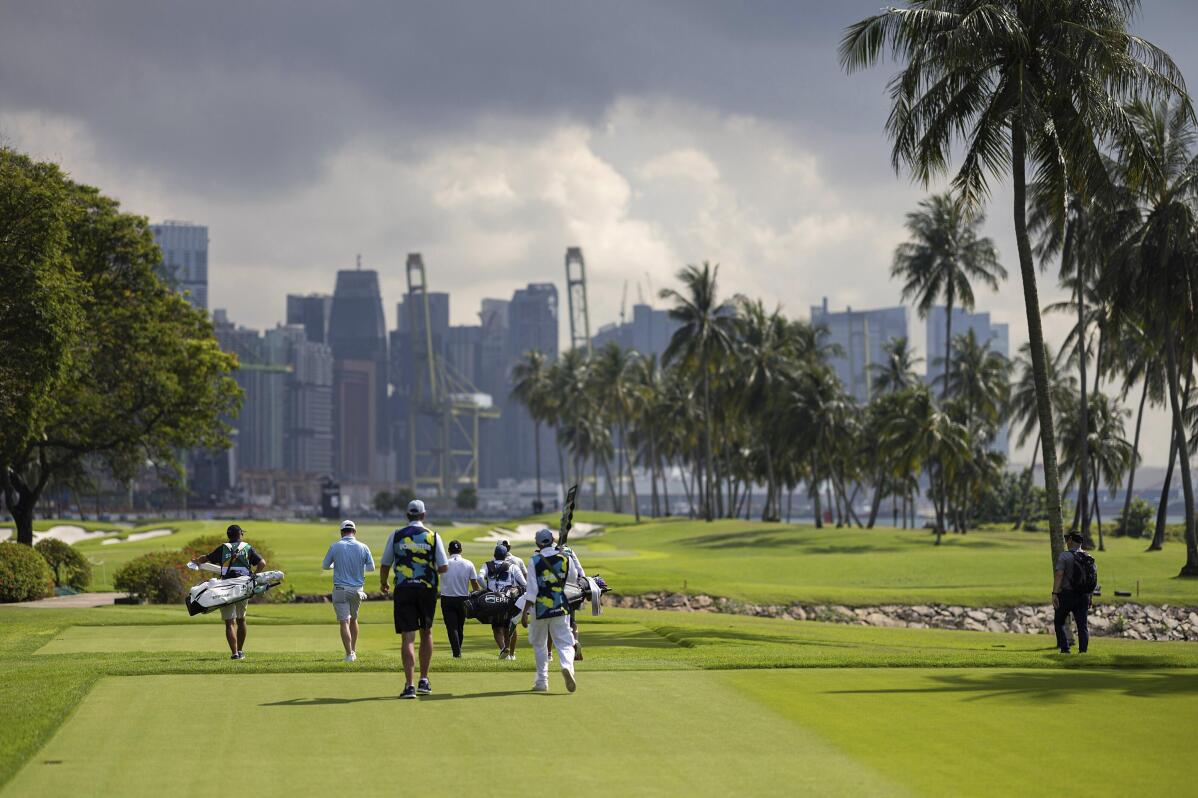 6 of 10

|
Joaquín Niemann, Patrick Reed and Branden Grace walk toward the fifth green during the first round of LIV Golf Singapore at Sentosa Golf Club on Friday, April 28, 2023, on Sentosa Island in Singapore. (Doug DeFelice/LIV Golf via AP)
6 of 10
Joaquín Niemann, Patrick Reed and Branden Grace walk toward the fifth green during the first round of LIV Golf Singapore at Sentosa Golf Club on Friday, April 28, 2023, on Sentosa Island in Singapore. (Doug DeFelice/LIV Golf via AP)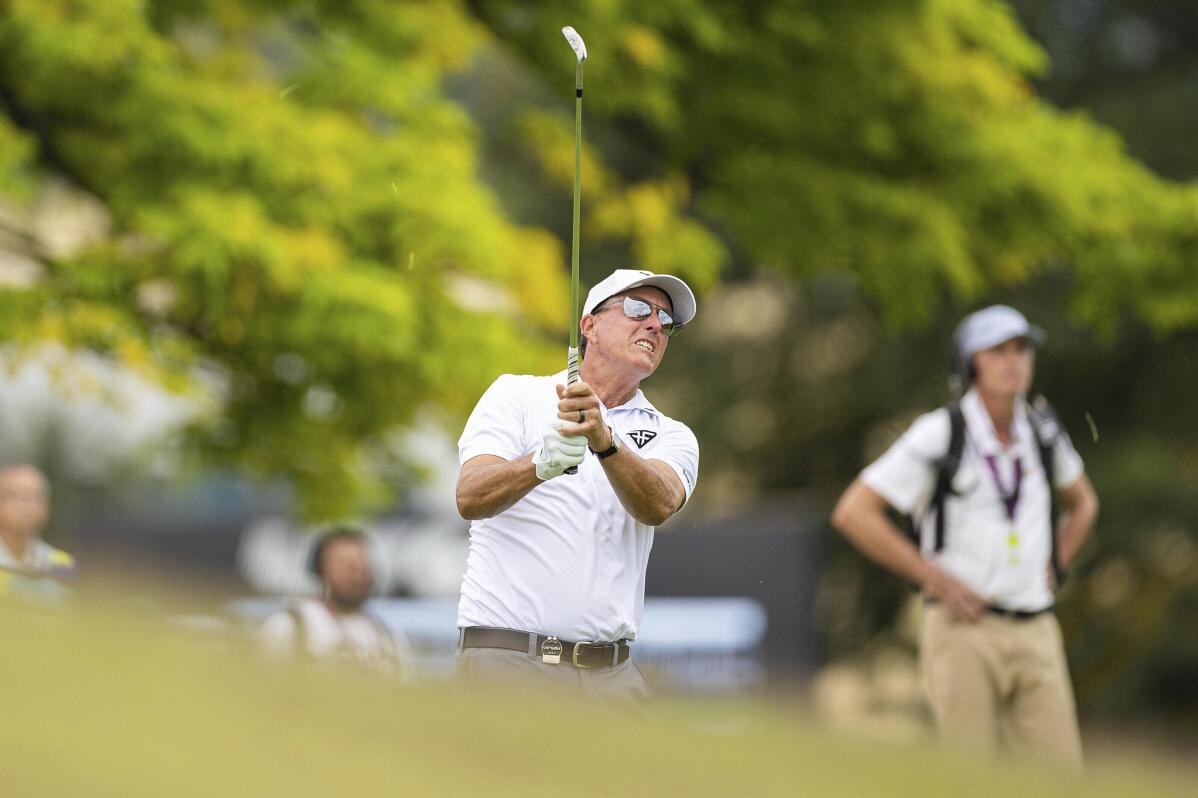 7 of 10

|
Captain Phil Mickelson of HyFlyers GC hits his shot from the fairway on the 16th hole during the first round of LIV Golf Singapore at the Sentosa Golf Club on Friday, April 28, 2023 in Sentosa, Singapore. (Doug DeFelice/LIV Golf via AP)
7 of 10
Captain Phil Mickelson of HyFlyers GC hits his shot from the fairway on the 16th hole during the first round of LIV Golf Singapore at the Sentosa Golf Club on Friday, April 28, 2023 in Sentosa, Singapore. (Doug DeFelice/LIV Golf via AP)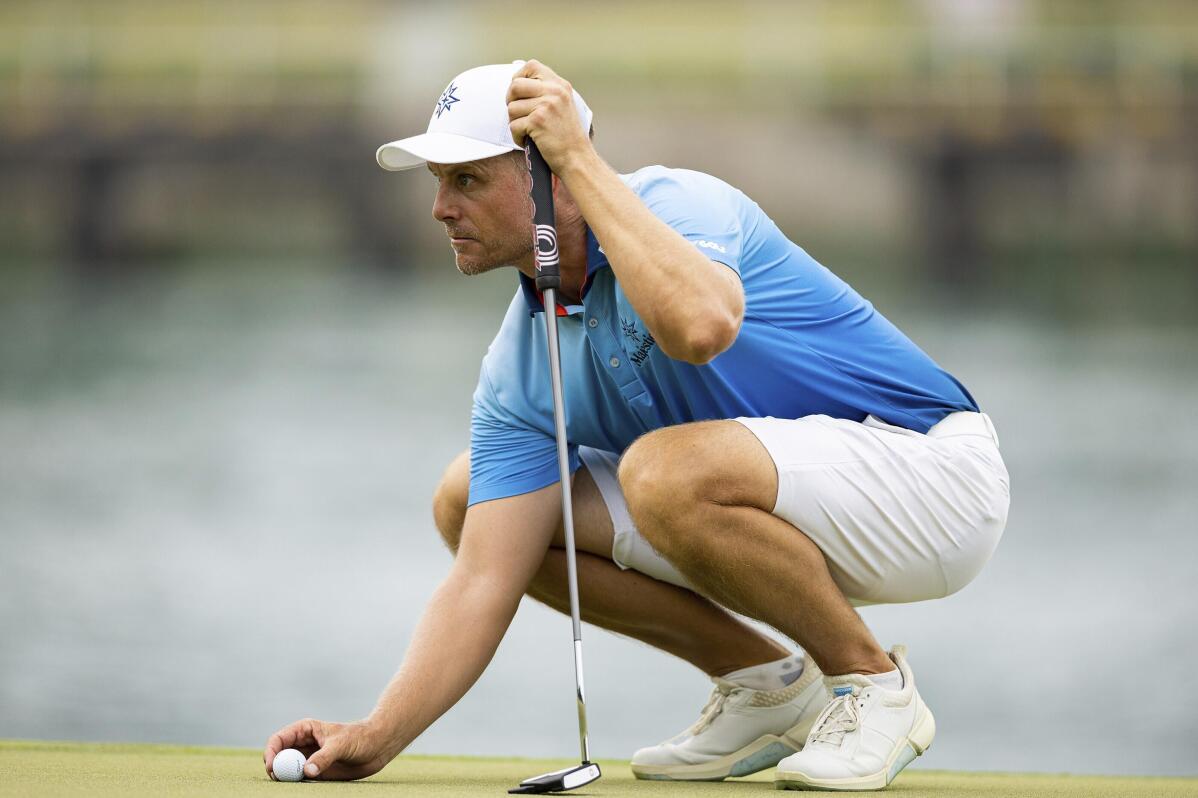 8 of 10

|
Co-Captain Henrik Stenson of Majesticks GC lines his putt on the sixth green during the first round of LIV Golf Singapore at the Sentosa Golf Club on Friday, April 28, 2023 in Sentosa, Singapore. (Doug DeFelice/LIV Golf via AP)
8 of 10
Co-Captain Henrik Stenson of Majesticks GC lines his putt on the sixth green during the first round of LIV Golf Singapore at the Sentosa Golf Club on Friday, April 28, 2023 in Sentosa, Singapore. (Doug DeFelice/LIV Golf via AP)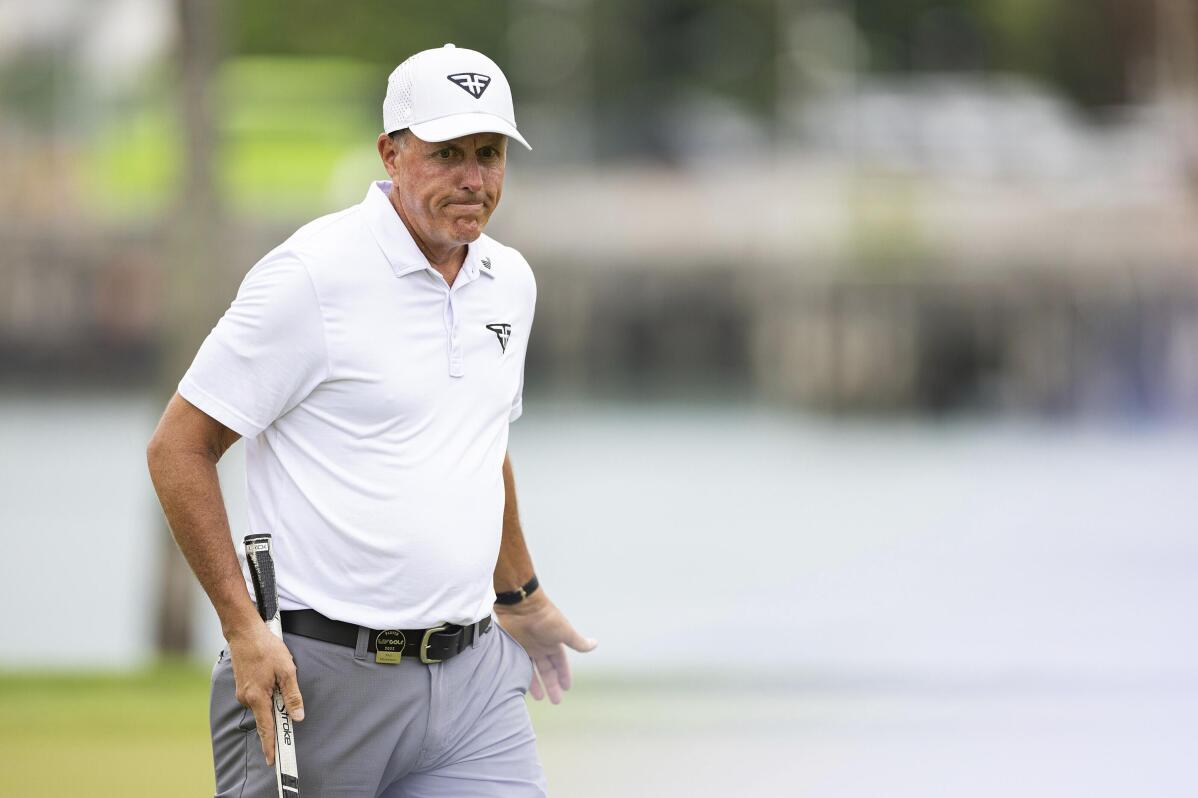 9 of 10

|
Captain Phil Mickelson of HyFlyers GC reacts on the 15th green during the first round of LIV Golf Singapore at the Sentosa Golf Club on Friday, April 28, 2023 in Sentosa, Singapore. (Doug DeFelice/LIV Golf via AP)
9 of 10
Captain Phil Mickelson of HyFlyers GC reacts on the 15th green during the first round of LIV Golf Singapore at the Sentosa Golf Club on Friday, April 28, 2023 in Sentosa, Singapore. (Doug DeFelice/LIV Golf via AP)
10 of 10

|
Joaquín Niemann watches his shot from the fifth tee during the first round of LIV Golf Singapore at Sentosa Golf Club on Friday, April 28, 2023, on Sentosa Island in Singapore. (Doug DeFelice/LIV Golf via AP)
10 of 10
Joaquín Niemann watches his shot from the fifth tee during the first round of LIV Golf Singapore at Sentosa Golf Club on Friday, April 28, 2023, on Sentosa Island in Singapore. (Doug DeFelice/LIV Golf via AP)
SINGAPORE (AP) — Talor Gooch backed up his Australian LIV win by taking a one-stroke lead at the fledgling tour's Singapore event on Friday.
Gooch eagled the par-5 18th hole after a 90-minute rain delay to shoot 7-under 64 and lead four others at the Sentosa course — British Open champion Cameron Smith, Brooks Koepka, Sergio Garcia and Cameron Tringale.
Phil Mickelson, Louis Oosthuizen and Bryson DeChambeau were another stroke back in a tie for sixth after 66s.
Gooch opened with a pair of 10-under 62s while winning in Adelaide last week.
"There's no pixie dust I've thrown on the clubs the last couple weeks," Gooch said. "It's just the game comes and goes in waves, and hopefully we can continue to ride this wave for as long as we can and play a bunch of good golf."
Gooch, Smith and Mickelson were in a featured group which started on the first tee in the shotgun-start format of the LIV Tour's 54-hole tournaments.
"It was really solid today," Smith said. "Talor said everyone played well in the group, and I felt like we kept ourselves going there after the rain delay. Everyone was getting a little bit tired, I think. It was a good day all in all."
With severe weather in the forecast for the weekend, the shotgun start for the final two rounds was moved up. Saturday's round will start at 8:15 a.m. local time (0015 GMT ) while Sunday's round will start at 8:05 a.m. (0005 GMT). ___
More AP golf: https://apnews.com/hub/golf and https://twitter.com/AP_Sports