Bulls' Ball to have cartilage transplant in ailing left knee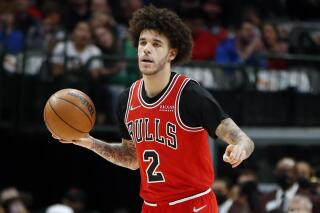 CHICAGO (AP) — Bulls point guard Lonzo Ball will have a cartilage transplant in his left knee, the team and his agency, Klutch Sports, said Thursday.
They did not say when the operation will take place or what the timeline for his recovery will be. It will be Ball's third surgery on the knee in a little more than a year.
Ball hasn't played in over a year and Chicago ruled him out for the season last month.
"This has been a frustrating process, but I'm confident these next steps are the best path forward," Ball said in a statement.
Bulls executive vice president of basketball operations Arturas Karnisovas said Ball has the organization's "full support."
"I continue to admire Lonzo's perseverance throughout this journey," Karnisovas said. "This has been a long and challenging road for him, and this decision has been a difficult one to make."
Ball hasn't played since Jan. 14, 2022. He had surgery for a torn meniscus a few weeks later and experienced setbacks when he tried to ramp up basketball activities.
The Bulls had him rest for 10 days at one point, hoping it would resolve the issue and allow him to return. But he felt pain again when he started preparing to play.
Ball was still unable to run at full speed, or even walk up stairs, without experiencing discomfort when he had another operation in late September. He said at the time he expected to play this season.
Ball has been able to do some on-court work. He posted a video on Instagram last month of him dunking. But it became more and more clear that probably wouldn't happen.
Ball averaged 13 points and 5.1 assists while shooting 42.3% on 3-pointers over 35 games last season — his first in Chicago. He helped set up stars Zach LaVine and DeMar DeRozan and gave the Bulls an elite perimeter defender.
Chicago is 11th in the Eastern Conference at 26-33. Losers of six straight, the Bulls host Brooklyn on Friday.
___
AP NBA: https://apnews.com/hub/nba and https://twitter.com/AP_Sports