Clank: Bucks-Raptors, Suns-Cavaliers games start very slowly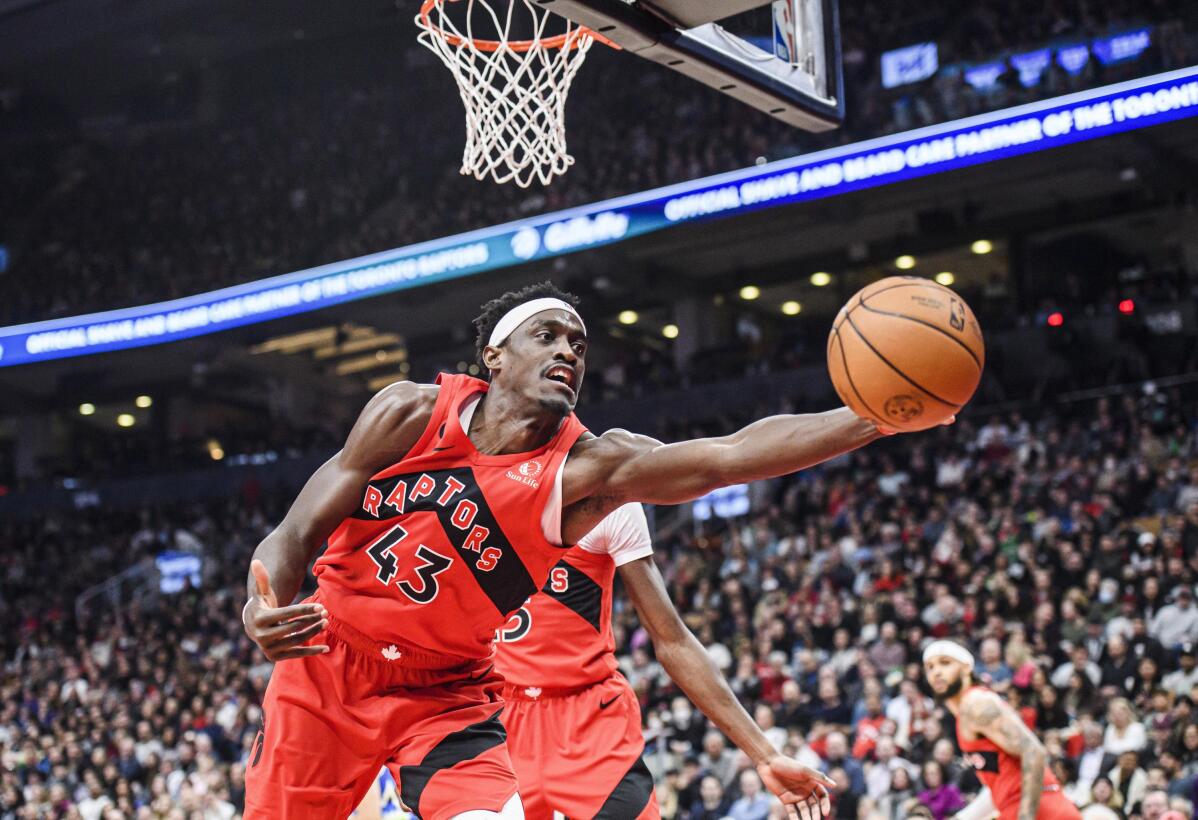 1 of 4

|
Toronto Raptors forward Pascal Siakam (43) tries to save the ball from going out of bounds during the first half of an NBA basketball game against the Milwaukee Bucks in Toronto on Wednesday, Jan. 4, 2023. (Christopher Katsarov/The Canadian Press via AP)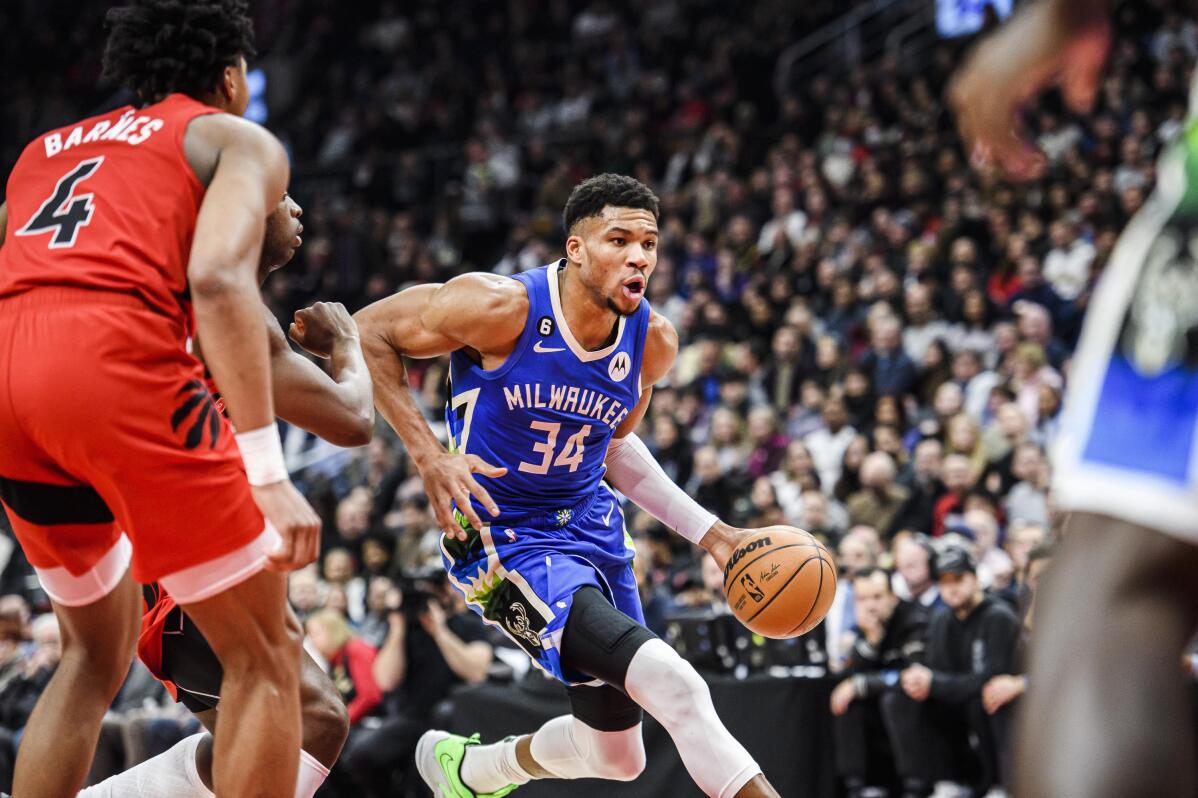 2 of 4

|
Milwaukee Bucks forward Giannis Antetokounmpo (34) drives towards the net as Toronto Raptors forward Scottie Barnes (4) defends during the first half of an NBA basketball game in Toronto on Wednesday, Jan. 4, 2023. (Christopher Katsarov/The Canadian Press via AP)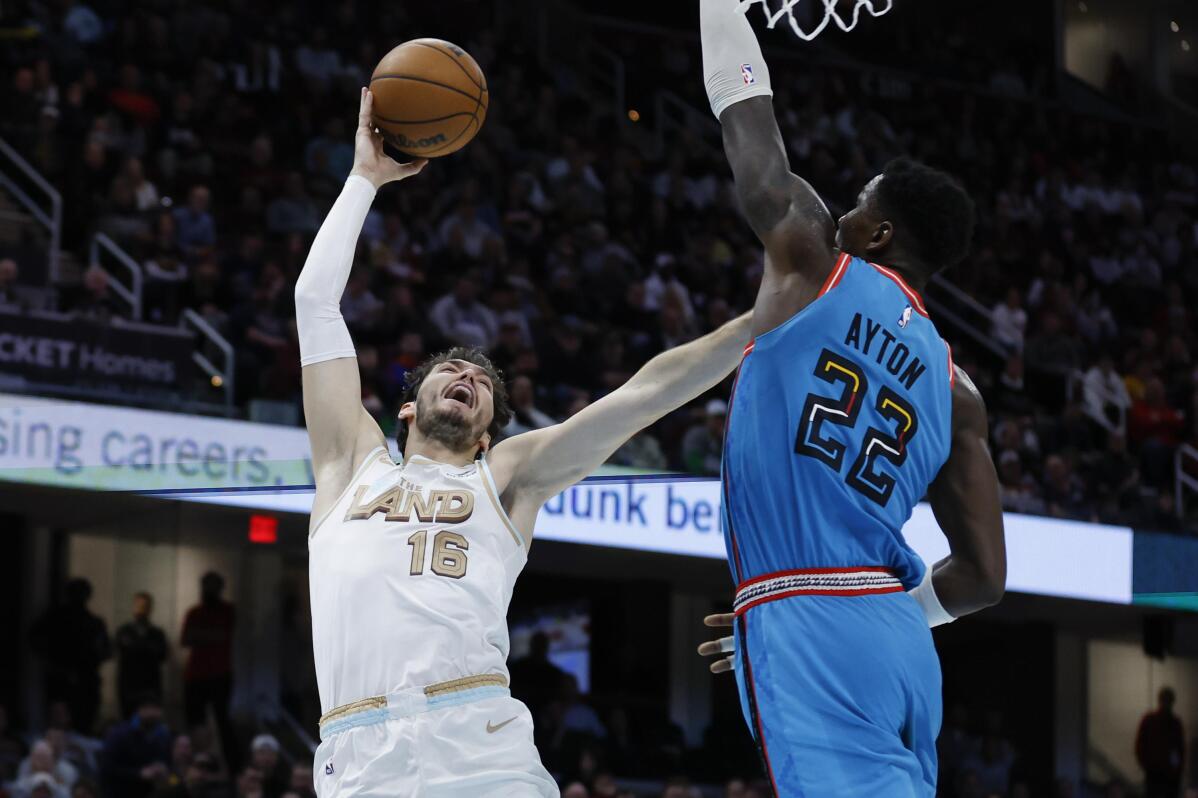 3 of 4

|
Cleveland Cavaliers forward Cedi Osman (16) shoots against Phoenix Suns center Deandre Ayton (22) during the second half of an NBA basketball game, Wednesday, Jan. 4, 2023, in Cleveland. (AP Photo/Ron Schwane)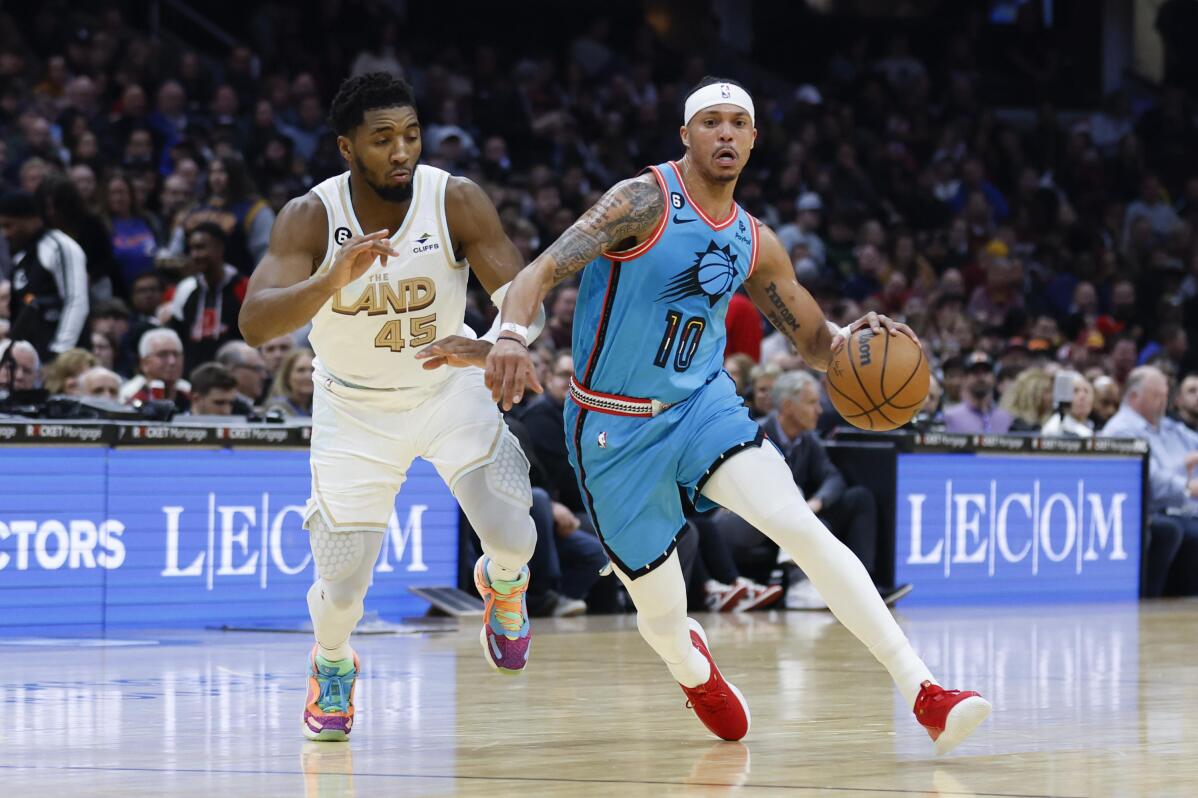 4 of 4

|
Phoenix Suns guard Damion Lee (10) drives against Cleveland Cavaliers guard Donovan Mitchell (45) during the first half of an NBA basketball game, Wednesday, Jan. 4, 2023, in Cleveland. (AP Photo/Ron Schwane)
Clank: Bucks-Raptors, Suns-Cavaliers games start very slowly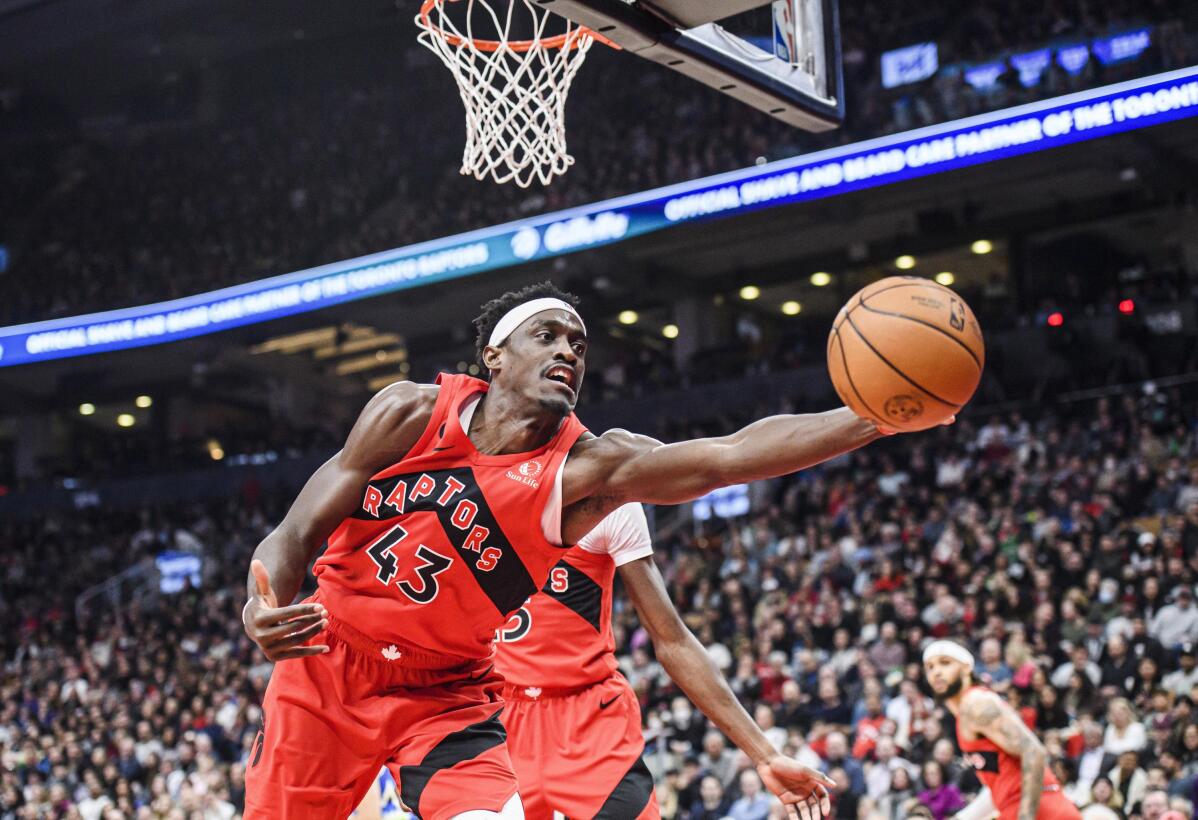 1 of 4

|
Toronto Raptors forward Pascal Siakam (43) tries to save the ball from going out of bounds during the first half of an NBA basketball game against the Milwaukee Bucks in Toronto on Wednesday, Jan. 4, 2023. (Christopher Katsarov/The Canadian Press via AP)
1 of 4
Toronto Raptors forward Pascal Siakam (43) tries to save the ball from going out of bounds during the first half of an NBA basketball game against the Milwaukee Bucks in Toronto on Wednesday, Jan. 4, 2023. (Christopher Katsarov/The Canadian Press via AP)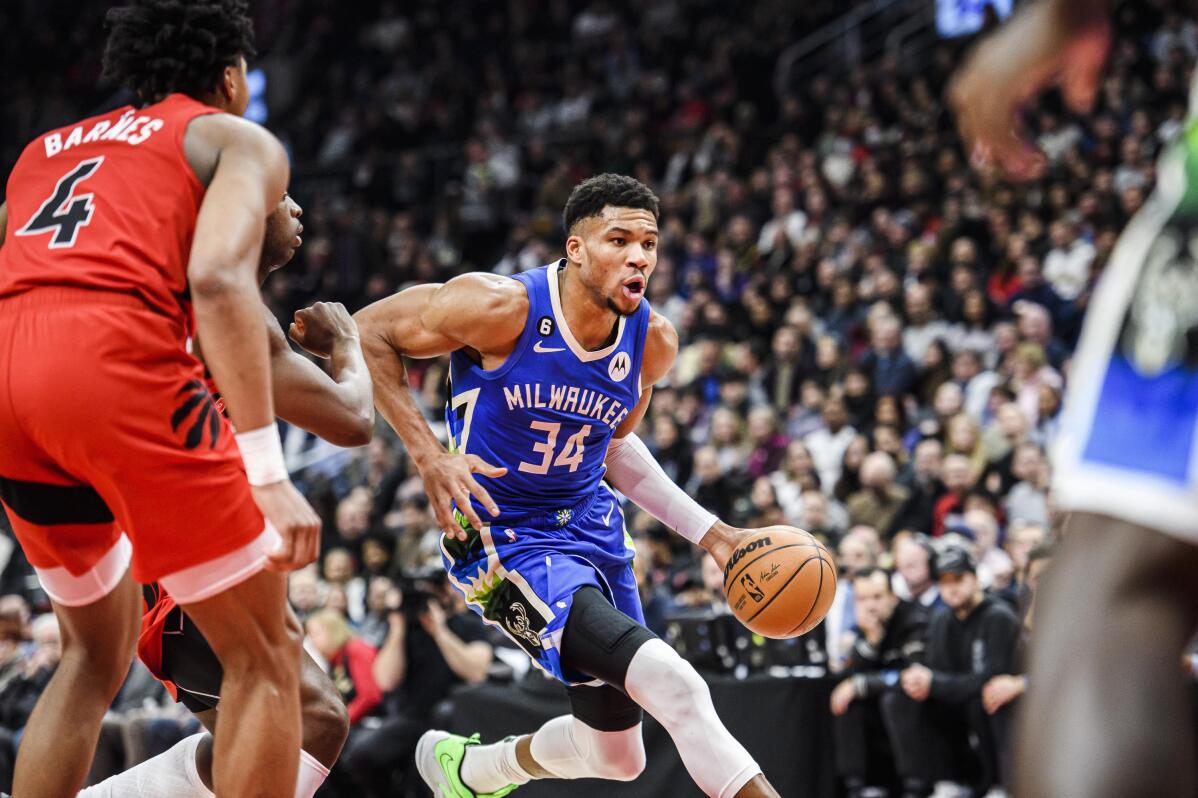 2 of 4

|
Milwaukee Bucks forward Giannis Antetokounmpo (34) drives towards the net as Toronto Raptors forward Scottie Barnes (4) defends during the first half of an NBA basketball game in Toronto on Wednesday, Jan. 4, 2023. (Christopher Katsarov/The Canadian Press via AP)
2 of 4
Milwaukee Bucks forward Giannis Antetokounmpo (34) drives towards the net as Toronto Raptors forward Scottie Barnes (4) defends during the first half of an NBA basketball game in Toronto on Wednesday, Jan. 4, 2023. (Christopher Katsarov/The Canadian Press via AP)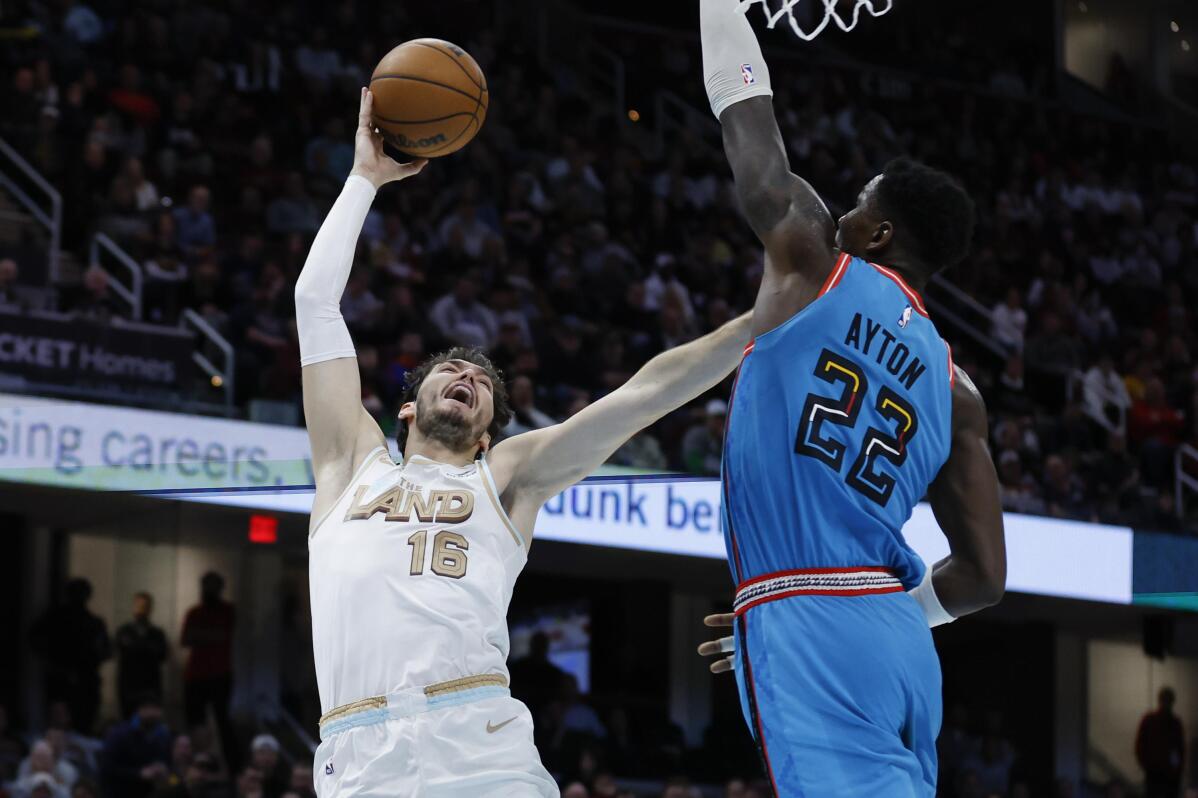 3 of 4

|
Cleveland Cavaliers forward Cedi Osman (16) shoots against Phoenix Suns center Deandre Ayton (22) during the second half of an NBA basketball game, Wednesday, Jan. 4, 2023, in Cleveland. (AP Photo/Ron Schwane)
3 of 4
Cleveland Cavaliers forward Cedi Osman (16) shoots against Phoenix Suns center Deandre Ayton (22) during the second half of an NBA basketball game, Wednesday, Jan. 4, 2023, in Cleveland. (AP Photo/Ron Schwane)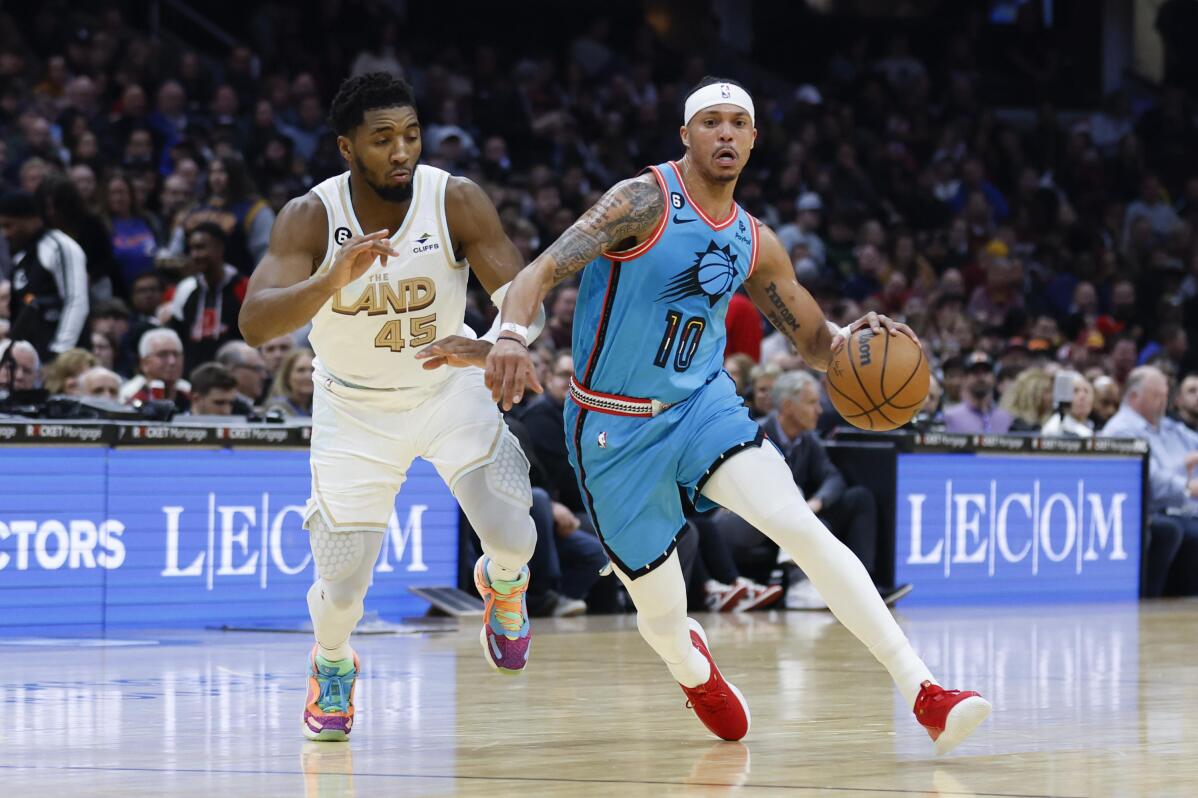 4 of 4

|
Phoenix Suns guard Damion Lee (10) drives against Cleveland Cavaliers guard Donovan Mitchell (45) during the first half of an NBA basketball game, Wednesday, Jan. 4, 2023, in Cleveland. (AP Photo/Ron Schwane)
4 of 4
Phoenix Suns guard Damion Lee (10) drives against Cleveland Cavaliers guard Donovan Mitchell (45) during the first half of an NBA basketball game, Wednesday, Jan. 4, 2023, in Cleveland. (AP Photo/Ron Schwane)
Milwaukee and Toronto started very slowly Wednesday night.
Phoenix and Cleveland weren't much better.
In a season where teams are scoring more per game than at any point in more than 50 years, the Suns-Cavaliers and Bucks-Raptors games didn't exactly get off to flying starts. They turned in the two lowest-scoring quarters of the season — a combined 25 points in the Milwaukee-Toronto game, a combined 29 points in the Phoenix-Cleveland contest.
Toronto shot 2 for 23 in the first quarter, or 8.7%, and trailed Milwaukee 13-12 after 12 minutes. It was the worst first-quarter shooting performance by an NBA team since Feb. 27, 2015 — when the Raptors shot 1 for 19, or 5.3%, against Golden State.
The last team a team shot 8.7% in any quarter was Dec. 12, 2021, when Orlando did it in the third against the Los Angeles Lakers. The last time a team shot worse than that in any quarter was Nov. 22, 2017 when the Raptors were 1 for 16 (6.3%) against New York in the third.
The previous low in combined points for a first quarter this season came on Monday, when New York and Phoenix combined for 34 points. The low for any quarter was Nov. 5, when Milwaukee and Oklahoma City combined for 31 points.
Milwaukee topped the Raptors 104-101 in overtime after a frantic finish, with Toronto rallying from 21 points down in the final 3:07 of regulation to force OT — but the Bucks holding on in the extra period. The Raptors missed 78 shots, the most by any team since Milwaukee missed 80 in a triple-overtime loss to Brooklyn on March 20, 2015.
Cleveland wound up beating Phoenix 90-88, matching the third-fewest points scored in a game this season. Miami (87) and Indiana (82) combined for 169 points on Dec. 12, New York (92) and Cleveland (81) combined for 173 on Dec. 4, and the Bucks (90) and Philadelphia (88) also totaled 178 on Oct. 20.
Offensive struggles have been rare this season. NBA teams, on average, are averaging about 114 points per game. That's the highest rate since teams averaged 116.7 per game in 1969-70.
___
AP NBA: https://apnews.com/hub/nba and https://twitter.com/AP_Sports