Police: 3 men arrested in deadly Los Angeles shootings linked to Chicago violence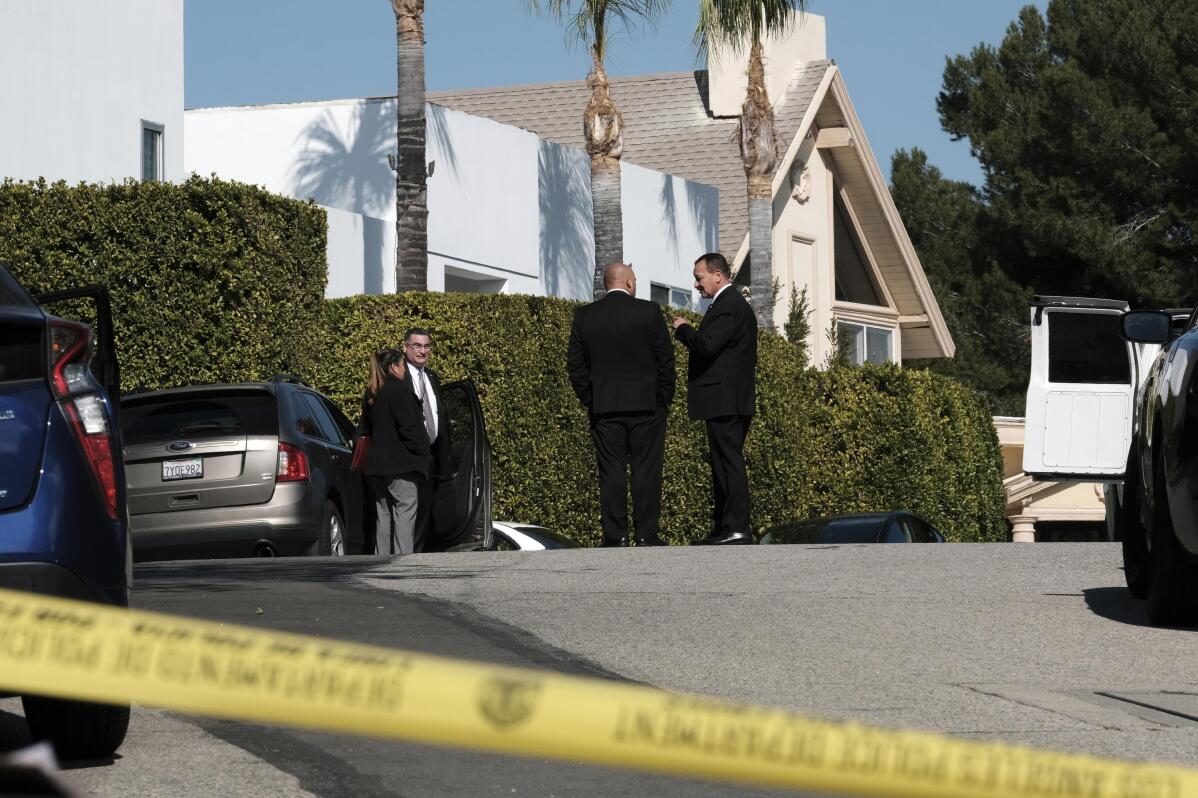 1 of 2

|
FILE - Police investigators stand in the street near a house where three people were killed and four others wounded in a shooting at a short-term rental home in an upscale Los Angeles neighborhood on Saturday, Jan. 28, 2023. Three men associated with a gang have been arrested in connection with four Los Angeles homicides in a case in which all suspects and victims were from the Chicago area. The suspects were arrested in the Chicago area, Manhattan and Gary, Ind. (AP Photo/Richard Vogel, File)
2 of 2

|
FILE - Police officers block the street access to a house where three people were killed and four others wounded in a shooting at a short-term rental home in Beverly Crest, an upscale neighborhood in Los Angeles about 2:30 a.m., on Saturday, Jan. 28, 2023. Three men associated with a gang have been arrested in connection with four Los Angeles homicides in a case in which all suspects and victims were from the Chicago area. The suspects were arrested in the Chicago area, Manhattan and Gary, Indiana. (AP Photo/Richard Vogel, File)
Police: 3 men arrested in deadly Los Angeles shootings linked to Chicago violence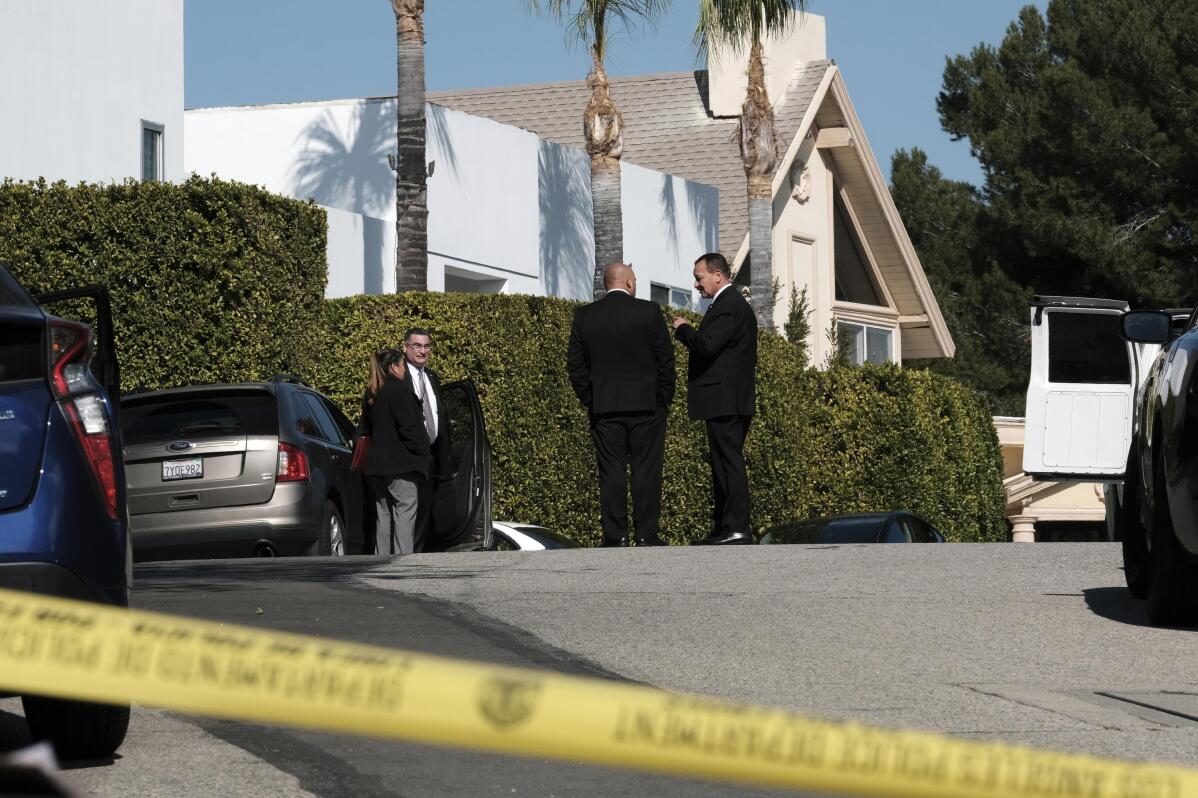 1 of 2

|
FILE - Police investigators stand in the street near a house where three people were killed and four others wounded in a shooting at a short-term rental home in an upscale Los Angeles neighborhood on Saturday, Jan. 28, 2023. Three men associated with a gang have been arrested in connection with four Los Angeles homicides in a case in which all suspects and victims were from the Chicago area. The suspects were arrested in the Chicago area, Manhattan and Gary, Ind. (AP Photo/Richard Vogel, File)
1 of 2
FILE - Police investigators stand in the street near a house where three people were killed and four others wounded in a shooting at a short-term rental home in an upscale Los Angeles neighborhood on Saturday, Jan. 28, 2023. Three men associated with a gang have been arrested in connection with four Los Angeles homicides in a case in which all suspects and victims were from the Chicago area. The suspects were arrested in the Chicago area, Manhattan and Gary, Ind. (AP Photo/Richard Vogel, File)
2 of 2

|
FILE - Police officers block the street access to a house where three people were killed and four others wounded in a shooting at a short-term rental home in Beverly Crest, an upscale neighborhood in Los Angeles about 2:30 a.m., on Saturday, Jan. 28, 2023. Three men associated with a gang have been arrested in connection with four Los Angeles homicides in a case in which all suspects and victims were from the Chicago area. The suspects were arrested in the Chicago area, Manhattan and Gary, Indiana. (AP Photo/Richard Vogel, File)
2 of 2
FILE - Police officers block the street access to a house where three people were killed and four others wounded in a shooting at a short-term rental home in Beverly Crest, an upscale neighborhood in Los Angeles about 2:30 a.m., on Saturday, Jan. 28, 2023. Three men associated with a gang have been arrested in connection with four Los Angeles homicides in a case in which all suspects and victims were from the Chicago area. The suspects were arrested in the Chicago area, Manhattan and Gary, Indiana. (AP Photo/Richard Vogel, File)
LOS ANGELES (AP) — Three men associated with a gang have been arrested in connection with two deadly Los Angeles shootings in a case in which all suspects and victims were from the Chicago area, police said Friday.
Investigators, however, would not specify the motive for the shootings that killed three women and wounded four other people in January and a man in December.
"We can't discuss the motive but we can say that it's associated with Chicago," Capt. Jonathan L. Tippet, commanding officer of the Los Angeles Police Department's Robbery-Homicide Division, told a headquarters press conference.
"One thing that can be said is that the violence that occurs in Chicago today is having an effect on all of us," he said.
Tippet said the three suspects are "involved in" and "connected to" a gang but he could not go into further detail about their relationship with the group.
The arrests followed a nation-spanning investigation involving numerous law enforcement agencies including FBI violent crime task forces, Tippet said.
Dejean Thompkins, 28, was arrested last month in the Chicago area. Dontae Williams, 22, was also arrested in April in Gary, Indiana, and was transferred to Chicago. Daries Stanford, 28, was arrested May 10 in the Manhattan area of New York. All three are awaiting extradition to LA. It was not immediately known if they had attorneys.
Around 2:30 a.m. on Jan. 28, Iyana Hutton, 33, Nenah Davis, 29, and Destiny Sims, 26, were fatally shot in a car as they returned to a vacation rental house in LA's Beverly Crest area after a night out.
The women grew up together and had come out to LA in support of a Chicago rapper, Tippet said. He added that they were not the intended targets of the attack.
Four others were wounded and two others escaped injury in the attack, in which more than 30 rounds were fired. Their identities were being withheld, Tippet said.
Investigators connected that shooting to the Dec. 16 killing of Julian Bynum, 30, on a North Hollywood sidewalk outside an apartment complex.
"In both of these cases the suspects used ambush-style tactics on their unsuspecting victims," Tippet said. "Planning and coordination was utilized."
The slain women were not connected to Bynum, who is believed to have been targeted, Tippet said.
Public tips about the getaway car used in the Beverly Crest shooting were important in the investigation, he said.
The Los Angeles County District Attorney's Office filed four counts of murder and six counts of attempted murder against Thompkins. Williams and Stanford were each charged with three counts of murder and six counts of attempted murder. All three were also charged with six counts of assault with a semiautomatic firearm.
The complaint also alleges special circumstances of lying in wait and multiple murders.