Mali's army and suspected Russia-linked mercenaries committed 'new atrocities,' rights group says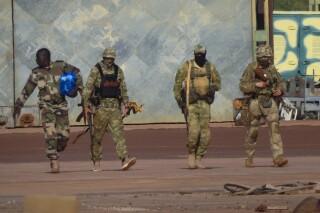 DAKAR, Senegal (AP) — Mali's army together with suspected mercenaries from the shadowy Russian group Wagner have committed summary executions, lootings, forced disappearances and other abuses, a leading human rights group reported Monday.
Human Rights Watch said the atrocities happened in Mali's central region and that several dozen civilians were summarily executed or forcibly disappeared since December 2022. The human rights group interviewed 40 people by phone, including witnesses, and reviewed a video "showing evidence of abuses by Malian soldiers and associated foreign fighters."
HRW said in its report that much of the abuse took place during military operations in response to the presence of extremist groups in the Mopti and Segou regions, and all except one involved foreign, non-French speaking armed men whom witnesses described as "white," "Russians" or "Wagner."
In a response to the human rights group's correspondence, Mali's Foreign Affairs Ministry said it was not aware of the abuse and that an investigation would be opened into the allegations.
Also Monday, the United States imposed sanctions on three Malian officials for facilitating Wagner's deployment and expansion in the country. The Treasury's Office of Foreign Assets Control said it acted based on evidence showing the three officials contributed to Wagner's "malicious activities" in Mali.
The Treasury office identified the three Malian officials as Col. Sadio Camara, Mali's minister of defense; who allegedly organized the deployment; Col. Alou Boi Diarra, Mali's the air force chief of state, whom the U.S. accused of contributing to logistics for moving Russian entities in Mali; and Lt. Col. Adama Bagayoko, the air force deputy chief of staff, who allegedly advocated for Wagner mercenaries to work in neighboring Burkina Faso.
"These officials have made their people vulnerable to the Wagner Group's destabilizing activities and human rights abuses while paving the way for the exploitation of their country's sovereign resources to the benefit of the Wagner Group's operations in Ukraine," Under Secretary of the Treasury for Terrorism and Financial Intelligence Brian E. Nelson said.
Mercenaries from Wagner's private army fought alongside Russian troops in eastern Ukraine before they staged a short-lived mutiny last month.
Military contractors from Wagner, which was founded by Yevgeny Prigozhin, a millionaire businessman with ties to Russian President Vladimir Putin, have bolstering Moscow's forces during its invasion of Ukraine. In addition to Ukraine, the group operates in a handful of African countries.
After Prigozhin led a brief revolt against the Kremlin last month, he and his fighters received amnesty and permission to move to Belarus. The mercenaries have been training Belarusian military personnel before an expected deployment to Africa.
Mali has struggled to contain an Islamic extremist insurgency since 2012. Extremist rebels were forced from power in Mali's northern cities the following year, with the help of a French-led military operation, but they regrouped in the desert and began launching attacks on the Malian army and its allies.
The country's military government ousted French forces in 2022 and has welcomed up to 1,000 fighters from the Wagner Group, a shadowy Russian military contractor, which worked alongside Mali's armed forces and has been accused by rights groups and civilians of committing abuses.
According to the people interviewed by Human Rights Watch, "scores of Malian and 'white' foreign soldiers" killed at least 20 civilians, among them a woman and a 6-year-old, during an operation in the Mopti region.
Most of the civilians killed, arrested, or forcibly disappeared were from the Fulani ethnic group, which extremists have targeted for recruitment.
The U.S. announced the sanctions against the Malian officials a month after Treasury sanctioned four firms and one individual connected to Wagner in the Central African Republic, the United Arab Emirates and Russia.
The U.S. also sanctioned Andrei Ivanov, a Russian executive in the Wagner Group. Treasury said Ivanov worked with Malian government officials on weapons deals, mining projects, and other Wagner Group activities in Mali. Earlier this year the U.S. designated the group a transnational criminal organization.
The HRW report comes weeks after Mali ousted the United Nations peacekeeping mission, which had been operating in the country for a decade and investigated human rights abuses as part of its work.
"(The U.N. mission) had flaws and weaknesses, but was capable of carrying out some very important activities, including granting a minimum of security to urban centers in central and northern Mali," Ilaria Allegrozzi, senior researcher at HRW, told The Associated Press.
Allegrozzi added that they are "concerned about whether civilians living in the most at-risk areas will have the protection they need," given Wagner forces' "gruesome reputation and appalling human rights record."
Reports of abuse by Mali's army and foreign troops suspected to be Russian are not new.
Last year the U.N. Human Rights Office said more than 500 people were killed – the majority summarily executed – by Malian troops and foreign military personnel during a military operation in the village of Moura.
Allegrozzi said the government's counter-terrorism strategy is abusive and won't stem the insecurity.
"Killing civilians in the name of security won't help," she said.
————-
Mednick reported from Niamey, Niger