Man City celebrates Premier League title at home with fans, now targets treble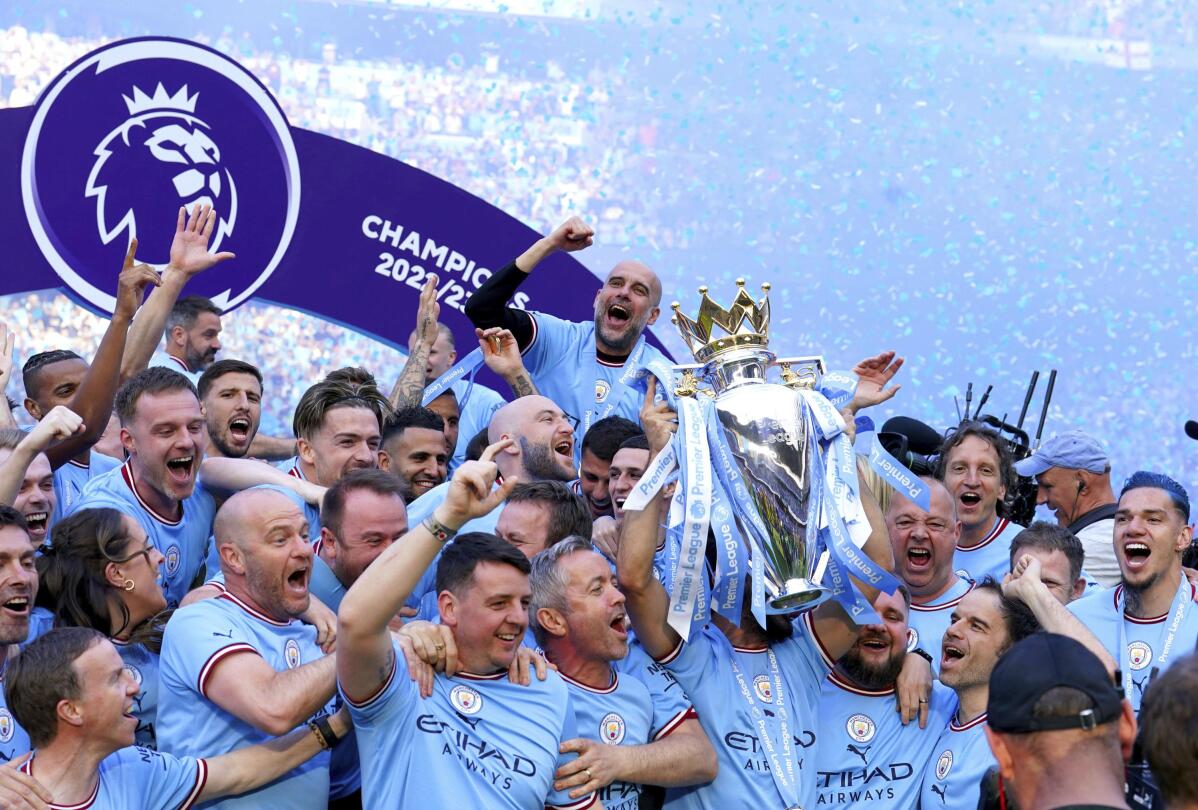 1 of 10

|
Manchester City players and staff including Pep Guardiola celebrate with the Premier League trophy after their English Premier League title win at the end of the English Premier League soccer match between Manchester City and Chelsea at the Etihad Stadium in Manchester, England, Sunday, May 21, 2023. (Martin Rickett/PA via AP)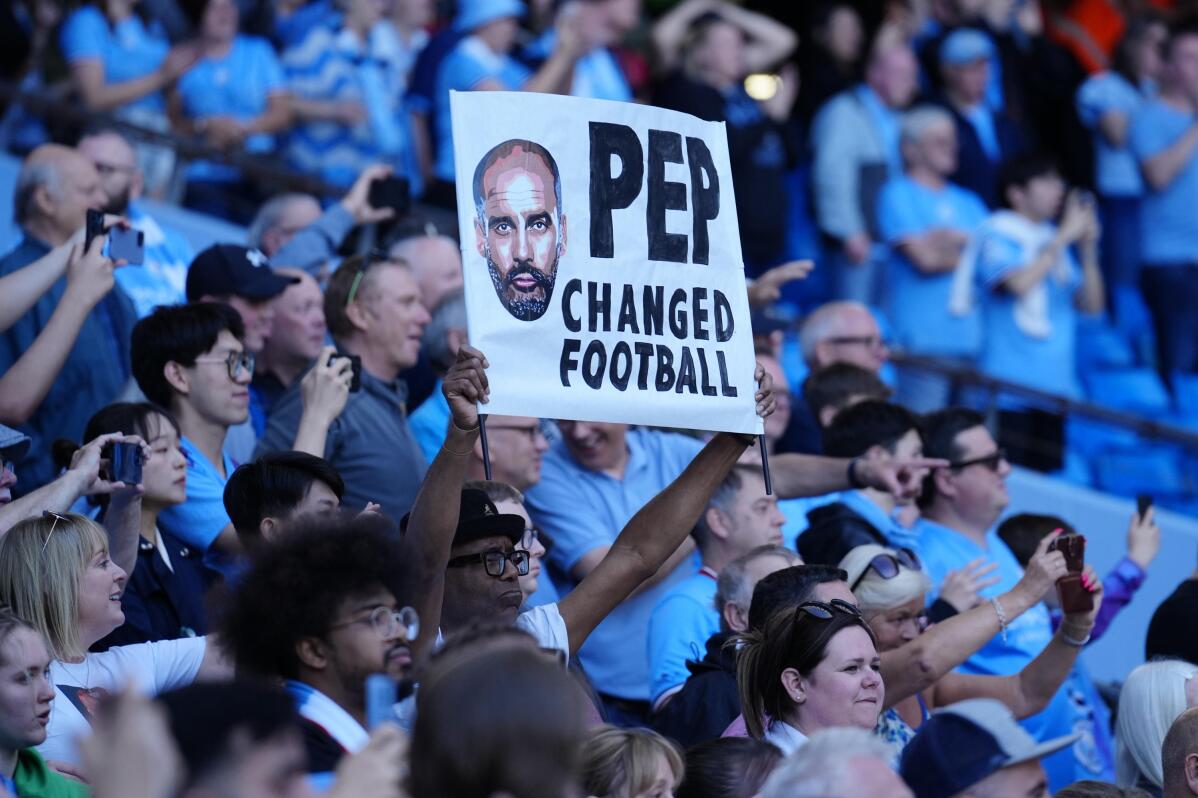 2 of 10

|
Manchester City supporters celebrate Premier League title after the English Premier League soccer match between Manchester City and Chelsea at the Etihad Stadium in Manchester, England, Sunday, May 21, 2023. (AP Photo/Jon Super)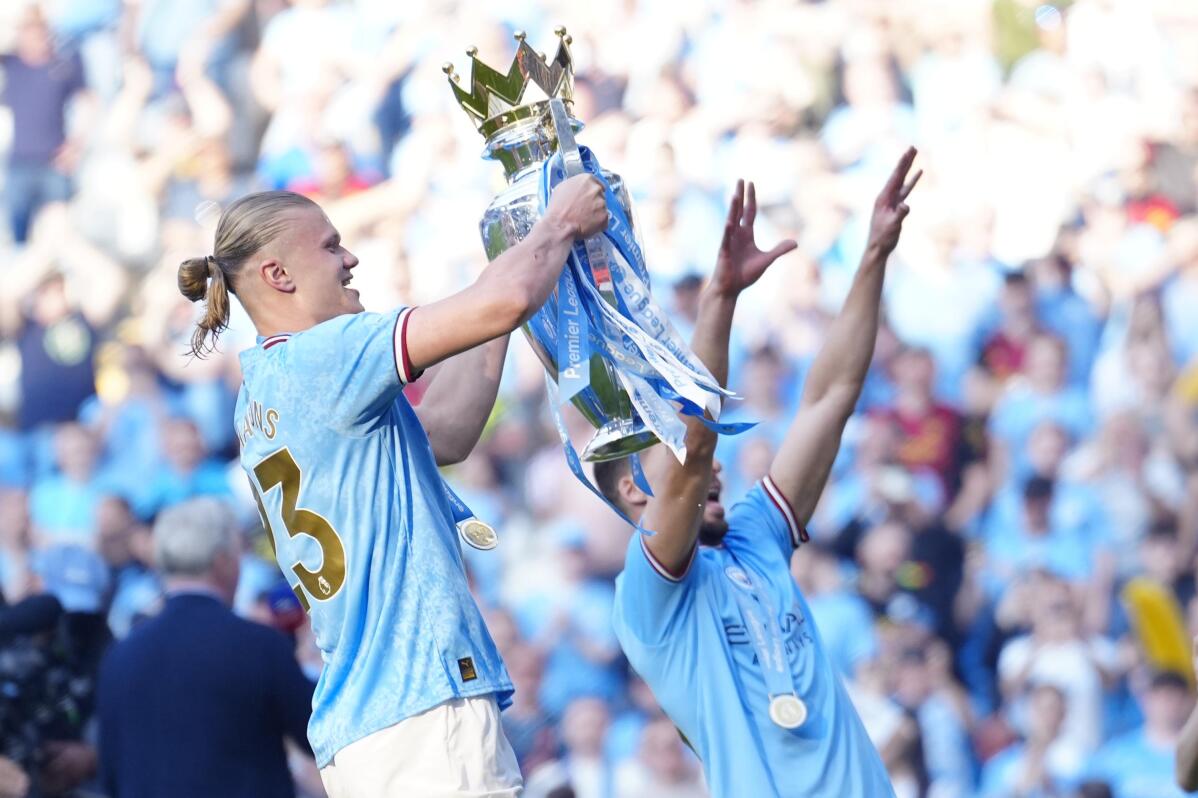 3 of 10

|
Manchester City's Erling Haaland, left, celebrates Premier League title after the English Premier League soccer match between Manchester City and Chelsea at the Etihad Stadium in Manchester, England, Sunday, May 21, 2023. (AP Photo/Jon Super)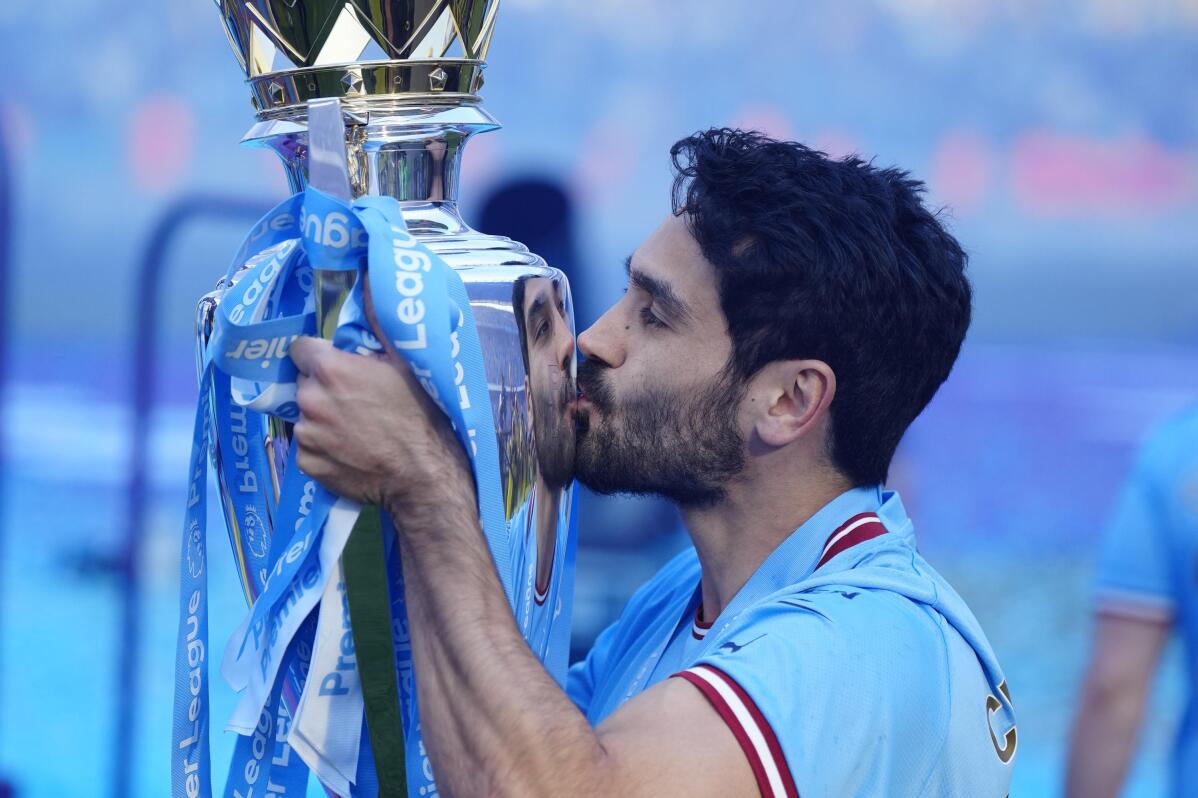 4 of 10

|
Manchester City's Ilkay Gundogan celebrates Premier League title after the English Premier League soccer match between Manchester City and Chelsea at the Etihad Stadium in Manchester, England, Sunday, May 21, 2023. (AP Photo/Jon Super)
5 of 10

|
Manchester City players celebrate their Premier League title after the English Premier League soccer match between Manchester City and Chelsea at the Etihad Stadium in Manchester, England, Sunday, May 21, 2023. (AP Photo/Jon Super)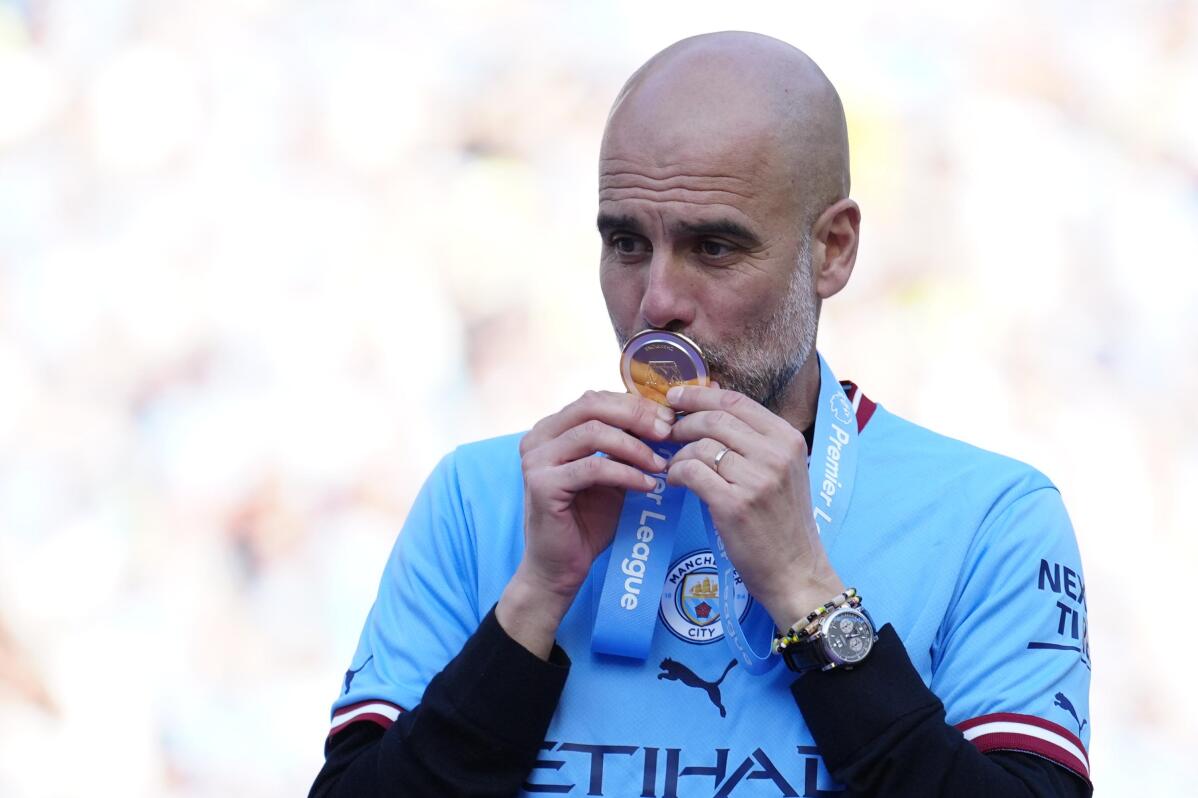 6 of 10

|
Manchester City's head coach Pep Guardiola celebrates Premier League title after the English Premier League soccer match between Manchester City and Chelsea at the Etihad Stadium in Manchester, England, Sunday, May 21, 2023. (AP Photo/Jon Super)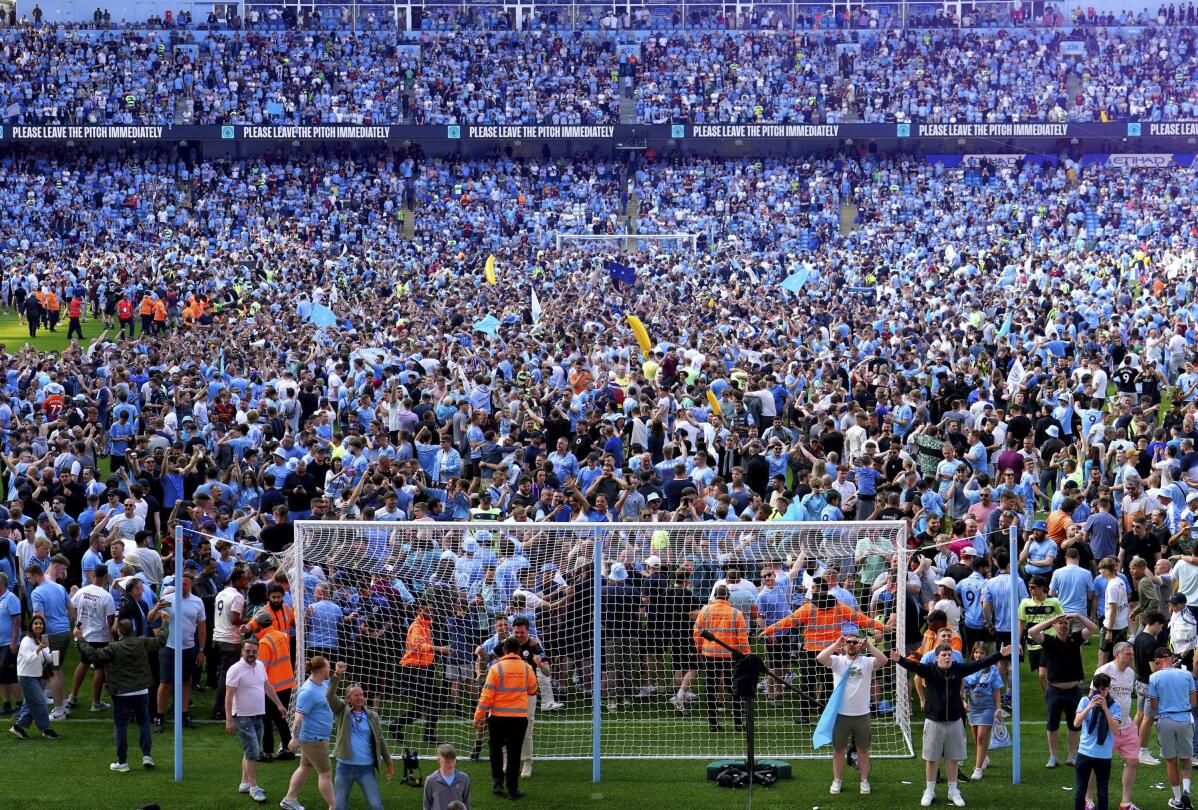 7 of 10

|
Manchester City fans invade the pitch as they celebrate their English Premier League title win at the end of the English Premier League soccer match between Manchester City and Chelsea at the Etihad Stadium in Manchester, England, Sunday, May 21, 2023. (Martin Rickett/PA via AP)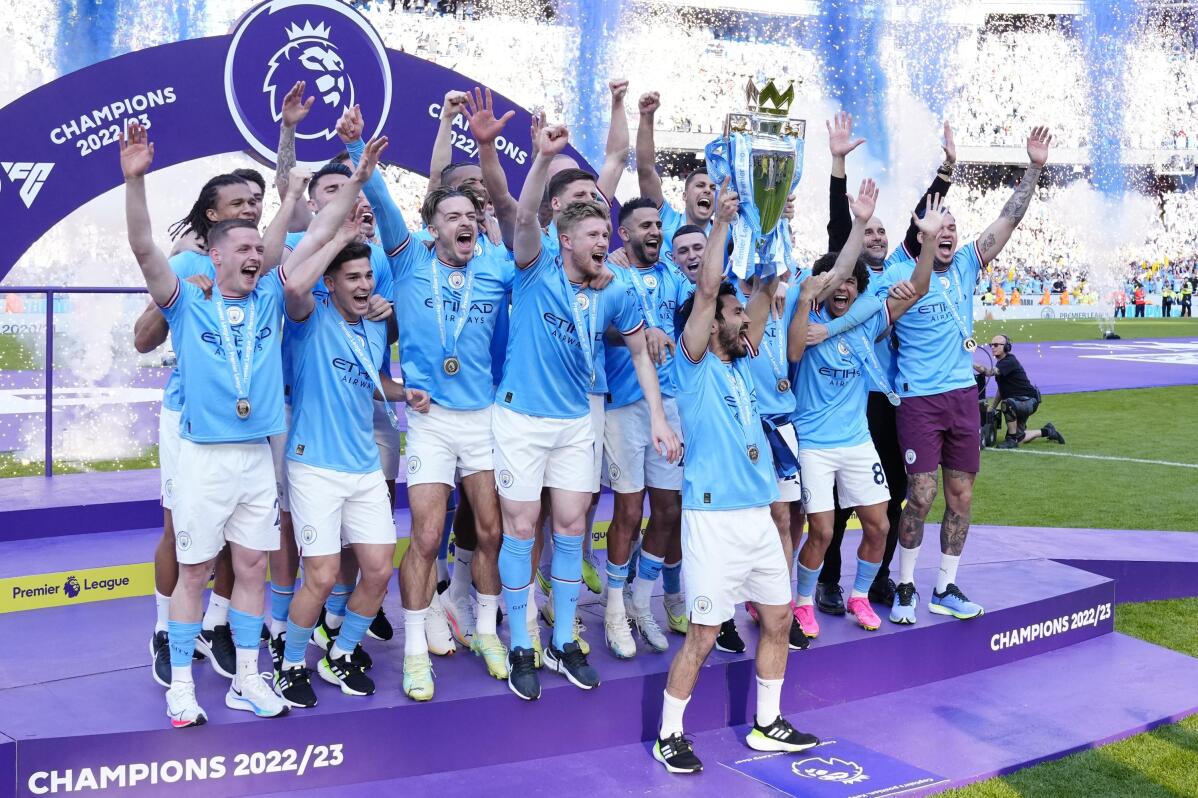 8 of 10

|
Manchester City players celebrate their Premier League title after the English Premier League soccer match between Manchester City and Chelsea at the Etihad Stadium in Manchester, England, Sunday, May 21, 2023. (AP Photo/Jon Super)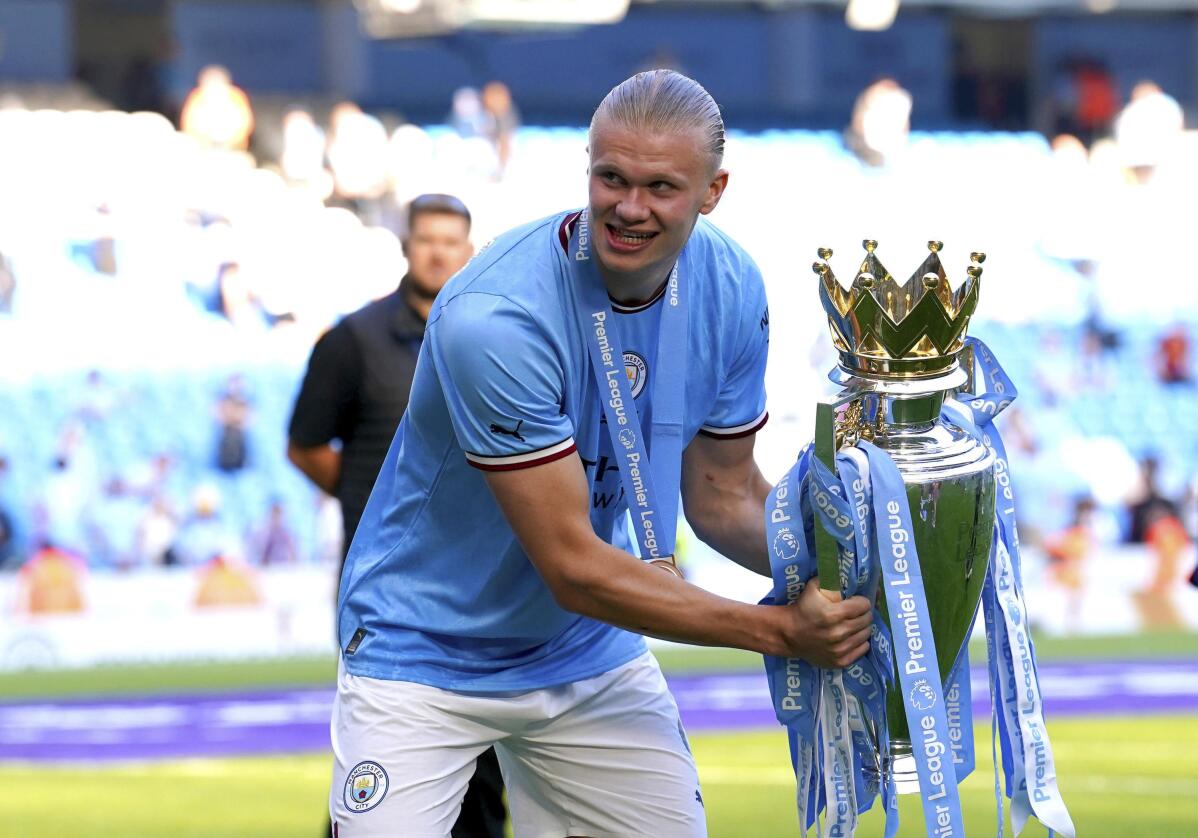 9 of 10

|
Manchester City's Erling Haaland celebrates with the Premier League trophy after their English Premier League title win at the end of the English Premier League soccer match between Manchester City and Chelsea at the Etihad Stadium in Manchester, England, Sunday, May 21, 2023. (Martin Rickett/PA via AP)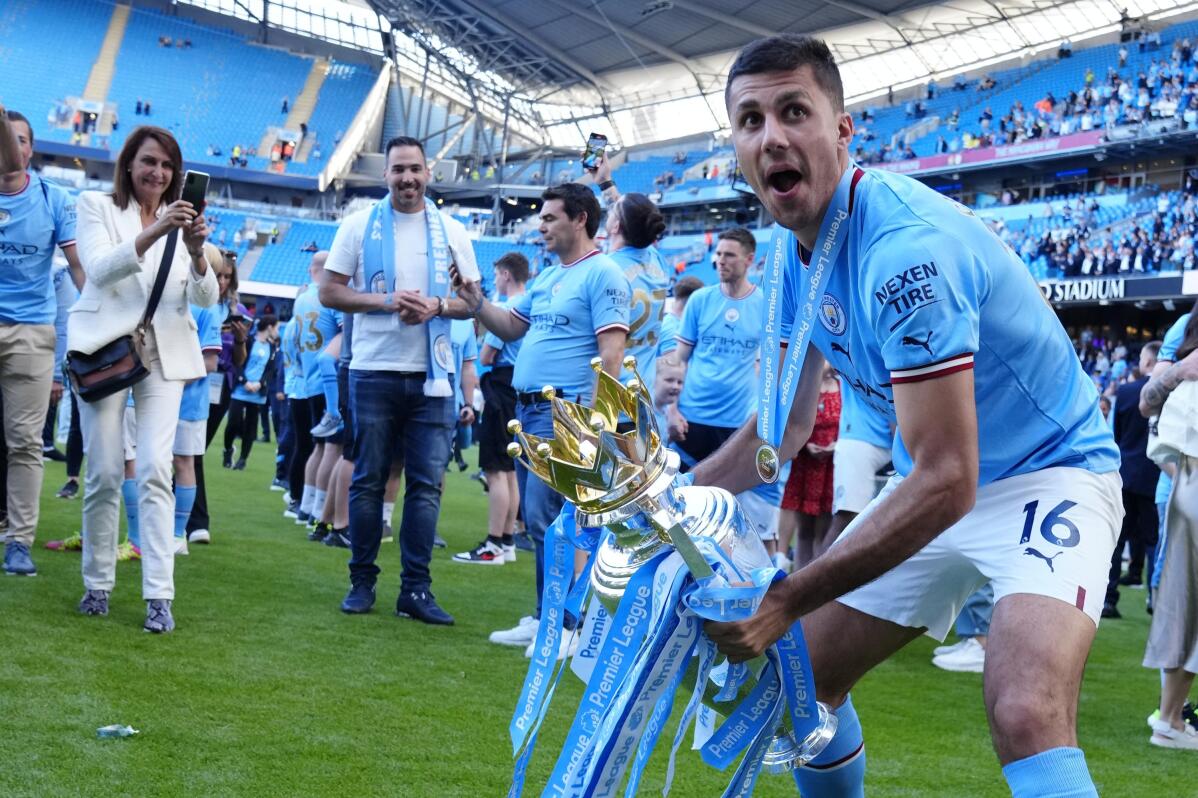 10 of 10

|
Manchester City's Rodrigo celebrates Premier League title after the English Premier League soccer match between Manchester City and Chelsea at the Etihad Stadium in Manchester, England, Sunday, May 21, 2023. (AP Photo/Jon Super)
Man City celebrates Premier League title at home with fans, now targets treble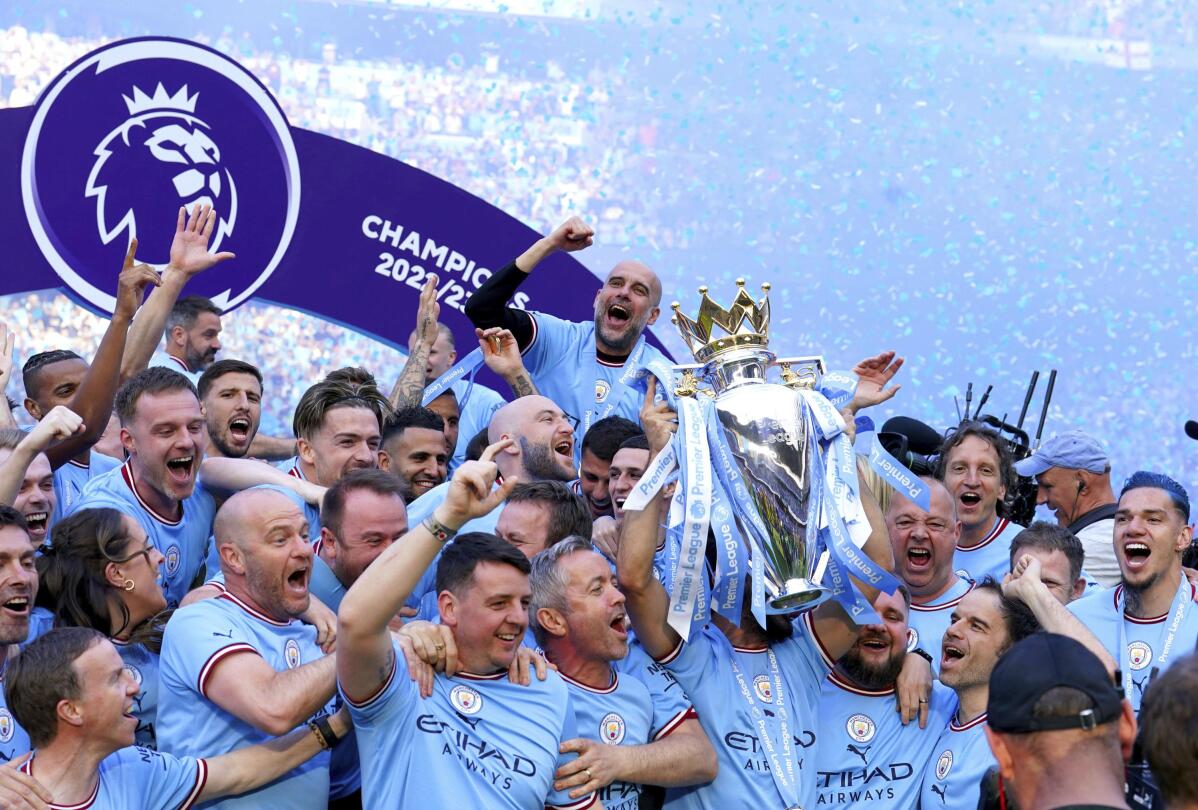 1 of 10

|
Manchester City players and staff including Pep Guardiola celebrate with the Premier League trophy after their English Premier League title win at the end of the English Premier League soccer match between Manchester City and Chelsea at the Etihad Stadium in Manchester, England, Sunday, May 21, 2023. (Martin Rickett/PA via AP)
1 of 10
Manchester City players and staff including Pep Guardiola celebrate with the Premier League trophy after their English Premier League title win at the end of the English Premier League soccer match between Manchester City and Chelsea at the Etihad Stadium in Manchester, England, Sunday, May 21, 2023. (Martin Rickett/PA via AP)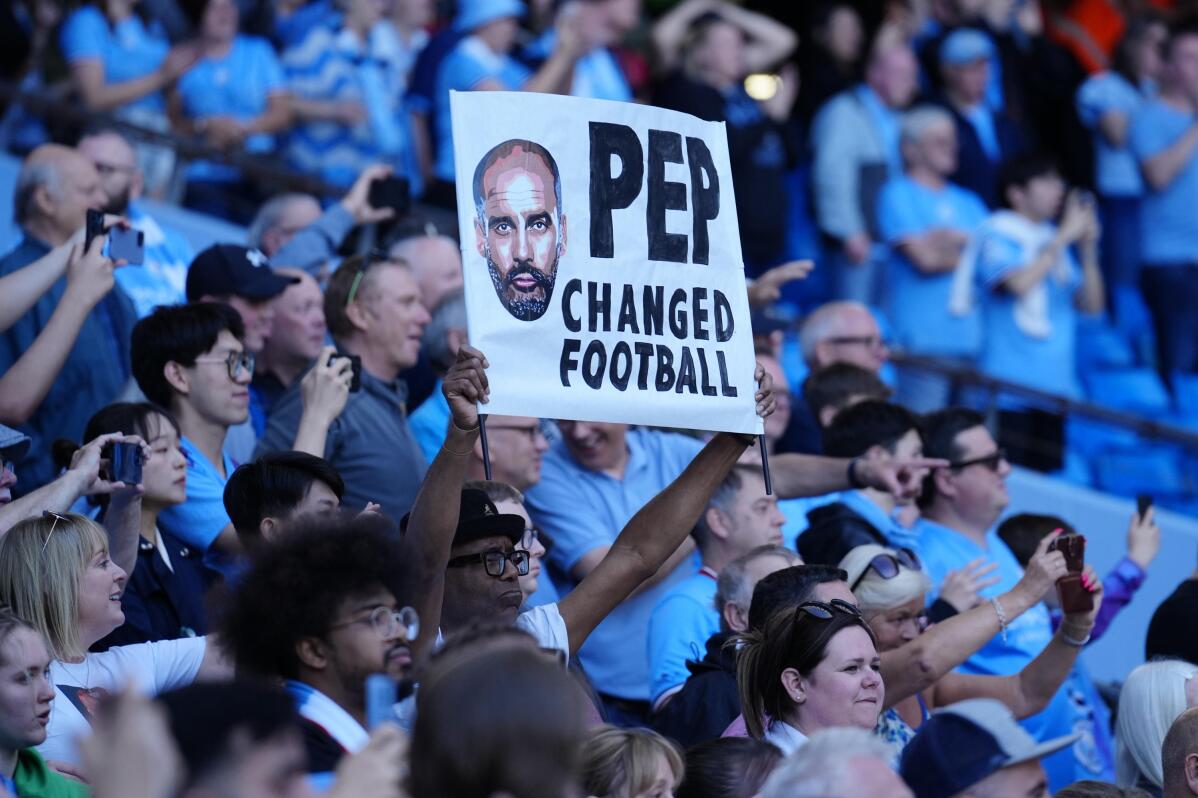 2 of 10

|
Manchester City supporters celebrate Premier League title after the English Premier League soccer match between Manchester City and Chelsea at the Etihad Stadium in Manchester, England, Sunday, May 21, 2023. (AP Photo/Jon Super)
2 of 10
Manchester City supporters celebrate Premier League title after the English Premier League soccer match between Manchester City and Chelsea at the Etihad Stadium in Manchester, England, Sunday, May 21, 2023. (AP Photo/Jon Super)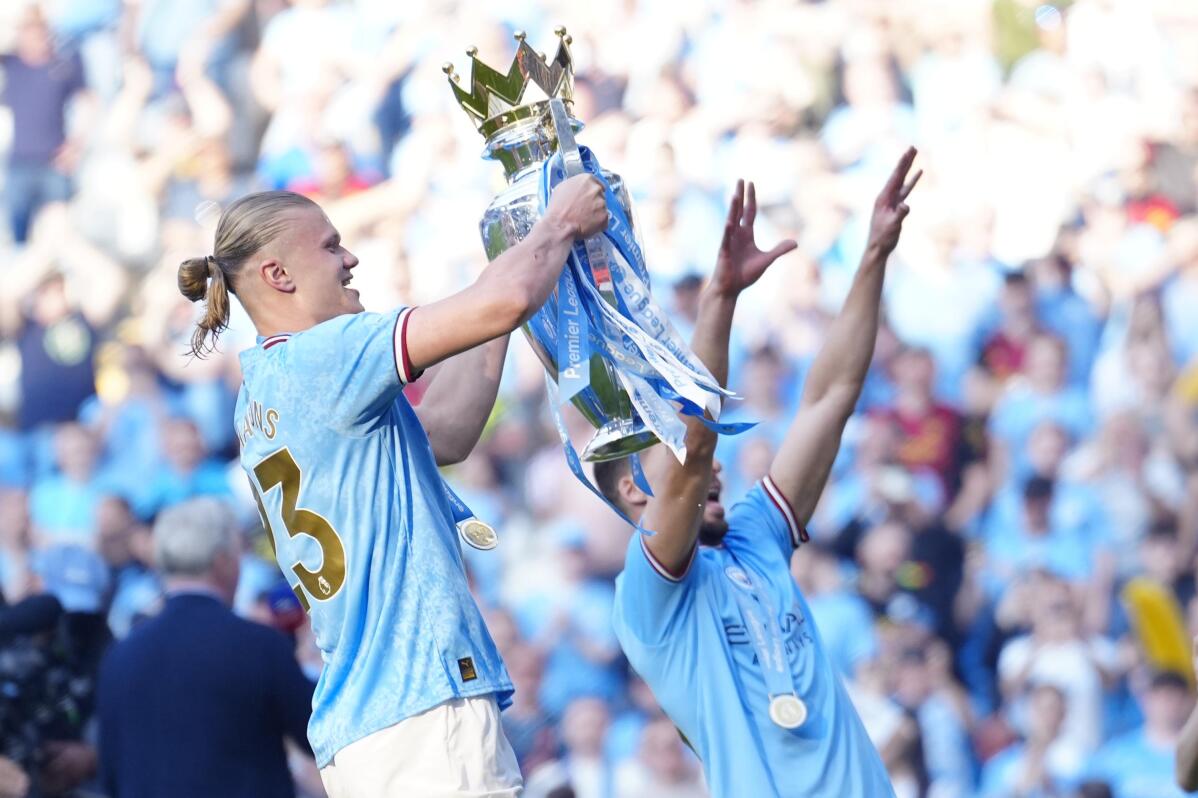 3 of 10

|
Manchester City's Erling Haaland, left, celebrates Premier League title after the English Premier League soccer match between Manchester City and Chelsea at the Etihad Stadium in Manchester, England, Sunday, May 21, 2023. (AP Photo/Jon Super)
3 of 10
Manchester City's Erling Haaland, left, celebrates Premier League title after the English Premier League soccer match between Manchester City and Chelsea at the Etihad Stadium in Manchester, England, Sunday, May 21, 2023. (AP Photo/Jon Super)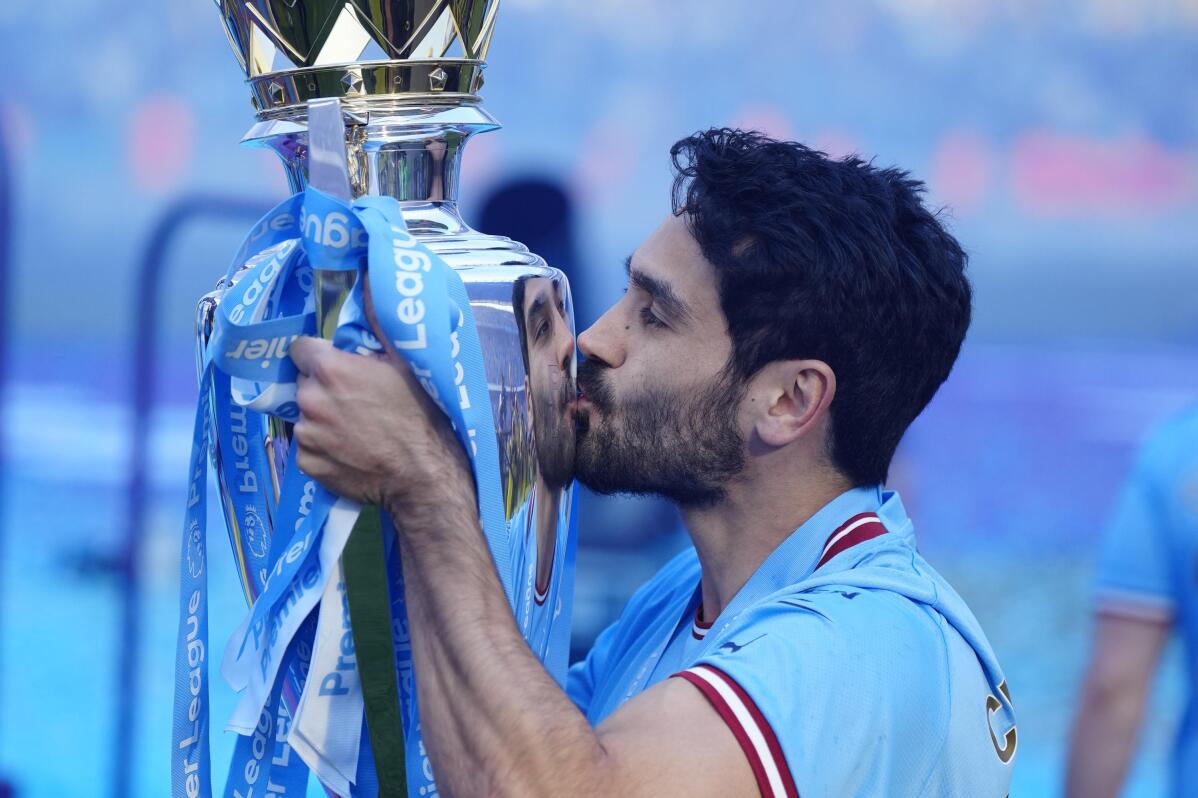 4 of 10

|
Manchester City's Ilkay Gundogan celebrates Premier League title after the English Premier League soccer match between Manchester City and Chelsea at the Etihad Stadium in Manchester, England, Sunday, May 21, 2023. (AP Photo/Jon Super)
4 of 10
Manchester City's Ilkay Gundogan celebrates Premier League title after the English Premier League soccer match between Manchester City and Chelsea at the Etihad Stadium in Manchester, England, Sunday, May 21, 2023. (AP Photo/Jon Super)
5 of 10

|
Manchester City players celebrate their Premier League title after the English Premier League soccer match between Manchester City and Chelsea at the Etihad Stadium in Manchester, England, Sunday, May 21, 2023. (AP Photo/Jon Super)
5 of 10
Manchester City players celebrate their Premier League title after the English Premier League soccer match between Manchester City and Chelsea at the Etihad Stadium in Manchester, England, Sunday, May 21, 2023. (AP Photo/Jon Super)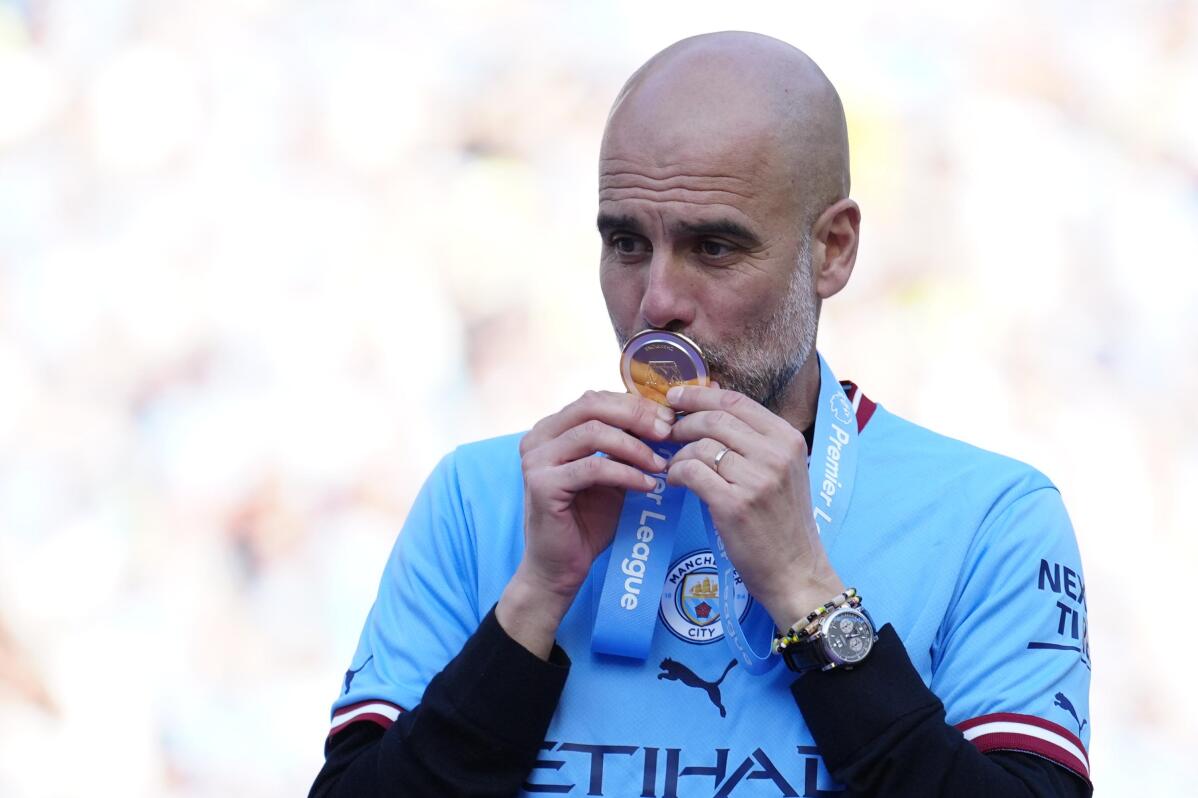 6 of 10

|
Manchester City's head coach Pep Guardiola celebrates Premier League title after the English Premier League soccer match between Manchester City and Chelsea at the Etihad Stadium in Manchester, England, Sunday, May 21, 2023. (AP Photo/Jon Super)
6 of 10
Manchester City's head coach Pep Guardiola celebrates Premier League title after the English Premier League soccer match between Manchester City and Chelsea at the Etihad Stadium in Manchester, England, Sunday, May 21, 2023. (AP Photo/Jon Super)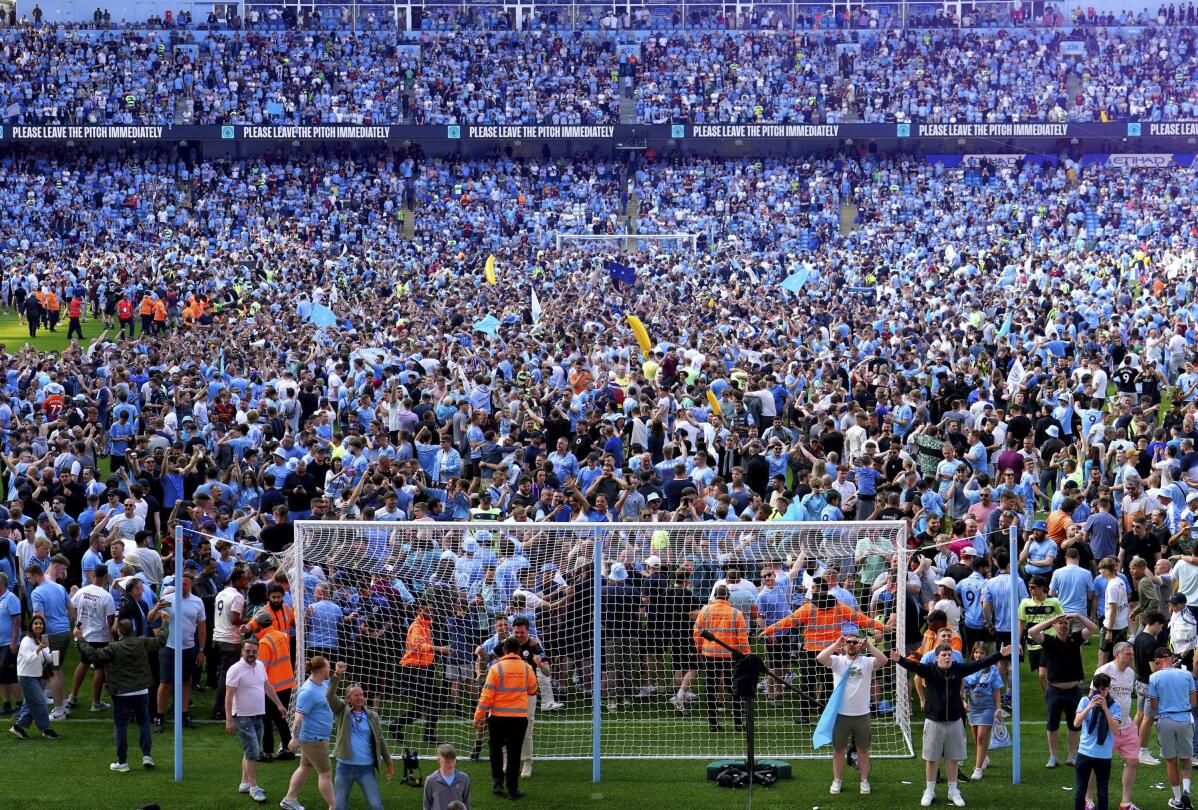 7 of 10

|
Manchester City fans invade the pitch as they celebrate their English Premier League title win at the end of the English Premier League soccer match between Manchester City and Chelsea at the Etihad Stadium in Manchester, England, Sunday, May 21, 2023. (Martin Rickett/PA via AP)
7 of 10
Manchester City fans invade the pitch as they celebrate their English Premier League title win at the end of the English Premier League soccer match between Manchester City and Chelsea at the Etihad Stadium in Manchester, England, Sunday, May 21, 2023. (Martin Rickett/PA via AP)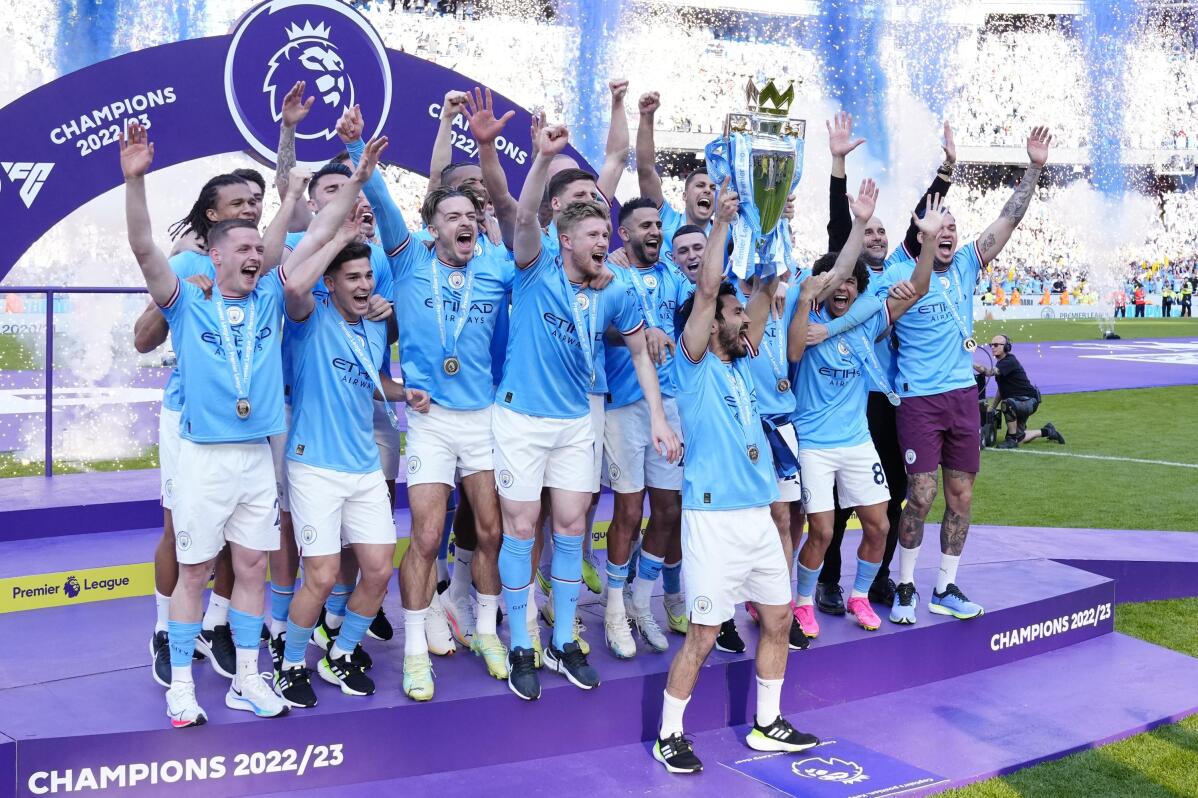 8 of 10

|
Manchester City players celebrate their Premier League title after the English Premier League soccer match between Manchester City and Chelsea at the Etihad Stadium in Manchester, England, Sunday, May 21, 2023. (AP Photo/Jon Super)
8 of 10
Manchester City players celebrate their Premier League title after the English Premier League soccer match between Manchester City and Chelsea at the Etihad Stadium in Manchester, England, Sunday, May 21, 2023. (AP Photo/Jon Super)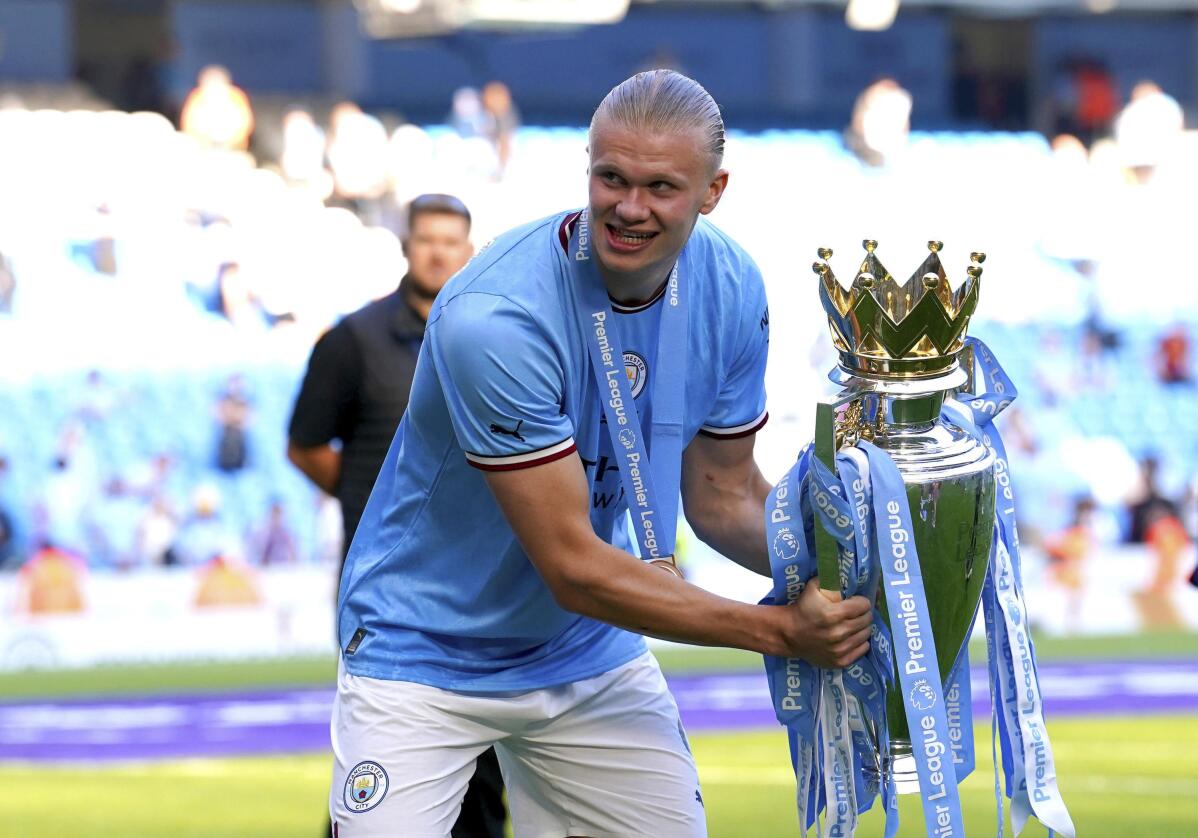 9 of 10

|
Manchester City's Erling Haaland celebrates with the Premier League trophy after their English Premier League title win at the end of the English Premier League soccer match between Manchester City and Chelsea at the Etihad Stadium in Manchester, England, Sunday, May 21, 2023. (Martin Rickett/PA via AP)
9 of 10
Manchester City's Erling Haaland celebrates with the Premier League trophy after their English Premier League title win at the end of the English Premier League soccer match between Manchester City and Chelsea at the Etihad Stadium in Manchester, England, Sunday, May 21, 2023. (Martin Rickett/PA via AP)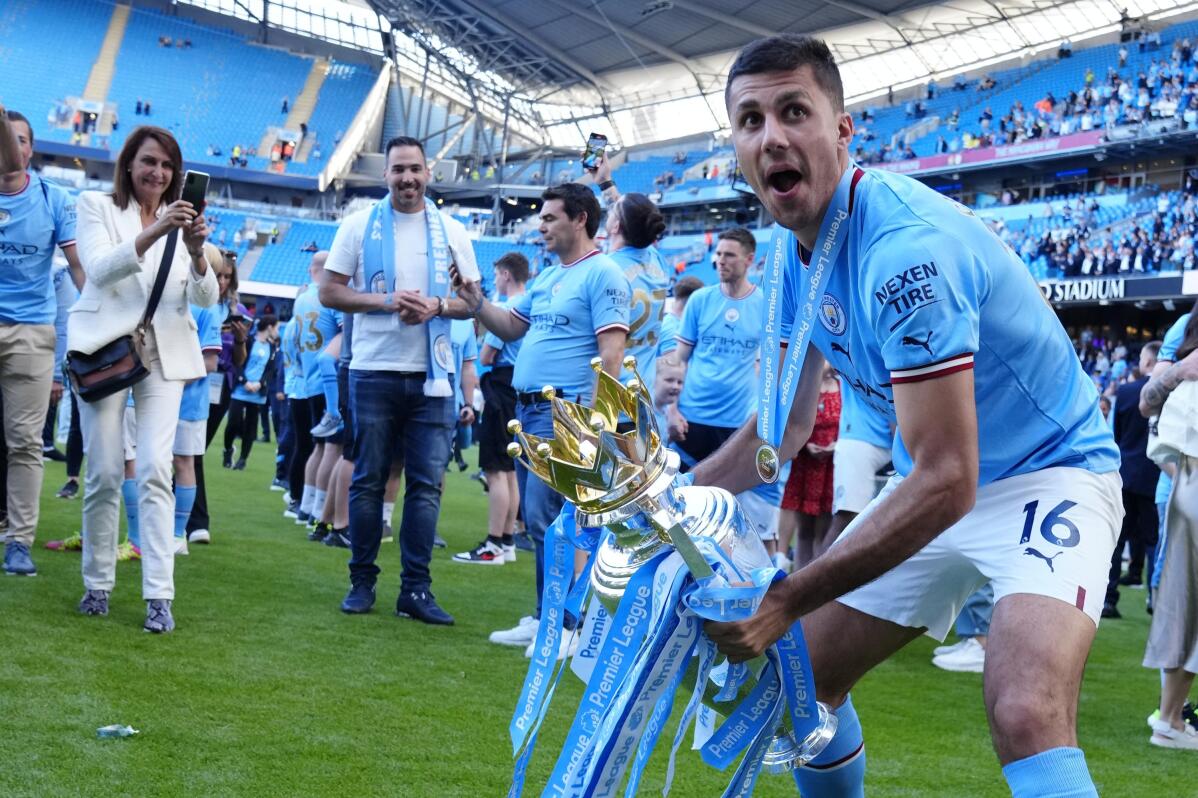 10 of 10

|
Manchester City's Rodrigo celebrates Premier League title after the English Premier League soccer match between Manchester City and Chelsea at the Etihad Stadium in Manchester, England, Sunday, May 21, 2023. (AP Photo/Jon Super)
10 of 10
Manchester City's Rodrigo celebrates Premier League title after the English Premier League soccer match between Manchester City and Chelsea at the Etihad Stadium in Manchester, England, Sunday, May 21, 2023. (AP Photo/Jon Super)
MANCHESTER, England (AP) — With an explosion of blue-and-white ticker tape, Manchester City's Premier League title celebrations erupted.
That's three league titles in a row, five out of six and who knows how many more for a team that keeps on reaching new heights?
"They've set a benchmark that has pulled them apart," Chelsea manager Frank Lampard said after his team was beaten 1-0 by the newly crowned champions on Sunday. "I think they're outstanding ... that's why they are on for a possible treble."
The first leg of that three-pronged trophy pursuit is complete, with the finals of the FA Cup and Champions League still to come.
The concern for Manchester United and Inter Milan in those respective finals is that this City team only appears to be getting stronger as the season nears a spectacular climax for Pep Guardiola.
"To be considered one of the greatest teams we have to win Europe, win the Champions League," the City manager said.
Victory against Chelsea extended City's unbeaten run to 24 games in all competitions. And even with Erling Haaland, Kevin De Bruyne and a host of star players named on the bench against Chelsea, a 12th straight win in the league was secured.
It was a run that proved too much for an Arsenal team that had led the way for much of the season, but buckled on the final stretch.
Nobody at City appears to be tiring of that winning feeling.
Certainly not Guardiola, who has now won 11 league titles in 14 seasons of management, spanning Barcelona, Bayern Munich and City.
Not the players either, who answered their coach's challenge earlier in the season by proving they had not lost their edge and sang "We Are The Champions" in the locker room.
And not the supporters, who flooded the field after the final whistle at Etihad Stadium, letting off canisters of blue smoke and celebrating joyously as a period of unprecedented success for their beloved team goes on.
While this latest title — a seventh under the ownership of Abu Dhabi's ruling family — was duly relished, the overriding feeling within the stadium was about what comes next.
One banner, carried onto the field by fans, read: "The treble is on" and Kyle Walker spoke of the team's determination to "create history."
In that sense, it would feel like an underwhelming end to the campaign if City failed to add to the league title.
That is a natural consequence of Guardiola's dominance and why the pressure on him grows to finally conquer Europe with this team.
For City's English rivals, however, the title remains a dream and Arsenal — like Liverpool in recent years — has learned the hard way just how painful it can be to go head-to-head with Guardiola.
In the end, Mikel Arteta's side fell away all too easily, winning just two of its last eight games. But for much of the season, it felt like Arsenal would hold on for a first title in 19 years.
It might not get a better chance to beat City than this year when Guardiola's players struggled for consistency before going on a relentless march from February.
Even then, Arsenal led the table by eight points as recently as April 7, but still couldn't hold off City's charge.
"Arsenal brought us to our limits, otherwise (we) would not win these 12 games in a row," Guardiola said. "We didn't give up and they felt that we were there."
It is possible to imagine City getting stronger next season, with 52-goal Haaland more settled in the team and the league.
New signings are also likely to come in during the off-season and Guardiola's new three-man defensive system may also be more refined after changing his formation during this campaign.
That is for the future. On Sunday it was all about City's latest party, but Guardiola hopes the end of season celebrations have only just begun.
LEEDS NEARS RELEGATION
The Sam Allardyce experiment looks destined to fail after Leeds' 3-1 loss at West Ham on Sunday pushed it to the brink of relegation.
Leeds needs to win against Tottenham on the last day of the season and hope that other results go its way to avoid the drop.
Rodrigo opened the scoring at London Stadium, but goals from Declan Rice, Jarrod Bowen and Manuel Lanzini consigned Leeds to a latest defeat.
Allardyce was tasked with the job of ensuring survival at the start of May, but has only picked up one point in his three games in charge.
"It was always going to be a difficult task," the 68-year-old former England coach said. "Lots of people said I'm mad for taking it. I'm not mad. I just love football and Leeds United was too big a job to turn down for me, however short it was."
BRIGHTON INTO EUROPE
Roberto de Zerbi might be one of the most in-demand coaches around this summer — but he says he has his sights set on leading Brighton into Europe next season.
"The club, the players, me, my staff, and the fans, they have to organize their passports to travel in Europe next year because we have to grow together," he said after a 3-1 win against relegated Southampton on Sunday.
Few could have predicted such a successful season for Brighton after manager Graham Potter left for Chelsea in September.
But De Zerbi has taken the club to new levels after leading it to Europe for the first time in its history.
That was secured against Southampton, with Evan Ferguson scoring twice in the first half to set up the win.
Mohamed Elyounoussi pulled one back after the break, but Pascal Gross' goal sealed a 3-1 victory.
Brighton can't now finish lower than seventh — in the Europa Conference League spot — though a sixth-place finish and a Europa League berth are all but mathematically guaranteed.
___
James Robson is at https://twitter.com/jamesalanrobson
___
More AP soccer: https://apnews.com/hub/soccer and https://twitter.com/AP_Sports