Man City routs Liverpool 4-1 without injured Haaland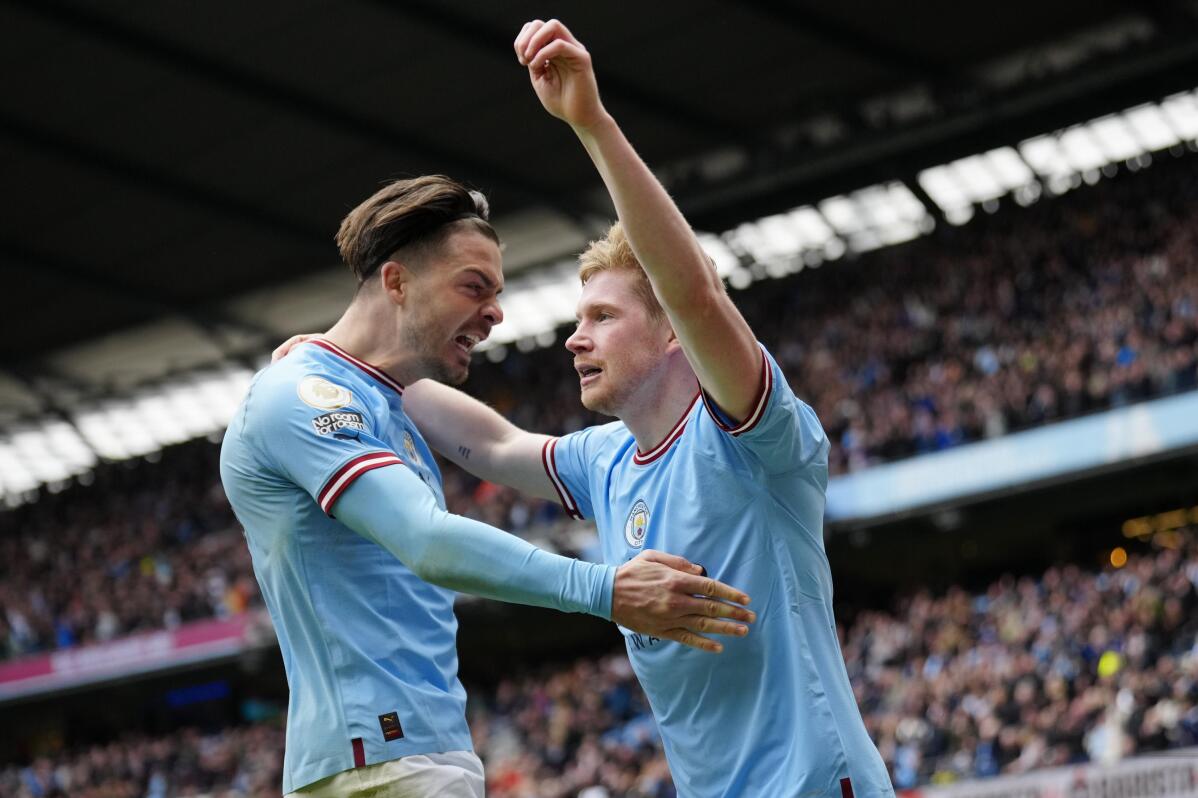 1 of 6

|
Manchester City's Kevin De Bruyne, right, celebrates with teammate Jack Grealish after scoring his his side's 2nd goal during the English Premier League soccer match between Manchester City and Liverpool at Etihad stadium in Manchester, England, Saturday, April 1, 2023. (AP Photo/Jon Super)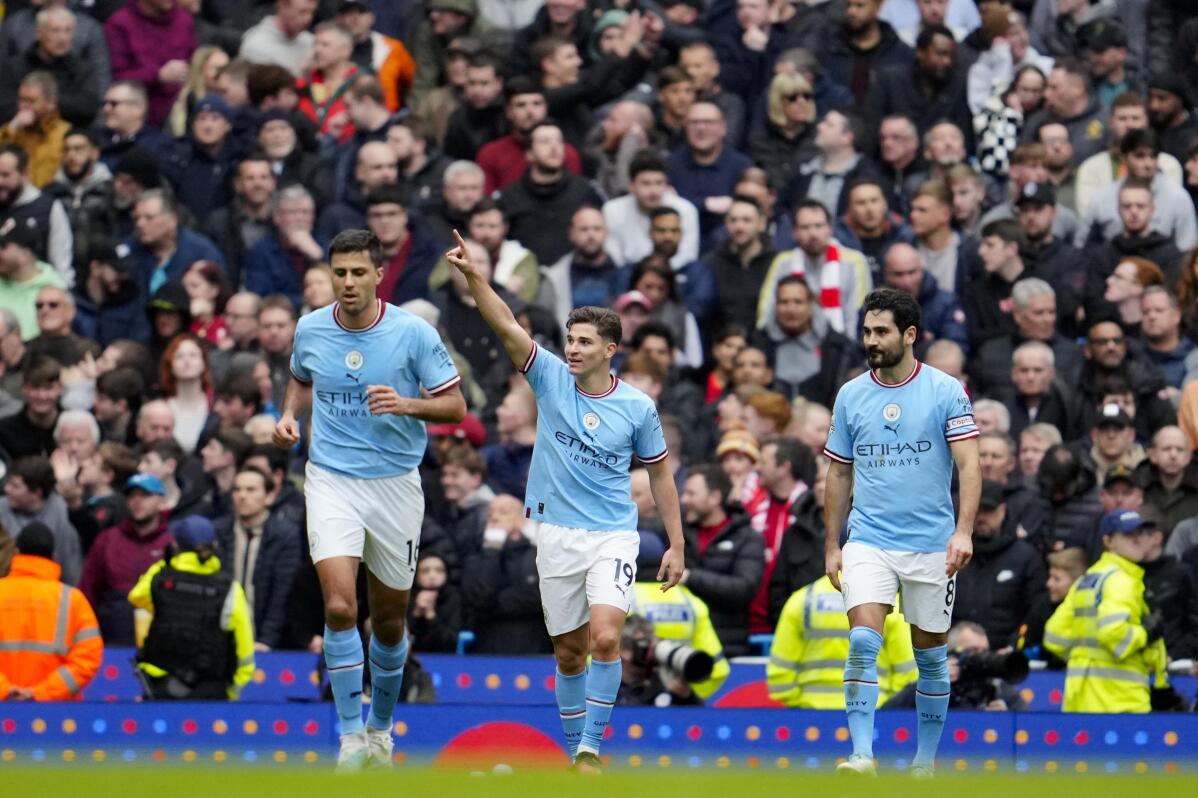 2 of 6

|
Manchester City's Julian Alvarez, center, celebrates with teammates after scoring his side's first goal during the English Premier League soccer match between Manchester City and Liverpool at Etihad stadium in Manchester, England,Saturday, April 1, 2023. (AP Photo/Jon Super)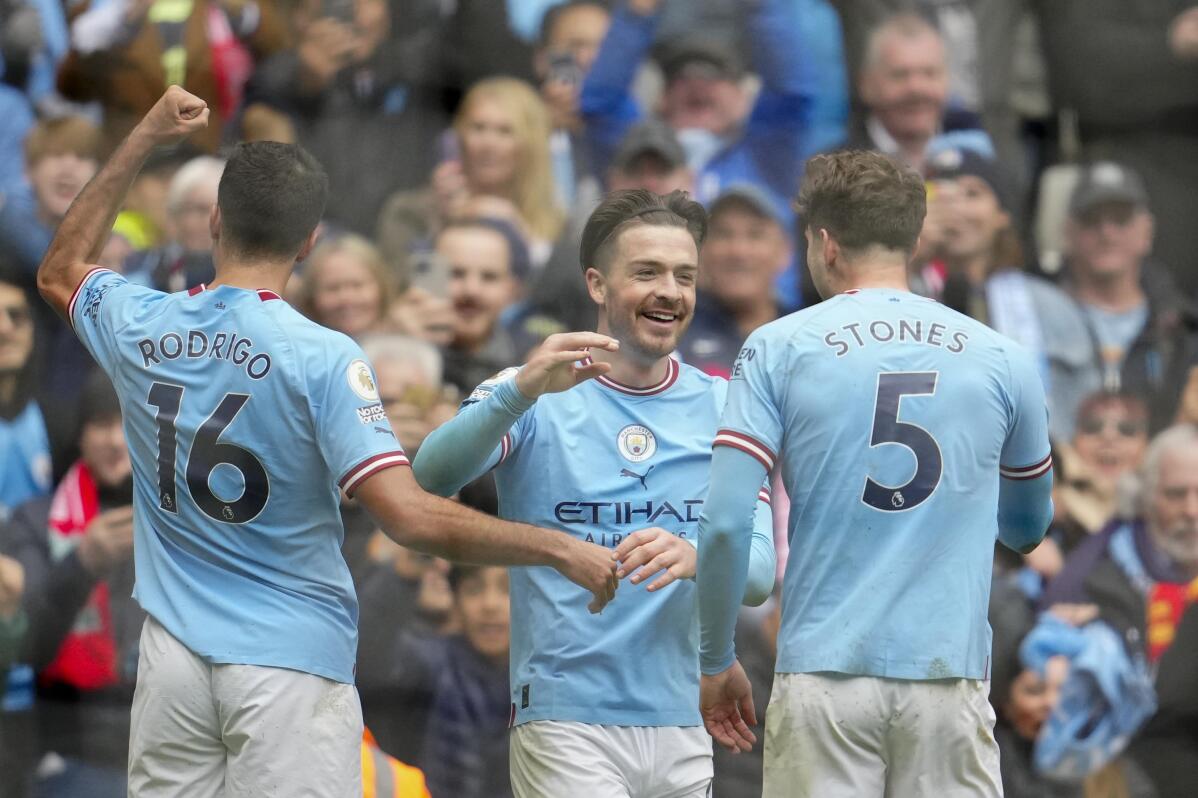 3 of 6

|
Manchester City's Jack Grealish, center, celebrates with teammates after scoring his his side's fourth goal during the English Premier League soccer match between Manchester City and Liverpool at Etihad stadium in Manchester, England, Saturday, April 1, 2023. (AP Photo/Jon Super)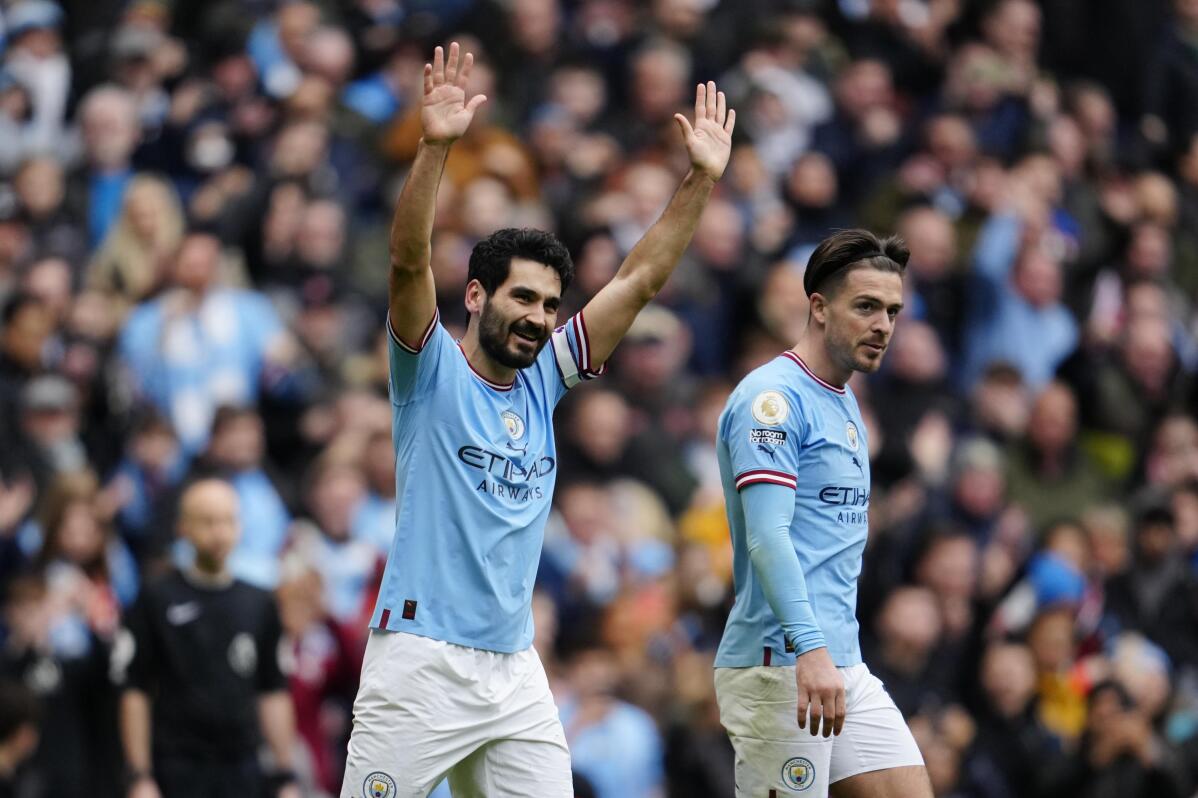 4 of 6

|
Manchester City's Ilkay Gundogan, left, celebrates after scoring his his side's third goal during the English Premier League soccer match between Manchester City and Liverpool at Etihad stadium in Manchester, England, Saturday, April 1, 2023. (AP Photo/Jon Super)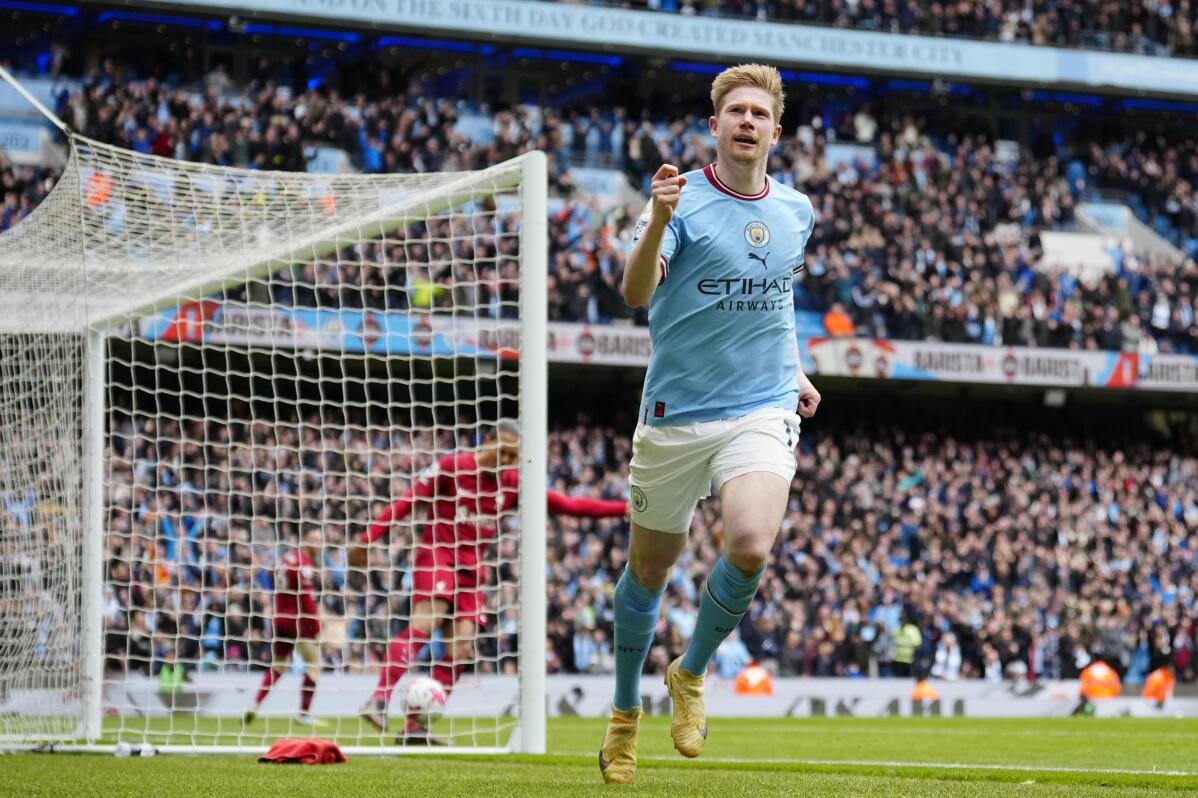 5 of 6

|
Manchester City's Kevin De Bruyne celebrates after scoring his his side's 2nd goal during the English Premier League soccer match between Manchester City and Liverpool at Etihad stadium in Manchester, England, Saturday, April 1, 2023. (AP Photo/Jon Super)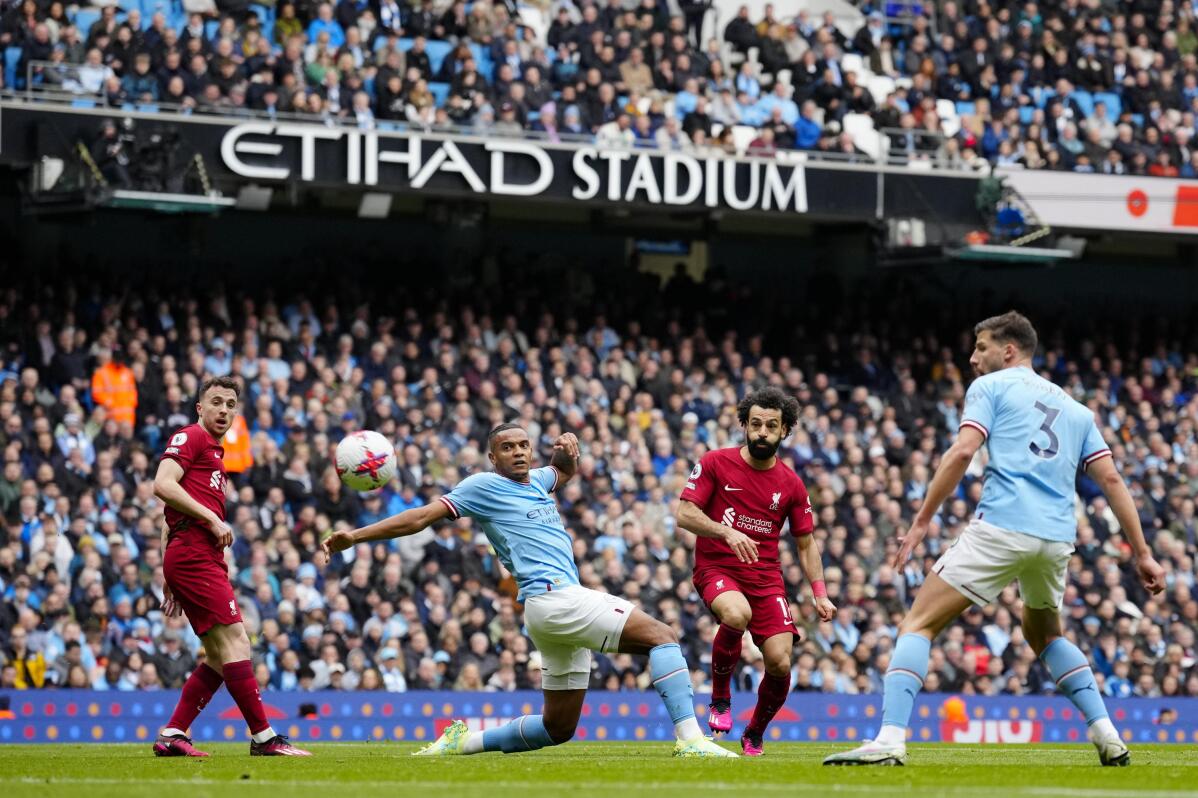 6 of 6

|
Liverpool's Mohamed Salah, second from right, scores his side's opening goal during the English Premier League soccer match between Manchester City and Liverpool at Etihad stadium in Manchester, England, Saturday, April 1, 2023. (AP Photo/Jon Super)
Man City routs Liverpool 4-1 without injured Haaland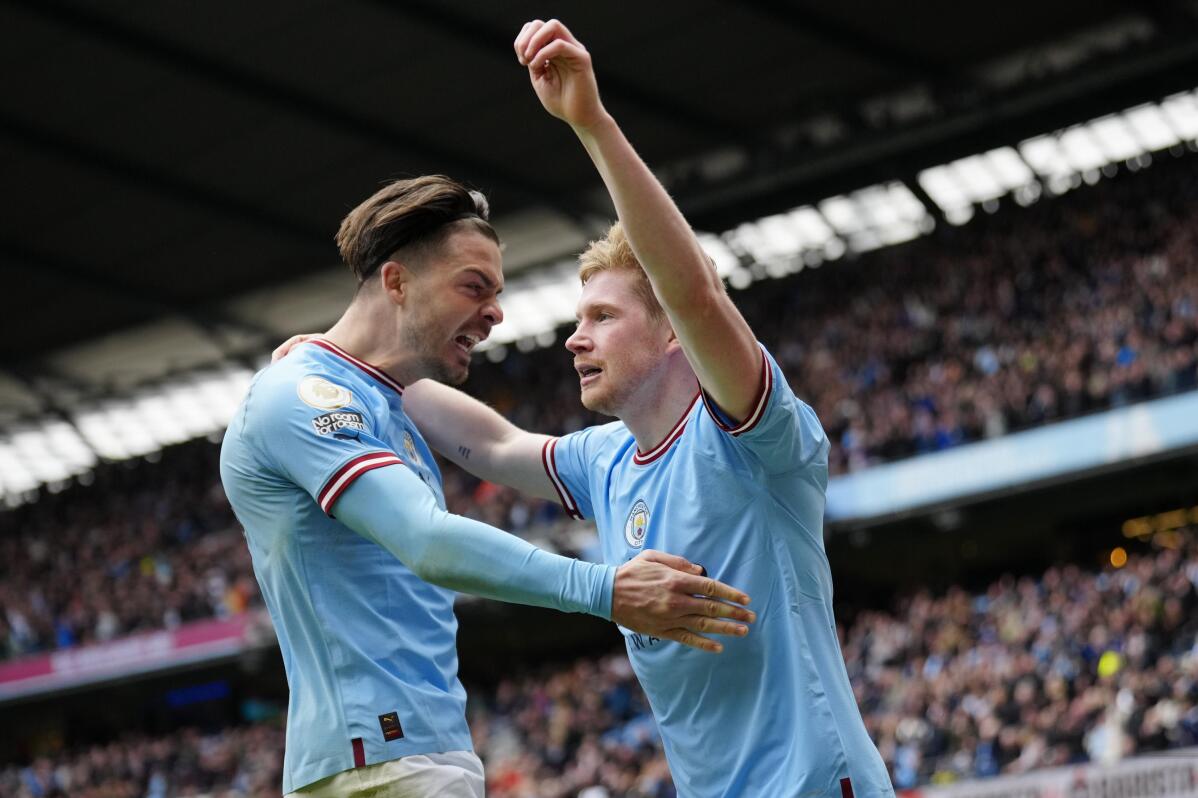 1 of 6

|
Manchester City's Kevin De Bruyne, right, celebrates with teammate Jack Grealish after scoring his his side's 2nd goal during the English Premier League soccer match between Manchester City and Liverpool at Etihad stadium in Manchester, England, Saturday, April 1, 2023. (AP Photo/Jon Super)
1 of 6
Manchester City's Kevin De Bruyne, right, celebrates with teammate Jack Grealish after scoring his his side's 2nd goal during the English Premier League soccer match between Manchester City and Liverpool at Etihad stadium in Manchester, England, Saturday, April 1, 2023. (AP Photo/Jon Super)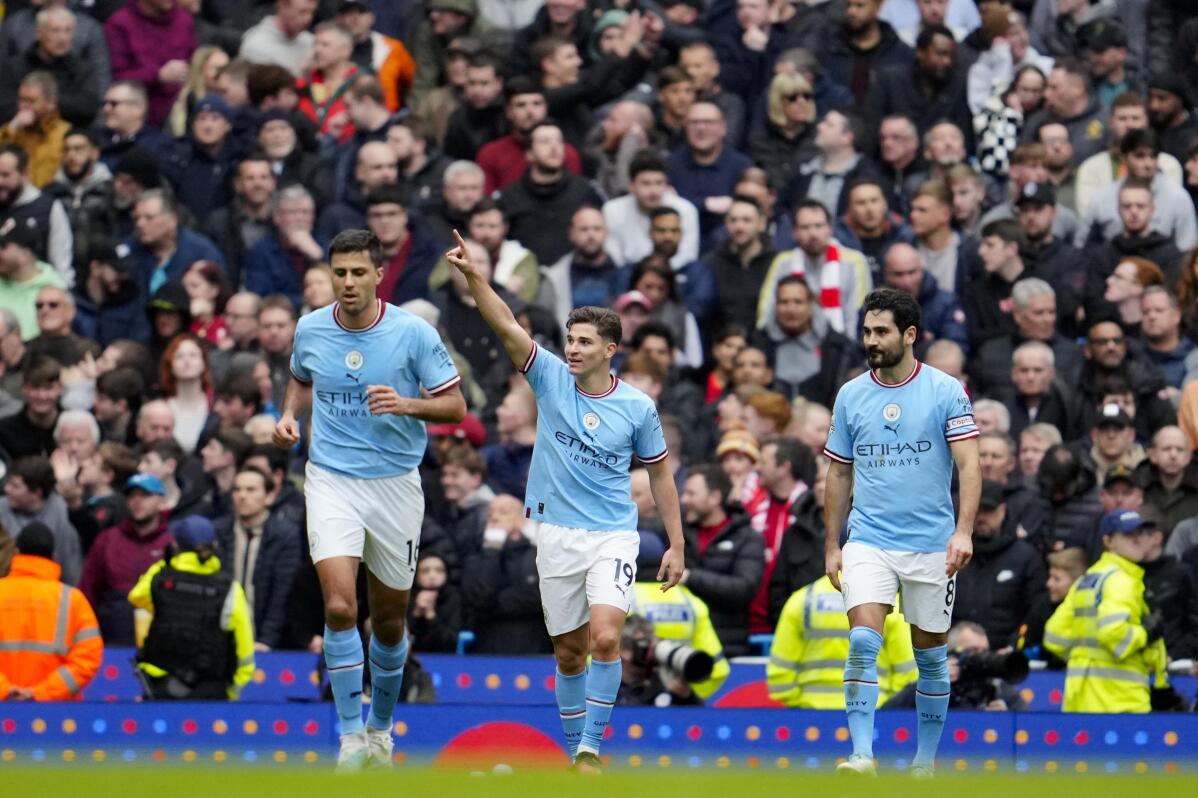 2 of 6

|
Manchester City's Julian Alvarez, center, celebrates with teammates after scoring his side's first goal during the English Premier League soccer match between Manchester City and Liverpool at Etihad stadium in Manchester, England,Saturday, April 1, 2023. (AP Photo/Jon Super)
2 of 6
Manchester City's Julian Alvarez, center, celebrates with teammates after scoring his side's first goal during the English Premier League soccer match between Manchester City and Liverpool at Etihad stadium in Manchester, England,Saturday, April 1, 2023. (AP Photo/Jon Super)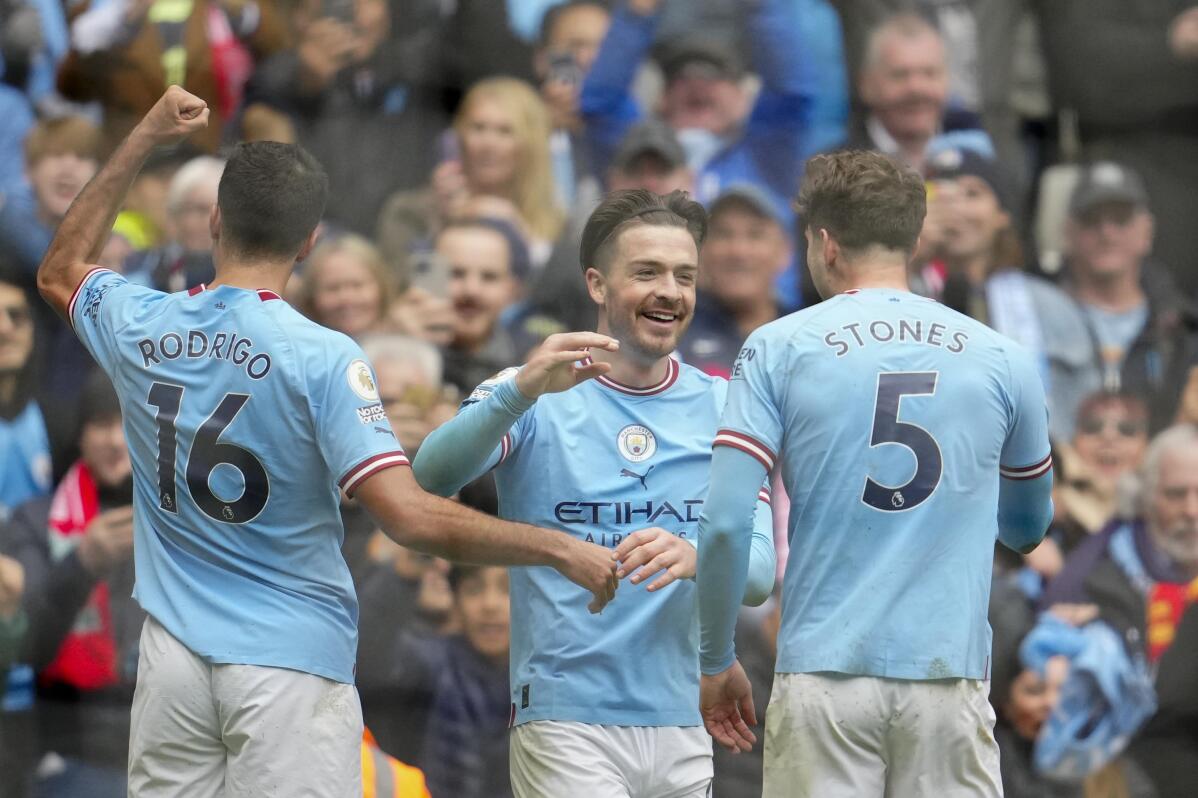 3 of 6

|
Manchester City's Jack Grealish, center, celebrates with teammates after scoring his his side's fourth goal during the English Premier League soccer match between Manchester City and Liverpool at Etihad stadium in Manchester, England, Saturday, April 1, 2023. (AP Photo/Jon Super)
3 of 6
Manchester City's Jack Grealish, center, celebrates with teammates after scoring his his side's fourth goal during the English Premier League soccer match between Manchester City and Liverpool at Etihad stadium in Manchester, England, Saturday, April 1, 2023. (AP Photo/Jon Super)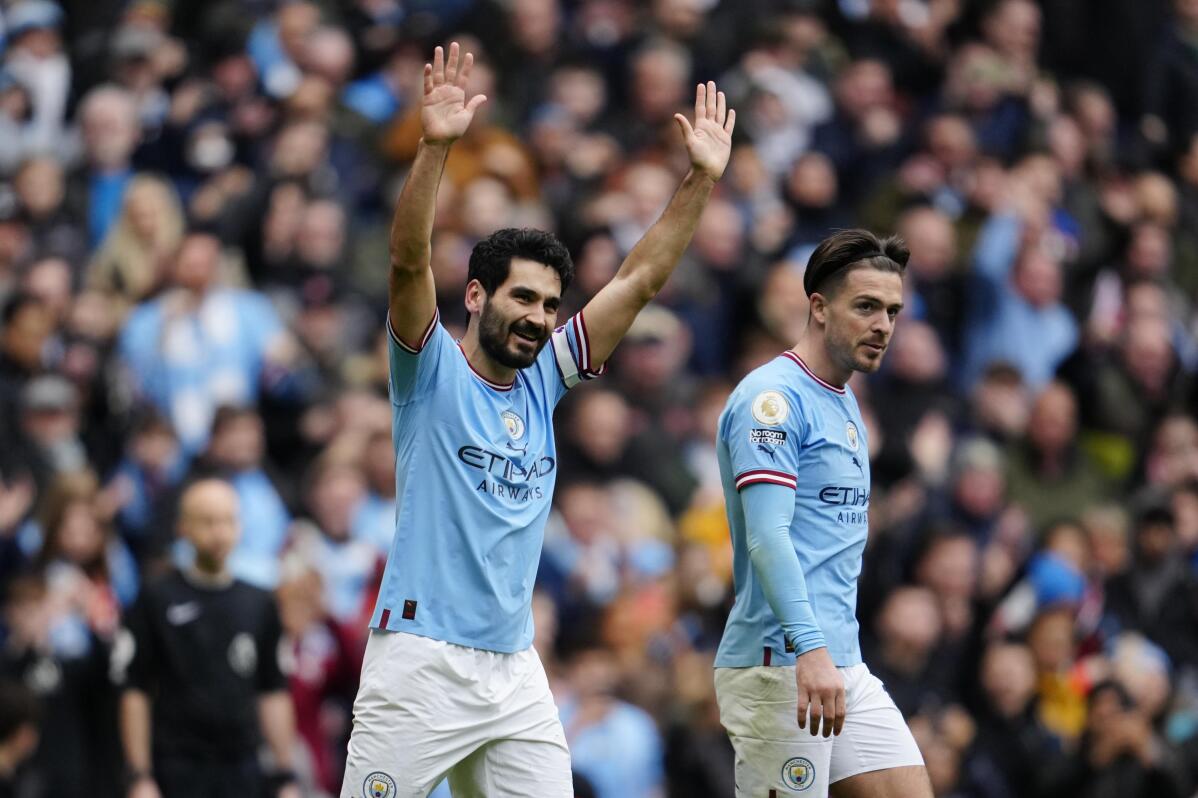 4 of 6

|
Manchester City's Ilkay Gundogan, left, celebrates after scoring his his side's third goal during the English Premier League soccer match between Manchester City and Liverpool at Etihad stadium in Manchester, England, Saturday, April 1, 2023. (AP Photo/Jon Super)
4 of 6
Manchester City's Ilkay Gundogan, left, celebrates after scoring his his side's third goal during the English Premier League soccer match between Manchester City and Liverpool at Etihad stadium in Manchester, England, Saturday, April 1, 2023. (AP Photo/Jon Super)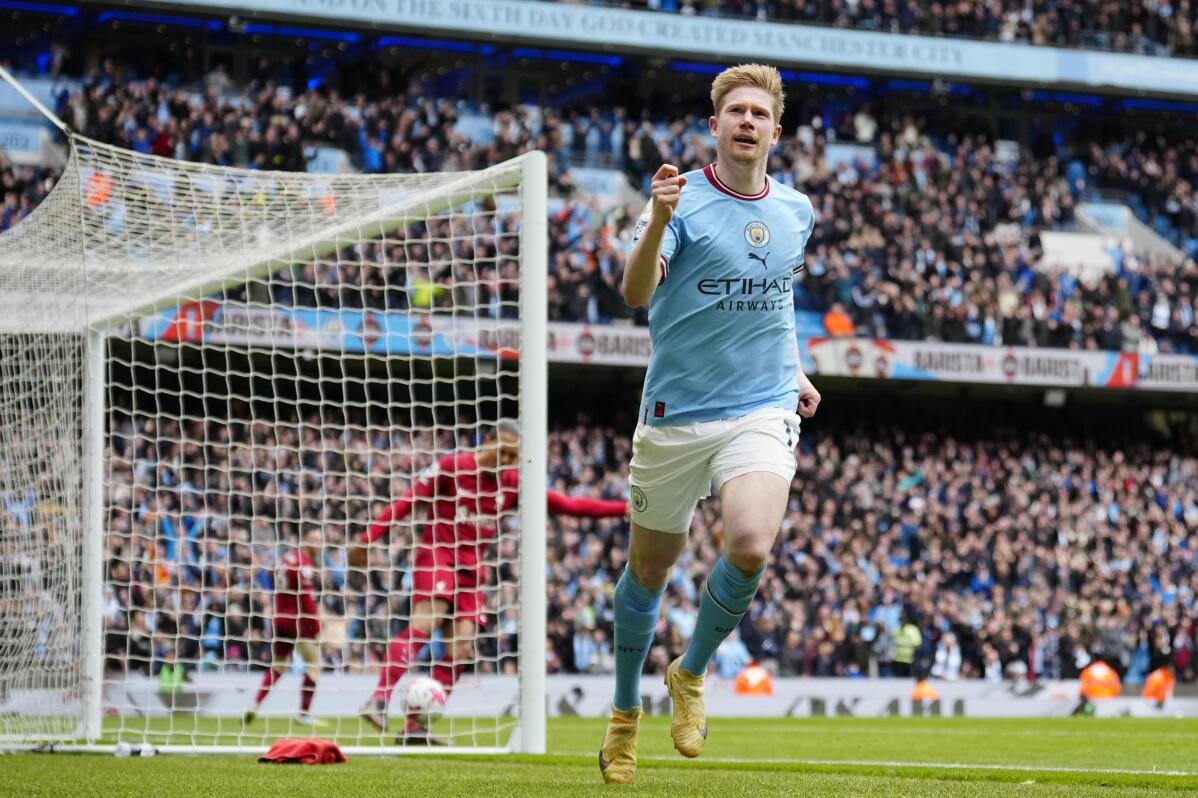 5 of 6

|
Manchester City's Kevin De Bruyne celebrates after scoring his his side's 2nd goal during the English Premier League soccer match between Manchester City and Liverpool at Etihad stadium in Manchester, England, Saturday, April 1, 2023. (AP Photo/Jon Super)
5 of 6
Manchester City's Kevin De Bruyne celebrates after scoring his his side's 2nd goal during the English Premier League soccer match between Manchester City and Liverpool at Etihad stadium in Manchester, England, Saturday, April 1, 2023. (AP Photo/Jon Super)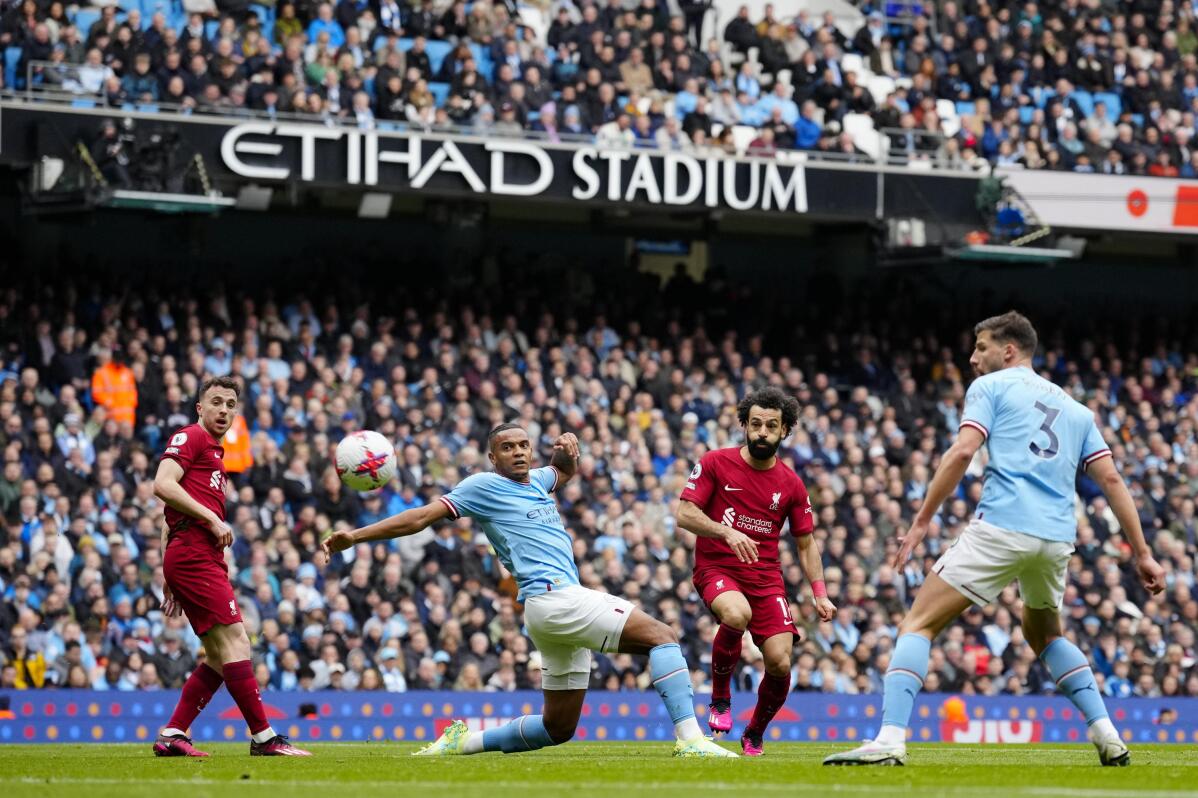 6 of 6

|
Liverpool's Mohamed Salah, second from right, scores his side's opening goal during the English Premier League soccer match between Manchester City and Liverpool at Etihad stadium in Manchester, England, Saturday, April 1, 2023. (AP Photo/Jon Super)
6 of 6
Liverpool's Mohamed Salah, second from right, scores his side's opening goal during the English Premier League soccer match between Manchester City and Liverpool at Etihad stadium in Manchester, England, Saturday, April 1, 2023. (AP Photo/Jon Super)
MANCHESTER, England (AP) — No Erling Haaland, no problem for Manchester City.
Even without the Premier League's leading scorer, Pep Guardiola's team came from behind to rout Liverpool 4-1 on Saturday and stay in pursuit of first-place Arsenal.
Haaland, who has scored 42 goals in all competitions this season, was ruled out of the game at Etihad Stadium after failing to recover from a groin injury.
But even after falling behind to a strike from Mohamed Salah, City powered back with goals from Julian Alvarez, Kevin de Bruyne, Ilkay Gundogan and Jack Grealish to keep the pressure on Arsenal and deliver another blow to Liverpool's Champions League qualification hopes.
City's dominance was so complete that by the end Jurgen Klopp said the result could have been even worse for his team.
"We just had to follow as they did whatever they wanted," the Liverpool manager said. "We were lucky they weren't in a greedy mood."
The game represented one of the biggest remaining tests in City's league campaign and defeat would have allowed Arsenal, which beat Leeds 4-1 later in the day, the chance to extend its lead at the top to 11 points.
That looked like a real possibility when Liverpool scored against the run of play early on, with Diogo Jota bursting past City's high defensive line and laying off to Salah to sweep a shot into the corner.
But City evened the score when Alvarez, Argentina's World Cup winning striker, converted Grealish's cross in the 27th.
Liverpool had no answer to City's attacking quality in the second half, with De Bruyne poking home a cross from Riyad Mahrez less than a minute after the restart.
Gundogan added a third from close range in the 54th, and Grealish got a deserved goal to round off the scoring in the 74th.
It was Guardiola's 100th home win in the league with City in 128 games at Etihad Stadium. He is the quickest manager to achieve that feat, beating Arsene Wenger's record of reaching that total in 139 games.
"Our display was almost perfect from the first minute to minute 93 in the way we played against a team, our big rival in the last seasons," Guardiola said.
Liverpool remains seven points off fourth-place Tottenham and still hasn't won a league match at Etihad Stadium since 2015.
Klopp's team has now lost three straight games since routing Manchester United 7-0 last month.
"In the end, we had moments but in general how we lost everything, unacceptable," Klopp said.
The Liverpool manager said "four-ish" of his players "had an OK game, and the rest were somewhere I don't know."
___
James Robson is at https://twitter.com/jamesalanrobson
___
More AP soccer: https://apnews.com/hub/soccer and https://twitter.com/AP_Sports