Arsenal extends lead, Man U and Grimsby into FA Cup quarters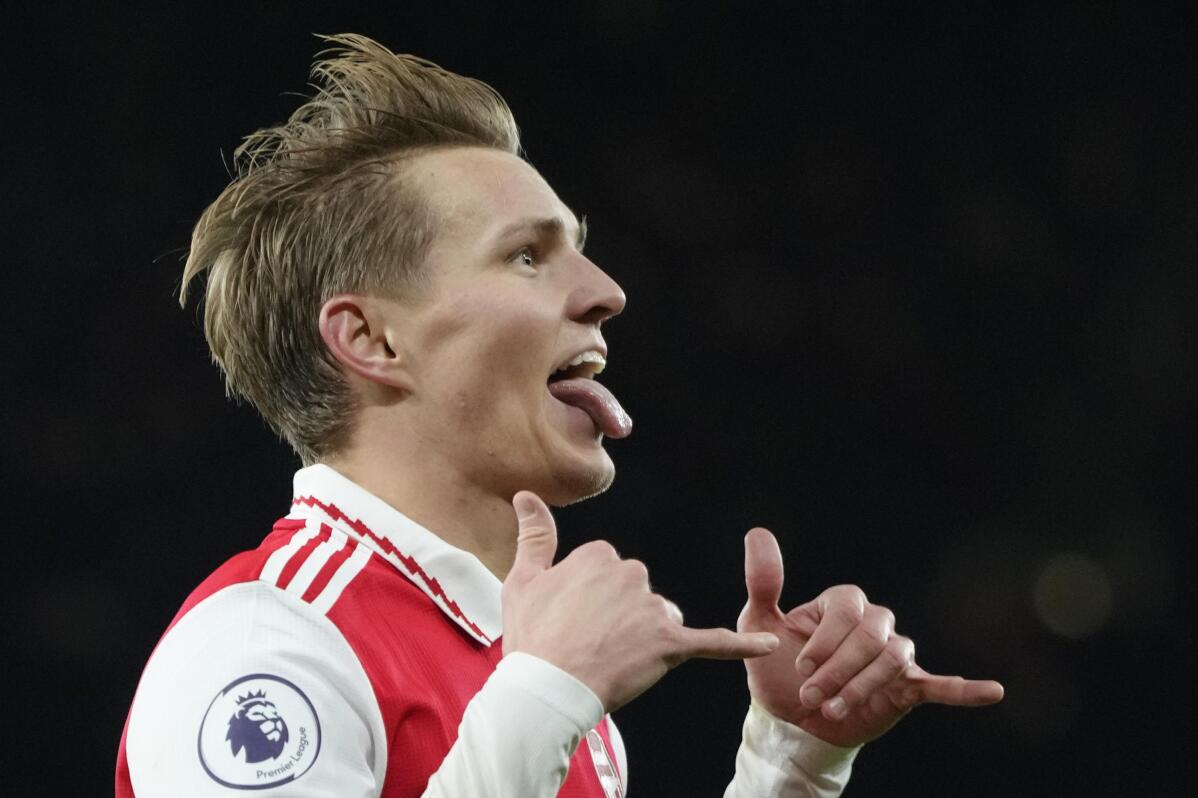 1 of 6

|
Arsenal's Martin Odegaard celebrates after scoring his side's third goal during the English Premier League soccer match between Arsenal and Everton at the Emirates stadium in London, Wednesday, March 1, 2023. (AP Photo/Kirsty Wigglesworth)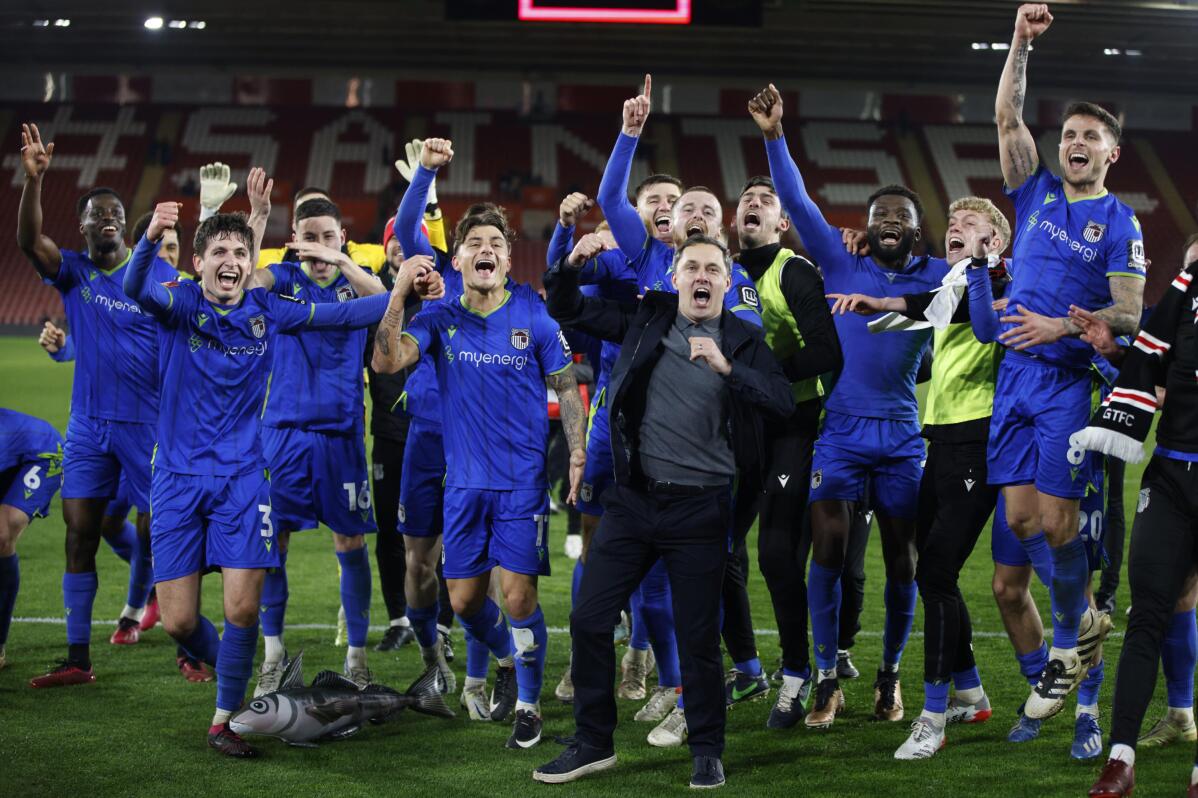 2 of 6

|
Grimsby's coach Paul Hurst celebrates with his players after winning the English FA Cup fifth round soccer match between Southampton and Grimsby Town at St Mary's Stadium in Southampton, England Wednesday, March 1, 2023. Grimsby Town won 2-1. (AP Photo/David Cliff)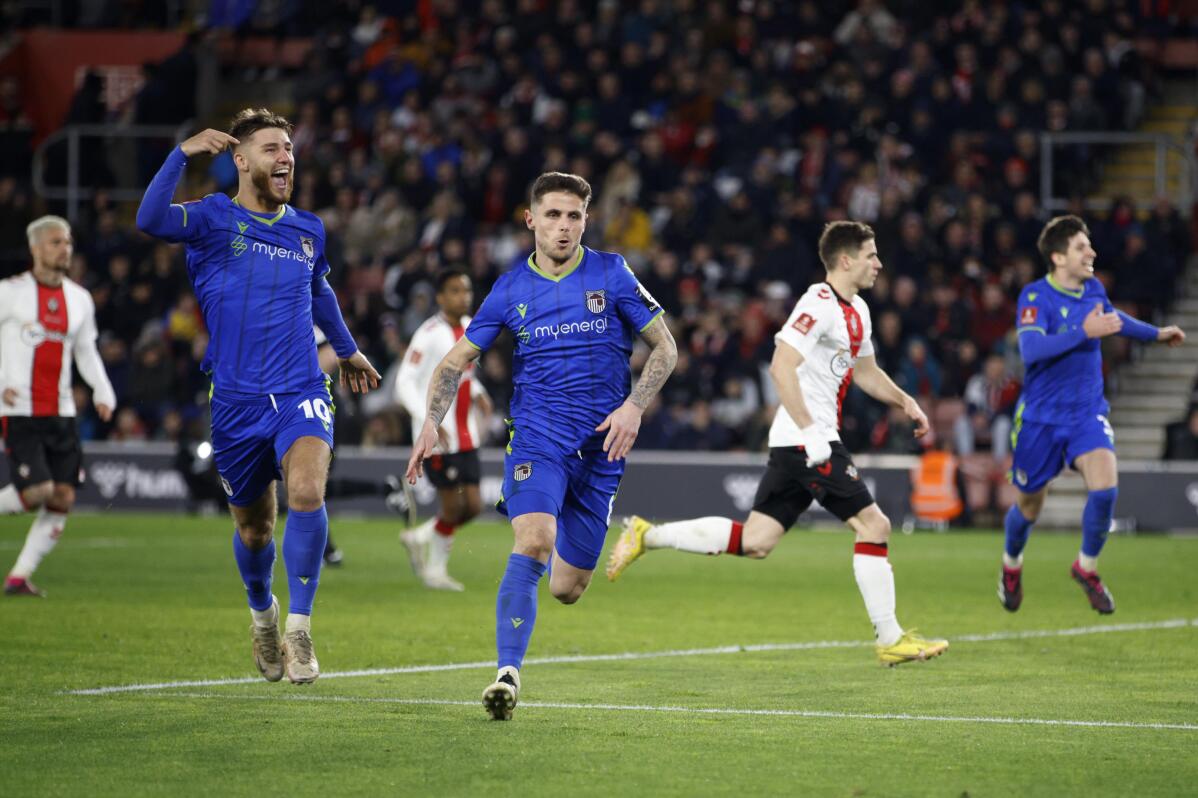 3 of 6

|
Grimsby's Gavan Holohan, centre, celebrates after scoring his side's second goal during the English FA Cup fifth round soccer match between Southampton and Grimsby Town at St Mary's Stadium in Southampton, England Wednesday, March 1, 2023. (AP Photo/David Cliff)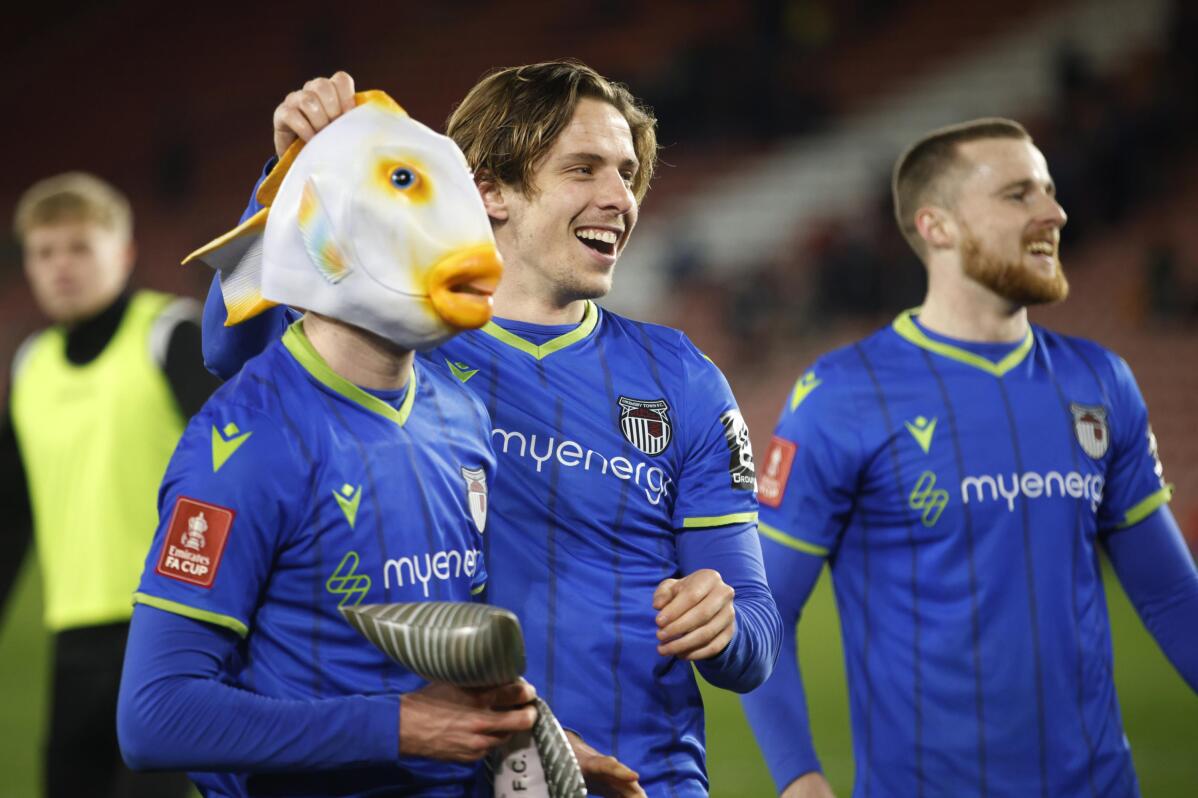 4 of 6

|
Grimsby's Anthony Glenn, left, and Grimsby's Danilo Orsi celebrate after winning the English FA Cup fifth round soccer match between Southampton and Grimsby Town at St Mary's Stadium in Southampton, England Wednesday, March 1, 2023. Grimsby Town won 2-1. (AP Photo/David Cliff)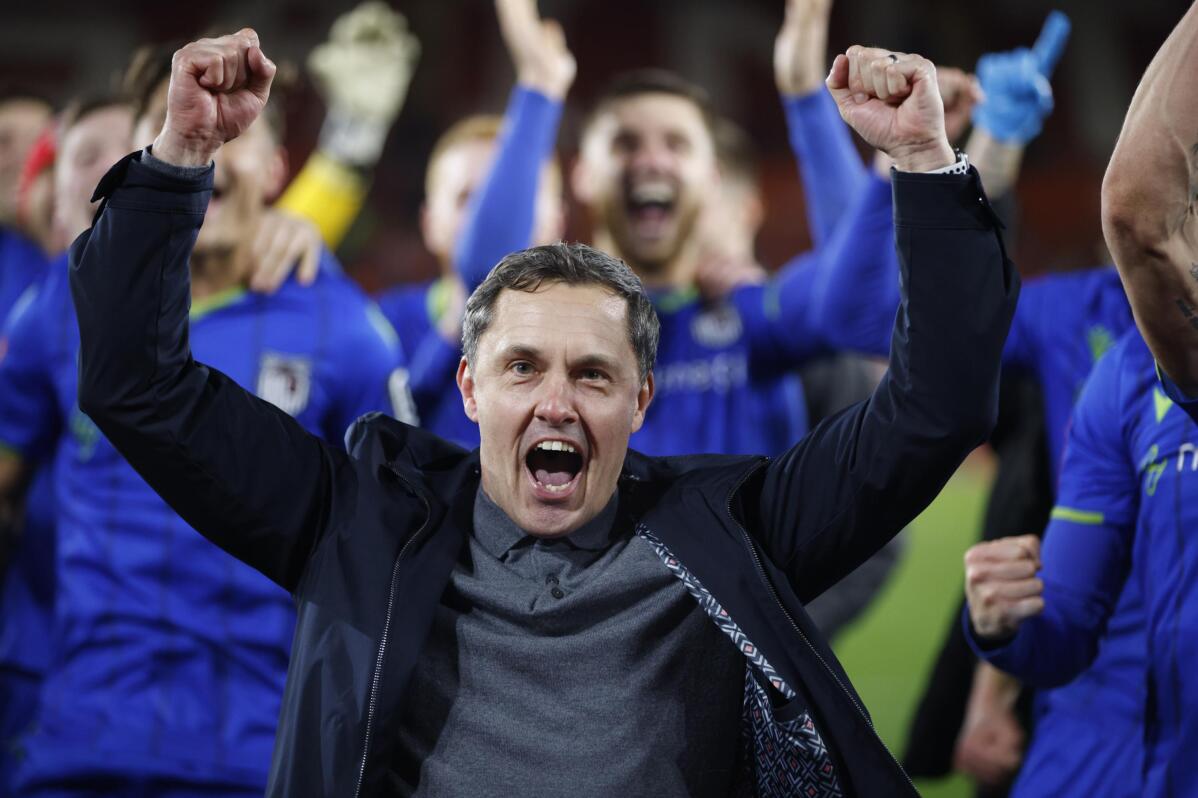 5 of 6

|
Grimsby's coach Paul Hurst celebrates with his players after winning the English FA Cup fifth round soccer match between Southampton and Grimsby Town at St Mary's Stadium in Southampton, England Wednesday, March 1, 2023. Grimsby Town won 2-1. (AP Photo/David Cliff)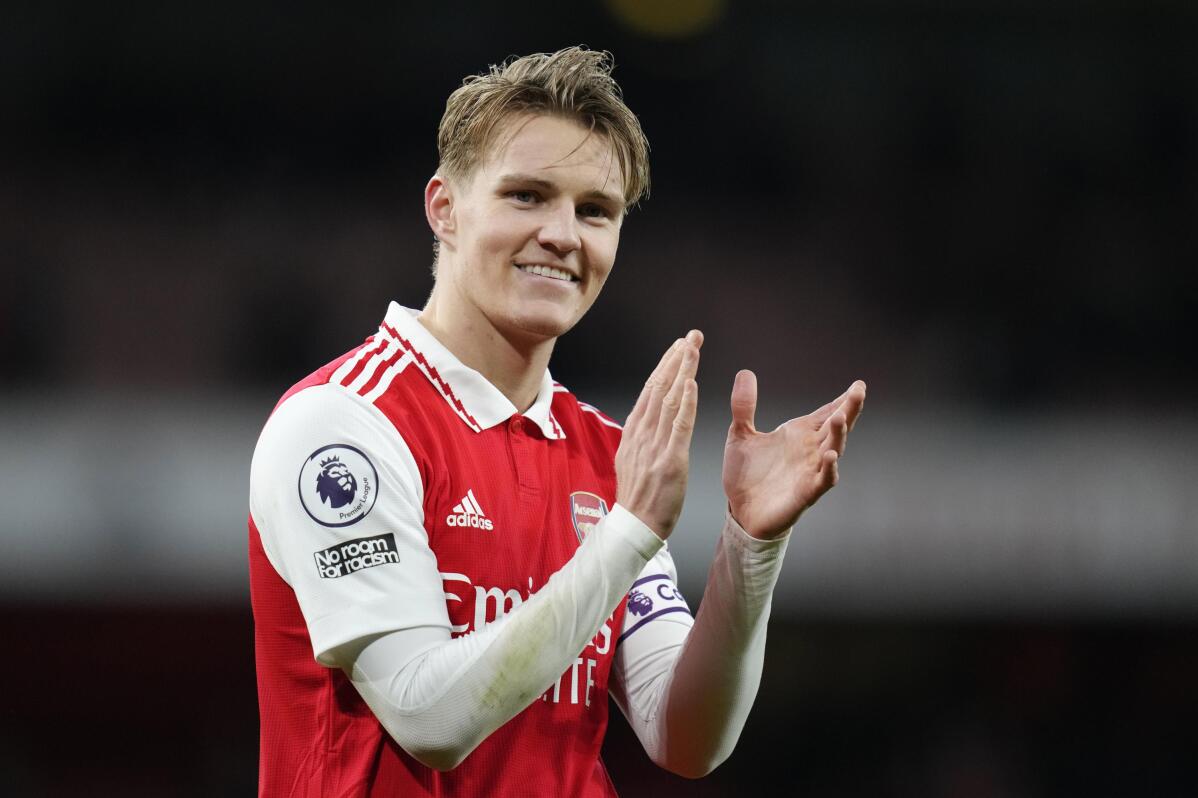 6 of 6

|
Arsenal's Martin Odegaard celebrates after the English Premier League soccer match between Arsenal and Everton at the Emirates stadium in London, Wednesday, March 1, 2023. (AP Photo/Kirsty Wigglesworth)
Arsenal extends lead, Man U and Grimsby into FA Cup quarters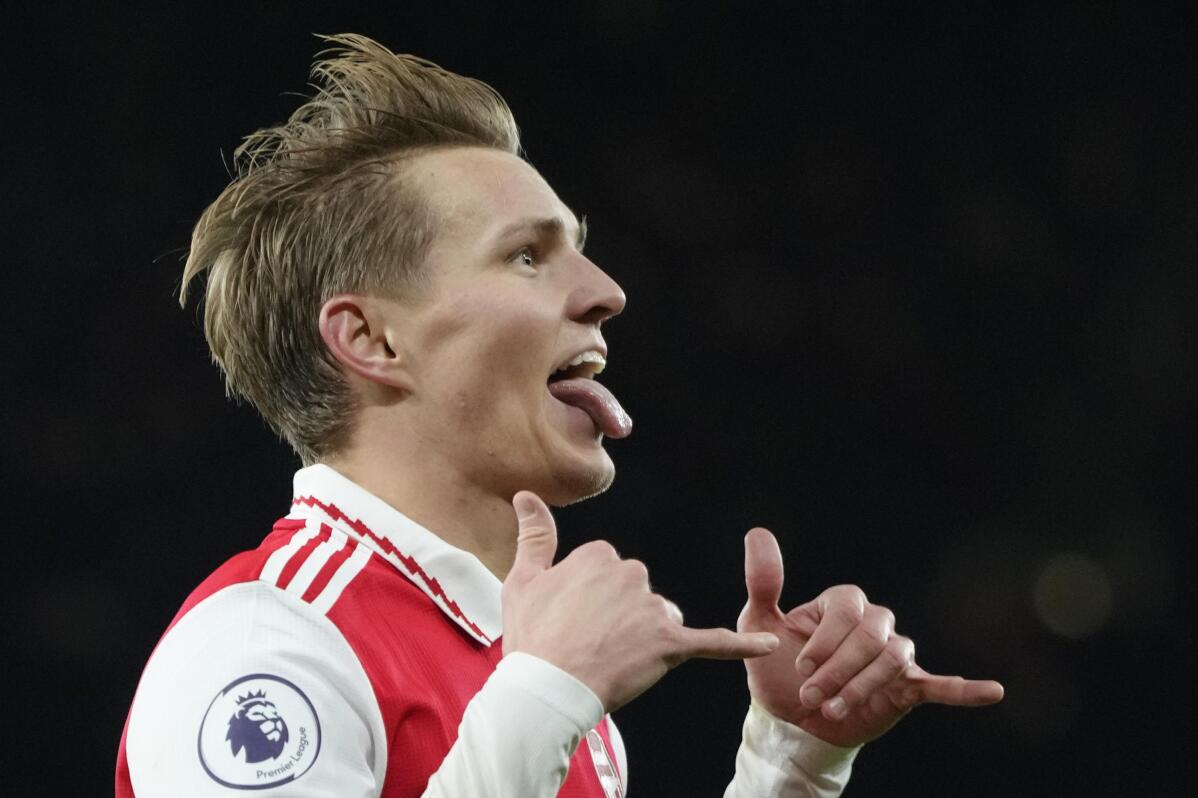 1 of 6

|
Arsenal's Martin Odegaard celebrates after scoring his side's third goal during the English Premier League soccer match between Arsenal and Everton at the Emirates stadium in London, Wednesday, March 1, 2023. (AP Photo/Kirsty Wigglesworth)
1 of 6
Arsenal's Martin Odegaard celebrates after scoring his side's third goal during the English Premier League soccer match between Arsenal and Everton at the Emirates stadium in London, Wednesday, March 1, 2023. (AP Photo/Kirsty Wigglesworth)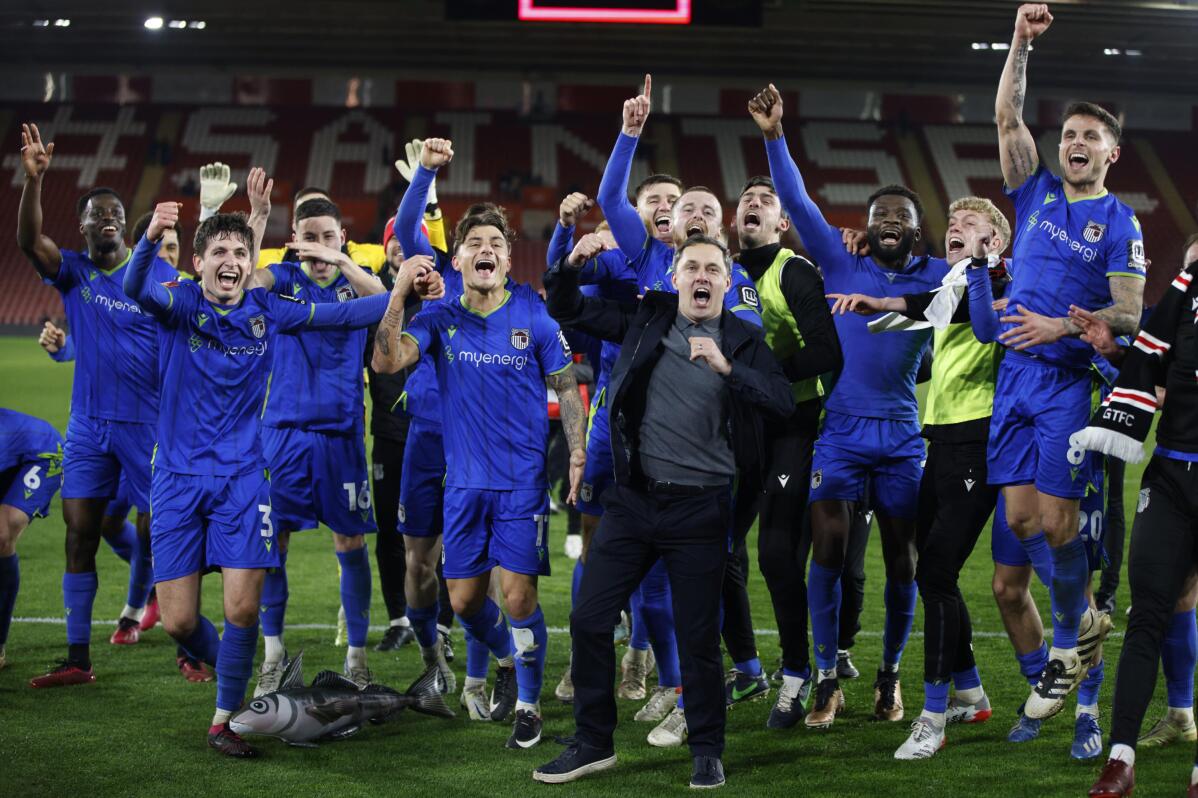 2 of 6

|
Grimsby's coach Paul Hurst celebrates with his players after winning the English FA Cup fifth round soccer match between Southampton and Grimsby Town at St Mary's Stadium in Southampton, England Wednesday, March 1, 2023. Grimsby Town won 2-1. (AP Photo/David Cliff)
2 of 6
Grimsby's coach Paul Hurst celebrates with his players after winning the English FA Cup fifth round soccer match between Southampton and Grimsby Town at St Mary's Stadium in Southampton, England Wednesday, March 1, 2023. Grimsby Town won 2-1. (AP Photo/David Cliff)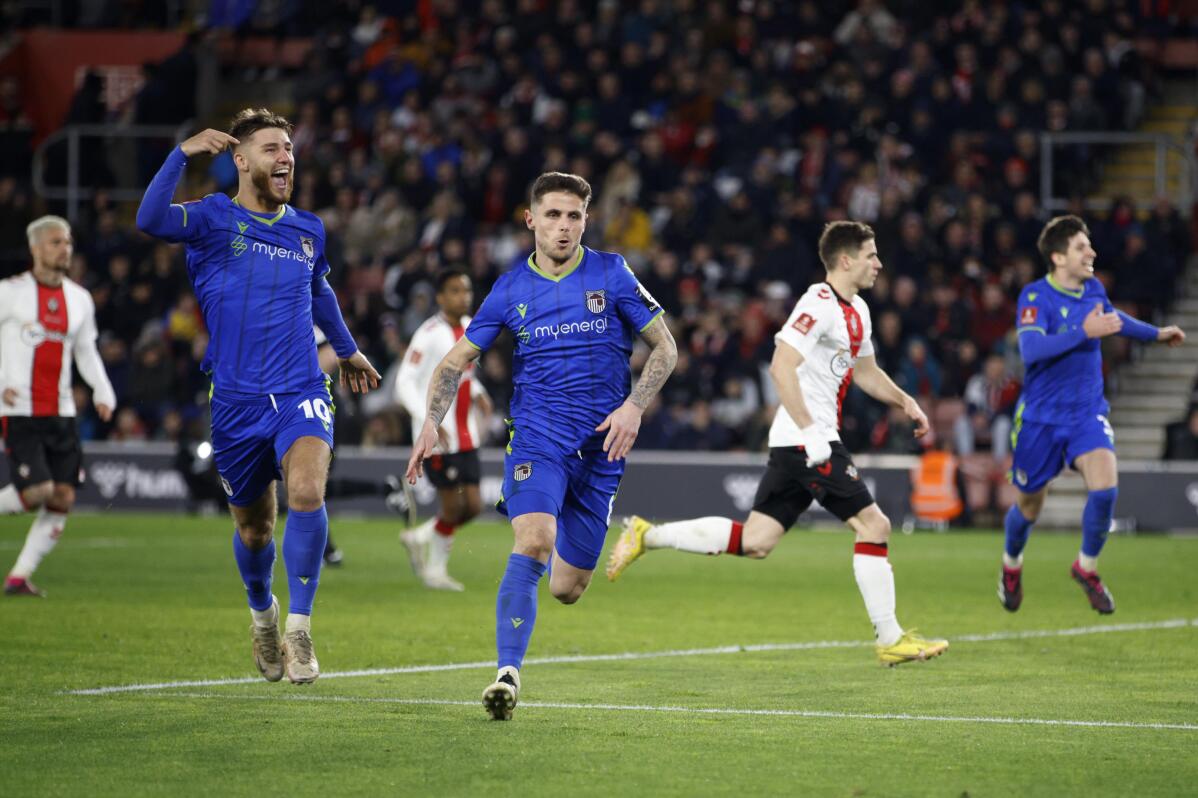 3 of 6

|
Grimsby's Gavan Holohan, centre, celebrates after scoring his side's second goal during the English FA Cup fifth round soccer match between Southampton and Grimsby Town at St Mary's Stadium in Southampton, England Wednesday, March 1, 2023. (AP Photo/David Cliff)
3 of 6
Grimsby's Gavan Holohan, centre, celebrates after scoring his side's second goal during the English FA Cup fifth round soccer match between Southampton and Grimsby Town at St Mary's Stadium in Southampton, England Wednesday, March 1, 2023. (AP Photo/David Cliff)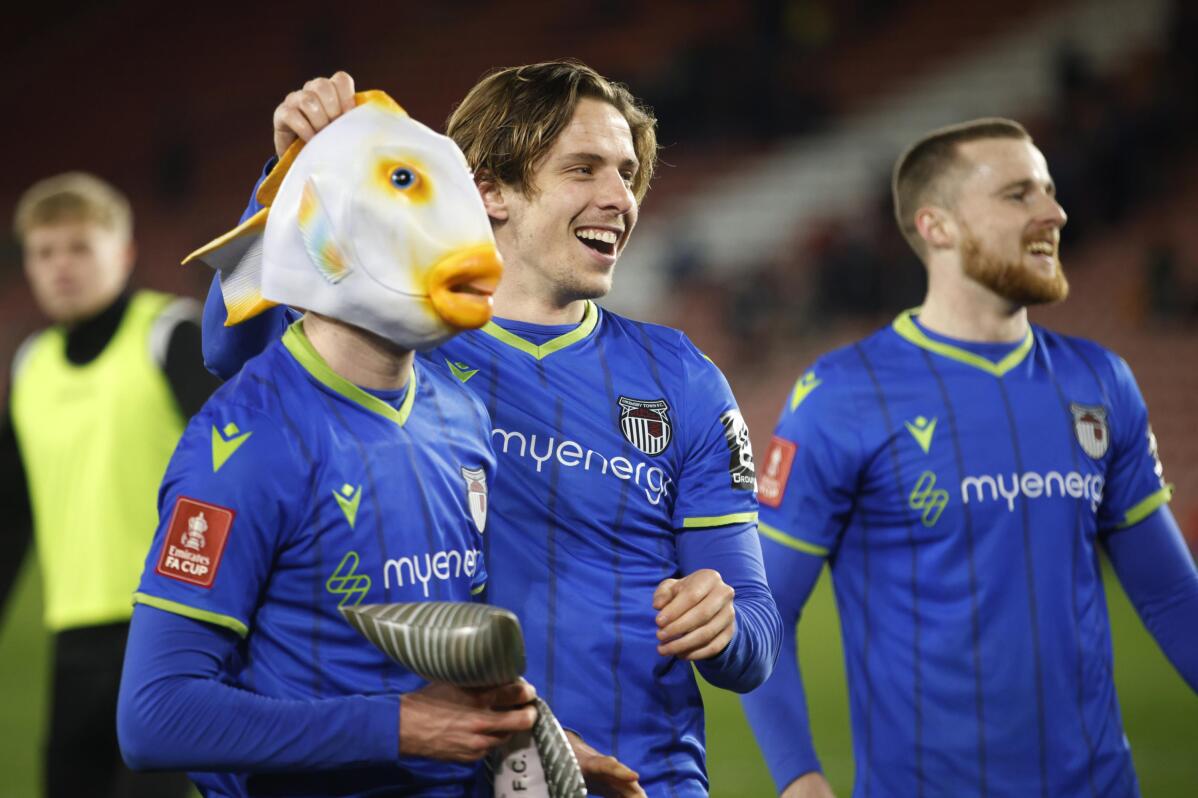 4 of 6

|
Grimsby's Anthony Glenn, left, and Grimsby's Danilo Orsi celebrate after winning the English FA Cup fifth round soccer match between Southampton and Grimsby Town at St Mary's Stadium in Southampton, England Wednesday, March 1, 2023. Grimsby Town won 2-1. (AP Photo/David Cliff)
4 of 6
Grimsby's Anthony Glenn, left, and Grimsby's Danilo Orsi celebrate after winning the English FA Cup fifth round soccer match between Southampton and Grimsby Town at St Mary's Stadium in Southampton, England Wednesday, March 1, 2023. Grimsby Town won 2-1. (AP Photo/David Cliff)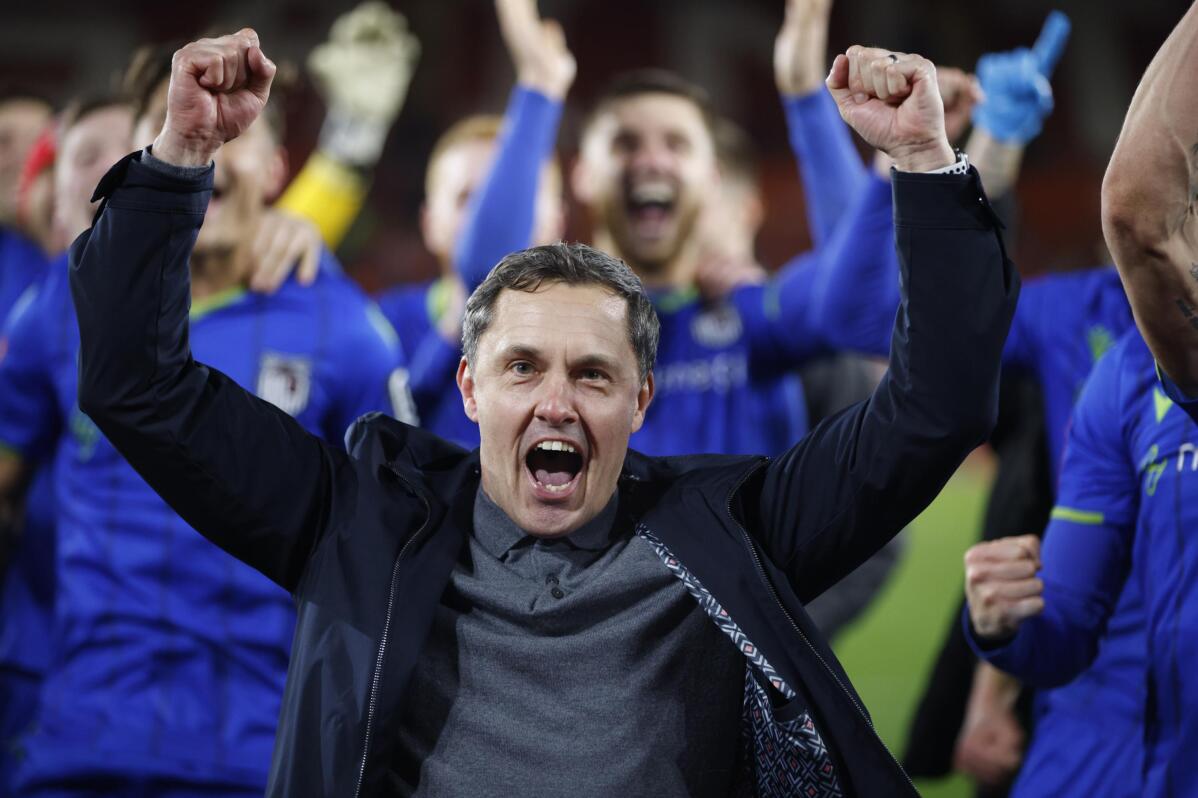 5 of 6

|
Grimsby's coach Paul Hurst celebrates with his players after winning the English FA Cup fifth round soccer match between Southampton and Grimsby Town at St Mary's Stadium in Southampton, England Wednesday, March 1, 2023. Grimsby Town won 2-1. (AP Photo/David Cliff)
5 of 6
Grimsby's coach Paul Hurst celebrates with his players after winning the English FA Cup fifth round soccer match between Southampton and Grimsby Town at St Mary's Stadium in Southampton, England Wednesday, March 1, 2023. Grimsby Town won 2-1. (AP Photo/David Cliff)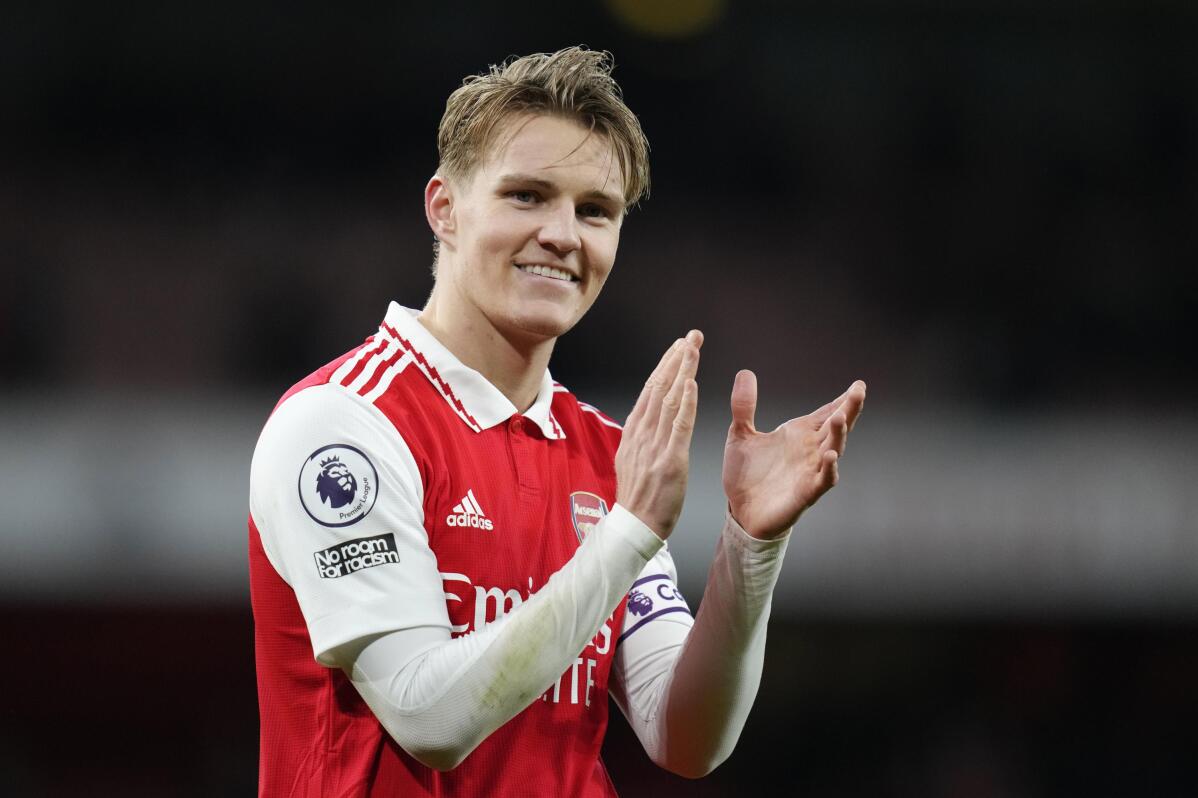 6 of 6

|
Arsenal's Martin Odegaard celebrates after the English Premier League soccer match between Arsenal and Everton at the Emirates stadium in London, Wednesday, March 1, 2023. (AP Photo/Kirsty Wigglesworth)
6 of 6
Arsenal's Martin Odegaard celebrates after the English Premier League soccer match between Arsenal and Everton at the Emirates stadium in London, Wednesday, March 1, 2023. (AP Photo/Kirsty Wigglesworth)
MANCHESTER, England (AP) — As Arsenal pushed further ahead in the race for the Premier League title on Wednesday, Manchester United moved a step closer to a second trophy this season by advancing to the quarterfinals of the FA Cup.
The biggest celebration of the night, though, was reserved for Grimsby Town's fans after the fourth-division club produced a famous cup upset to beat top-flight Southampton 2-1.
Tottenham was also on the receiving end of a cup shock — losing 1-0 to second-tier Sheffield United.
Arsenal's focus is on the league and its 4-0 win over Everton at Emirates Stadium saw the competition leaders move five points clear of second-place Manchester City.
Mikel Arteta's team certainly appears to be over the jitters that threatened to derail its title challenge by avenging the 1-0 loss to Everton that began a three-game winless run last month.
That win was a blow to United's hopes of mounting a challenge at the top — but Erik ten Hag's team remains in contention on four fronts after rallying to beat West Ham 3-1.
QUADRUPLE STILL ON
It felt like old times at Old Trafford as United mounted the type of rousing comeback it was famous for under former manager Alex Ferguson.
Fresh from winning the League Cup on Sunday, Ten Hag's team seemed set to crash out of the FA Cup after Said Benrahma put West Ham in front with a curling shot in the 54th minute.
And as the game edged toward the closing stages, United's frustration grew when Casemiro had a would-be equalizer ruled out by VAR for offside.
But the home fans were soon cheering when Nayef Aguerd headed into his own net in the 77th.
Alejandro Garnacho swept United in front in the 90th and substitute Fred added a third in the fifth minute of stoppage time.
"The team showed personality, never gave up and turned around the game," Ten Hag said. "It is very important, very big, a massive performance from our team in the way of mentality."
CUP SHOCKS
Two penalties for Gavan Holohan saw Grimsby stun relegation-threatened Southampton and reach the quarterfinals for the first time since 1939.
Duje Caleta-Car pulled one back for Saints, who have nothing left to play for this term other than top-flight survival.
Grimsby, the lowest-ranked team remaining in the competition, is now one game away from a Wembley semifinal.
"Playing at this level you can only dream of nights like this," Holohan said.
It was a nightmare, though, for Tottenham whose wait for a first trophy since 2008 goes on.
Illiman Ndiaye struck in the 79th to secure a famous win for Sheffield United in a game that saw Harry Kane start on the bench.
"I can only apologize to the fans for our performance and they deserve much more than this," said assistant manager Cristian Stellini, who is still in charge of Tottenham while Antonio Conte recovers from gallbladder surgery.
In the night's other FA Cup game, second division leader Burnley beat Fleetwood 1-0 with a 90th-minute goal from Connor Roberts.
ARSENAL FLYING HIGH
Arsenal's title charge is back on track after sweeping Everton aside.
First-half goals from Bukayo Saka and Gabriel Martinelli quashed any fears of Sean Dyche producing a second upset in the space of a month against the league leader.
Martin Odegard added a third in the second half and Martinelli struck his second to round off the 4-0 win that leaves Everton in the relegation zone, having played one game more than its closest rivals at the bottom.
LIVERPOOL PAYBACK
Less than a month after being humbled in a 3-0 loss to Wolverhampton, Liverpool avenged that defeat to close in on a top-four Champions League qualifying spot.
Virgil van Dijk and Mohamed Salah scored in the 73rd and 77th, respectively, to seal a 2-0 win and move Jurgen Klopp's team to within six points of fourth-place Tottenham with a game in hand.
KOMPANY VS. PEP
Burnley manager Vincent Kompany will come up against his former club after being drawn away to Manchester City in the quarterfinals of the FA Cup.
Kompany, a former City captain, won 10 major trophies in a glittering career at Etihad Stadium.
United will host Fulham, while Grimsby's reward for victory against Southampton is a trip to Brighton.
There will be at least one second-division team in the semifinals after Sheffield United was drawn at home against Blackburn.
___
James Robson is at https://twitter.com/jamesalanrobson
___
More AP soccer: https://apnews.com/hub/soccer and https://twitter.com/AP_Sports