Manchester United in sight of Champions League return after 1-0 win at Bournemouth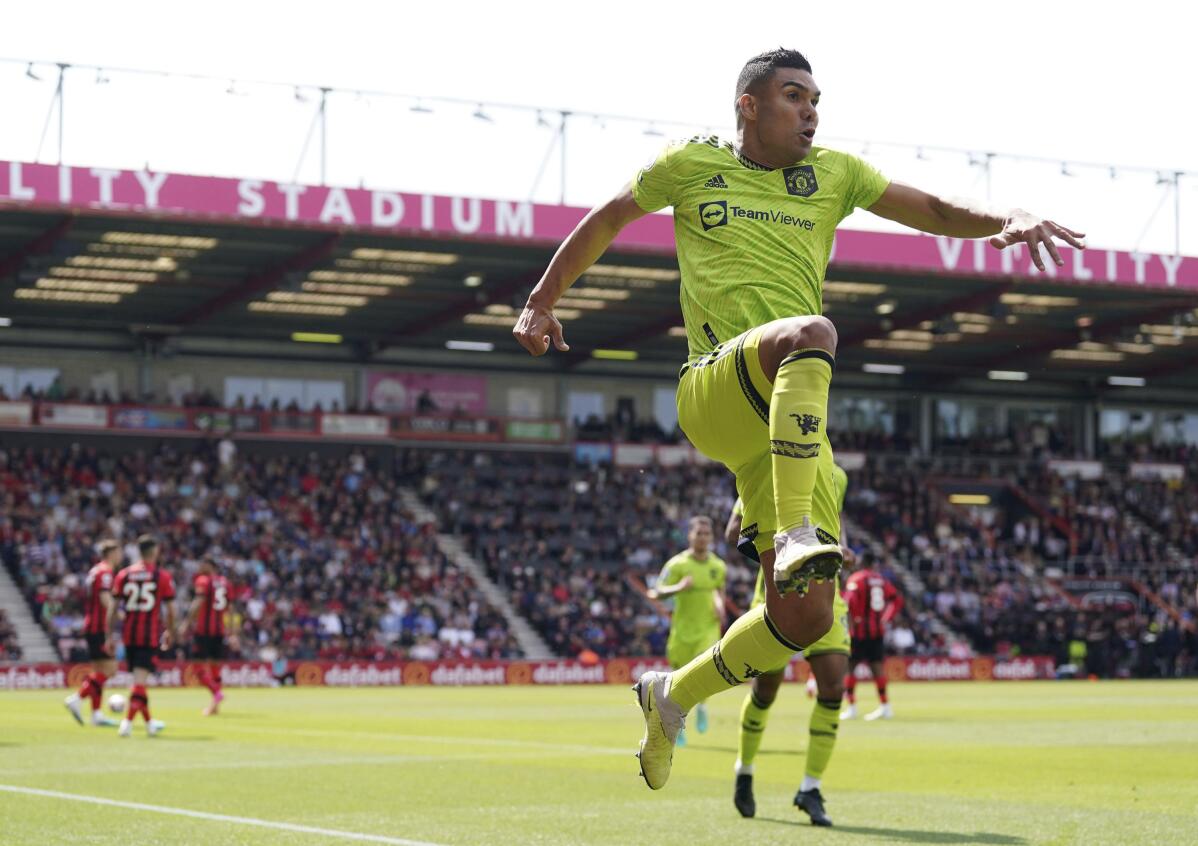 1 of 5

|
Manchester United's Casemiro celebrates scoring their side's first goal of the game during the English Premier League soccer match between Manchester United and Bournemouth at the Vitality Stadium, Bournemouth, Saturday May 20, 2023. (Adam Davy/PA via AP)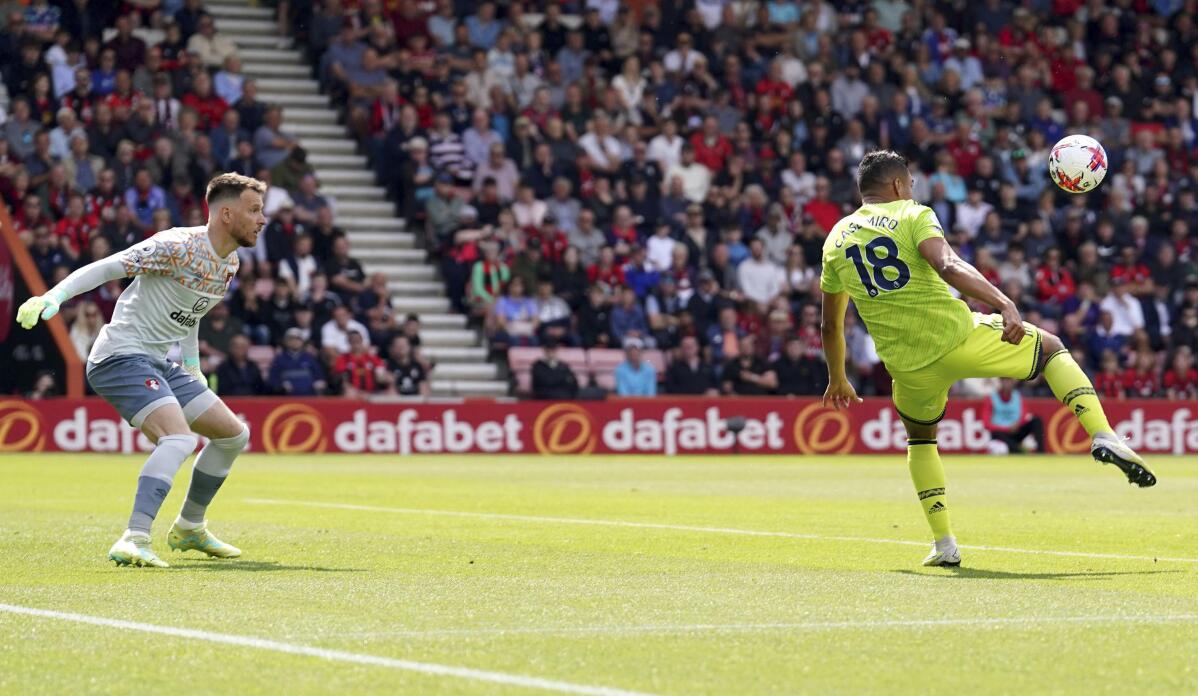 2 of 5

|
Manchester United's Casemiro, right, scores their side's first goal of the game during the English Premier League soccer match between Manchester United and Bournemouth at the Vitality Stadium, Bournemouth, Saturday May 20, 2023. (Adam Davy/PA via AP)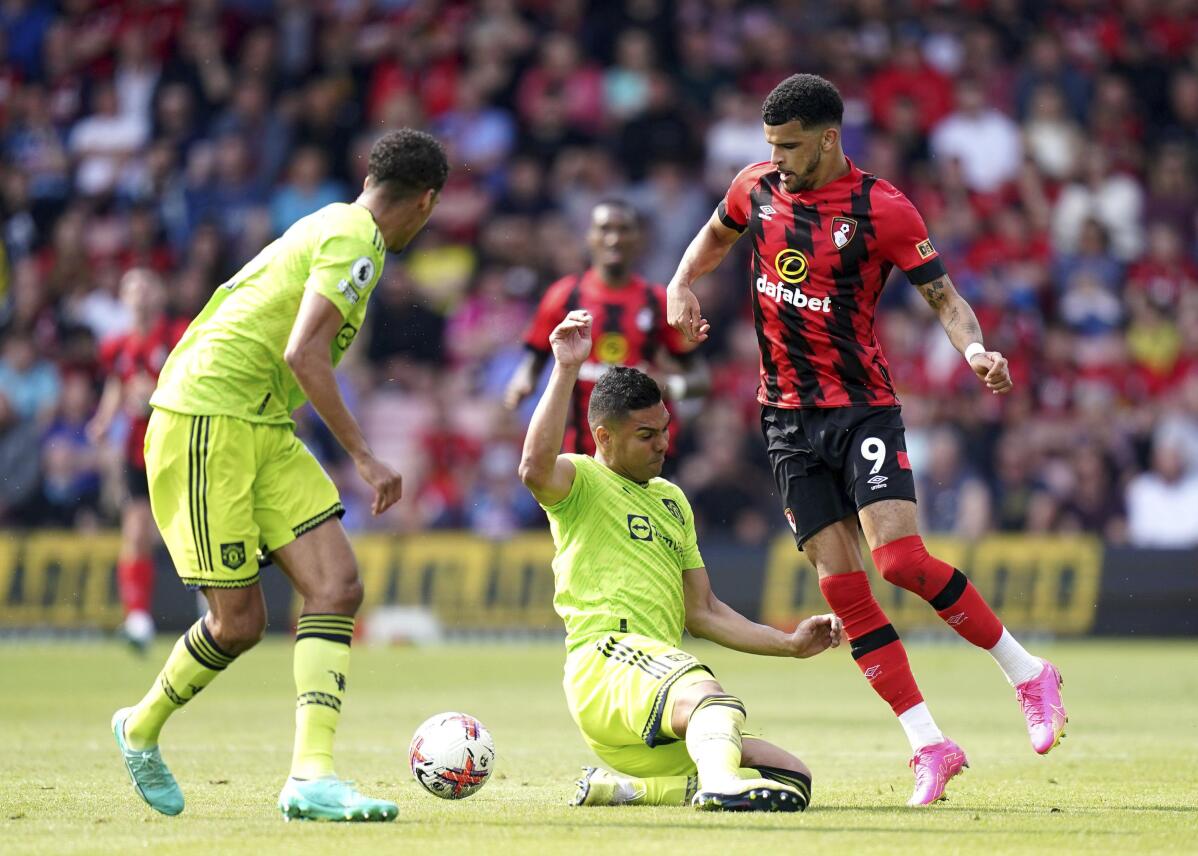 3 of 5

|
Manchester United's Casemiro, center, challenges Bournemouth's Dominic Solanke, right, during the English Premier League soccer match between Manchester United and Bournemouth at the Vitality Stadium, Bournemouth, Saturday May 20, 2023. (Adam Davy/PA via AP)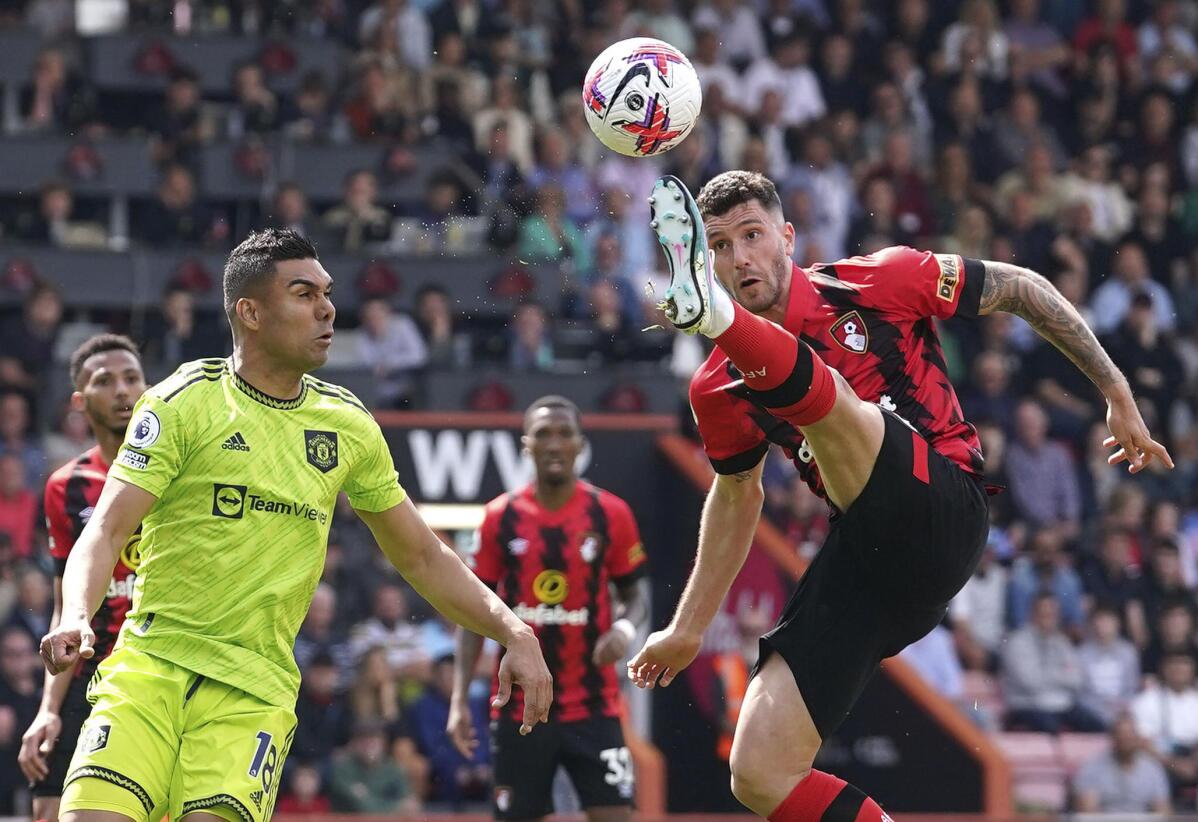 4 of 5

|
Manchester United's Casemiro, left, and Bournemouth's Marcos Senesi in action during the English Premier League soccer match between Manchester United and Bournemouth at the Vitality Stadium, Bournemouth, Saturday May 20, 2023. (Adam Davy/PA via AP)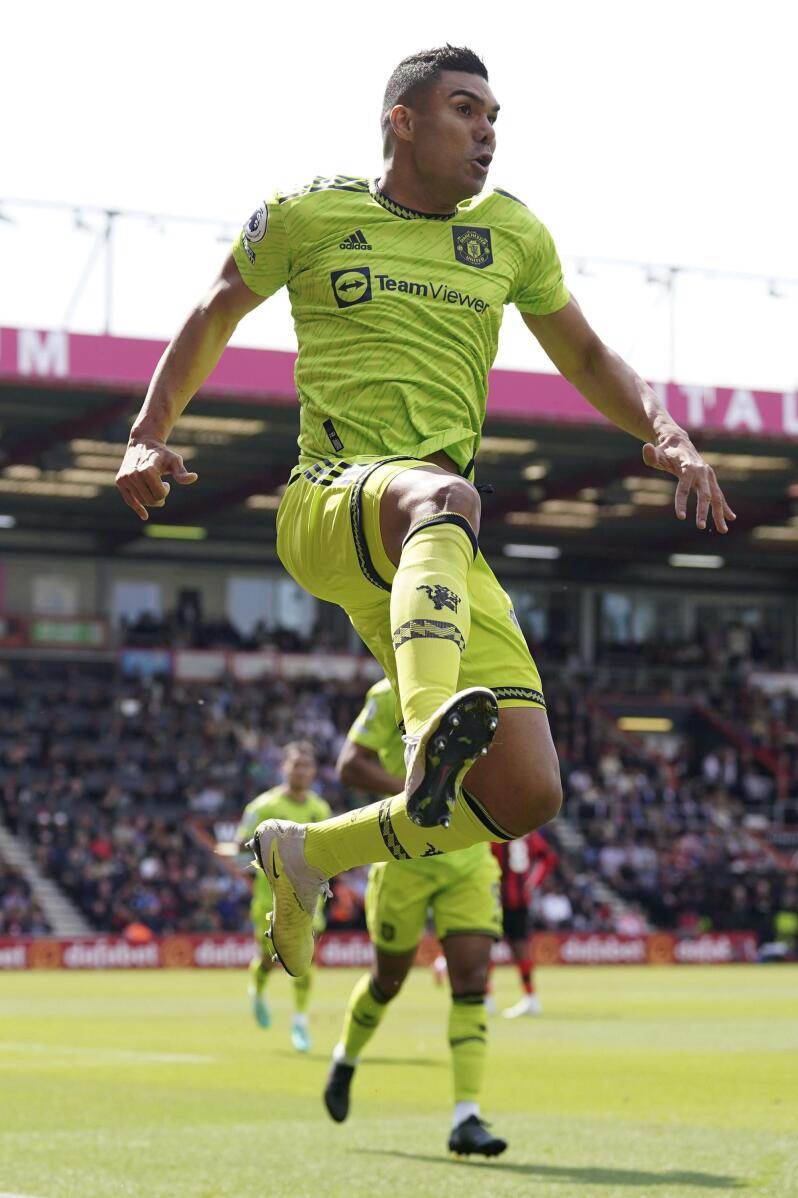 5 of 5

|
Manchester United's Casemiro celebrates scoring their side's first goal of the game during the English Premier League soccer match between Manchester United and Bournemouth at the Vitality Stadium, Bournemouth, Saturday May 20, 2023. (Adam Davy/PA via AP)
Manchester United in sight of Champions League return after 1-0 win at Bournemouth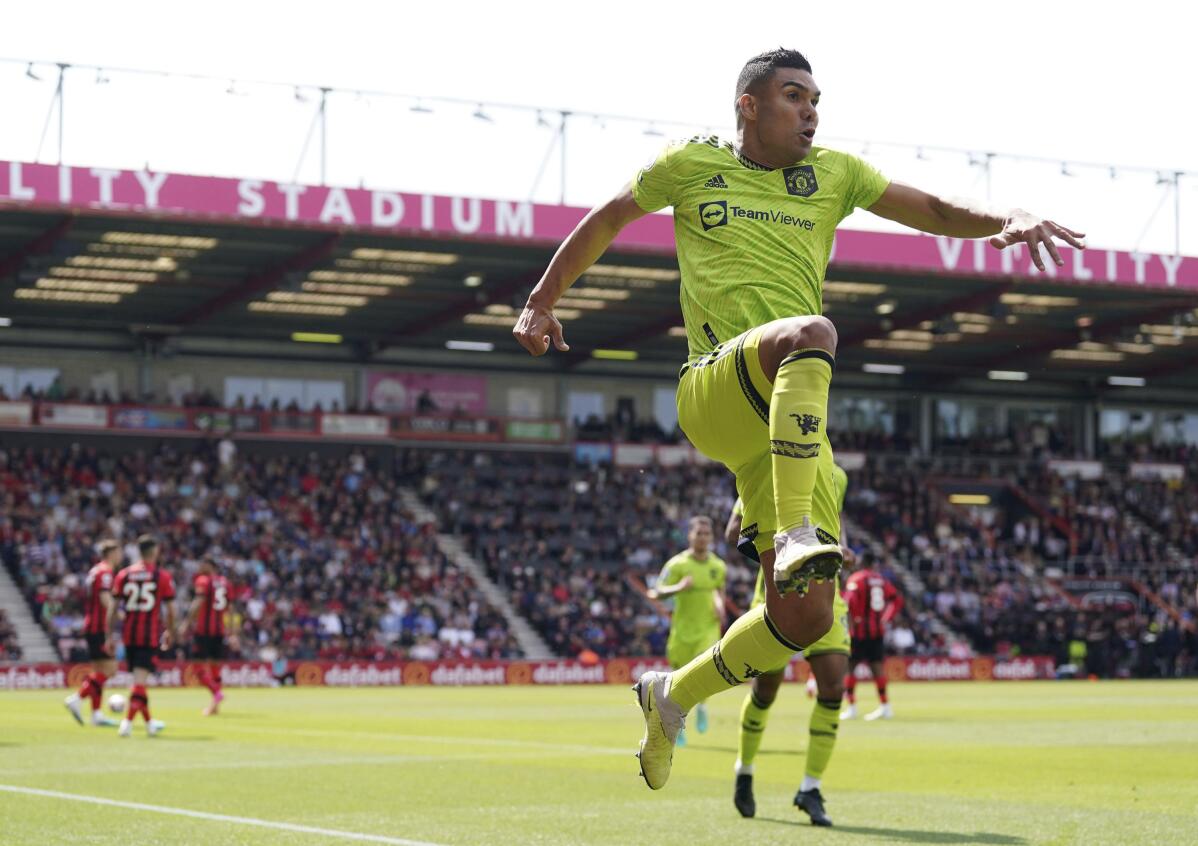 1 of 5

|
Manchester United's Casemiro celebrates scoring their side's first goal of the game during the English Premier League soccer match between Manchester United and Bournemouth at the Vitality Stadium, Bournemouth, Saturday May 20, 2023. (Adam Davy/PA via AP)
1 of 5
Manchester United's Casemiro celebrates scoring their side's first goal of the game during the English Premier League soccer match between Manchester United and Bournemouth at the Vitality Stadium, Bournemouth, Saturday May 20, 2023. (Adam Davy/PA via AP)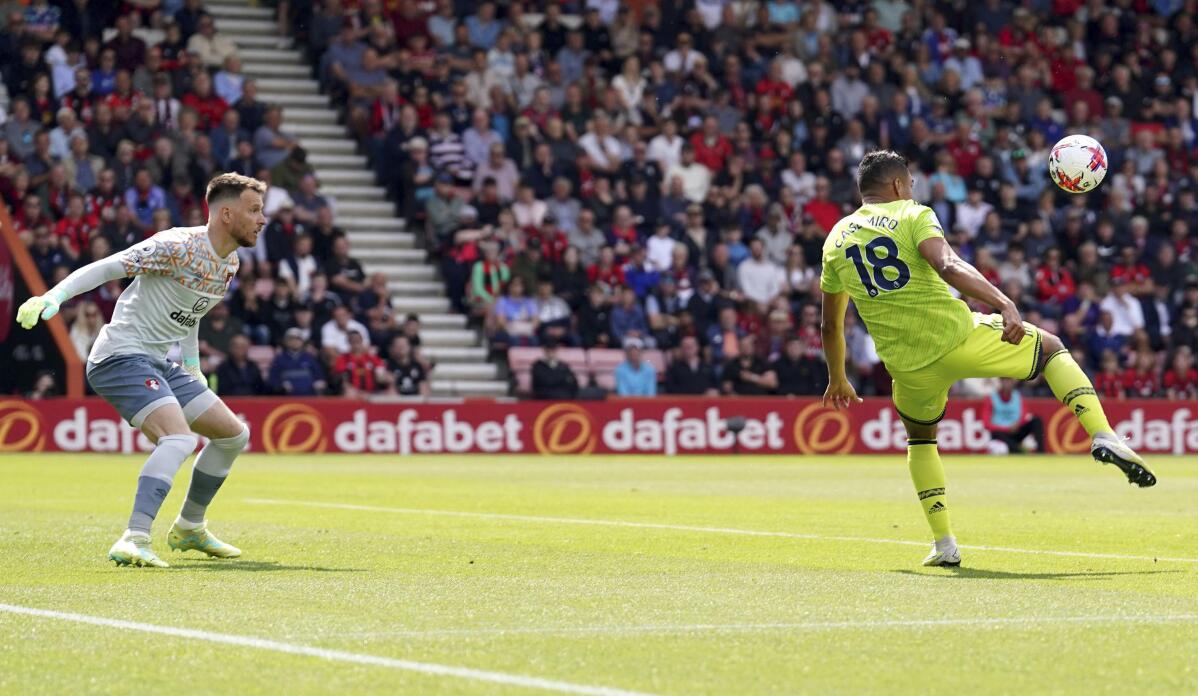 2 of 5

|
Manchester United's Casemiro, right, scores their side's first goal of the game during the English Premier League soccer match between Manchester United and Bournemouth at the Vitality Stadium, Bournemouth, Saturday May 20, 2023. (Adam Davy/PA via AP)
2 of 5
Manchester United's Casemiro, right, scores their side's first goal of the game during the English Premier League soccer match between Manchester United and Bournemouth at the Vitality Stadium, Bournemouth, Saturday May 20, 2023. (Adam Davy/PA via AP)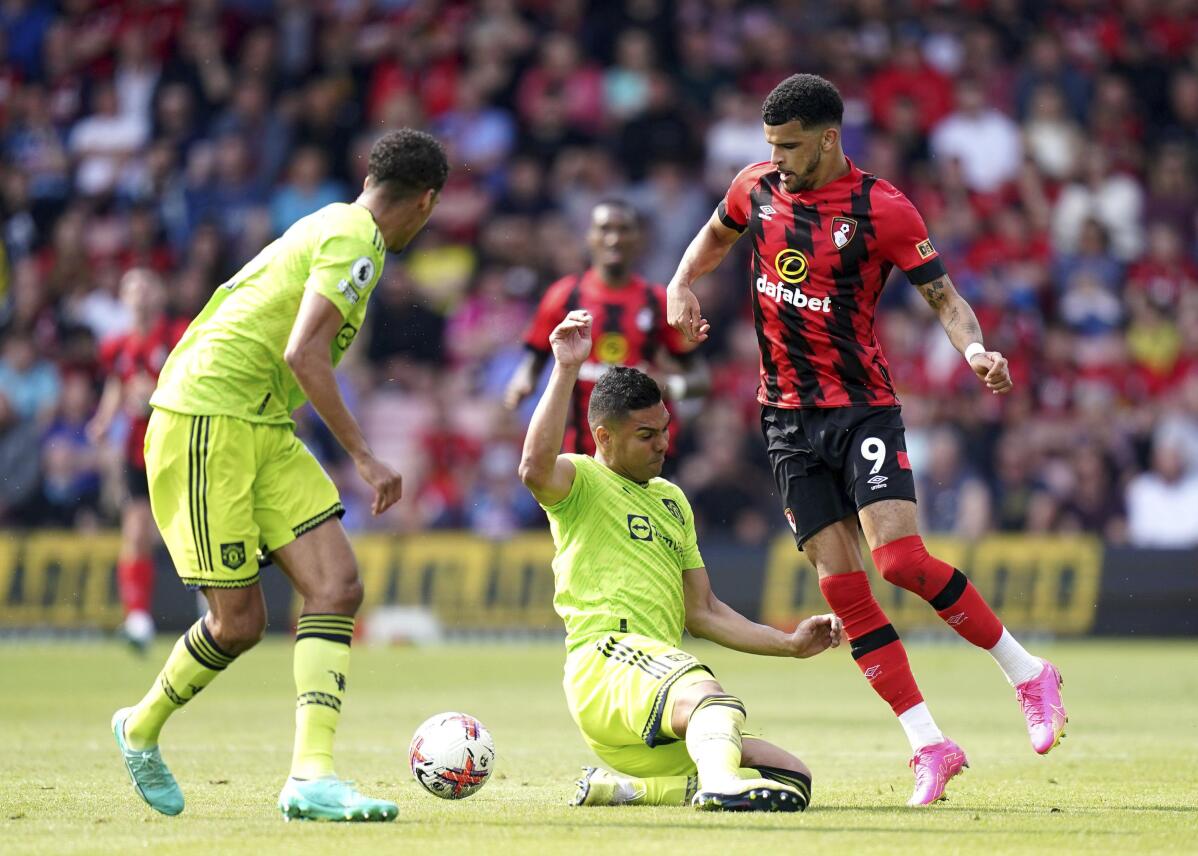 3 of 5

|
Manchester United's Casemiro, center, challenges Bournemouth's Dominic Solanke, right, during the English Premier League soccer match between Manchester United and Bournemouth at the Vitality Stadium, Bournemouth, Saturday May 20, 2023. (Adam Davy/PA via AP)
3 of 5
Manchester United's Casemiro, center, challenges Bournemouth's Dominic Solanke, right, during the English Premier League soccer match between Manchester United and Bournemouth at the Vitality Stadium, Bournemouth, Saturday May 20, 2023. (Adam Davy/PA via AP)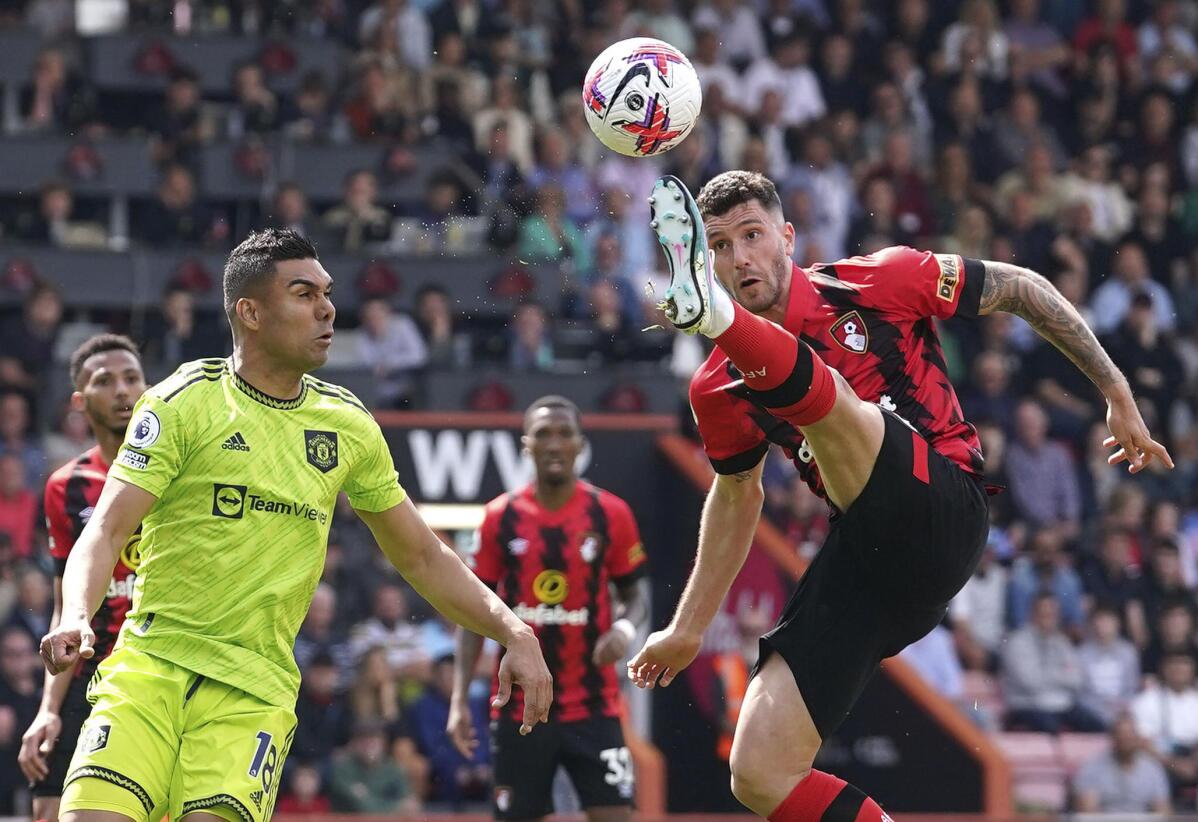 4 of 5

|
Manchester United's Casemiro, left, and Bournemouth's Marcos Senesi in action during the English Premier League soccer match between Manchester United and Bournemouth at the Vitality Stadium, Bournemouth, Saturday May 20, 2023. (Adam Davy/PA via AP)
4 of 5
Manchester United's Casemiro, left, and Bournemouth's Marcos Senesi in action during the English Premier League soccer match between Manchester United and Bournemouth at the Vitality Stadium, Bournemouth, Saturday May 20, 2023. (Adam Davy/PA via AP)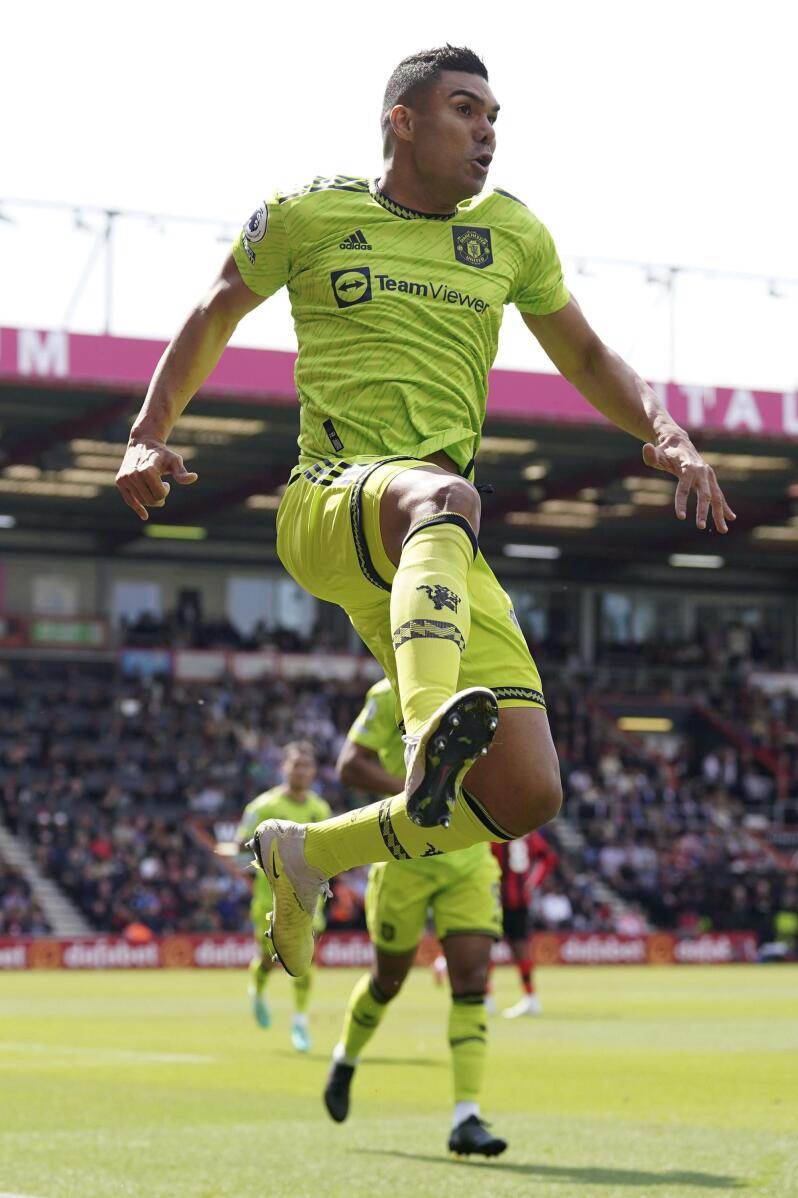 5 of 5

|
Manchester United's Casemiro celebrates scoring their side's first goal of the game during the English Premier League soccer match between Manchester United and Bournemouth at the Vitality Stadium, Bournemouth, Saturday May 20, 2023. (Adam Davy/PA via AP)
5 of 5
Manchester United's Casemiro celebrates scoring their side's first goal of the game during the English Premier League soccer match between Manchester United and Bournemouth at the Vitality Stadium, Bournemouth, Saturday May 20, 2023. (Adam Davy/PA via AP)
BOURNEMOUTH, England (AP) — Manchester United is in touching distance of a return to the Champions League after beating Bournemouth 1-0 on Saturday to strengthen its place in the top four of the Premier League.
The win — sealed by Casemiro's close-range overhead kick in the ninth minute — moved United three points clear of fifth-place Liverpool, which drew 1-1 with Aston Villa and only has one game left to play.
United only requires a point from its final two games, at home to Chelsea and Fulham, to get back into the Champions League after a one-season absence. That would be yet another positive for United in a strong first season under Dutch coach Erik ten Hag, who has already guided the team to the English League Cup trophy as well as a spot in the FA Cup final against Manchester City on June 3.
Being in the Champions League should see United attract bigger names in the offseason transfer window, while adding more value to a club that is up for sale and the subject of offers from Qatar and British billionaire Jim Ratcliffe.
It was maybe fitting that a goal by Casemiro moved United so close to that top-four place, with the Brazil midfielder playing an influential role since joining from Real Madrid last year and running the game at Vitality Stadium.
His goal came from a rare foray forward. Christian Eriksen clipped a pass over the defense and into the penalty area toward Casemiro, who reacted to the ball taking a slight deflection off a Bournemouth player by adjusting his body and acrobatically volleying in off the post with his back to goal.
United was without Marcus Rashford because of an illness and that impacted the visitors' attacking threat against a Bournemouth team already safe from relegation and with little to play for.
United needed a save with his legs by David De Gea from substitute Kieffer Moore to preserve the clean sheet and win.
___
More AP soccer: https://apnews.com/hub/soccer and https://twitter.com/AP_Sports