Sword attack killer gets another 55-year prison sentence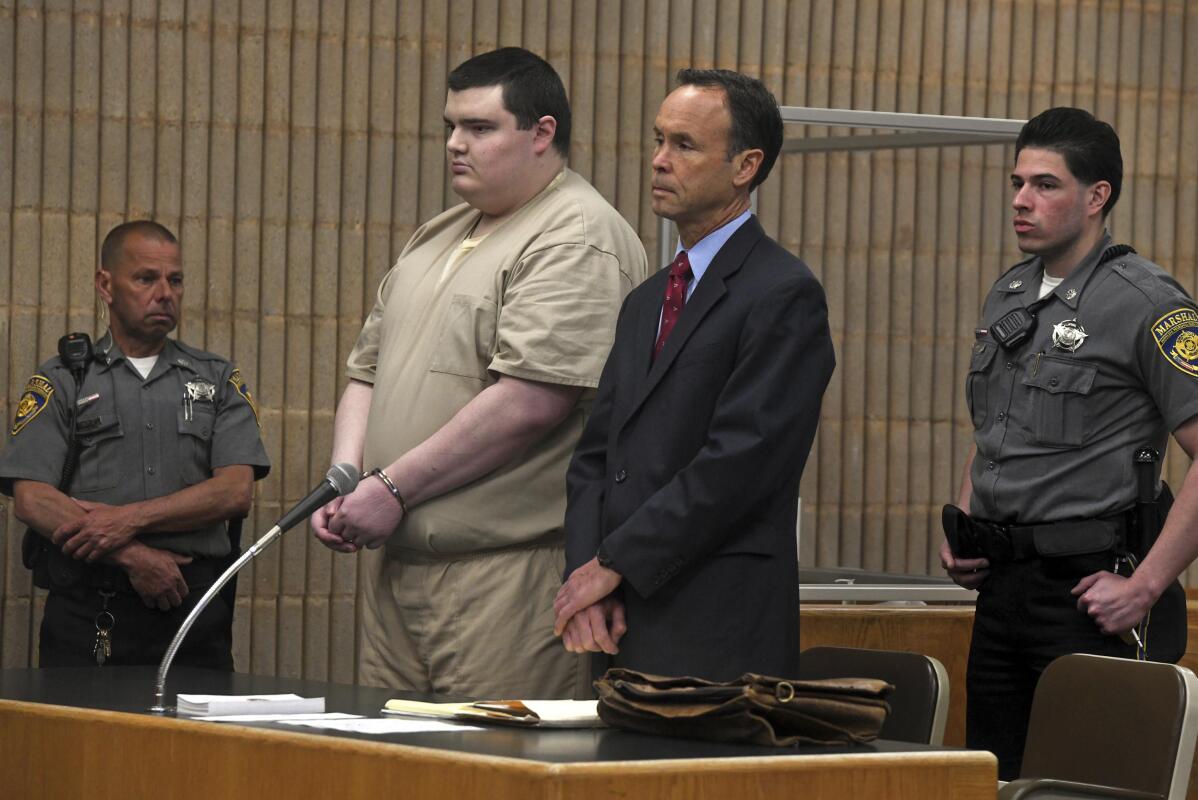 1 of 4

|
Peter Manfredonia stands during his sentencing hearing in Milford Superior Court, in Milford, Conn. Wednesday, April 19, 2023. Manfredonia was sentenced to 55 years in prison Wednesday for the 2020 murder of his former high school classmate, Nicholas Eisele, in Derby and the kidnapping of Eisele's girlfriend Shannon Spies. Manfredonia is seen here with his defense attorney Michael Dolan. (Ned Gerard/Hearst Connecticut Media via AP, Pool)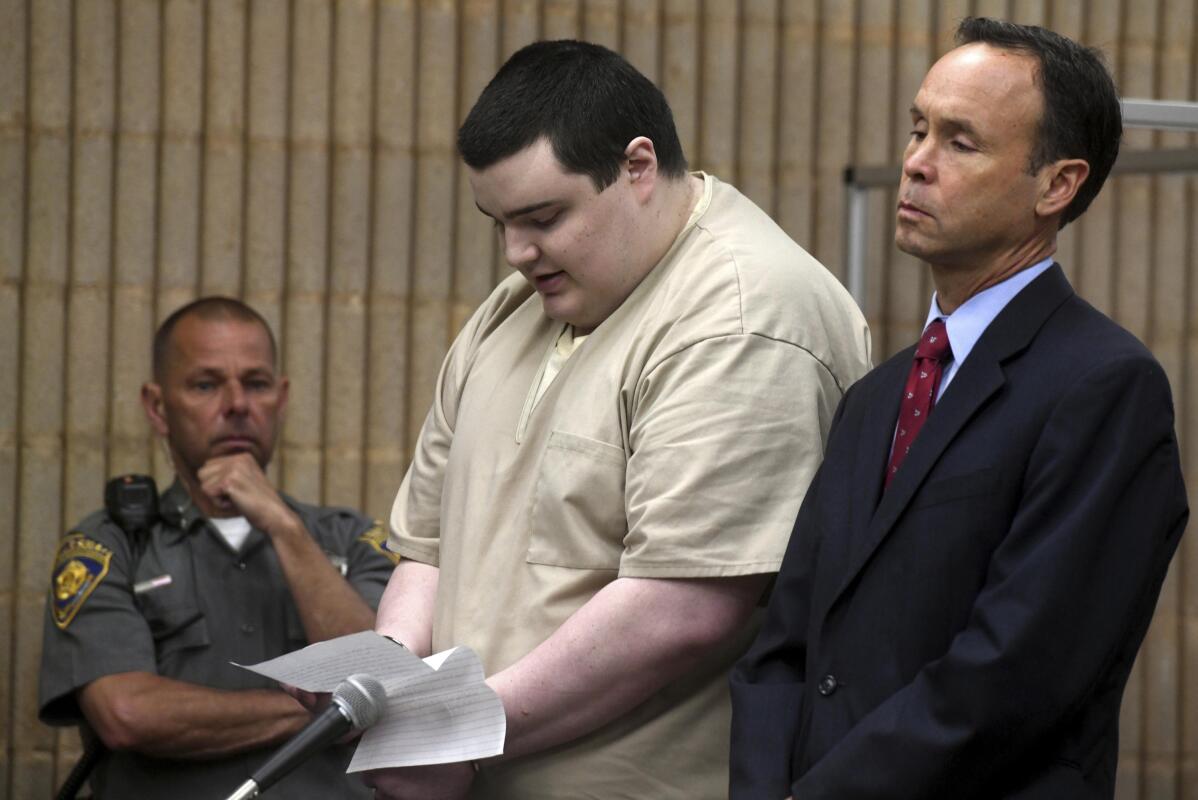 2 of 4

|
Peter Manfredonia reads a statement during his sentencing hearing in Milford Superior Court, in Milford, Conn., Wednesday, April 19, 2023. Manfredonia was sentenced to 55 years in prison Wednesday for the 2020 murder of his former high school classmate, Nicholas Eisele, in Derby and the kidnapping of Eisele's girlfriend Shannon Spies. Manfredonia is seen here with his defense attorney Michael Dolan. (Ned Gerard/Hearst Connecticut Media via AP, Pool)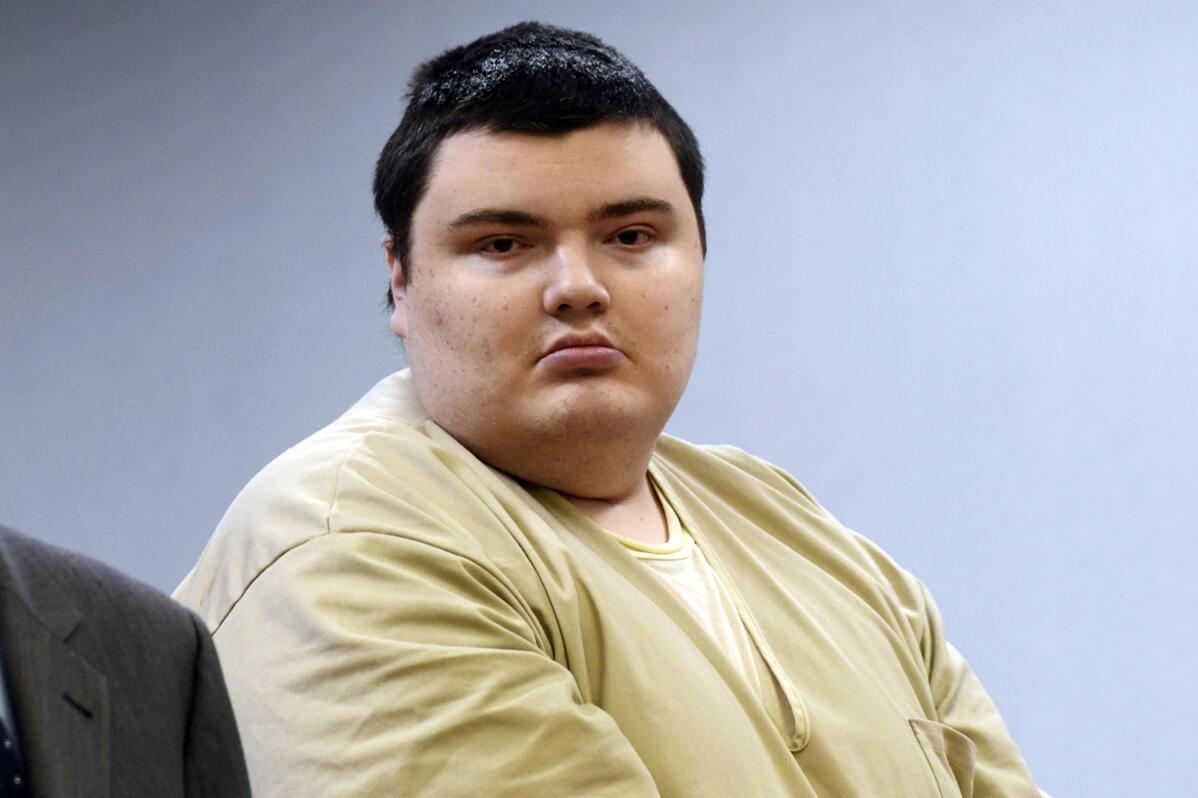 3 of 4

|
FILE — Peter Manfredonia appears in Superior Court, in Rockville, Conn., Feb. 8, 2023. Manfredonia, who has admitted wielding a sword in a fatal attack in Eastern Connecticut, was sentenced to 55 years in prison Wednesday, April 19, 2023, for killing a former classmate and kidnapping a woman during a multi-state manhunt. (Ned Gerard/Hearst Connecticut Media via AP, Pool, File)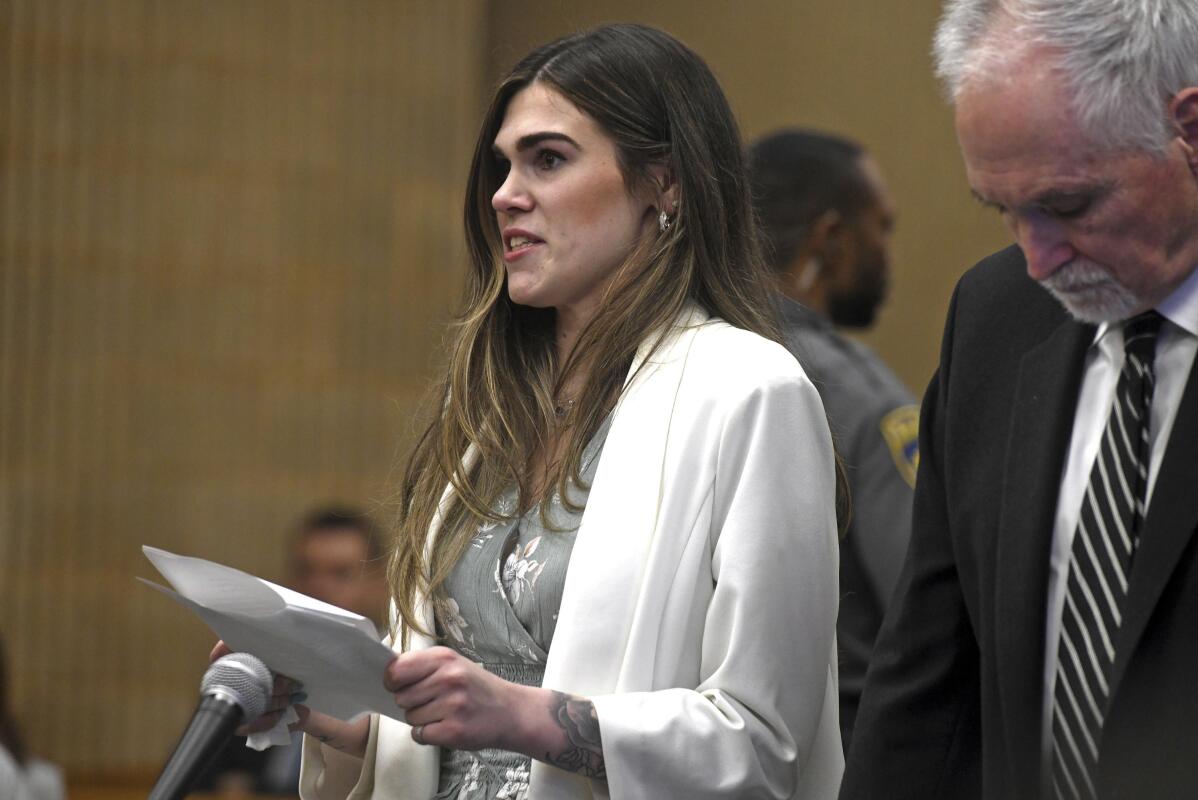 4 of 4

|
Shannon Spies, girlfriend of Nicholas Eisele, reads a victim's impact statement during the sentencing hearing for Peter Manfredonia in Milford Superior Court, in Milford, Conn., Wednesday, April 19, 2023. Manfredonia was sentenced to 55 years in prison Wednesday for the 2020 murder of Eisele, a former high school classmate, in Derby, and then kidnapping Spies. (Ned Gerard/Hearst Connecticut Media via AP, Pool)
Sword attack killer gets another 55-year prison sentence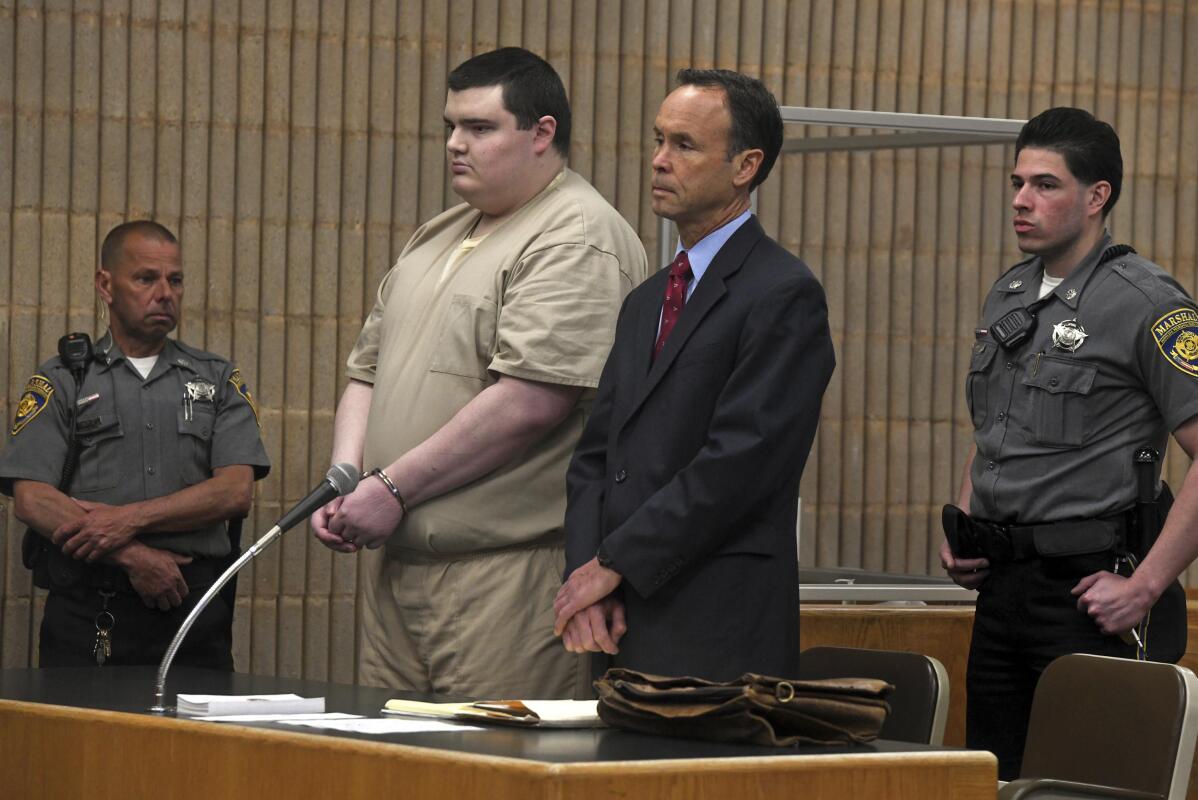 1 of 4

|
Peter Manfredonia stands during his sentencing hearing in Milford Superior Court, in Milford, Conn. Wednesday, April 19, 2023. Manfredonia was sentenced to 55 years in prison Wednesday for the 2020 murder of his former high school classmate, Nicholas Eisele, in Derby and the kidnapping of Eisele's girlfriend Shannon Spies. Manfredonia is seen here with his defense attorney Michael Dolan. (Ned Gerard/Hearst Connecticut Media via AP, Pool)
1 of 4
Peter Manfredonia stands during his sentencing hearing in Milford Superior Court, in Milford, Conn. Wednesday, April 19, 2023. Manfredonia was sentenced to 55 years in prison Wednesday for the 2020 murder of his former high school classmate, Nicholas Eisele, in Derby and the kidnapping of Eisele's girlfriend Shannon Spies. Manfredonia is seen here with his defense attorney Michael Dolan. (Ned Gerard/Hearst Connecticut Media via AP, Pool)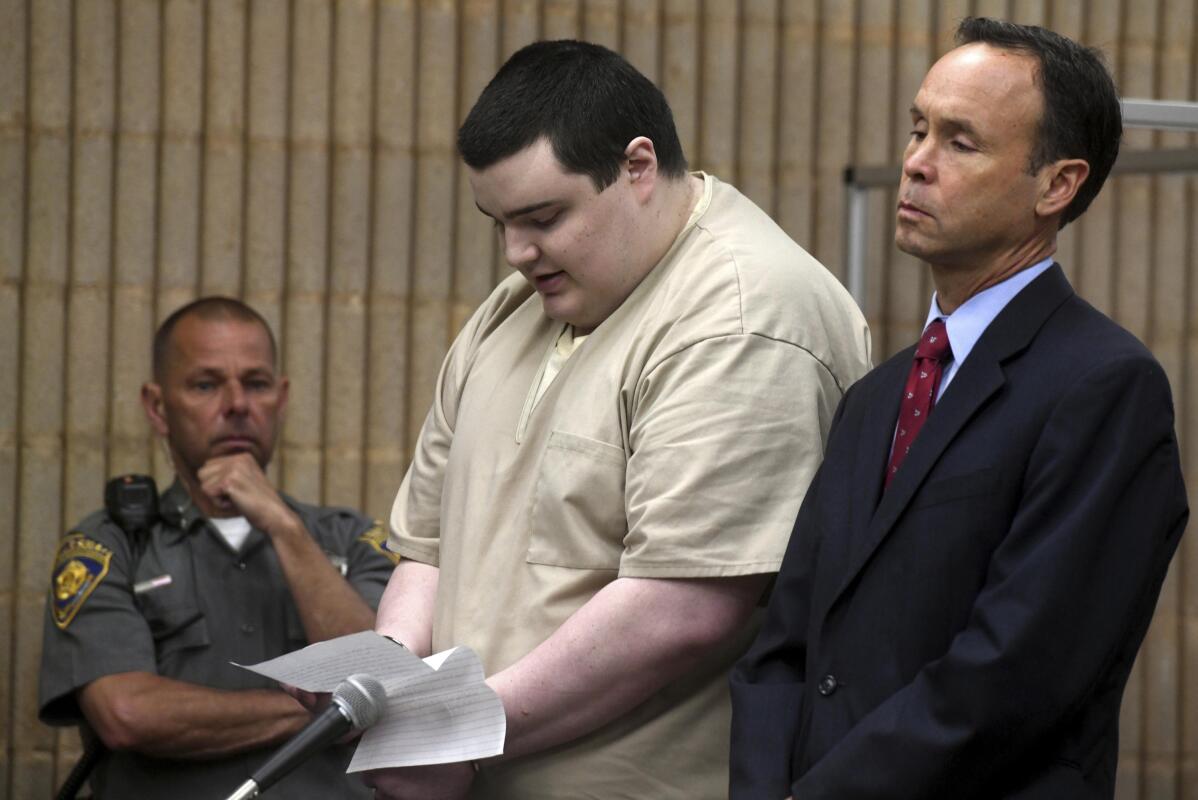 2 of 4

|
Peter Manfredonia reads a statement during his sentencing hearing in Milford Superior Court, in Milford, Conn., Wednesday, April 19, 2023. Manfredonia was sentenced to 55 years in prison Wednesday for the 2020 murder of his former high school classmate, Nicholas Eisele, in Derby and the kidnapping of Eisele's girlfriend Shannon Spies. Manfredonia is seen here with his defense attorney Michael Dolan. (Ned Gerard/Hearst Connecticut Media via AP, Pool)
2 of 4
Peter Manfredonia reads a statement during his sentencing hearing in Milford Superior Court, in Milford, Conn., Wednesday, April 19, 2023. Manfredonia was sentenced to 55 years in prison Wednesday for the 2020 murder of his former high school classmate, Nicholas Eisele, in Derby and the kidnapping of Eisele's girlfriend Shannon Spies. Manfredonia is seen here with his defense attorney Michael Dolan. (Ned Gerard/Hearst Connecticut Media via AP, Pool)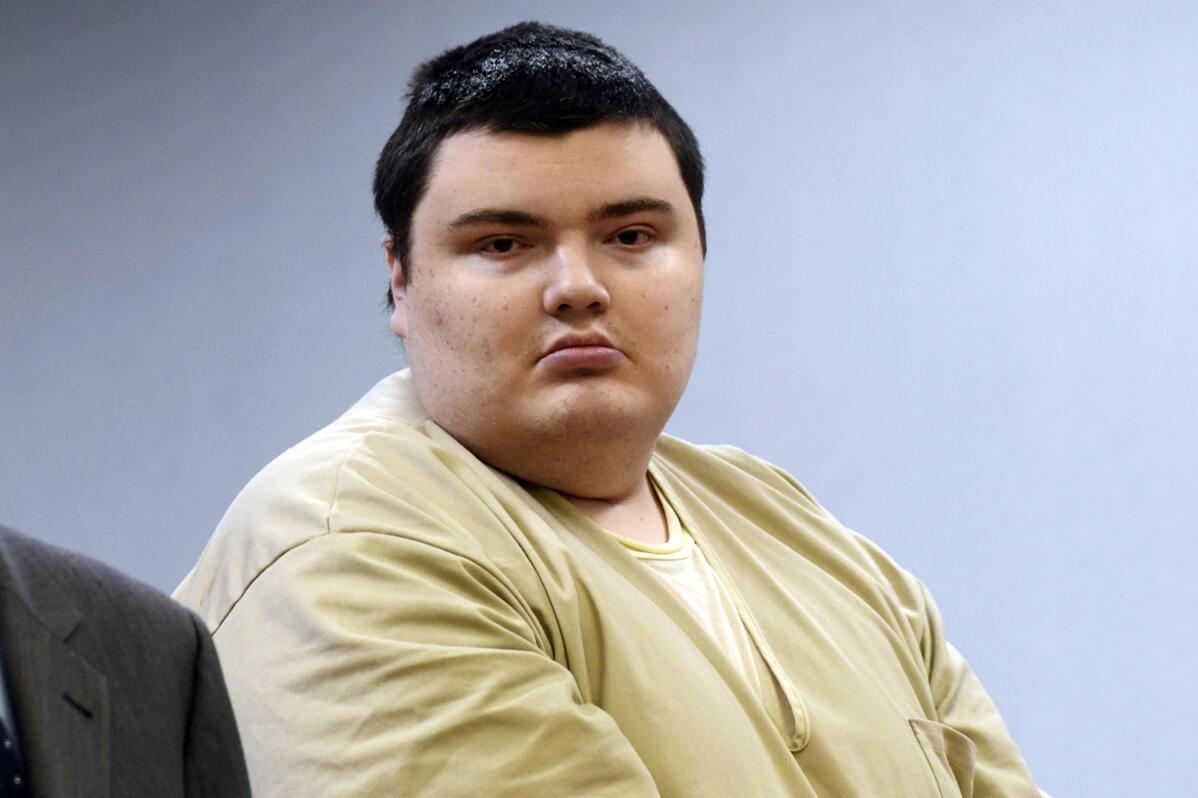 3 of 4

|
FILE — Peter Manfredonia appears in Superior Court, in Rockville, Conn., Feb. 8, 2023. Manfredonia, who has admitted wielding a sword in a fatal attack in Eastern Connecticut, was sentenced to 55 years in prison Wednesday, April 19, 2023, for killing a former classmate and kidnapping a woman during a multi-state manhunt. (Ned Gerard/Hearst Connecticut Media via AP, Pool, File)
3 of 4
FILE — Peter Manfredonia appears in Superior Court, in Rockville, Conn., Feb. 8, 2023. Manfredonia, who has admitted wielding a sword in a fatal attack in Eastern Connecticut, was sentenced to 55 years in prison Wednesday, April 19, 2023, for killing a former classmate and kidnapping a woman during a multi-state manhunt. (Ned Gerard/Hearst Connecticut Media via AP, Pool, File)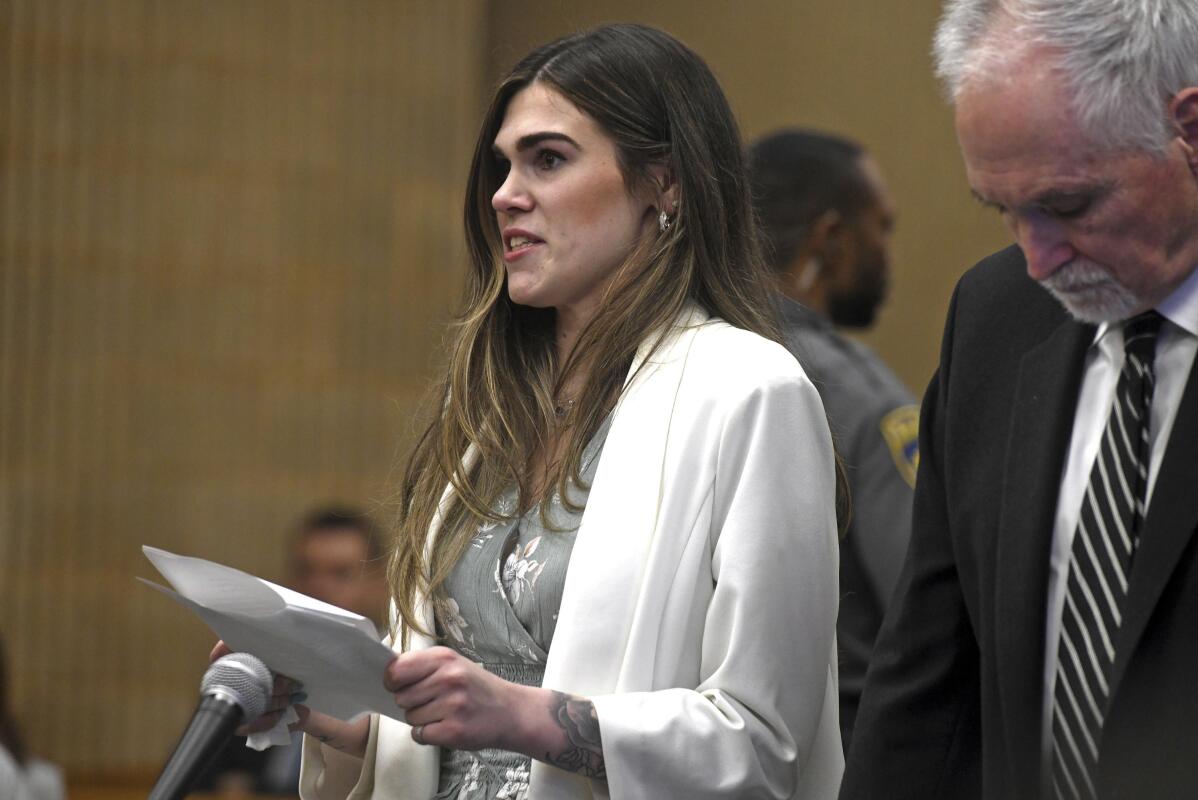 4 of 4

|
Shannon Spies, girlfriend of Nicholas Eisele, reads a victim's impact statement during the sentencing hearing for Peter Manfredonia in Milford Superior Court, in Milford, Conn., Wednesday, April 19, 2023. Manfredonia was sentenced to 55 years in prison Wednesday for the 2020 murder of Eisele, a former high school classmate, in Derby, and then kidnapping Spies. (Ned Gerard/Hearst Connecticut Media via AP, Pool)
4 of 4
Shannon Spies, girlfriend of Nicholas Eisele, reads a victim's impact statement during the sentencing hearing for Peter Manfredonia in Milford Superior Court, in Milford, Conn., Wednesday, April 19, 2023. Manfredonia was sentenced to 55 years in prison Wednesday for the 2020 murder of Eisele, a former high school classmate, in Derby, and then kidnapping Spies. (Ned Gerard/Hearst Connecticut Media via AP, Pool)
ROCKVILLE, Conn. (AP) — A Connecticut man who viciously and randomly attacked two people with a Samurai-style sword, killing one and severely wounding the other, was sentenced Thursday to 55 years in prison, the same sentence he received for a fatal shooting and kidnapping that occurred two days after the attack.
Peter Manfredonia struck 62-year-old Ted DeMers in the head with the sword, completely severed his right hand, sliced off his left thumb and index finger and repeatedly slashed his back during the attack in Willington on May 22, 2020. Manfredonia then wounded 80-year-old John Franco, who had severe injuries to his hands and wounds to his head and neck. DeMers was pronounced dead en route to the hospital.
Manfredonia, now 26, who was a University of Connecticut senior in 2020 studying finance and mechanical engineering, later held another local man hostage for 24 hours. He then drove across the state to Derby, fatally shot a school classmate and kidnapped that victim's girlfriend. He was caught in Hagerstown, Maryland, ending a six-day manhunt in several states.
Manfredonia appeared in state Superior Court in Rockville on Thursday. He pleaded guilty to murder and other charges in both the Willington and Derby cases and agreed to 55-year sentences. Judge Kathleen McNamara imposed the prison term for the sword attack Thursday, which will run concurrent with the sentence for the fatal shooting and kidnapping.
Although Connecticut no longer has capital punishment, both DeMers' widow, Cindy, and Franco told the judge they believed Manfredonia deserved the death penalty.
Cindy Demers described rushing to the scene of carnage outside her home that day.
"It was like being in a war zone," she said. "All I could focus on was reassuring Ted that he was going to be OK and we would put his body back together. We will get through this. We had gotten through so much together up until this point.
"Dying was not an option," she continued. "And even seeing him and his injuries, I couldn't even imagine that was a possibility. He was still alive when he was taken away, but he never came home. ... My husband's life was stolen from him viciously. Life as I knew it stolen from me. My world as I knew it came to an end."
Franco, a U.S. Navy veteran who is now 83, attended the hearing and added, ""He should be terminated. I'm a true believer in capital punishment, especially in a situation such as this." Franco was called a hero for coming to DeMers' aid when he saw the attack.
Family and friends described DeMers as a kind and generous man who coached Little League in town and would help anybody who needed it. He tried to help Manfredonia that day because he thought Manfredonia had crashed his motorcycle, witnesses said.
It was the second straight day that victims of Manfredonia's violent spree offered emotional testimony in court. Manfredonia apologized at both hearings. He was sentenced on Wednesday for shooting 23-year-old Nicholas Eisele to death in Derby and kidnapping Eisele's girlfriend, whom he released unharmed a few hours later in New Jersey.
Tolland State's Attorney Matthew Gedansky said Thursday that Manfredonia went to DeMers' neighborhood that day to see his ex-girlfriend, who lived nearby. Gedansky said it appeared Manfredonia had plans to kill the woman but was interrupted by Demers, who had approached him on the street to see if he needed help.
Manfredonia's lawyer, Michael Dolan, said Manfredonia's actual plan was to commit suicide in front of his ex-girlfriend. Dolan said Manfredonia has bipolar disease and anxiety, and was having a psychotic episode at the time of the killings.
Gedansky said he believed Manfredonia was desperate when he went to Eisele's apartment two days later, knowing Eisele had money. Manfredonia and Eisele grew up together in Newtown, Connecticut.
Manfredonia's apology on Thursday was similar to the one he made on Wednesday. He directed separate comments to DeMers' family, Franco and Donald Hipsky, the man whose home Manfredonia broke into after the sword attack and who was held hostage for 24 hours but not physically hurt.
"There are no words that can possibly atone for what I have done. Know that I am sorry nonetheless," he said to DeMers' family. "You have done nothing to deserve the pain that I have caused. My actions were nothing short of reprehensible. I do not expect forgiveness for my actions and I will regret them every day for the rest of my life."
As part of his plea bargains, Manfredonia agreed not see seek early release through requests for parole or sentence modification.