AP PHOTOS: Maradona's legend hovers over Napoli title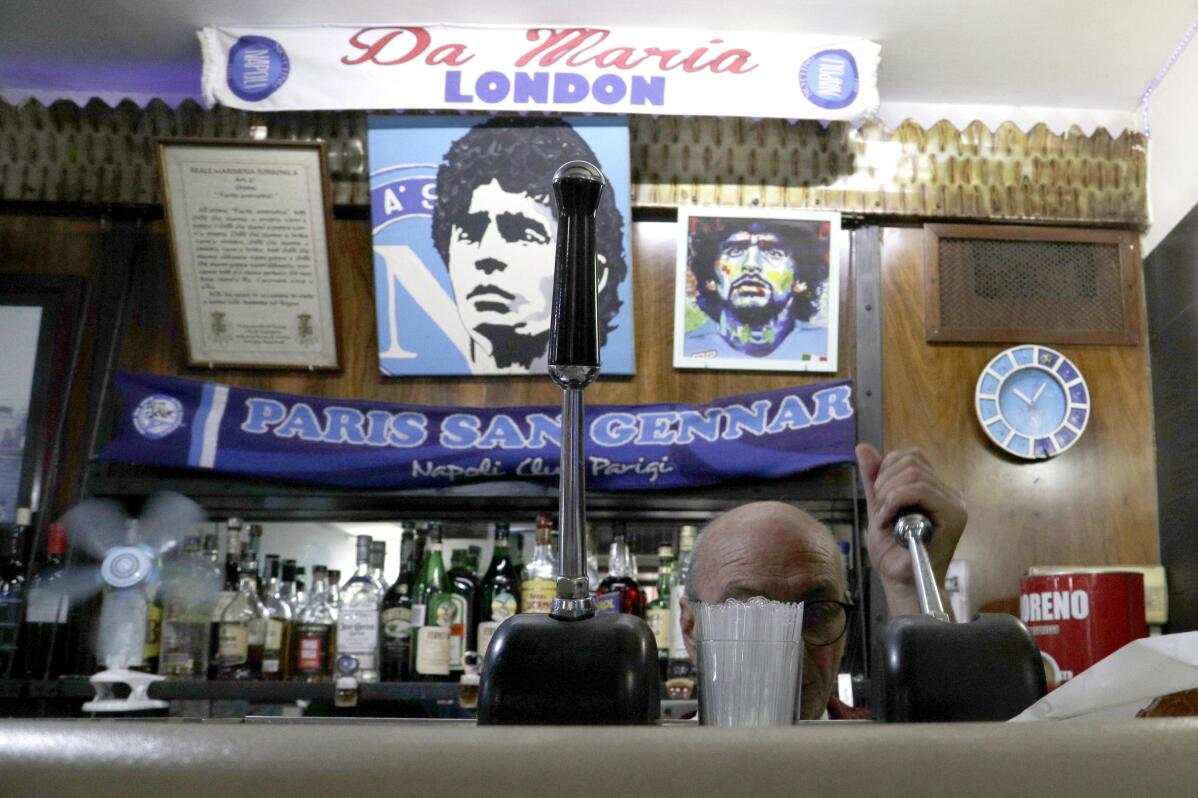 1 of 9

|
FILE - A bartender prepares an espresso coffee inside the Bar Nilo where a makeshift shrine of soccer legend and former Napoli player Diego Armando Maradona is displayed, in downtown Naples, Italy, Sept. 18, 2019. The legend of Diego Maradona at Napoli hovers over the current team's Italian league title, which was sealed Thursday, May 4, 2023. The Argentina standout holds saint-like status in Naples 2 ½ years after his death and more than three decades after he led Napoli to its first two Serie A titles. (AP Photo/Gregorio Borgia, File)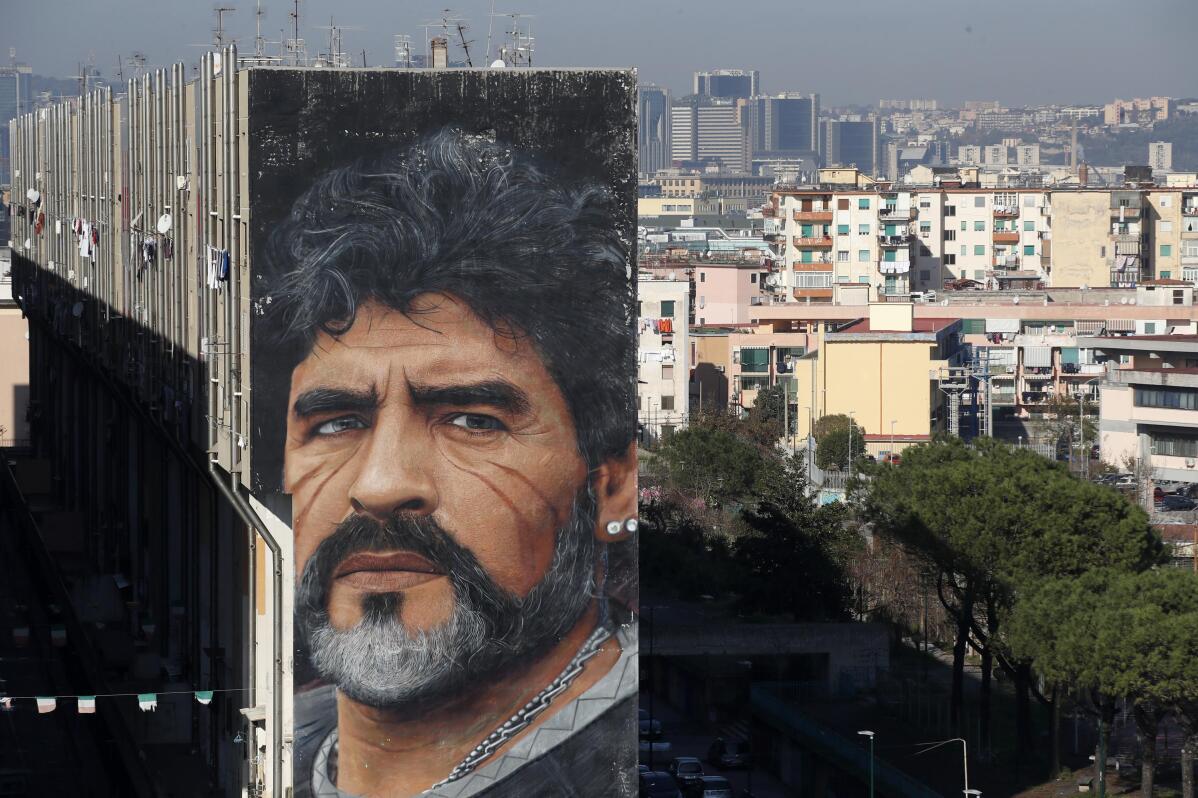 2 of 9

|
FILE - A giant mural of soccer legend Diego Maradona is displayed on a building with the backdrop of the city of Naples, southern Italy, Nov. 26, 2020, a day after his death. The legend of Diego Maradona at Napoli hovers over the current team's Italian league title, which was sealed Thursday, May 4, 2023. The Argentina standout holds saint-like status in Naples 2 ½ years after his death and more than three decades after he led Napoli to its first two Serie A titles. (AP Photo/Alessandra Tarantino, File)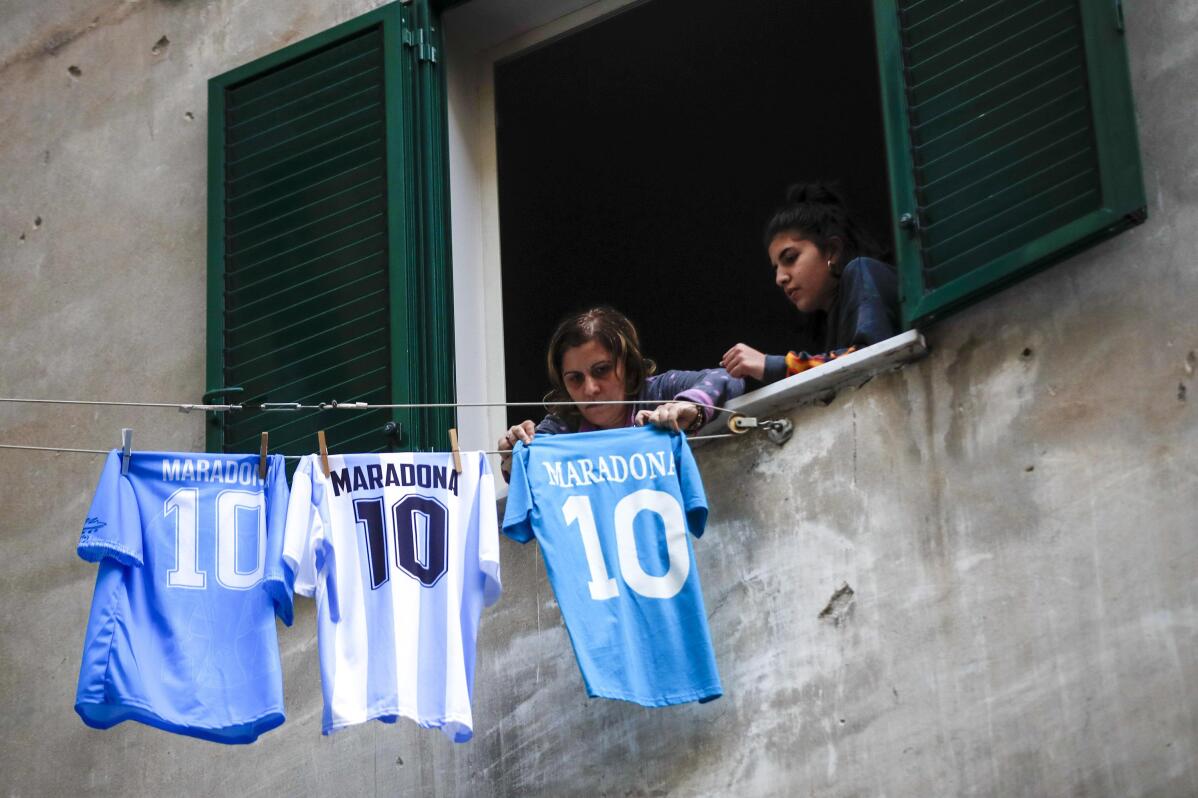 3 of 9

|
FILE - A woman hangs Diego Maradona number 10 jerseys on a drying line, at the popular "Quartieri Spagnoli" neighborhood, in Naples, Nov. 26, 2020, after the announcement of Maradona's death. The legend of Diego Maradona at Napoli hovers over the current team's Italian league title, which was sealed Thursday, May 4, 2023. The Argentina standout holds saint-like status in Naples 2 ½ years after his death and more than three decades after he led Napoli to its first two Serie A titles. (AP Photo/Alessandra Tarantino, File)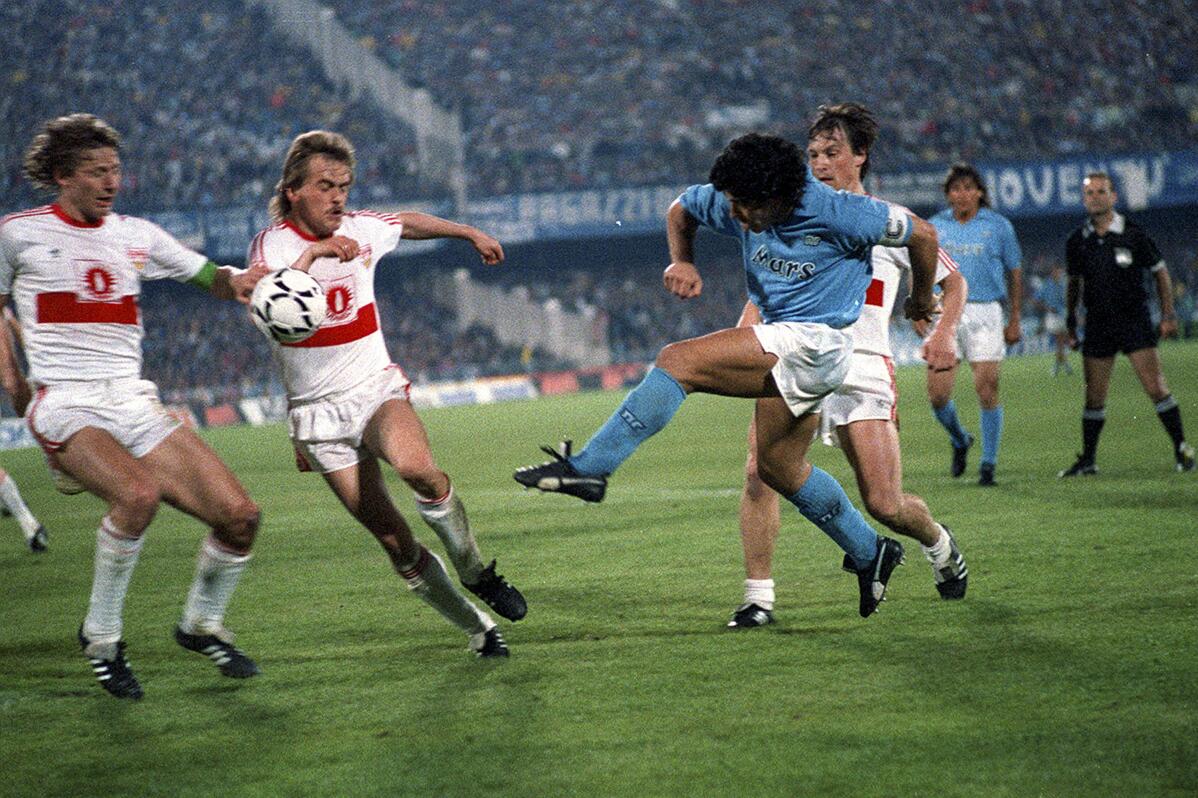 4 of 9

|
FILE - Napoli's Diego Maradona, right, shoots the ball towards Stuttgart's Guido Buchwald, left, during a UEFA cup match between Napoli and Stuttgart, in Stuttgart, Germany, May 3, 1989. The legend of Diego Maradona at Napoli hovers over the current team's Italian league title, which was sealed Thursday, May 4, 2023. The Argentina standout holds saint-like status in Naples 2 ½ years after his death and more than three decades after he led Napoli to its first two Serie A titles. (AP Photo/Thomas Kienzle, File)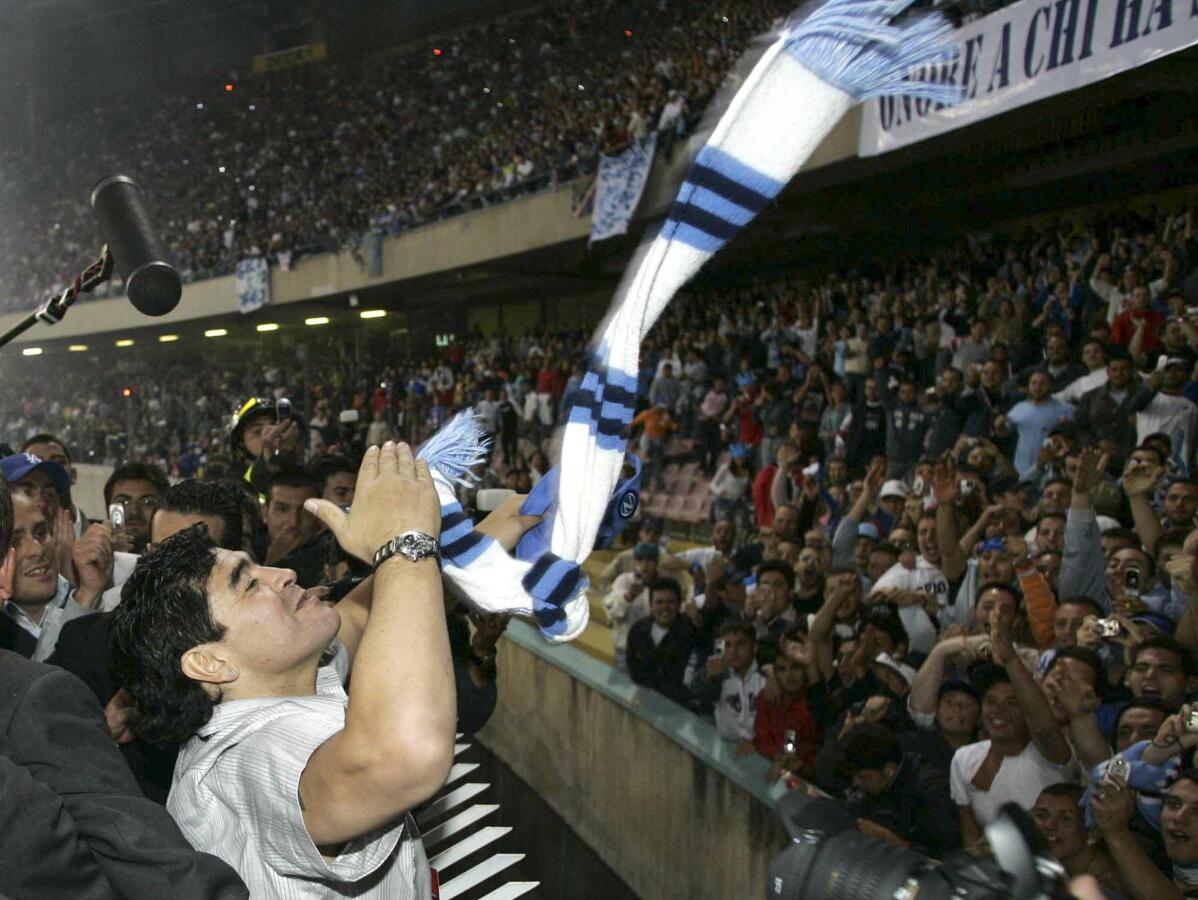 5 of 9

|
FILE - Former Argentine soccer star Diego Armando Maradona blows kisses to his fans in the San Paolo stadium in Naples, southern Italy, June 9, 2005. The legend of Diego Maradona at Napoli hovers over the current team's Italian league title, which was sealed Thursday, May 4, 2023. The Argentina standout holds saint-like status in Naples 2 ½ years after his death and more than three decades after he led Napoli to its first two Serie A titles. (AP Photo/Salvatore Laporta, File)
6 of 9

|
FILE - Argentine soccer superstar Diego Armando Maradona runs for the ball during a Serie A match between Napoli and Fiorentina in Naples, Italy, May 10, 1987. The legend of Diego Maradona at Napoli hovers over the current team's Italian league title, which was sealed Thursday, May 4, 2023. The Argentina standout holds saint-like status in Naples 2 ½ years after his death and more than three decades after he led Napoli to its first two Serie A titles. (AP Photo/Massimo Sambucetti, File)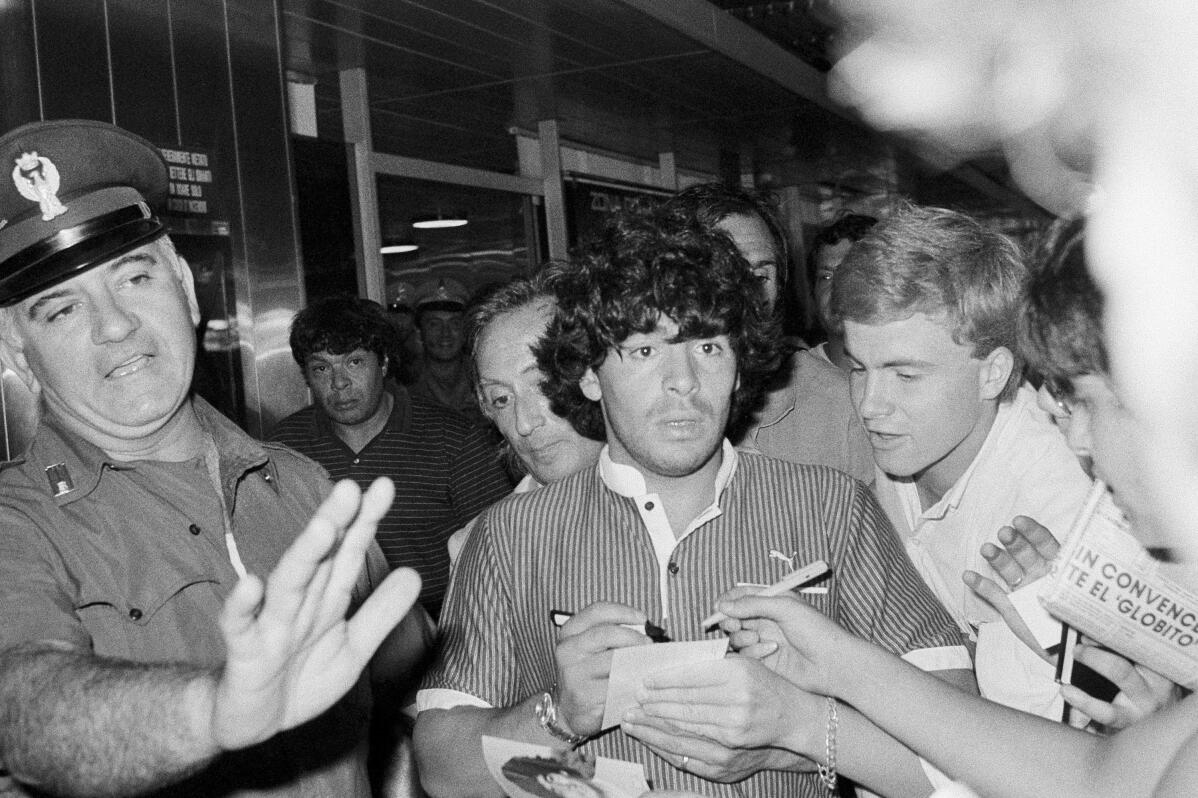 7 of 9

|
FILE - Argentine soccer ace Diego Armando Maradona signs autographs upon his arrival at Leonardo da Vinci airport in Rome, July 24, 1984, to begin playing for Napoli. The legend of Diego Maradona at Napoli hovers over the current team's Italian league title, which was sealed Thursday, May 4, 2023. The Argentina standout holds saint-like status in Naples 2 ½ years after his death and more than three decades after he led Napoli to its first two Serie A titles. (AP Photo/Bruno Mosconi, File)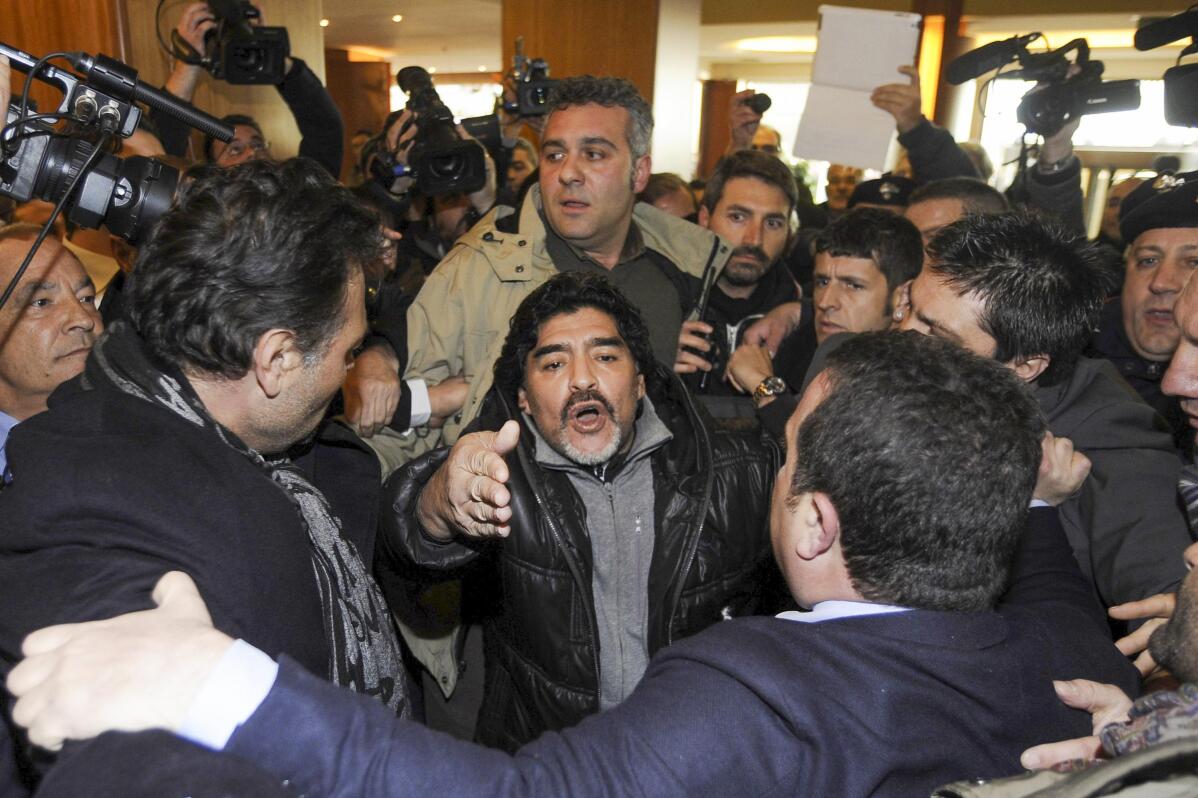 8 of 9

|
FILE - Diego Armando Maradona makes his way through journalists as he arrives in Naples, Italy, Feb. 25, 2013. The legend of Diego Maradona at Napoli hovers over the current team's Italian league title, which was sealed Thursday, May 4, 2023 . The Argentina standout holds saint-like status in Naples 2 ½ years after his death and more than three decades after he led Napoli to its first two Serie A titles. (AP Photo/Salvatore Laporta, File)
9 of 9

|
FILE - Argentine soccer star Diego Armando Maradona, center, trains with Napoli teammates at Castel del Piano, Italy on July 27, 1984. The legend of Diego Maradona at Napoli hovers over the current team's Italian league title, which was sealed Thursday, May 4, 2023. The Argentina standout holds saint-like status in Naples 2 ½ years after his death and more than three decades after he led Napoli to its first two Serie A titles. (AP Photo/Massimo Sambucetti, File)
AP PHOTOS: Maradona's legend hovers over Napoli title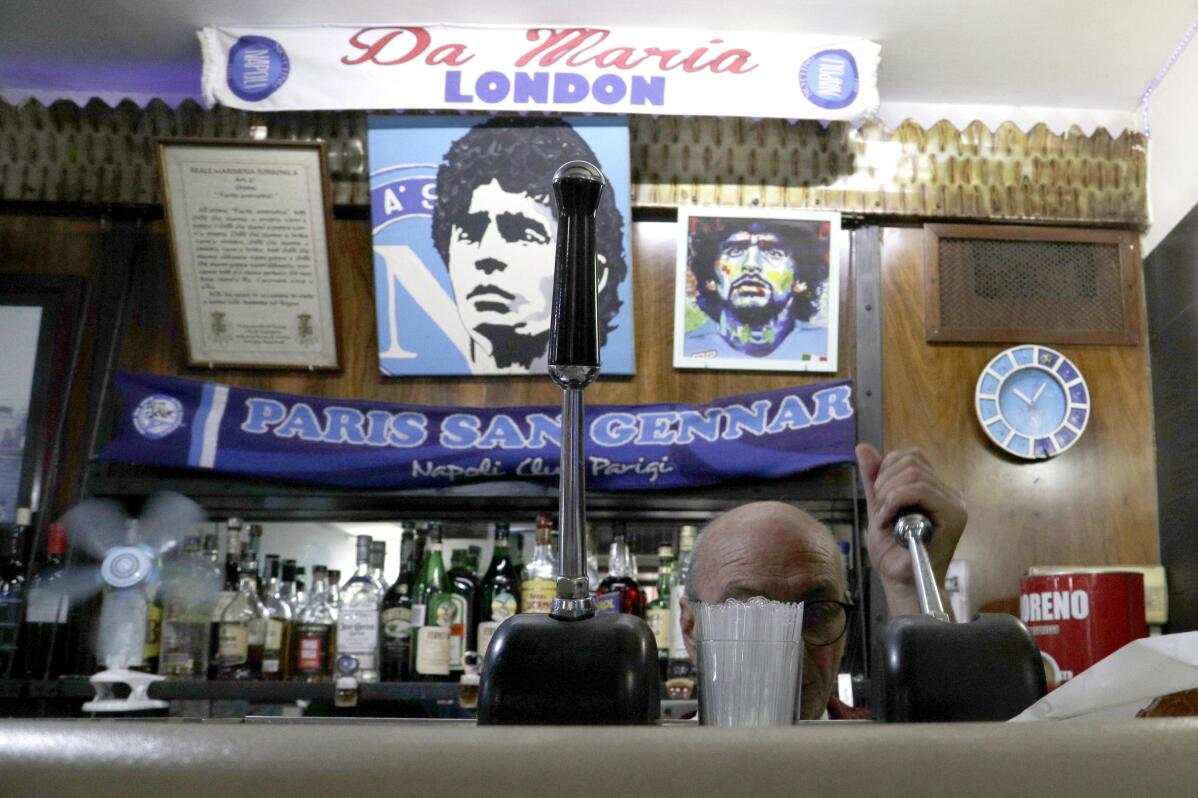 1 of 9

|
FILE - A bartender prepares an espresso coffee inside the Bar Nilo where a makeshift shrine of soccer legend and former Napoli player Diego Armando Maradona is displayed, in downtown Naples, Italy, Sept. 18, 2019. The legend of Diego Maradona at Napoli hovers over the current team's Italian league title, which was sealed Thursday, May 4, 2023. The Argentina standout holds saint-like status in Naples 2 ½ years after his death and more than three decades after he led Napoli to its first two Serie A titles. (AP Photo/Gregorio Borgia, File)
1 of 9
FILE - A bartender prepares an espresso coffee inside the Bar Nilo where a makeshift shrine of soccer legend and former Napoli player Diego Armando Maradona is displayed, in downtown Naples, Italy, Sept. 18, 2019. The legend of Diego Maradona at Napoli hovers over the current team's Italian league title, which was sealed Thursday, May 4, 2023. The Argentina standout holds saint-like status in Naples 2 ½ years after his death and more than three decades after he led Napoli to its first two Serie A titles. (AP Photo/Gregorio Borgia, File)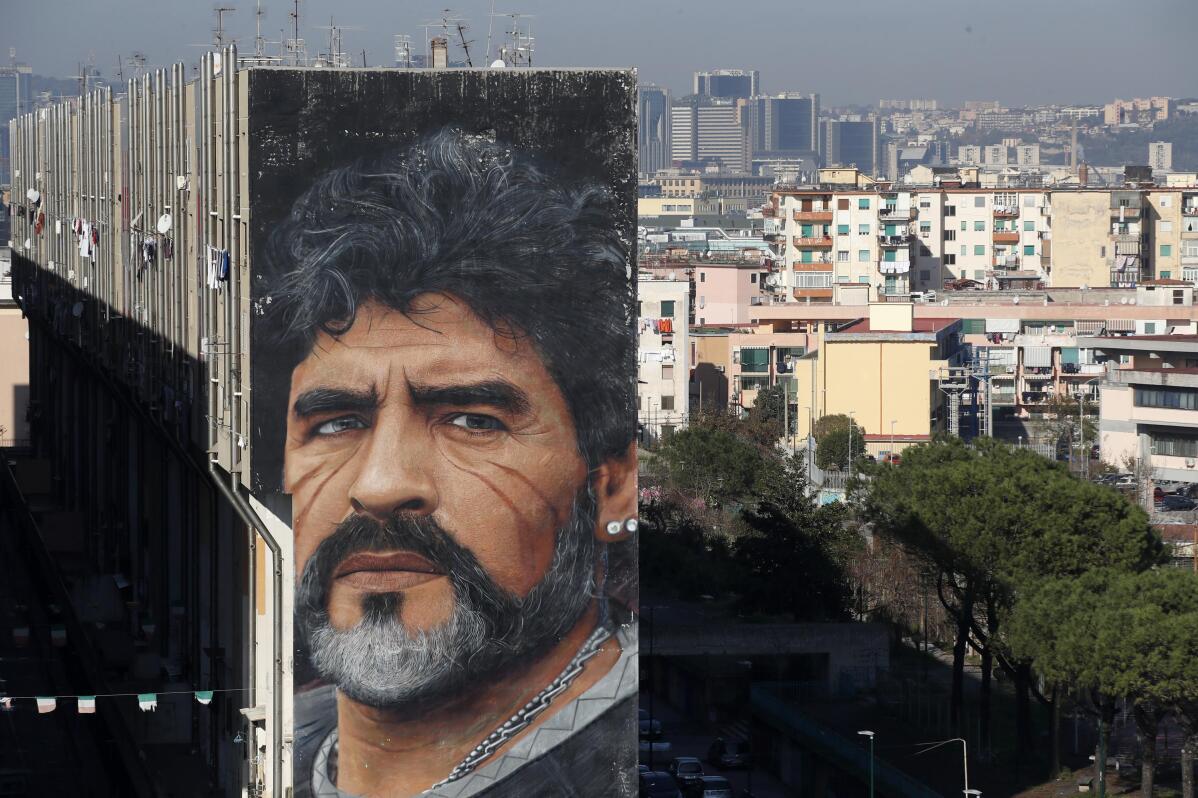 2 of 9

|
FILE - A giant mural of soccer legend Diego Maradona is displayed on a building with the backdrop of the city of Naples, southern Italy, Nov. 26, 2020, a day after his death. The legend of Diego Maradona at Napoli hovers over the current team's Italian league title, which was sealed Thursday, May 4, 2023. The Argentina standout holds saint-like status in Naples 2 ½ years after his death and more than three decades after he led Napoli to its first two Serie A titles. (AP Photo/Alessandra Tarantino, File)
2 of 9
FILE - A giant mural of soccer legend Diego Maradona is displayed on a building with the backdrop of the city of Naples, southern Italy, Nov. 26, 2020, a day after his death. The legend of Diego Maradona at Napoli hovers over the current team's Italian league title, which was sealed Thursday, May 4, 2023. The Argentina standout holds saint-like status in Naples 2 ½ years after his death and more than three decades after he led Napoli to its first two Serie A titles. (AP Photo/Alessandra Tarantino, File)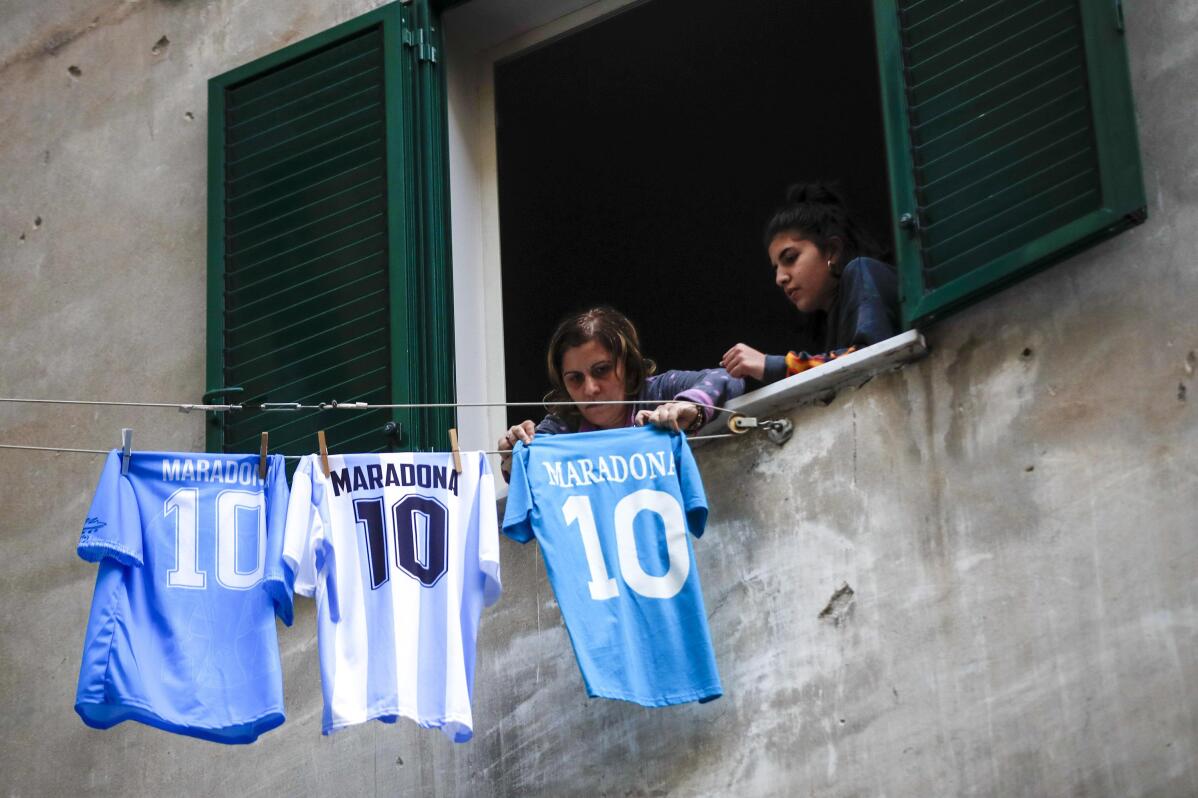 3 of 9

|
FILE - A woman hangs Diego Maradona number 10 jerseys on a drying line, at the popular "Quartieri Spagnoli" neighborhood, in Naples, Nov. 26, 2020, after the announcement of Maradona's death. The legend of Diego Maradona at Napoli hovers over the current team's Italian league title, which was sealed Thursday, May 4, 2023. The Argentina standout holds saint-like status in Naples 2 ½ years after his death and more than three decades after he led Napoli to its first two Serie A titles. (AP Photo/Alessandra Tarantino, File)
3 of 9
FILE - A woman hangs Diego Maradona number 10 jerseys on a drying line, at the popular "Quartieri Spagnoli" neighborhood, in Naples, Nov. 26, 2020, after the announcement of Maradona's death. The legend of Diego Maradona at Napoli hovers over the current team's Italian league title, which was sealed Thursday, May 4, 2023. The Argentina standout holds saint-like status in Naples 2 ½ years after his death and more than three decades after he led Napoli to its first two Serie A titles. (AP Photo/Alessandra Tarantino, File)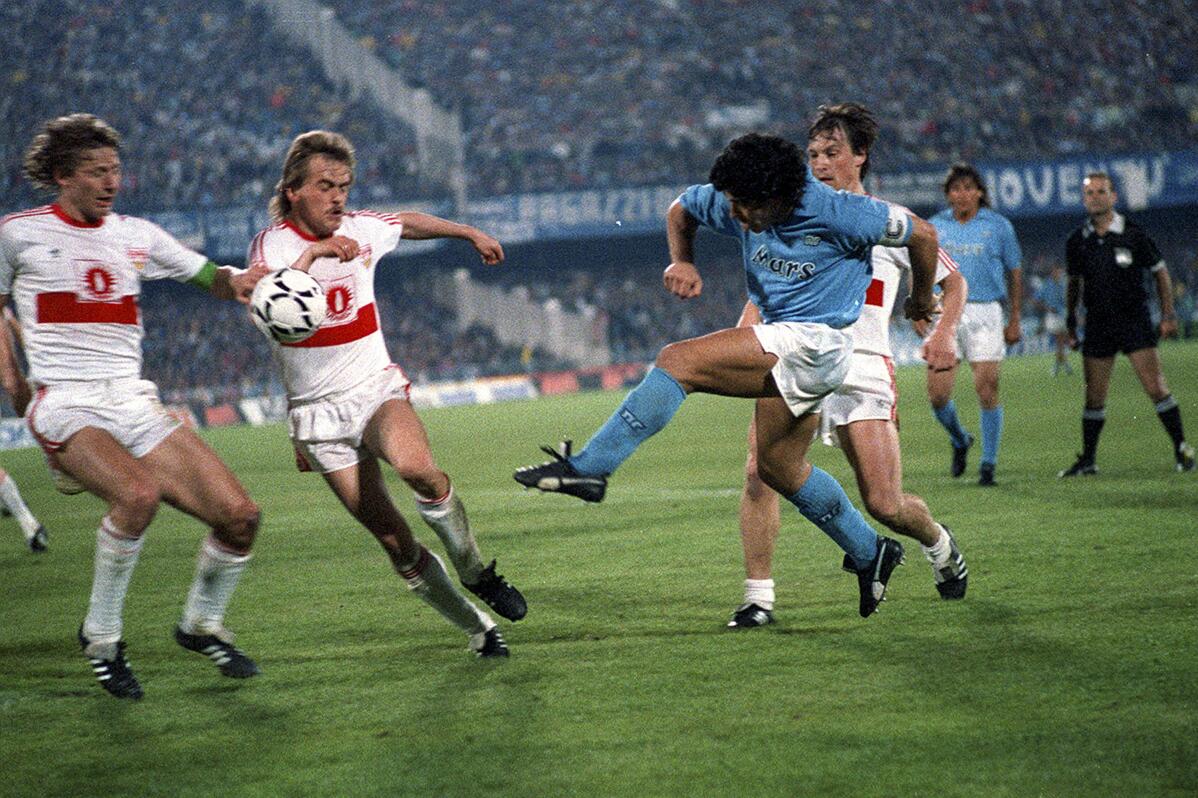 4 of 9

|
FILE - Napoli's Diego Maradona, right, shoots the ball towards Stuttgart's Guido Buchwald, left, during a UEFA cup match between Napoli and Stuttgart, in Stuttgart, Germany, May 3, 1989. The legend of Diego Maradona at Napoli hovers over the current team's Italian league title, which was sealed Thursday, May 4, 2023. The Argentina standout holds saint-like status in Naples 2 ½ years after his death and more than three decades after he led Napoli to its first two Serie A titles. (AP Photo/Thomas Kienzle, File)
4 of 9
FILE - Napoli's Diego Maradona, right, shoots the ball towards Stuttgart's Guido Buchwald, left, during a UEFA cup match between Napoli and Stuttgart, in Stuttgart, Germany, May 3, 1989. The legend of Diego Maradona at Napoli hovers over the current team's Italian league title, which was sealed Thursday, May 4, 2023. The Argentina standout holds saint-like status in Naples 2 ½ years after his death and more than three decades after he led Napoli to its first two Serie A titles. (AP Photo/Thomas Kienzle, File)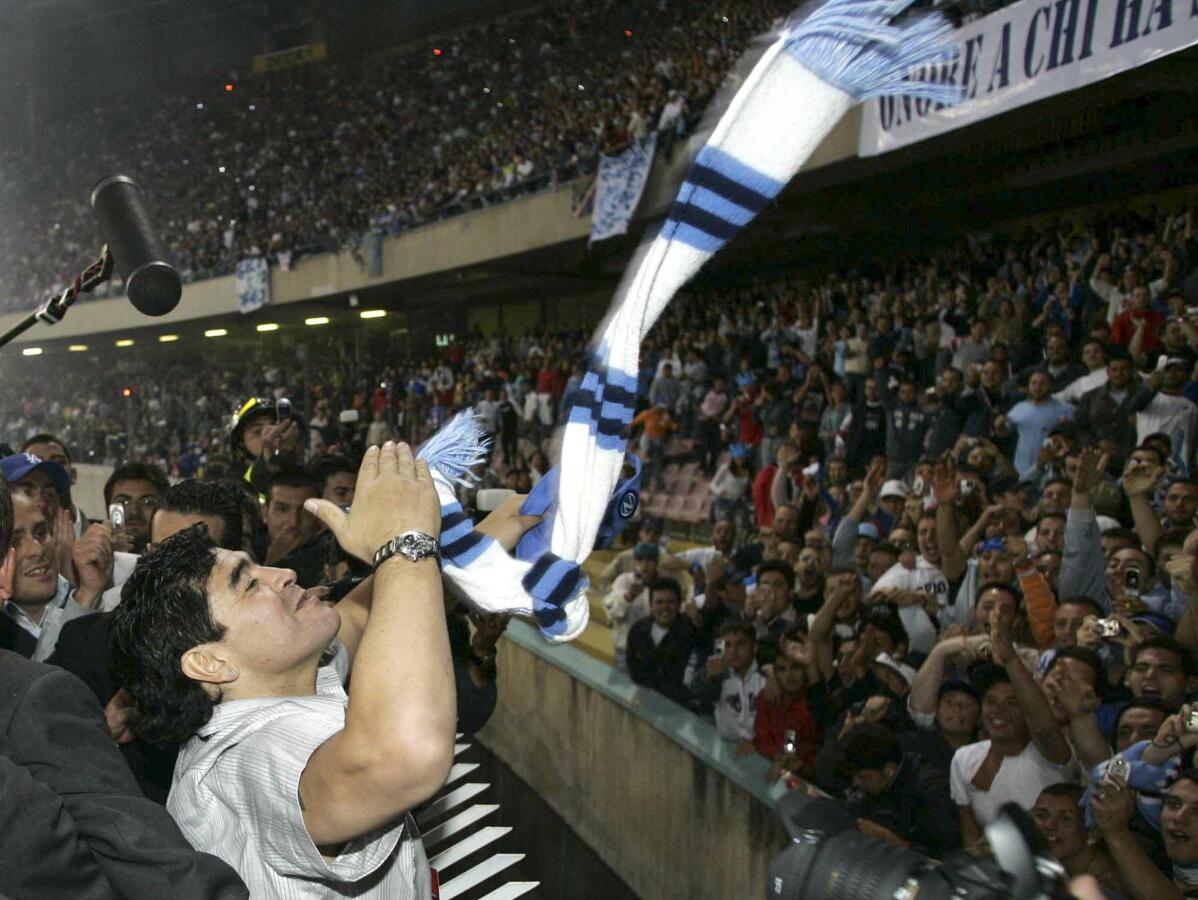 5 of 9

|
FILE - Former Argentine soccer star Diego Armando Maradona blows kisses to his fans in the San Paolo stadium in Naples, southern Italy, June 9, 2005. The legend of Diego Maradona at Napoli hovers over the current team's Italian league title, which was sealed Thursday, May 4, 2023. The Argentina standout holds saint-like status in Naples 2 ½ years after his death and more than three decades after he led Napoli to its first two Serie A titles. (AP Photo/Salvatore Laporta, File)
5 of 9
FILE - Former Argentine soccer star Diego Armando Maradona blows kisses to his fans in the San Paolo stadium in Naples, southern Italy, June 9, 2005. The legend of Diego Maradona at Napoli hovers over the current team's Italian league title, which was sealed Thursday, May 4, 2023. The Argentina standout holds saint-like status in Naples 2 ½ years after his death and more than three decades after he led Napoli to its first two Serie A titles. (AP Photo/Salvatore Laporta, File)
6 of 9

|
FILE - Argentine soccer superstar Diego Armando Maradona runs for the ball during a Serie A match between Napoli and Fiorentina in Naples, Italy, May 10, 1987. The legend of Diego Maradona at Napoli hovers over the current team's Italian league title, which was sealed Thursday, May 4, 2023. The Argentina standout holds saint-like status in Naples 2 ½ years after his death and more than three decades after he led Napoli to its first two Serie A titles. (AP Photo/Massimo Sambucetti, File)
6 of 9
FILE - Argentine soccer superstar Diego Armando Maradona runs for the ball during a Serie A match between Napoli and Fiorentina in Naples, Italy, May 10, 1987. The legend of Diego Maradona at Napoli hovers over the current team's Italian league title, which was sealed Thursday, May 4, 2023. The Argentina standout holds saint-like status in Naples 2 ½ years after his death and more than three decades after he led Napoli to its first two Serie A titles. (AP Photo/Massimo Sambucetti, File)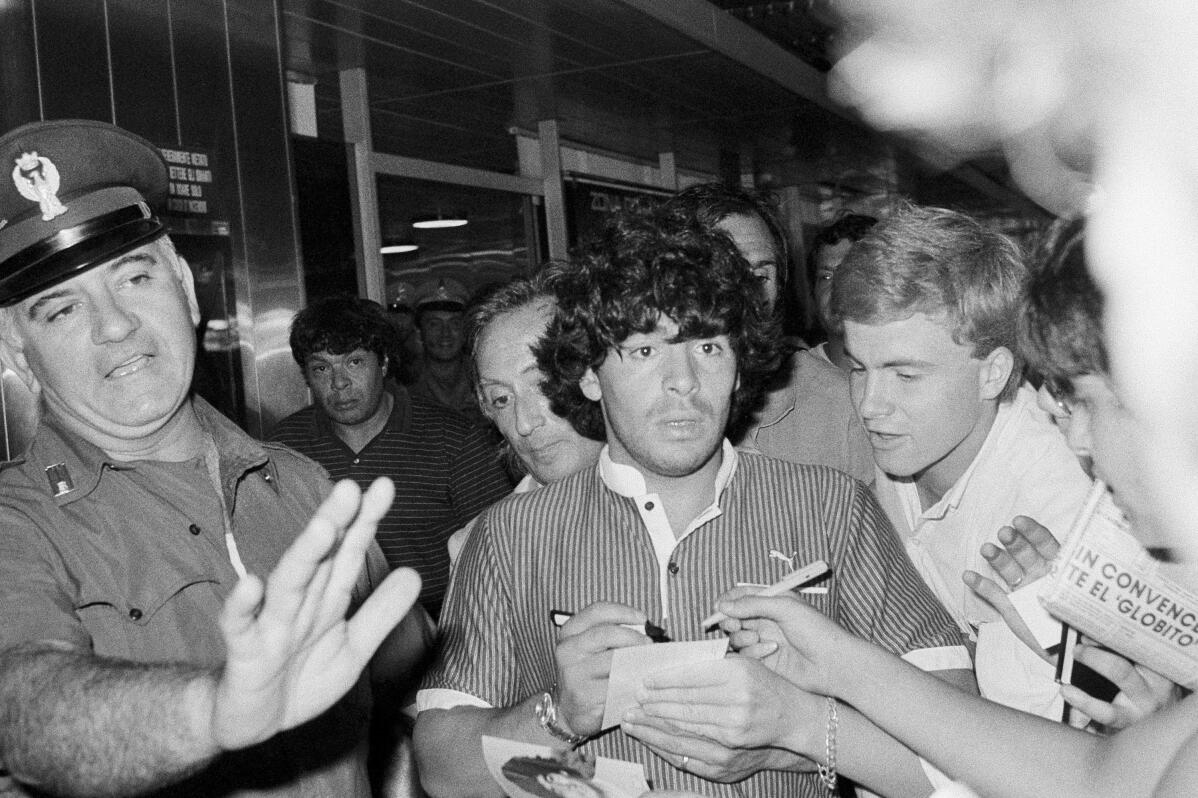 7 of 9

|
FILE - Argentine soccer ace Diego Armando Maradona signs autographs upon his arrival at Leonardo da Vinci airport in Rome, July 24, 1984, to begin playing for Napoli. The legend of Diego Maradona at Napoli hovers over the current team's Italian league title, which was sealed Thursday, May 4, 2023. The Argentina standout holds saint-like status in Naples 2 ½ years after his death and more than three decades after he led Napoli to its first two Serie A titles. (AP Photo/Bruno Mosconi, File)
7 of 9
FILE - Argentine soccer ace Diego Armando Maradona signs autographs upon his arrival at Leonardo da Vinci airport in Rome, July 24, 1984, to begin playing for Napoli. The legend of Diego Maradona at Napoli hovers over the current team's Italian league title, which was sealed Thursday, May 4, 2023. The Argentina standout holds saint-like status in Naples 2 ½ years after his death and more than three decades after he led Napoli to its first two Serie A titles. (AP Photo/Bruno Mosconi, File)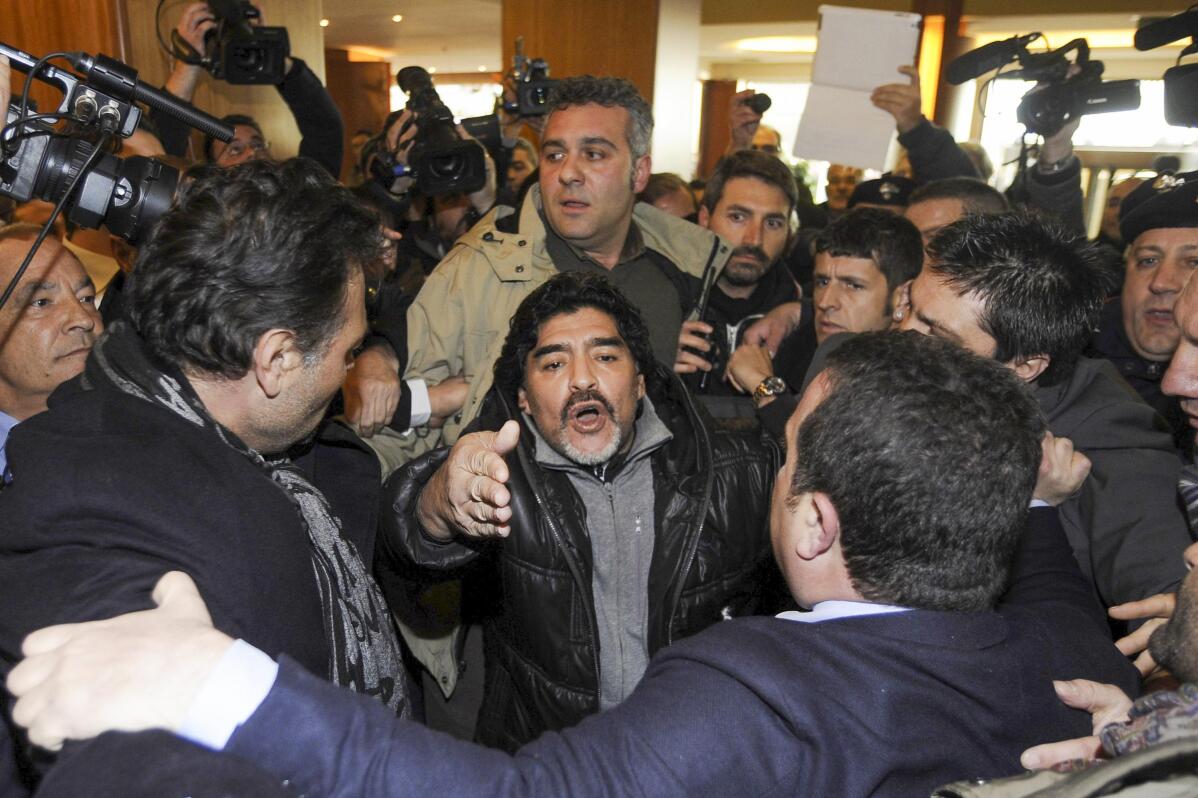 8 of 9

|
FILE - Diego Armando Maradona makes his way through journalists as he arrives in Naples, Italy, Feb. 25, 2013. The legend of Diego Maradona at Napoli hovers over the current team's Italian league title, which was sealed Thursday, May 4, 2023 . The Argentina standout holds saint-like status in Naples 2 ½ years after his death and more than three decades after he led Napoli to its first two Serie A titles. (AP Photo/Salvatore Laporta, File)
8 of 9
FILE - Diego Armando Maradona makes his way through journalists as he arrives in Naples, Italy, Feb. 25, 2013. The legend of Diego Maradona at Napoli hovers over the current team's Italian league title, which was sealed Thursday, May 4, 2023 . The Argentina standout holds saint-like status in Naples 2 ½ years after his death and more than three decades after he led Napoli to its first two Serie A titles. (AP Photo/Salvatore Laporta, File)
9 of 9

|
FILE - Argentine soccer star Diego Armando Maradona, center, trains with Napoli teammates at Castel del Piano, Italy on July 27, 1984. The legend of Diego Maradona at Napoli hovers over the current team's Italian league title, which was sealed Thursday, May 4, 2023. The Argentina standout holds saint-like status in Naples 2 ½ years after his death and more than three decades after he led Napoli to its first two Serie A titles. (AP Photo/Massimo Sambucetti, File)
9 of 9
FILE - Argentine soccer star Diego Armando Maradona, center, trains with Napoli teammates at Castel del Piano, Italy on July 27, 1984. The legend of Diego Maradona at Napoli hovers over the current team's Italian league title, which was sealed Thursday, May 4, 2023. The Argentina standout holds saint-like status in Naples 2 ½ years after his death and more than three decades after he led Napoli to its first two Serie A titles. (AP Photo/Massimo Sambucetti, File)
The legend of Diego Maradona at Napoli hovers over the current team's Italian league title, which was sealed Thursday.
The Argentina standout holds saint-like status in Naples 2½ years after his death and more than three decades after he led Napoli to its first two Serie A titles.
Images of Maradona are still waved on huge banners inside the club's stadium, which was renamed for him when he died in November 2020.
In the downtown Quartieri Spagnoli, a huge mural of Maradona acts as an unofficial museum to the former player.
"It's a problem in terms of overcrowding," Napoli Mayor Gaetan Manfredi said in a recent interview with The Associated Press. "It's a sort of secular cult, which is really appreciated."
Added local taxi driver Antonio Tortora: "Even after his death, he still brings people to Naples. He's a saint."
Maradona captained Napoli to the 1987 and 1990 Serie A titles, and also led the team to the 1989 UEFA Cup trophy. He gave hope to an entire generation of Neapolitans in the southern city, which is often seen as a poor cousin to the northern soccer capitals of Milan and Turin.
___
More AP soccer: https://apnews.com/hub/Soccer and https://twitter.com/AP_Sports