Pegues, Furman hoping to extend March Madness stay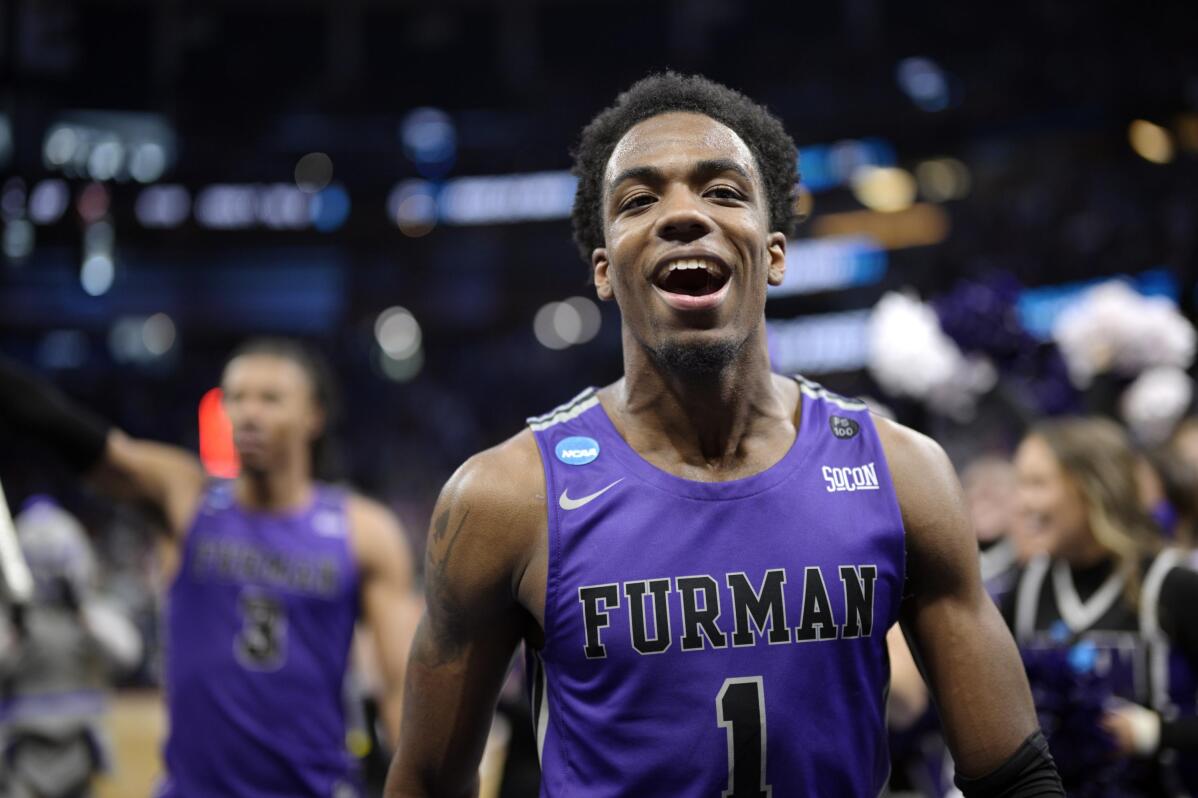 1 of 4

|
Furman guard JP Pegues (1) celebrates while leaving the court after their win against Virginia in a first-round college basketball game in the NCAA Tournament, Thursday, March 16, 2023, in Orlando, Fla. (AP Photo/Phelan M. Ebenhack)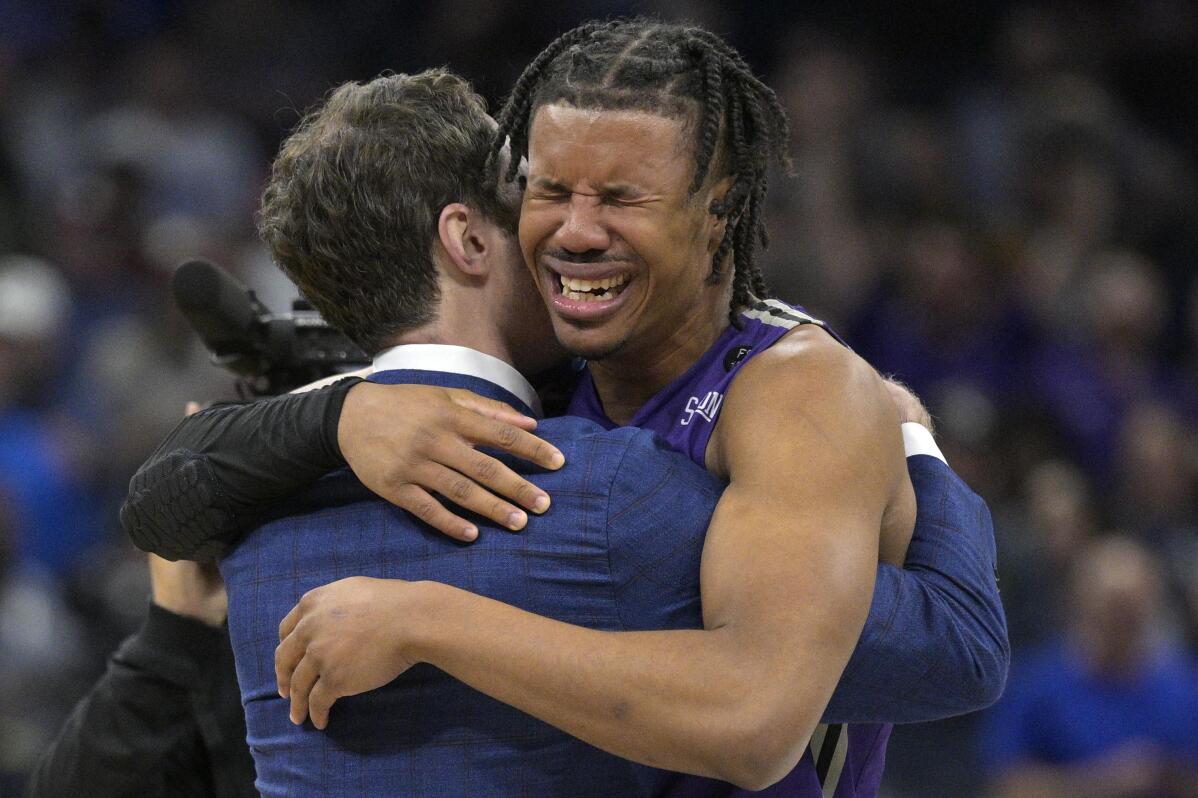 2 of 4

|
Furman guard Mike Bothwell, right, gets emotional after their win against Virginia in a first-round college basketball game in the NCAA Tournament, Thursday, March 16, 2023, in Orlando, Fla. Furman beat Virginia 68-67. (AP Photo/Phelan M. Ebenhack)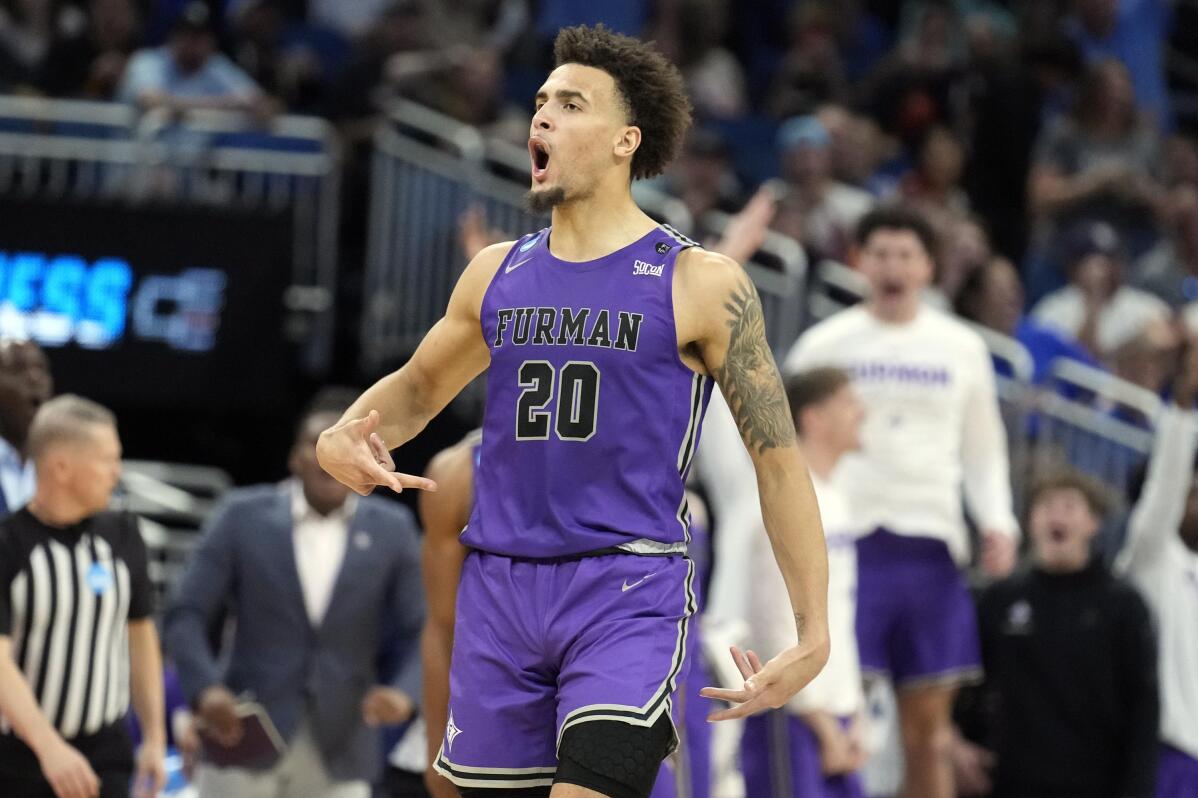 3 of 4

|
Furman forward Jalen Slawson (20) reacts after making a three-point shot against Virginia during the second half of a first-round college basketball game in the NCAA Tournament Thursday, March 16, 2023, in Orlando, Fla. Furman beat Virginia 68-67. AP Photo/Chris O'Meara)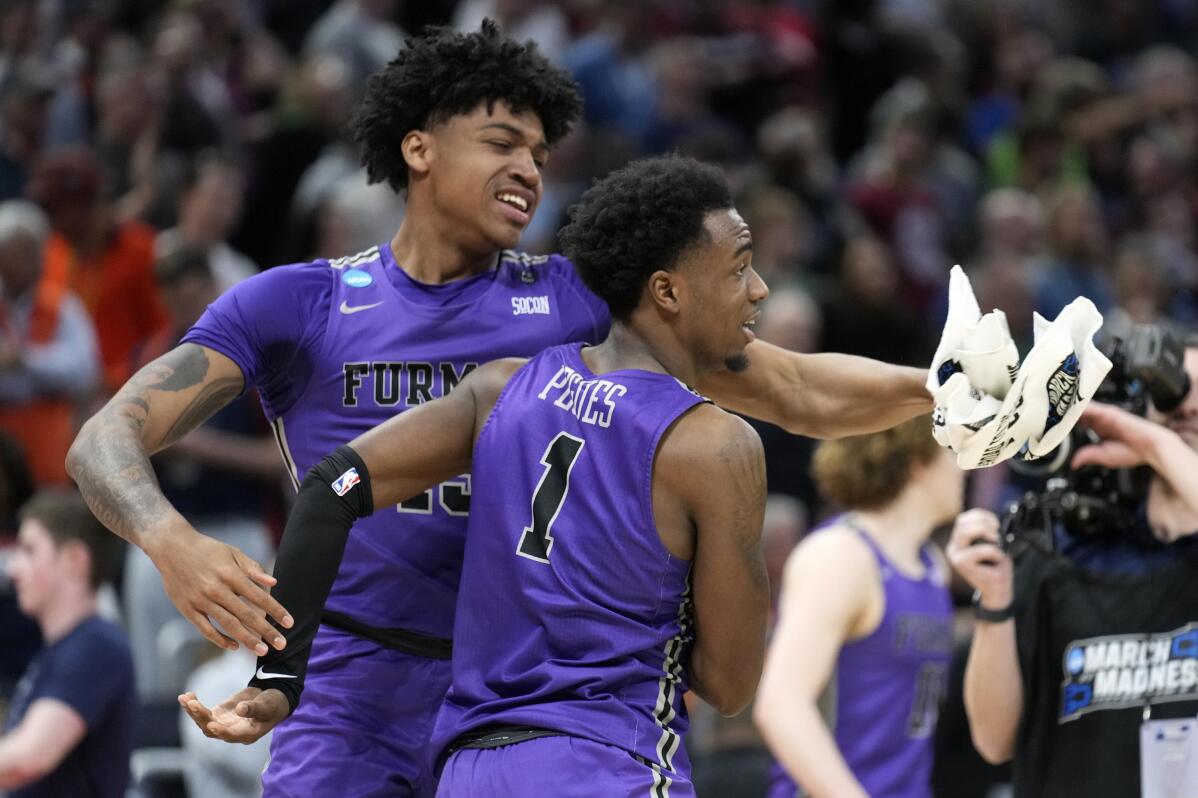 4 of 4

|
Furman guard JP Pegues (1) reacts with forward Tyrese Hughey after the team defeated Virginia in a first-round college basketball game in the NCAA Tournament Thursday, March 16, 2023, in Orlando, Fla. (AP Photo/Chris O'Meara)
Pegues, Furman hoping to extend March Madness stay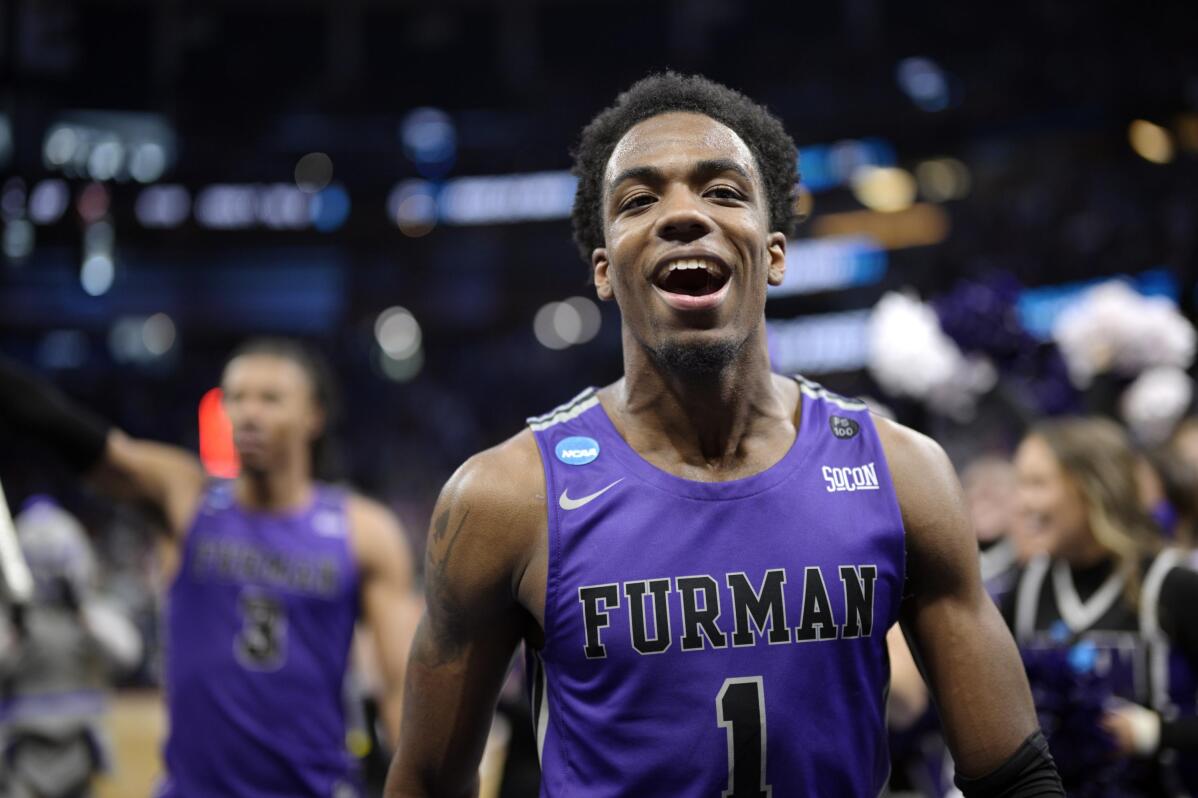 1 of 4

|
Furman guard JP Pegues (1) celebrates while leaving the court after their win against Virginia in a first-round college basketball game in the NCAA Tournament, Thursday, March 16, 2023, in Orlando, Fla. (AP Photo/Phelan M. Ebenhack)
1 of 4
Furman guard JP Pegues (1) celebrates while leaving the court after their win against Virginia in a first-round college basketball game in the NCAA Tournament, Thursday, March 16, 2023, in Orlando, Fla. (AP Photo/Phelan M. Ebenhack)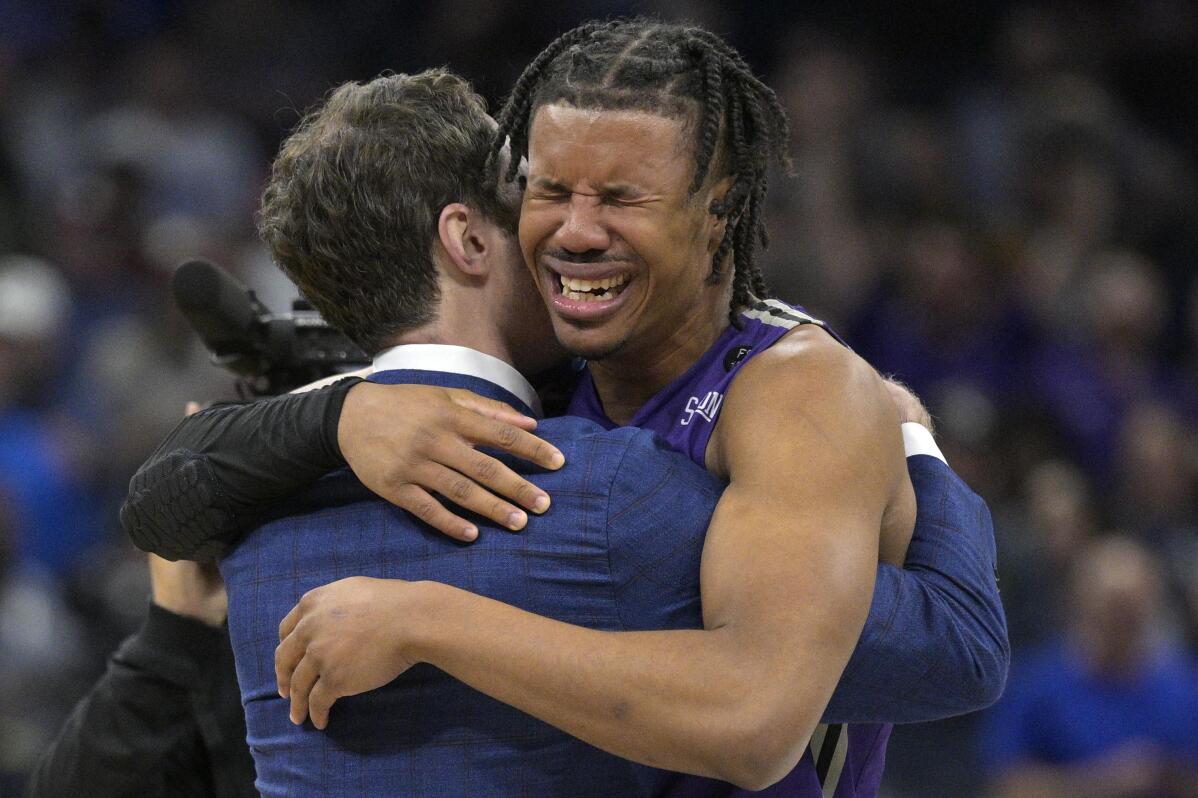 2 of 4

|
Furman guard Mike Bothwell, right, gets emotional after their win against Virginia in a first-round college basketball game in the NCAA Tournament, Thursday, March 16, 2023, in Orlando, Fla. Furman beat Virginia 68-67. (AP Photo/Phelan M. Ebenhack)
2 of 4
Furman guard Mike Bothwell, right, gets emotional after their win against Virginia in a first-round college basketball game in the NCAA Tournament, Thursday, March 16, 2023, in Orlando, Fla. Furman beat Virginia 68-67. (AP Photo/Phelan M. Ebenhack)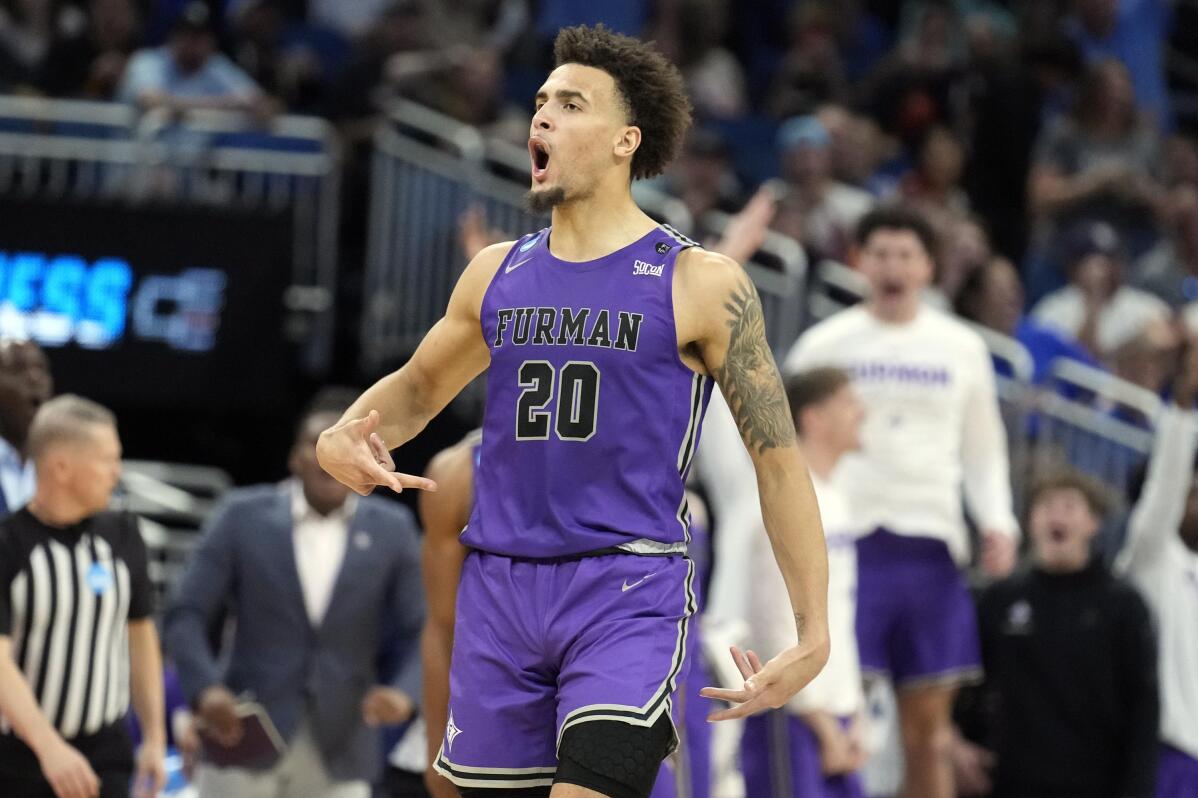 3 of 4

|
Furman forward Jalen Slawson (20) reacts after making a three-point shot against Virginia during the second half of a first-round college basketball game in the NCAA Tournament Thursday, March 16, 2023, in Orlando, Fla. Furman beat Virginia 68-67. AP Photo/Chris O'Meara)
3 of 4
Furman forward Jalen Slawson (20) reacts after making a three-point shot against Virginia during the second half of a first-round college basketball game in the NCAA Tournament Thursday, March 16, 2023, in Orlando, Fla. Furman beat Virginia 68-67. AP Photo/Chris O'Meara)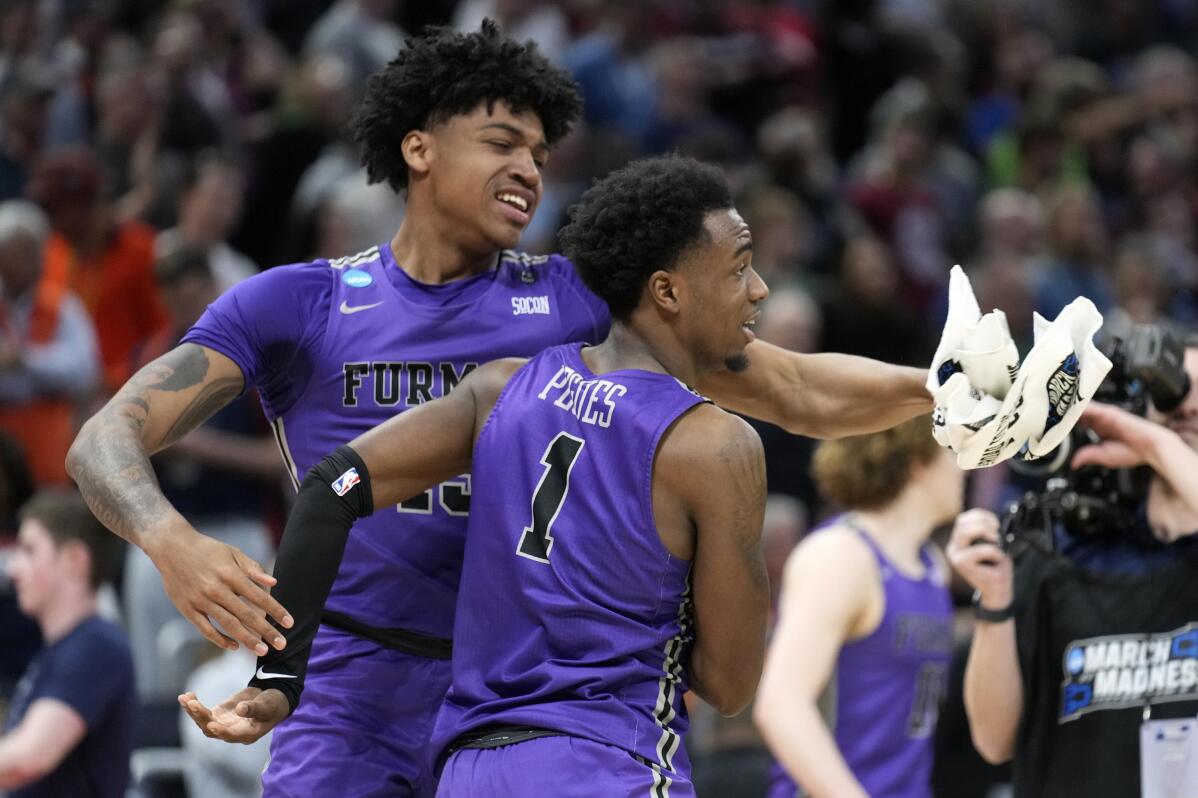 4 of 4

|
Furman guard JP Pegues (1) reacts with forward Tyrese Hughey after the team defeated Virginia in a first-round college basketball game in the NCAA Tournament Thursday, March 16, 2023, in Orlando, Fla. (AP Photo/Chris O'Meara)
4 of 4
Furman guard JP Pegues (1) reacts with forward Tyrese Hughey after the team defeated Virginia in a first-round college basketball game in the NCAA Tournament Thursday, March 16, 2023, in Orlando, Fla. (AP Photo/Chris O'Meara)
ORLANDO, Fla. (AP) — JP Pegues has watched the shot over and over. A March Madness memory for Furman for all time.
In Pegues' wildest dreams, he never imagined himself becoming an instant star. But the 6-foot-1 sophomore rocketed into notoriety when his 3-pointer took down No. 4 seed Virginia in the opening round of the NCAA Tournament.
"It's been at least 50 times I've watched that specific clip," Pegues said Friday. "I was just so numb to the fact at first. I couldn't believe it."
It began to sink in when his cell phone kept ringing and the team returned to a rousing reception at its hotel.
Furman's 68-67 victory — the school's first win in the tournament in 49 years — sent the 13th-seeded Paladins (28-7) into Saturday's second round against San Diego State (28-6), the No. 5 seed in the South Region.
Following Thursday's win, Furman players and fans celebrated at a hotel, and students partied back home in Greenville, South Carolina. Pegues stopped answering his phone long enough to enjoy the moment with teammates and family.
"I started to realize how big the moment was. But I also noticed it wasn't just totally me," Pegues said. "I don't want to consider the moment totally about me because at the end of day, I did make the shot but it was a team effort."
Teammate Mike Bothwell described Pegues as a laid-back guy who will need someone to escort him around campus from here on "because he's going to get swarmed" when the Paladins' tournament run ends.
"I don't know if you guys saw the videos from our campus. The support we had back in Greenville was amazing. ... Our student center was packed, people jumping into our lake," Bothwell said.
"That's what makes this thing so fun and cool, how the school was really rallying behind us and having fun. So many people have texted me and said I'm getting tickets to come down Saturday."
Winning in its first NCAA Tournament appearance since 1980 thrust the small private college with an enrollment of 2,500 into the national spotlight on Thursday. The university's athletic Twitter account gained more than 1,000 followers overnight.
Not that sports fans aren't already familiar with an impressive list of famous Furman graduates that includes 90-year-old Frank Selvy, who set a Division I record that still stands by scoring 100 points in a game against Newberry on Feb. 13, 1954. Selvy, a two-time NBA All-Star, coached at his alma mater in the 1960s, and last fall was inducted into the college basketball Hall of Fame.
Former NFL quarterback and coach Sam Wyche, PGA golfer Brad Faxon, soccer standouts Clint Dempsey and Walker Zimmerman, and LPGA golfers Betsy King, Beth Daniel, Sherri Turner and Dottie Pepper are Furman grads, too.
Bothwell and Southern Conference Player of the Year Jalen Slawson are super seniors who together decided to return to school for a fifth year after Furman lost to Chattanooga on a buzzer-beater in the championship game of the Southern Conference tournament.
It's especially gratifying for them to finish their careers in the NCAA tourney.
And now that Furman has its first win since beating South Carolina in the opening round in 1974, the Paladins are determined to prove they're not a one-shot wonder.
Coach Bob Richey addressed the team after dinner Thursday night.
"He was saying he didn't want us to forget about this moment, but we'll have that moment for the rest of our lives, to not hold on to it too long where we can't focus on the next task ahead and miss out on the next opportunity," Bothwell said.
"We're still enjoying it, still happy where we are. But we've got to be urgent and (prepare). We have a big task ahead of us (Saturday)," Bothwell added. "We kind of do those together. We're urgent and have joy at the same time."
Richey, who is in his 12th season at Furman — sixth as head coach — is having a ball, too.
"I woke up this morning just making sure I wasn't at Disney and dreaming all this," Richey said. "But it did happen, and we were a part of it. "
___
AP March Madness coverage: https://apnews.com/hub/march-madness and bracket: https://apnews.com/hub/ncaa-mens-bracket and https://apnews.com/hub/ap-top-25-college-basketball-poll and https://twitter.com/AP_Top25