Tobin Anderson leaving FDU to replace Rick Pitino at Iona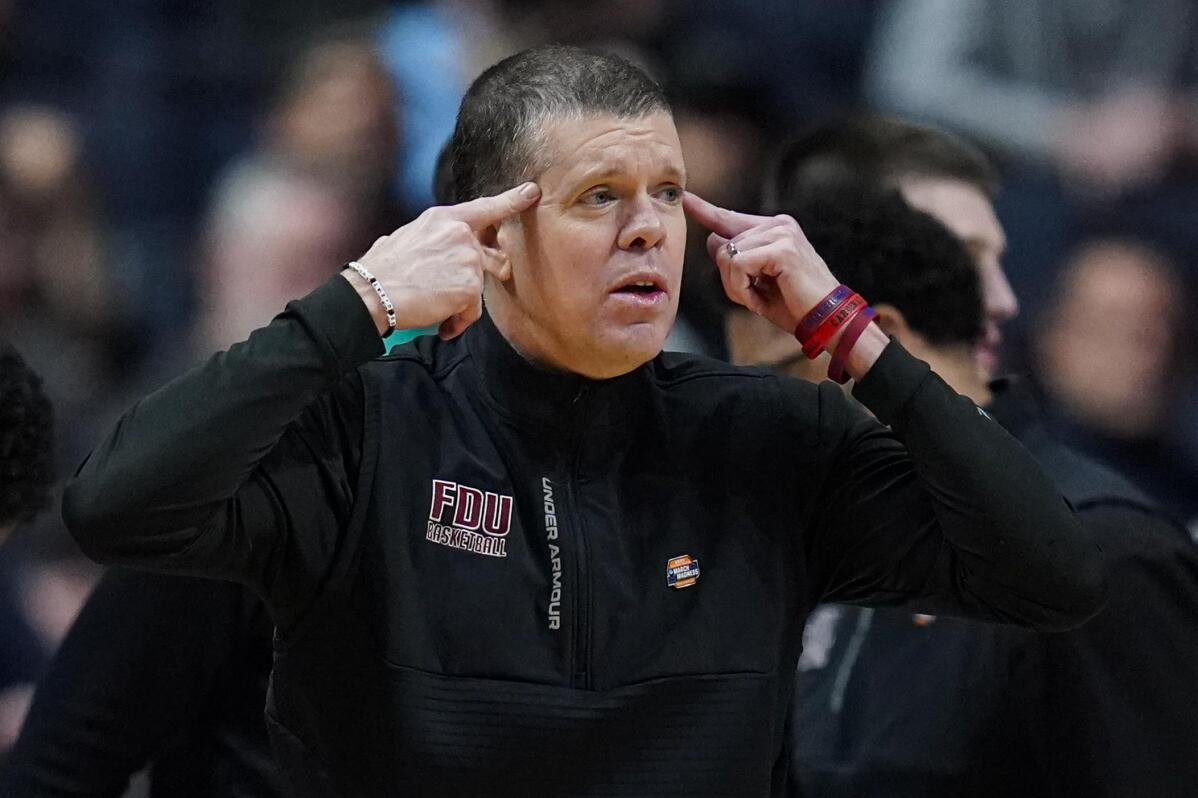 1 of 4

|
Fairleigh Dickinson head coach Tobin Anderson yells to his team as they played Florida Atlantic in the second half of a second-round college basketball game in the men's NCAA Tournament in Columbus, Ohio, Sunday, March 19, 2023. (AP Photo/Michael Conroy)
2 of 4

|
Fairleigh Dickinson head coach Tobin Anderson gestures in the first half of a second-round college basketball game against Florida Atlantic in the men's NCAA Tournament in Columbus, Ohio, Sunday, March 19, 2023. (AP Photo/Michael Conroy)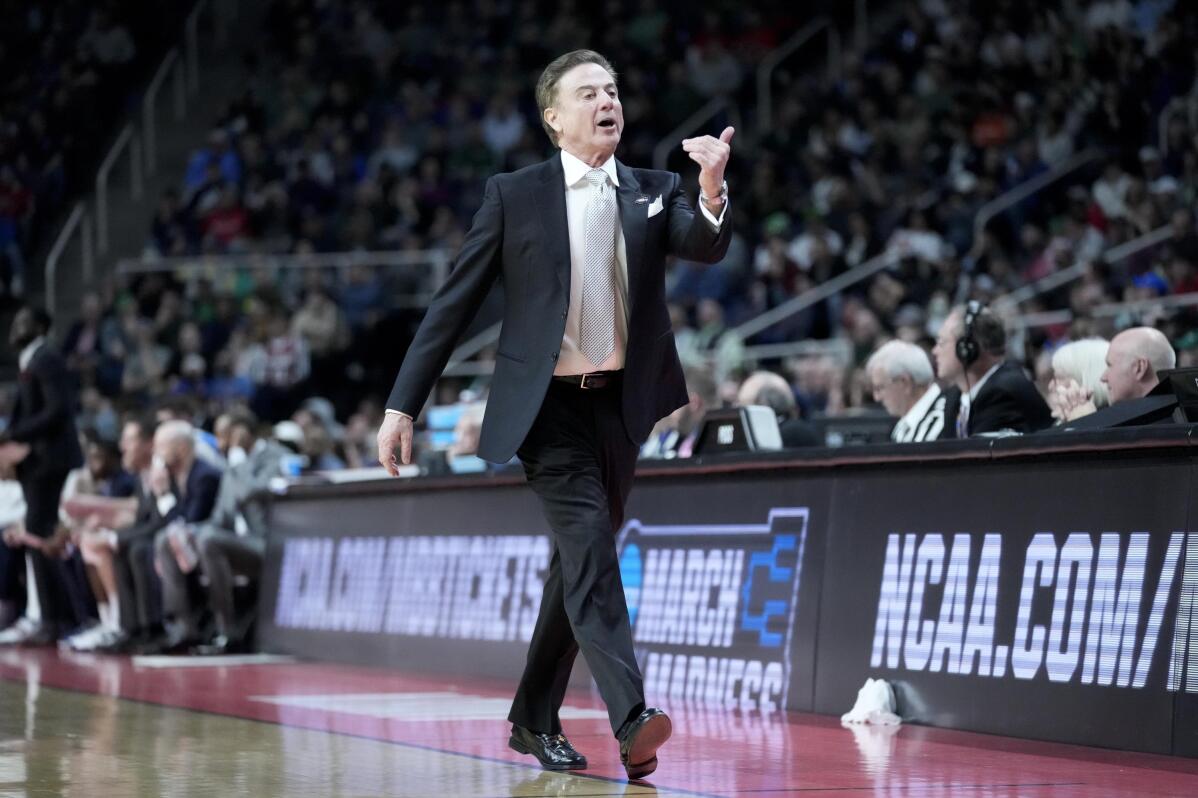 3 of 4

|
Iona head coach Rick Pitino works the bench in the first half of a first-round college basketball game against Connecticut in the NCAA Tournament, Friday, March 17, 2023, in Albany, N.Y. (AP Photo/John Minchillo)
4 of 4

|
Iona head coach Rick Pitino works the bench in the first half of a first-round college basketball game against Connecticut in the NCAA Tournament, Friday, March 17, 2023, in Albany, N.Y. (AP Photo/John Minchillo)
Tobin Anderson leaving FDU to replace Rick Pitino at Iona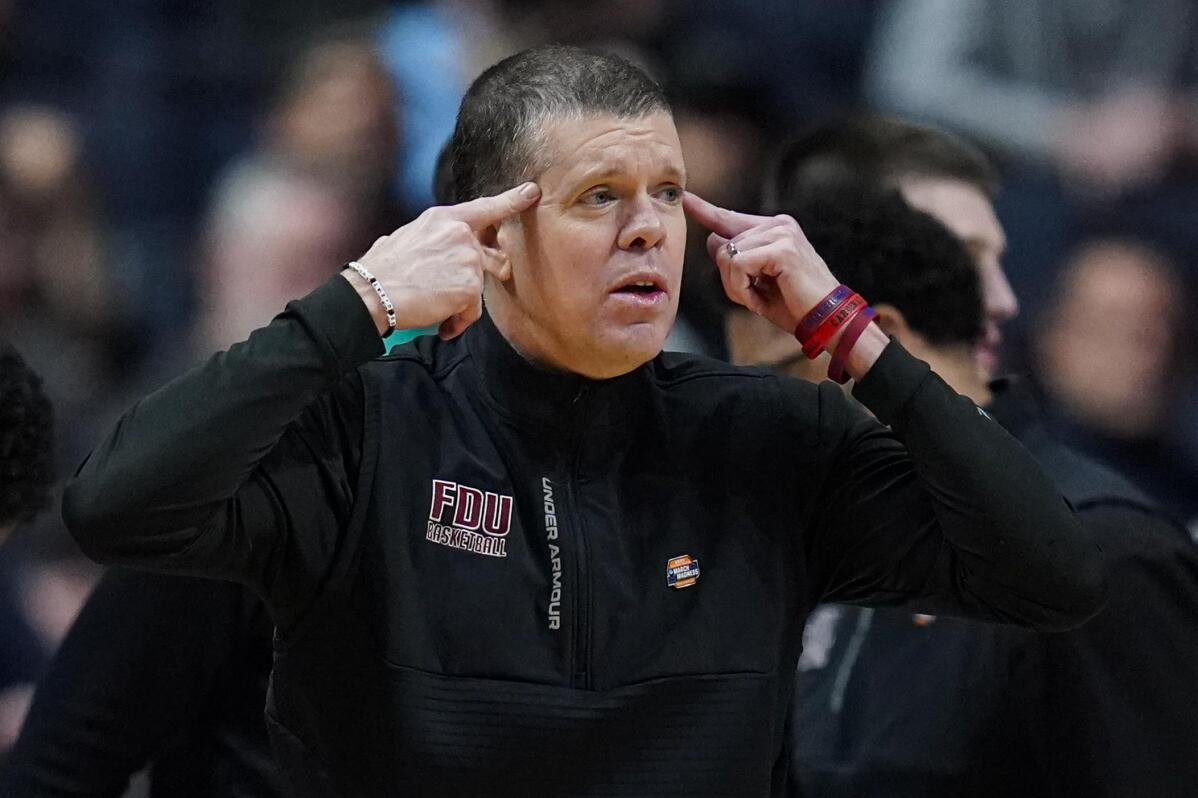 1 of 4

|
Fairleigh Dickinson head coach Tobin Anderson yells to his team as they played Florida Atlantic in the second half of a second-round college basketball game in the men's NCAA Tournament in Columbus, Ohio, Sunday, March 19, 2023. (AP Photo/Michael Conroy)
1 of 4
Fairleigh Dickinson head coach Tobin Anderson yells to his team as they played Florida Atlantic in the second half of a second-round college basketball game in the men's NCAA Tournament in Columbus, Ohio, Sunday, March 19, 2023. (AP Photo/Michael Conroy)
2 of 4

|
Fairleigh Dickinson head coach Tobin Anderson gestures in the first half of a second-round college basketball game against Florida Atlantic in the men's NCAA Tournament in Columbus, Ohio, Sunday, March 19, 2023. (AP Photo/Michael Conroy)
2 of 4
Fairleigh Dickinson head coach Tobin Anderson gestures in the first half of a second-round college basketball game against Florida Atlantic in the men's NCAA Tournament in Columbus, Ohio, Sunday, March 19, 2023. (AP Photo/Michael Conroy)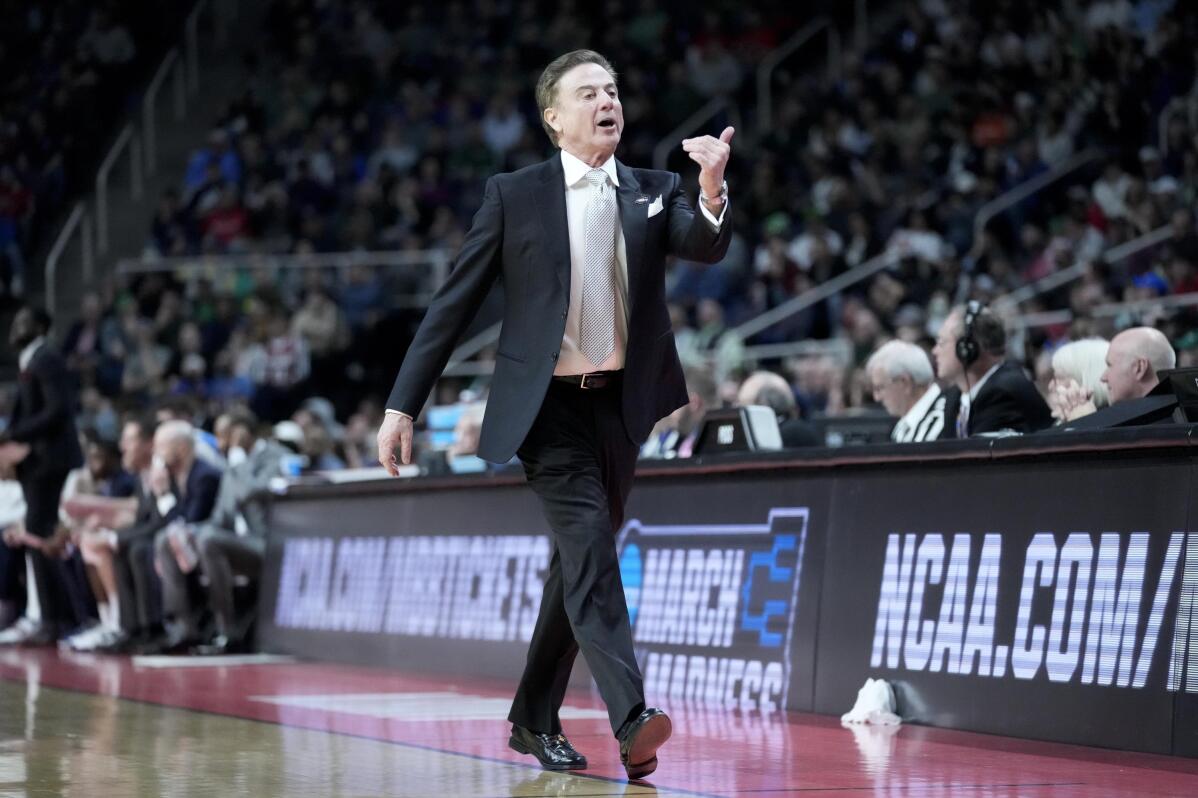 3 of 4

|
Iona head coach Rick Pitino works the bench in the first half of a first-round college basketball game against Connecticut in the NCAA Tournament, Friday, March 17, 2023, in Albany, N.Y. (AP Photo/John Minchillo)
3 of 4
Iona head coach Rick Pitino works the bench in the first half of a first-round college basketball game against Connecticut in the NCAA Tournament, Friday, March 17, 2023, in Albany, N.Y. (AP Photo/John Minchillo)
4 of 4

|
Iona head coach Rick Pitino works the bench in the first half of a first-round college basketball game against Connecticut in the NCAA Tournament, Friday, March 17, 2023, in Albany, N.Y. (AP Photo/John Minchillo)
4 of 4
Iona head coach Rick Pitino works the bench in the first half of a first-round college basketball game against Connecticut in the NCAA Tournament, Friday, March 17, 2023, in Albany, N.Y. (AP Photo/John Minchillo)
NEW ROCHELLE, N.Y. (AP) — Tobin Anderson is leaving NCAA Cinderella Fairleigh Dickinson after one fairy-tale season and replacing Rick Pitino at Iona.
Iona athletic director Matt Glovaski announced the hiring on Tuesday, a day after Pitino left to take the job at St. John's of the Big East Conference.
Anderson led the No. 16 seed Knights to a win over No. 1 Purdue in the opening round of the NCAA Tournament last week, only the second time a No. 16 seed has knocked off a top-seeded team. UMBC beat No. 1 Virginia in 2018.
"Iona University represents everything my family and I were looking for in a school, a basketball program and a campus atmosphere," Anderson said in a statement. "Our goal is to build upon the tremendous tradition of Iona basketball and elevate the program to greater heights."
Iona of the Metro Atlantic Athletic Conference was knocked out of this year's tournament by UConn on Friday.
"We have long known him to be a fantastic coach and an even better person," Glovaski said. "Now, with his team's impressive run in the NCAA Tournament, everyone paying attention to March Madness also knows this. We're delighted that he will be at the helm of our men's basketball program."
Anderson led FDU to a 21-16 overall record and 10-6 in Northeast Conference play. The Knights lost to Merrimack in the conference title game but got the NCAA berth because Merrimack was ineligible to compete as a transitioning school from Division II.
FDU, one of the shorter teams in the 68-team field, beat Texas Southern in a First Four game and followed that with the upset over Purdue. Florida Atlantic knocked the Knights out of the tournament on Sunday.
FDU had a 4-22 record in 2021-22. Anderson was hired after running the program at St. Thomas Aquinas, located less than 25 miles (40 km) from Iona's campus. In nine seasons, he turned the team into a perennial Top 25 program in Division II after inheriting a team that won just five games prior to his hire.
Anderson got his first taste of Division I coaching, serving as an assistant at Siena for two seasons from 2011–2013. Before his time at Siena, Anderson was a head coach at the Division III level at Hamilton College and Clarkson University in upstate New York. He worked as an assistant at Clarkson and Le Moyne College.
Anderson graduated from Wesleyan University in 1995.
___
AP March Madness coverage: https://apnews.com/hub/march-madness and bracket: https://apnews.com/hub/ncaa-mens-bracket and https://apnews.com/hub/ap-top-25-college-basketball-poll and https://twitter.com/AP_Top25