Soundtrack of this year's March Madness begins with 'CLANK!'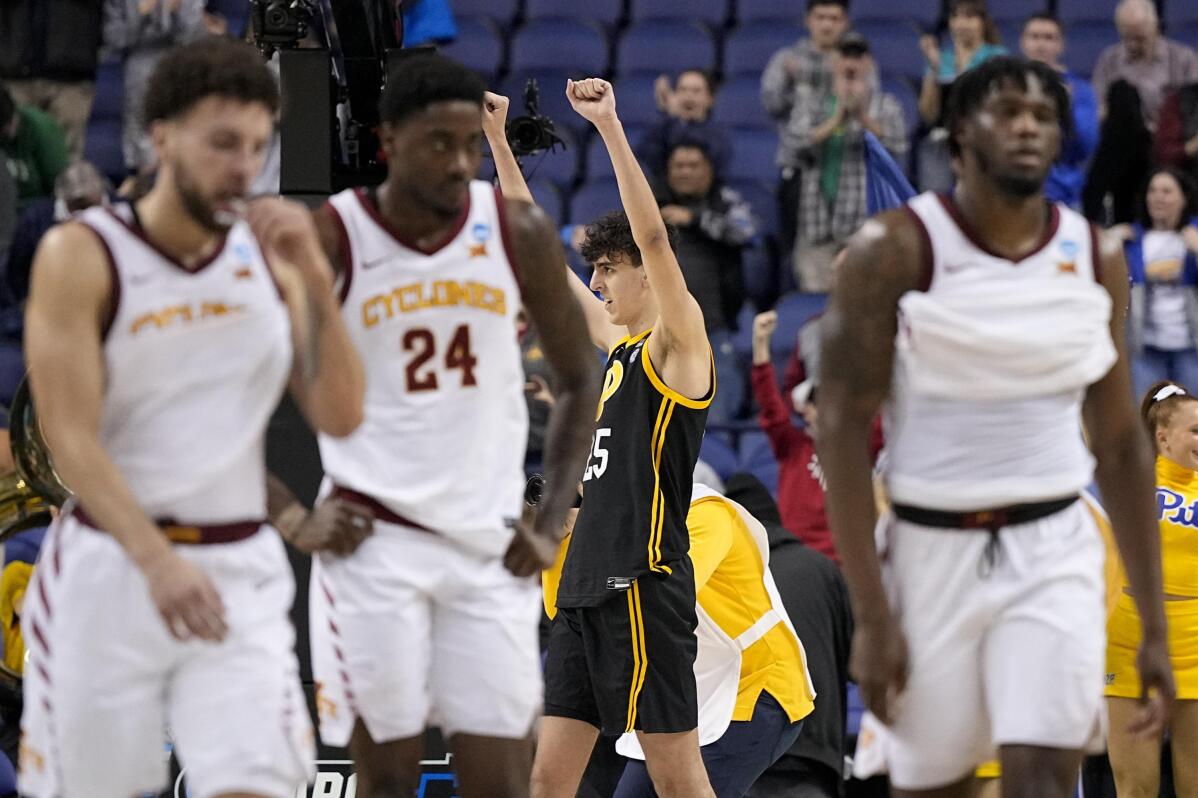 1 of 4

|
Pittsburgh forward Guillermo Diaz Graham celebrates after their win against Iowa State in a first-round college basketball game in the NCAA Tournament on Friday, March 17, 2023, in Greensboro, N.C. (AP Photo/Chris Carlson)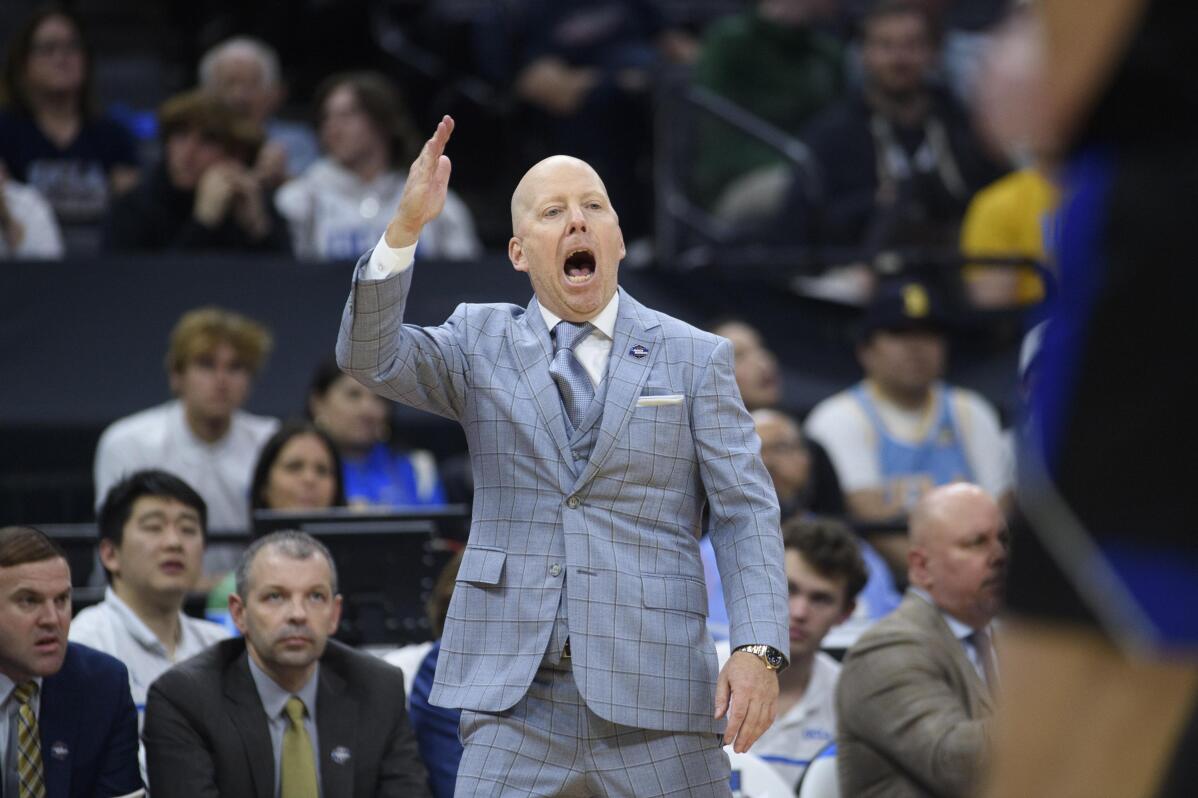 2 of 4

|
UCLA coach Mick Cronin shouts instructions from the bench during the second half of the team's first-round college basketball game against UNC Asheville in the men's NCAA Tournament in Sacramento, Calif., Thursday, March 16, 2023. UCLA won 86-53. (AP Photo/Randall Benton)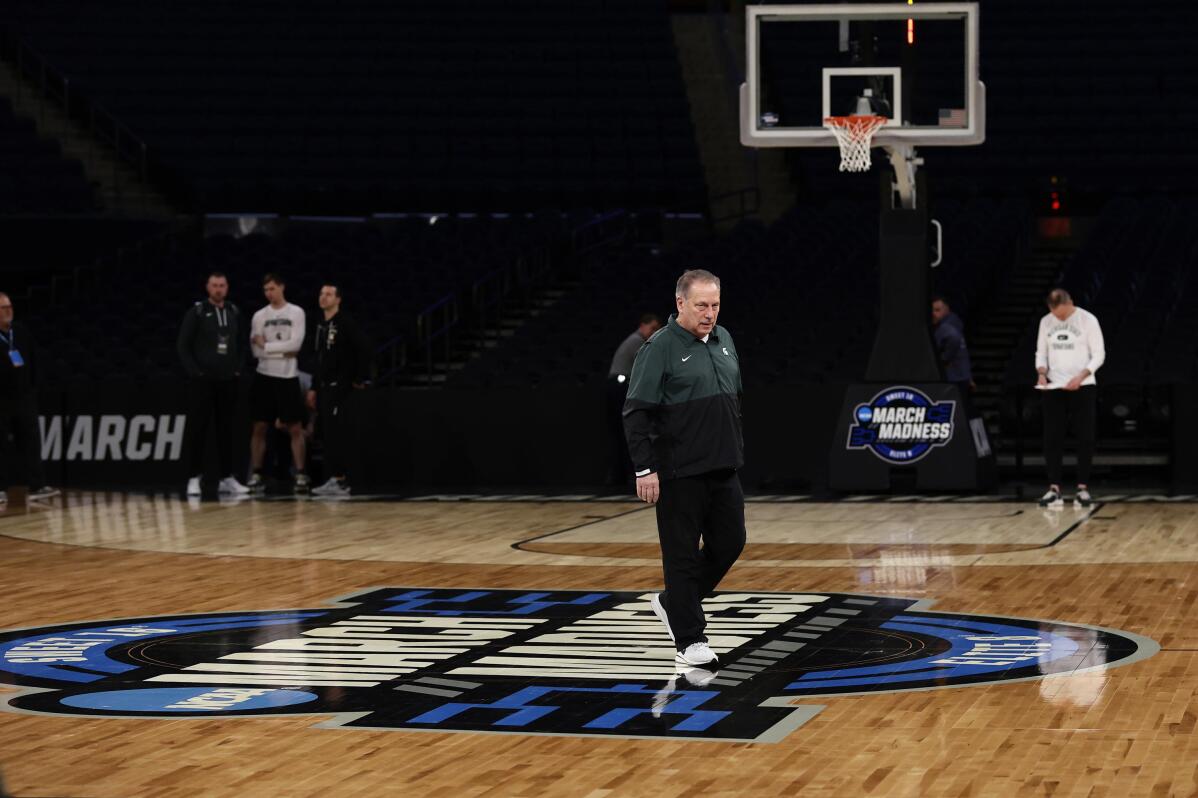 3 of 4

|
Michigan State head coach Tom Izzo looks on during practice before a Sweet 16 college basketball game at the NCAA East Regional of the NCAA Tournament, Wednesday, March 22, 2023, in New York. (AP Photo/Adam Hunger)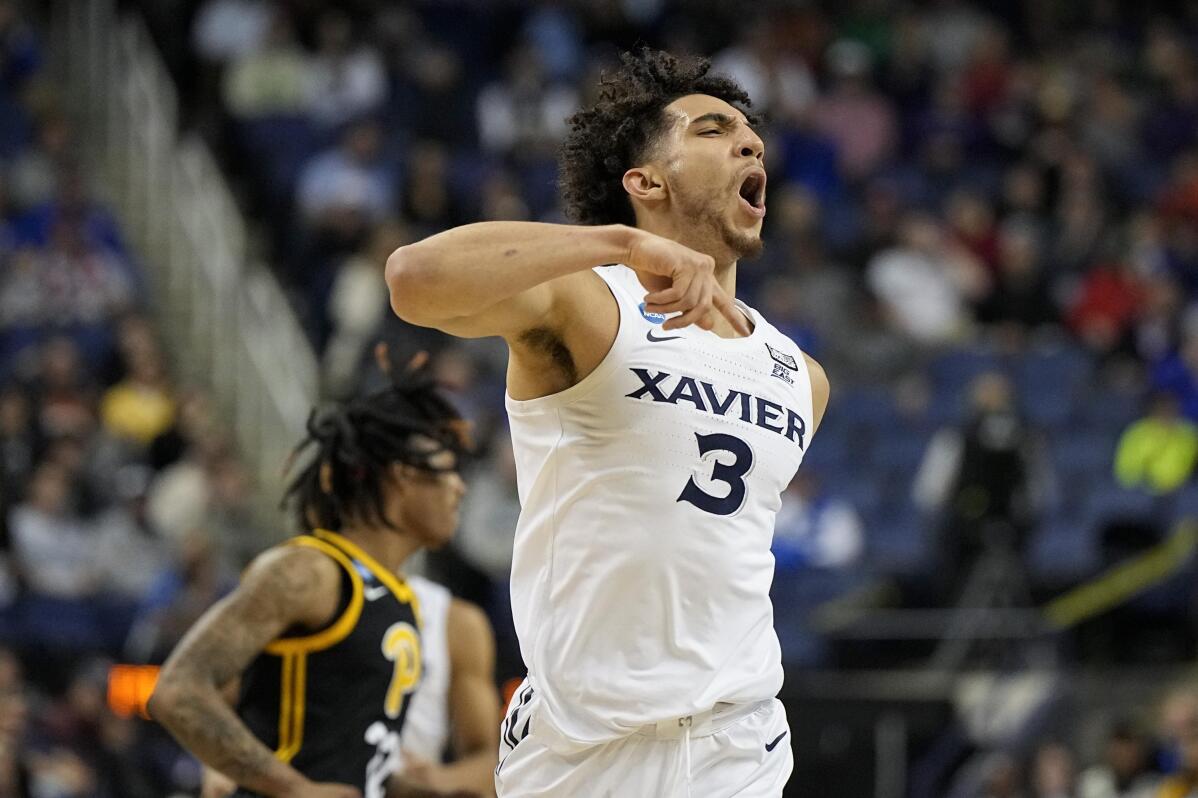 4 of 4

|
Xavier guard Colby Jones celebrates after scoring against Pittsburgh during the first half of a second-round college basketball game in the NCAA Tournament on Sunday, March 19, 2023, in Greensboro, N.C. (AP Photo/Chris Carlson)
Soundtrack of this year's March Madness begins with 'CLANK!'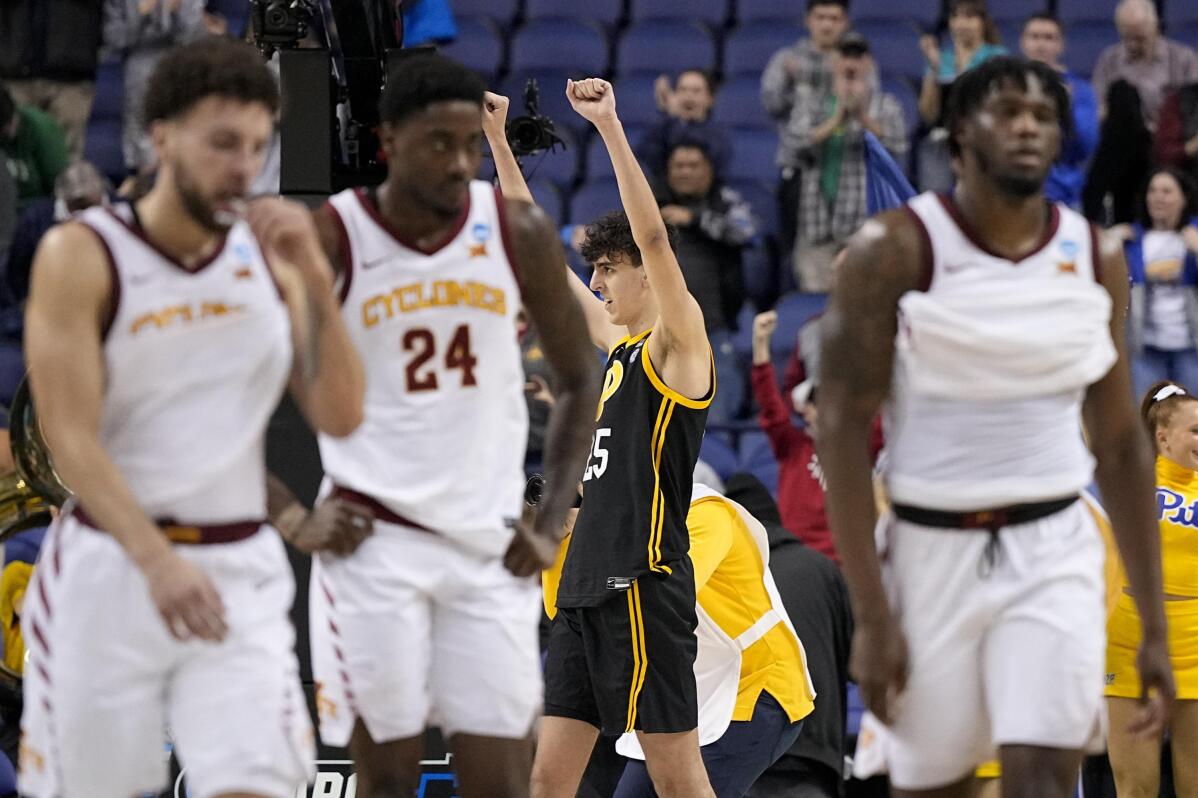 1 of 4

|
Pittsburgh forward Guillermo Diaz Graham celebrates after their win against Iowa State in a first-round college basketball game in the NCAA Tournament on Friday, March 17, 2023, in Greensboro, N.C. (AP Photo/Chris Carlson)
1 of 4
Pittsburgh forward Guillermo Diaz Graham celebrates after their win against Iowa State in a first-round college basketball game in the NCAA Tournament on Friday, March 17, 2023, in Greensboro, N.C. (AP Photo/Chris Carlson)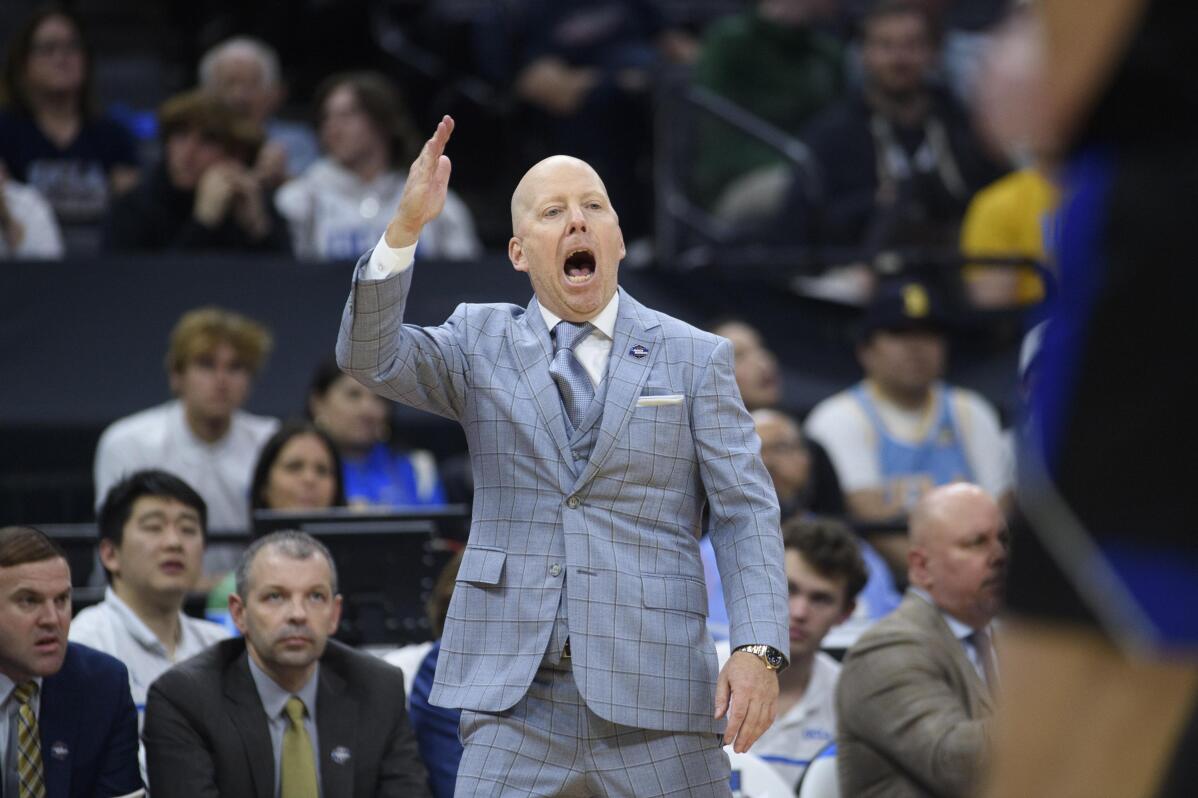 2 of 4

|
UCLA coach Mick Cronin shouts instructions from the bench during the second half of the team's first-round college basketball game against UNC Asheville in the men's NCAA Tournament in Sacramento, Calif., Thursday, March 16, 2023. UCLA won 86-53. (AP Photo/Randall Benton)
2 of 4
UCLA coach Mick Cronin shouts instructions from the bench during the second half of the team's first-round college basketball game against UNC Asheville in the men's NCAA Tournament in Sacramento, Calif., Thursday, March 16, 2023. UCLA won 86-53. (AP Photo/Randall Benton)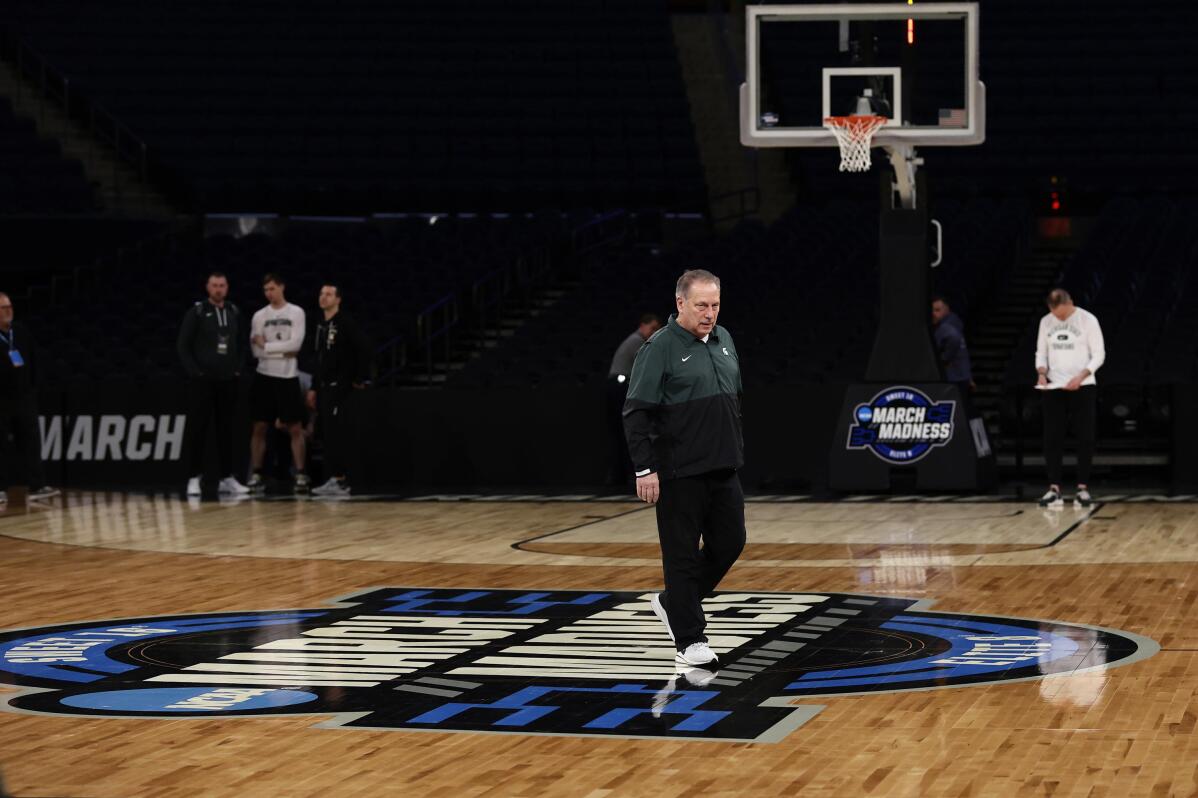 3 of 4

|
Michigan State head coach Tom Izzo looks on during practice before a Sweet 16 college basketball game at the NCAA East Regional of the NCAA Tournament, Wednesday, March 22, 2023, in New York. (AP Photo/Adam Hunger)
3 of 4
Michigan State head coach Tom Izzo looks on during practice before a Sweet 16 college basketball game at the NCAA East Regional of the NCAA Tournament, Wednesday, March 22, 2023, in New York. (AP Photo/Adam Hunger)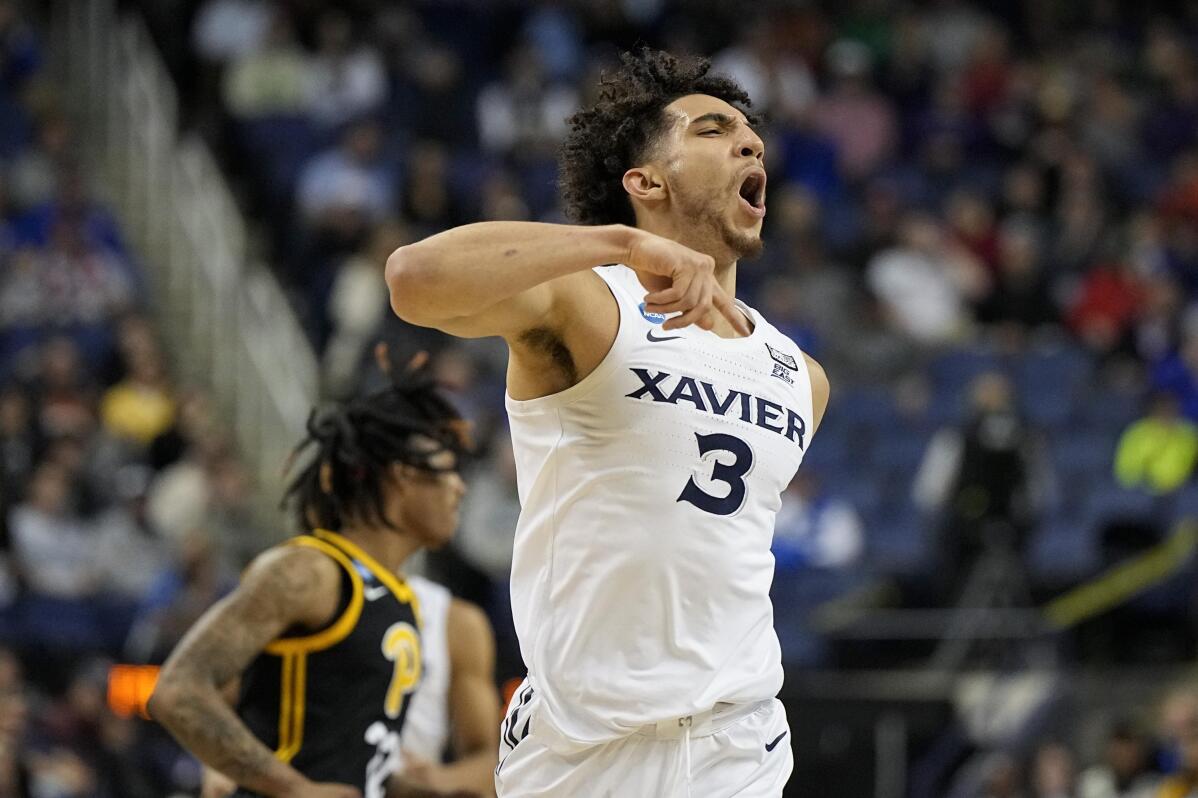 4 of 4

|
Xavier guard Colby Jones celebrates after scoring against Pittsburgh during the first half of a second-round college basketball game in the NCAA Tournament on Sunday, March 19, 2023, in Greensboro, N.C. (AP Photo/Chris Carlson)
4 of 4
Xavier guard Colby Jones celebrates after scoring against Pittsburgh during the first half of a second-round college basketball game in the NCAA Tournament on Sunday, March 19, 2023, in Greensboro, N.C. (AP Photo/Chris Carlson)
KANSAS CITY, Mo. (AP) — Folks across the country watching the first-round of the NCAA Tournament last week thought it rightfully funny when they saw a couple of stadium workers scurry up a ladder and place a construction level across the rim.
Turns out Iowa State players, puzzled by their shots clanking off the iron during pregame warmsups, were right: It wasn't perfectly horizontal.
The NCAA acknowledged later that "a minor adjustment" was made before the game, and the Cyclones were quick to say afterward that it had no bearing on their 59-41 loss to Pittsburgh. But whether the rim was physically off-center, or caused Iowa State to be mentally off-base, the result was unmistakable: The Cyclones trailed 22-2 to start the game, finished 23.3% from the floor and, perhaps most jaw-droppingly, were an abysmal 2 of 21 from 3-point range.
"It just wasn't going in," Cyclones sharpshooter Gabe Kalscheur said. "Sometimes that happens."
From the 3-point line, it's happening more than ever.
Teams shot 31.2% from beyond the arc during the opening weekend, the worst percentage since the NCAA added the line for the 1987 tournament. And of the 16 teams that advanced to the second week, half of them shot worse than 30% last weekend; only UConn was over the 40% mark heading into its game Thursday night against Arkansas.
"I do think this: I think there is a great deal of emphasis placed on defense in college basketball now," said Tennessee coach Rick Barnes, whose team was 4 of 16 from the arc in the first round against Louisiana but bounced back against Duke.
"You come down the court — whether we're playing Louisiana the other night or Duke — can we find a way to score here? Can we shake loose and get a good look? And if you do get it, oftentimes, I think players are surprised that they've got such a good look," Barnes continued. "I do think defense probably has as much to do with it as anything."
That goes for in the paint and on the perimeter.
Teams have become so adept at clogging the interior, preventing easy buckets in the post and clean drives to the rim, that the ball sticks outside. And when it's there, play has become so physical that just about every look from 3 is contested.
"There's a lot of fouling going on on the perimeter, in particular," said Huskies coach Dan Hurley. "We talk so much about freedom of movement, and I just think there's a little bit of physicality that's going on with dribble-drivers and people trying to utilize screens on the perimeter, and that muddies and mucks up the game."
Defense is one valid theory for all those first-round bricks, but there are others.
For one thing, the line itself keeps moving back: It began at 19 feet, 9 inches from the rim, moved back a foot for the 2008-09 season and scooted back again to match the FIBA international standard of 22 feet, 1 3/4 inches for the 2019-20 season.
Also changing: the ball.
The NCAA Tournament is using a new iteration of Wilson's Evo NXT, which the company claims to be the "highest caliber" of basketball and was designed in concert with the NCAA and several member schools. Wilson executive Kevin Murphy has said the ball has an "extra layer of grip," which ostensibly makes it easier to shoot from long range, but it is nonetheless a departure from the ball that schools have used throughout the regular season and conference tournaments.
Division I teams shot at a 34% clip from 3 during the regular season, or nearly 3% better than they have during the Big Dance. And eight of 68 teams have had their worst 3-point shooting games of the season during the NCAA Tournament.
What makes the shooting slump so head-scratchingly strange, though, is that 36 teams that began the tournament actually shot better than the national average this season. That includes five of the top 10 teams from beyond the arc, and two of them — Xavier and Michigan State — that were still alive for the Sweet 16.
Spartans coach Tom Izzo wrote off the poor 3-point shooting as a function of the sample size.
"Over a conference season, we're a team that shot almost 40% from 3," said Izzo, whose team was 5 of 14 against Southern California and 2 for 16 against Marquette, its second-worst 3-point shooting performance of the season. "The sample size, two games, I don't think it's in anybody's head. We just didn't shoot it as well in those two games."
Who else didn't shoot it well? Top-seeded Purdue, which was 5 of 26 from the arc in its stunning loss to No. 16 seed Fairleigh Dickinson, and second-seeded Arizona, which was 3 of 16 when it fell to No. 15 seed Princeton.
Still, that wasn't enough for UCLA coach Mick Cronin to be concerned about poor shooting during the NCAA Tournament.
"So we're talking about 1%?" he asked. "If we're not talking about my portfolio, I'm not interested."
___
AP Sports Writers Mark Anderson in Las Vegas and Ralph D. Russo in New York contributed to this report.
___
AP March Madness coverage: https://apnews.com/hub/march-madness and bracket: https://apnews.com/hub/ncaa-mens-bracket and https://apnews.com/hub/ap-top-25-college-basketball-poll and https://twitter.com/AP_Top25