Pili helps Utah advance to Sweet 16 with win over Princeton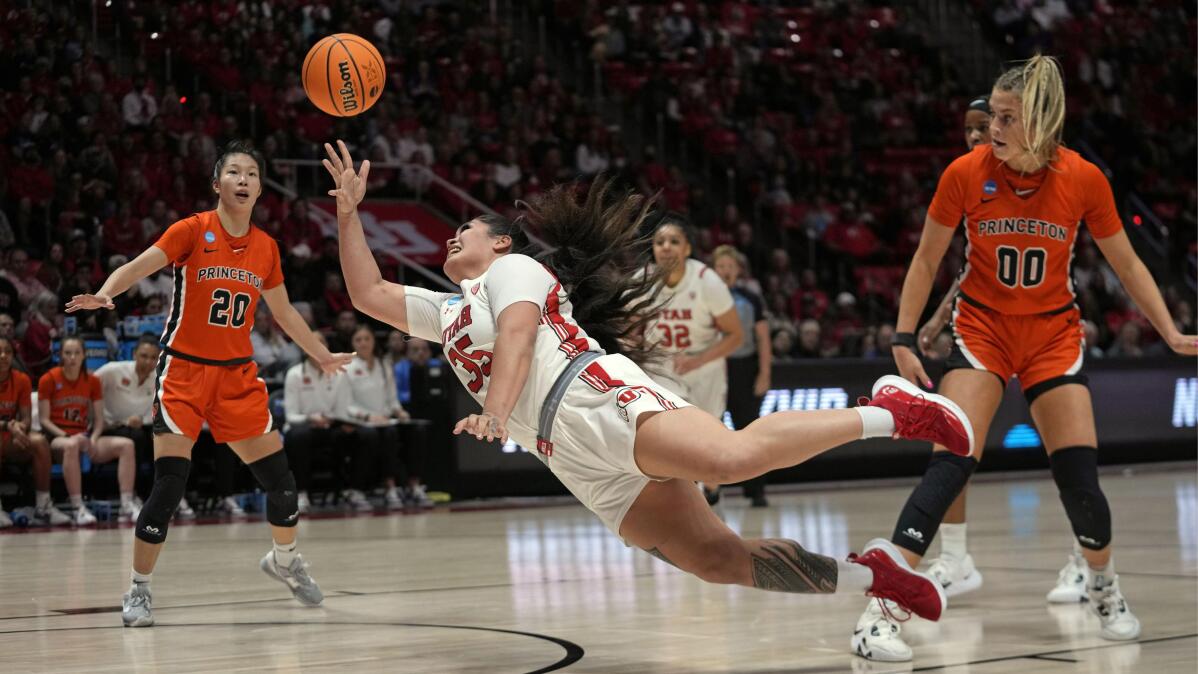 1 of 8

|
Utah forward Alissa Pili (35) shoots toward the basket as Princeton's Ellie Mitchell (00) and Kaitlyn Chen (20) defend in the first half during a second-round college basketball game in the women's NCAA Tournament, Sunday, March 19, 2023, in Salt Lake City. (AP Photo/Rick Bowmer)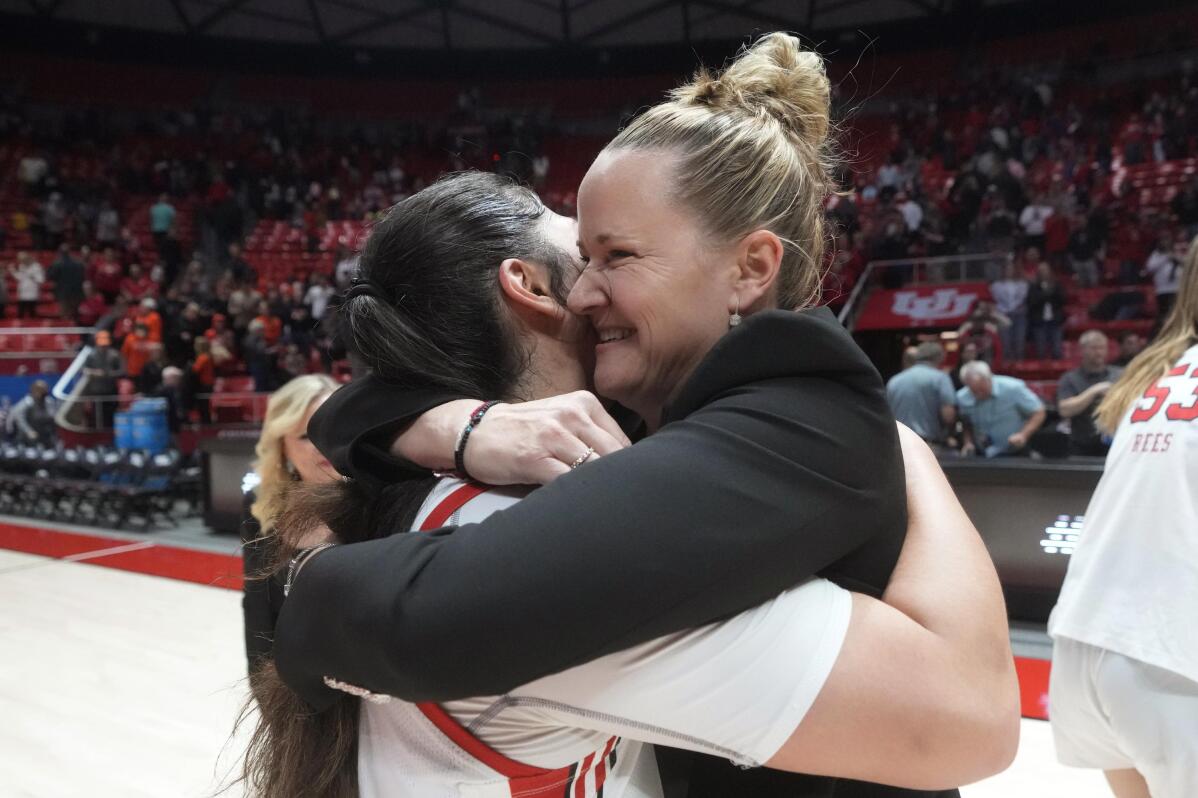 2 of 8

|
Utah coach Lynne Roberts hugs Alissa Pili following the team's second-round college basketball game against Princeton in the women's NCAA Tournament, Sunday, March 19, 2023, in Salt Lake City. (AP Photo/Rick Bowmer)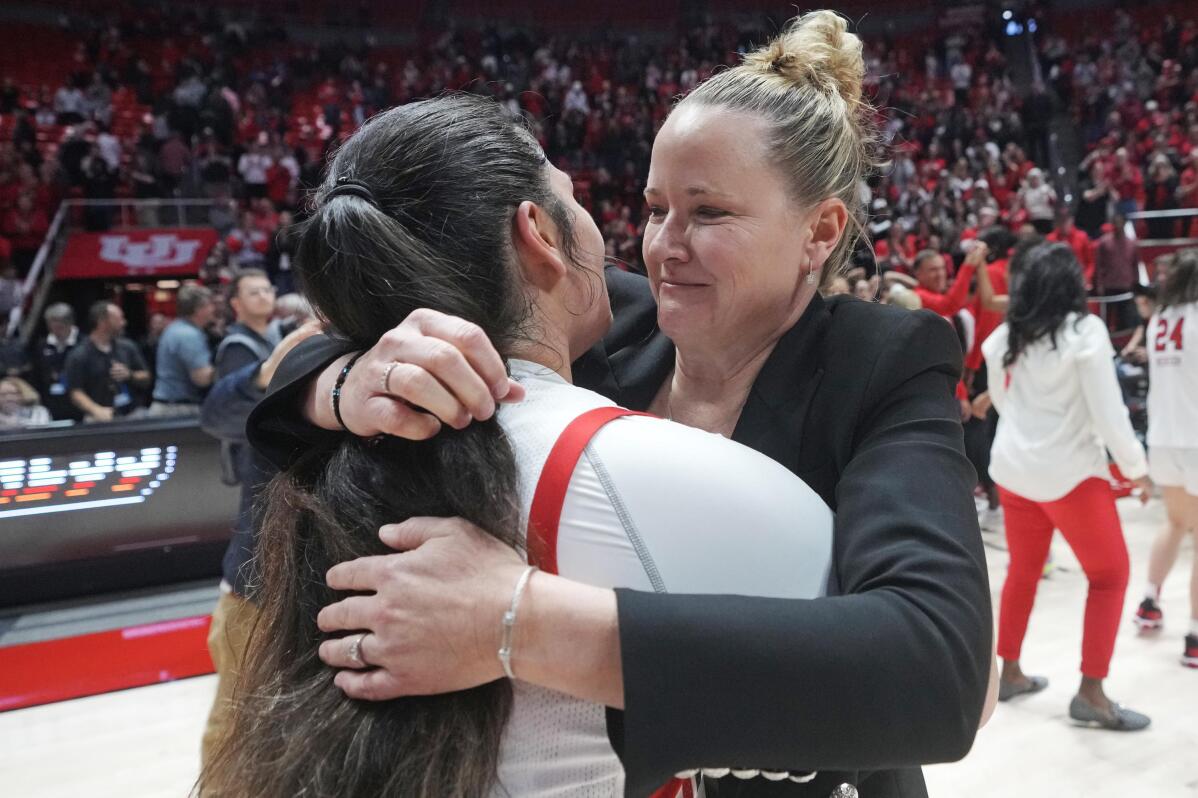 3 of 8

|
Utah coach Lynne Roberts hugs Alissa Pili following the team's second-round college basketball game against Princeton in the women's NCAA Tournament, Sunday, March 19, 2023, in Salt Lake City. (AP Photo/Rick Bowmer)
4 of 8

|
Utah's Kennady McQueen (24) and Lani White, right, celebrate following the team's win over Princeton in a second-round college basketball game in the women's NCAA Tournament, Sunday, March 19, 2023, in Salt Lake City. (AP Photo/Rick Bowmer)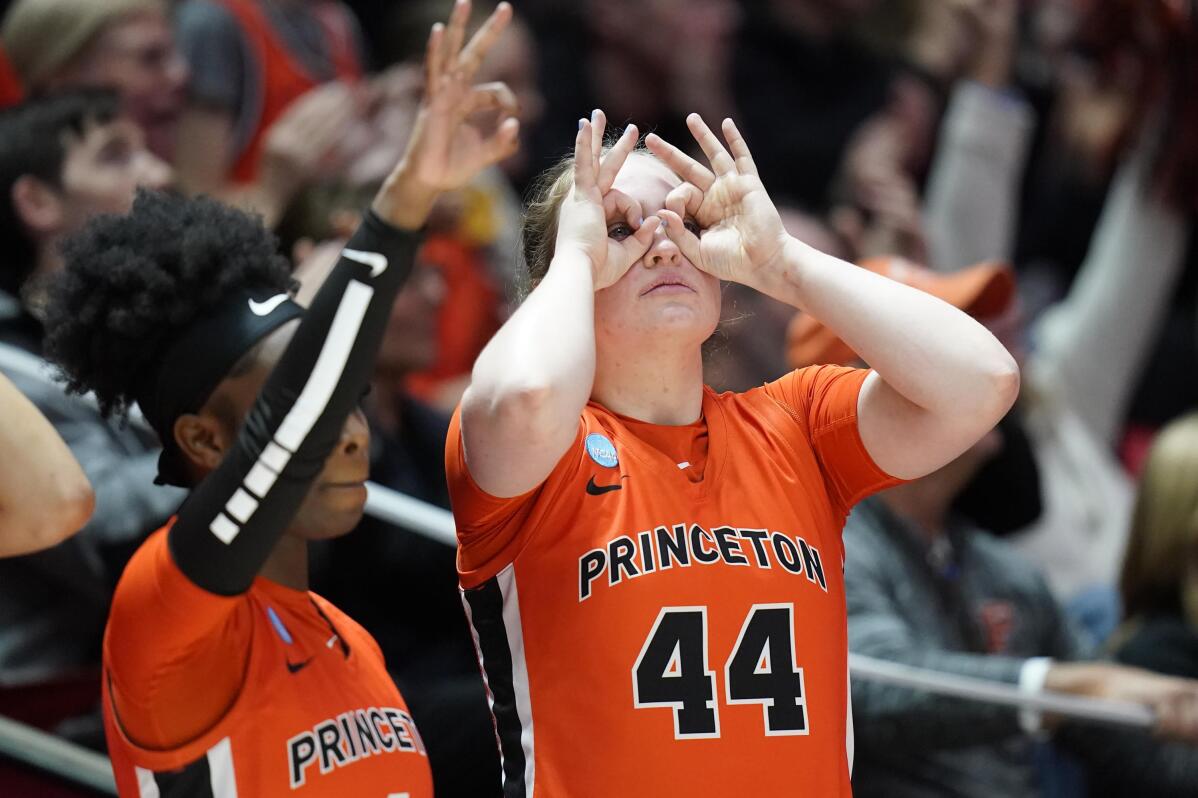 5 of 8

|
Princeton forward Katie Thiers (44) celebrates a teammate's 3-pointer against Utah during the first half during a second-round college basketball game in the women's NCAA Tournament, Sunday, March 19, 2023, in Salt Lake City. (AP Photo/Rick Bowmer)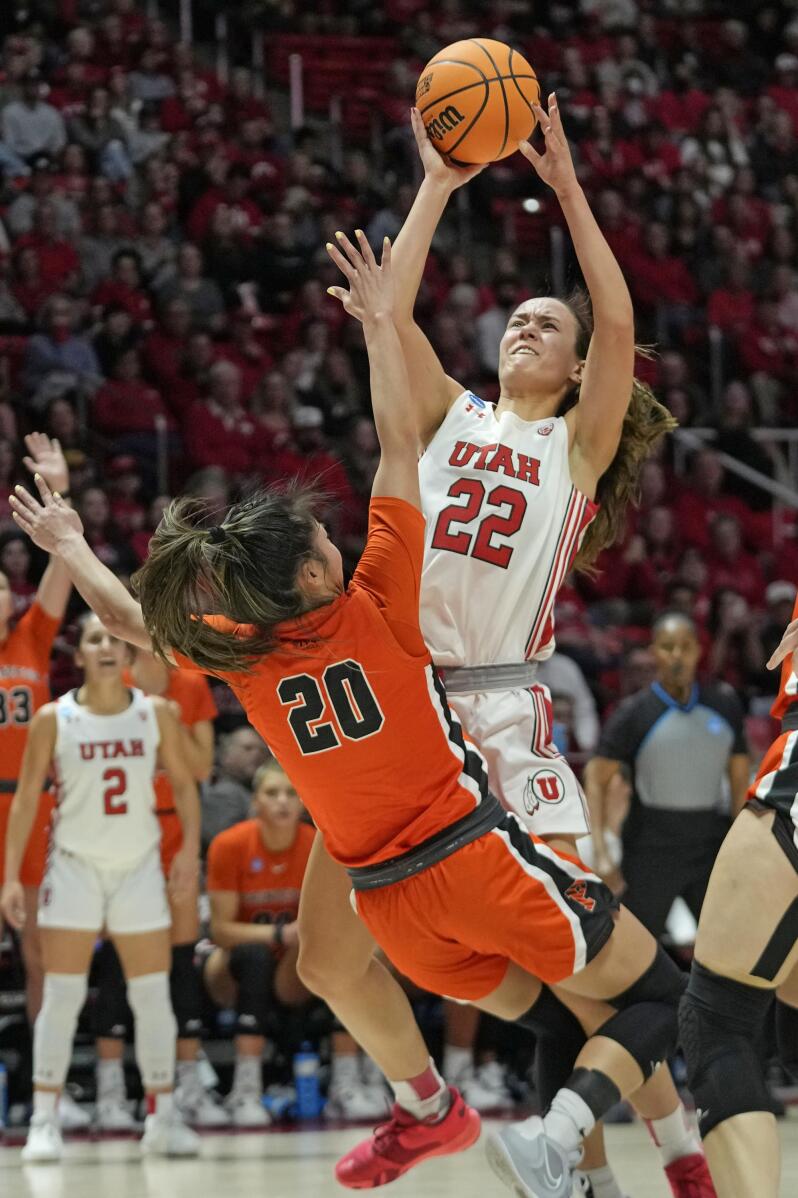 6 of 8

|
Princeton guard Kaitlyn Chen (20) takes a charge from Utah forward Jenna Johnson (22) in the first half during a second-round college basketball game in the women's NCAA Tournament, Sunday, March 19, 2023, in Salt Lake City. (AP Photo/Rick Bowmer)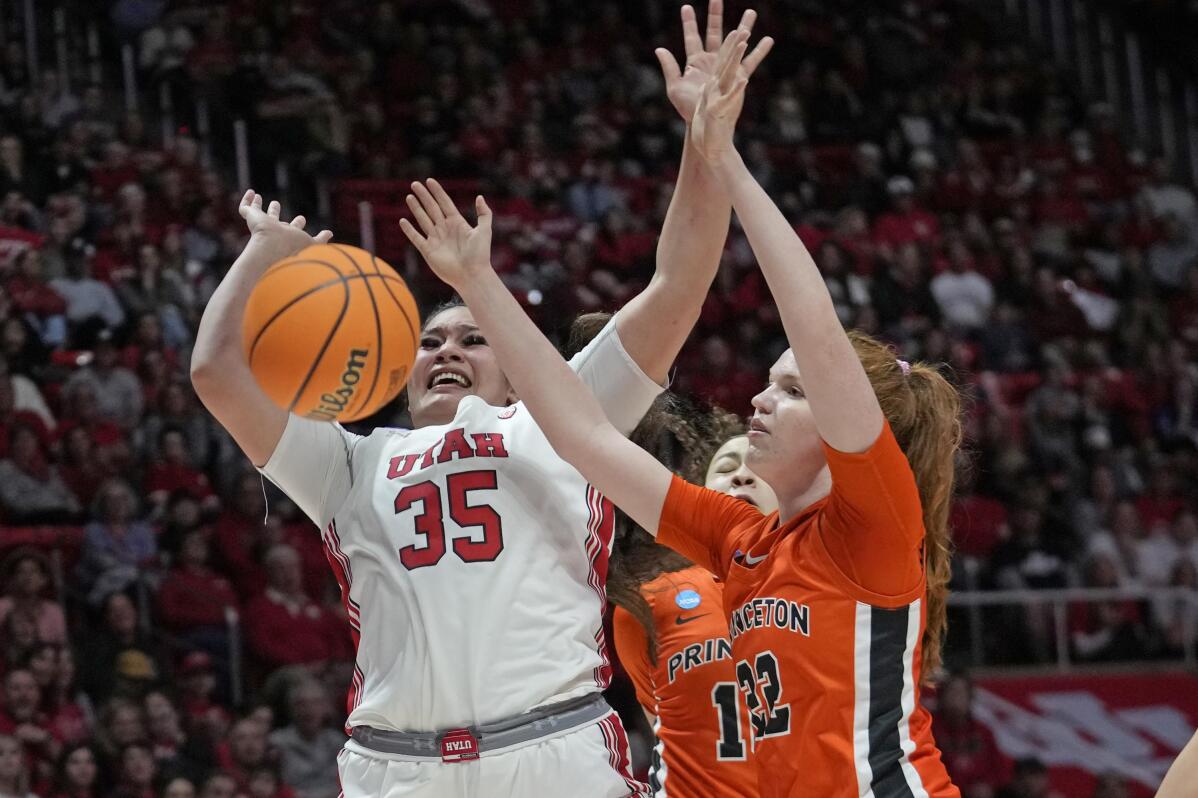 7 of 8

|
Utah forward Alissa Pili (35) is fouled by Princeton forward Parker Hill (22) in the first half during a second-round college basketball game in the women's NCAA Tournament, Sunday, March 19, 2023, in Salt Lake City. (AP Photo/Rick Bowmer)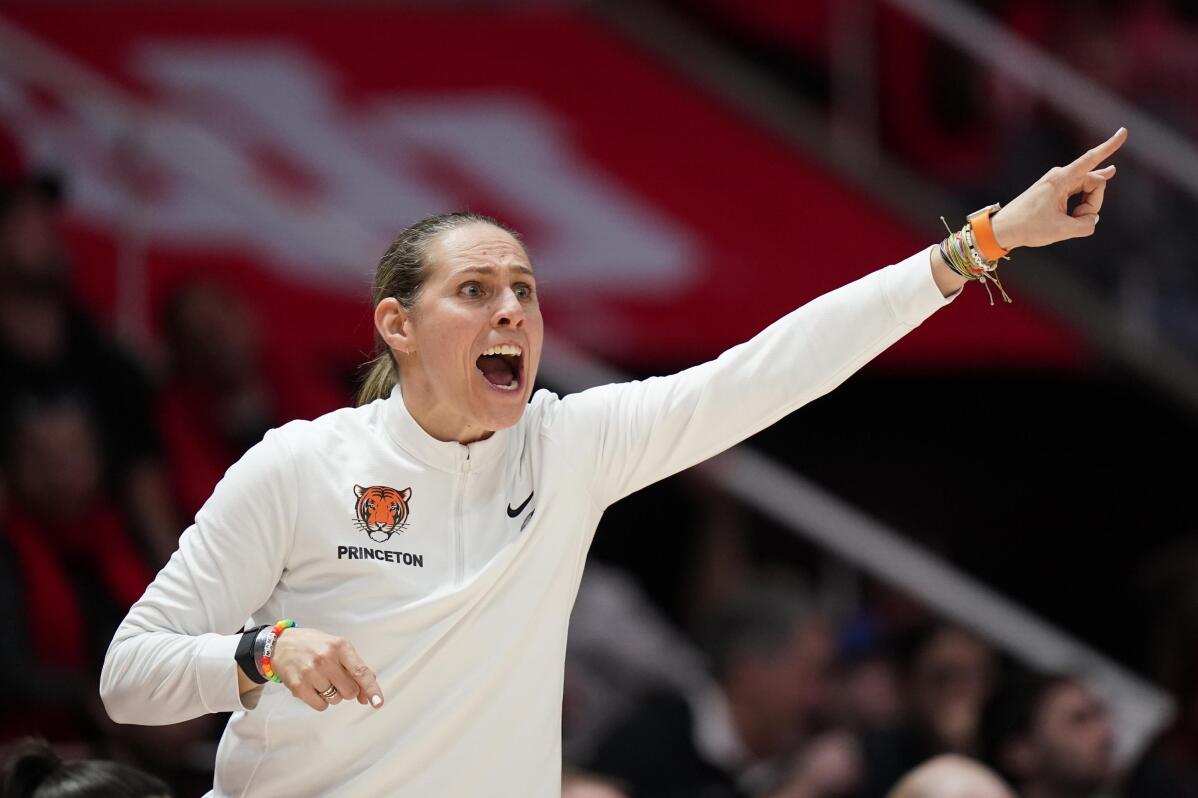 8 of 8

|
Princeton head coach Carla Berube shouts to her team in the first half during a second-round college basketball game against Utah in the women's NCAA Tournament, Sunday, March 19, 2023, in Salt Lake City. (AP Photo/Rick Bowmer)
Pili helps Utah advance to Sweet 16 with win over Princeton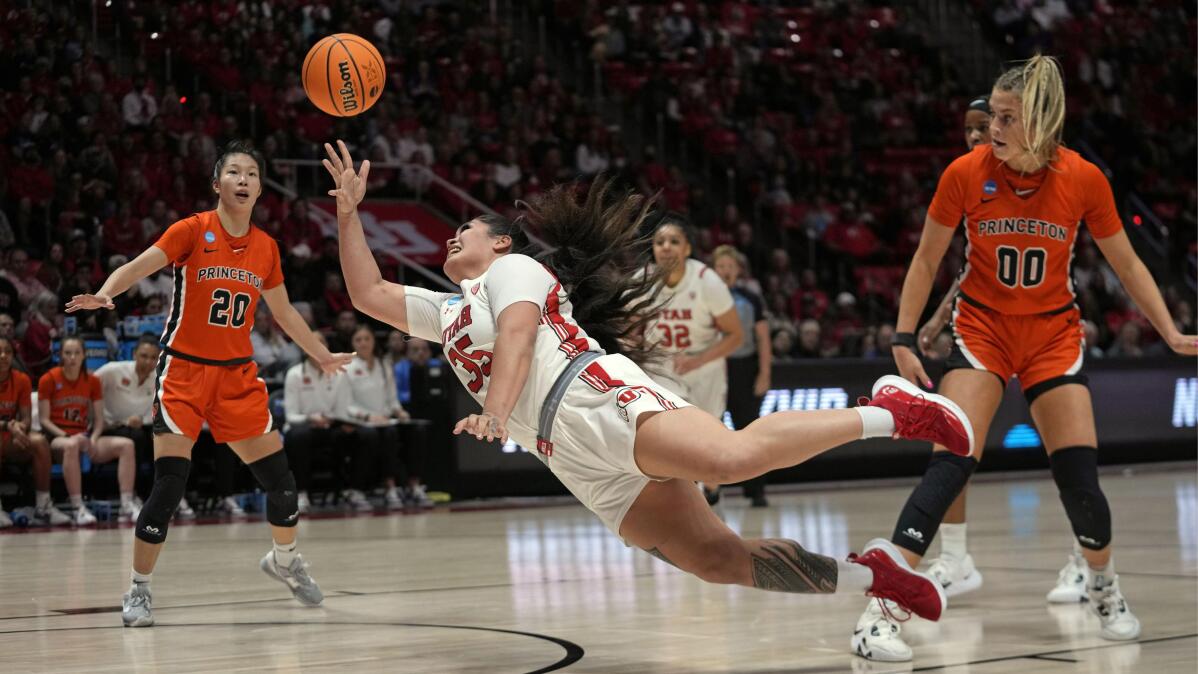 1 of 8

|
Utah forward Alissa Pili (35) shoots toward the basket as Princeton's Ellie Mitchell (00) and Kaitlyn Chen (20) defend in the first half during a second-round college basketball game in the women's NCAA Tournament, Sunday, March 19, 2023, in Salt Lake City. (AP Photo/Rick Bowmer)
1 of 8
Utah forward Alissa Pili (35) shoots toward the basket as Princeton's Ellie Mitchell (00) and Kaitlyn Chen (20) defend in the first half during a second-round college basketball game in the women's NCAA Tournament, Sunday, March 19, 2023, in Salt Lake City. (AP Photo/Rick Bowmer)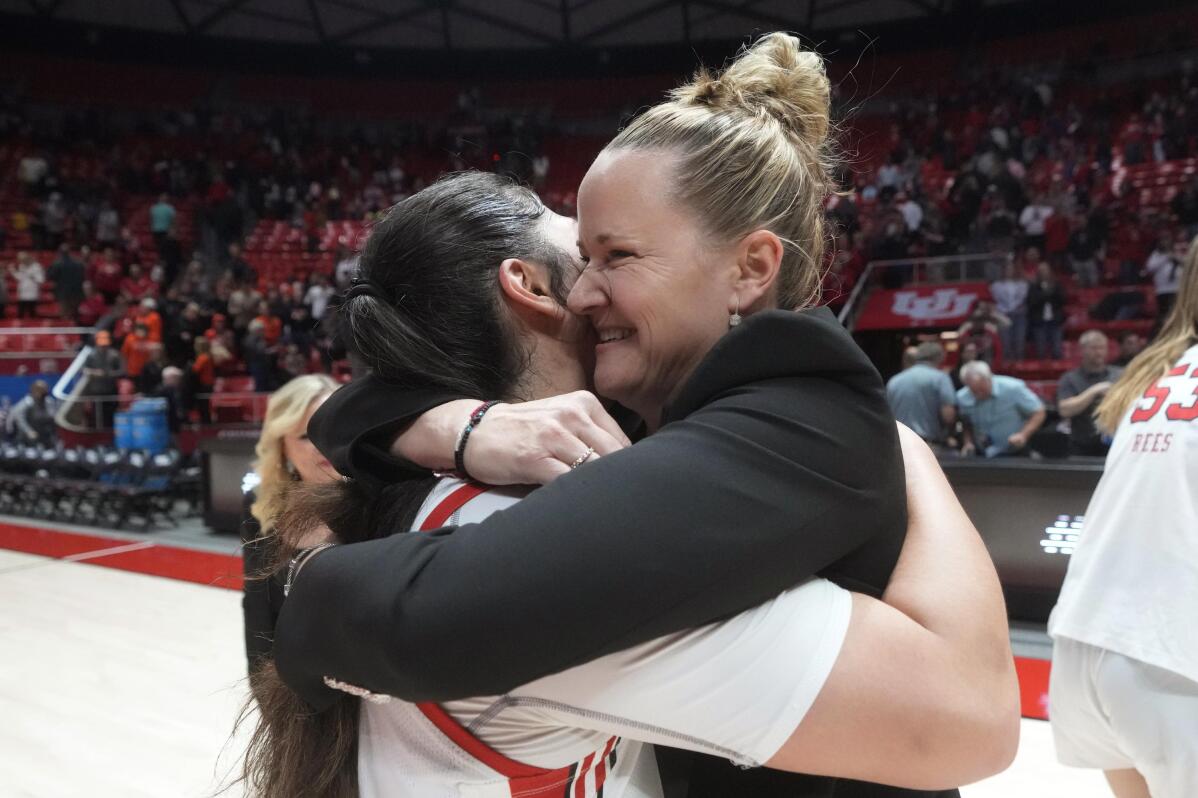 2 of 8

|
Utah coach Lynne Roberts hugs Alissa Pili following the team's second-round college basketball game against Princeton in the women's NCAA Tournament, Sunday, March 19, 2023, in Salt Lake City. (AP Photo/Rick Bowmer)
2 of 8
Utah coach Lynne Roberts hugs Alissa Pili following the team's second-round college basketball game against Princeton in the women's NCAA Tournament, Sunday, March 19, 2023, in Salt Lake City. (AP Photo/Rick Bowmer)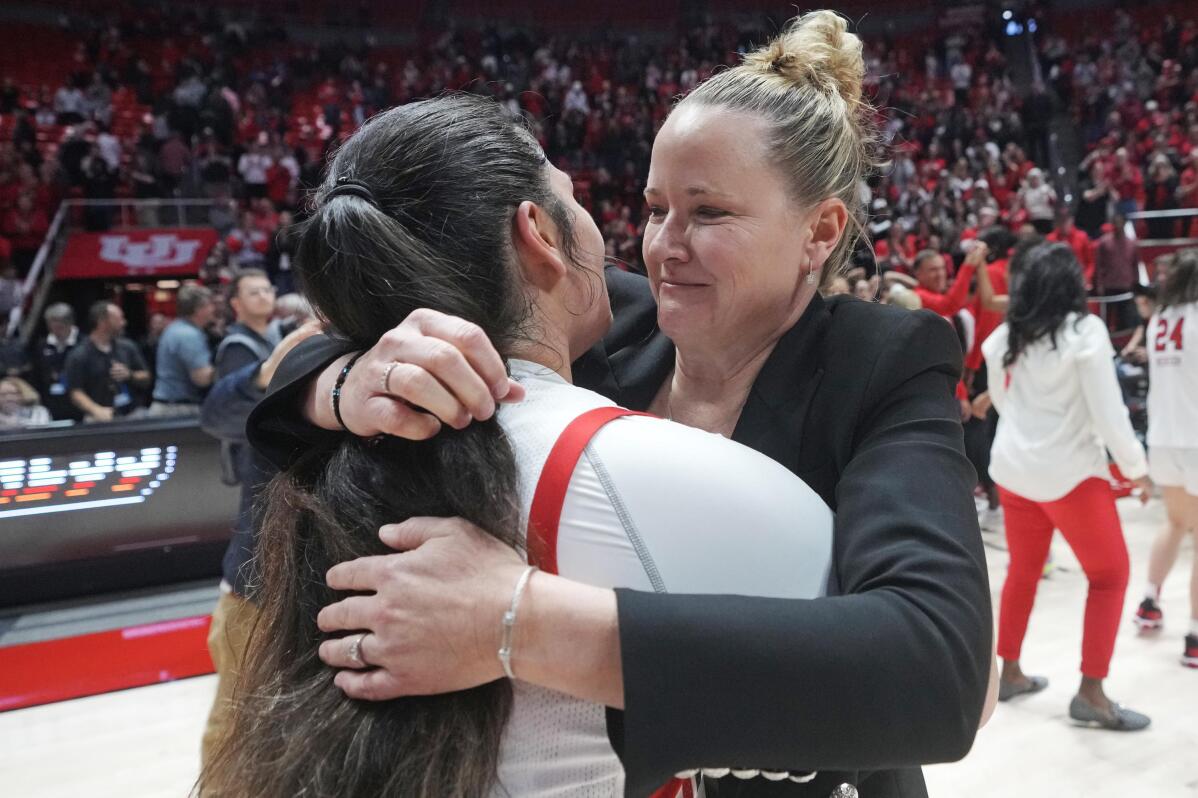 3 of 8

|
Utah coach Lynne Roberts hugs Alissa Pili following the team's second-round college basketball game against Princeton in the women's NCAA Tournament, Sunday, March 19, 2023, in Salt Lake City. (AP Photo/Rick Bowmer)
3 of 8
Utah coach Lynne Roberts hugs Alissa Pili following the team's second-round college basketball game against Princeton in the women's NCAA Tournament, Sunday, March 19, 2023, in Salt Lake City. (AP Photo/Rick Bowmer)
4 of 8

|
Utah's Kennady McQueen (24) and Lani White, right, celebrate following the team's win over Princeton in a second-round college basketball game in the women's NCAA Tournament, Sunday, March 19, 2023, in Salt Lake City. (AP Photo/Rick Bowmer)
4 of 8
Utah's Kennady McQueen (24) and Lani White, right, celebrate following the team's win over Princeton in a second-round college basketball game in the women's NCAA Tournament, Sunday, March 19, 2023, in Salt Lake City. (AP Photo/Rick Bowmer)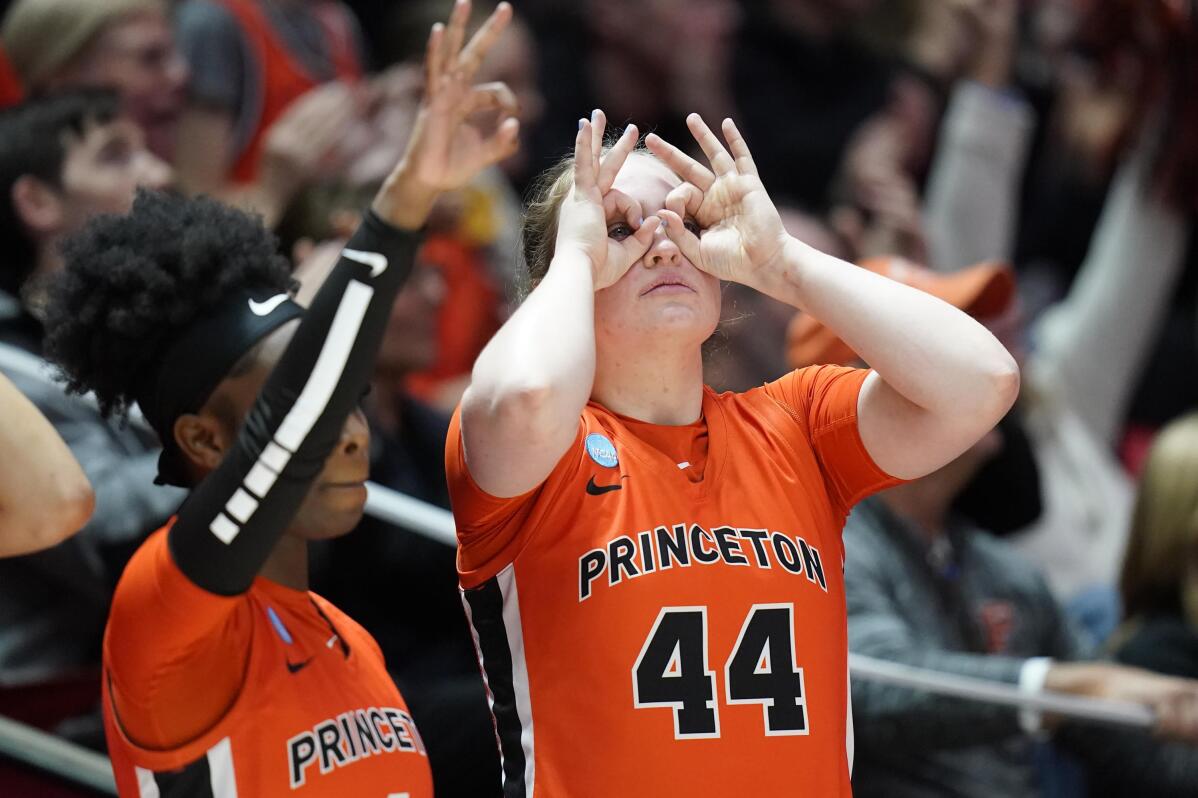 5 of 8

|
Princeton forward Katie Thiers (44) celebrates a teammate's 3-pointer against Utah during the first half during a second-round college basketball game in the women's NCAA Tournament, Sunday, March 19, 2023, in Salt Lake City. (AP Photo/Rick Bowmer)
5 of 8
Princeton forward Katie Thiers (44) celebrates a teammate's 3-pointer against Utah during the first half during a second-round college basketball game in the women's NCAA Tournament, Sunday, March 19, 2023, in Salt Lake City. (AP Photo/Rick Bowmer)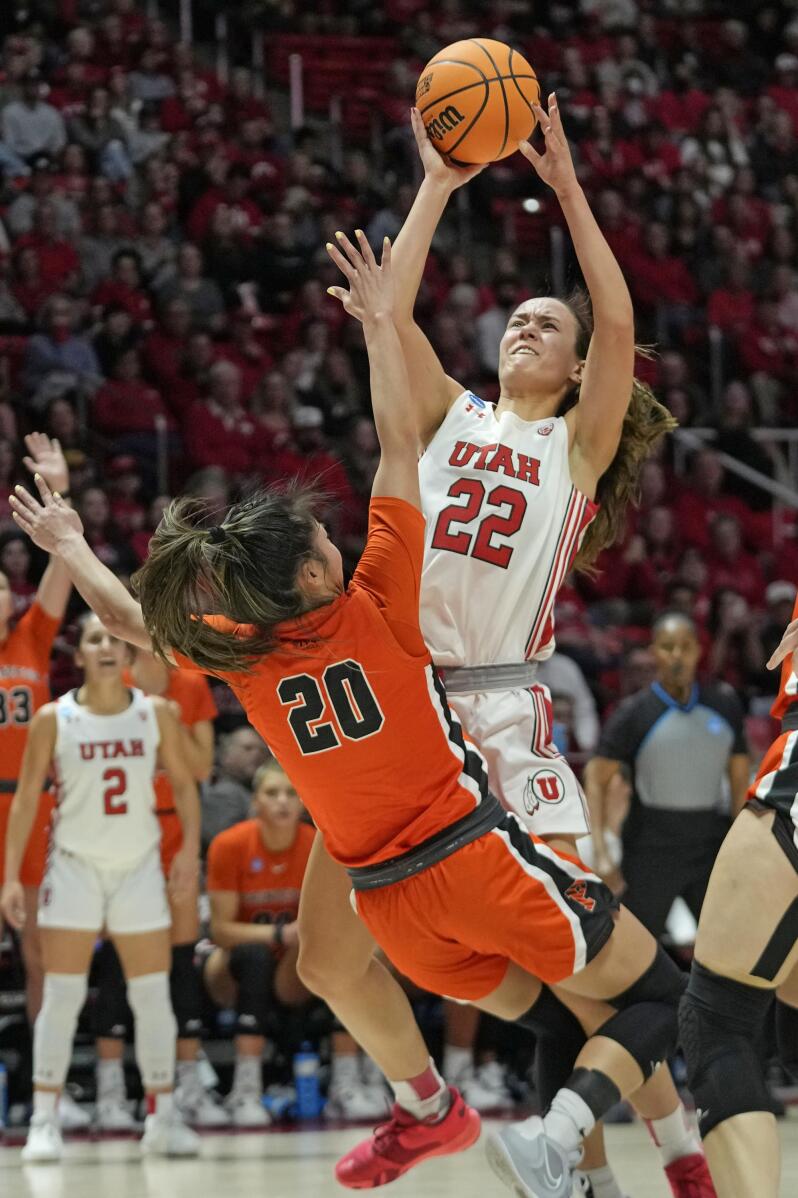 6 of 8

|
Princeton guard Kaitlyn Chen (20) takes a charge from Utah forward Jenna Johnson (22) in the first half during a second-round college basketball game in the women's NCAA Tournament, Sunday, March 19, 2023, in Salt Lake City. (AP Photo/Rick Bowmer)
6 of 8
Princeton guard Kaitlyn Chen (20) takes a charge from Utah forward Jenna Johnson (22) in the first half during a second-round college basketball game in the women's NCAA Tournament, Sunday, March 19, 2023, in Salt Lake City. (AP Photo/Rick Bowmer)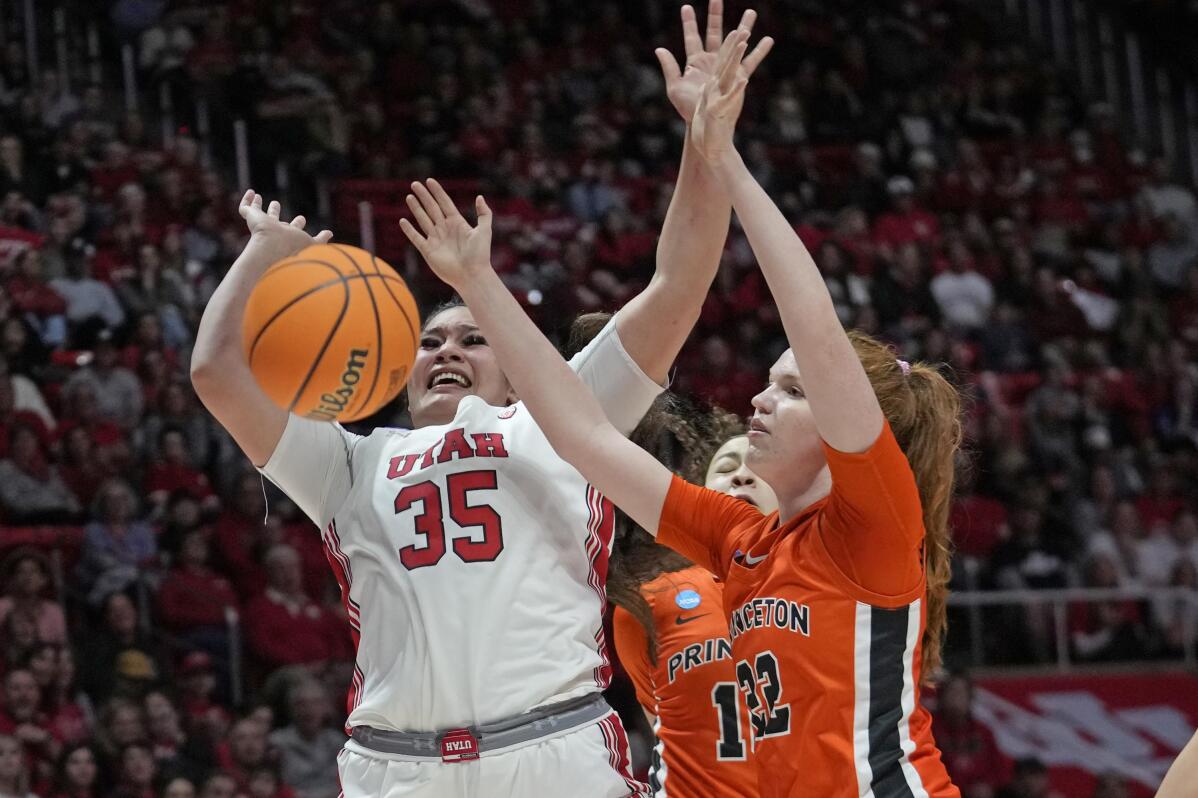 7 of 8

|
Utah forward Alissa Pili (35) is fouled by Princeton forward Parker Hill (22) in the first half during a second-round college basketball game in the women's NCAA Tournament, Sunday, March 19, 2023, in Salt Lake City. (AP Photo/Rick Bowmer)
7 of 8
Utah forward Alissa Pili (35) is fouled by Princeton forward Parker Hill (22) in the first half during a second-round college basketball game in the women's NCAA Tournament, Sunday, March 19, 2023, in Salt Lake City. (AP Photo/Rick Bowmer)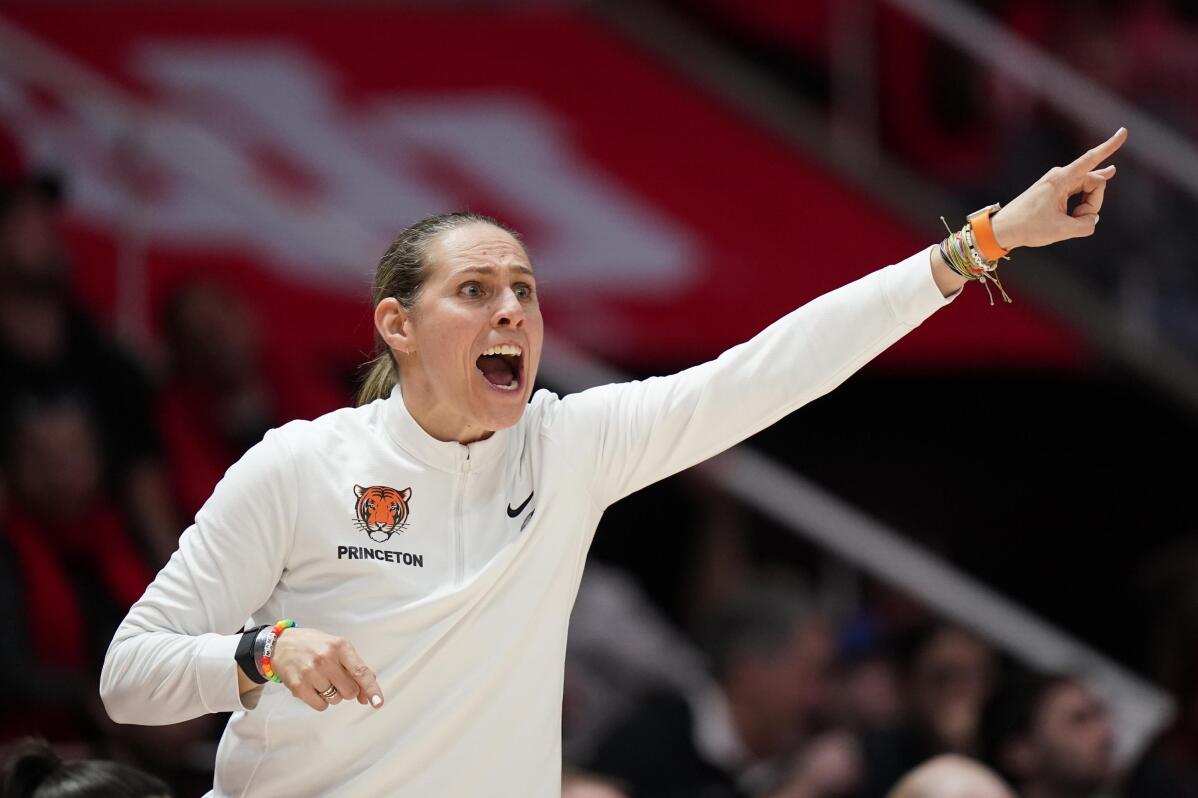 8 of 8

|
Princeton head coach Carla Berube shouts to her team in the first half during a second-round college basketball game against Utah in the women's NCAA Tournament, Sunday, March 19, 2023, in Salt Lake City. (AP Photo/Rick Bowmer)
8 of 8
Princeton head coach Carla Berube shouts to her team in the first half during a second-round college basketball game against Utah in the women's NCAA Tournament, Sunday, March 19, 2023, in Salt Lake City. (AP Photo/Rick Bowmer)
SALT LAKE CITY (AP) — Alissa Pili often had two or three opponents draped on her when she got the ball. No one was strong enough to stop Utah's All-American.
Pili had 28 points and 10 rebounds to lead the second-seeded Utes to a 63-56 win over 10th-seeded Princeton 63-56 on Sunday night in the second round of the NCAA Tournament.
"Coming into the game, the coaches told me they were going to key on me and so I just had to let the game come to me," Pili said.
But the Tigers didn't ever let up. Near the end of the game after a hard foul, Pili squared up and stared down a defender.
"Oh, it was expected. So I think just the main thing I tried to do was just keep my cool and … keep my head down and keep working," said Pili, who wrestled and played tackle football as a youngster.
Jenna Johnson added 15 points for the Utes, who made only one 3-pointer but still advanced to their first Sweet 16 since 2006.
"They're a great defensive team," said Utah's Kennady McQueen, who had nine points. "They made they made every possession hard."
Kaitlyn Chen scored 19 points, Grace Stone had 16 and Ellie Mitchell finished with 18 rebounds, including 10 on the offensive end, for Princeton (24-6).
"We battled from minute 1 to minute 40," Princeton coach Carla Berube said. "But the shots just didn't fall tonight."
Down the stretch, offense came to a grinding halt. The teams combined to miss 15 consecutive field goal attempts at one point, but Utah (27-4) got to the free throw line to advance and face No. 3 seed LSU.
"Hard work paid off, but we're not done yet. I think we can make a run deeper into the tournament," Pili said.
The host Utes didn't score a field goal in the final 6:24 but went 13-for-19 from the line in the fourth quarter to complete their season undefeated at the Huntsman Center.
"It was a rockfight," Utah coach Lynne Roberts said. "We know we can score but you can't always rely on that to win in these types of games."
After the game, Utah coach Lynne Roberts was surrounded by her team and did a short rendition of "The Griddy" to the delight of the partisan crowd of 8,663.
"That's our team in terms of keeping it light," Roberts said. "Everybody does better when they don't feel pressure."
Pili is known for her power but she showed her remarkable agility and marksmanship as well. After she had made a 3 in the second quarter, she drove past two defenders, took a knee to the thigh and threw in a shot while falling to the floor for a three-point play.
The matchup highlighted a contrast in strengths. Utah's No. 4-ranked offense (84.1 points per game) was pitted against Princeton's sixth-ranked defense (52.8 ppg).
The Tigers, who had won 16 in a row, forced the game to their style but just couldn't find enough offense, shooting just 27.8%. Princeton has never advanced to the second round of the NCAA Tournament but lost in close games the past two seasons.
"This team is really good because we do the dirty work. We do the work nobody else wants to do and I'm really proud of us for that because it always keeps us in basketball games," Stone said.
After a 2-for-14 stretch for Princeton, Chen made two jumpers in a 7-0 run to cut Utah's lead to 44-42 late in the third quarter. In the first half, the Tigers' swarming defense created 13 turnovers, five by Pili, to keep them within striking distance.
Pili had 17 points at the break to help Utah to a 32-26 lead after Utah lost a 3-pointer that was ruled to come after the shot clock elapsed.
Utah's physicality inside was evident early as Pili and Johnson combined to go 6-for-6 in the first quarter and the Utes jumped to a 20-10 early lead. The Tigers went 5:26 without a field goal, but they relied on the defense to settle in as they have all season.
"We're always in it until that last buzzer sounds," Mitchell said, her voice cracking.
BIG PICTURE
Princeton: To win, the Tigers figured they'd need to slow the game and swarm the Utes. Princeton caused 20 turnovers but those miscues only led to 18 points on the other end.
Utah: Pili and Johnson were powerhouses in the paint as Utah outscored Princeton 32-18 and that was enough to make up for the Utes' lack of outside shooting. Utah made three fewer field goals but won on the strength of 28 of 37 from the line, while the Tigers were just 11-for-15.
___
AP March Madness coverage: https://apnews.com/hub/march-madness and https://apnews.com/hub/ap-top-25-womens-college-basketball-poll and https://twitter.com/AP_Top25