Terry emotional as Texas' run ends; his job status uncertain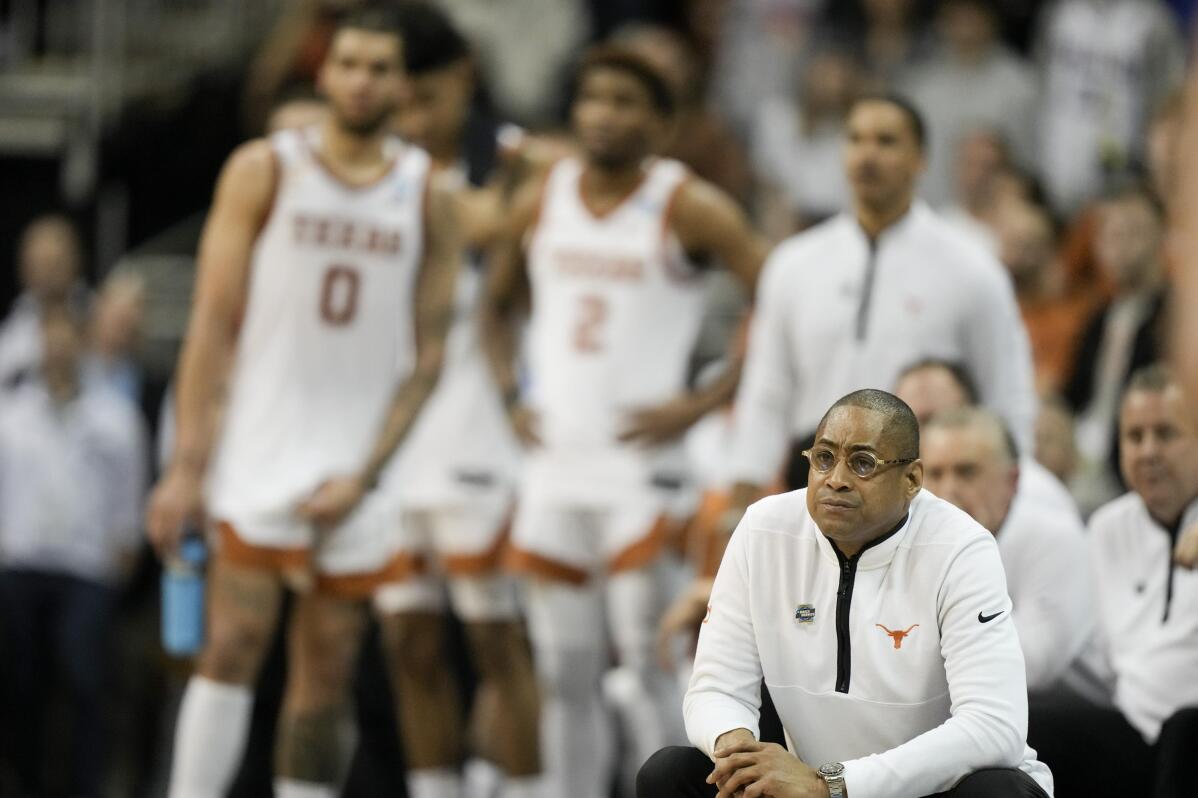 1 of 7

|
Texas head coach Rodney Terry watches during their loss against Miami in an Elite 8 college basketball game in the Midwest Regional of the NCAA Tournament Sunday, March 26, 2023, in Kansas City, Mo. (AP Photo/Charlie Riedel)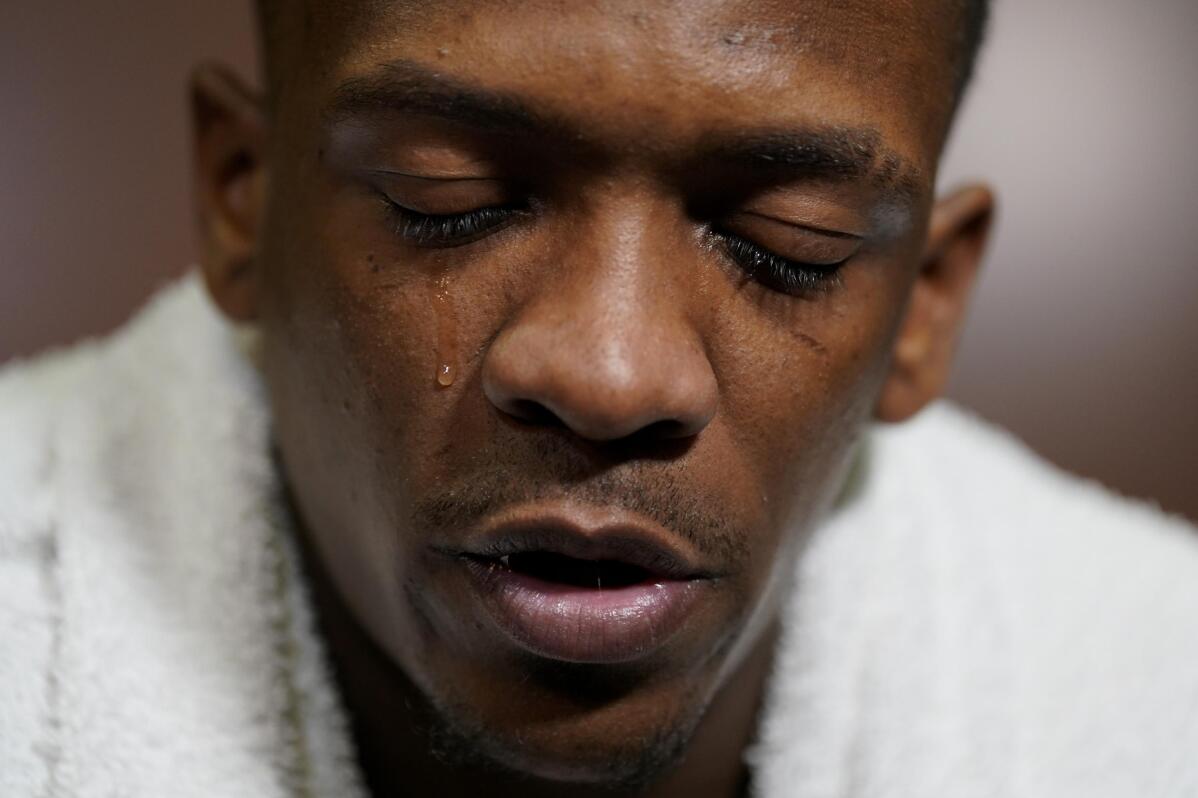 2 of 7

|
Texas guard Sir'Jabari Rice sheds a tear in the locker room after their loss against Miami in an Elite 8 college basketball game in the Midwest Regional of the NCAA Tournament Sunday, March 26, 2023, in Kansas City, Mo. (AP Photo/Jeff Roberson)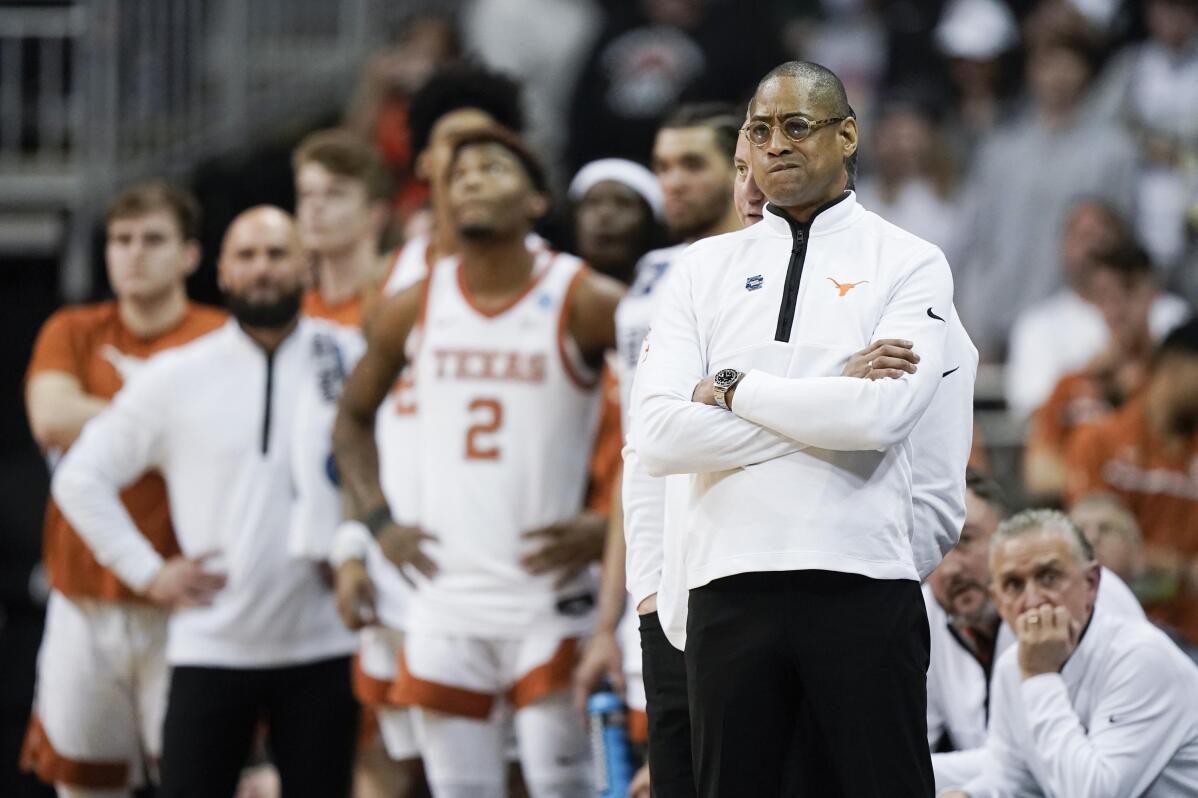 3 of 7

|
Texas head coach Rodney Terry watches during their loss against Miami in an Elite 8 college basketball game in the Midwest Regional of the NCAA Tournament Sunday, March 26, 2023, in Kansas City, Mo. (AP Photo/Charlie Riedel)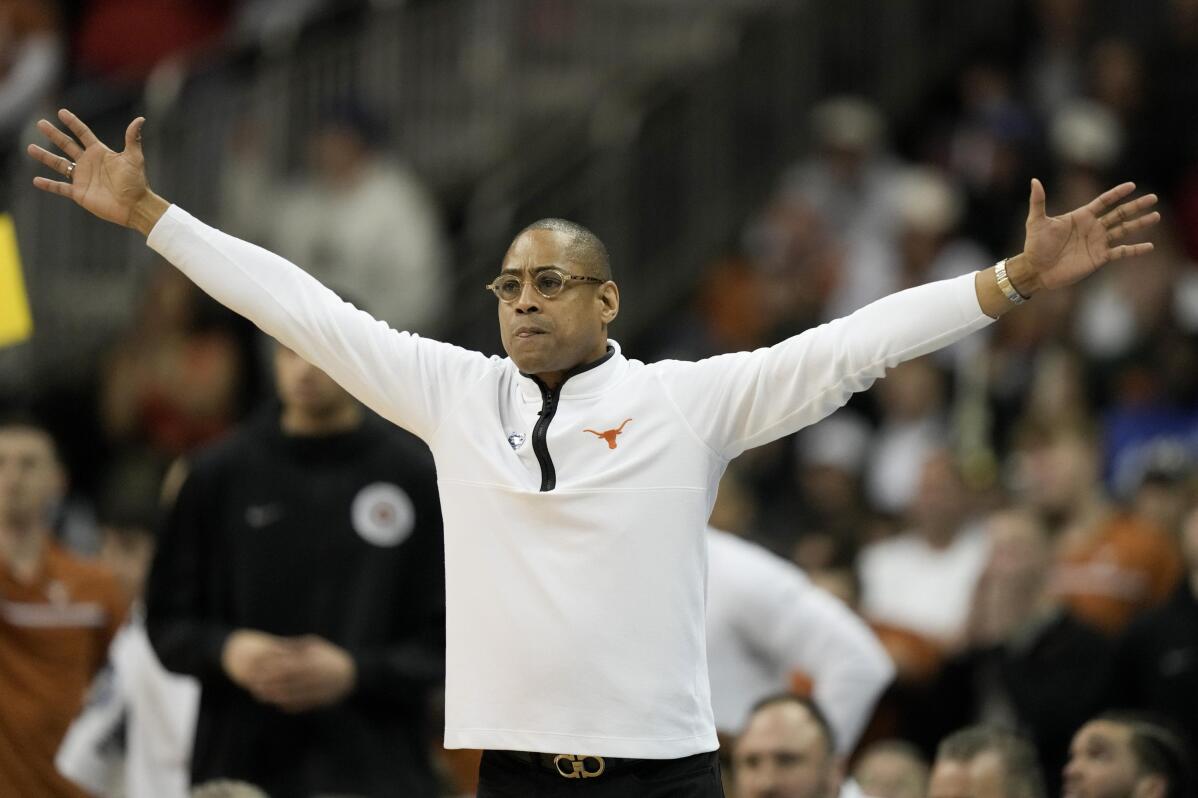 4 of 7

|
Texas head coach Rodney Terry reacts in the second half of an Elite 8 college basketball game against Miami in the Midwest Regional of the NCAA Tournament Sunday, March 26, 2023, in Kansas City, Mo. (AP Photo/Charlie Riedel)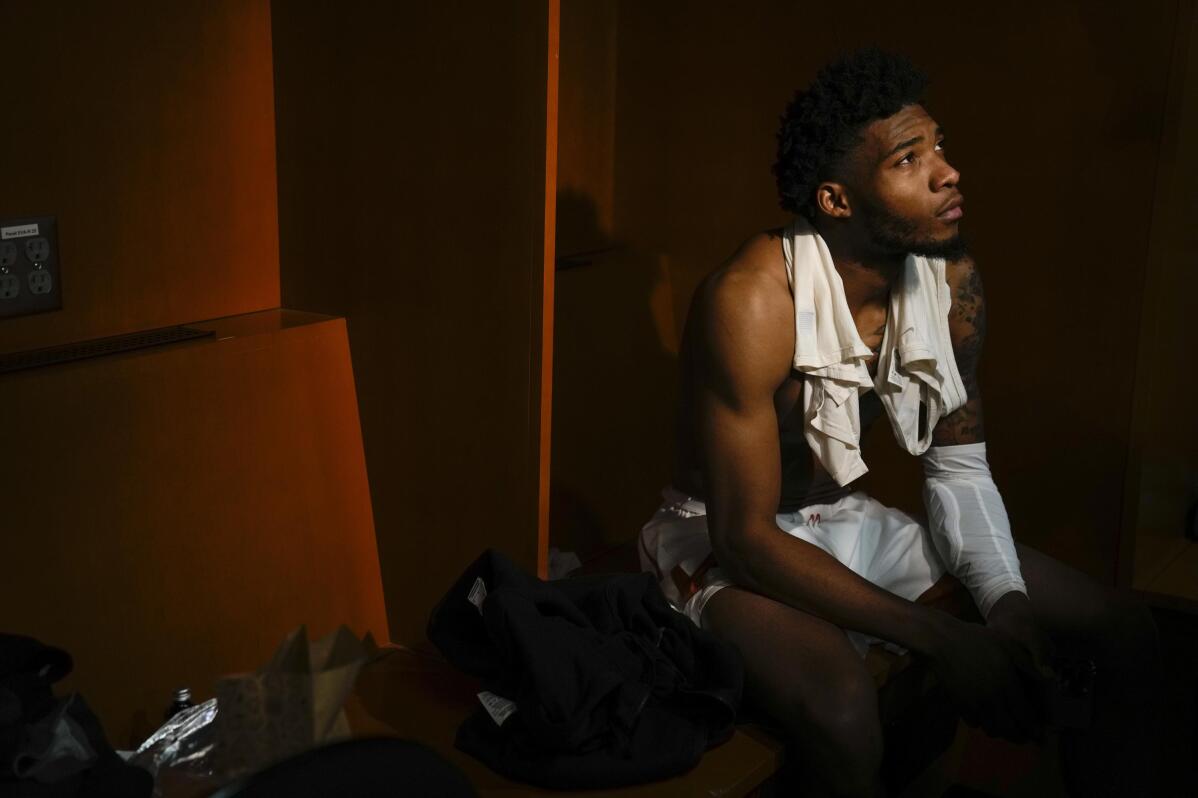 5 of 7

|
Texas guard Tyrese Hunter sits in the locker room after their loss against Miami in an Elite 8 college basketball game in the Midwest Regional of the NCAA Tournament Sunday, March 26, 2023, in Kansas City, Mo. (AP Photo/Jeff Roberson)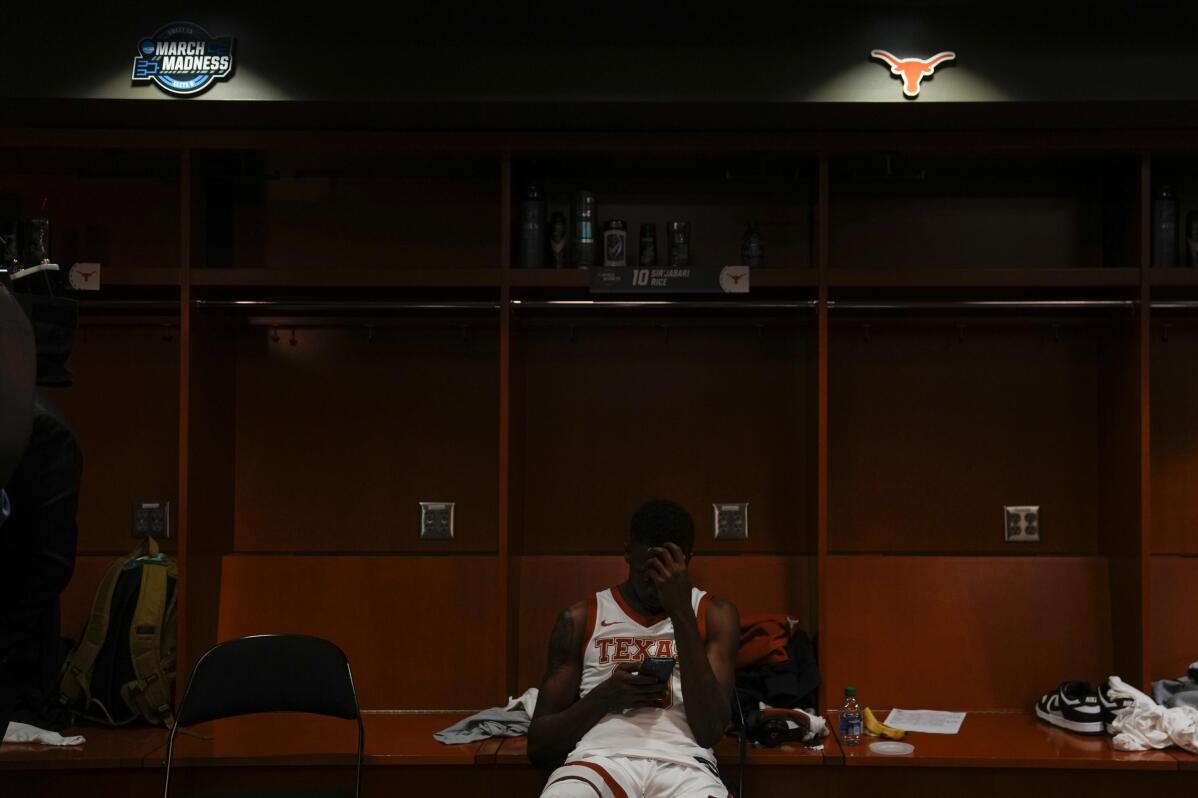 6 of 7

|
Texas guard Sir'Jabari Rice sits in the locker room after their loss against Miami in an Elite 8 college basketball game in the Midwest Regional of the NCAA Tournament Sunday, March 26, 2023, in Kansas City, Mo. (AP Photo/Jeff Roberson)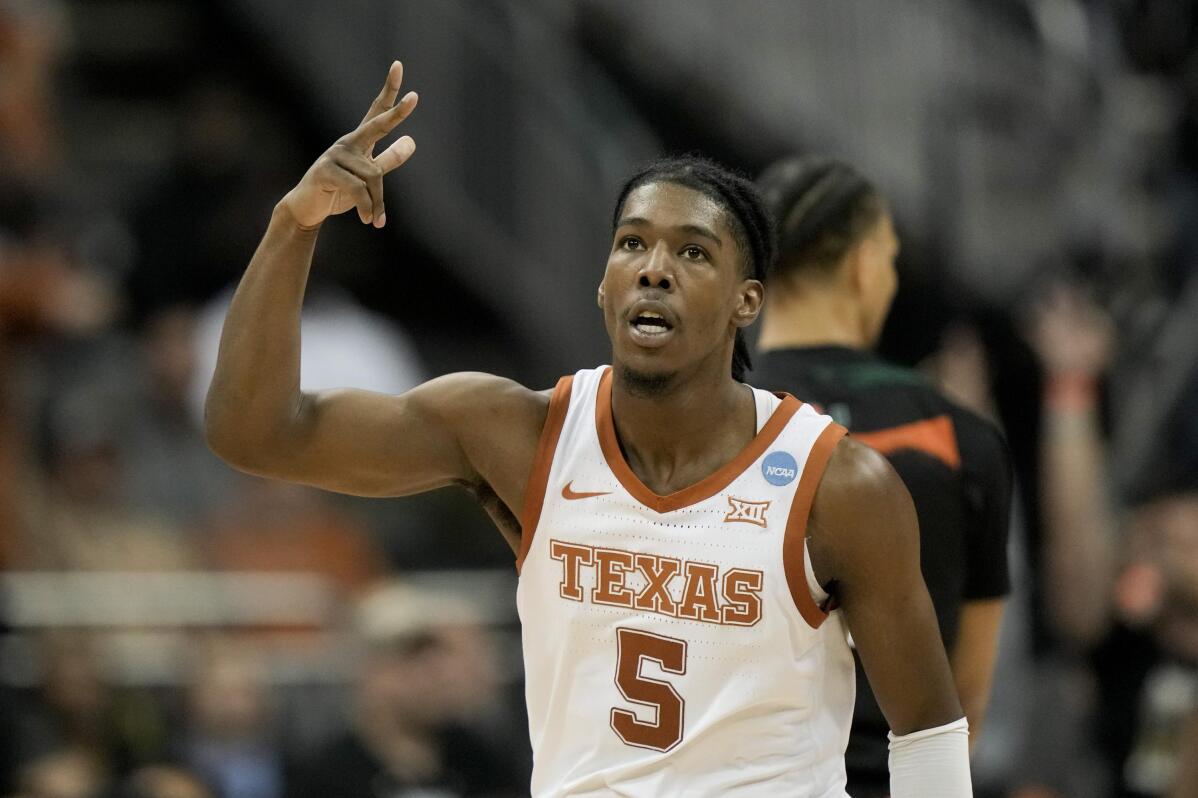 7 of 7

|
Texas guard Marcus Carr celebrates after scoring against Miami in the second half of an Elite 8 college basketball game in the Midwest Regional of the NCAA Tournament Sunday, March 26, 2023, in Kansas City, Mo. (AP Photo/Charlie Riedel)
Terry emotional as Texas' run ends; his job status uncertain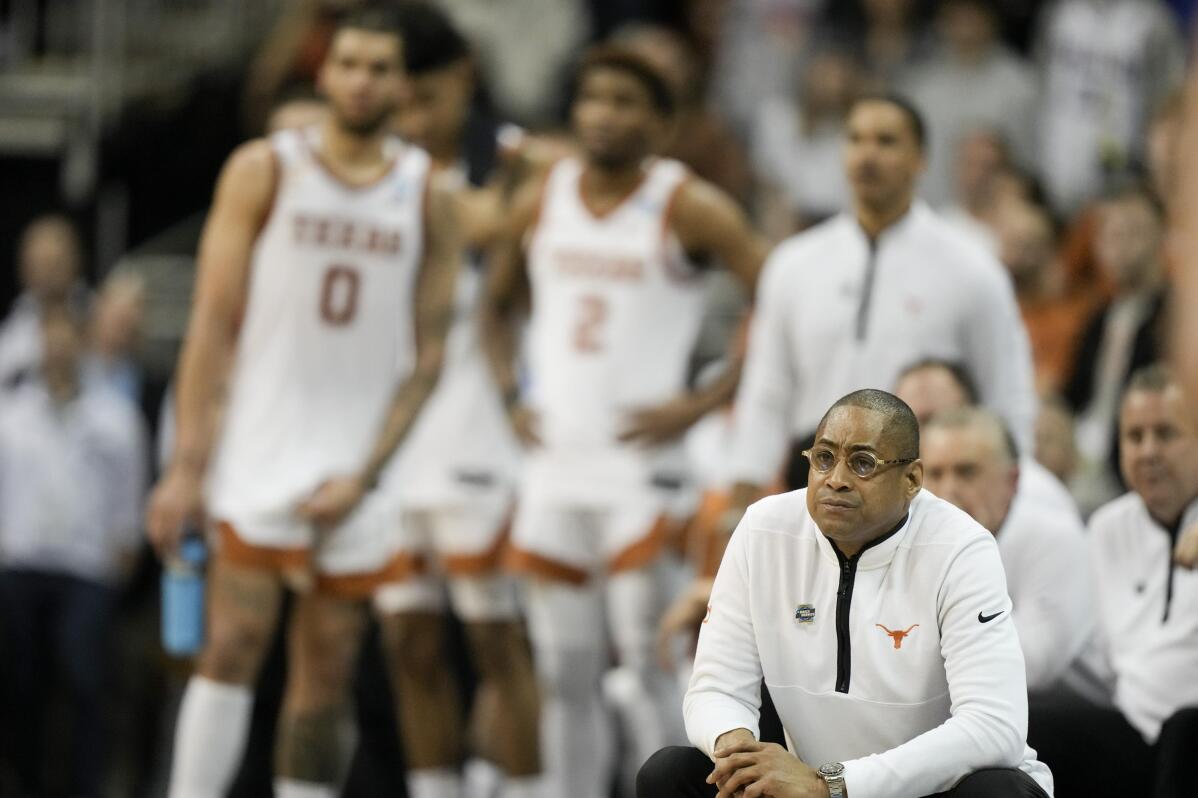 1 of 7

|
Texas head coach Rodney Terry watches during their loss against Miami in an Elite 8 college basketball game in the Midwest Regional of the NCAA Tournament Sunday, March 26, 2023, in Kansas City, Mo. (AP Photo/Charlie Riedel)
1 of 7
Texas head coach Rodney Terry watches during their loss against Miami in an Elite 8 college basketball game in the Midwest Regional of the NCAA Tournament Sunday, March 26, 2023, in Kansas City, Mo. (AP Photo/Charlie Riedel)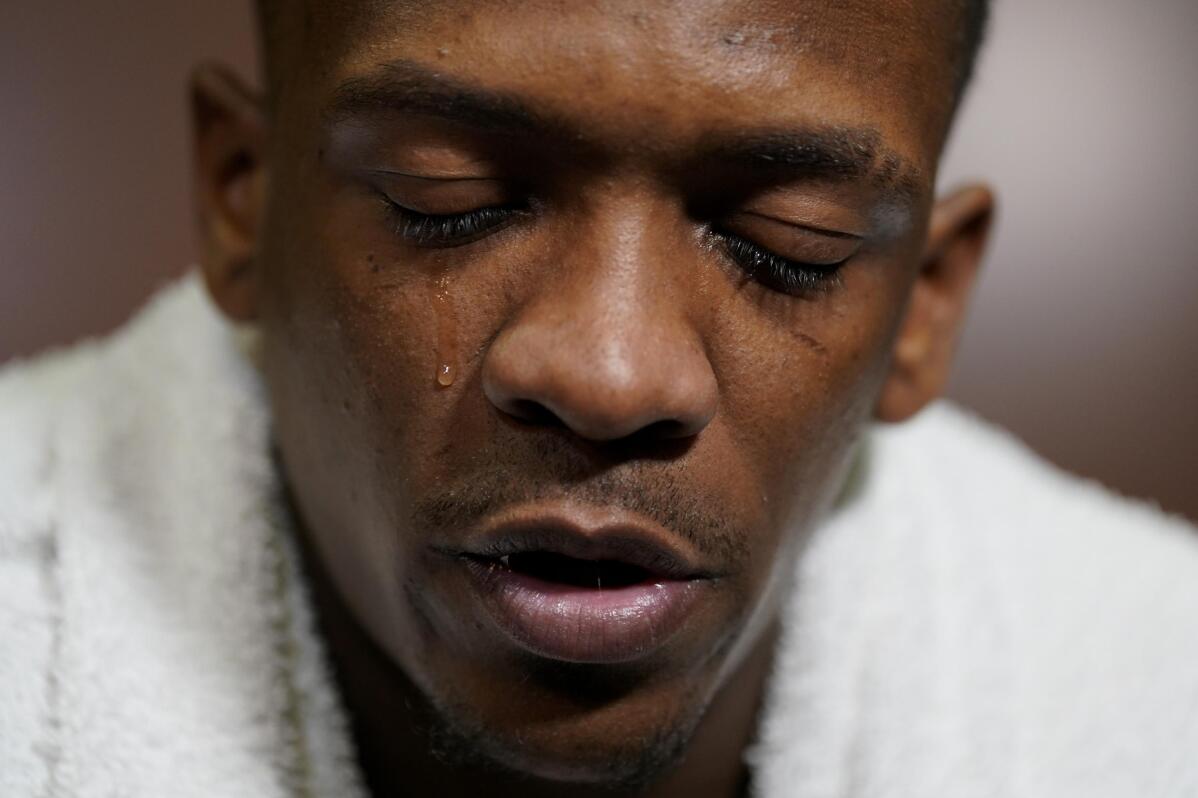 2 of 7

|
Texas guard Sir'Jabari Rice sheds a tear in the locker room after their loss against Miami in an Elite 8 college basketball game in the Midwest Regional of the NCAA Tournament Sunday, March 26, 2023, in Kansas City, Mo. (AP Photo/Jeff Roberson)
2 of 7
Texas guard Sir'Jabari Rice sheds a tear in the locker room after their loss against Miami in an Elite 8 college basketball game in the Midwest Regional of the NCAA Tournament Sunday, March 26, 2023, in Kansas City, Mo. (AP Photo/Jeff Roberson)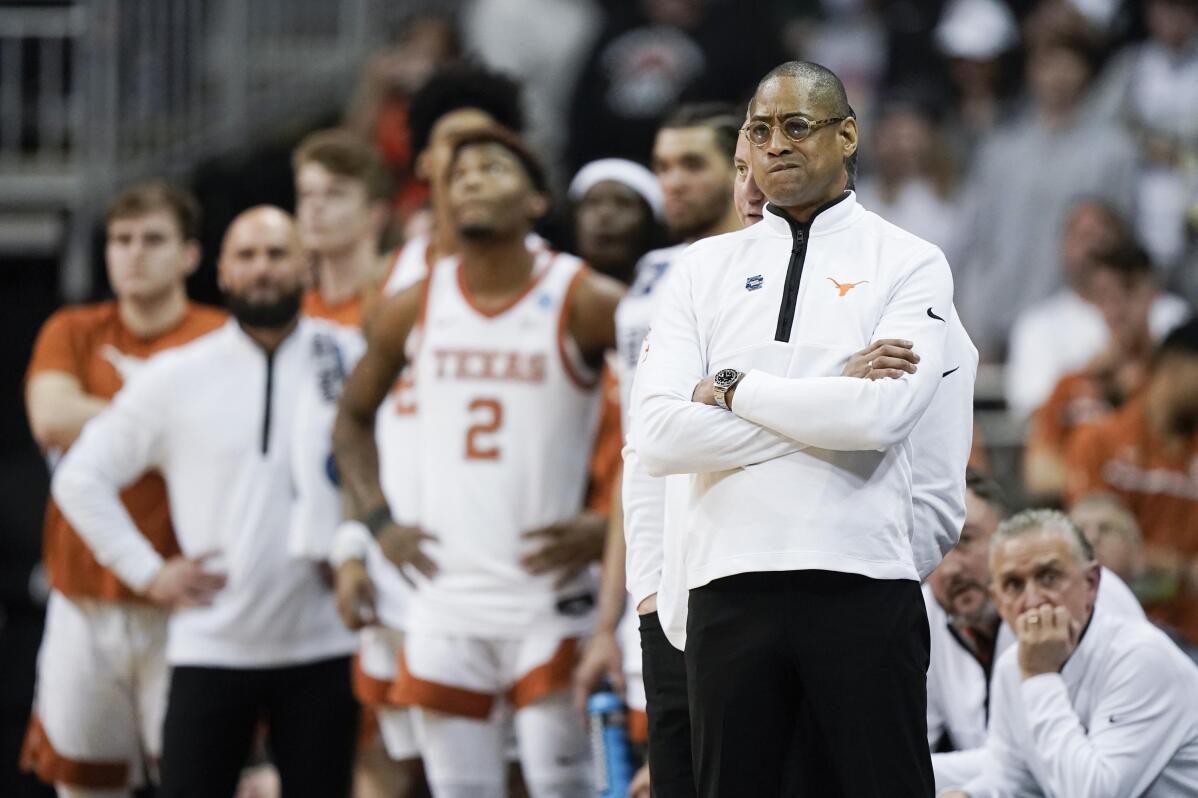 3 of 7

|
Texas head coach Rodney Terry watches during their loss against Miami in an Elite 8 college basketball game in the Midwest Regional of the NCAA Tournament Sunday, March 26, 2023, in Kansas City, Mo. (AP Photo/Charlie Riedel)
3 of 7
Texas head coach Rodney Terry watches during their loss against Miami in an Elite 8 college basketball game in the Midwest Regional of the NCAA Tournament Sunday, March 26, 2023, in Kansas City, Mo. (AP Photo/Charlie Riedel)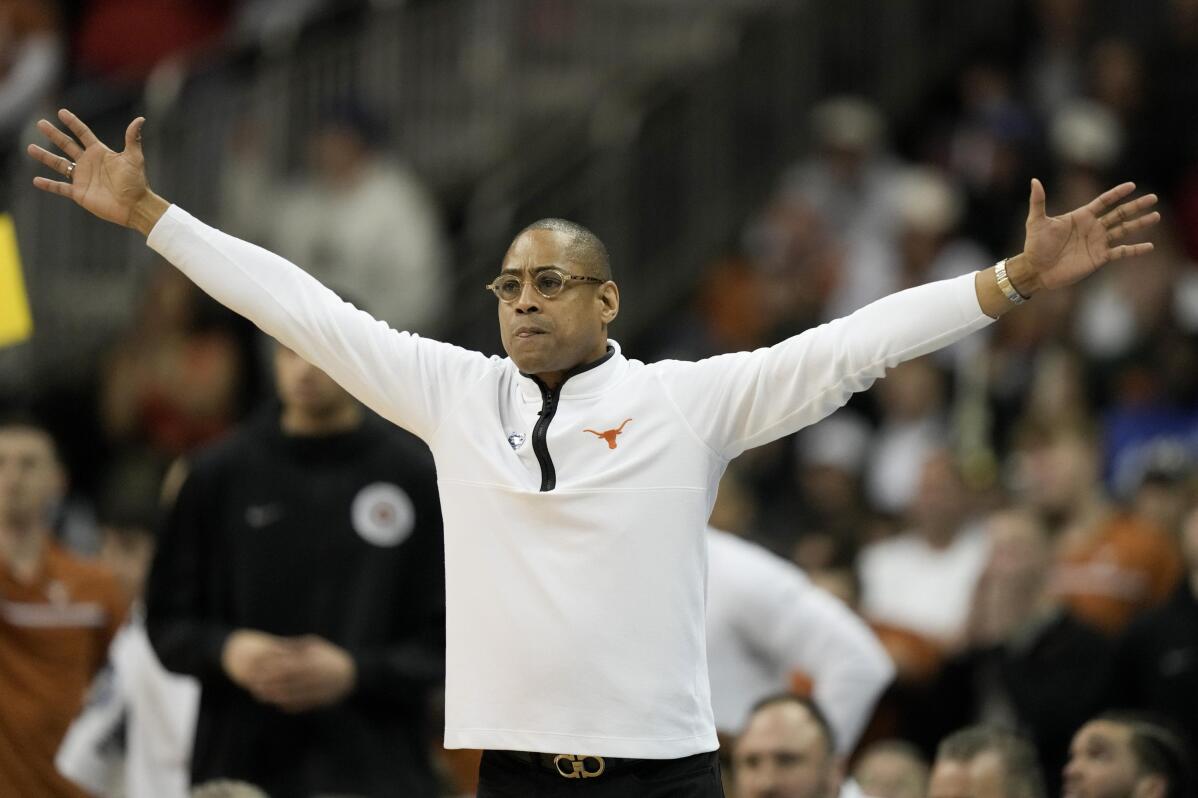 4 of 7

|
Texas head coach Rodney Terry reacts in the second half of an Elite 8 college basketball game against Miami in the Midwest Regional of the NCAA Tournament Sunday, March 26, 2023, in Kansas City, Mo. (AP Photo/Charlie Riedel)
4 of 7
Texas head coach Rodney Terry reacts in the second half of an Elite 8 college basketball game against Miami in the Midwest Regional of the NCAA Tournament Sunday, March 26, 2023, in Kansas City, Mo. (AP Photo/Charlie Riedel)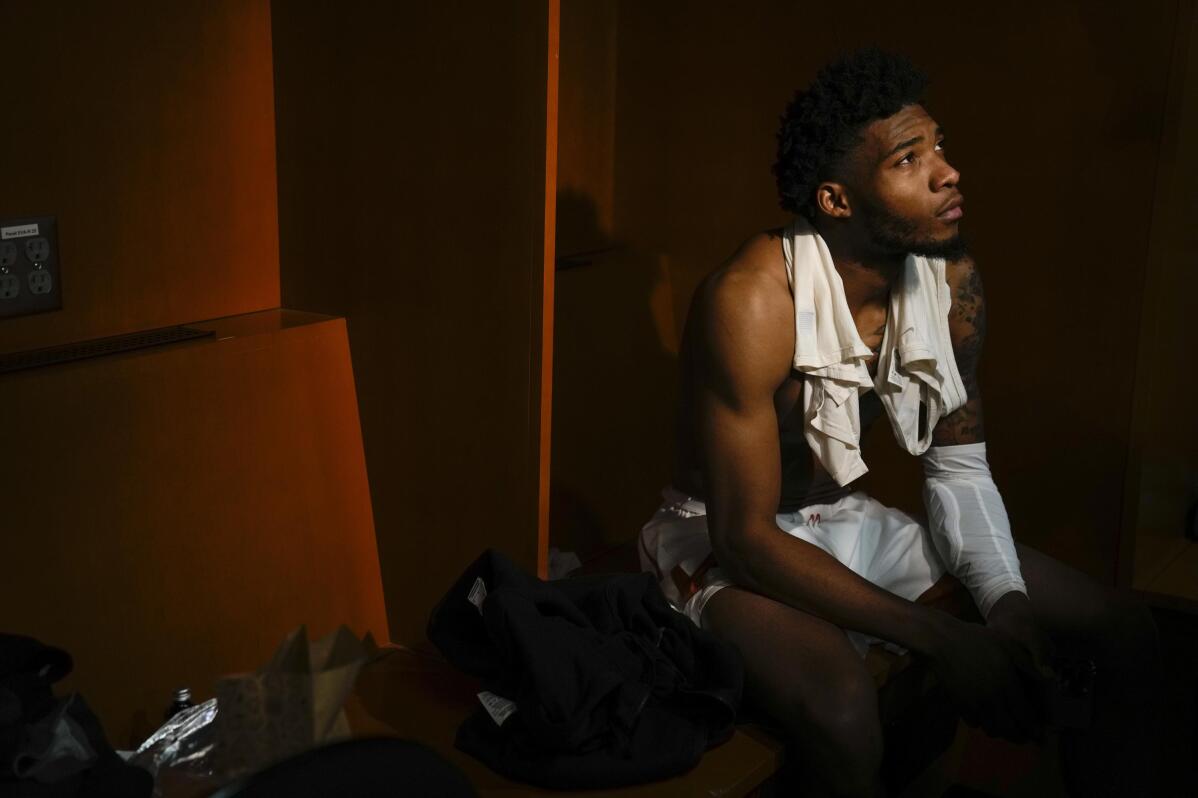 5 of 7

|
Texas guard Tyrese Hunter sits in the locker room after their loss against Miami in an Elite 8 college basketball game in the Midwest Regional of the NCAA Tournament Sunday, March 26, 2023, in Kansas City, Mo. (AP Photo/Jeff Roberson)
5 of 7
Texas guard Tyrese Hunter sits in the locker room after their loss against Miami in an Elite 8 college basketball game in the Midwest Regional of the NCAA Tournament Sunday, March 26, 2023, in Kansas City, Mo. (AP Photo/Jeff Roberson)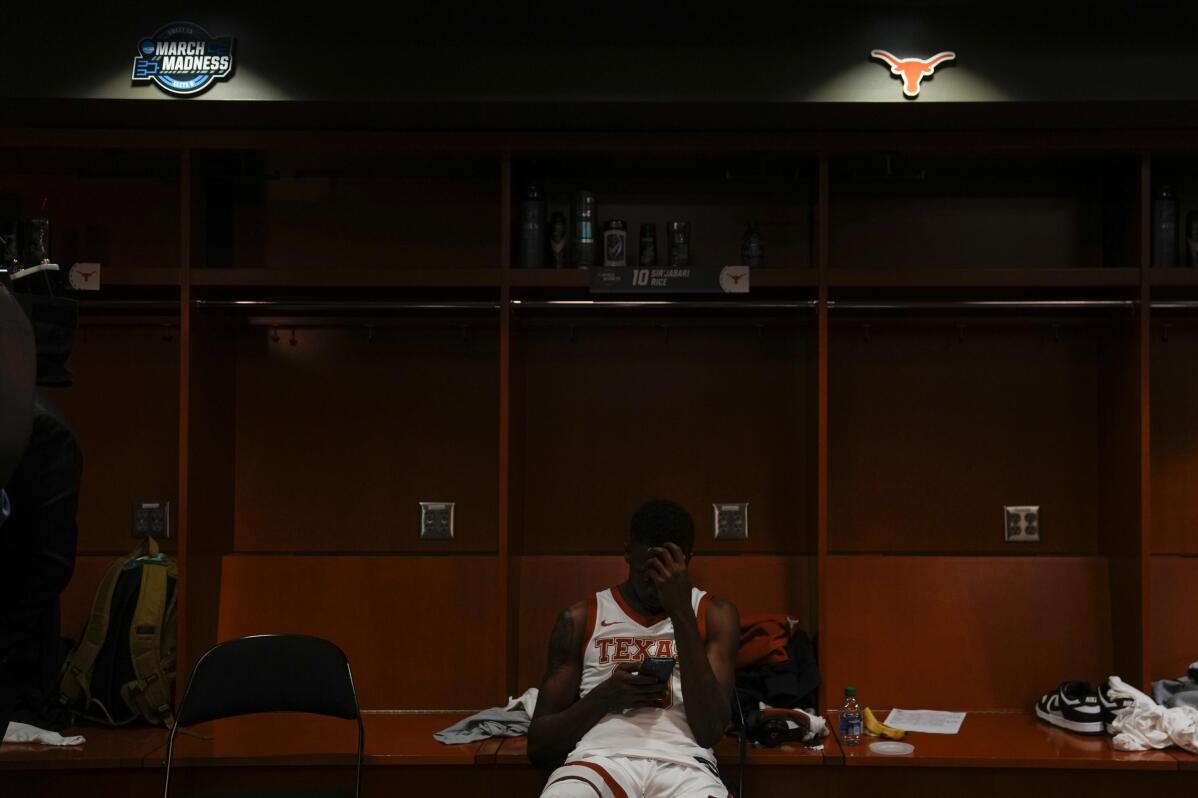 6 of 7

|
Texas guard Sir'Jabari Rice sits in the locker room after their loss against Miami in an Elite 8 college basketball game in the Midwest Regional of the NCAA Tournament Sunday, March 26, 2023, in Kansas City, Mo. (AP Photo/Jeff Roberson)
6 of 7
Texas guard Sir'Jabari Rice sits in the locker room after their loss against Miami in an Elite 8 college basketball game in the Midwest Regional of the NCAA Tournament Sunday, March 26, 2023, in Kansas City, Mo. (AP Photo/Jeff Roberson)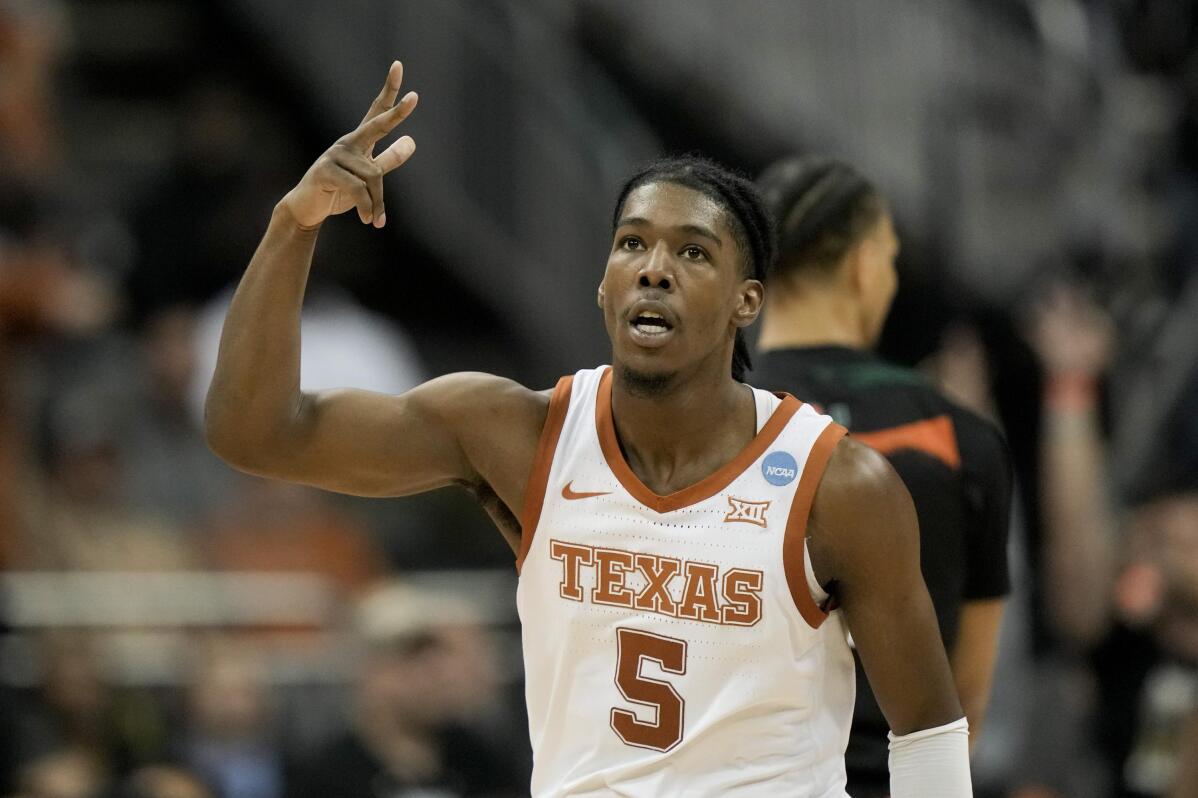 7 of 7

|
Texas guard Marcus Carr celebrates after scoring against Miami in the second half of an Elite 8 college basketball game in the Midwest Regional of the NCAA Tournament Sunday, March 26, 2023, in Kansas City, Mo. (AP Photo/Charlie Riedel)
7 of 7
Texas guard Marcus Carr celebrates after scoring against Miami in the second half of an Elite 8 college basketball game in the Midwest Regional of the NCAA Tournament Sunday, March 26, 2023, in Kansas City, Mo. (AP Photo/Charlie Riedel)
KANSAS CITY, Mo. (AP) — Rodney Terry teared up and his voice cracked to the point he could barely talk as he professed his love for the team he took over less than one month into the season and coached to the cusp of the Final Four.
"I enjoyed every single day of this journey with this group. I'm going to really miss working with this group," Terry struggled to say minutes after the Longhorns' 88-81 loss to Miami in the Midwest Region final Sunday.
Terry paused, trying to continue while Marcus Carr patted him on the shoulder.
"It was never about me," Terry said. "It was always about these guys."
The attention now turns to Texas athletic director Chris Del Conte, who will decide whether to make the 54-year-old Terry the Longhorns' permanent coach. Terry was an assistant at Texas for nine years under Rick Barnes before he was head coach at Fresno State for seven and at UTEP for three. He returned to Austin in 2021 as an assistant to Chris Beard.
Terry went 22-8 after he took over following Beard's arrest on suspension for domestic assault on Dec. 12. Beard was fired a month later. The charge against him was subsequently dropped, and he has since been hired at Mississippi.
The Longhorns (29-9) finished second in the Big 12 regular season, won the conference tournament and earned a No. 2 seed in the NCAA Tournament. They rolled off wins over Colgate, Penn State and Xavier and appeared to be on their way to their first Final Four since 2003 when they led Miami by 13 points with 13 minutes left.
It was a crushing end. The Longhorns led or were tied for nearly 33 of the 40 minutes. They took away Miami's 3-point shooting, holding a team that averages 21 attempts per game to just eight. They limited ACC player of the year Isaiah Wong to 2 points on two shots in the first half. They had Miami's rugged big man, Norchad Omier, in foul trouble.
But Texas couldn't finish, unable to find an answer for the deadeye shooting of Jordan Miller and missing 14 of its last 19 shots from the field while getting outscored 51-36 in the second half. It didn't help that Carr was hobbled the last 10 minutes after Omier's knee hit him in the leg as both were going for a loose ball.
"These guys more than any group I've worked with in 32 years of coaching have really embodied in terms of staying the course and being a team," Terry said. "These guys were incredible teammates all year. They were so unselfish as a team, and they gave us everything they had.
"They accomplished a lot. We had guys that came back and were on a mission to accomplish some great things and were right on the brink of being right where we wanted to be to close out this season."
Even after Miami turned the momentum, the game was tied at 79 with a minute to play. But the Hurricanes made all nine of their free throws the rest of the way, and 28 of 32 for the game, while all the Longhorns managed was Tyrese Hunter's layup after Miami had all but secured the win.
"This team dealt with a lot of trials and tribulations," fifth-year forward Brock Cunningham said. "It's just the family that we are. You want to keep playing with your brothers for as long as possible. Unfortunately, there's only one happy team at the end of it."
___
AP March Madness coverage: https://apnews.com/hub/march-madness and bracket: https://apnews.com/hub/ncaa-mens-bracket and https://apnews.com/hub/ap-top-25-college-basketball-poll and https://twitter.com/AP_Top25