UConn's Final Four streak ends with 73-61 loss to Ohio State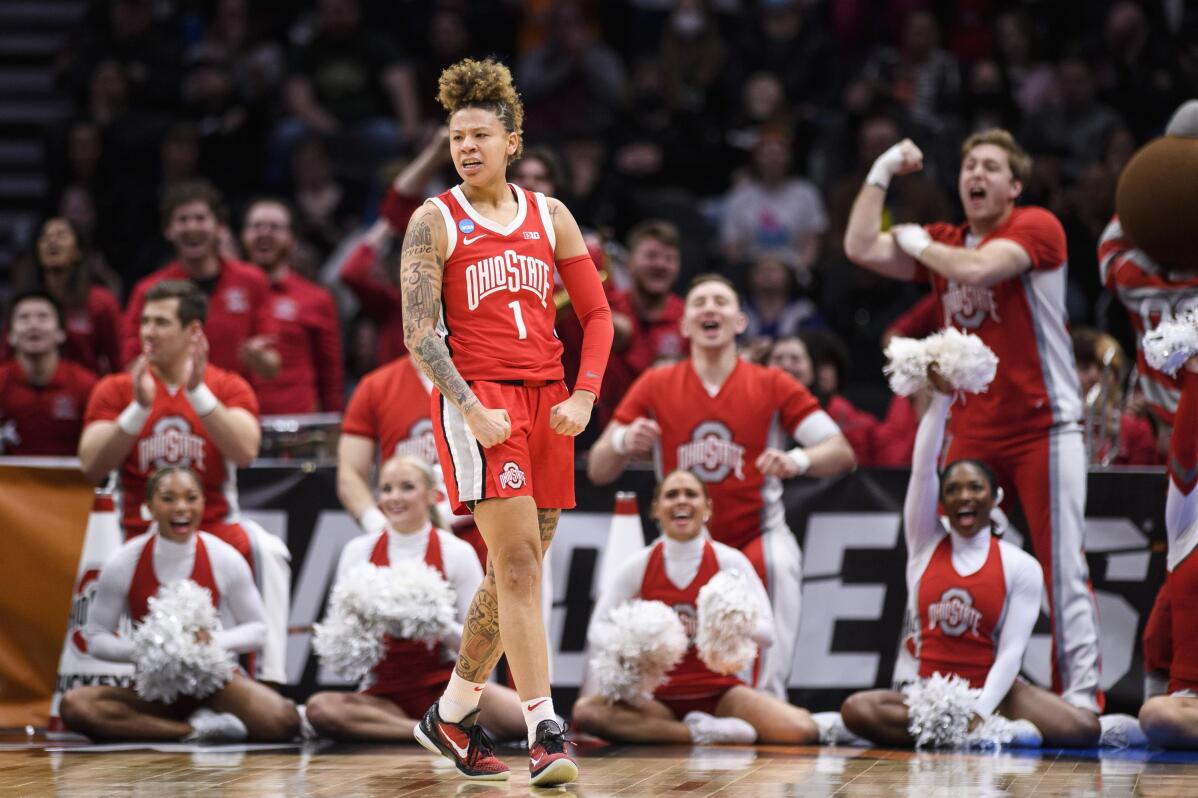 1 of 12

|
Ohio State guard Rikki Harris (1) flexes after scoring and being fouled in the fourth quarter of a Sweet 16 college basketball game against UConn of the NCAA Tournament in Seattle, Saturday, March 25, 2023. (AP Photo/Caean Couto)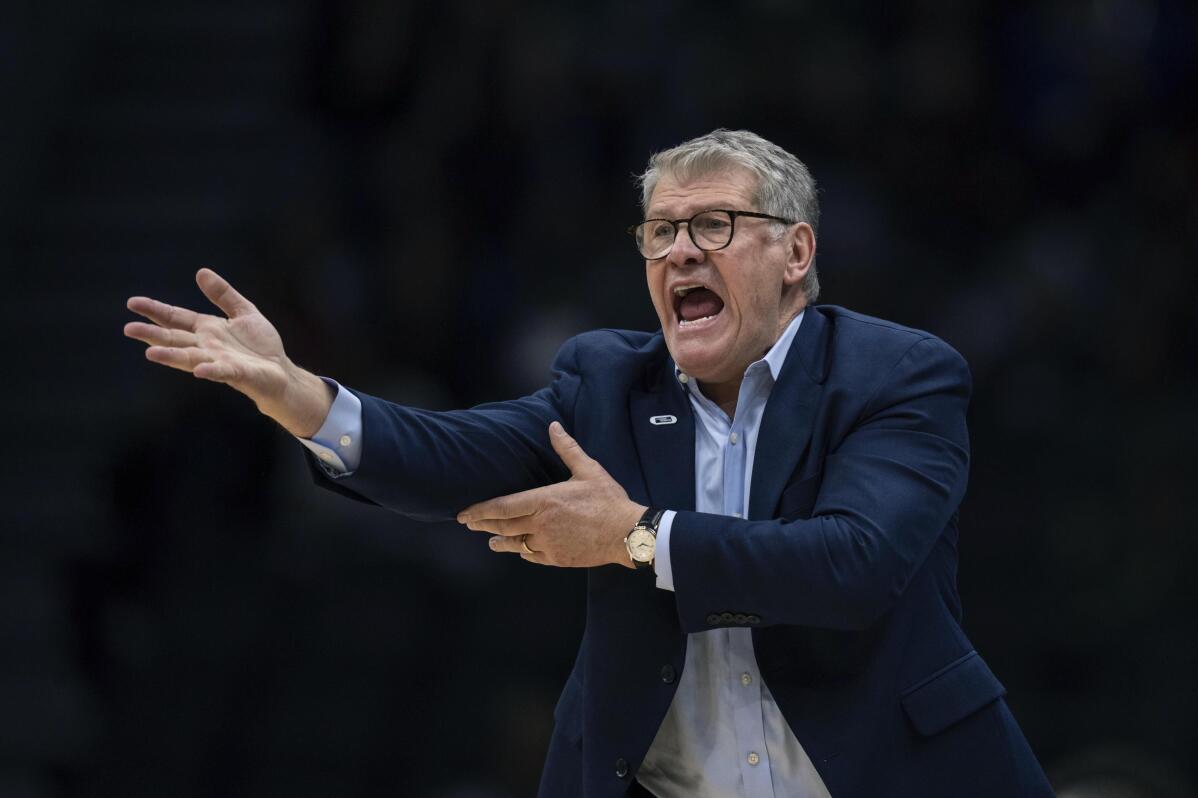 2 of 12

|
UConn head coach Geno Auriemma yells to his team during the first half of a Sweet 16 college basketball game of the NCAA tournament against Ohio State, Saturday, March 25, 2023, in Seattle. (AP Photo/Stephen Brashear)
3 of 12

|
Ohio State forward Cotie McMahon, right, and guard Rikki Harris (1) embrace after a victory against UConn in a Sweet 16 college basketball game of the NCAA Tournament in Seattle, Saturday, March 25, 2023. (AP Photo/Caean Couto)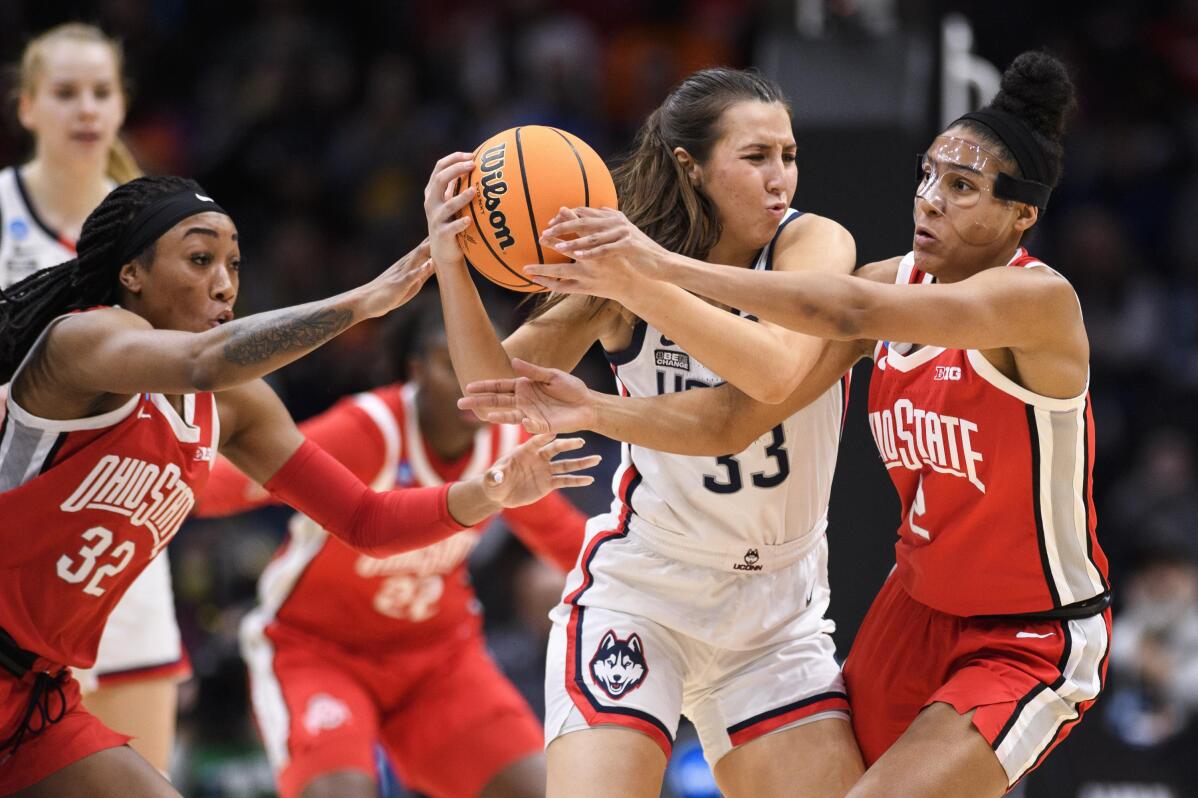 4 of 12

|
UConn guard Caroline Ducharme (33) holds onto the ball as Ohio State's Cotie McMahon (32) and Taylor Thierry (2) attempt to steal possession during the second quarter of a Sweet 16 college basketball game of the NCAA Tournament in Seattle, Saturday, March 25, 2023. (AP Photo/Caean Couto)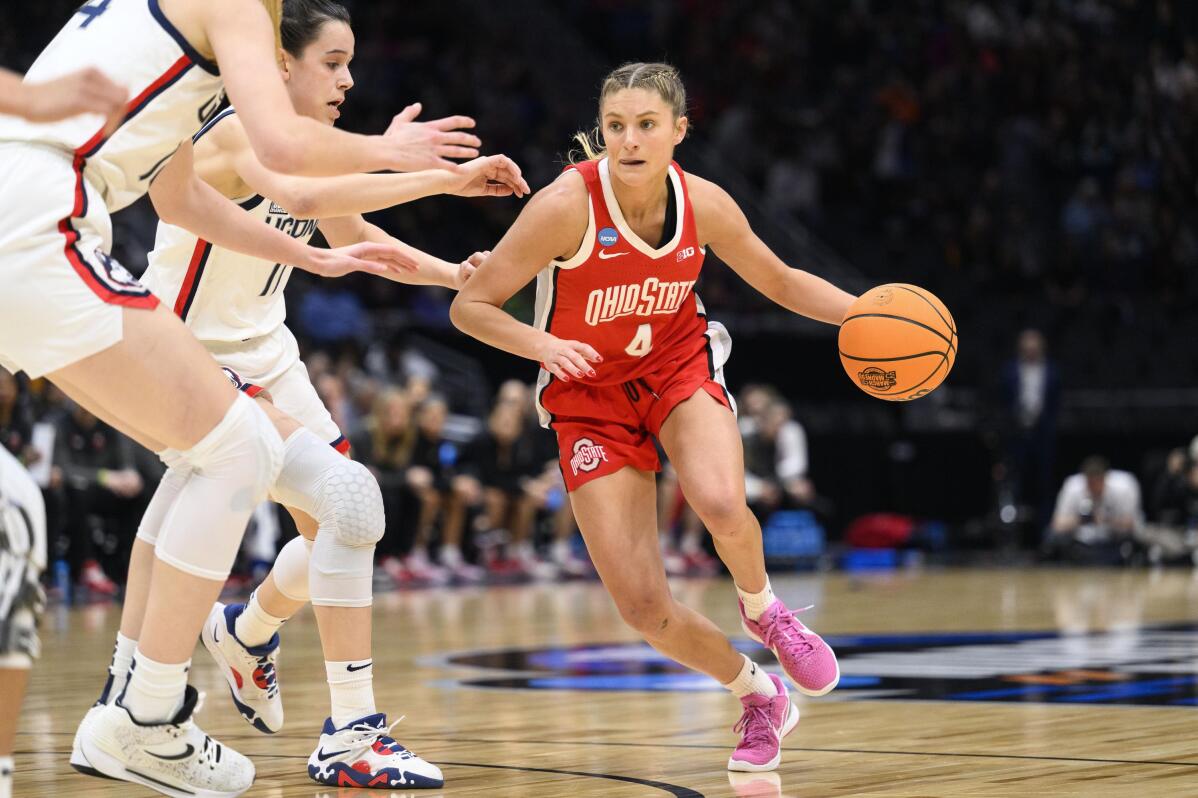 5 of 12

|
Ohio State guard Jacy Sheldon (4) drives towards the basket as UConn guard Nika Muhl, left, closes in on defense in the first quarter of a Sweet 16 college basketball game of the NCAA Tournament in Seattle, Saturday, March 25, 2023. (AP Photo/Caean Couto)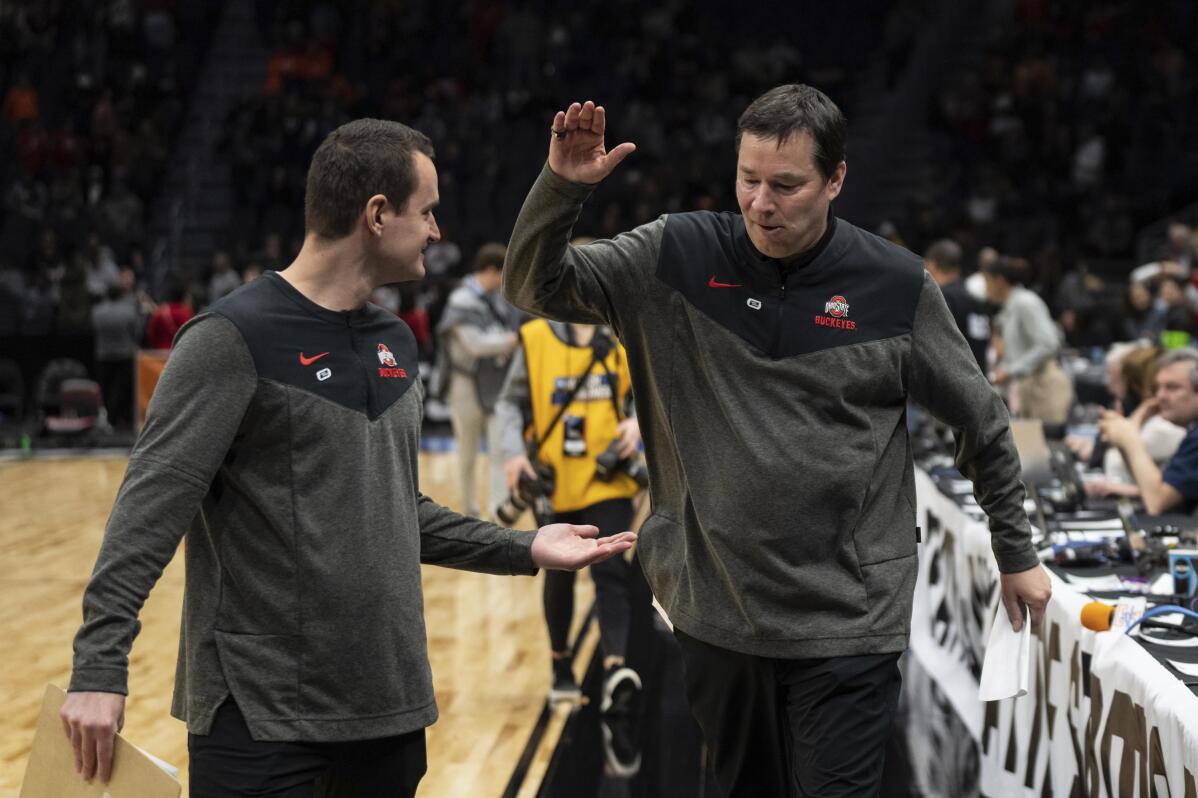 6 of 12

|
Ohio State head coach Kevin McGuff, right, celebrates with staff member Reid Guzdanski after a Sweet 16 college basketball game of the NCAA Tournament against UConn, Saturday, March 25, 2023, in Seattle. . (AP Photo/Stephen Brashear)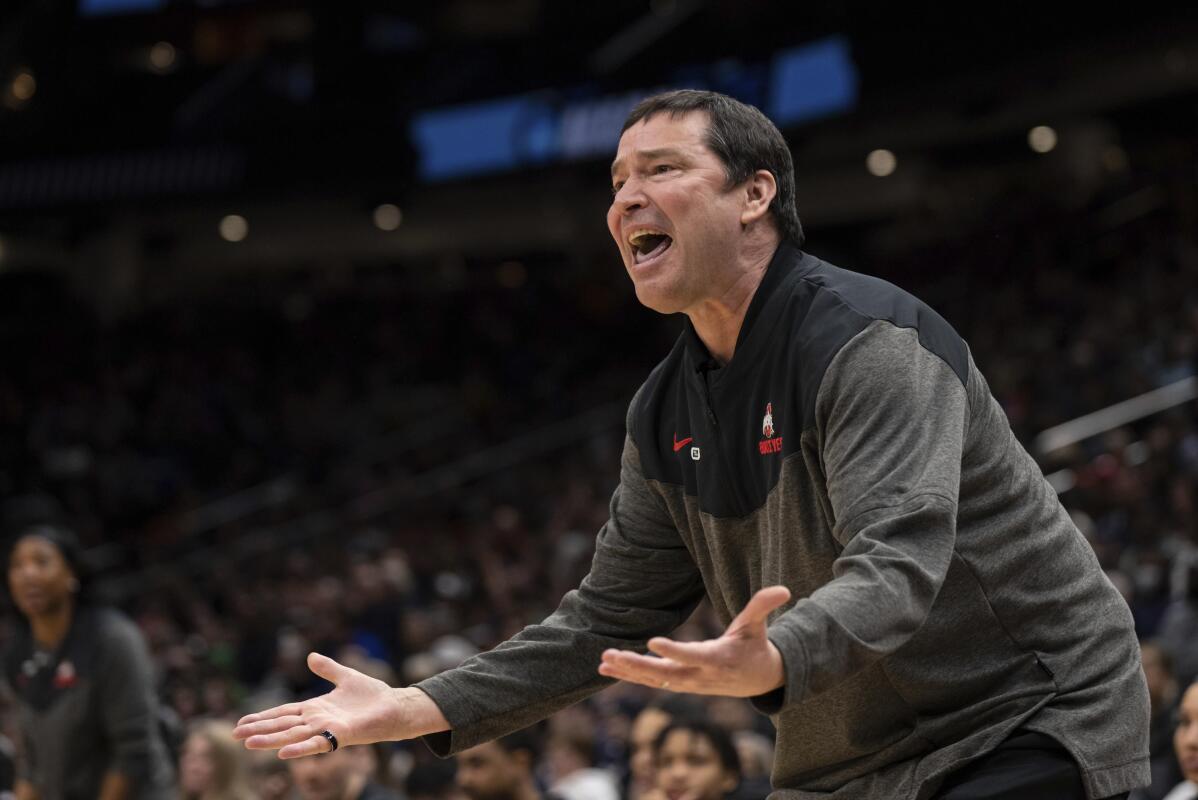 7 of 12

|
Ohio State head coach Kevin McGuff reacts during the first half of a Sweet 16 college basketball game of the NCAA tournament against UConn, Saturday, March 25, 2023, in Seattle. (AP Photo/Stephen Brashear)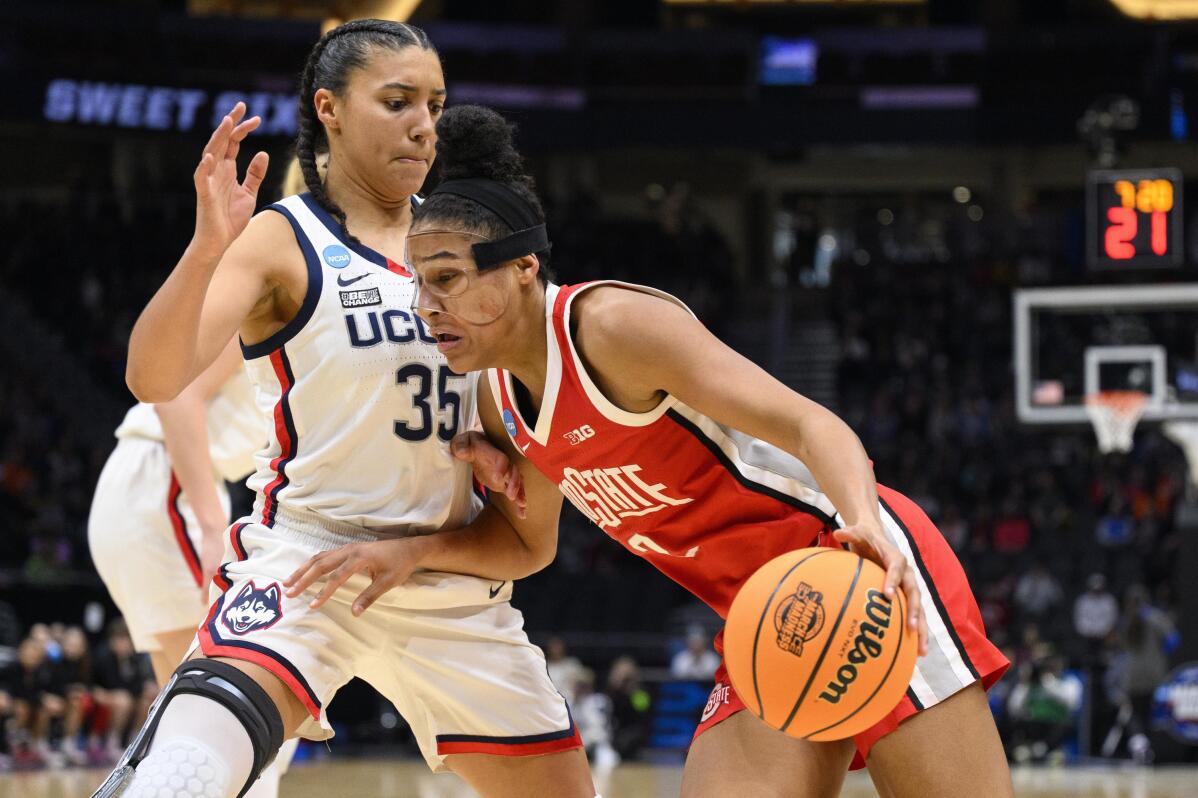 8 of 12

|
Ohio State forward Taylor Thierry (2) drives towards the basket as UConn guard Azzi Fudd (35) plays defense in the first quarter of a Sweet 16 college basketball game of the NCAA Tournament in Seattle, Saturday, March 25, 2023. (AP Photo/Caean Couto)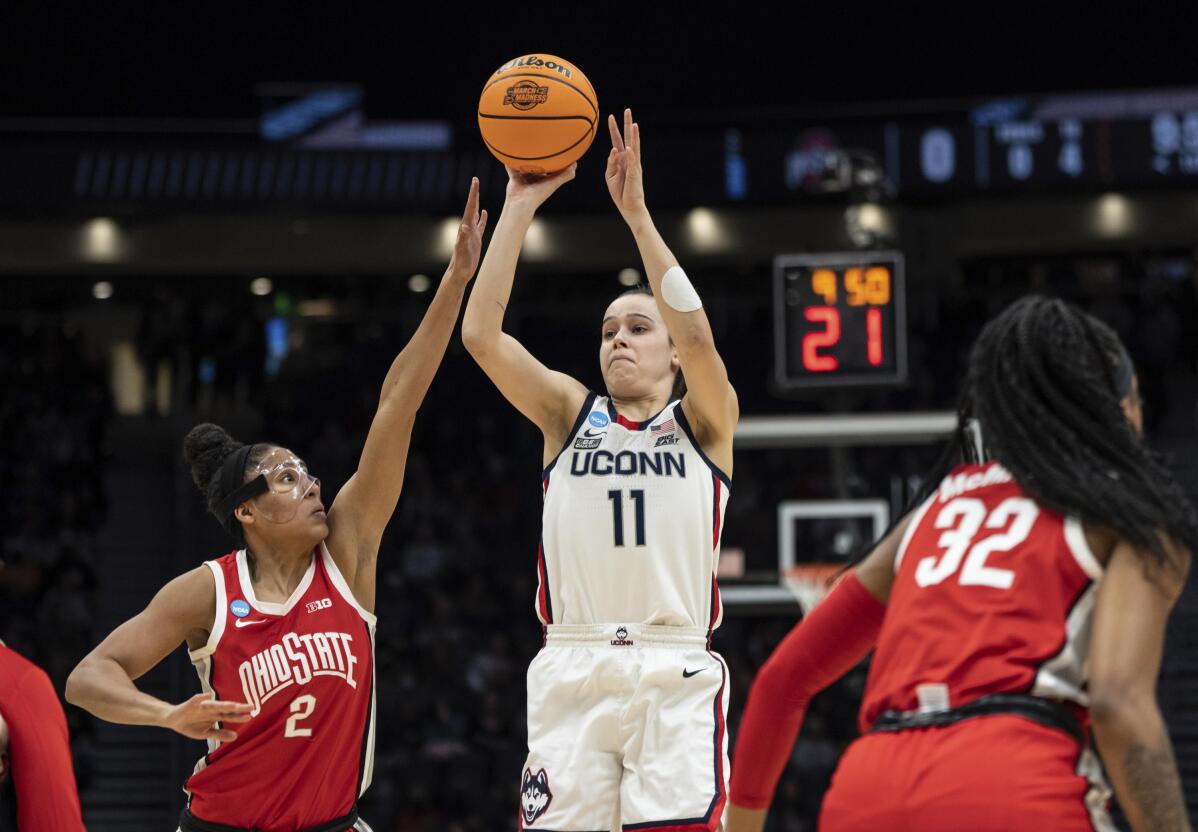 9 of 12

|
UConn guard Lou Lopez Senechal (11) shoots the ball against Ohio State forward Taylor Thierry (2) and forward Cotie McMahon during the first half of a Sweet 16 college basketball game of the NCAA tournament, Saturday, March 25, 2023, in Seattle. (AP Photo/Stephen Brashear)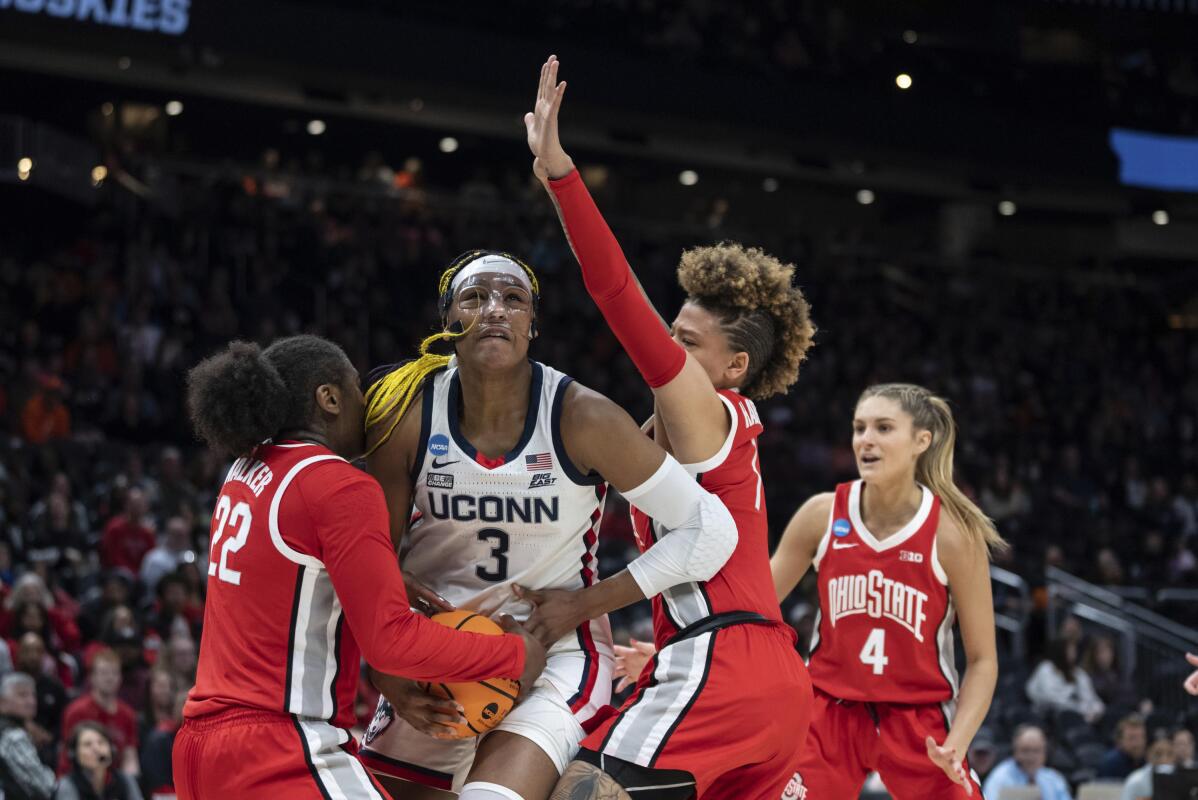 10 of 12

|
UConn forward Aaliyah Edwards (3) attempts to drive past Ohio State forward Eboni Walker (22) and guard Rikki Harris during the first half of a Sweet 16 college basketball game of the NCAA tournament, Saturday, March 25, 2023, in Seattle. (AP Photo/Stephen Brashear)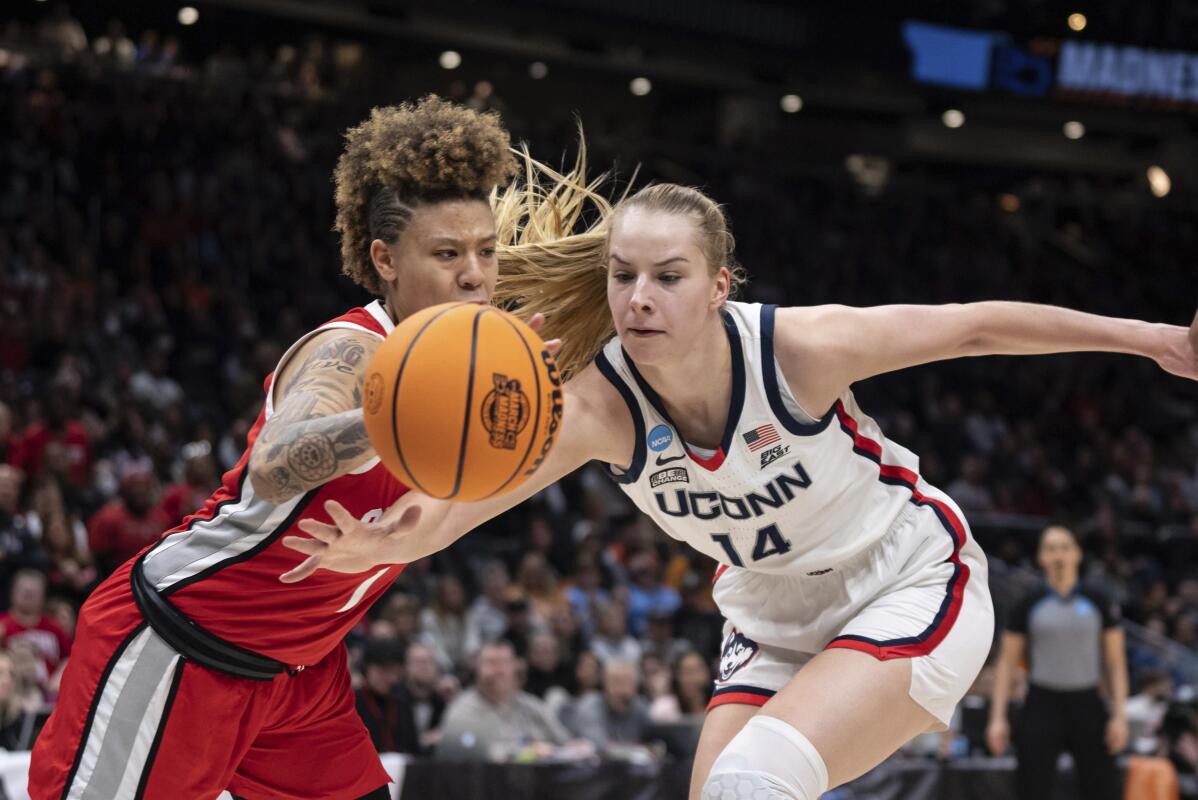 11 of 12

|
UConn forward Dorka Juhasz (14) and Ohio State guard Rikki Harris battle for a loose ball during the first half of a Sweet 16 college basketball game of the NCAA tournament, Saturday, March 25, 2023, in Seattle. (AP Photo/Stephen Brashear)
12 of 12

|
UConn guard Nika Muhl (10) collides with Ohio State guard Jacy Sheldon while trying to beat a full court press during the second half of a Sweet 16 college basketball game of the NCAA tournament, Saturday, March 25, 2023, in Seattle. (AP Photo/Stephen Brashear)
UConn's Final Four streak ends with 73-61 loss to Ohio State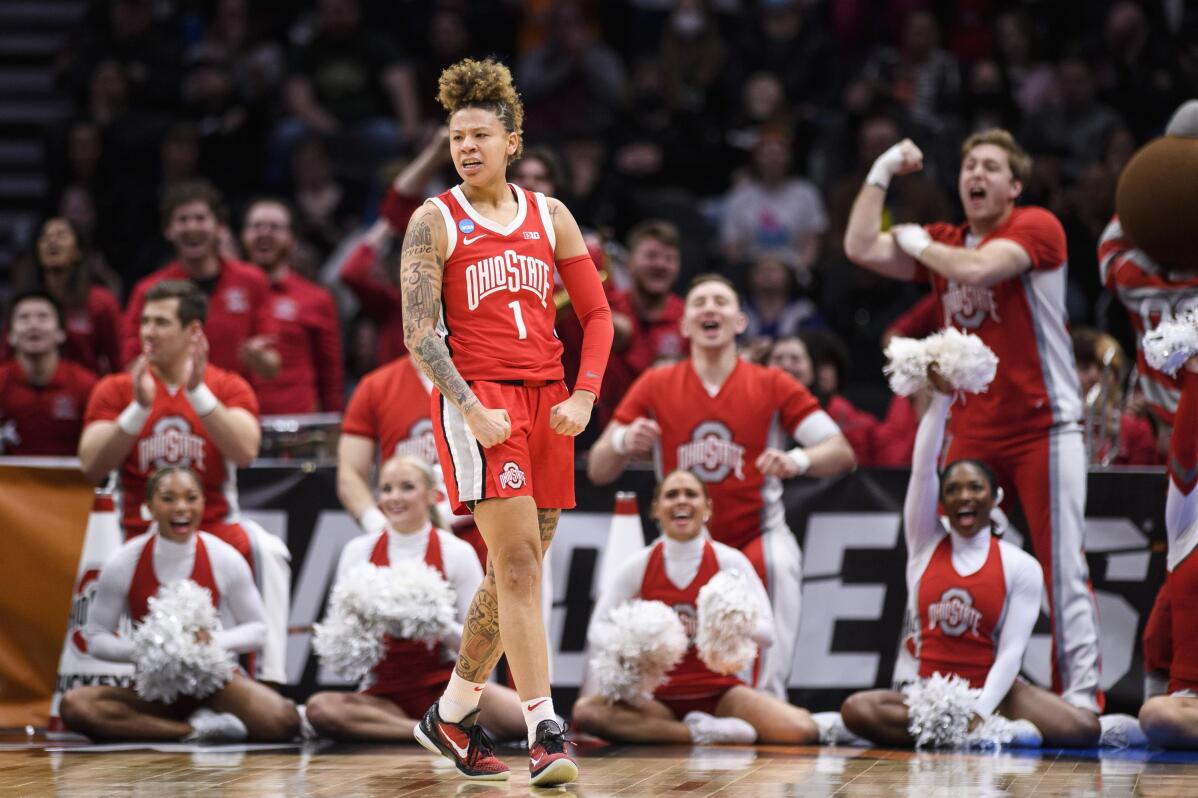 1 of 12

|
Ohio State guard Rikki Harris (1) flexes after scoring and being fouled in the fourth quarter of a Sweet 16 college basketball game against UConn of the NCAA Tournament in Seattle, Saturday, March 25, 2023. (AP Photo/Caean Couto)
1 of 12
Ohio State guard Rikki Harris (1) flexes after scoring and being fouled in the fourth quarter of a Sweet 16 college basketball game against UConn of the NCAA Tournament in Seattle, Saturday, March 25, 2023. (AP Photo/Caean Couto)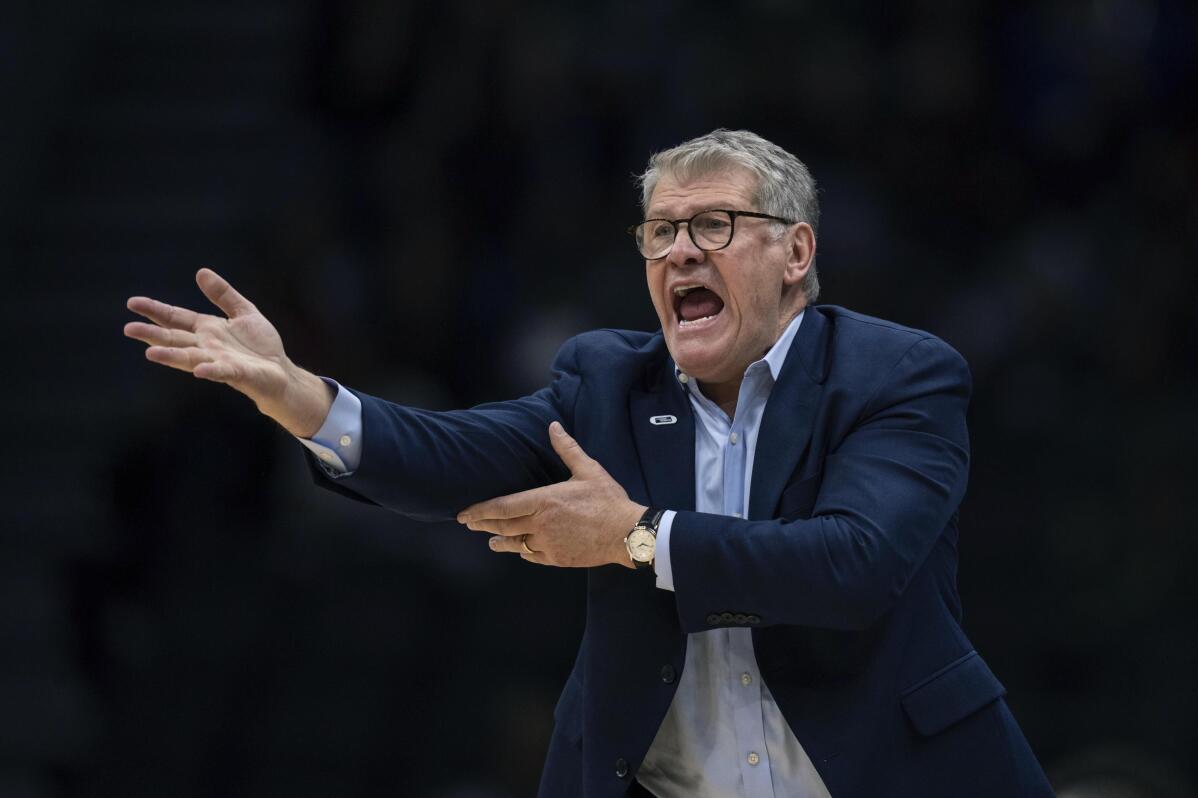 2 of 12

|
UConn head coach Geno Auriemma yells to his team during the first half of a Sweet 16 college basketball game of the NCAA tournament against Ohio State, Saturday, March 25, 2023, in Seattle. (AP Photo/Stephen Brashear)
2 of 12
UConn head coach Geno Auriemma yells to his team during the first half of a Sweet 16 college basketball game of the NCAA tournament against Ohio State, Saturday, March 25, 2023, in Seattle. (AP Photo/Stephen Brashear)
3 of 12

|
Ohio State forward Cotie McMahon, right, and guard Rikki Harris (1) embrace after a victory against UConn in a Sweet 16 college basketball game of the NCAA Tournament in Seattle, Saturday, March 25, 2023. (AP Photo/Caean Couto)
3 of 12
Ohio State forward Cotie McMahon, right, and guard Rikki Harris (1) embrace after a victory against UConn in a Sweet 16 college basketball game of the NCAA Tournament in Seattle, Saturday, March 25, 2023. (AP Photo/Caean Couto)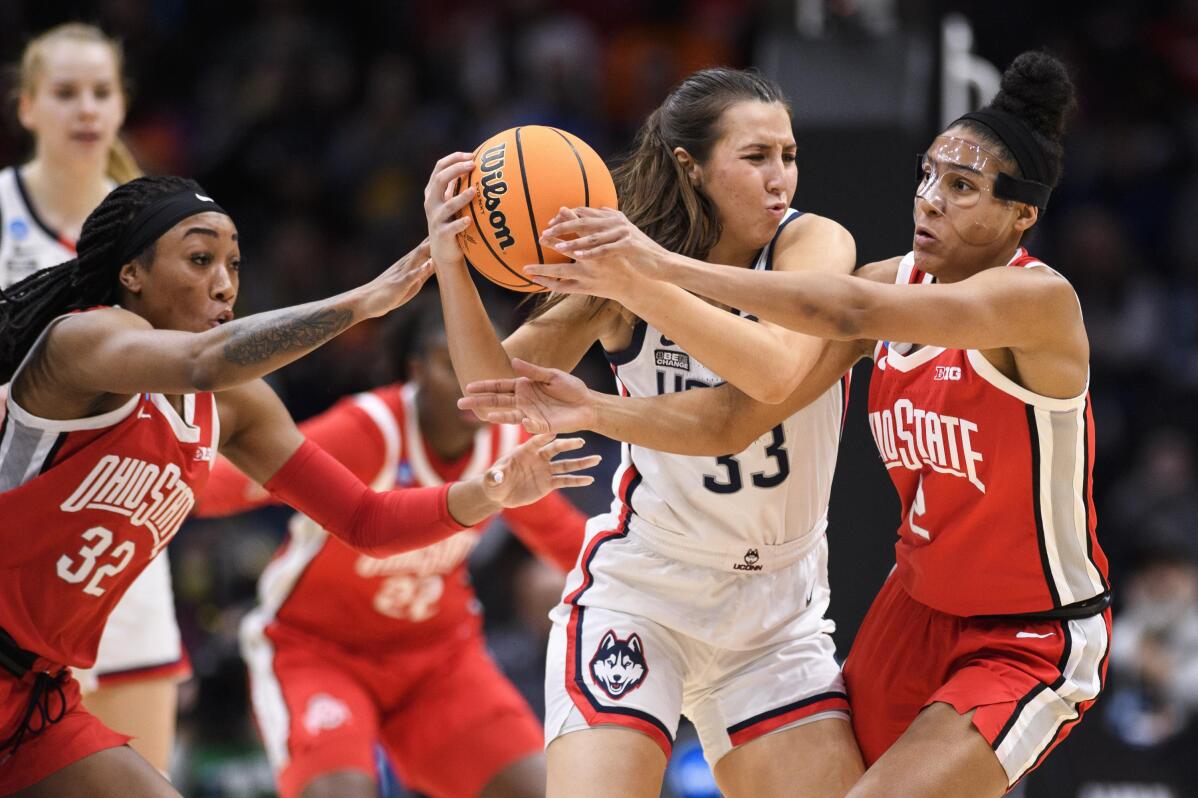 4 of 12

|
UConn guard Caroline Ducharme (33) holds onto the ball as Ohio State's Cotie McMahon (32) and Taylor Thierry (2) attempt to steal possession during the second quarter of a Sweet 16 college basketball game of the NCAA Tournament in Seattle, Saturday, March 25, 2023. (AP Photo/Caean Couto)
4 of 12
UConn guard Caroline Ducharme (33) holds onto the ball as Ohio State's Cotie McMahon (32) and Taylor Thierry (2) attempt to steal possession during the second quarter of a Sweet 16 college basketball game of the NCAA Tournament in Seattle, Saturday, March 25, 2023. (AP Photo/Caean Couto)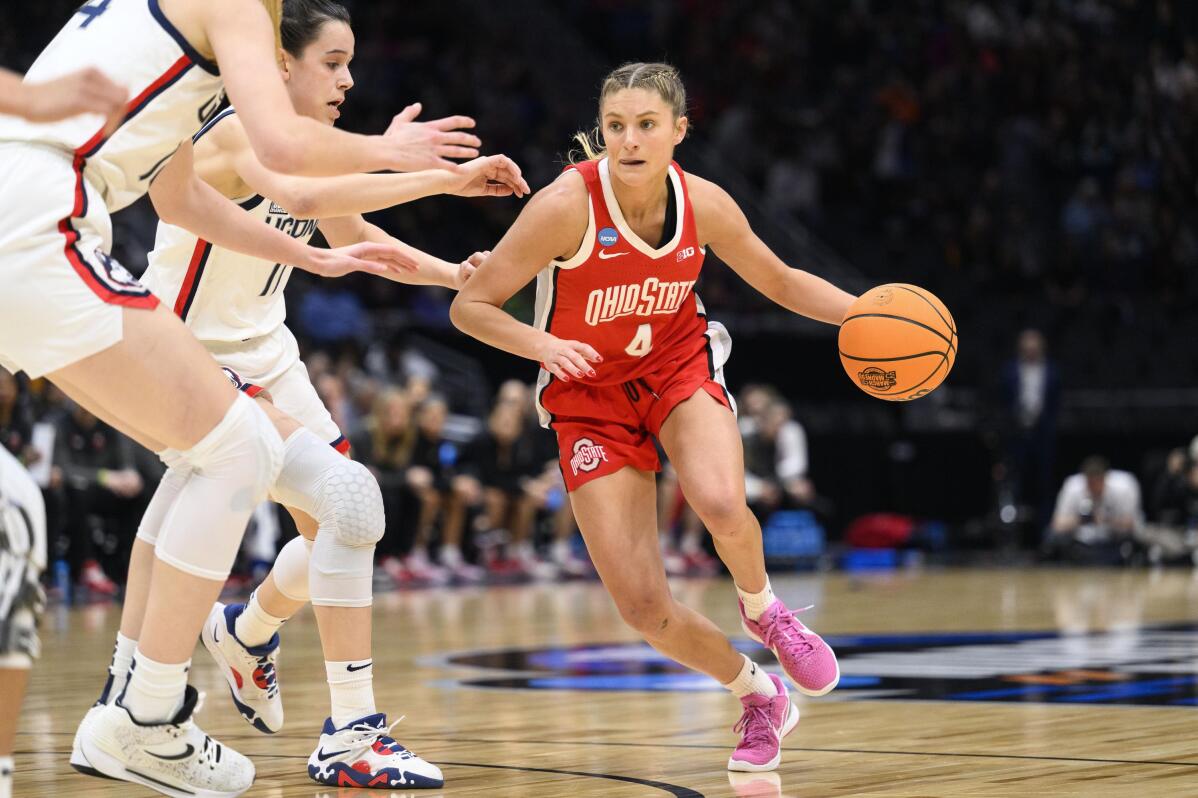 5 of 12

|
Ohio State guard Jacy Sheldon (4) drives towards the basket as UConn guard Nika Muhl, left, closes in on defense in the first quarter of a Sweet 16 college basketball game of the NCAA Tournament in Seattle, Saturday, March 25, 2023. (AP Photo/Caean Couto)
5 of 12
Ohio State guard Jacy Sheldon (4) drives towards the basket as UConn guard Nika Muhl, left, closes in on defense in the first quarter of a Sweet 16 college basketball game of the NCAA Tournament in Seattle, Saturday, March 25, 2023. (AP Photo/Caean Couto)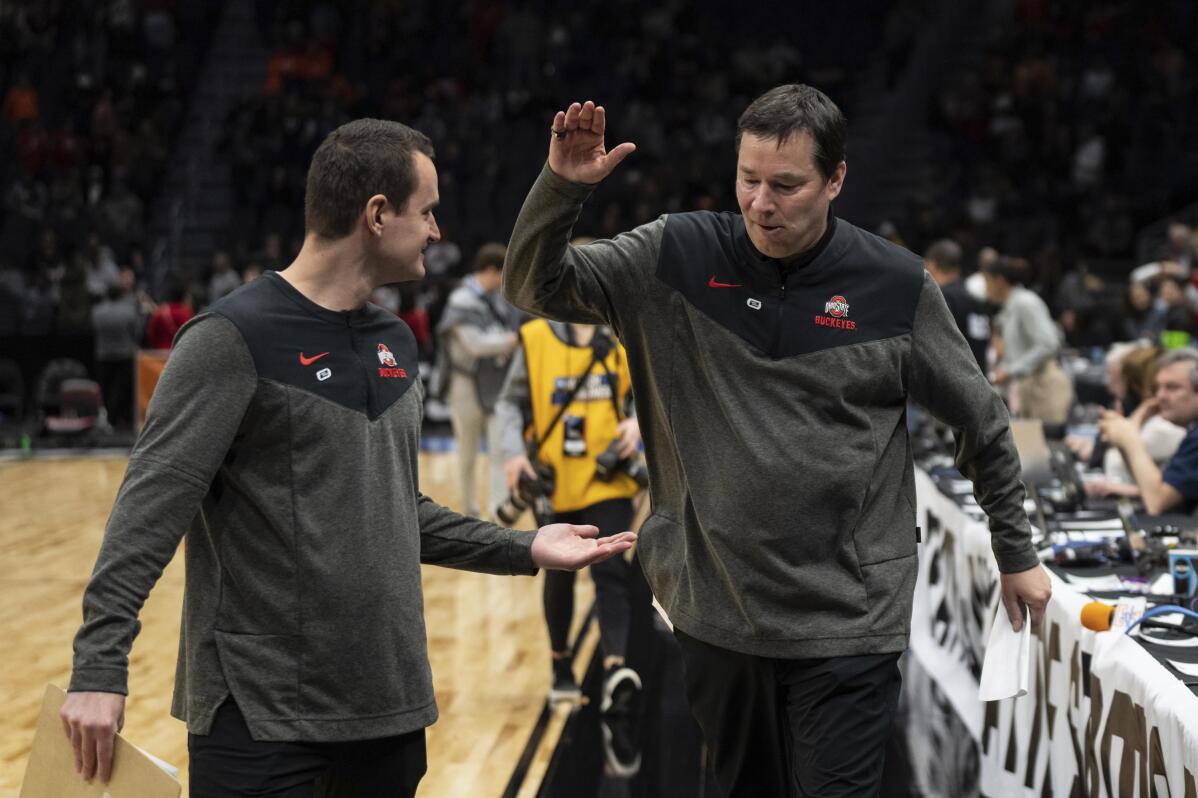 6 of 12

|
Ohio State head coach Kevin McGuff, right, celebrates with staff member Reid Guzdanski after a Sweet 16 college basketball game of the NCAA Tournament against UConn, Saturday, March 25, 2023, in Seattle. . (AP Photo/Stephen Brashear)
6 of 12
Ohio State head coach Kevin McGuff, right, celebrates with staff member Reid Guzdanski after a Sweet 16 college basketball game of the NCAA Tournament against UConn, Saturday, March 25, 2023, in Seattle. . (AP Photo/Stephen Brashear)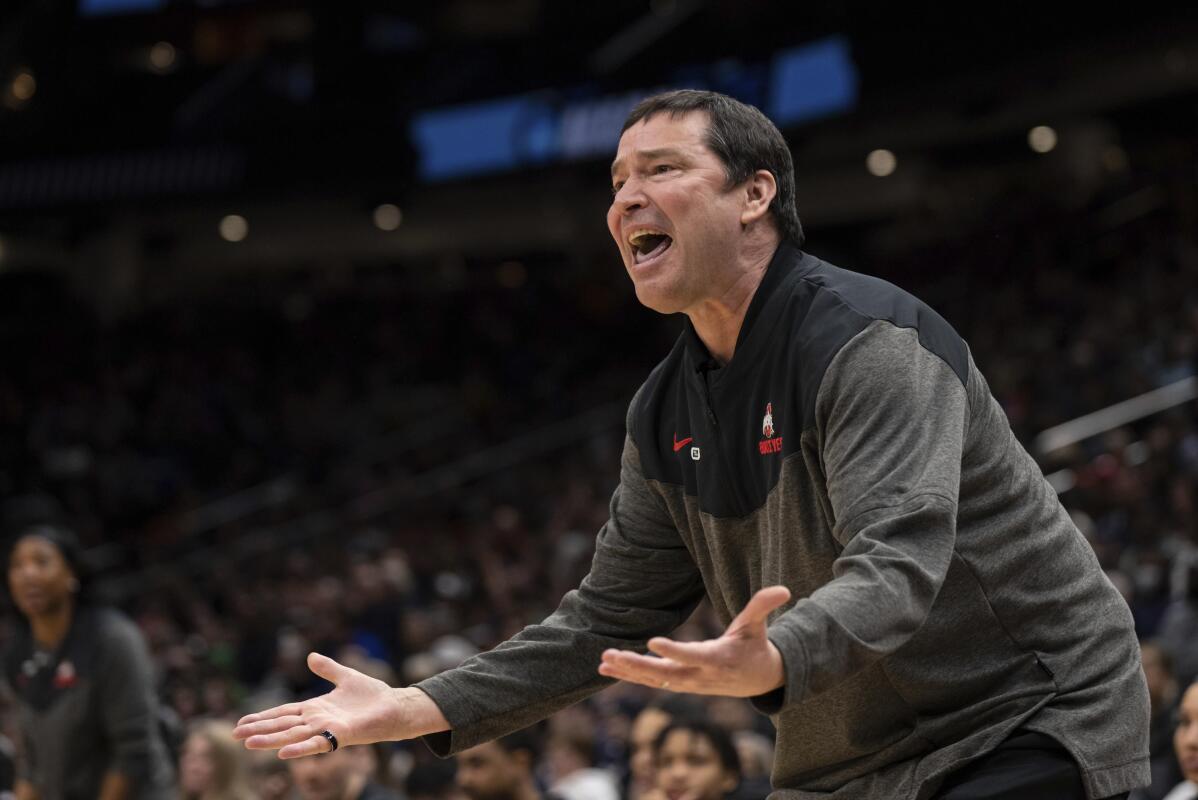 7 of 12

|
Ohio State head coach Kevin McGuff reacts during the first half of a Sweet 16 college basketball game of the NCAA tournament against UConn, Saturday, March 25, 2023, in Seattle. (AP Photo/Stephen Brashear)
7 of 12
Ohio State head coach Kevin McGuff reacts during the first half of a Sweet 16 college basketball game of the NCAA tournament against UConn, Saturday, March 25, 2023, in Seattle. (AP Photo/Stephen Brashear)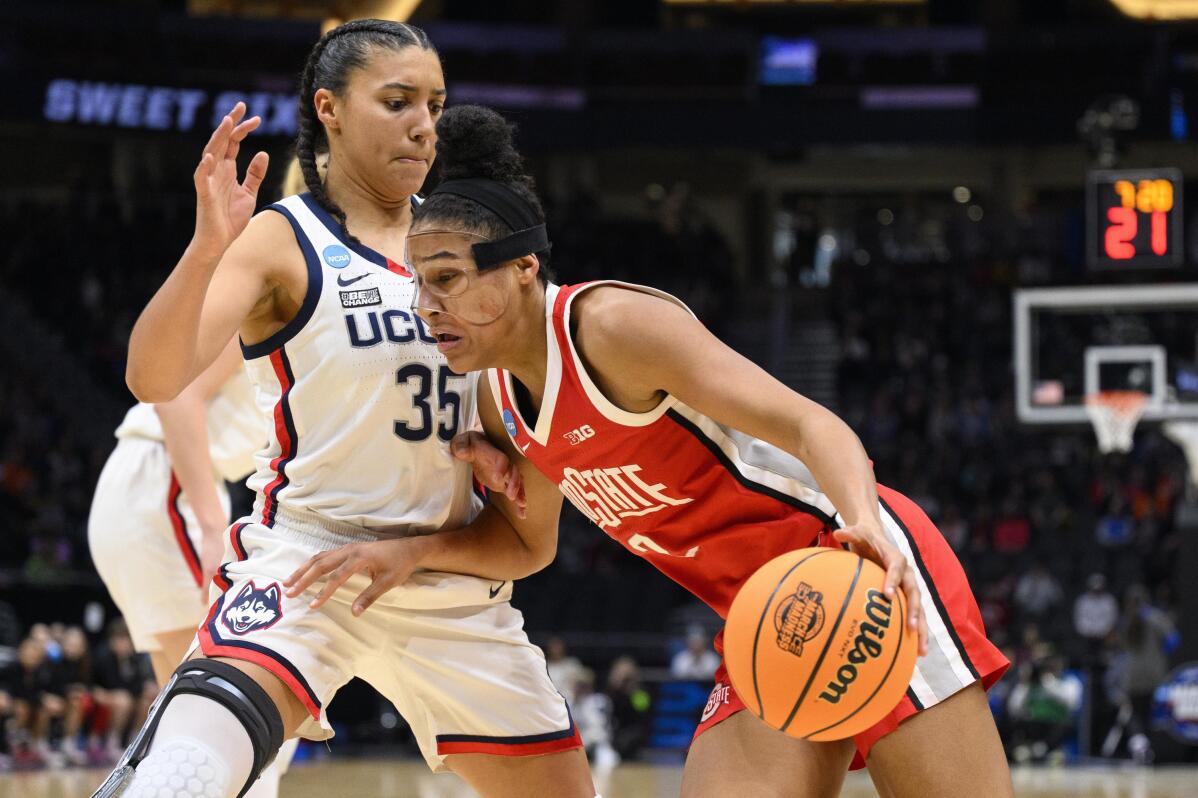 8 of 12

|
Ohio State forward Taylor Thierry (2) drives towards the basket as UConn guard Azzi Fudd (35) plays defense in the first quarter of a Sweet 16 college basketball game of the NCAA Tournament in Seattle, Saturday, March 25, 2023. (AP Photo/Caean Couto)
8 of 12
Ohio State forward Taylor Thierry (2) drives towards the basket as UConn guard Azzi Fudd (35) plays defense in the first quarter of a Sweet 16 college basketball game of the NCAA Tournament in Seattle, Saturday, March 25, 2023. (AP Photo/Caean Couto)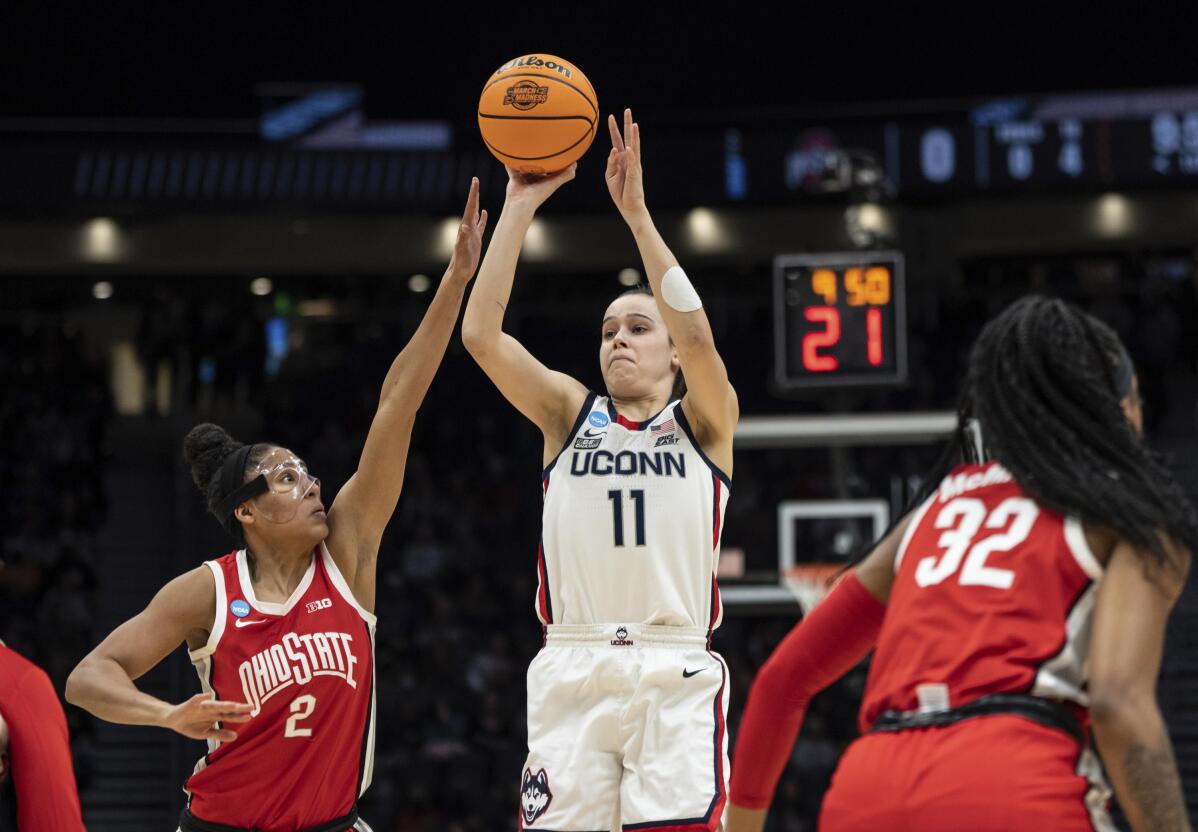 9 of 12

|
UConn guard Lou Lopez Senechal (11) shoots the ball against Ohio State forward Taylor Thierry (2) and forward Cotie McMahon during the first half of a Sweet 16 college basketball game of the NCAA tournament, Saturday, March 25, 2023, in Seattle. (AP Photo/Stephen Brashear)
9 of 12
UConn guard Lou Lopez Senechal (11) shoots the ball against Ohio State forward Taylor Thierry (2) and forward Cotie McMahon during the first half of a Sweet 16 college basketball game of the NCAA tournament, Saturday, March 25, 2023, in Seattle. (AP Photo/Stephen Brashear)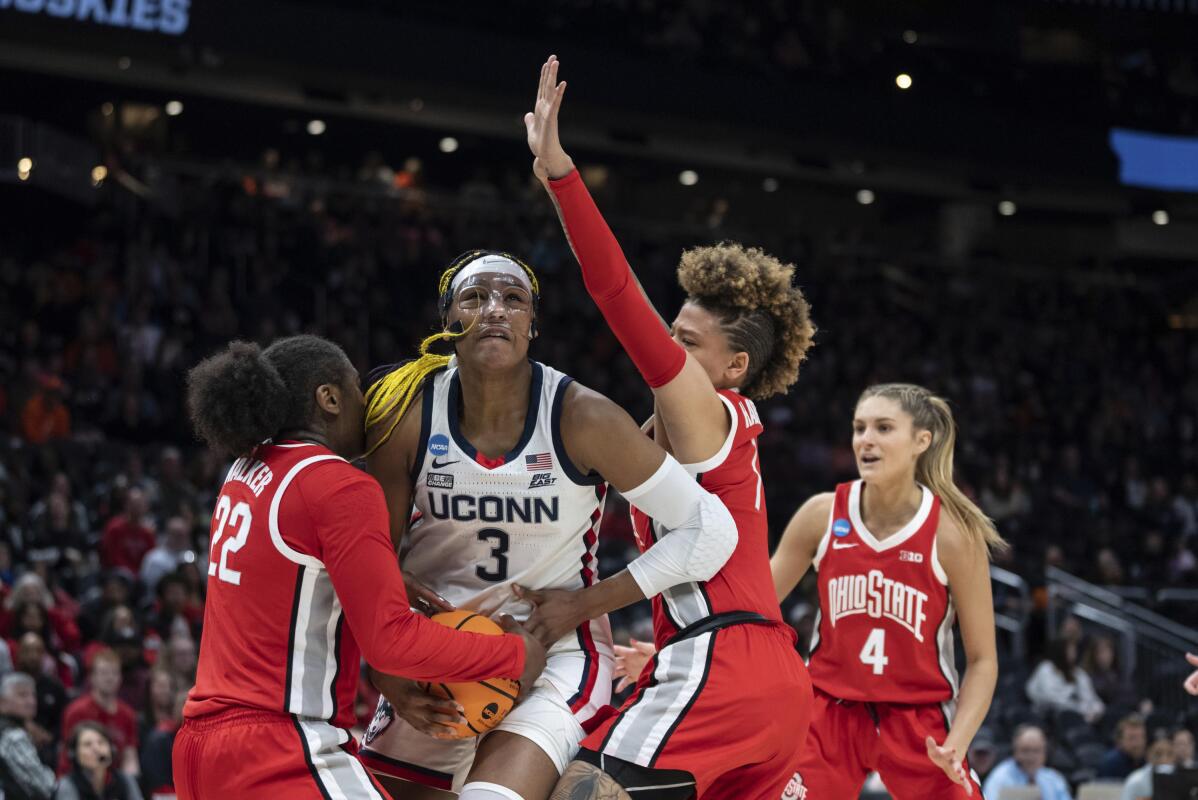 10 of 12

|
UConn forward Aaliyah Edwards (3) attempts to drive past Ohio State forward Eboni Walker (22) and guard Rikki Harris during the first half of a Sweet 16 college basketball game of the NCAA tournament, Saturday, March 25, 2023, in Seattle. (AP Photo/Stephen Brashear)
10 of 12
UConn forward Aaliyah Edwards (3) attempts to drive past Ohio State forward Eboni Walker (22) and guard Rikki Harris during the first half of a Sweet 16 college basketball game of the NCAA tournament, Saturday, March 25, 2023, in Seattle. (AP Photo/Stephen Brashear)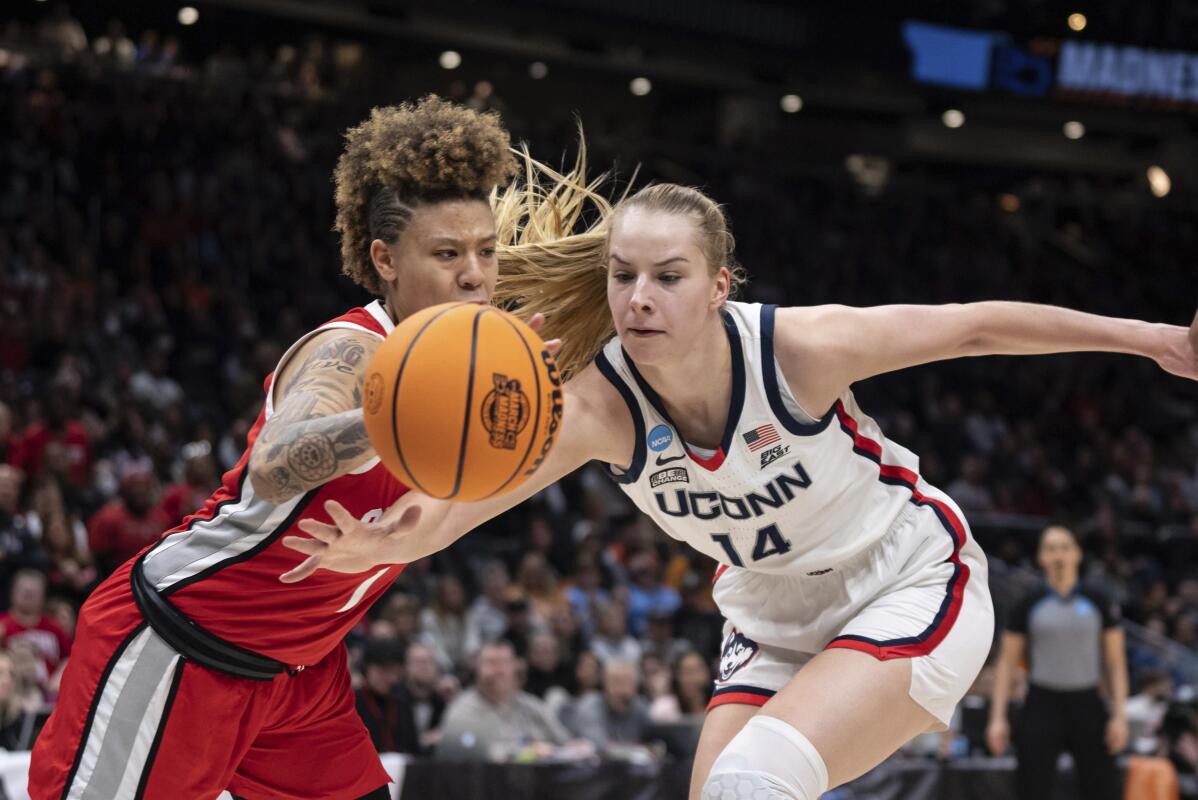 11 of 12

|
UConn forward Dorka Juhasz (14) and Ohio State guard Rikki Harris battle for a loose ball during the first half of a Sweet 16 college basketball game of the NCAA tournament, Saturday, March 25, 2023, in Seattle. (AP Photo/Stephen Brashear)
11 of 12
UConn forward Dorka Juhasz (14) and Ohio State guard Rikki Harris battle for a loose ball during the first half of a Sweet 16 college basketball game of the NCAA tournament, Saturday, March 25, 2023, in Seattle. (AP Photo/Stephen Brashear)
12 of 12

|
UConn guard Nika Muhl (10) collides with Ohio State guard Jacy Sheldon while trying to beat a full court press during the second half of a Sweet 16 college basketball game of the NCAA tournament, Saturday, March 25, 2023, in Seattle. (AP Photo/Stephen Brashear)
12 of 12
UConn guard Nika Muhl (10) collides with Ohio State guard Jacy Sheldon while trying to beat a full court press during the second half of a Sweet 16 college basketball game of the NCAA tournament, Saturday, March 25, 2023, in Seattle. (AP Photo/Stephen Brashear)
SEATTLE (AP) — UConn's record Final Four run is over, thanks to a monumental performance by Ohio State.
The Buckeyes ended UConn's unprecedented streak of reaching 14 consecutive Final Fours, beating the Huskies 73-61 on Saturday in the Sweet 16 of the women's NCAA Tournament.
"The problem with streaks is the longer they go, you're closer to it ending than you are to the beginning of it," UConn coach Geno Auriemma said. "It's just a matter of time. I mean, it's not if it's going to happen. It's just a matter of time when it's going to happen. And it was going to happen sooner rather than later."
Cotie McMahon scored 23 points for the Buckeyes, who snapped their three-decade Elite Eight drought. The Buckeyes hadn't made a regional final since 1993, when they eventually lost in the title game to Texas Tech.
"When I had the opportunity to come to Ohio State, this was certainly the goal and the vision to go farther than they have been going," said coach Kevin McGuff, who had never beaten UConn. "It's not easy to get here, obviously. But I'm really proud of our team and our program of how we've evolved to be able to get to this point.
"Like I said, I mean, I have so much respect for Geno and his staff and all that they have accomplished. So for us to be able to win this game in the Sweet 16 is obviously extremely significant. They're just hard to beat. They're so well-coached. So this is a great win for us."
The third-seeded Buckeyes (28-7) forced No. 2 seed UConn (31-6) into 25 turnovers, ending the Huskies' season before the national semifinals for the first time in 14 seasons. UConn hadn't been eliminated this early since 2006.
"It's an impossibility to do what we have done already," Auriemma said. "What's the next highest streak? ... And you take that in stride and you say, yeah, it was great while it lasted and it's a credit to all the players that we had and all the times that you have to perform really, really well at this level."
Ohio State will play Virginia Tech on Monday night in the Seattle 3 Region final with a trip to Dallas at stake. The Hokies beat Tennessee 73-64.
Ohio State, which had to rally from a double-digit deficit in the first round against James Madison, used full-court pressure to disrupt the Huskies' offense.
"Our press is what we rely on, and sticking together and talking through it," said Ohio State's Jacy Sheldon, who had 17 points and went 10-for-10 from the foul line. "We knew UConn was going to be ready for us, so we knew we were going to have to stay consistent throughout the game."
This has been the most trying year of Auriemma's Hall of Fame career. UConn was beset by injuries and illnesses to both players and coaches, including a torn ACL that sidelined star Paige Bueckers all season. It got so bad the Huskies had to postpone a game when they didn't have enough scholarship players. They also saw their unbelievable run of 30 years without consecutive losses come to an end.
"We picked the worst day to actually be doing the things that we've been struggling with all year long," Auriemma said in a sideline interview during the game.
Lou Lopez Senechal scored 25 points for the Huskies, Azzi Fudd had 14, and Ohio State transfer Dorka Juhasz finished with 13 points and 10 rebounds.
The Huskies led 17-9 before Ohio State started scoring and turning UConn over with its full-court press. The Buckeyes scored the next 17 points, forcing 11 turnovers during that stretch, which spanned the first and second quarters. UConn had eight turnovers to start the second quarter, leaving Auriemma exasperated on the sideline.
McMahon was converting those turnovers into points for the Buckeyes as the freshman finished the half with 18 points — equaling the number of turnovers the Huskies had in the opening 20 minutes. Ohio State led 36-26 at the break.
This was only the sixth time UConn had trailed by double digits at the half in an NCAA Tournament game, according to ESPN. The Huskies lost all of those.
UConn did a better job of taking care of the ball in the second half and cut the deficit to 44-39 on Senechal's layup with 3:53 left in the third quarter. Ohio State responded and still led by 10 after three quarters.
The Buckeyes didn't let the Huskies make any sort of run in the fourth quarter. UConn got within nine with 4:30 left, but McMahon had a three-point play to restore the double-digit lead. The Huskies never threatened after that.
Now the Huskies will start their offseason sooner than anytime in the past 17 years.
TIP-INS
This was the first win for Ohio State over UConn in seven tries. The teams' last meeting was in the 2019-20 regular season. ... UConn was a paltry 7-for-15 from the foul line while Ohio State went 22-for-30. ... UConn's season high for turnovers was 27 against Princeton.
THE HOUSE THAT SUE BUILT
The Seattle Regionals are being playing in Climate Pledge Arena — home of the Seattle Storm. UConn and Storm great Sue Bird was in the stands, sitting a few rows behind the scorers' table. She received a loud ovation from the crowd when she was shown midway through the first quarter on the videoboards.
FAMILIAR FOE
Juhasz graduated from Ohio State two years ago and flourished there, earning all-Big Ten honors twice. She came to UConn last year looking for a new challenge and wanting to play for a team that could compete for national championships. She'll leave without one.
There is a mutual respect between Juhasz and the Buckeyes' coaching staff.
___
AP March Madness coverage: https://apnews.com/hub/march-madness and https://apnews.com/hub/ap-top-25-womens-college-basketball-poll and https://twitter.com/AP_Top25