Maryland House OKs recreational marijuana framework bill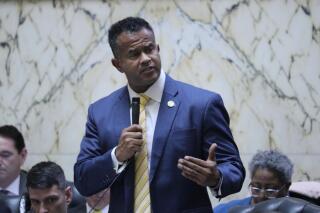 ANNAPOLIS, Md. (AP) — The Maryland House voted Friday for a measure that would create a legal framework and tax structure to enable recreational marijuana to be sold in stores as soon as July 1.
The House voted 103-32 for the bill, sending it to the Senate, which is moving forward with a separate measure.
Although Maryland voters approved a constitutional amendment in November to legalize recreational marijuana, lawmakers left details about implementation to be decided this session.
"You might not have agreed with marijuana or the vote that our citizens took, but they took it, so it's now our obligation to create an adult-use program," said Del. C.T. Wilson, the chair of the House Economic Matters Committee. "And it's our duty to ensure that Marylanders can receive the benefit of ownership in this industry, that citizens can have access to safe and effective cannabis without fear of adverse health effects or violence."
Under the constitutional amendment, which received 67% of the vote, adults ages 21 and older will be able to legally posses up to 1.5 ounces of cannabis on July 1. A household will also be allowed to grow up to two marijuana plants.
The measure that passed Friday would enable existing medical cannabis dispensaries to have dual licenses to sell recreational marijuana.
Lawmakers also focused on including an equity component to allow new licenses to grow, process or dispense cannabis. Priority will be given to minority owners in communities that have been disproportionately negatively affected by past marijuana laws.
"We've compiled the best legal cannabis practices from other states, learned lessons from medical cannabis and created an equitable implementation framework," House Speaker Adrienne Jones wrote in a tweet.
Maryland Senate President Bill Ferguson told journalists Friday that the two chambers might need a conference committee to work out differences in legislation they passed, but that "we want to get this moving."
"There's a lot of pieces to this, and I think there's no such thing as perfect in legislation," Ferguson, a Baltimore Democrat, said. "It's doing the best you can to mitigate any of the potential unintended consequences that we can imagine today, so I feel very confident that we're going to get it done this year."
Before Maryland and Missouri voters decided to legalize marijuana in November, 19 other states, along with the District of Columbia, had fully legalized the drug. Also in November, three other states — Arkansas, North Dakota, and South Dakota — rejected marijuana legalization ballot measures.