Markkanen, serving his Finnish service, wins most improved
1 of 4

|
Finnish professional basketball player Lauri Markkanen of the NBA team Utah Jazz starts his military service at the Finnish Defence Forces Sports School in Santahamina, Helsinki, Monday April 17, 2023. (Antti Aimo-Koivisto/Lehtikuva via AP)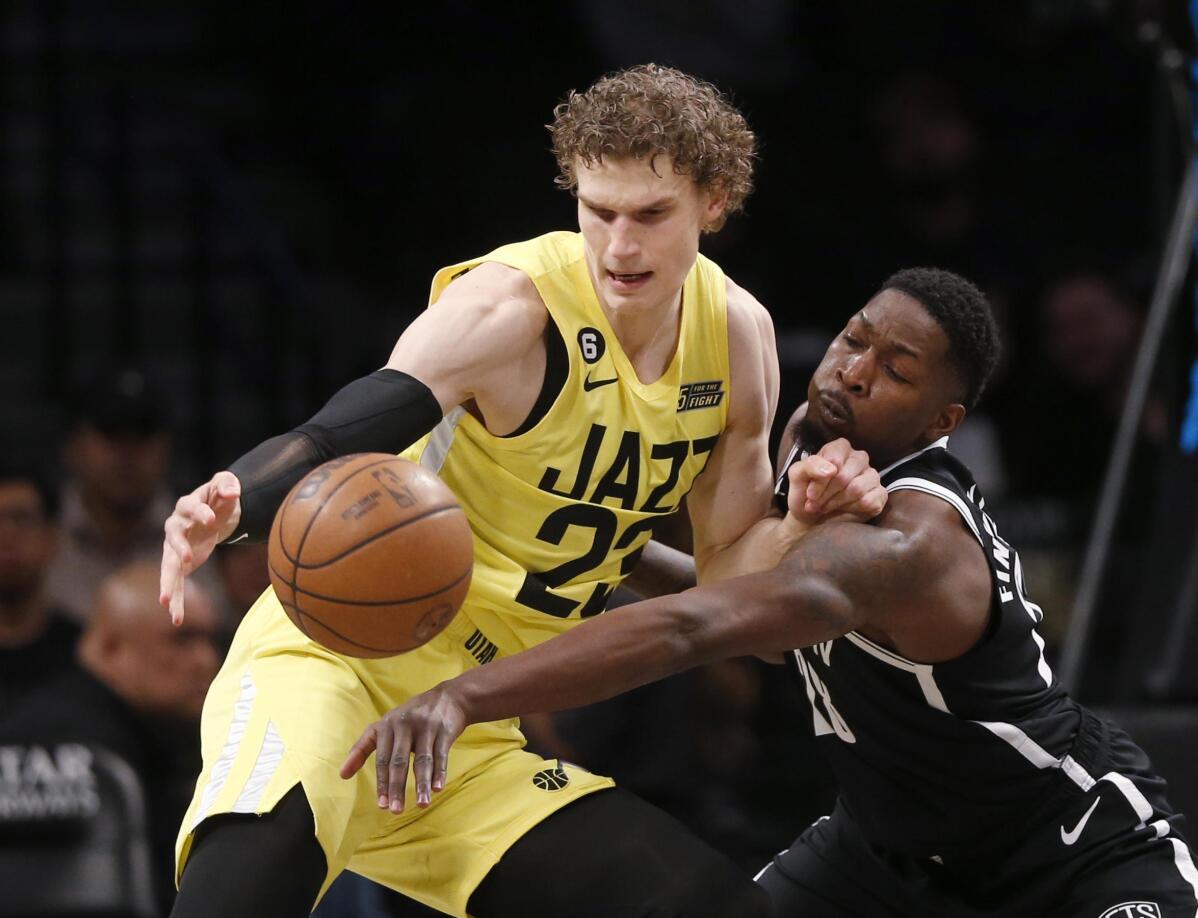 2 of 4

|
Utah Jazz forward Lauri Markkanen, left, and Brooklyn Nets forward Dorian Finney-Smith battle for the ball during the first half of an NBA basketball game Sunday, April 2, 2023, in New York. (AP Photo/John Munson)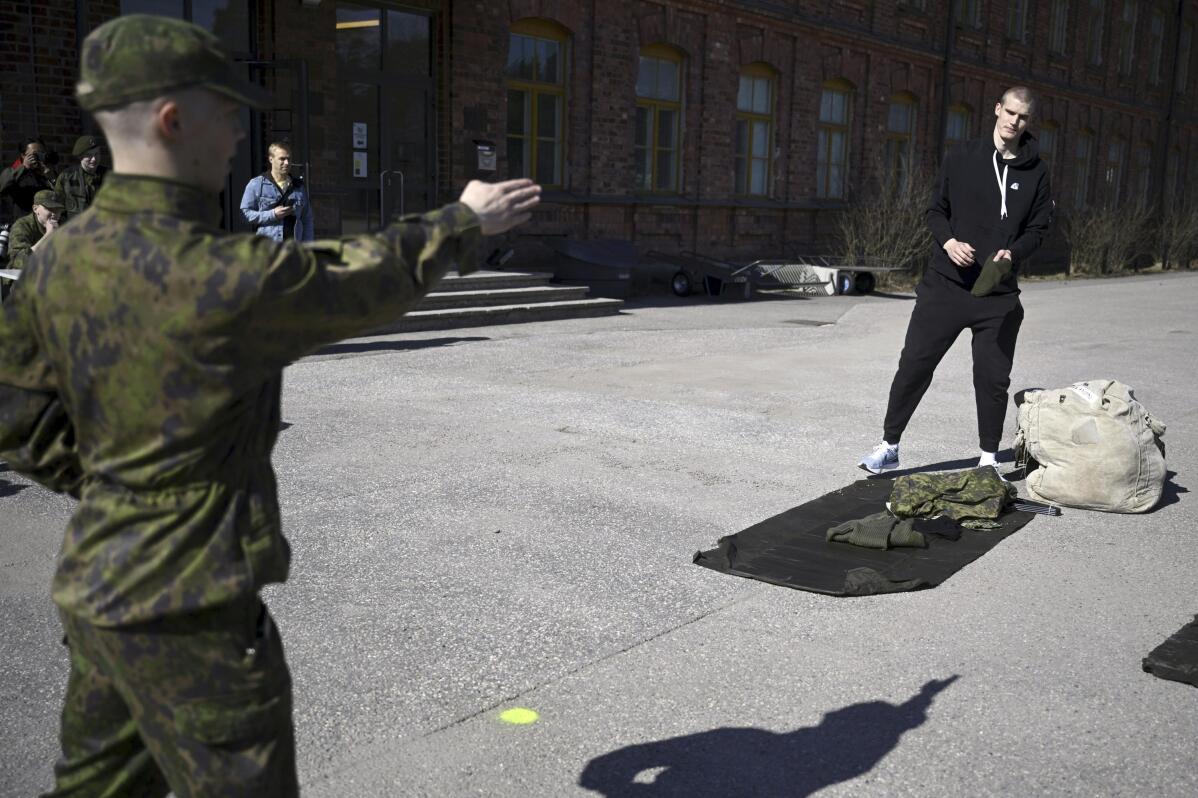 3 of 4

|
Finnish professional basketball player Lauri Markkanen, right, of the NBA team Utah Jazz starts his military service at the Finnish Defence Forces Sports School in Santahamina, Helsinki, Monday April 17, 2023. (Antti Aimo-Koivisto/Lehtikuva via AP)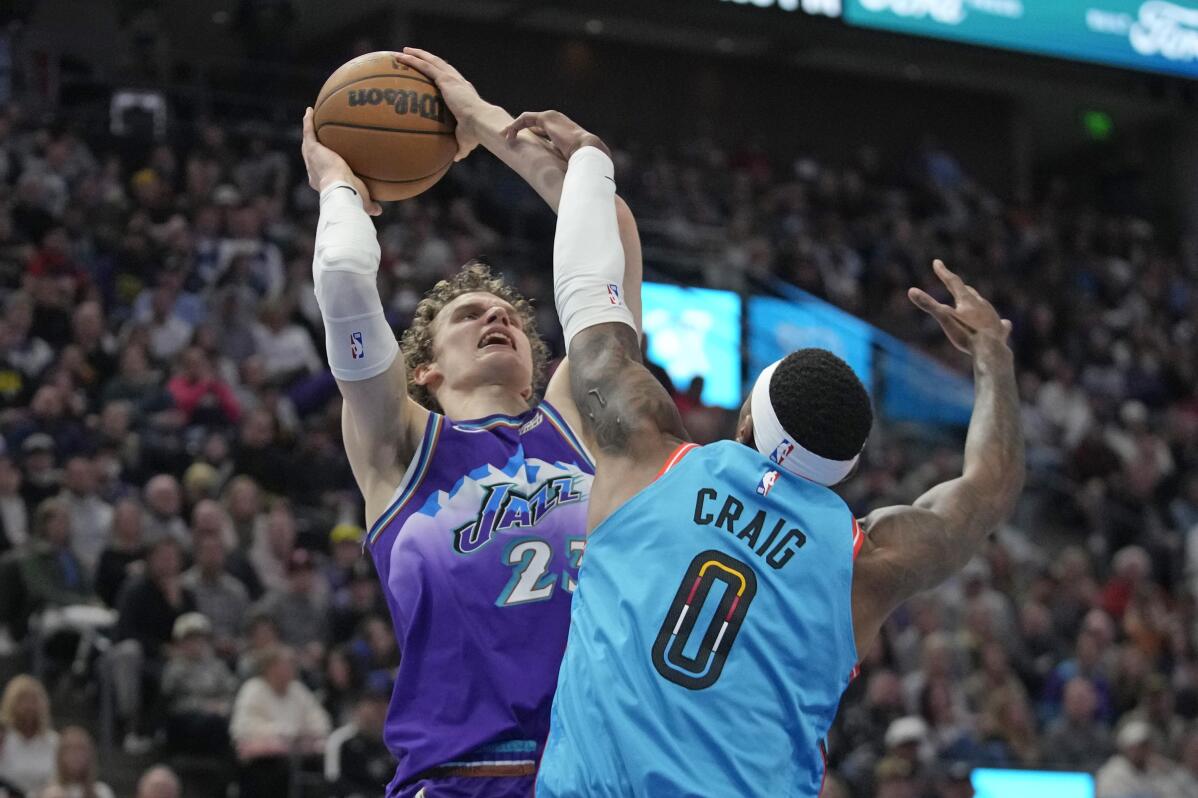 4 of 4

|
Phoenix Suns forward Torrey Craig (0) defends against Utah Jazz forward Lauri Markkanen, left, during the first half of an NBA basketball game Monday, March 27, 2023, in Salt Lake City. (AP Photo/Rick Bowmer)
Markkanen, serving his Finnish service, wins most improved
1 of 4

|
Finnish professional basketball player Lauri Markkanen of the NBA team Utah Jazz starts his military service at the Finnish Defence Forces Sports School in Santahamina, Helsinki, Monday April 17, 2023. (Antti Aimo-Koivisto/Lehtikuva via AP)
1 of 4
Finnish professional basketball player Lauri Markkanen of the NBA team Utah Jazz starts his military service at the Finnish Defence Forces Sports School in Santahamina, Helsinki, Monday April 17, 2023. (Antti Aimo-Koivisto/Lehtikuva via AP)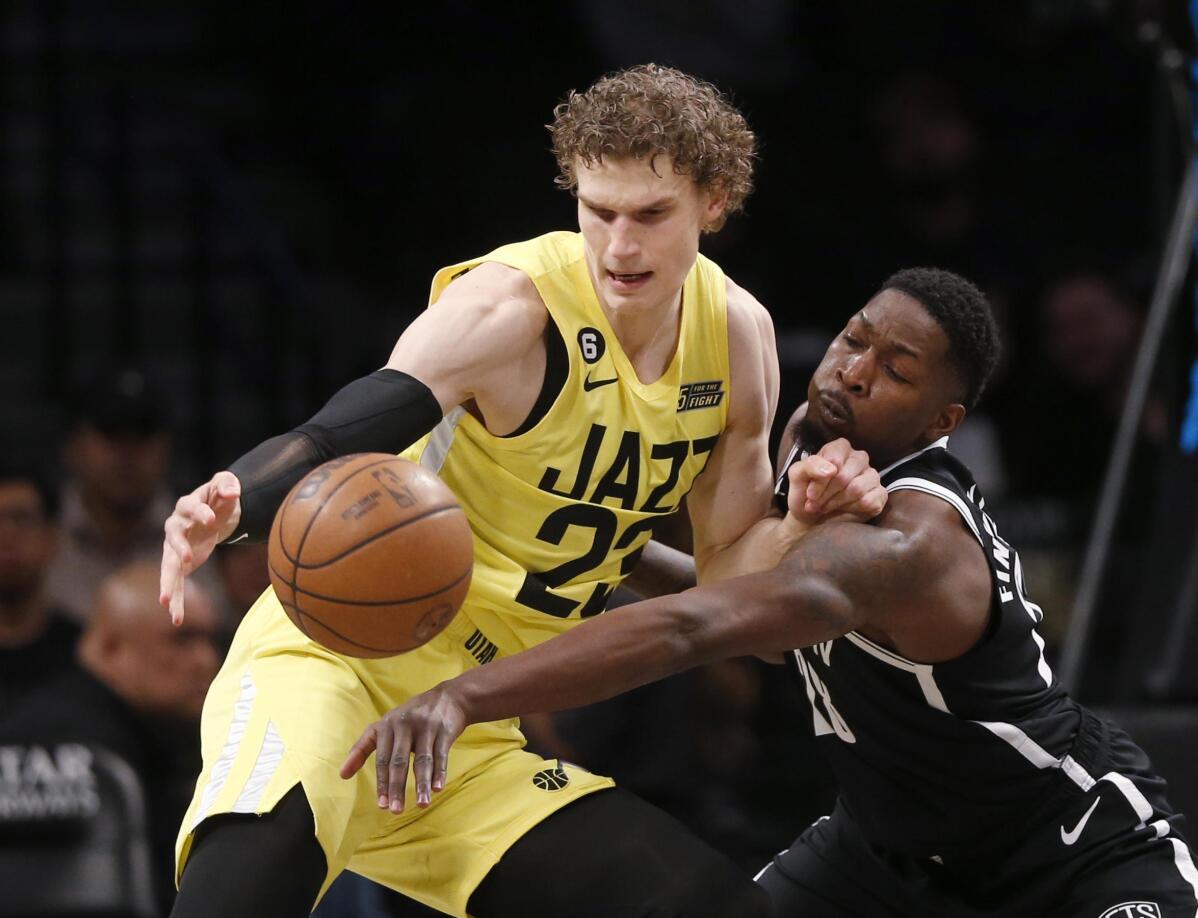 2 of 4

|
Utah Jazz forward Lauri Markkanen, left, and Brooklyn Nets forward Dorian Finney-Smith battle for the ball during the first half of an NBA basketball game Sunday, April 2, 2023, in New York. (AP Photo/John Munson)
2 of 4
Utah Jazz forward Lauri Markkanen, left, and Brooklyn Nets forward Dorian Finney-Smith battle for the ball during the first half of an NBA basketball game Sunday, April 2, 2023, in New York. (AP Photo/John Munson)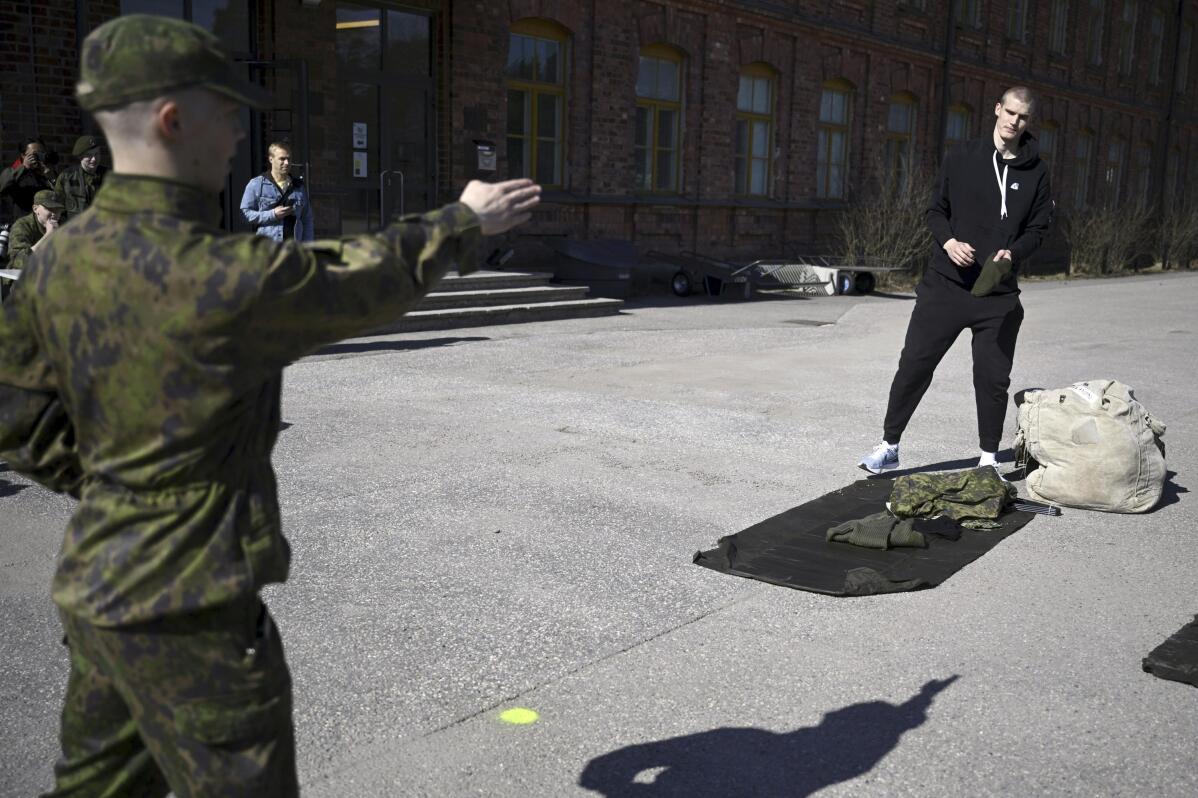 3 of 4

|
Finnish professional basketball player Lauri Markkanen, right, of the NBA team Utah Jazz starts his military service at the Finnish Defence Forces Sports School in Santahamina, Helsinki, Monday April 17, 2023. (Antti Aimo-Koivisto/Lehtikuva via AP)
3 of 4
Finnish professional basketball player Lauri Markkanen, right, of the NBA team Utah Jazz starts his military service at the Finnish Defence Forces Sports School in Santahamina, Helsinki, Monday April 17, 2023. (Antti Aimo-Koivisto/Lehtikuva via AP)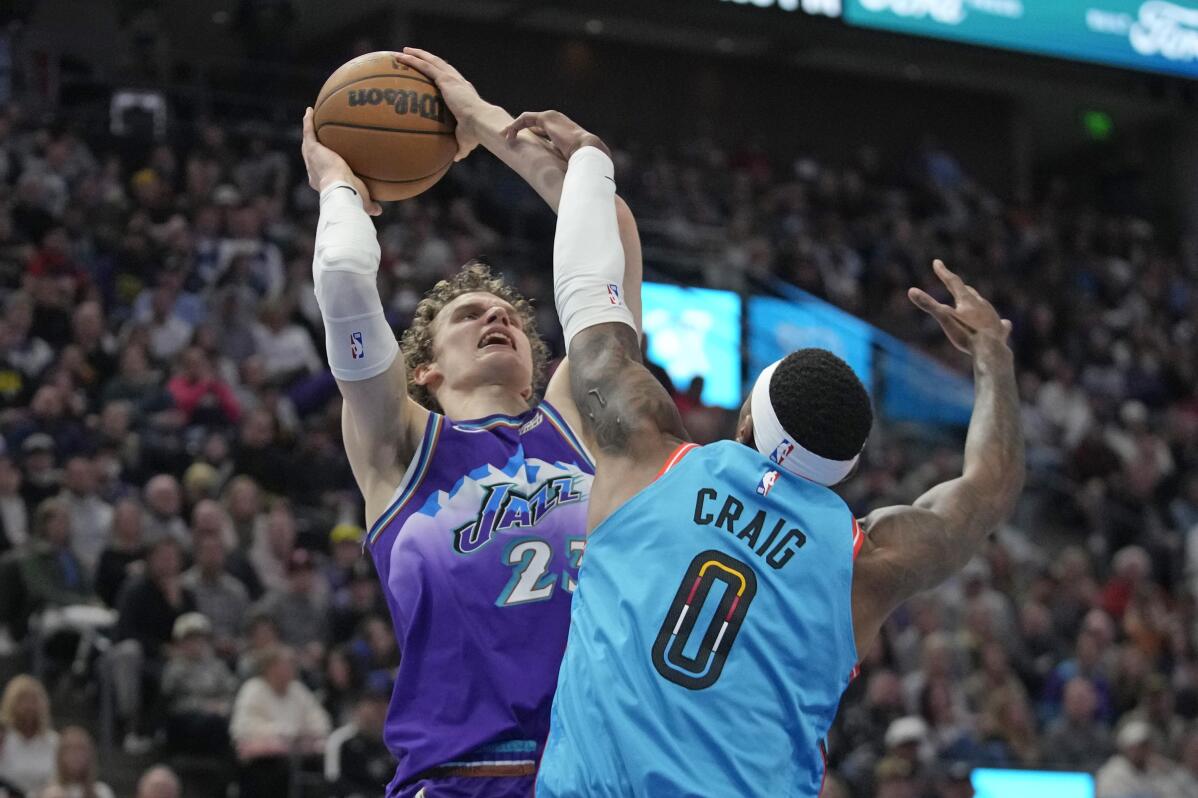 4 of 4

|
Phoenix Suns forward Torrey Craig (0) defends against Utah Jazz forward Lauri Markkanen, left, during the first half of an NBA basketball game Monday, March 27, 2023, in Salt Lake City. (AP Photo/Rick Bowmer)
4 of 4
Phoenix Suns forward Torrey Craig (0) defends against Utah Jazz forward Lauri Markkanen, left, during the first half of an NBA basketball game Monday, March 27, 2023, in Salt Lake City. (AP Photo/Rick Bowmer)
A recruit in the Finnish military is now the NBA's Most Improved Player.
All-Star forward Lauri Markkanen of the Utah Jazz was announced Monday night as the winner of this season's most improved award, as voted on by 100 writers and broadcasters who cover the league.
The news came just past 2 a.m. Tuesday in Helsinki, where Markkanen is currently fulfilling the military service that is mandated for all Finnish men before they turn 30.
"Didn't wake up at 2 a.m. for nothing," Markkanen said on the TNT broadcast of the announcement. "It feels great. Obviously, it's a huge privilege to be in this position."
He began his enlistment in his home country earlier this month — even getting rid of his longish curly hair for the shaved-head look of a soldier. He spent a few days in Finland with family after the Jazz season ended, then started his military commitment.
"Days are pretty long," Markkanen said of his military duties. "We wake up early and go for probably 10, 12 hours straight. It's been fun, getting to know a lot of new guys, making some new friends and knowing you have to go through it together. It's actually been pretty good."
Markkanen beat out fellow finalists Shai Gilgeous-Alexander of Oklahoma City and Jalen Brunson of New York for the award. Markkanen got 69 of the 100 first-place votes and appeared on every ballot; Gilgeous-Alexander got 24 first-place votes and was second, Brunson got four first-place votes and was third.
Markkanen shattered his career-best for points per game this season, averaging 25.6 — a 73% increase over his average of 14.8 last season with Cleveland. He also set career highs in minutes per game, field goal percentage, 3-pointers per game and was an All-Star for the first time.
Part of Markkanen's success this season came from having a bigger role — he was sent to Utah by Cleveland as part of the trade that brought longtime Jazz guard Donovan Mitchell to the Cavaliers. The Jazz also traded center Rudy Gobert to Minnesota last summer.
But his improved effectiveness also cannot be argued and was a big factor. His shooting was much better this season around the rim and in the mid-range game than it was in past seasons. All of his shooting percentages — 2-pointers, 3-pointers and free throws — also exceeded his career averages entering this season.
"The right place at the right time," Markkanen said of turning his first Utah season into his best season so far.
He's the first player to win the award as a member of the Jazz, and the seventh international player to be voted most improved, joining Gheorghe Muresan in 1996, Boris Diaw in 2006, Hedo Turkoglu in 2008, Goran Dragic in 2014, Giannis Antetokounmpo in 2017 and Pascal Siakam in 2019.
The military service this summer might include some basketball, which would actually count toward his requirement. Markkanen is likely to play for Finland in this summer's World Cup, which starts in late August in the Philippines, Japan and Indonesia.
Playing international basketball last summer — Markkanen had a tremendous EuroBasket tournament as Finland's best player — served as a springboard into this season, he said. He was Utah's go-to guy this season, and learned that role with the national team.
"It gave me all the confidence in the world," Markkanen said. "It was kind of easy to take over after that, and obviously, this is just the beginning."
Markkanen is the fifth person to receive one of the NBA's individual awards so far this year, following the reveals of Memphis' Jaren Jackson Jr. as defensive player of the year, Sacramento's De'Aaron Fox as the inaugural winner of the clutch player award, Kings coach Mike Brown as a unanimous pick for coach of the year and Boston's Malcolm Brogdon as sixth man of the year.
Still unannounced by the league:
— Rookie of the year. Orlando's Paolo Banchero, Utah's Walker Kessler and Oklahoma City's Jalen Williams are the finalists. The winner will be announced on Tuesday.
— Most Valuable Player. Two-time reigning MVP Nikola Jokic of Denver is a finalist again, along with Milwaukee's Giannis Antetokounmpo and Philadelphia's Joel Embiid. The NBA has not said when the MVP trophy will be handed out.
— The All-NBA, All-Rookie and All-Defensive teams.
___
AP NBA: https://apnews.com/hub/NBA and https://twitter.com/AP_Sports