Díaz, Profar hits lead Rockies past Marlins 5-3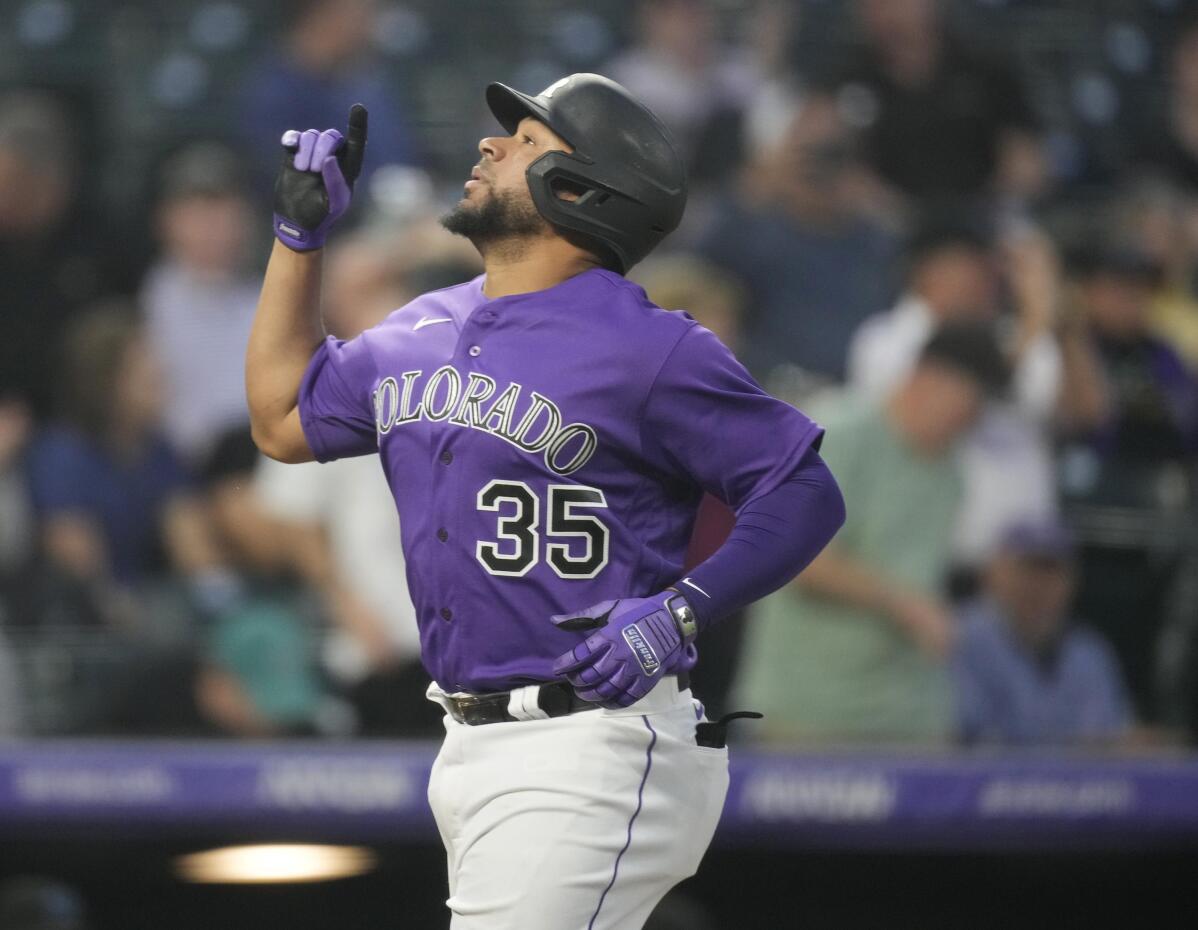 1 of 8

|
Colorado Rockies' Elias Diaz gestures as he crosses home plate after hitting a solo home run off Miami Marlins starting pitcher Edward Cabrera in the sixth inning of a baseball game Monday, May 22, 2023, in Denver. (AP Photo/David Zalubowski)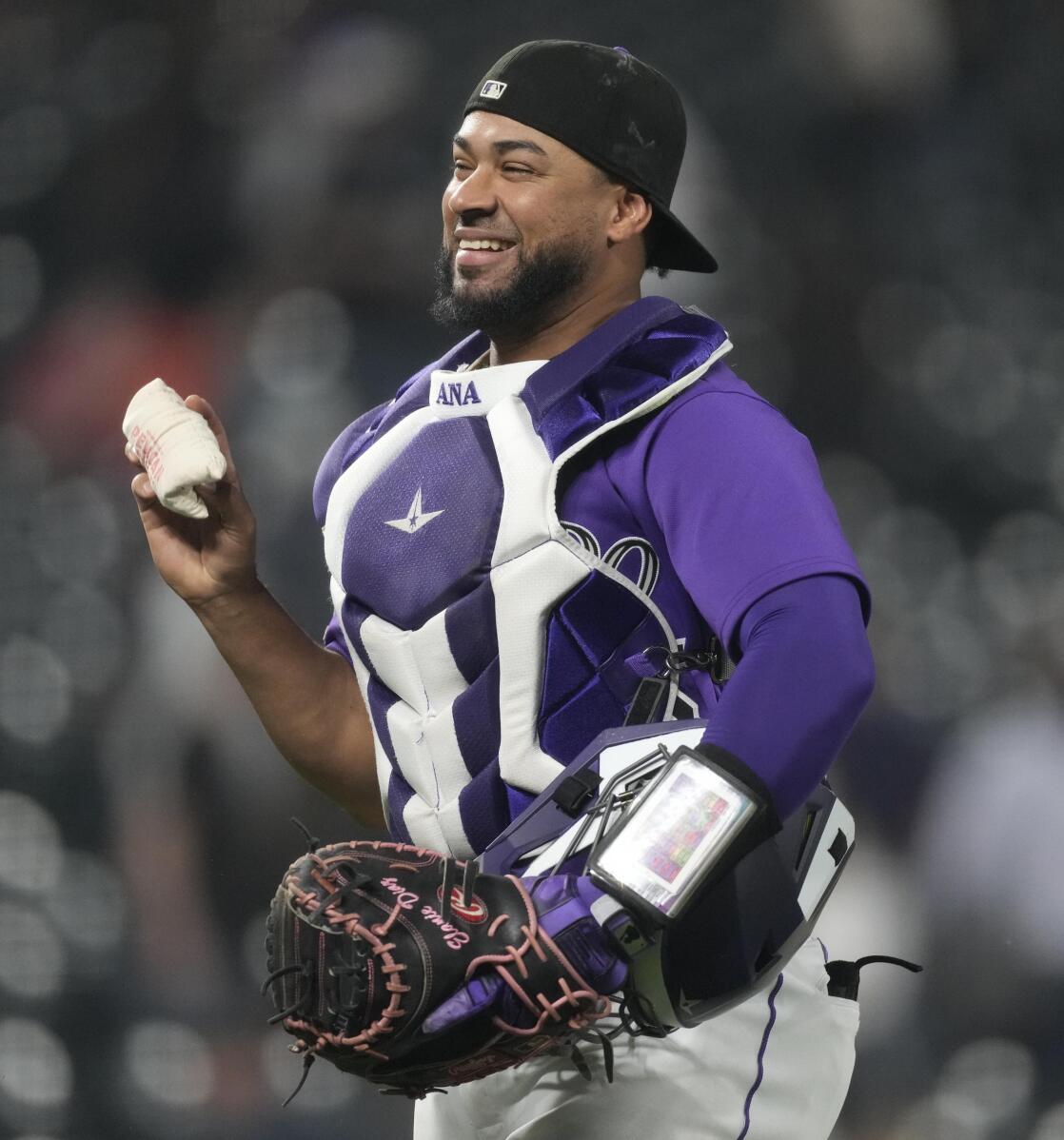 2 of 8

|
Colorado Rockies catcher Elias Diaz celebrates after a baseball game against the Miami Marlins, Monday, May 22, 2023, in Denver. (AP Photo/David Zalubowski)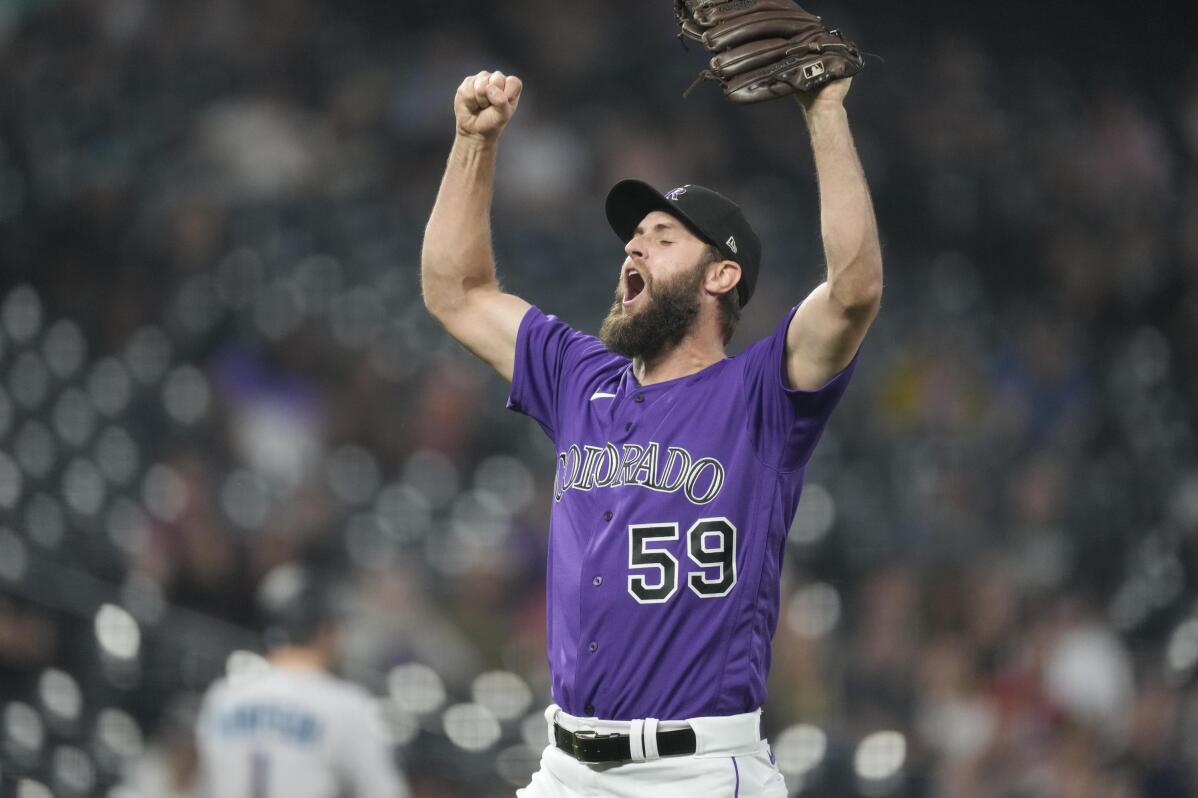 3 of 8

|
Colorado Rockies relief pitcher Jake Bird reacts after striking out Miami Marlins' Garrett Cooper to end the top of the seventh inning of a baseball game Monday, May 22, 2023, in Denver. (AP Photo/David Zalubowski)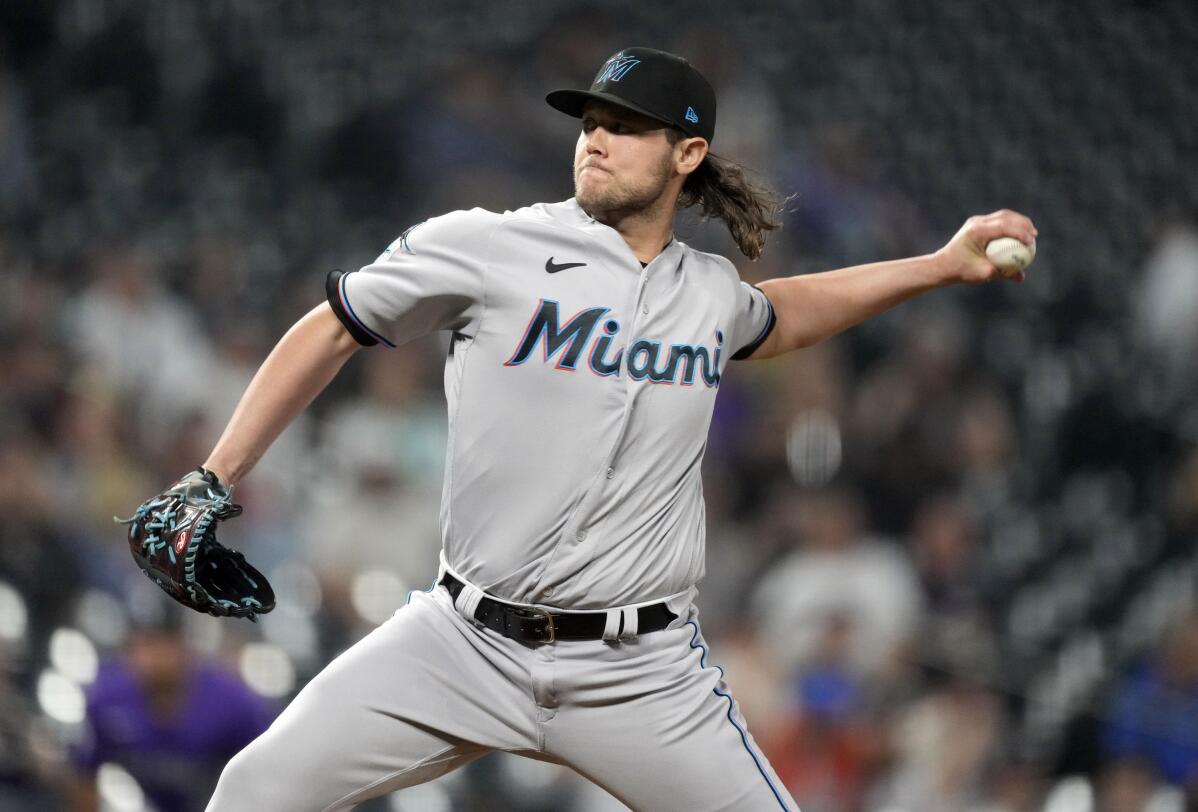 4 of 8

|
Miami Marlins relief pitcher Steven Okert works against the Colorado Rockies in the eighth inning of a baseball game Monday, May 22, 2023, in Denver. (AP Photo/David Zalubowski)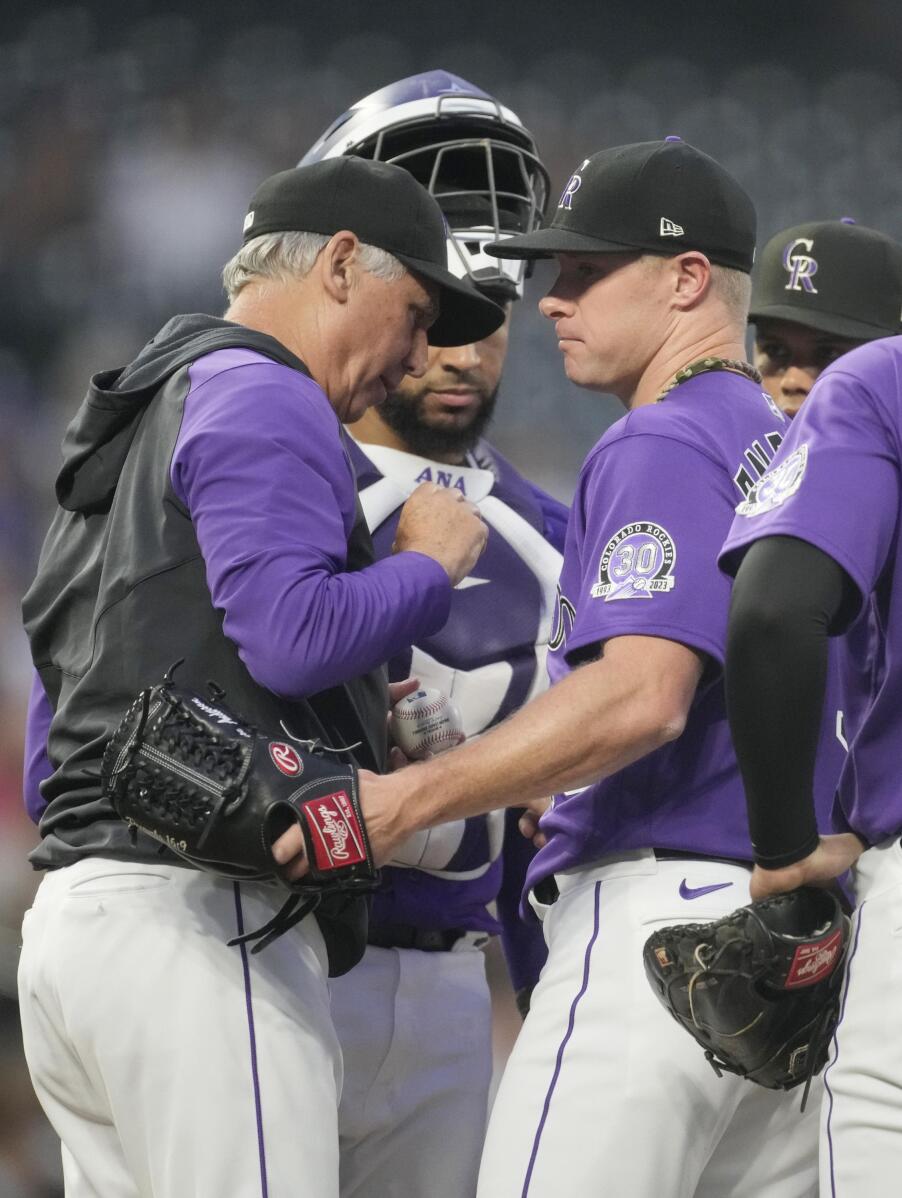 5 of 8

|
Colorado Rockies manager Bud Black, left, pulls starting pitcher Chase Anderson after Anderson gave up a single to Miami Marlins' Joey Wendle in the sixth inning of a baseball game Monday, May 22, 2023, in Denver. (AP Photo/David Zalubowski)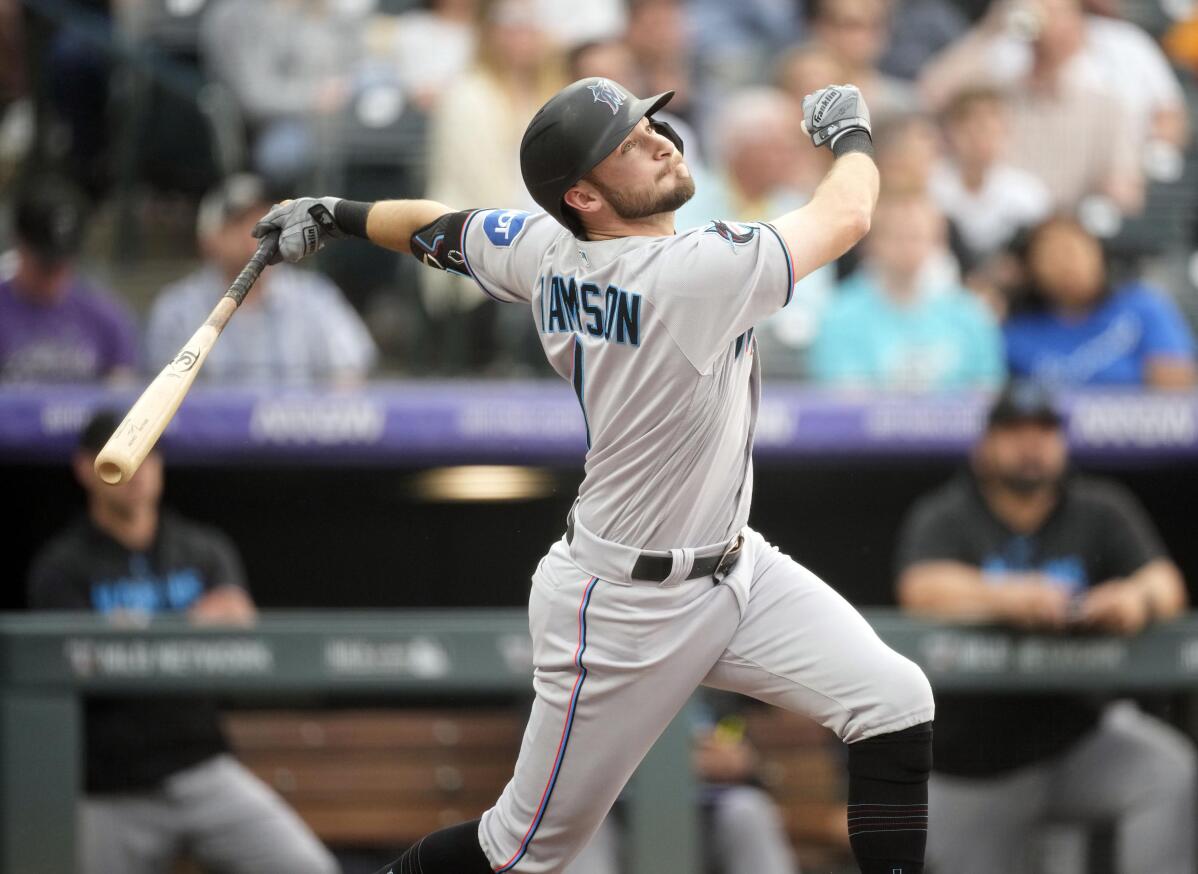 6 of 8

|
Miami Marlins' Garrett Hampson singles off Colorado Rockies starting pitcher Chase Anderson in the third inning of a baseball game Monday, May 22, 2023, in Denver. (AP Photo/David Zalubowski)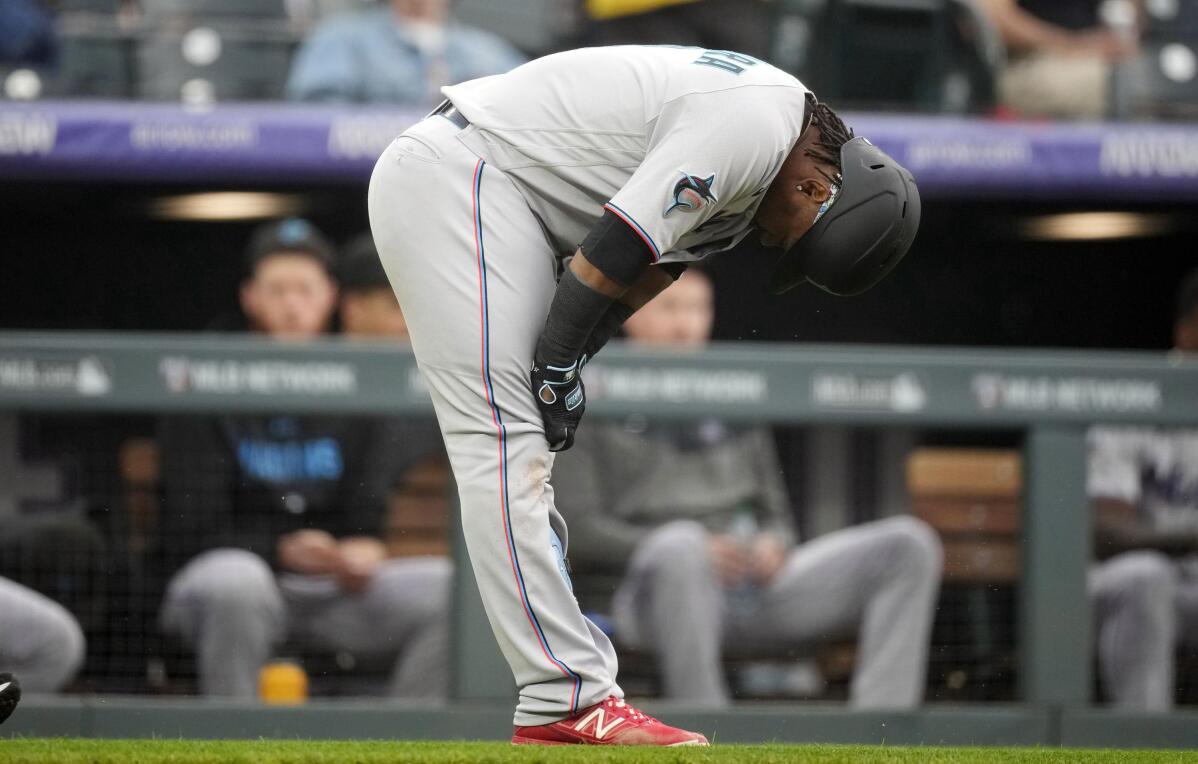 7 of 8

|
Miami Marlins' Jean Segura reacts after getting hit on the hand by a pitch from Colorado Rockies starter Chase Anderson in the fourth inning of a baseball game Monday, May 22, 2023, in Denver. (AP Photo/David Zalubowski)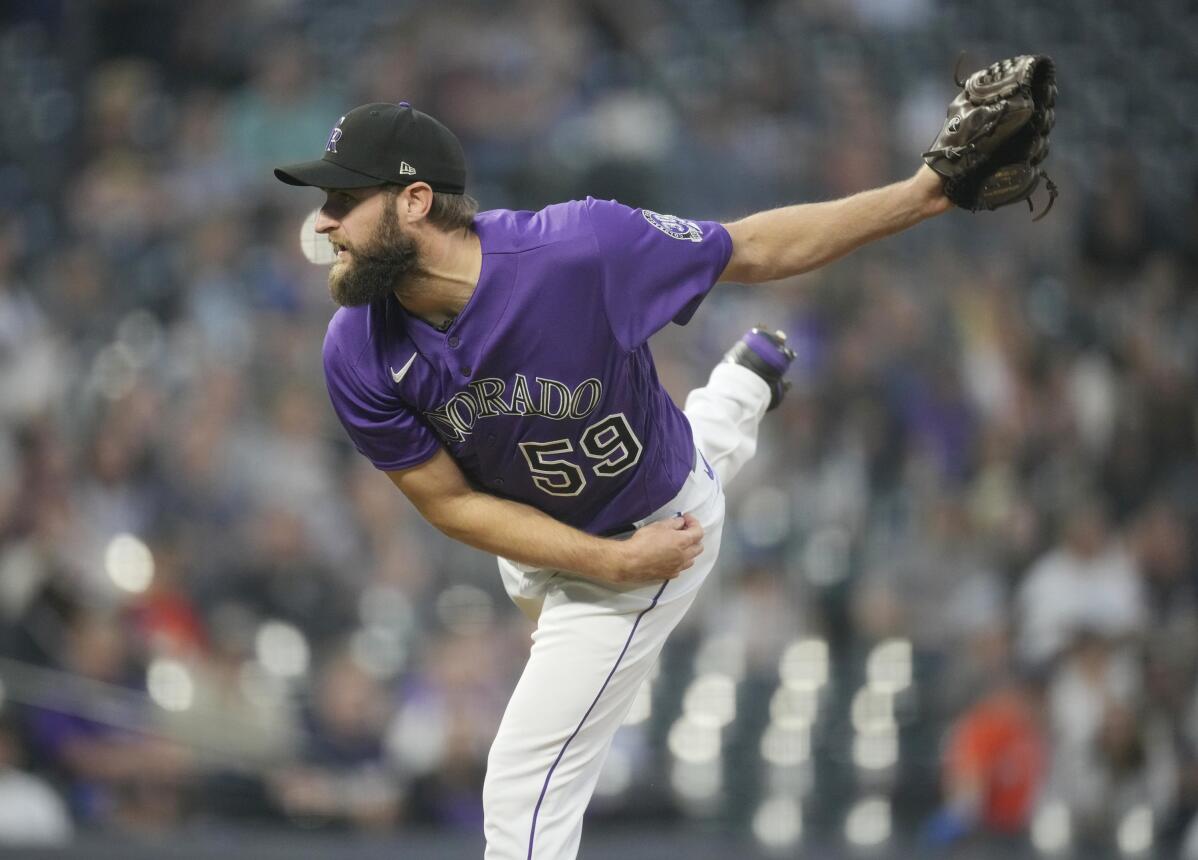 8 of 8

|
Colorado Rockies relief pitcher Jake Bird works against the Miami Marlins in the sixth inning of a baseball game Monday, May 22, 2023, in Denver. (AP Photo/David Zalubowski)
Díaz, Profar hits lead Rockies past Marlins 5-3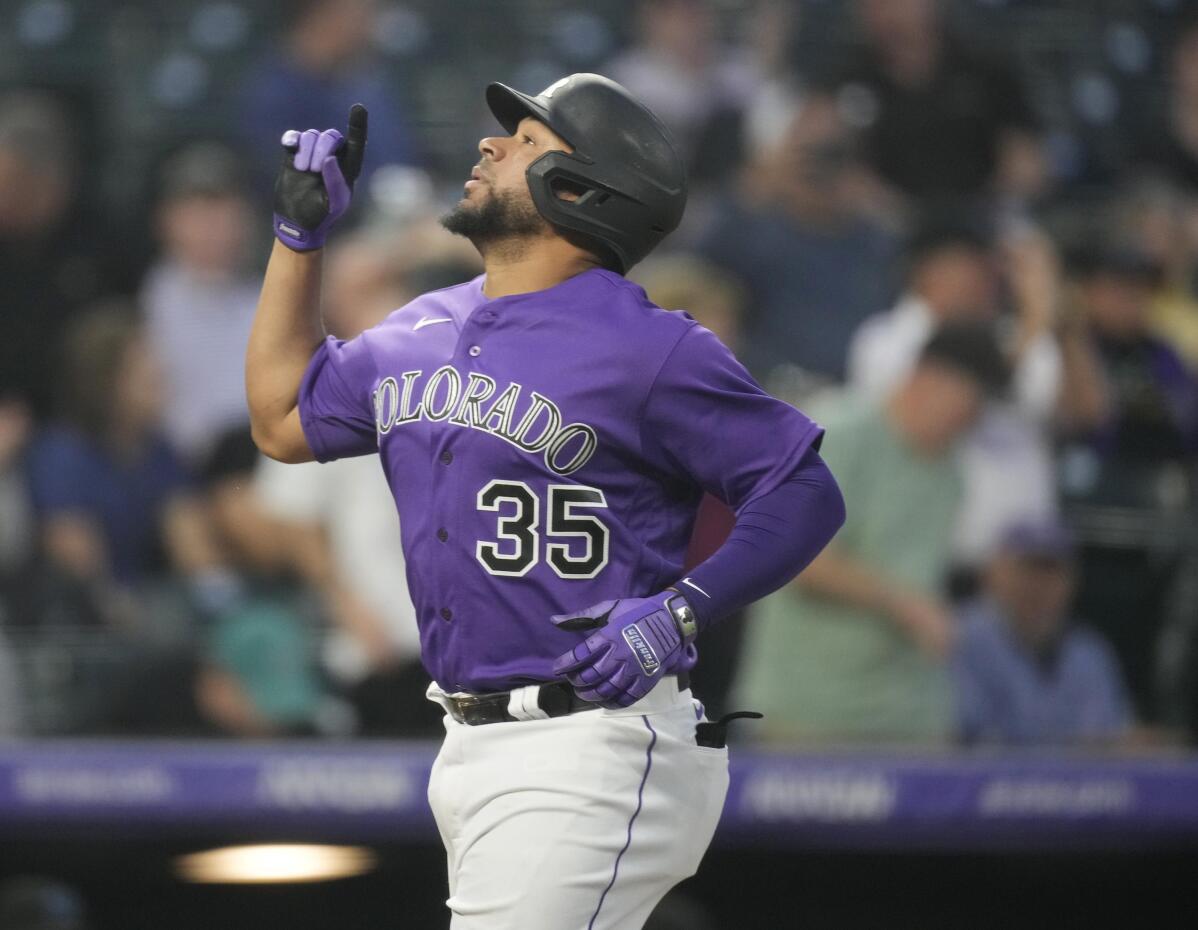 1 of 8

|
Colorado Rockies' Elias Diaz gestures as he crosses home plate after hitting a solo home run off Miami Marlins starting pitcher Edward Cabrera in the sixth inning of a baseball game Monday, May 22, 2023, in Denver. (AP Photo/David Zalubowski)
1 of 8
Colorado Rockies' Elias Diaz gestures as he crosses home plate after hitting a solo home run off Miami Marlins starting pitcher Edward Cabrera in the sixth inning of a baseball game Monday, May 22, 2023, in Denver. (AP Photo/David Zalubowski)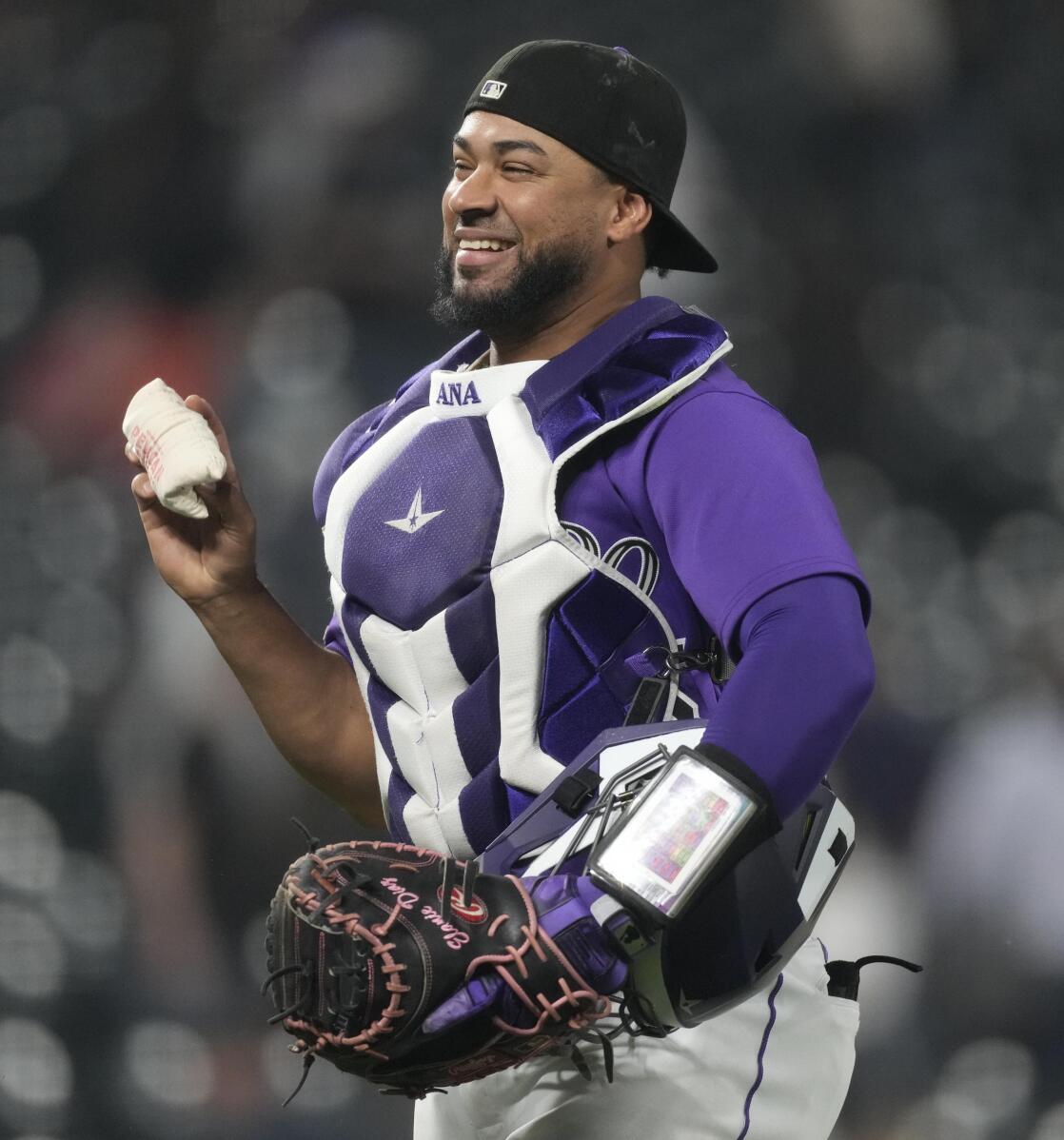 2 of 8

|
Colorado Rockies catcher Elias Diaz celebrates after a baseball game against the Miami Marlins, Monday, May 22, 2023, in Denver. (AP Photo/David Zalubowski)
2 of 8
Colorado Rockies catcher Elias Diaz celebrates after a baseball game against the Miami Marlins, Monday, May 22, 2023, in Denver. (AP Photo/David Zalubowski)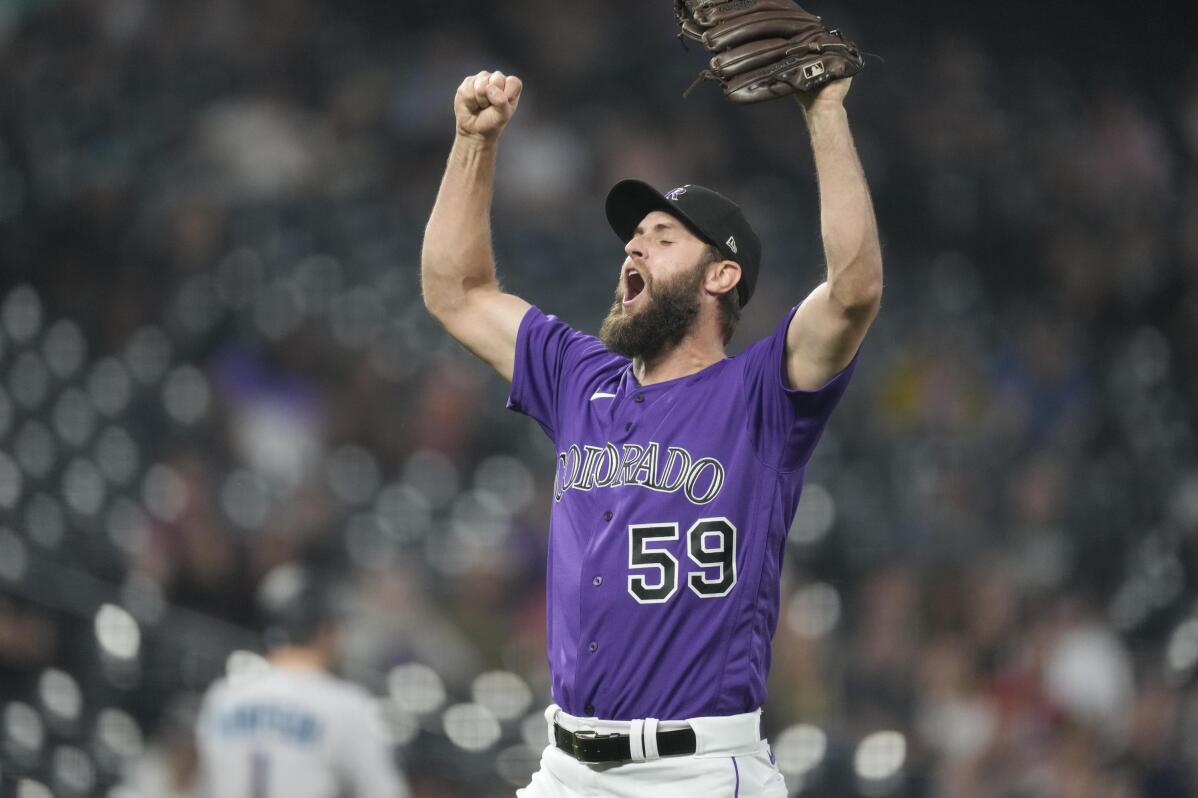 3 of 8

|
Colorado Rockies relief pitcher Jake Bird reacts after striking out Miami Marlins' Garrett Cooper to end the top of the seventh inning of a baseball game Monday, May 22, 2023, in Denver. (AP Photo/David Zalubowski)
3 of 8
Colorado Rockies relief pitcher Jake Bird reacts after striking out Miami Marlins' Garrett Cooper to end the top of the seventh inning of a baseball game Monday, May 22, 2023, in Denver. (AP Photo/David Zalubowski)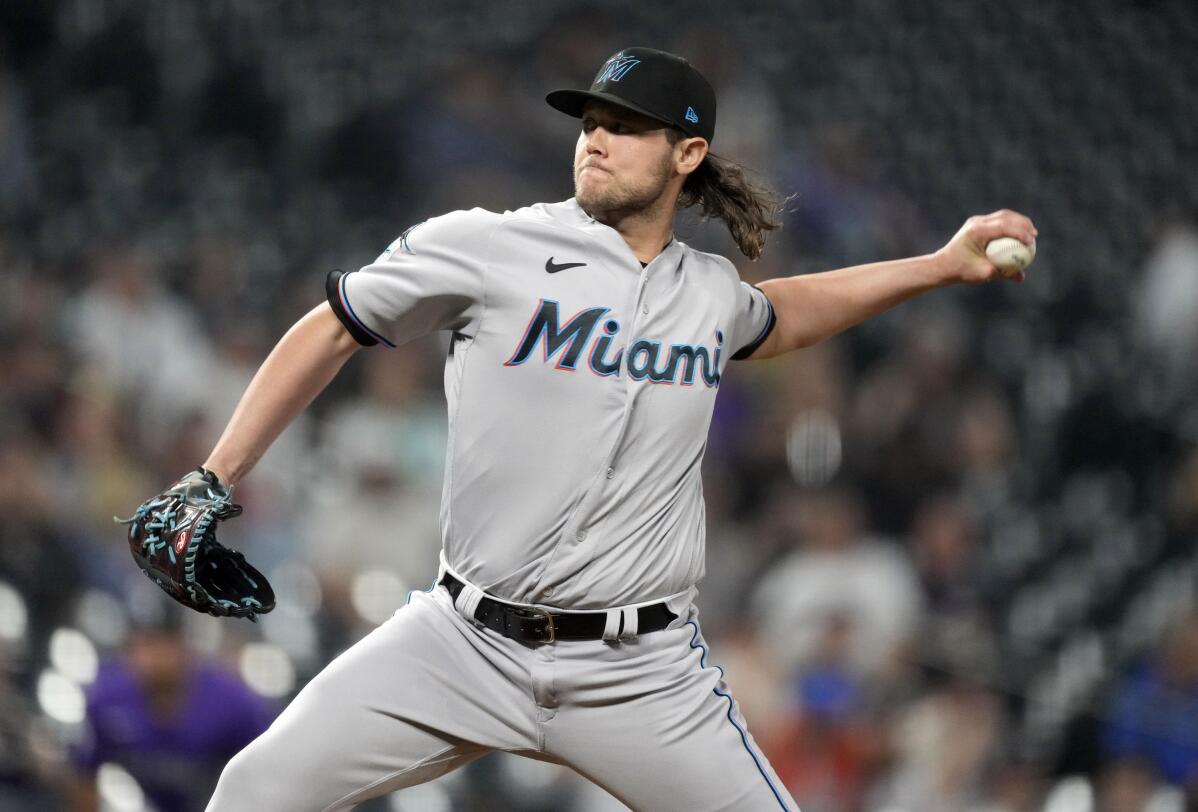 4 of 8

|
Miami Marlins relief pitcher Steven Okert works against the Colorado Rockies in the eighth inning of a baseball game Monday, May 22, 2023, in Denver. (AP Photo/David Zalubowski)
4 of 8
Miami Marlins relief pitcher Steven Okert works against the Colorado Rockies in the eighth inning of a baseball game Monday, May 22, 2023, in Denver. (AP Photo/David Zalubowski)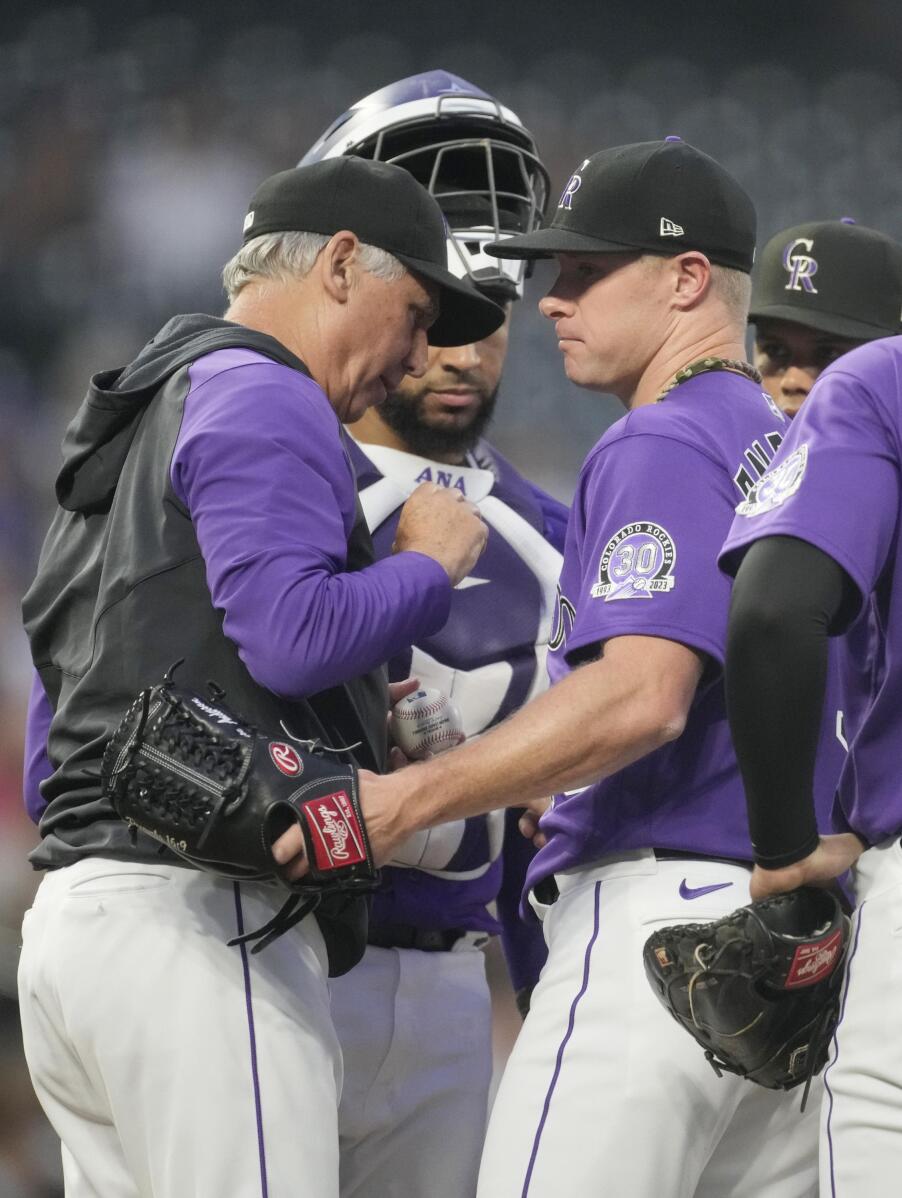 5 of 8

|
Colorado Rockies manager Bud Black, left, pulls starting pitcher Chase Anderson after Anderson gave up a single to Miami Marlins' Joey Wendle in the sixth inning of a baseball game Monday, May 22, 2023, in Denver. (AP Photo/David Zalubowski)
5 of 8
Colorado Rockies manager Bud Black, left, pulls starting pitcher Chase Anderson after Anderson gave up a single to Miami Marlins' Joey Wendle in the sixth inning of a baseball game Monday, May 22, 2023, in Denver. (AP Photo/David Zalubowski)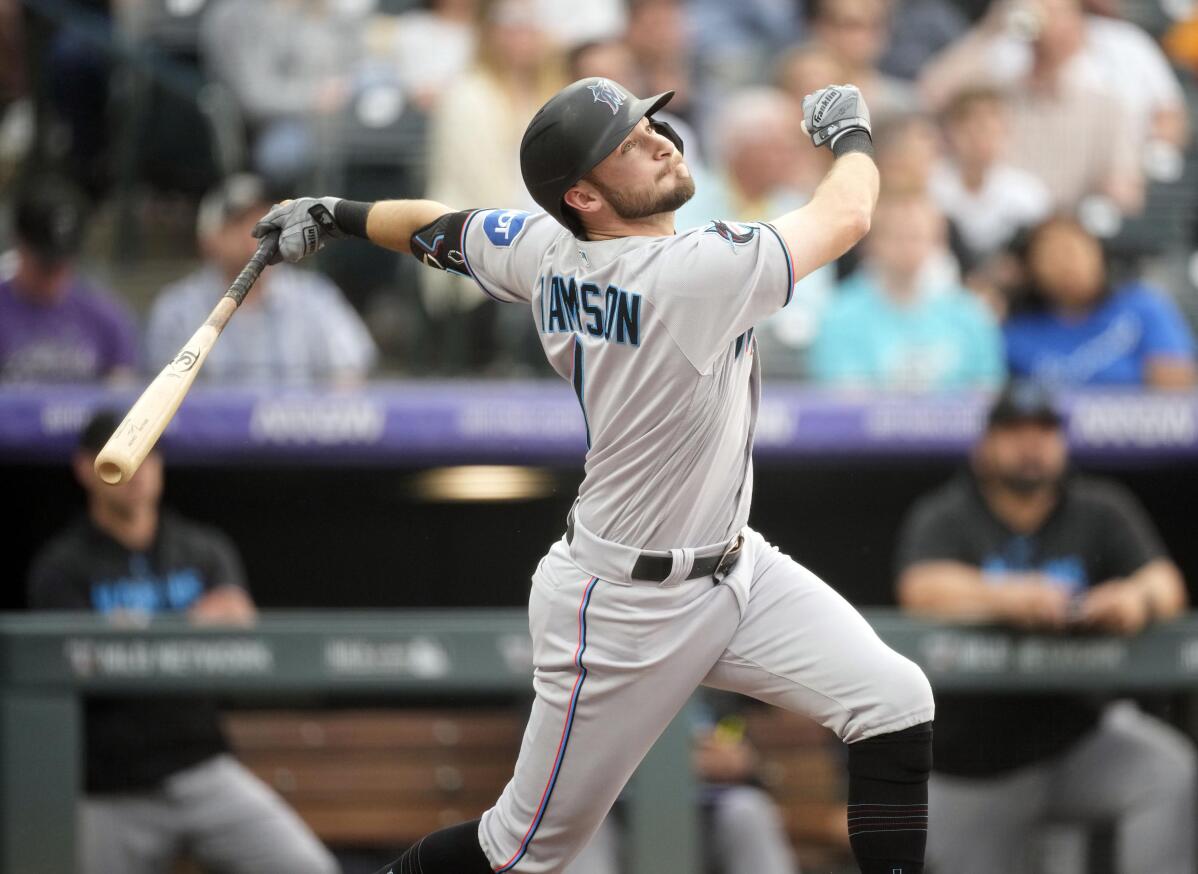 6 of 8

|
Miami Marlins' Garrett Hampson singles off Colorado Rockies starting pitcher Chase Anderson in the third inning of a baseball game Monday, May 22, 2023, in Denver. (AP Photo/David Zalubowski)
6 of 8
Miami Marlins' Garrett Hampson singles off Colorado Rockies starting pitcher Chase Anderson in the third inning of a baseball game Monday, May 22, 2023, in Denver. (AP Photo/David Zalubowski)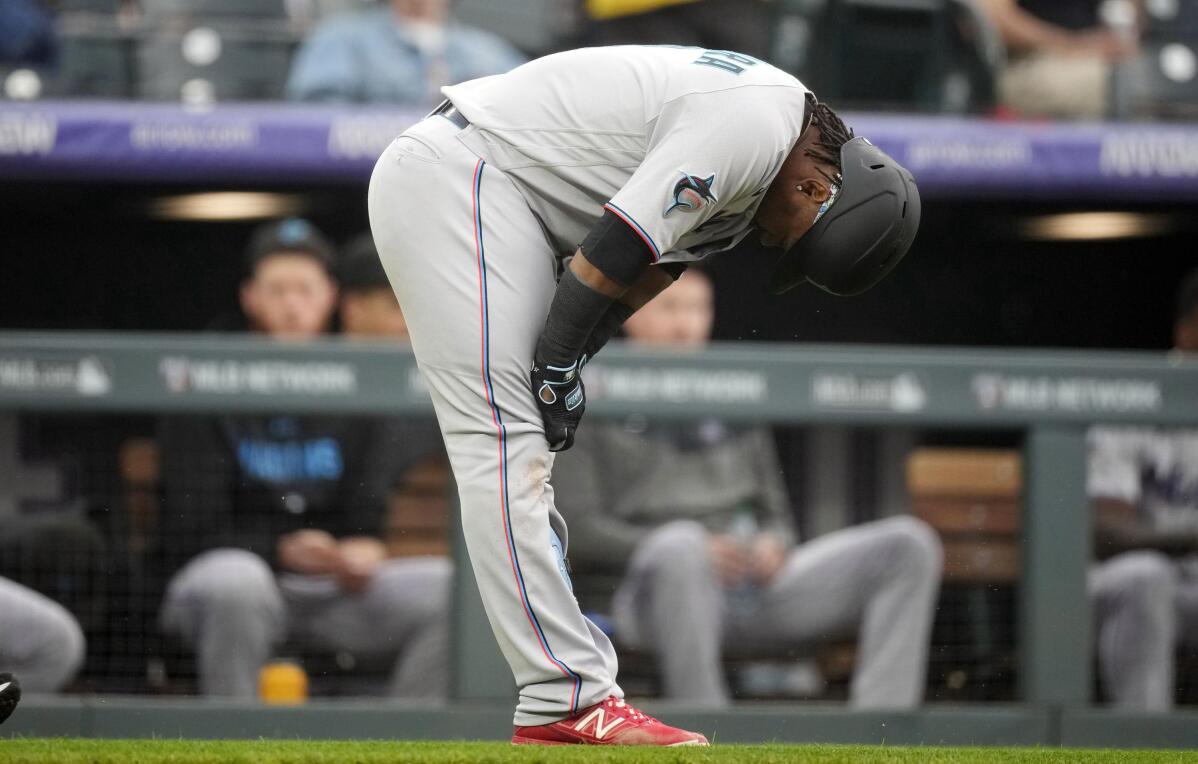 7 of 8

|
Miami Marlins' Jean Segura reacts after getting hit on the hand by a pitch from Colorado Rockies starter Chase Anderson in the fourth inning of a baseball game Monday, May 22, 2023, in Denver. (AP Photo/David Zalubowski)
7 of 8
Miami Marlins' Jean Segura reacts after getting hit on the hand by a pitch from Colorado Rockies starter Chase Anderson in the fourth inning of a baseball game Monday, May 22, 2023, in Denver. (AP Photo/David Zalubowski)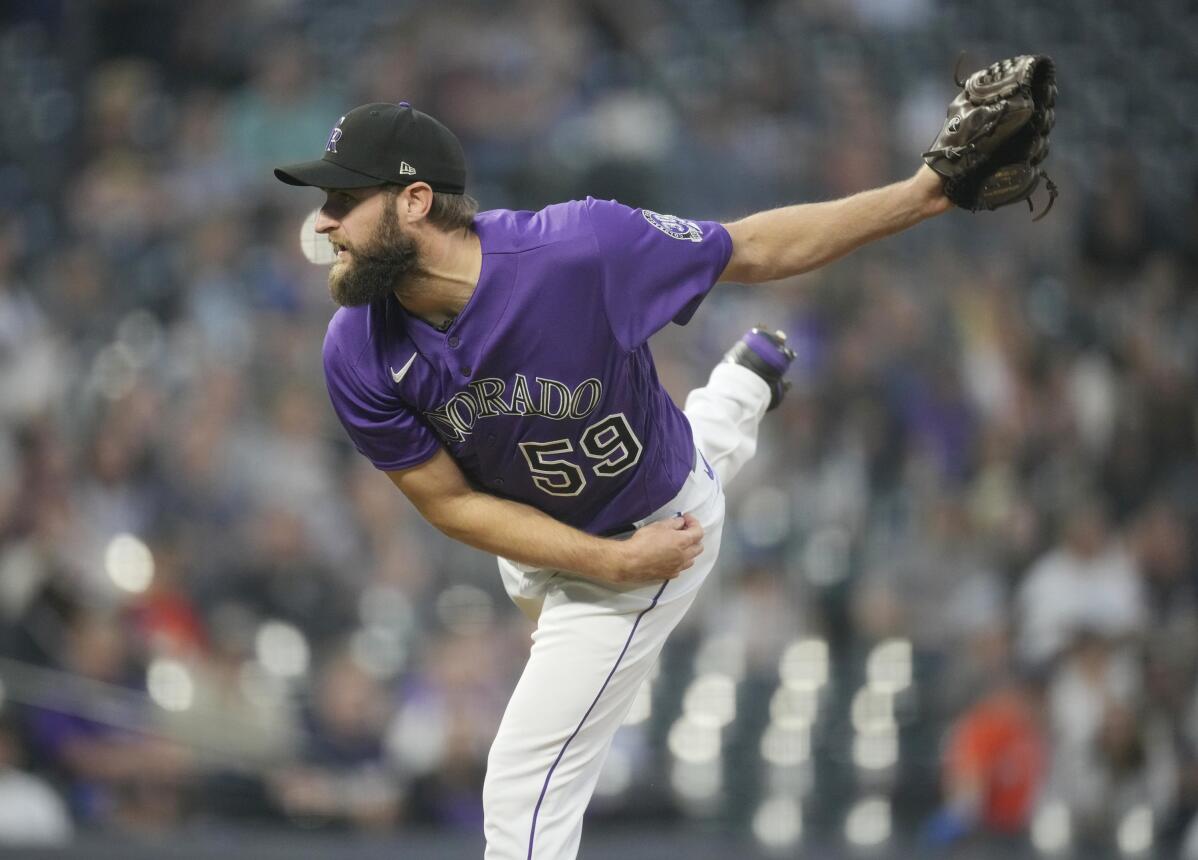 8 of 8

|
Colorado Rockies relief pitcher Jake Bird works against the Miami Marlins in the sixth inning of a baseball game Monday, May 22, 2023, in Denver. (AP Photo/David Zalubowski)
8 of 8
Colorado Rockies relief pitcher Jake Bird works against the Miami Marlins in the sixth inning of a baseball game Monday, May 22, 2023, in Denver. (AP Photo/David Zalubowski)
DENVER (AP) — Elías Díaz homered and doubled to drive in two runs and Jurickson Profar doubled twice to extend his on-base streak to 30 games and drive in another pair as the Colorado Rockies beat the Miami Marlins 5-3 on Monday night.
Bryan De La Cruz had four hits for the Marlins, scoring twice and Jacob Stallings had two RBIs on an infield force play and a single.
With the score tied 2-all going into the bottom of the sixth inning, Díaz connected for his fourth home run, driving an offering from Edward Cabrera (3-4) into the left field bleachers.
Profar, whose on-base streak is the longest active streak in the majors, added a two-run double in the bottom of the seventh. "We didn't play good baseball in Texas," said Profar, whose Rockies were swept by the Rangers in a three-game set over the weekend. "But this team, we battle and we can turn it up. It started with (Chase) Anderson pitching really well … and we know we're a pretty good hitting ballclub."
Pierce Johnson got three outs for his ninth save and Jake Bird (1-0) pitched 1 1/3 innings of hitless relief for the victory.
Profar, Kris Bryant and Díaz hit successive doubles off Cabrera in the bottom of the first inning, giving the Rockies a 2-0 lead. But Cabrera regrouped to set down 13 of the next 14 batters, striking out four and walking one in that span before Charlie Blackmon's two-out single in the bottom of the fifth.
Miami chipped away to tie it at 2-2, getting an RBI single from Luis Arraez in the top of the third and a run-scoring force out by Stallings in the fourth.
Anderson, making his second start for the Rockies since being claimed off waivers from Tampa Bay on May 12, went 5 2/3 innings and allowed two runs on eight hits in winding up with another no decision. "He pitched efficiently," Rockies manager Bud Black said. "They were aggressive against Chase but he was making pitches. He'd like to have a couple of at-bats backs but overall I thought he threw the ball well. The game management part was solid, under control, a poised veteran pitcher."
The Marlins had other chances but hit into two double plays and saw a baserunner thrown out trying to advance to third.
"We had the right guys up at the right times. We just didn't cash in," Marlins manager Skip Schumaker said.
WELCOME SIGHT
Rockies pitcher Ryan Feltner returned to the clubhouse before the game for his first visit to the park since suffering a skull fracture and concussion when he was struck in the head by a line drive off the bat of the Philadelphia Phillies' Nick Castellanos on May 13. "That picked me up and I think it picked the guys up," Black said. "He sat down. We chatted. It was good to see him. He's still going through some things but he's feeling better each and every day." Black said Feltner told him he's motivated to pitch again this season. However, no timetable has been outlined for his return.
TRAINER'S ROOM
Marlins: LHP Trevor Rogers (left biceps strain) came out of his latest rehab appearance well and is on track for another rehab outing later this week. "Everything has been positive so far, no setbacks," said manager Skip Schumaker. Rogers was placed on the 15-day injured list retroactive to April 20.
Rockies: RHP Noah Davis (right elbow inflammation) came out of a bullpen session Monday feeling good and the club expects to formulate a plan in the next day or two for a rehab assignment. "He's on the way back," manager Bud Black said. "It's good that he hit the mound and the elbow feels great." … 2B Brendan Rodgers, out indefinitely after undergoing surgery in early March to repair a damaged left shoulder capsule, was on the field pre-game taking infield grounders, a sign his rehab is ahead of schedule. Initially, it was thought likely Rodgers would miss this season but Black said there's a "realistic chance" Rodgers could return before season's end.
UP NEXT
Marlins rookie RHP Eury Perez (1-0, 2.79 ERA) is set to make his third career start Tuesday night against the Rockies. He earned his first major league win last time out, allowing one run in five innings in the Marlins' 5-3 victory over the Washington Nationals. The Rockies counter with LHP Austin Gomber (3-4, 6.70 ERA).
___
AP MLB: https://apnews.com/hub/mlb and https://twitter.com/AP_Sports