Arguments in "Serial" case focus on lawyer, alibi witness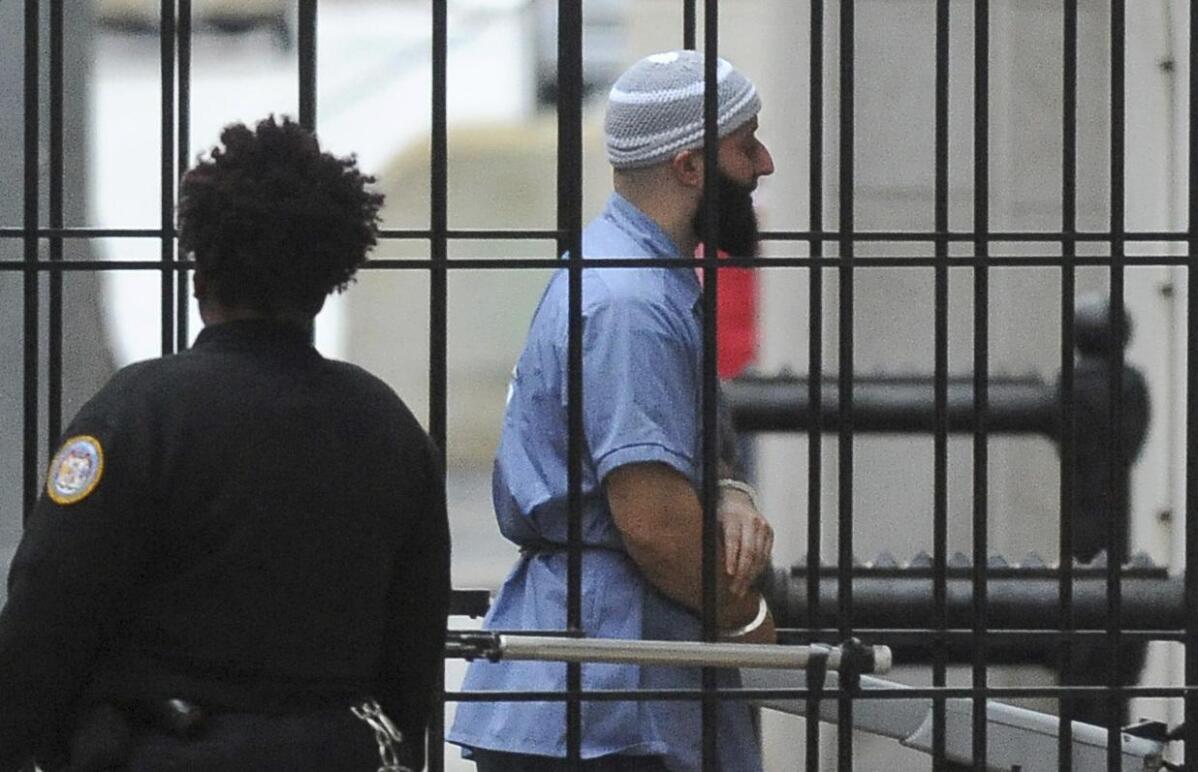 1 of 3

|
FILE - In this Feb. 3, 2016 file photo, Adnan Syed enters Courthouse East prior to a hearing in Baltimore. Maryland's highest court is set to hear arguments in the high-profile case of Syed whose murder conviction was chronicled in the hit "Serial" podcast. Two years after a new trial was ordered for Syed, the Maryland Court of Special Appeals on Thursday, Nov. 29, 2018, will hear oral arguments in the case. He was convicted in 2000 of strangling his ex-girlfriend and burying her body in a Baltimore park. Syed is serving a life sentence. (Barbara Haddock Taylor/The Baltimore Sun via AP, File)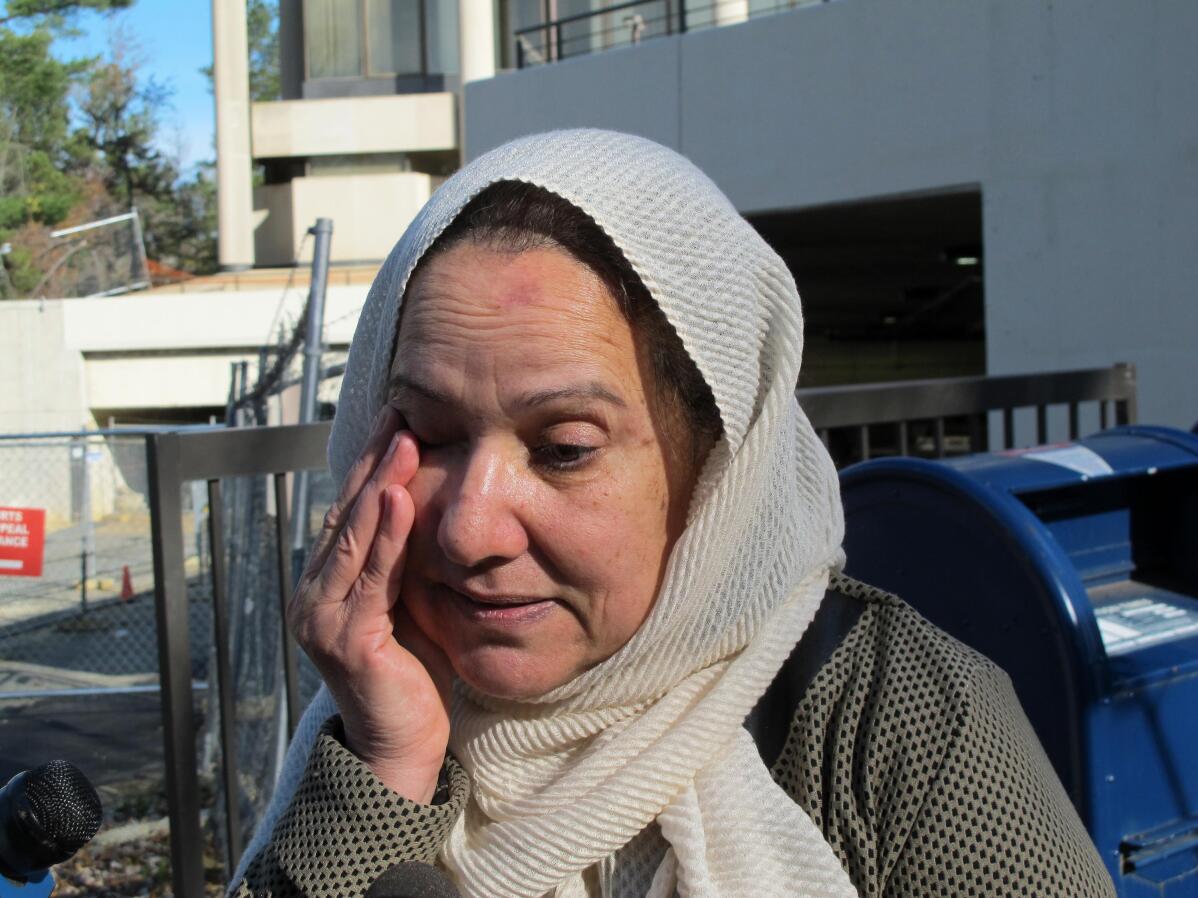 2 of 3

|
Shamim Rahman, the mother of Adnan Syed, wipes away a tear outside the Maryland Court of Appeals on Thursday, Nov. 29, 2018, in Annapolis, Md., after attending arguments in Maryland's highest court reviewing a decision that could reinstate Syed's conviction for the slaying of his high school sweetheart. The high-profile case was chronicled in the hit "Serial" podcast. (AP Photo/Brian Witte)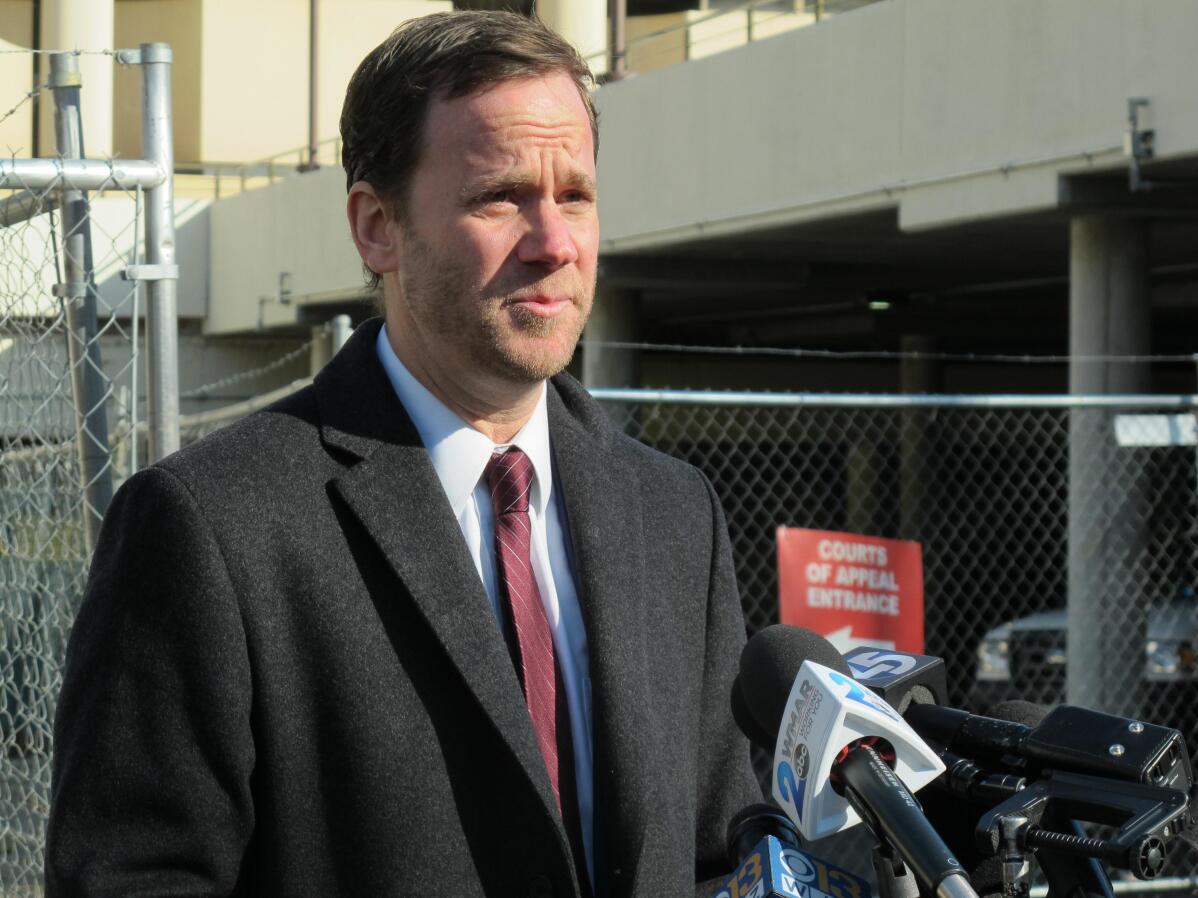 3 of 3

|
Justin Brown, an attorney for Adnan Syed, talks to reporters outside the Maryland Court of Appeals after arguments in the state's highest court on Thursday, Nov. 29, 2018 in Annapolis, Maryland, in a case that could reinstate Syed's conviction for the slaying of his high school sweetheart. (AP Photo/Brian Witte)
Arguments in "Serial" case focus on lawyer, alibi witness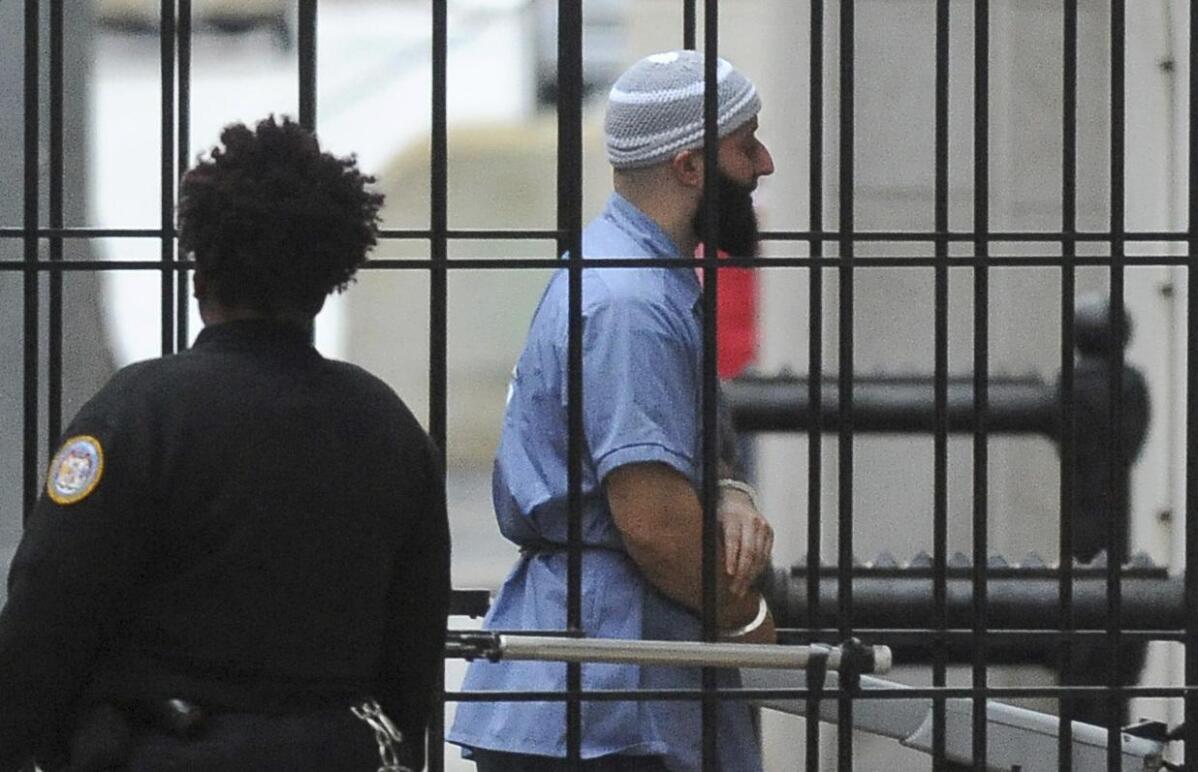 1 of 3

|
FILE - In this Feb. 3, 2016 file photo, Adnan Syed enters Courthouse East prior to a hearing in Baltimore. Maryland's highest court is set to hear arguments in the high-profile case of Syed whose murder conviction was chronicled in the hit "Serial" podcast. Two years after a new trial was ordered for Syed, the Maryland Court of Special Appeals on Thursday, Nov. 29, 2018, will hear oral arguments in the case. He was convicted in 2000 of strangling his ex-girlfriend and burying her body in a Baltimore park. Syed is serving a life sentence. (Barbara Haddock Taylor/The Baltimore Sun via AP, File)
1 of 3
FILE - In this Feb. 3, 2016 file photo, Adnan Syed enters Courthouse East prior to a hearing in Baltimore. Maryland's highest court is set to hear arguments in the high-profile case of Syed whose murder conviction was chronicled in the hit "Serial" podcast. Two years after a new trial was ordered for Syed, the Maryland Court of Special Appeals on Thursday, Nov. 29, 2018, will hear oral arguments in the case. He was convicted in 2000 of strangling his ex-girlfriend and burying her body in a Baltimore park. Syed is serving a life sentence. (Barbara Haddock Taylor/The Baltimore Sun via AP, File)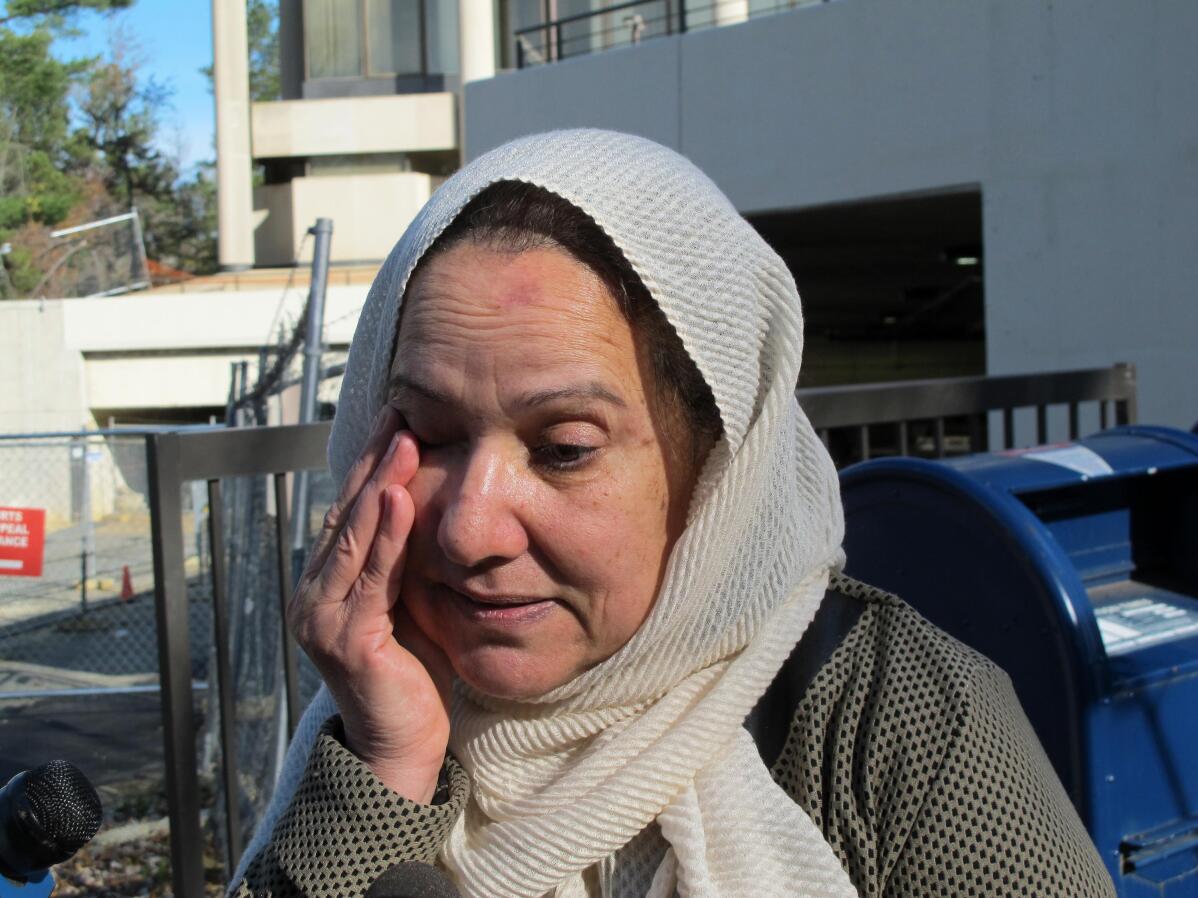 2 of 3

|
Shamim Rahman, the mother of Adnan Syed, wipes away a tear outside the Maryland Court of Appeals on Thursday, Nov. 29, 2018, in Annapolis, Md., after attending arguments in Maryland's highest court reviewing a decision that could reinstate Syed's conviction for the slaying of his high school sweetheart. The high-profile case was chronicled in the hit "Serial" podcast. (AP Photo/Brian Witte)
2 of 3
Shamim Rahman, the mother of Adnan Syed, wipes away a tear outside the Maryland Court of Appeals on Thursday, Nov. 29, 2018, in Annapolis, Md., after attending arguments in Maryland's highest court reviewing a decision that could reinstate Syed's conviction for the slaying of his high school sweetheart. The high-profile case was chronicled in the hit "Serial" podcast. (AP Photo/Brian Witte)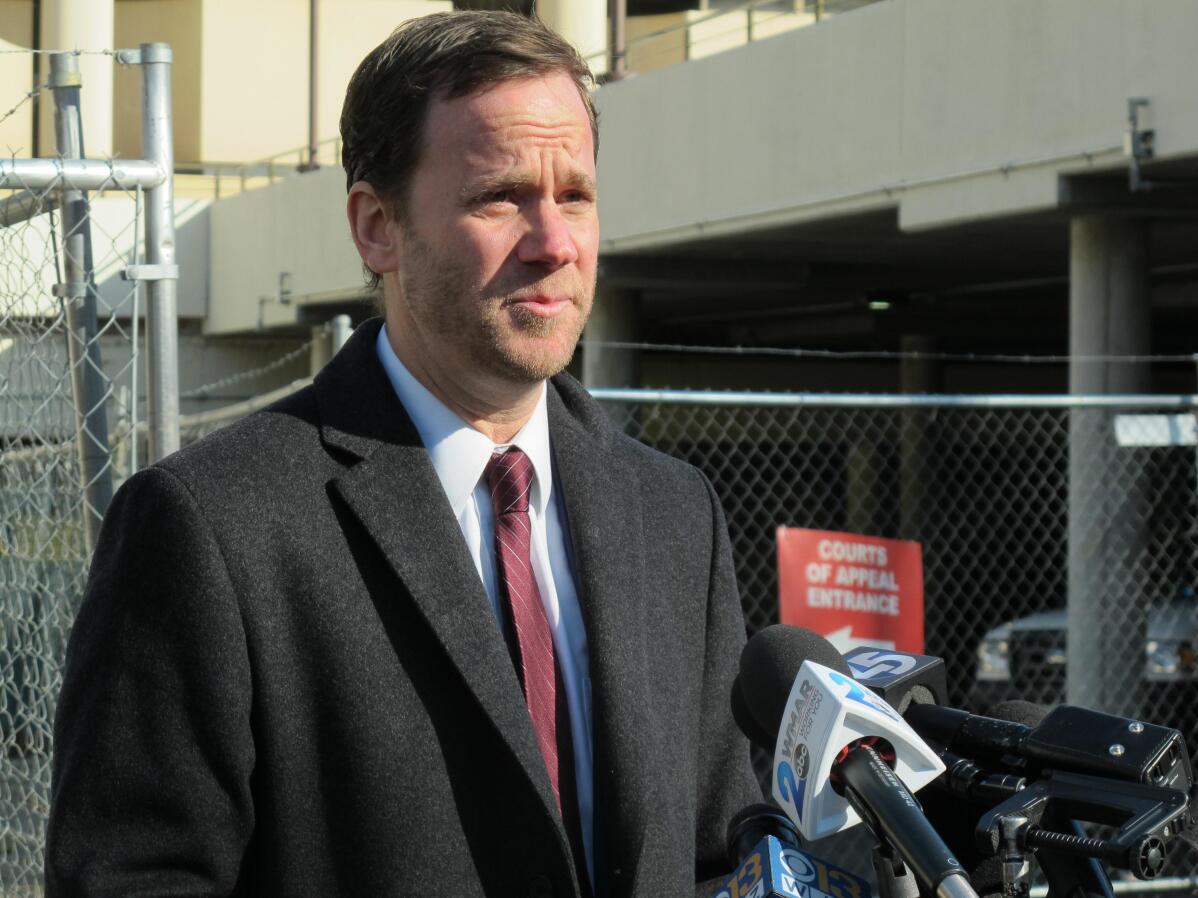 3 of 3

|
Justin Brown, an attorney for Adnan Syed, talks to reporters outside the Maryland Court of Appeals after arguments in the state's highest court on Thursday, Nov. 29, 2018 in Annapolis, Maryland, in a case that could reinstate Syed's conviction for the slaying of his high school sweetheart. (AP Photo/Brian Witte)
3 of 3
Justin Brown, an attorney for Adnan Syed, talks to reporters outside the Maryland Court of Appeals after arguments in the state's highest court on Thursday, Nov. 29, 2018 in Annapolis, Maryland, in a case that could reinstate Syed's conviction for the slaying of his high school sweetheart. (AP Photo/Brian Witte)
ANNAPOLIS, Md. (AP) — Roughly two years after a new trial was ordered, Maryland's highest court on Thursday heard arguments in their review of the high-profile case of a man whose murder conviction was chronicled in the hit "Serial" podcast that attracted millions of armchair detectives.
Tasked with upholding the retrial order for Adnan Syed or reviewing a decision that could reinstate a conviction, Maryland's Court of Appeals heard about an hour's worth of arguments in the long-running case. Syed was convicted in 2000 of strangling his high school sweetheart and burying her body in a Baltimore park. He's been serving a life sentence ever since.
But a Baltimore judge vacated his conviction two years ago and a court ordered a new trial after concluding that his trial lawyer was ineffective. The state appealed. Earlier this year, the special appeals court upheld the lower court's ruling. The state appealed that decision, too.
On Thursday, state prosecutor Thiru Vignarajah acknowledged that the late trial lawyer for Syed did not contact an alibi witness but he asserts that the attorney understood the "gist" of what that witness, Asia McClain, might have told her at the time. The attorney in question, Cristina Gutierrez, died of a heart attack in 2004, about four years after Syed was convicted of murdering 18-year-old Hae Min Lee.
"The record is not silent on whether or not Ms. McClain was contacted. The state agrees with that. The record is silent on the critical question of why," he said, suggesting that it is not clear why Gutierrez decided to take one investigative path over another and asserting that it's wrong to conclude that Syed's constitutional right to effective counsel was violated.
In 2016, a lower court ordered a retrial for Syed on grounds that Gutierrez didn't contact McClain and provided ineffective counsel.
The defense team countered that it's entirely irrelevant why Gutierrez failed to contact McClain, who said she saw Syed at a library about the same time prosecutors say his ex-girlfriend was killed in 1999.
Defense attorney Catherine Stetson told Maryland's highest court that Syed's original lawyer's failure to contact the witness were "objectively unreasonable" and any possible reasons don't matter. She said Gutierrez "had an obligation to pursue that witness," among others.
By late Thursday morning, the appeals panel of seven judges wrapped up the day's oral arguments. It's not clear when their review of the Syed case will be completed.
The arguments in the Maryland appeals court brought spectators from out of state. Chris Hendrixson drove from Cincinnati, Ohio, to observe the hearing and perhaps meet some of the people he's heard about on the podcast.
"Like so many people, we just became captivated by this case and this story through 'Serial,'" Hendrixson said outside the Annapolis courthouse.
University of Baltimore law professor David Jaros told The Associated Press that the fact that a lower court had found that there was "ineffective assistance of counsel" was itself remarkable since it happens so rarely. That alone makes Syed's case something of an outlier, he said.
"Ineffective assistance of counsel claims are exceedingly hard to bring. And the bar for what is an effective assistance of counsel is remarkably and shockingly low, with courts actually holding that defendants had effective representation even though their lawyer fell asleep at the trial," Jaros said in a phone interview.
But what makes Syed's case particularly notable is the huge amount of attention it has received. Syed became a sort of cause celebre due to the hugely popular "Serial" podcast, which debuted in 2014 with its entire first season dedicated to the case.
The show shattered podcast-streaming and downloading records. "Serial" revealed little-known evidence, raising new questions about the case and whether Syed was indeed guilty.
Rabia Chaudry, a staunch supporter of Syed's who brought his case to the attention of the host of "Serial" and also wrote the 2016 book "Adnan's Story: The Search for Truth and Justice after Serial," said Syed is feeling positive about his fate.
"A few years ago, Adnan thought that he has to come to terms with maybe dying in prison, and now he feels like there's a chance that he's going to come home. He feels good. We all feel good," Chaudry said.
___
McFadden reported from Baltimore.
___
Follow McFadden on Twitter: https://twitter.com/dmcfadd