Woods makes cut, last among those still playing at Masters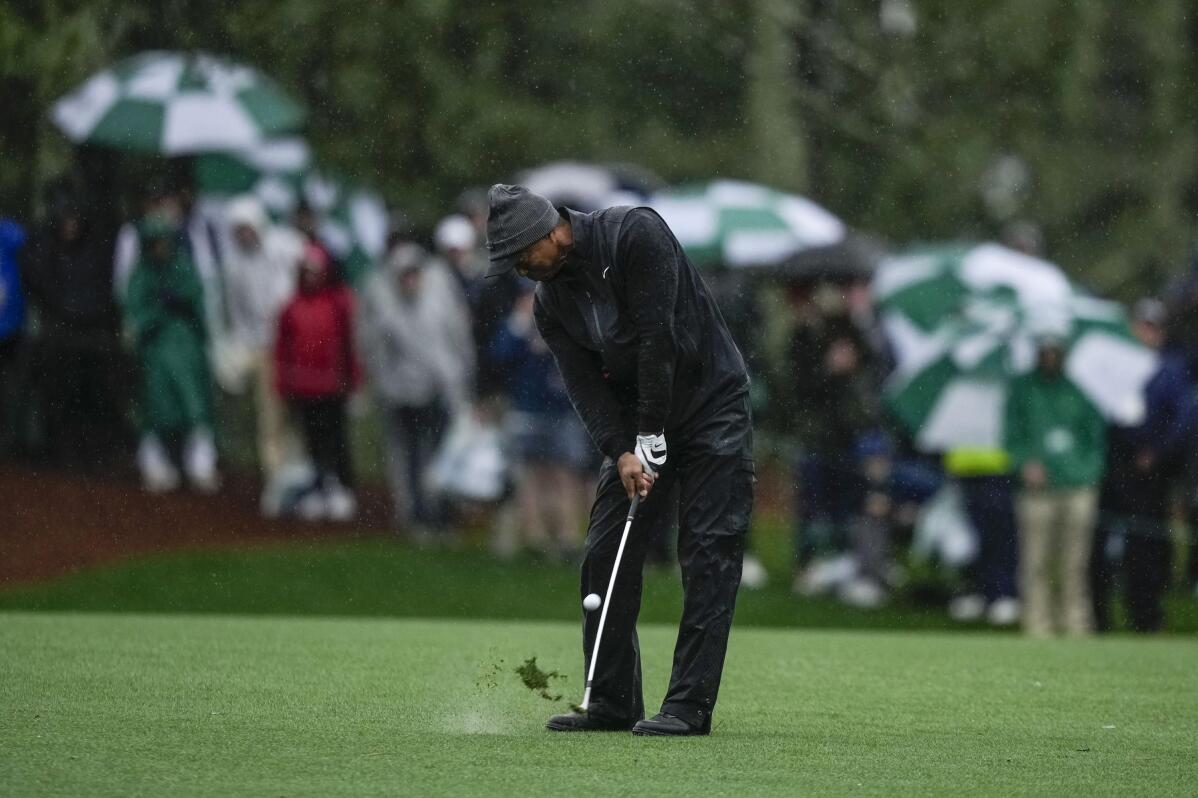 1 of 8

|
Tiger Woods hits from the fairway on the 15th hole during the weather delayed third round of the Masters golf tournament at Augusta National Golf Club on Saturday, April 8, 2023, in Augusta, Ga. (AP Photo/Matt Slocum)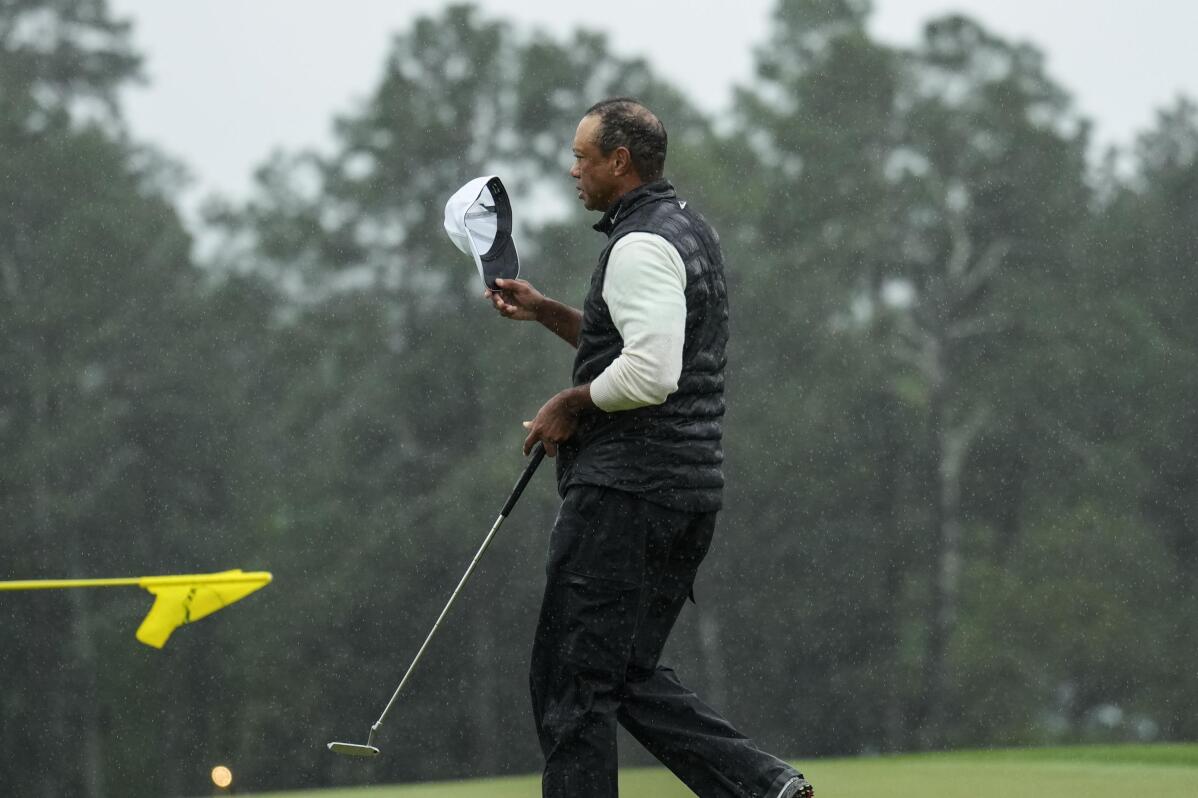 2 of 8

|
Tiger Woods walks off the on the 18th green after his weather delayed second round of the Masters golf tournament at Augusta National Golf Club on Saturday, April 8, 2023, in Augusta, Ga. (AP Photo/Charlie Riedel)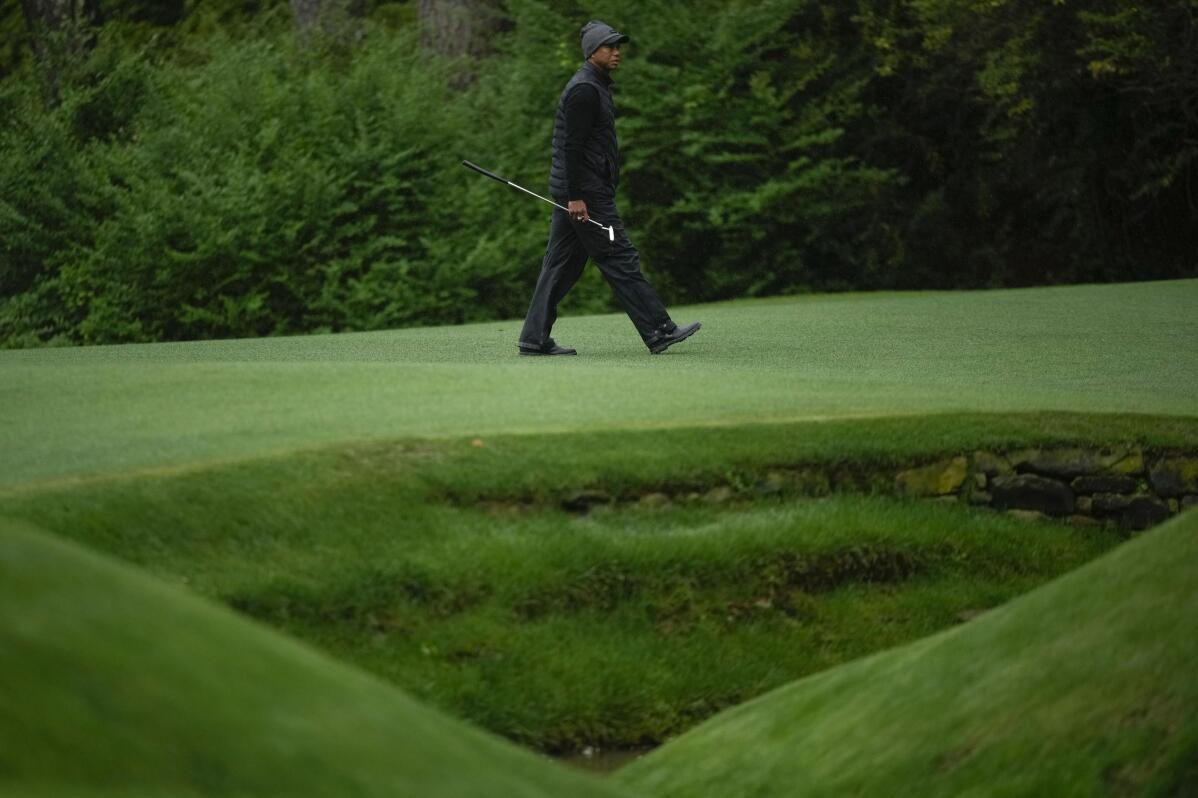 3 of 8

|
Tiger Woods walks to the green on the 13th hole during the weather delayed third round of the Masters golf tournament at Augusta National Golf Club on Saturday, April 8, 2023, in Augusta, Ga. (AP Photo/Matt Slocum)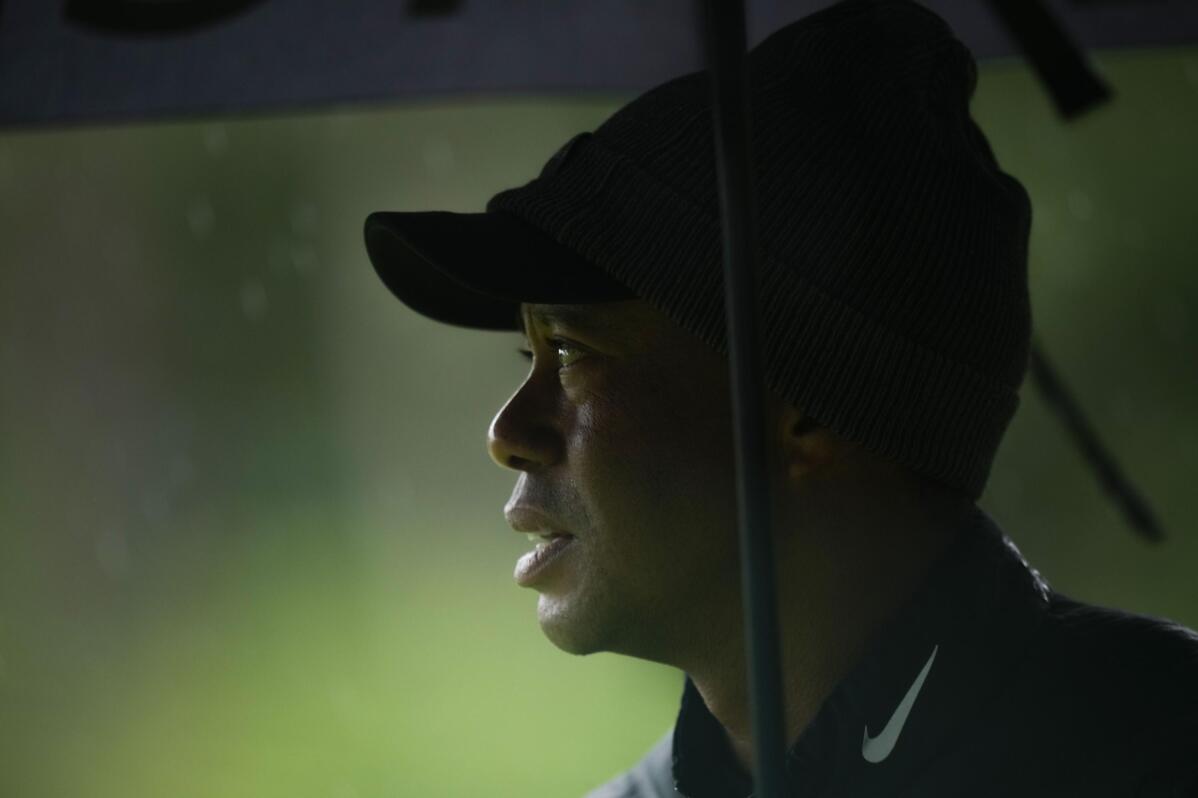 4 of 8

|
Tiger Woods watches on the 13th hole during the weather delayed third round of the Masters golf tournament at Augusta National Golf Club on Saturday, April 8, 2023, in Augusta, Ga. (AP Photo/Matt Slocum)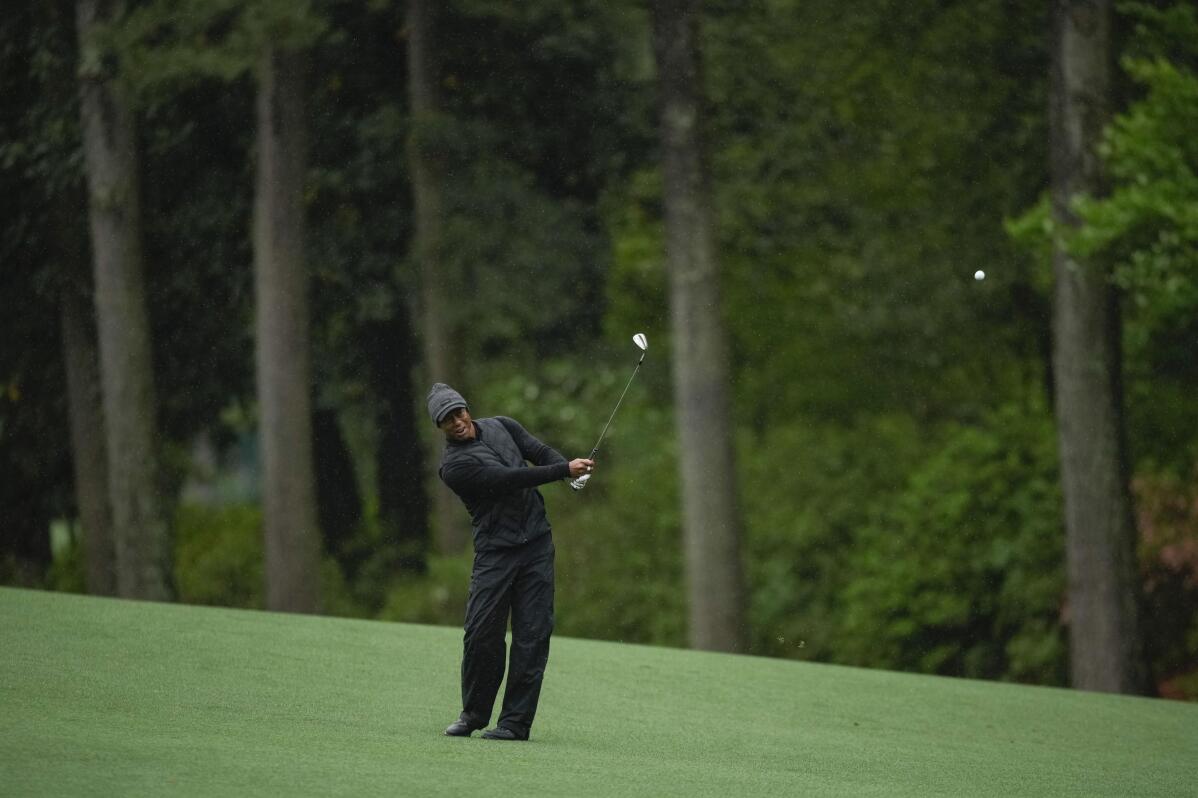 5 of 8

|
Tiger Woods chips to the green on the 13th hole during the weather delayed third round of the Masters golf tournament at Augusta National Golf Club on Saturday, April 8, 2023, in Augusta, Ga. (AP Photo/Matt Slocum)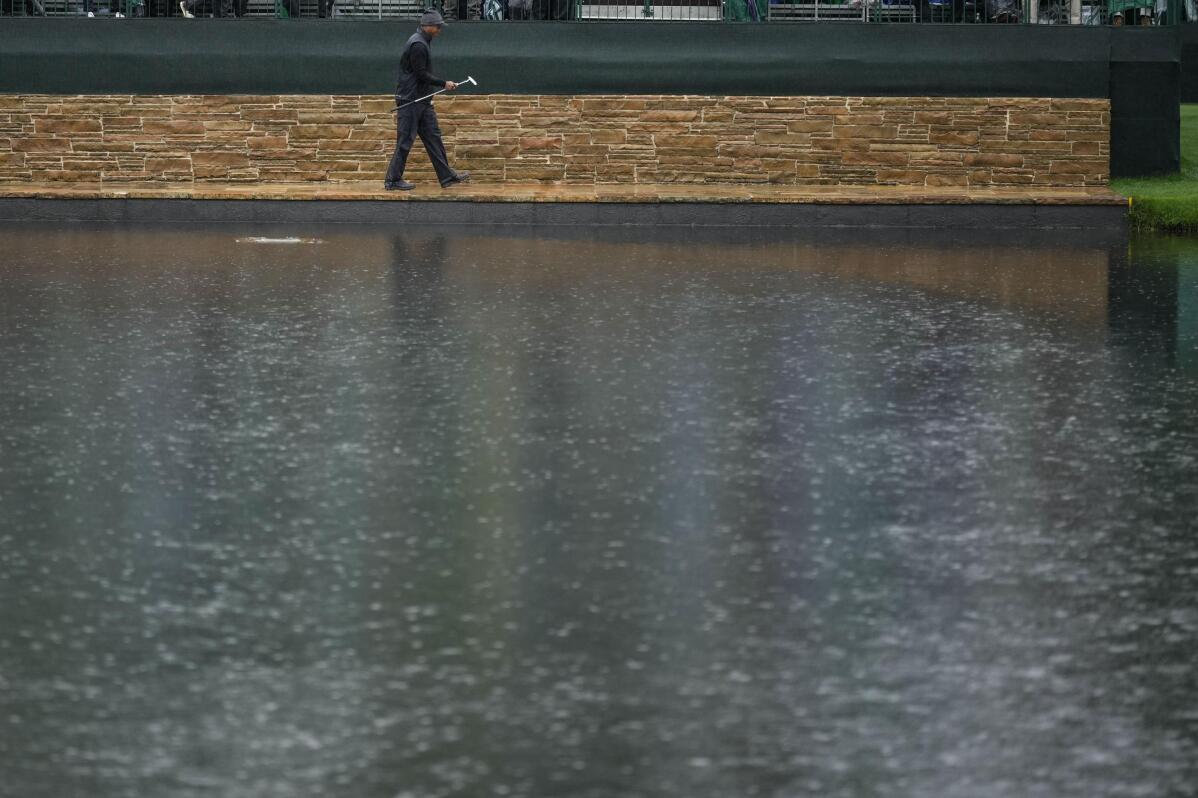 6 of 8

|
Tiger Woods walks to the green on the 15th hole during the weather delayed third round of the Masters golf tournament at Augusta National Golf Club on Saturday, April 8, 2023, in Augusta, Ga. (AP Photo/Matt Slocum)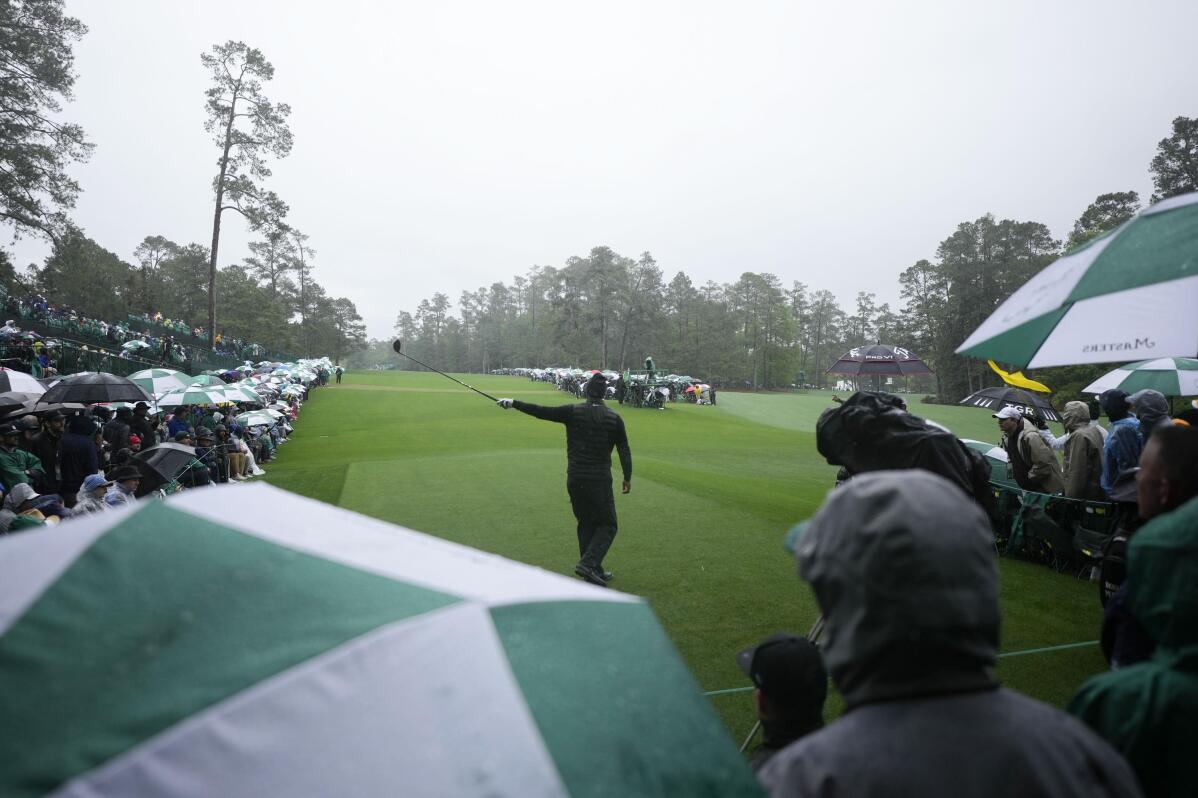 7 of 8

|
Tiger Woods point in the direction of his tee shot on the 14th hole during the weather delayed third round of the Masters golf tournament at Augusta National Golf Club on Saturday, April 8, 2023, in Augusta, Ga. (AP Photo/Matt Slocum)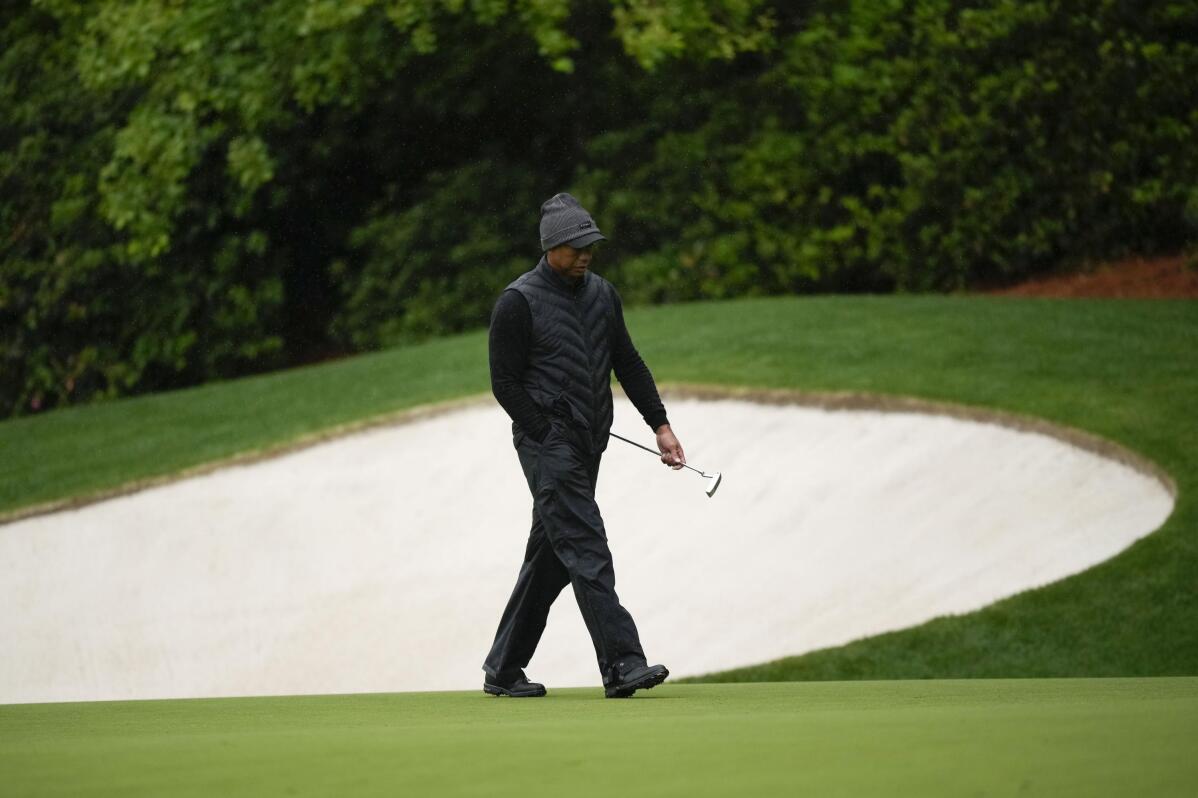 8 of 8

|
Tiger Woods walks on the 13th hole during the weather delayed third round of the Masters golf tournament at Augusta National Golf Club on Saturday, April 8, 2023, in Augusta, Ga. (AP Photo/Matt Slocum)
Woods makes cut, last among those still playing at Masters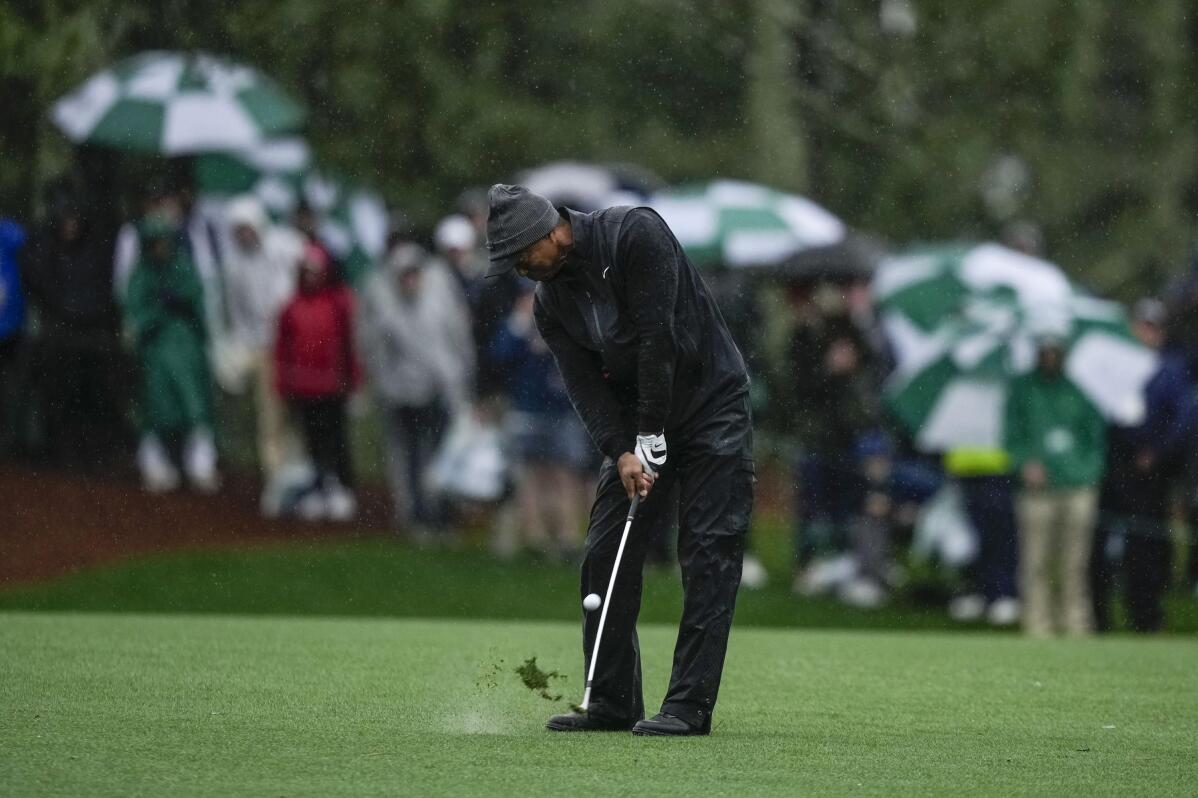 1 of 8

|
Tiger Woods hits from the fairway on the 15th hole during the weather delayed third round of the Masters golf tournament at Augusta National Golf Club on Saturday, April 8, 2023, in Augusta, Ga. (AP Photo/Matt Slocum)
1 of 8
Tiger Woods hits from the fairway on the 15th hole during the weather delayed third round of the Masters golf tournament at Augusta National Golf Club on Saturday, April 8, 2023, in Augusta, Ga. (AP Photo/Matt Slocum)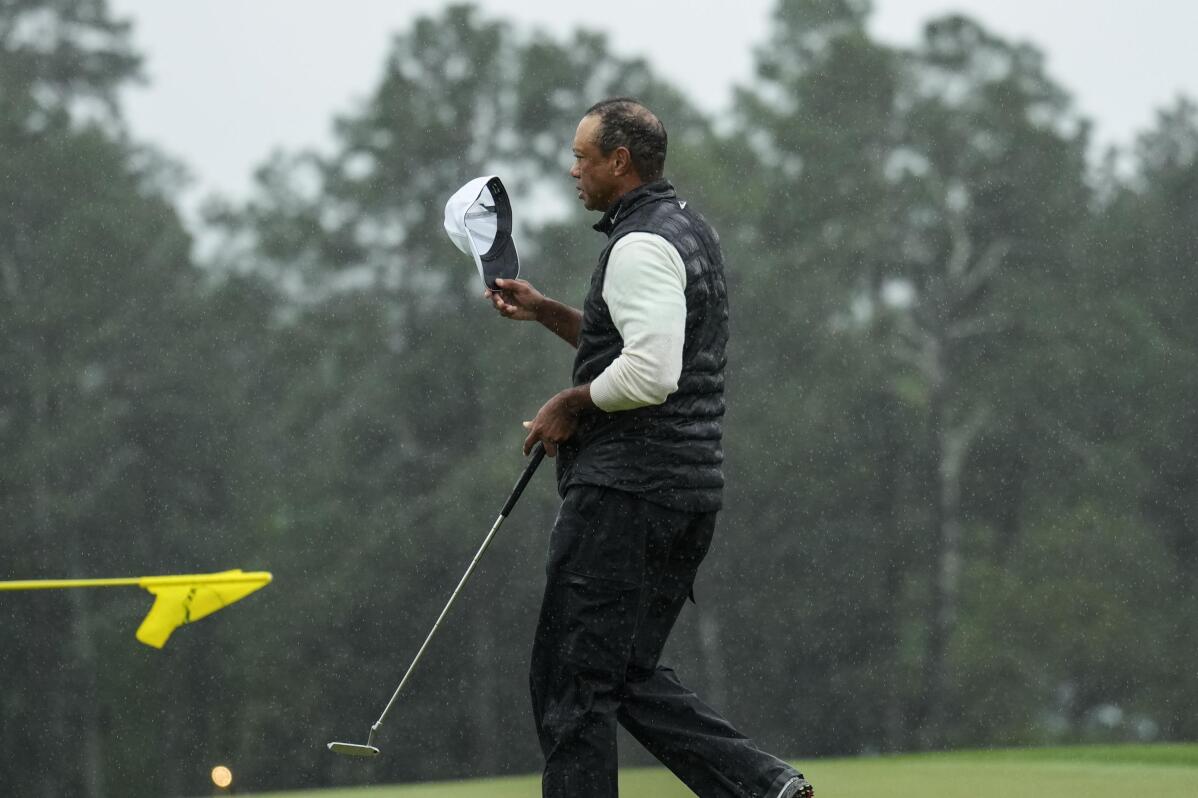 2 of 8

|
Tiger Woods walks off the on the 18th green after his weather delayed second round of the Masters golf tournament at Augusta National Golf Club on Saturday, April 8, 2023, in Augusta, Ga. (AP Photo/Charlie Riedel)
2 of 8
Tiger Woods walks off the on the 18th green after his weather delayed second round of the Masters golf tournament at Augusta National Golf Club on Saturday, April 8, 2023, in Augusta, Ga. (AP Photo/Charlie Riedel)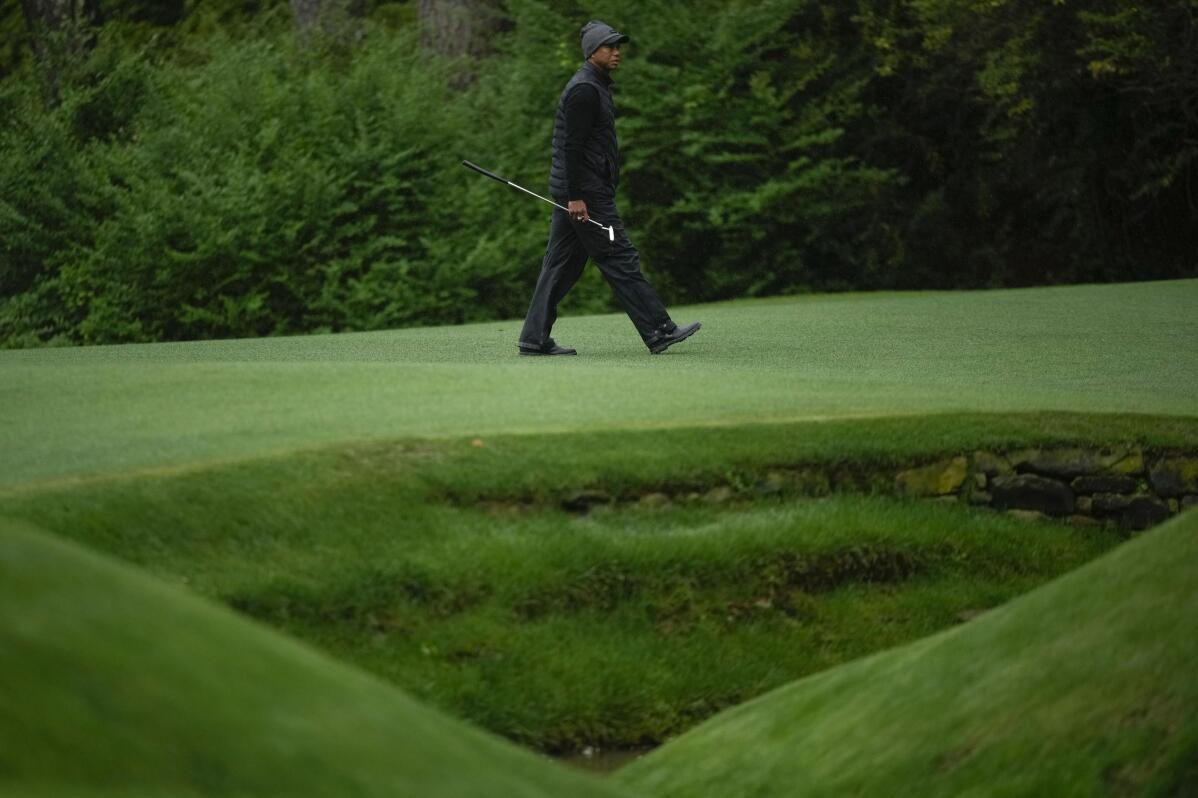 3 of 8

|
Tiger Woods walks to the green on the 13th hole during the weather delayed third round of the Masters golf tournament at Augusta National Golf Club on Saturday, April 8, 2023, in Augusta, Ga. (AP Photo/Matt Slocum)
3 of 8
Tiger Woods walks to the green on the 13th hole during the weather delayed third round of the Masters golf tournament at Augusta National Golf Club on Saturday, April 8, 2023, in Augusta, Ga. (AP Photo/Matt Slocum)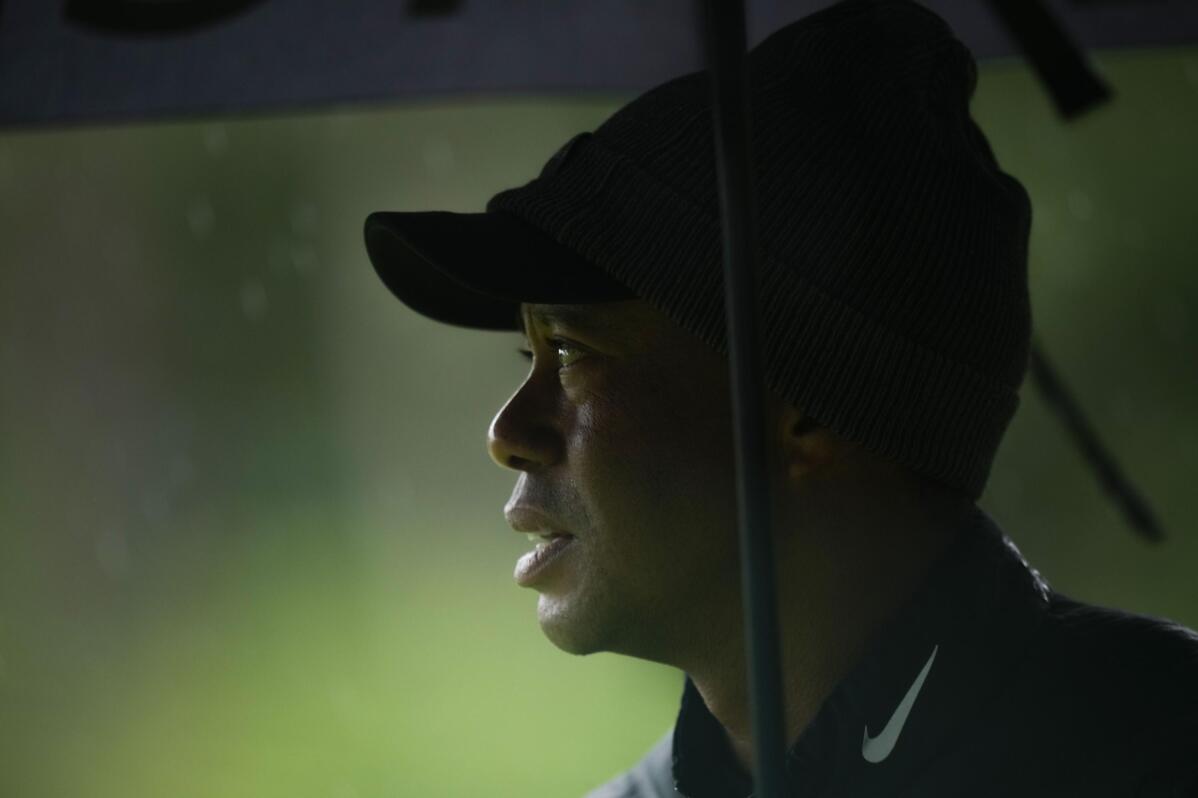 4 of 8

|
Tiger Woods watches on the 13th hole during the weather delayed third round of the Masters golf tournament at Augusta National Golf Club on Saturday, April 8, 2023, in Augusta, Ga. (AP Photo/Matt Slocum)
4 of 8
Tiger Woods watches on the 13th hole during the weather delayed third round of the Masters golf tournament at Augusta National Golf Club on Saturday, April 8, 2023, in Augusta, Ga. (AP Photo/Matt Slocum)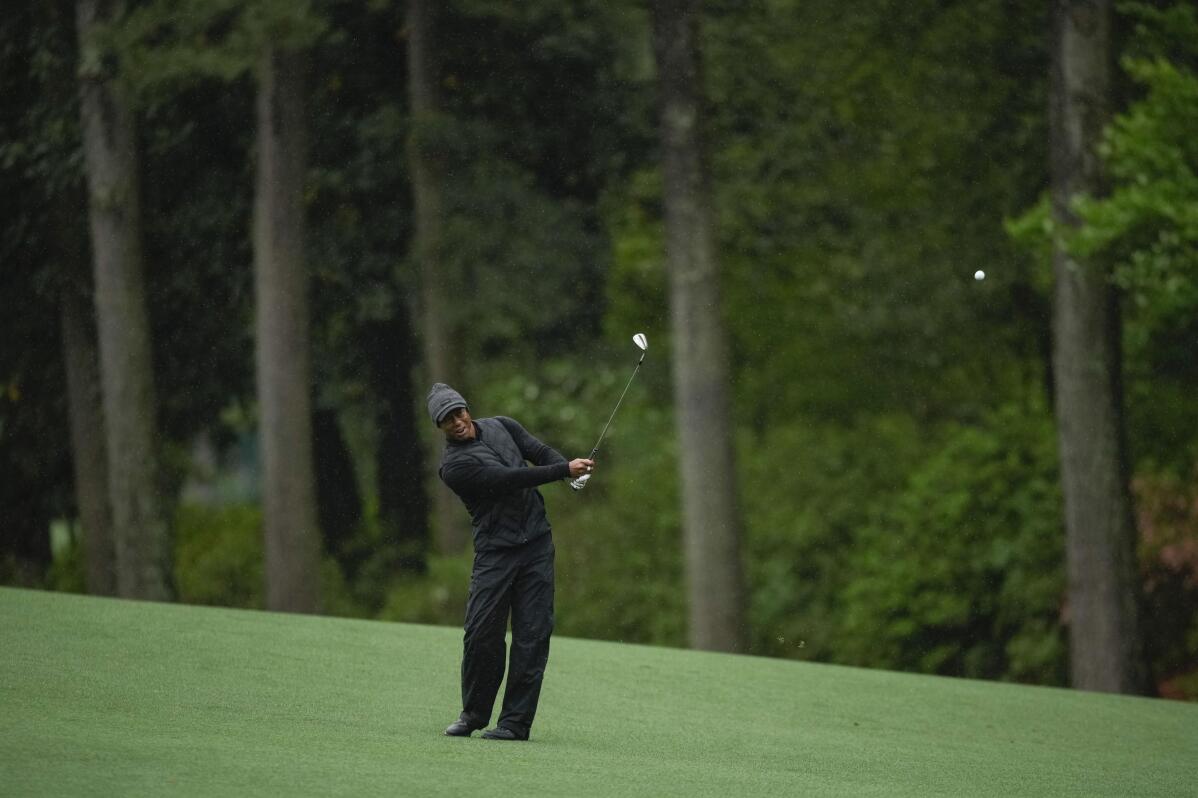 5 of 8

|
Tiger Woods chips to the green on the 13th hole during the weather delayed third round of the Masters golf tournament at Augusta National Golf Club on Saturday, April 8, 2023, in Augusta, Ga. (AP Photo/Matt Slocum)
5 of 8
Tiger Woods chips to the green on the 13th hole during the weather delayed third round of the Masters golf tournament at Augusta National Golf Club on Saturday, April 8, 2023, in Augusta, Ga. (AP Photo/Matt Slocum)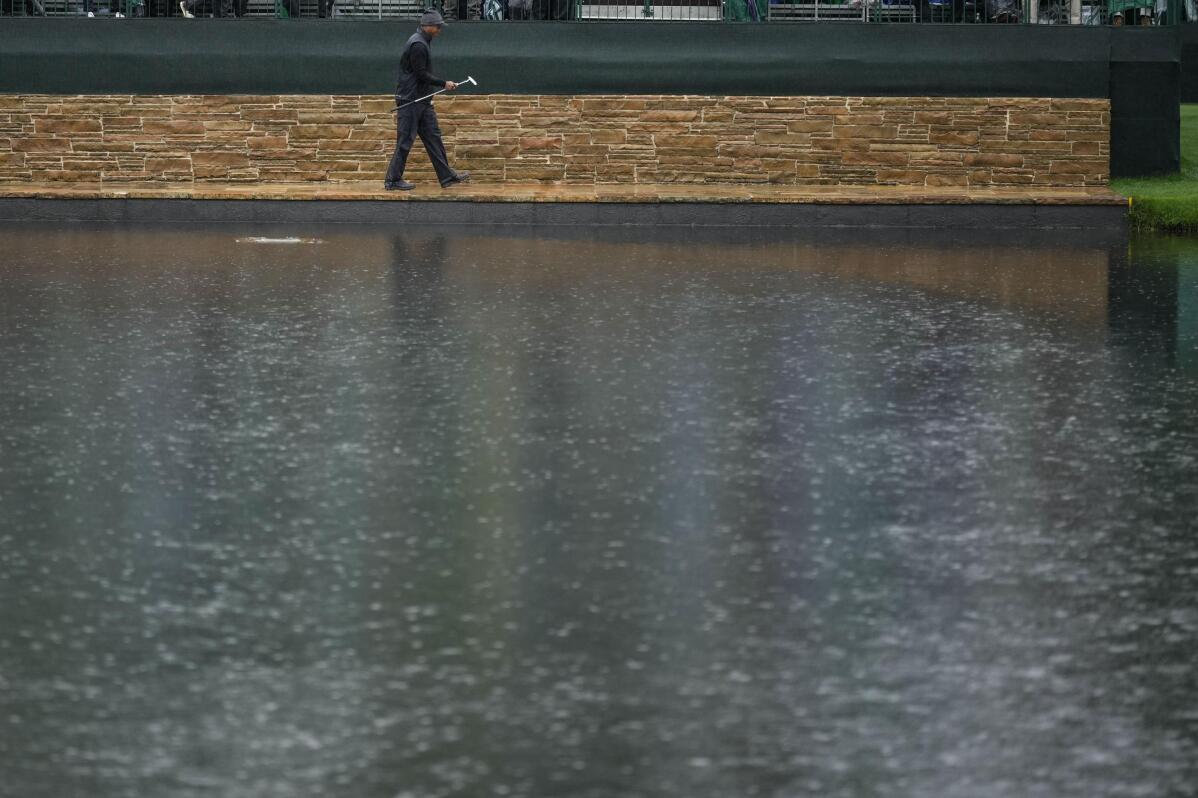 6 of 8

|
Tiger Woods walks to the green on the 15th hole during the weather delayed third round of the Masters golf tournament at Augusta National Golf Club on Saturday, April 8, 2023, in Augusta, Ga. (AP Photo/Matt Slocum)
6 of 8
Tiger Woods walks to the green on the 15th hole during the weather delayed third round of the Masters golf tournament at Augusta National Golf Club on Saturday, April 8, 2023, in Augusta, Ga. (AP Photo/Matt Slocum)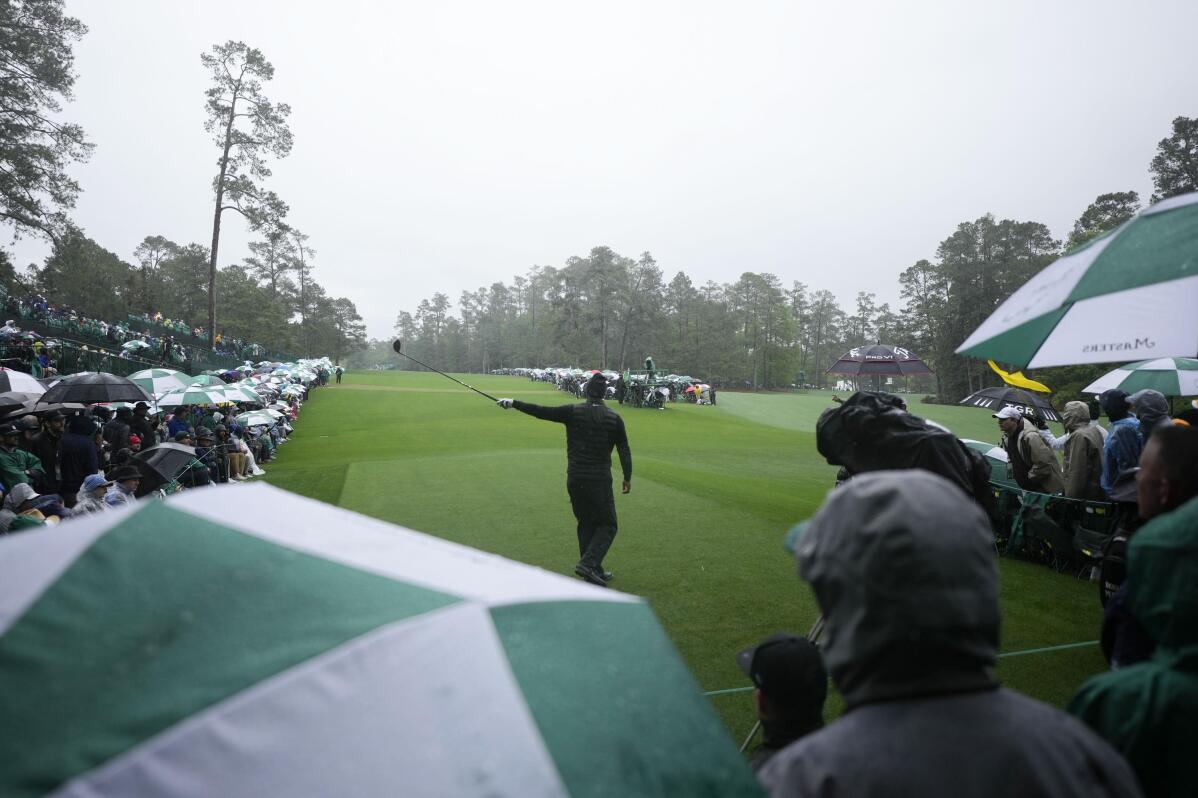 7 of 8

|
Tiger Woods point in the direction of his tee shot on the 14th hole during the weather delayed third round of the Masters golf tournament at Augusta National Golf Club on Saturday, April 8, 2023, in Augusta, Ga. (AP Photo/Matt Slocum)
7 of 8
Tiger Woods point in the direction of his tee shot on the 14th hole during the weather delayed third round of the Masters golf tournament at Augusta National Golf Club on Saturday, April 8, 2023, in Augusta, Ga. (AP Photo/Matt Slocum)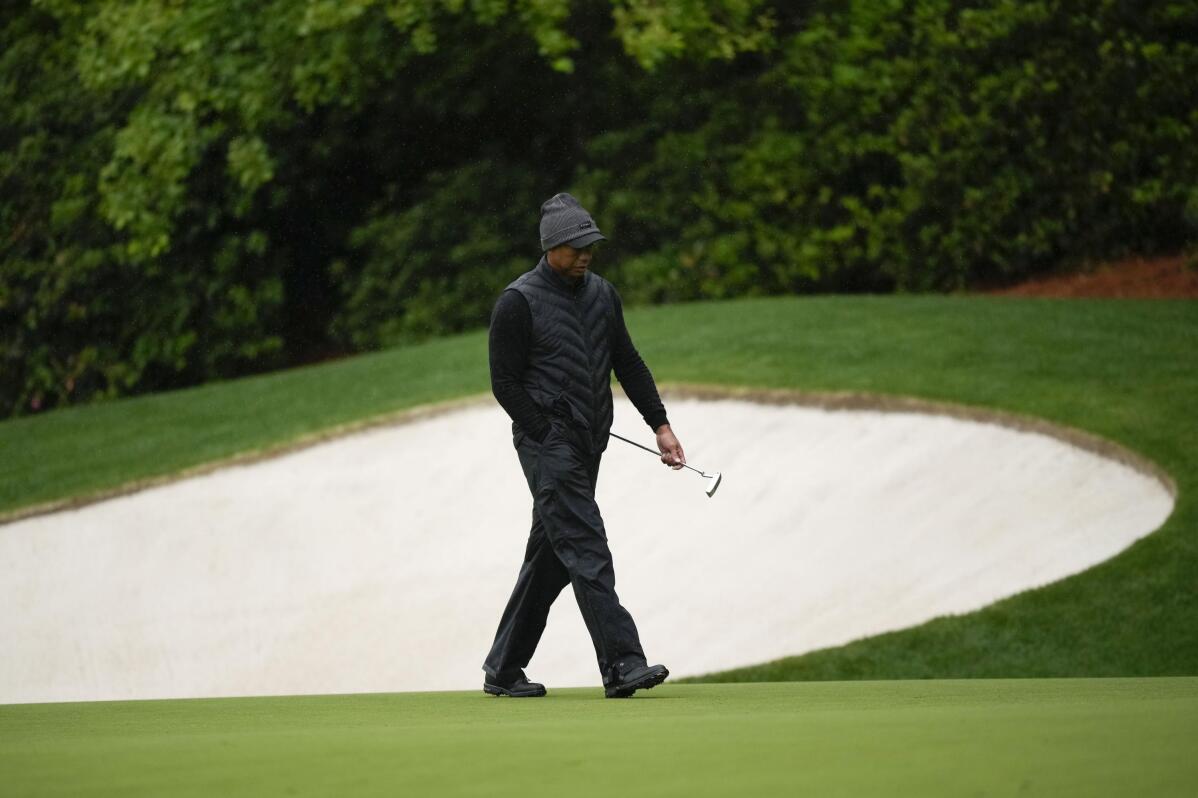 8 of 8

|
Tiger Woods walks on the 13th hole during the weather delayed third round of the Masters golf tournament at Augusta National Golf Club on Saturday, April 8, 2023, in Augusta, Ga. (AP Photo/Matt Slocum)
8 of 8
Tiger Woods walks on the 13th hole during the weather delayed third round of the Masters golf tournament at Augusta National Golf Club on Saturday, April 8, 2023, in Augusta, Ga. (AP Photo/Matt Slocum)
AUGUSTA, Ga. (AP) — It even sounds odd to say it: Tiger Woods is last among those still playing at the Masters.
But after Woods made the cut at Augusta National on Saturday, it all went downhill from there. Slogging through a rain-drenched, 49-degree day proved too much for the aching five-time champion to overcome.
The 47-year-old Woods, who is still recovering from a 2021 car accident that nearly cost him his right leg, looked miserable as he limped through a dreadfully long, exhausting day in obvious discomfort, playing seven holes in the morning to make the cut and then seven more in a steady downpour before the tournament was postponed until Sunday.
By the time the horn blew ending play at 3:15 p.m., Woods was alone in last place at 9-over, 22 shots behind third-round leader Brooks Koepka.
At 6 over through seven holes for round three, Woods is on pace for the worst 18 holes of his illustrious Masters career — topping the back-to-back 78s he posted in the third and fourth rounds at last year's tournament, where he finished 47th at 13-over 301.
Yes, making the cut for a 23rd straight time at the Masters as a professional was a major accomplishment for Woods. It matched a streak set by two other golf greats in Gary Player and Fred Couples.
But a break of more than two-and-a-half hours between rounds and yet another horrible weather day seemed to take its toll on Woods. Players teed off in threesomes from both the front and back nine as tournament officials looked to squeeze in as much golf as possible.
Woods' third round started with a bogey on the 10th hole, then progressively got worse. He bogeyed again at No. 14, then had back-to-back double bogeys after finding the water on both No. 15 and 16. It marked the first time he's ever had consecutive double bogeys at the Masters.
He was just off the green in two shots on the par-4 17th hole when the horn sounded, but he still had the formidable task of completing the front nine ahead of him.
This obviously wasn't the 15-time major champion the world has come to know.
In the past he's feasted on "moving day," playing the third round at the Masters in a combined 45-under par during his 22 appearances as a professional. In fact only three times has Woods not shot par or better on Saturday at Augusta National prior to this year.
But this was not one of those Saturdays.
Wearing a gray winter hat over the top of a baseball cap, he continued to sludge his way around the course even as the wind chill dipped to 42 degrees and the rain pounded him in the face.
In years past Woods has shown emotion when he's made a bad shot, but not on this day.
And it won't be any easier on Sunday for Woods, who has said he is in "constant pain."
Woods has never withdrawn from the Masters. Staring at another 28 1/2 holes to play on Sunday, although with no rain in the forecast, Woods will need to find a way to re-energize himself if he is to finish the tournament.
___
AP golf: https://apnews.com/hub/golf and https://twitter.com/AP_Sports