Irving senses Mavs' urgency in new star pairing with Doncic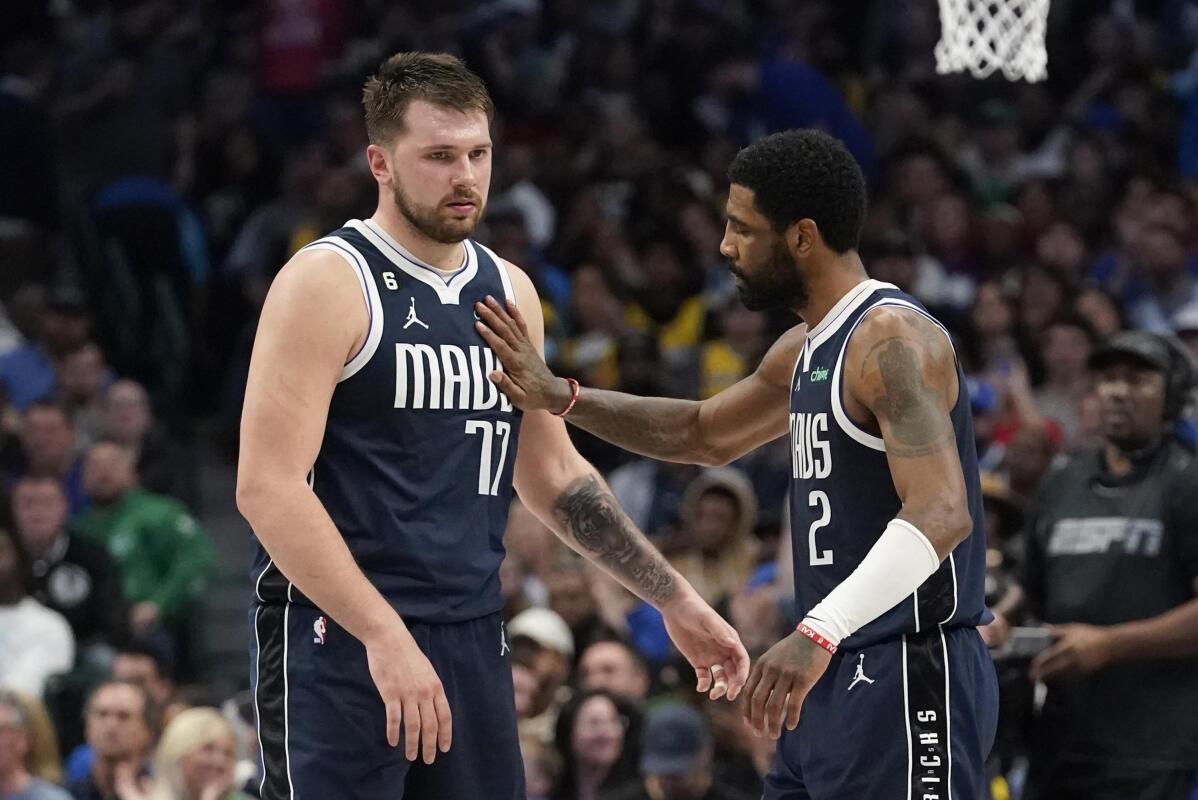 1 of 3

|
Dallas Mavericks guard Luka Doncic (77) gets a pat from teammate guard Kyrie Irving (2) during the second half of an NBA basketball game against the Los Angeles Lakers in Dallas, Sunday, Feb. 26, 2023. (AP Photo/LM Otero)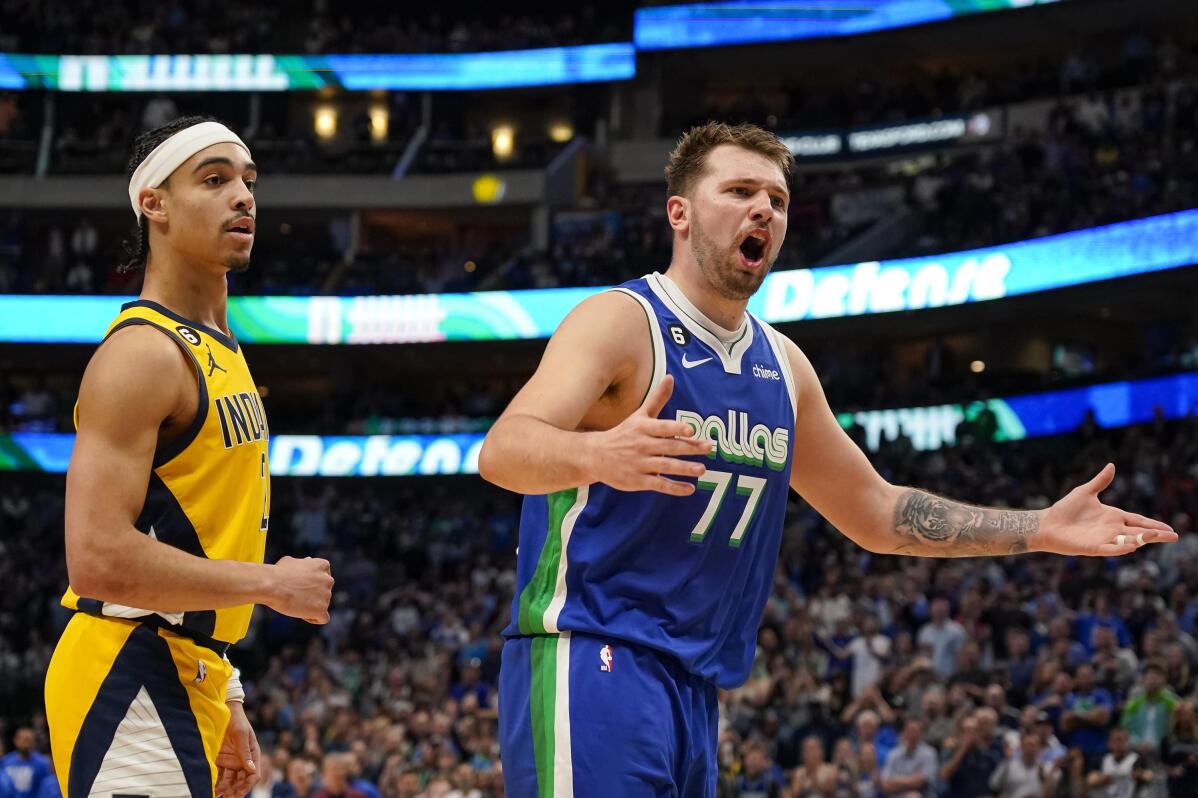 2 of 3

|
Dallas Mavericks guard Luka Doncic (77) reacts to a foul call during the second half of NBA basketball game against the Indiana Pacers in Dallas, Tuesday, Feb. 28, 2023. (AP Photo/Sam Hodde)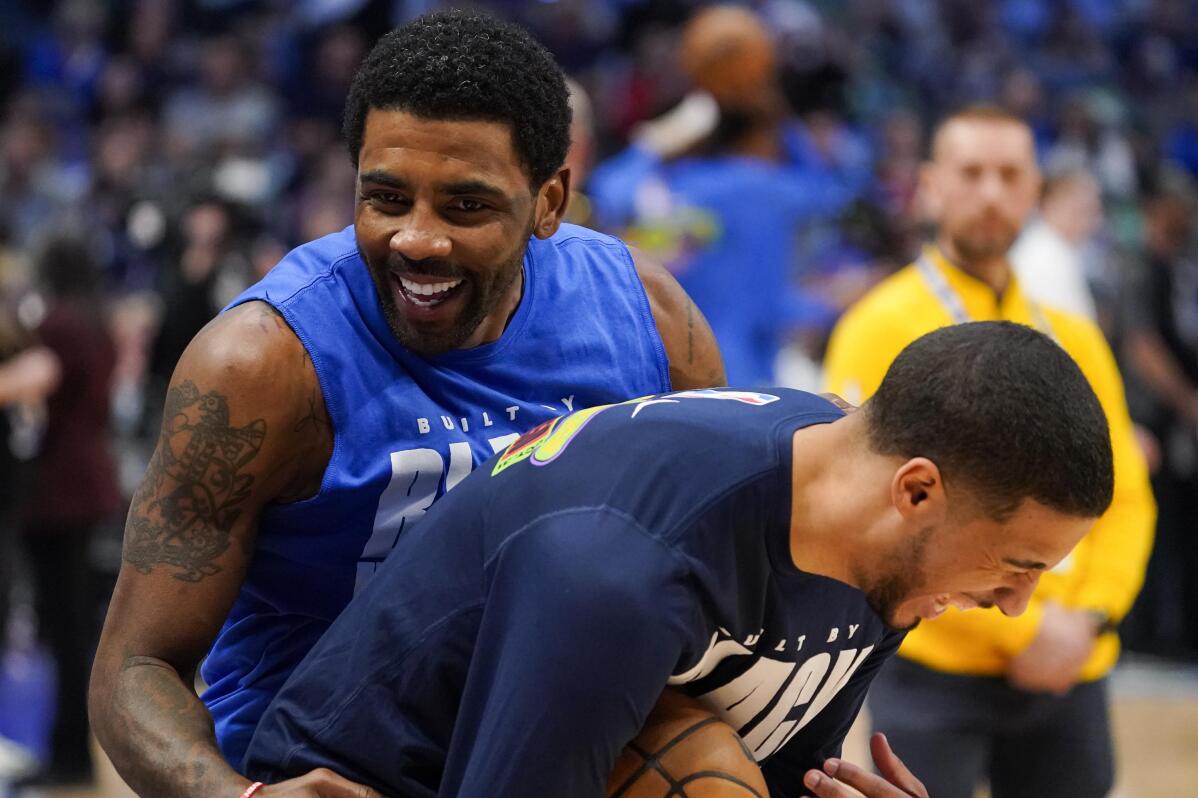 3 of 3

|
Dallas Mavericks guard Kyrie Irving embraces Indiana Pacers guard Tyrese Haliburton before an NBA basketball game in Dallas, Tuesday, Feb. 28, 2023. (AP Photo/Sam Hodde)
Irving senses Mavs' urgency in new star pairing with Doncic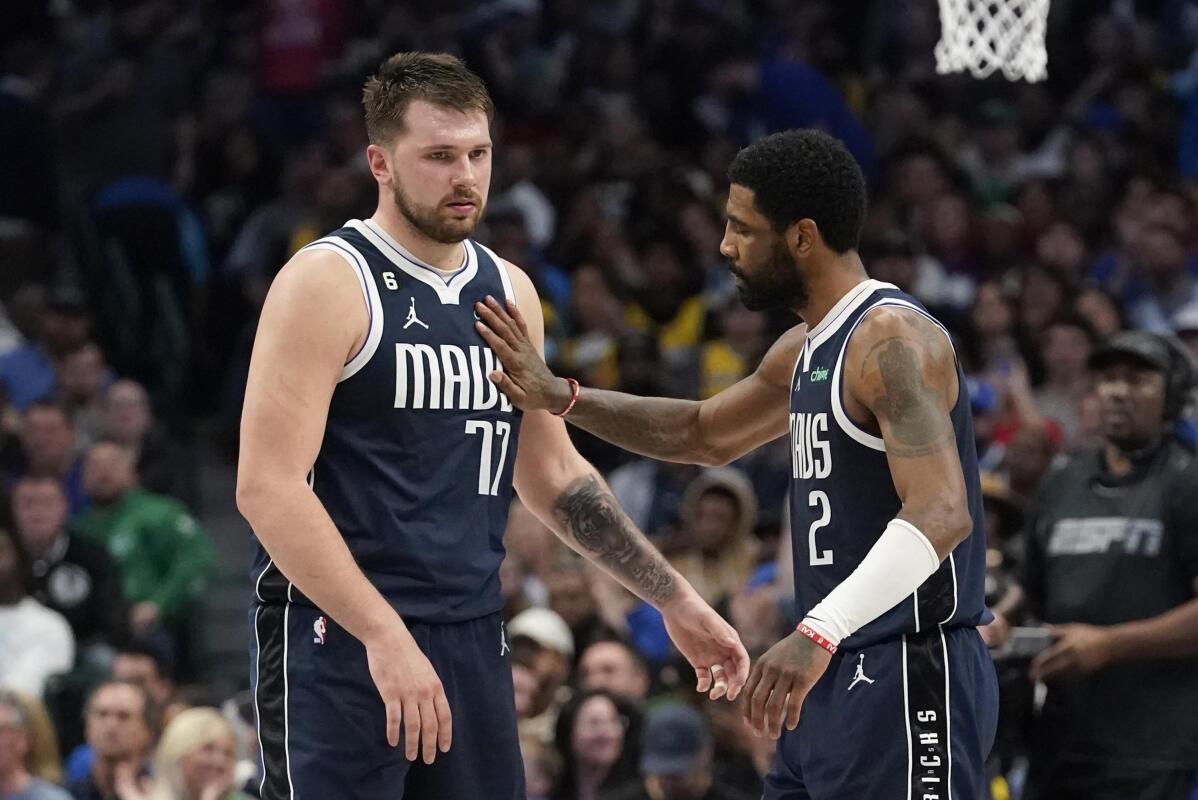 1 of 3

|
Dallas Mavericks guard Luka Doncic (77) gets a pat from teammate guard Kyrie Irving (2) during the second half of an NBA basketball game against the Los Angeles Lakers in Dallas, Sunday, Feb. 26, 2023. (AP Photo/LM Otero)
1 of 3
Dallas Mavericks guard Luka Doncic (77) gets a pat from teammate guard Kyrie Irving (2) during the second half of an NBA basketball game against the Los Angeles Lakers in Dallas, Sunday, Feb. 26, 2023. (AP Photo/LM Otero)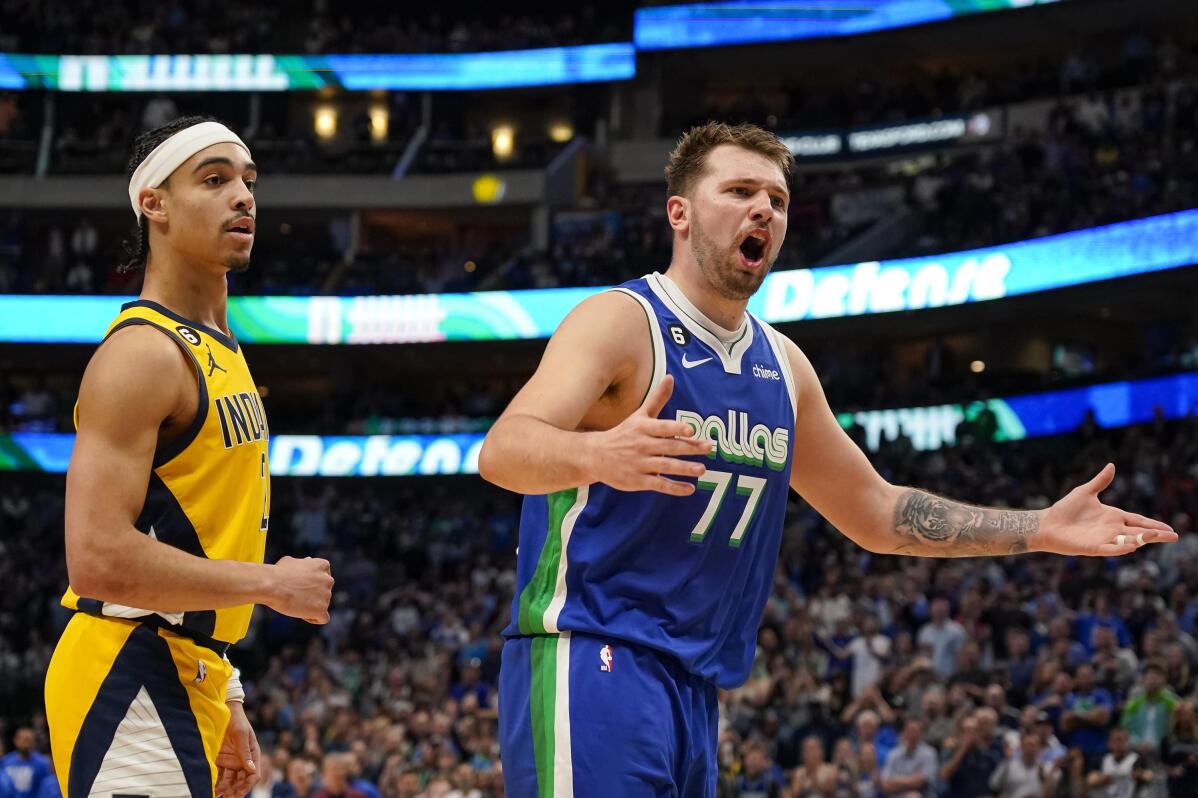 2 of 3

|
Dallas Mavericks guard Luka Doncic (77) reacts to a foul call during the second half of NBA basketball game against the Indiana Pacers in Dallas, Tuesday, Feb. 28, 2023. (AP Photo/Sam Hodde)
2 of 3
Dallas Mavericks guard Luka Doncic (77) reacts to a foul call during the second half of NBA basketball game against the Indiana Pacers in Dallas, Tuesday, Feb. 28, 2023. (AP Photo/Sam Hodde)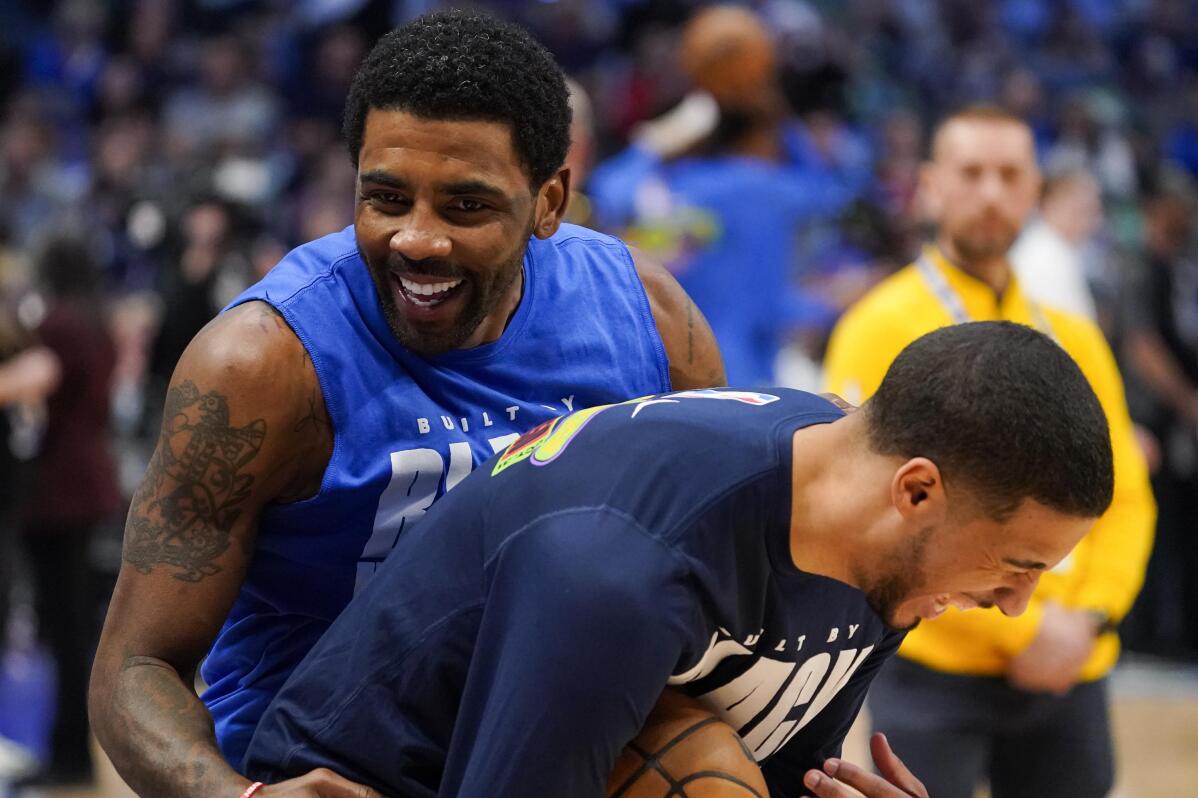 3 of 3

|
Dallas Mavericks guard Kyrie Irving embraces Indiana Pacers guard Tyrese Haliburton before an NBA basketball game in Dallas, Tuesday, Feb. 28, 2023. (AP Photo/Sam Hodde)
3 of 3
Dallas Mavericks guard Kyrie Irving embraces Indiana Pacers guard Tyrese Haliburton before an NBA basketball game in Dallas, Tuesday, Feb. 28, 2023. (AP Photo/Sam Hodde)
DALLAS (AP) — Kyrie Irving senses the stress of trying to figure things out with Luka Doncic and the rest of his new Dallas teammates as the Mavericks jostle for playoff positioning in the tightly packed Western Conference.
The superstars are 1-4 together since the blockbuster trade that brought Irving over from Brooklyn, giving Dallas two All-Star starters for the first time in franchise history.
One or both has had the ball in his hands with a chance to tie or win in the final seconds of each of those four losses.
Since they didn't come through, they're now at risk of a 1-6 start together.
Philadelphia and Joel Embiid, neck-and-neck with Doncic in the scoring race, visit Thursday night followed by Phoenix and newly acquired star Kevin Durant on Sunday.
"Right now, it's just high-intense environment. I can feel it," Irving said after missing a last-second 3-pointer in Tuesday's 124-122 loss to Indiana. "Everybody wants to win. That's a great thing. Everybody cares. But now we've just got to figure out what our temperament is, what our emotion is."
That, along with offensive tendencies and defensive coverages, among plenty of other things. Without much time to do it.
The loss to the Pacers, which came two days after Dallas blew a 27-point lead in a 111-108 loss to the Los Angeles Lakers, dropped the Mavs out of the top six in the West with 19 games remaining.
The good news for Dallas: A modest winning streak could restore hope for home-court advantage in the first round, which the Mavs (32-31) had last year in reaching the West finals.
The bad news: A not-very-long losing streak could lead to Dallas missing the playoffs altogether. That would be a catastrophic outcome considering what the club gave up to get Irving with no guarantee that he will re-sign as an unrestricted free agent this summer.
"I really want to win here, really put a lot of pressure on myself," Irving said. "At times, I think I need to scale it back a little bit. Usually these learning curves and learning moments happen in preseason, but it's happening now. It puts a glaring eye on what we're doing right and what we're doing wrong."
Since the Mavs led 48-21 in the second quarter against the Lakers, Irving is 1 of 13 from 3-point range. Doncic had 14 points in the first quarter against the Lakers, but just 12 after that.
In their first game together, Doncic missed a potential tying 3 with 14 seconds left in overtime of a 133-128 loss at Sacramento. The next game, they exchanged three passes and didn't get off a shot in the final seconds of a 124-121 loss at home to Minnesota.
A mixup on Irving's inbound pass to Doncic with 15 seconds left against the Lakers took away a chance to tie. Then Irving missed a contested 3 with Doncic watching from a corner against the Pacers, who had won just four of their previous 21 games.
"It was a good shot, I think," Doncic said. "He can make a lot of those shots. We trust him."
Trust will be another topic as Dallas tries to ensure at least a chance to match last season's playoff run, which ended with a five-game loss to the eventual champion Golden State.
The Mavs say they couldn't pass up a chance to put a superstar alongside Doncic, even a disgruntled one on an expiring contract. A 2-5 start since Irving joined Dallas is making the clock tick a little faster.
"I know there's 15 other guys that are relying on me to do things that they've either seen me do or they're expecting me to do as one of the best players in the league," said Irving, an eight-time All-Star who won a title alongside LeBron James in Cleveland in 2016. "Sitting alongside Luka, I just have to show up to the party."
And it's starting to get a little late.
___
More AP NBA: https://apnews.com/NBA and https://twitter.com/AP_Sports