Republican leaders seek federal inquiry of New Mexico claims
1 of 2

|
New Mexico Department of Health Secretary Patrick Allen speaks during a press conference Monday, March 20, 2023, at the state capitol on Monday, March 20, 2023, in Santa Fe, N.M. Gov. Michelle Luján Grisham, members of her cabinet and law enforcement officials gathered to provide an update on ongoing investigations into an alleged abuse and neglect case involving a developmentally disabled person that was brought to the state's attention March 1. (Javier Gallegos/Santa Fe New Mexican via AP)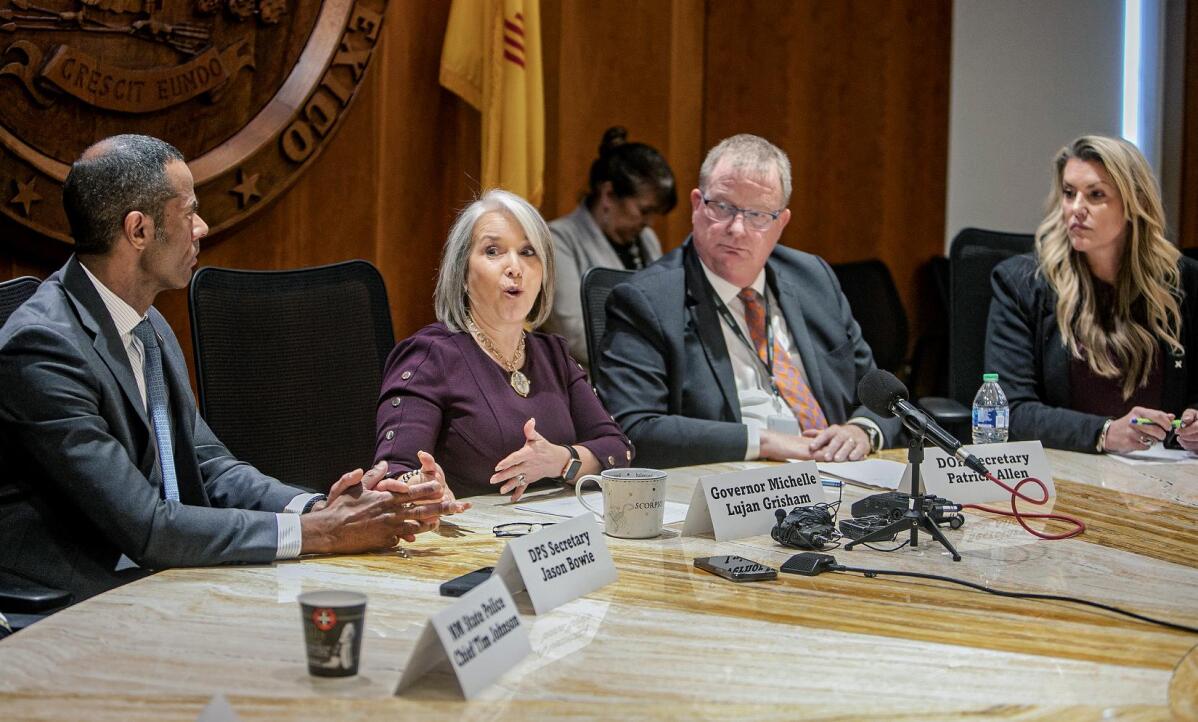 2 of 2

|
New Mexico Gov. Michelle Luján Grisham, center left, speaks during a press conference and provides updates on ongoing investigations following an alleged case of severe abuse and neglect of a developmentally disabled adult, at the state capitol on Monday, March 20, 2023, in Santa Fe, N.M. (Javier Gallegos/Santa Fe New Mexican via AP)
Republican leaders seek federal inquiry of New Mexico claims
1 of 2

|
New Mexico Department of Health Secretary Patrick Allen speaks during a press conference Monday, March 20, 2023, at the state capitol on Monday, March 20, 2023, in Santa Fe, N.M. Gov. Michelle Luján Grisham, members of her cabinet and law enforcement officials gathered to provide an update on ongoing investigations into an alleged abuse and neglect case involving a developmentally disabled person that was brought to the state's attention March 1. (Javier Gallegos/Santa Fe New Mexican via AP)
1 of 2
New Mexico Department of Health Secretary Patrick Allen speaks during a press conference Monday, March 20, 2023, at the state capitol on Monday, March 20, 2023, in Santa Fe, N.M. Gov. Michelle Luján Grisham, members of her cabinet and law enforcement officials gathered to provide an update on ongoing investigations into an alleged abuse and neglect case involving a developmentally disabled person that was brought to the state's attention March 1. (Javier Gallegos/Santa Fe New Mexican via AP)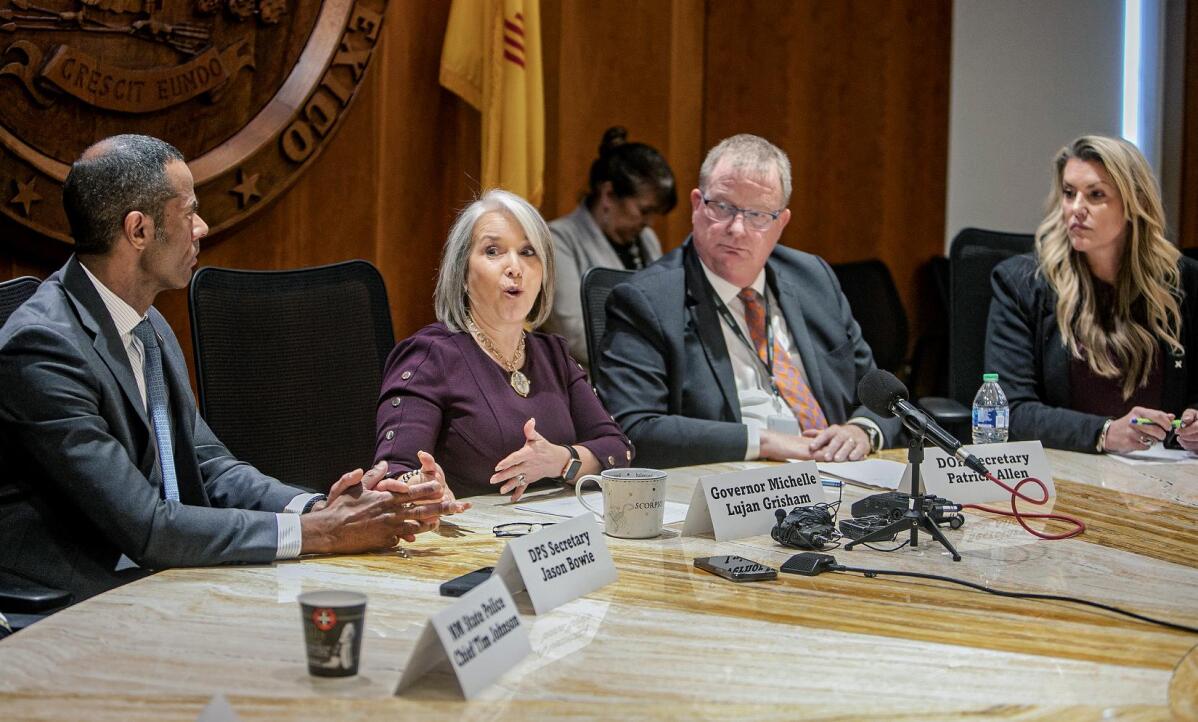 2 of 2

|
New Mexico Gov. Michelle Luján Grisham, center left, speaks during a press conference and provides updates on ongoing investigations following an alleged case of severe abuse and neglect of a developmentally disabled adult, at the state capitol on Monday, March 20, 2023, in Santa Fe, N.M. (Javier Gallegos/Santa Fe New Mexican via AP)
2 of 2
New Mexico Gov. Michelle Luján Grisham, center left, speaks during a press conference and provides updates on ongoing investigations following an alleged case of severe abuse and neglect of a developmentally disabled adult, at the state capitol on Monday, March 20, 2023, in Santa Fe, N.M. (Javier Gallegos/Santa Fe New Mexican via AP)
SANTA FE, N.M. (AP) — Republican legislative leaders in New Mexico are asking the federal government to investigate two divisions in the state Health Department amid allegations of abuse, neglect and exploitation of developmentally disabled people.
The GOP House leaders sent a letter Wednesday to the inspector general for the U.S. Department of Health and Human Services, saying an independent investigation would ensure transparency and might prompt the state to take necessary steps to prevent such cases in the future.
"Unfortunately, the state of New Mexico has a rather dismal record of protecting vulnerable populations who are under the care of state agencies and who receive needed services through state administered programs," the letter states. "These recently discovered cases of alleged abuse, neglect and exploitation create a new round of questions and concerns."
Democratic Gov. Michelle Lujan Grisham has called the allegations horrific, issuing a warning last week that caregivers who mistreat and abuse developmentally disabled or otherwise vulnerable people will be held accountable by the state.
The governor and top health officials confirmed there was an ongoing investigation into an alleged abuse and neglect case involving a developmentally disabled person that was brought to the state's attention March 1.
That case resulted in the state terminating contracts with four providers in the Albuquerque area. It also prompted what the governor described as a forensic review of the entire developmentally disabled waiver system, which is meant to offer an alternative to institutional care.
Five more cases — including three in which individuals being cared for died — are also under investigation. Officials have said they haven't determined if those deaths are tied to abuse or neglect.
State officials also were looking at several other potential cases following visits by health workers to clients who participate in the federally funded waiver program. More than 6,600 people receive services from one of the state's five developmental disabilities programs.
The GOP lawmakers said the incidents of neglect and abuse seem to be related to system failures of various home and community based programs that fall under the purview of the Developmental Disabilities Supports Division and Division of Health Improvement, which report to the Health Department.
Jodi McGinnis Porter, a department spokeswoman, wrote in an email to the Santa Fe New Mexican that the department shared the legislators' concerns.
"It's exactly why we initiated our own comprehensive internal review of the system and processes to improve quality management of provider agencies, Medicaid oversight, and monitoring of services for individuals with intellectual and developmental disabilities who are supported by our Developmental Disabilities Waiver programs," she wrote.
The department has contracted with a law firm to investigate processes and recommend improvements.
McGinnis Porter said the department will cooperate with the federal inspector general should that office choose to investigate as well.
"Put simply, we want to use every resource available to ensure that disabled clients in DD Waiver programs are well cared for and that every allegation of abuse, neglect, and Medicaid fraud is fully investigated," she wrote.