Group plans to put legalization of medical marijuana on Nebraska ballot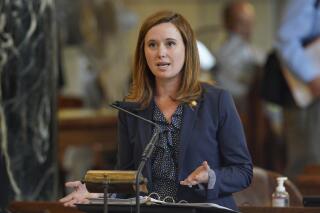 A group led by a Nebraska state lawmaker plans to again try to put the question of legalizing medical marijuana before state voters in November 2024.
It will be the third time Nebraskans for Medical Marijuana launch a petition effort after two previous efforts failed.
In 2020, the group came close to placing the issue on the general election ballot after meeting signature requirements. But opponents led by Lancaster County Sheriff Terry Wagner sued, arguing that it violated state rules requiring ballot measures to focus on a single question. Instead, they argued, the measure posed two separate questions: whether residents should have the right to use marijuana for medical purposes, and whether private companies should be allowed to grow and sell it.
The state Supreme Court sided with the effort's opponents and prevented it from going to voters.
Last year, with only months to gather the roughly 87,000 signatures needed from registered voters, organizers failed to collect enough valid signatures in time to get the question on the November ballot.
To prevent a repeat of those failures, the latest petition language consists of two petitions — one to set up the doctor-patient system and one to regulate the industry. Organizers also note they have more time this go-round to collect enough valid signatures.
The proposal would ask voters to legalize the possession, manufacture, distribution, delivery and dispensing of marijuana for medical reasons and would establish a commission to regulate a state medical cannabis program.
Sen. Anna Wishart, who co-chairs the group, announced Thursday on the legislative floor that the group had filed paperwork with the state Secretary of State's office to kick off the latest petition effort.
"We had a chance this year to pass a narrowly crafted piece of legislation that would have safely allowed individuals with severe medical conditions to have access, and that bill couldn't get out of committee," said Wishart, a Democrat in the officially nonpartisan Nebraska Legislature. "This issue is supported by Nebraskans. And now we have a year and a half to get enough signatures to put this on the ballot."
In the last decade, dozens of states have legalized marijuana, either for medical or recreational use or both, and other states continue to efforts at legalization, even though it remains illegal under federal law.
It will take about three weeks until the petitions can be printed, the group said in a news release Thursday. The deadline for signatures is July 5, 2024, and if validated by the Nebraska Secretary of State's office, the question to legalize medical cannabis will appear on the November 2024 general election ballot.
The group is planning a campaign and signature-drive launch in early June.