Death toll in Mexico migrant detention center fire up to 40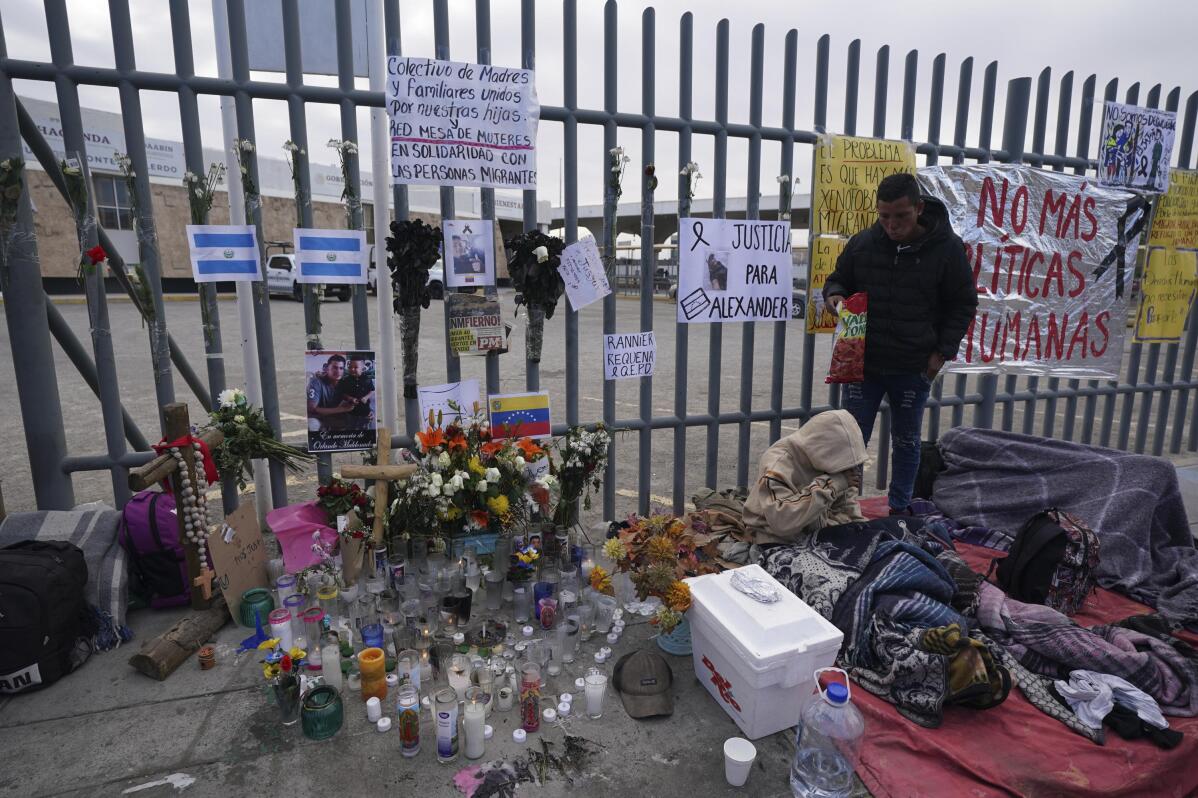 1 of 3

|
An altar with candles and photos covers the fence outside the Mexican immigration detention center that was the site of a deadly fire, as migrants wake up after spending the night on the sidewalk in Ciudad Juarez, Mexico, Thursday, March 30, 2023. (AP Photo/Fernando Llano)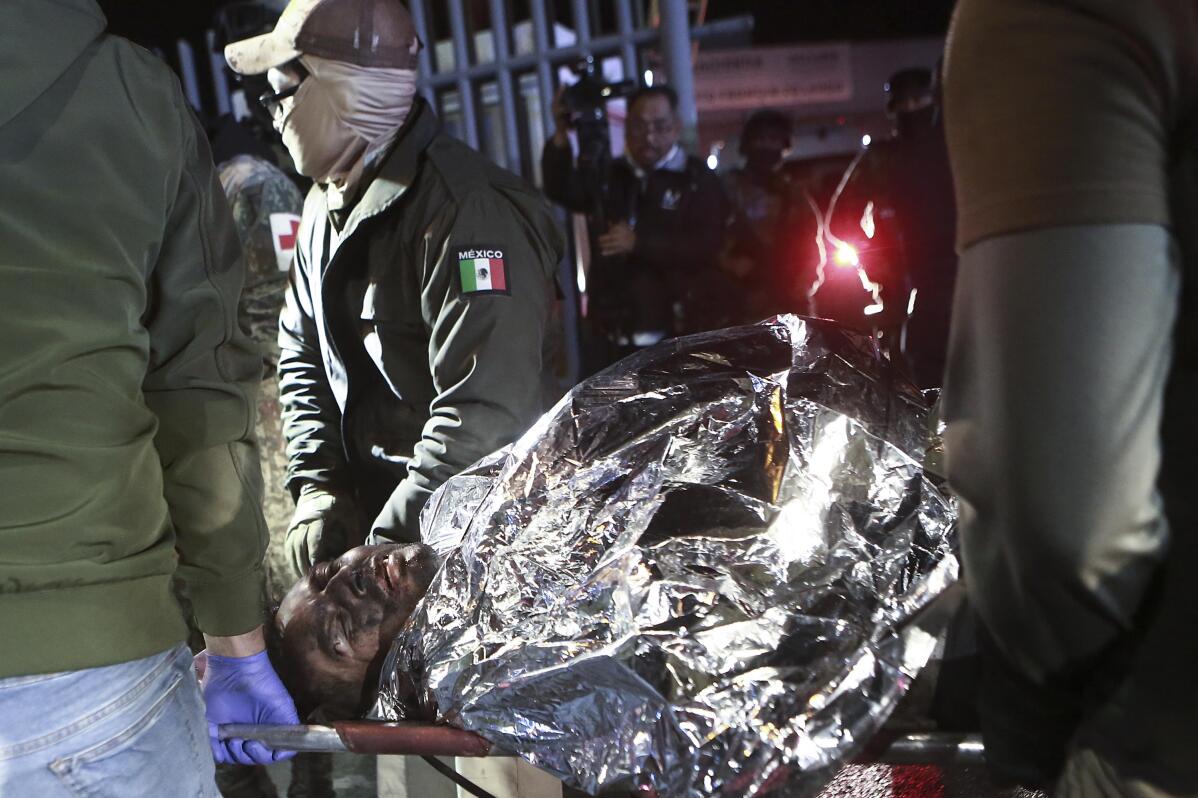 2 of 3

|
Paramedics carry a migrant who was wounded in a deadly fire at an immigration detention center in Ciudad Juarez, Mexico, Tuesday, March 28, 2023. (AP Photo/Christian Chavez)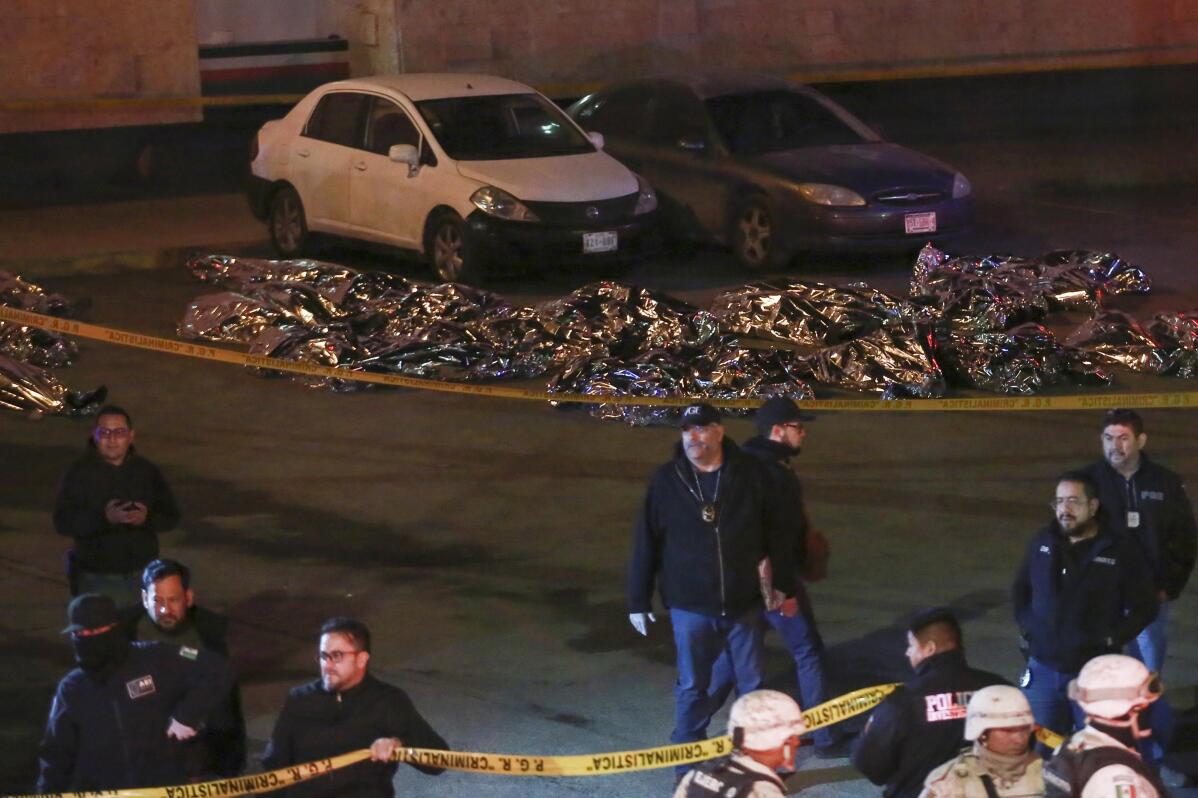 3 of 3

|
The bodies of migrants lay covered after a deadly fire broke out at an immigration detention center in Ciudad Juarez, Mexico, Tuesday, March 28, 2023. (AP Photo/Christian Chavez)
Death toll in Mexico migrant detention center fire up to 40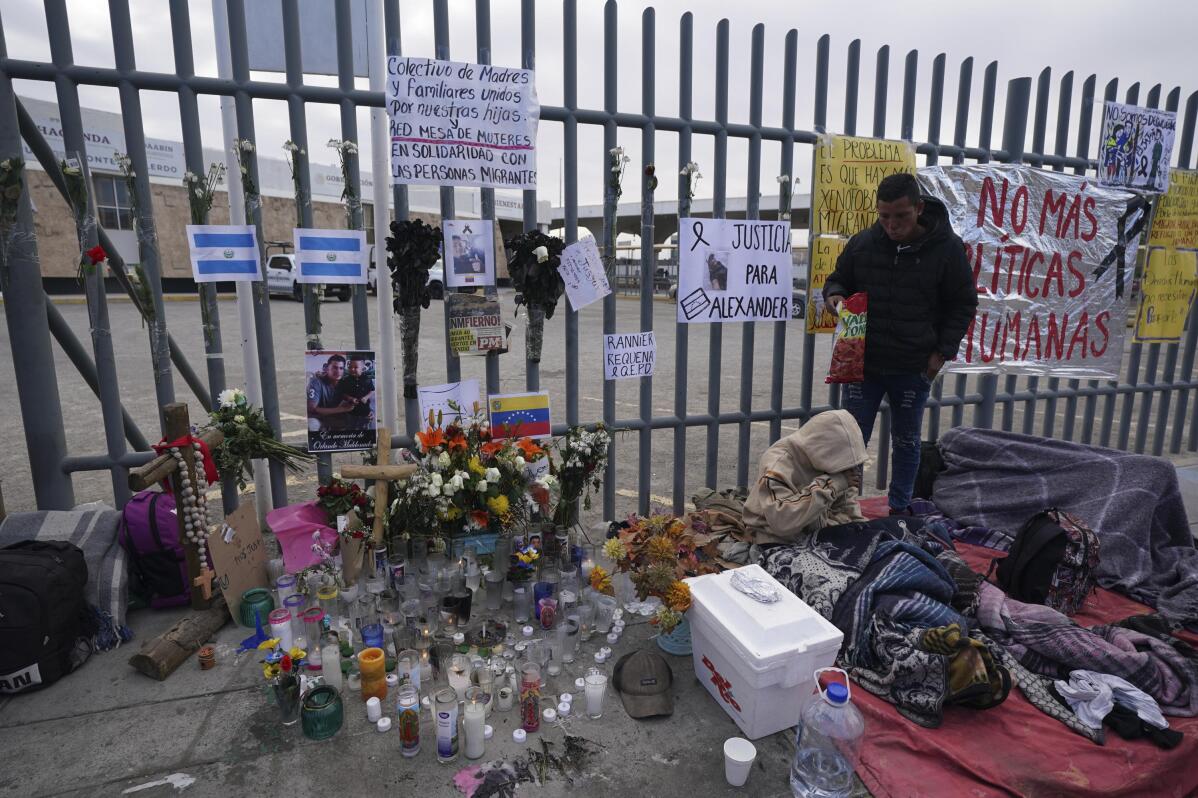 1 of 3

|
An altar with candles and photos covers the fence outside the Mexican immigration detention center that was the site of a deadly fire, as migrants wake up after spending the night on the sidewalk in Ciudad Juarez, Mexico, Thursday, March 30, 2023. (AP Photo/Fernando Llano)
1 of 3
An altar with candles and photos covers the fence outside the Mexican immigration detention center that was the site of a deadly fire, as migrants wake up after spending the night on the sidewalk in Ciudad Juarez, Mexico, Thursday, March 30, 2023. (AP Photo/Fernando Llano)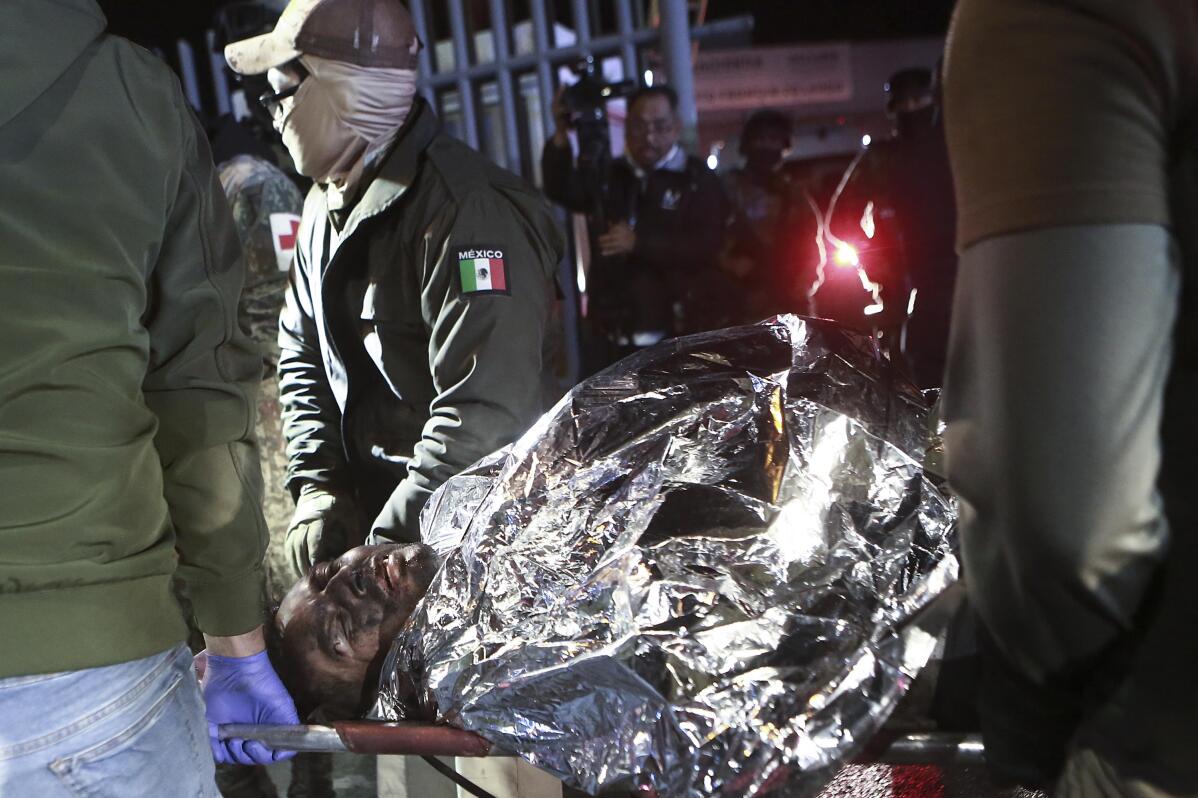 2 of 3

|
Paramedics carry a migrant who was wounded in a deadly fire at an immigration detention center in Ciudad Juarez, Mexico, Tuesday, March 28, 2023. (AP Photo/Christian Chavez)
2 of 3
Paramedics carry a migrant who was wounded in a deadly fire at an immigration detention center in Ciudad Juarez, Mexico, Tuesday, March 28, 2023. (AP Photo/Christian Chavez)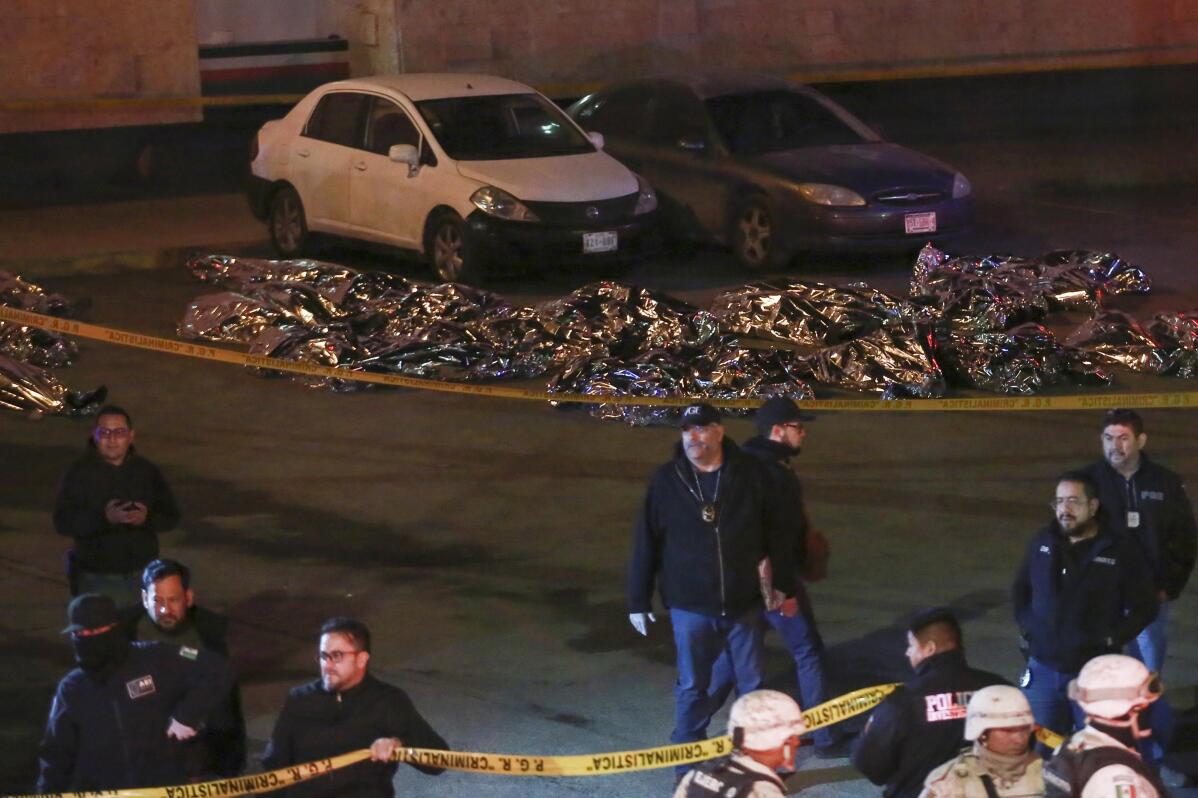 3 of 3

|
The bodies of migrants lay covered after a deadly fire broke out at an immigration detention center in Ciudad Juarez, Mexico, Tuesday, March 28, 2023. (AP Photo/Christian Chavez)
3 of 3
The bodies of migrants lay covered after a deadly fire broke out at an immigration detention center in Ciudad Juarez, Mexico, Tuesday, March 28, 2023. (AP Photo/Christian Chavez)
MEXICO CITY (AP) — The death toll in a fire last week at a migrant detention center in a Mexican border city has risen to 40, after one of the injured men died while being flown to a specialized hospital in Mexico City.
The federal public safety department confirmed the death Monday.
Mexico had previously turned down a U.S. offer to help provide medial treatment to the injured, most of whom suffered smoke inhalation, saying they were too ill to be moved. But the department said a medical decision was made to fly some of the injured to a specialized respiratory hospital in the capital.
The fire in Ciudad Juarez injured 27 men, 23 of whom remain hospitalized.
Six people have been charged with homicide in the fire, including an inmate accused of igniting it and officials who failed to get victims to safety. The fire allegedly started when a small group of migrants protested against a feared deportation, and at least one set mattresses on fire.
That migrant, along with three officials from the National Immigration Institute and two private security guards at the detention center, face charges of homicide and causing injuries. The federal prosecutor's office says it also is investigating others for possible misdeeds.
The migrant accused of starting the fire suffered only slight injuries and already was released from the hospital, presumably into custody. One of the private security guards has not yet been arrested.
A video from a security camera inside the facility shows guards walking away when the fire started inside the cell holding migrants and not making any attempt to release them. It was not clear whether those guards had keys to the cell doors.
There have been years of complaints about poor conditions and human rights violations at migrant detention facilities in Mexico, including inadequate ventilation, food and water, and overflowing toilets.
There also has been evidence of corruption throughout Mexico's immigration system, in which everyone from lawyers and immigration officials to guards have taken bribes to allow migrants out of detention.
Little has been done up to now to address these concerns.