Flacco to start for Jets in finale vs Dolphins, White out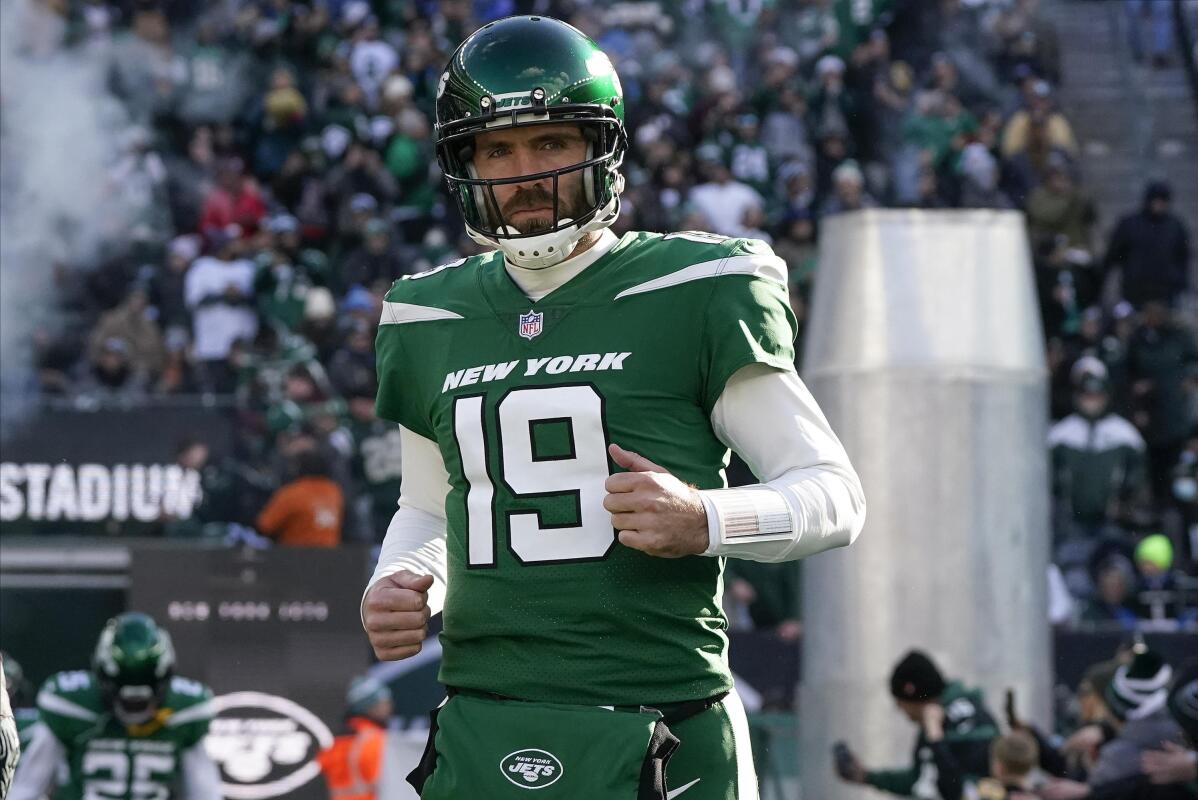 1 of 2

|
FILE - New York Jets quarterback Joe Flacco (19) enters the field before an NFL football game against the Detroit Lions, Sunday, Dec. 18, 2022, in East Rutherford, N.J. Flacco will start at quarterback for the New York Jets on Sunday with Mike White ruled out against the Miami Dolphins with a rib injury. (AP Photo/Bryan Woolston, File)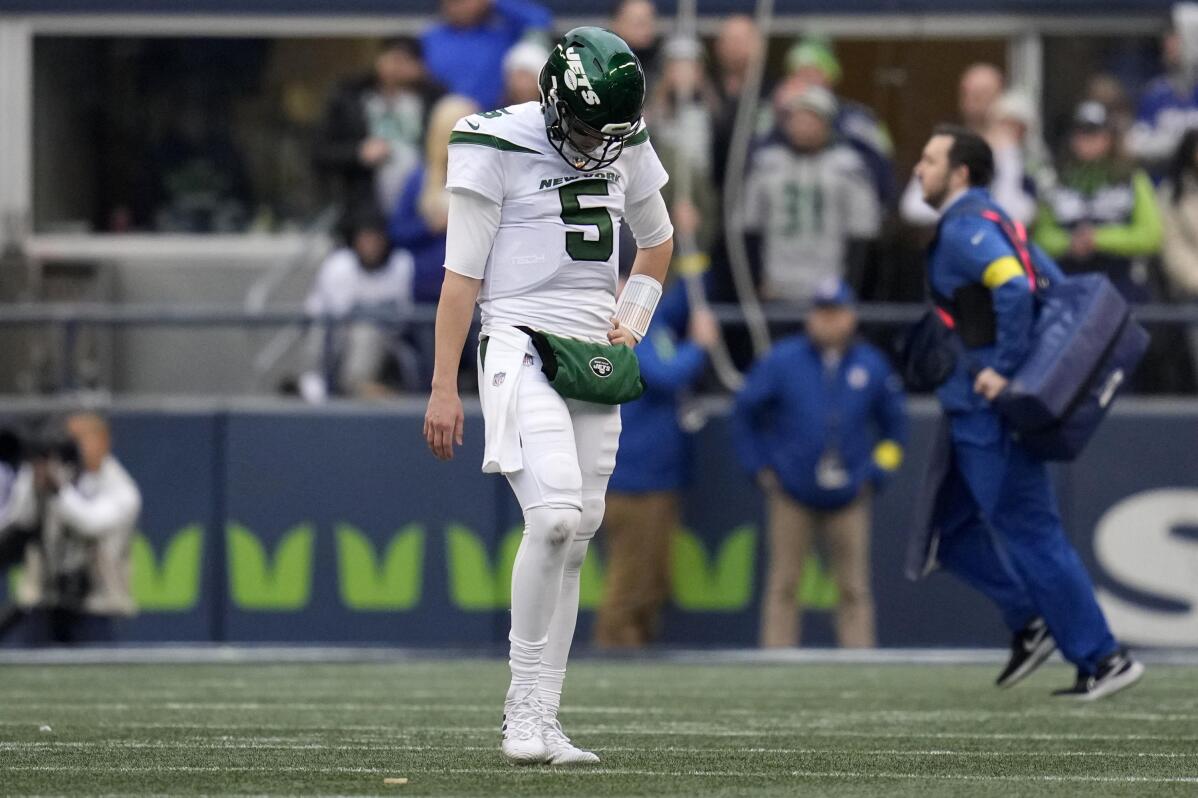 2 of 2

|
New York Jets quarterback Mike White (5) walks toward his bench at the end of the first half of an NFL football game against the Seattle Seahawks, Sunday, Jan. 1, 2023, in Seattle. (AP Photo/Godofredo A. Vásquez)
Flacco to start for Jets in finale vs Dolphins, White out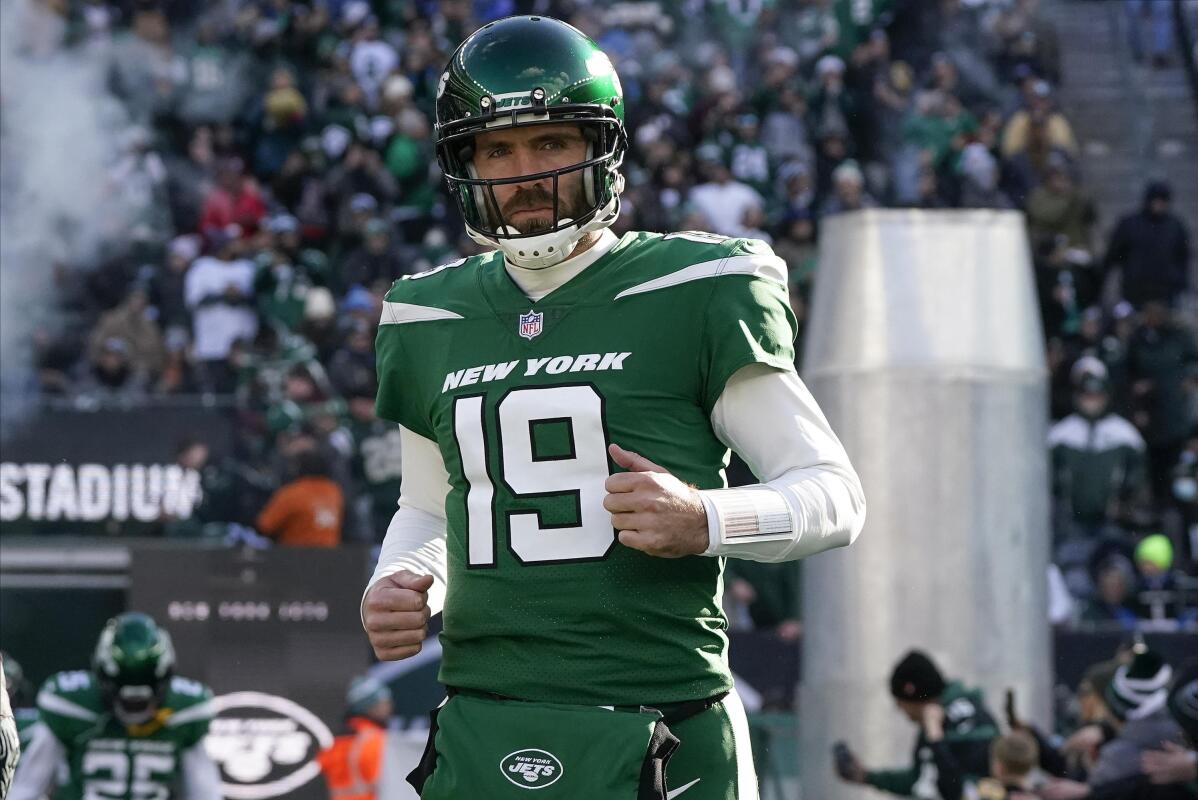 1 of 2

|
FILE - New York Jets quarterback Joe Flacco (19) enters the field before an NFL football game against the Detroit Lions, Sunday, Dec. 18, 2022, in East Rutherford, N.J. Flacco will start at quarterback for the New York Jets on Sunday with Mike White ruled out against the Miami Dolphins with a rib injury. (AP Photo/Bryan Woolston, File)
1 of 2
FILE - New York Jets quarterback Joe Flacco (19) enters the field before an NFL football game against the Detroit Lions, Sunday, Dec. 18, 2022, in East Rutherford, N.J. Flacco will start at quarterback for the New York Jets on Sunday with Mike White ruled out against the Miami Dolphins with a rib injury. (AP Photo/Bryan Woolston, File)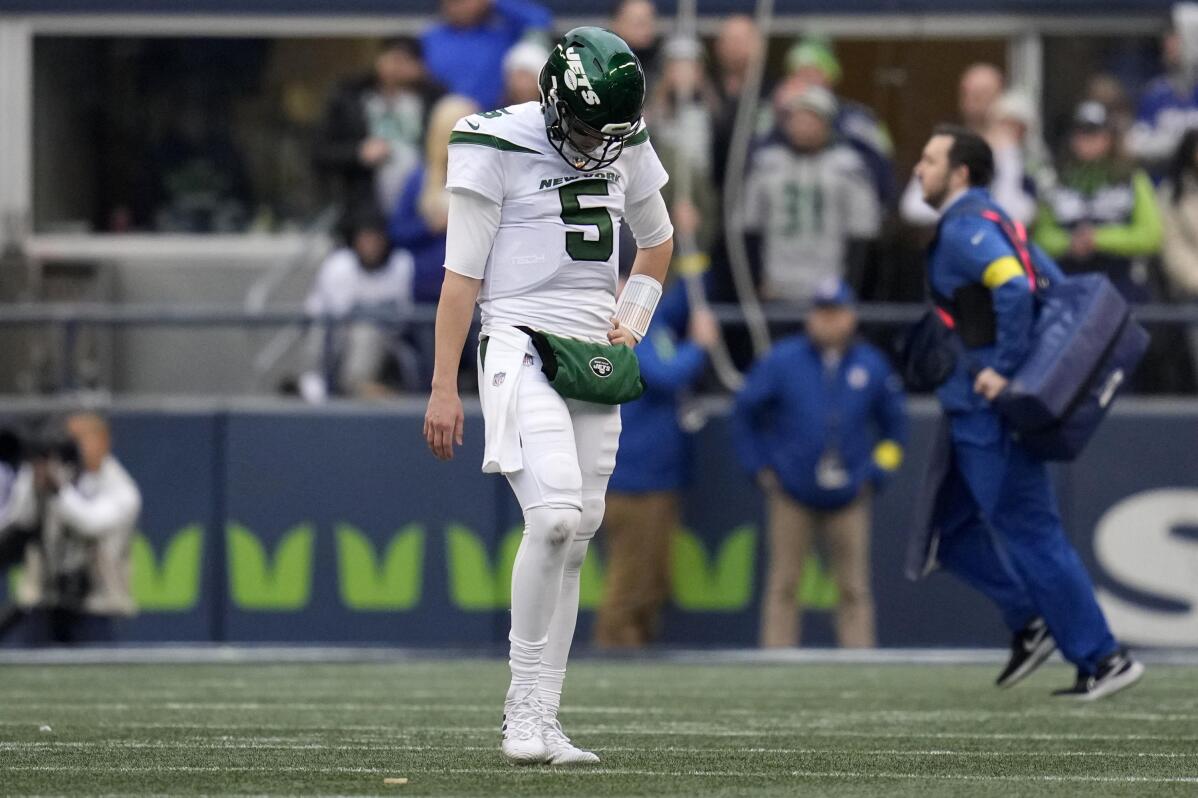 2 of 2

|
New York Jets quarterback Mike White (5) walks toward his bench at the end of the first half of an NFL football game against the Seattle Seahawks, Sunday, Jan. 1, 2023, in Seattle. (AP Photo/Godofredo A. Vásquez)
2 of 2
New York Jets quarterback Mike White (5) walks toward his bench at the end of the first half of an NFL football game against the Seattle Seahawks, Sunday, Jan. 1, 2023, in Seattle. (AP Photo/Godofredo A. Vásquez)
FLORHAM PARK, N.J. (AP) — The New York Jets will have one final quarterback twist in a season filled with them.
Joe Flacco will start Sunday against the Miami Dolphins with Mike White ruled out after aggravating his rib injury. Zach Wilson will serve as Flacco's backup.
"He's just in a lot of pain," coach Robert Saleh said Friday of White.
White revealed Friday he "technically" has five broken ribs, although doctors said one appeared to be a previous injury of which he was unaware.
"I just can't do what I want to be able to do out there," White said. "The guys don't deserve that. Guys deserve someone who can go out and play full."
White returned last Sunday after missing two games with the broken ribs, but was mostly ineffective in New York's 23-6 loss at Seattle. Saleh said White's ribs "really bothered him" after he took a sack on the last play of the first half. White finished 23 of 46 with no touchdowns and two interceptions.
White was estimated as a full participant at Wednesday's walkthrough practice. But he was limited during the full practice Thursday.
"He just wasn't feeling right," Saleh said.
White said when he woke up Monday, "that's when I said, 'OK, this feels different.'" He rested the rest of that day and Tuesday, tossed the ball around Wednesday, but "didn't feel the greatest."
White said doctors explained to him that the ribs simply need time to heal and won't require surgery in the offseason.
"There's only so much you can do for broken bones besides drink milk and all that good stuff," White said, with a laugh. "So I'll definitely be drinking my milk and taking my calcium pills."
It's the Jets' fifth quarterback change during the regular season because of injuries or poor play.
Flacco, who turns 38 on Jan. 16, started the first three games this season in place of an injured Wilson. He went 91 of 155 for 901 yards and five touchdowns — including four against Cleveland in Week 2 — with three interceptions.
His most recent appearance came at Buffalo on Dec. 11 when he filled in briefly for the injured White, who suffered broken ribs. White was twice forced out of the game after taking big hits, was cleared to return both times to the 20-12 loss, but then missed the next two games.
"Any time you get a chance to lace 'em up and you know you're going to be out there to begin the game and give it a go, it's very exciting," Flacco said. "A lot of emotions go through your body."
Despite starting just three games, Flacco needs two TD passes Sunday to surpass Wilson as the Jets' leader this season.
"He's just been a professional through all the chaos of the season," Saleh said of Flacco. "I really respect him and what he stands for. Joe's like a Ford pickup truck — you may not appreciate him in September and October and November because there's nothing flashy in his game. But when December and January hit and the weather's kind of (lousy), he's still freakin' rolling."
Wilson, the No. 2 overall pick in 2021, has struggled during his first two NFL seasons and been benched twice this season. Offensive coordinator Mike LaFleur acknowledged Thursday that, in hindsight, Wilson likely would've benefited from sitting behind a veteran to start his rookie season. But he and Saleh have insisted Wilson still has a future with the franchise and the team is committed to developing Wilson.
Still, Saleh decided to start Flacco over Wilson in the season finale with the Jets sitting at 7-9 and having lost five straight with their playoff drought hitting an NFL-worst 12 straight years.
"Call it a coach's decision," Saleh said. "I'm going to stay firm with him and make sure he gets to attack this offseason. I just want to get him to the offseason so we can start and attack the plan that we've been building.
"Putting him out there right now, it's not going to do him any good. It's not going to do anyone any good. For him, for Zach, it's all about '23."
NOTES: Saleh ruled out LT Duane Brown (shoulder) and RT George Fant (knee) for the game. Mike Remmers could take Brown's spot and Cedric Ogbuehi could fill in for Fant. "The wheels fell off," Saleh said of Brown and Fant, who both played through their injuries all season. "Duane, I'm surprised he made it this far," Saleh said. "He could've called it quits after training camp. ... With George, he's been battling on one leg all year." ... G Nate Herbig (calf), CB Brandin Echols (quadriceps) and S Lamarcus Joyner (hip) will all be out. ... OL Laurent Duvernay-Tardif (knee) will be a game-time decision.
____
AP NFL: https://apnews.com/hub/nfl and https://twitter.com/AP_NFL