Marlins rally in 7th for 3-1 win to salvage series finale against Reds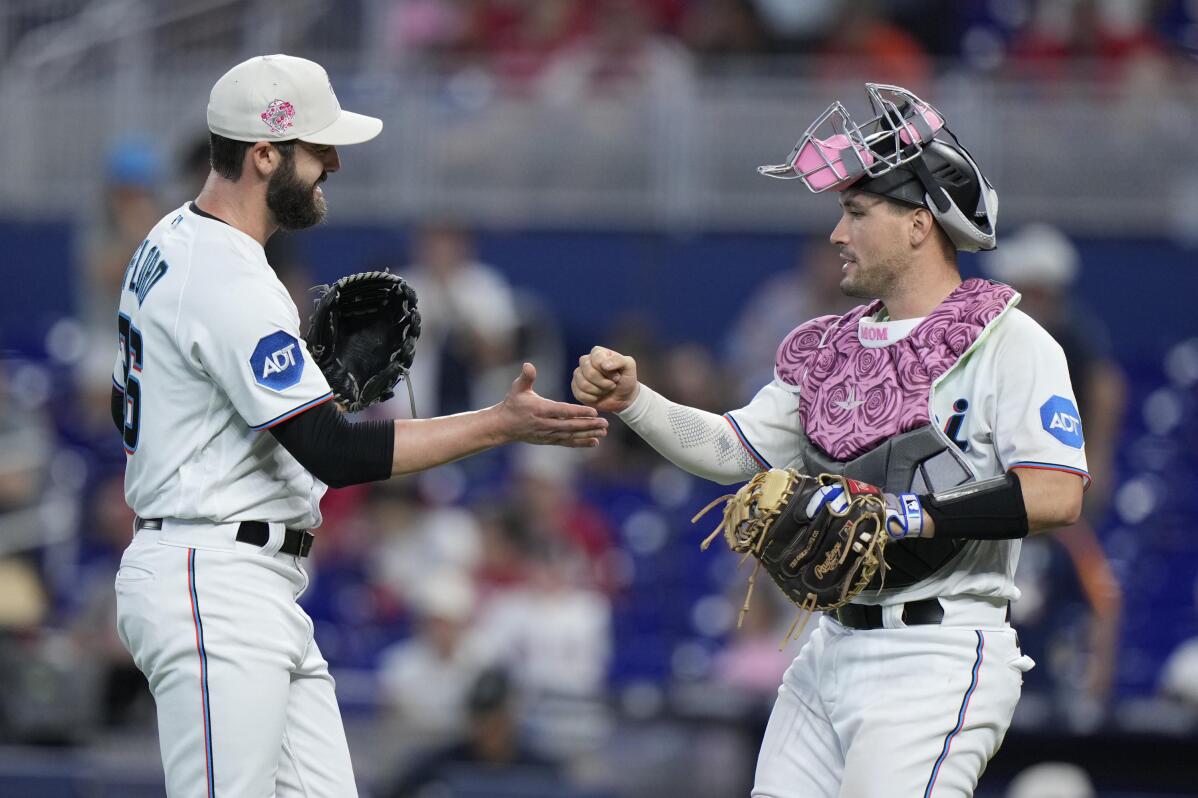 1 of 4

|
Miami Marlins relief pitcher Dylan Floro, left, and catcher Nick Fortes congratulate each other after the Marlins beat the Cincinnati Reds 3-1during a baseball game, Sunday, May 14, 2023, in Miami. (AP Photo/Wilfredo Lee)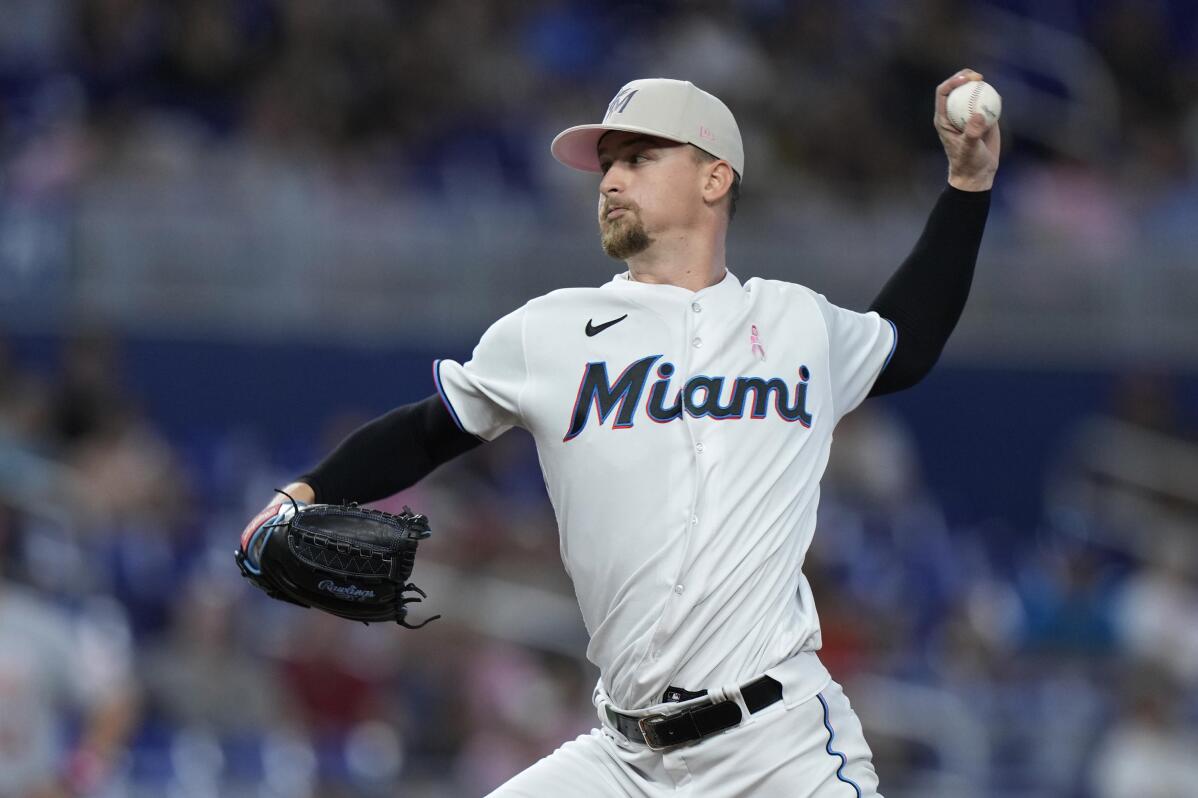 2 of 4

|
Miami Marlins' Braxton Garrett delivers a pitch during the first inning of a baseball game against the Cincinnati Reds, Sunday, May 14, 2023, in Miami. (AP Photo/Wilfredo Lee)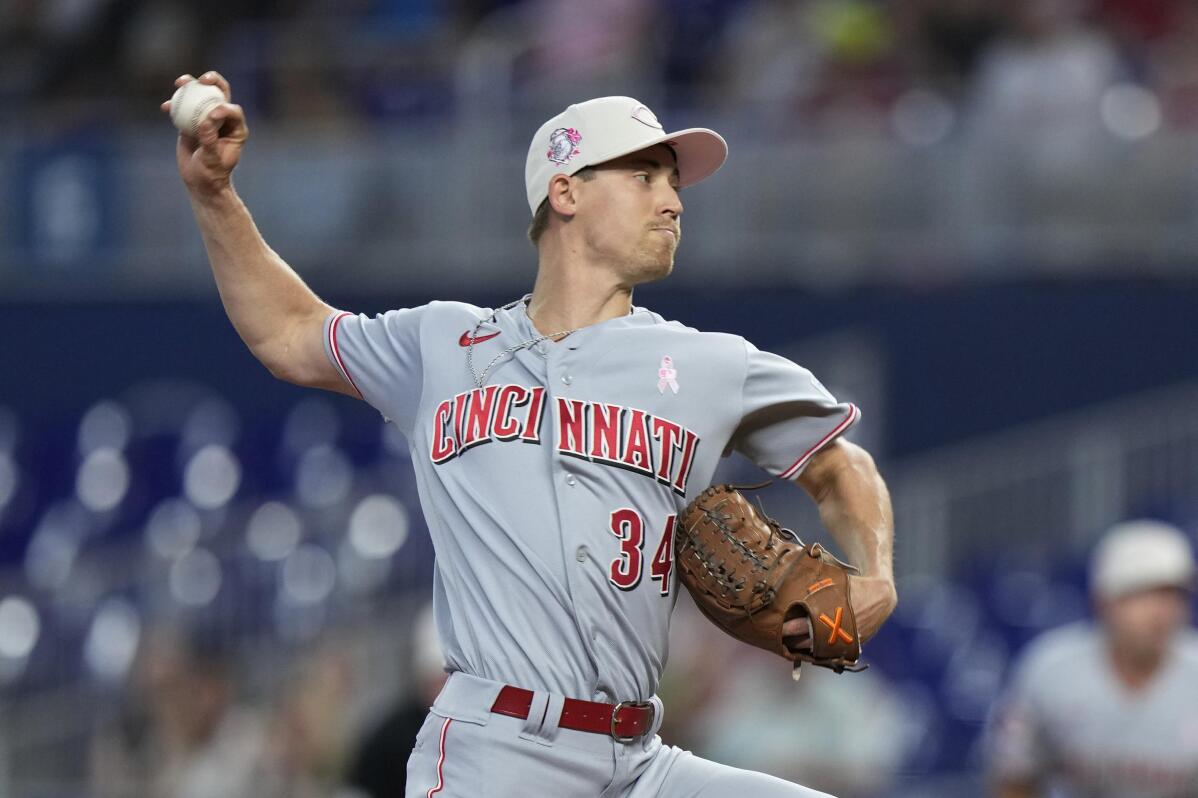 3 of 4

|
Cincinnati Reds' Luke Weaver delivers a pitch during the first inning of a baseball game against the Miami Marlins, Sunday, May 14, 2023, in Miami. (AP Photo/Wilfredo Lee)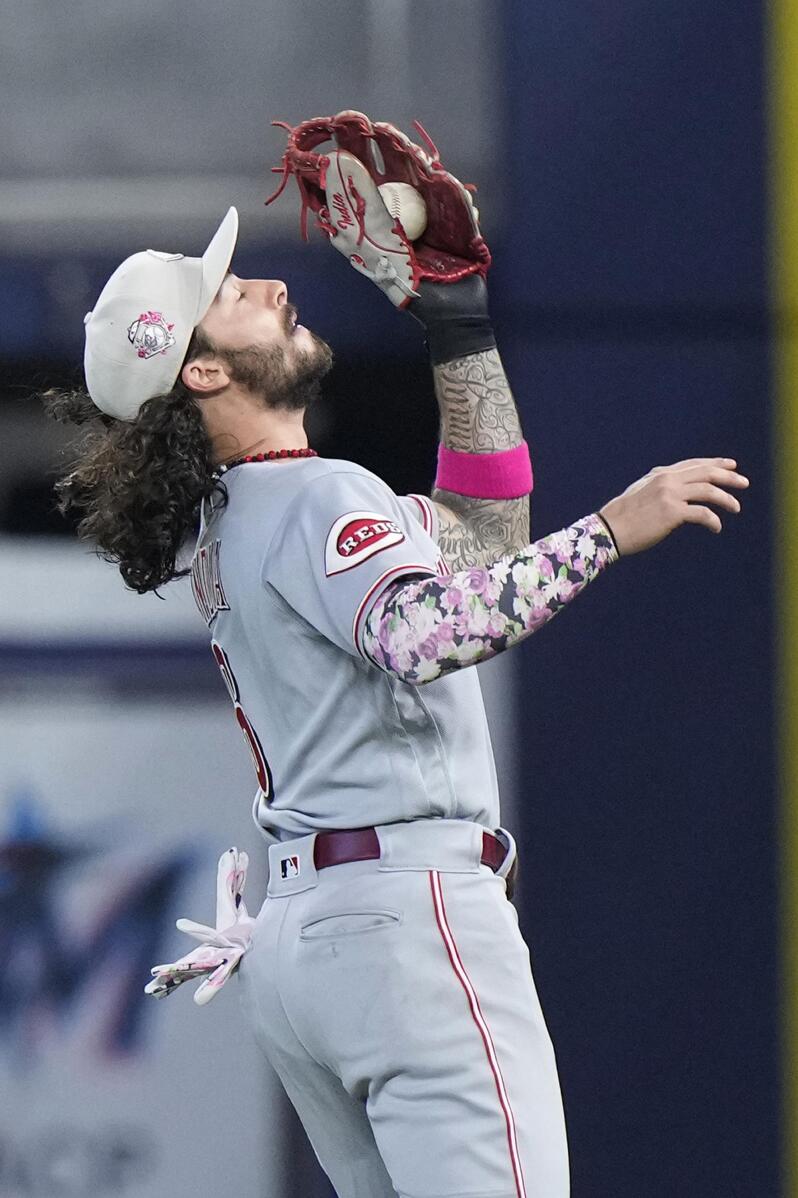 4 of 4

|
Cincinnati Reds second baseman Jonathan India catches a ball hit by Miami Marlins' Jon Berti during the eighth inning of a baseball game, Sunday, May 14, 2023, in Miami. (AP Photo/Wilfredo Lee)
Marlins rally in 7th for 3-1 win to salvage series finale against Reds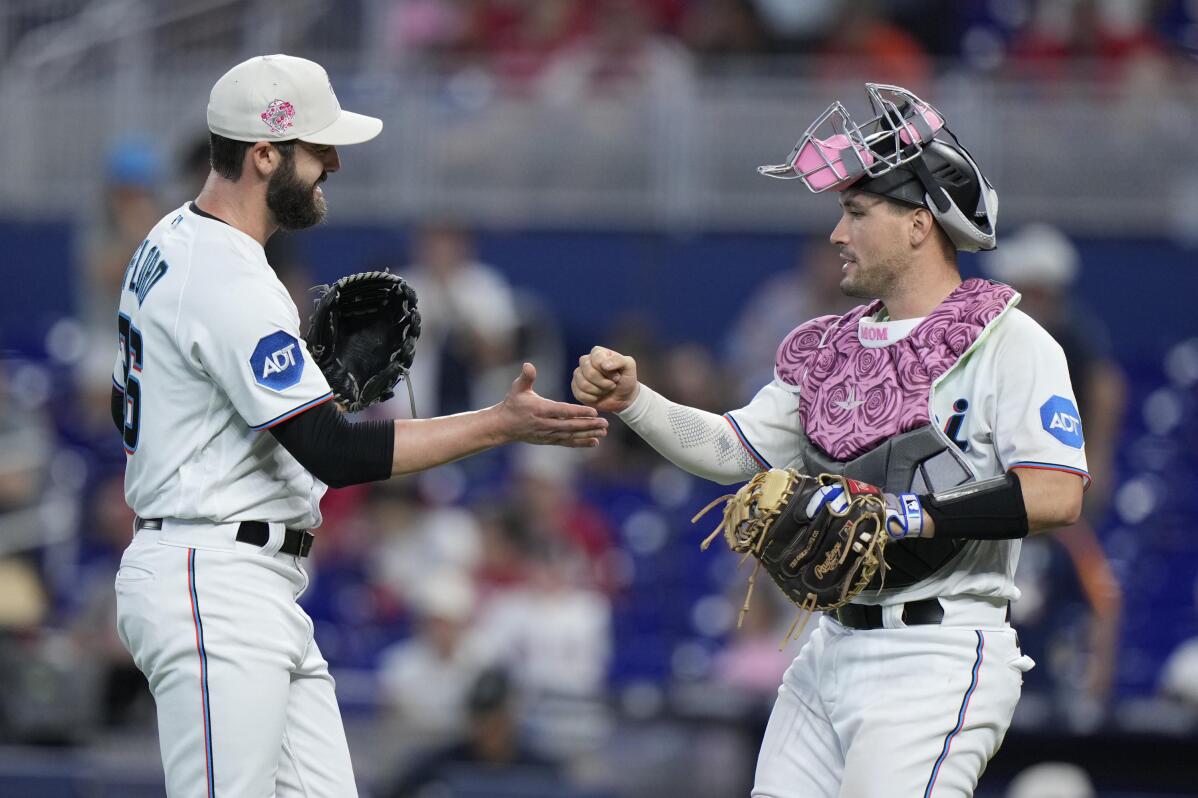 1 of 4

|
Miami Marlins relief pitcher Dylan Floro, left, and catcher Nick Fortes congratulate each other after the Marlins beat the Cincinnati Reds 3-1during a baseball game, Sunday, May 14, 2023, in Miami. (AP Photo/Wilfredo Lee)
1 of 4
Miami Marlins relief pitcher Dylan Floro, left, and catcher Nick Fortes congratulate each other after the Marlins beat the Cincinnati Reds 3-1during a baseball game, Sunday, May 14, 2023, in Miami. (AP Photo/Wilfredo Lee)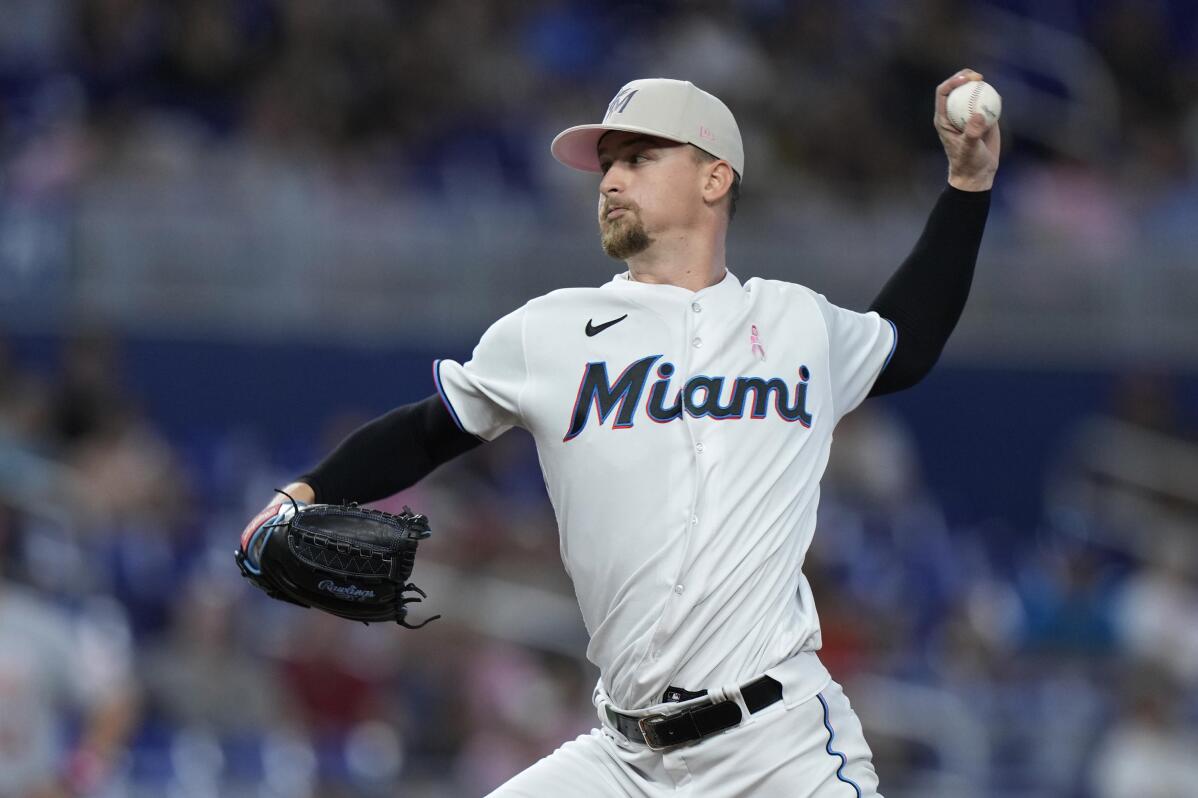 2 of 4

|
Miami Marlins' Braxton Garrett delivers a pitch during the first inning of a baseball game against the Cincinnati Reds, Sunday, May 14, 2023, in Miami. (AP Photo/Wilfredo Lee)
2 of 4
Miami Marlins' Braxton Garrett delivers a pitch during the first inning of a baseball game against the Cincinnati Reds, Sunday, May 14, 2023, in Miami. (AP Photo/Wilfredo Lee)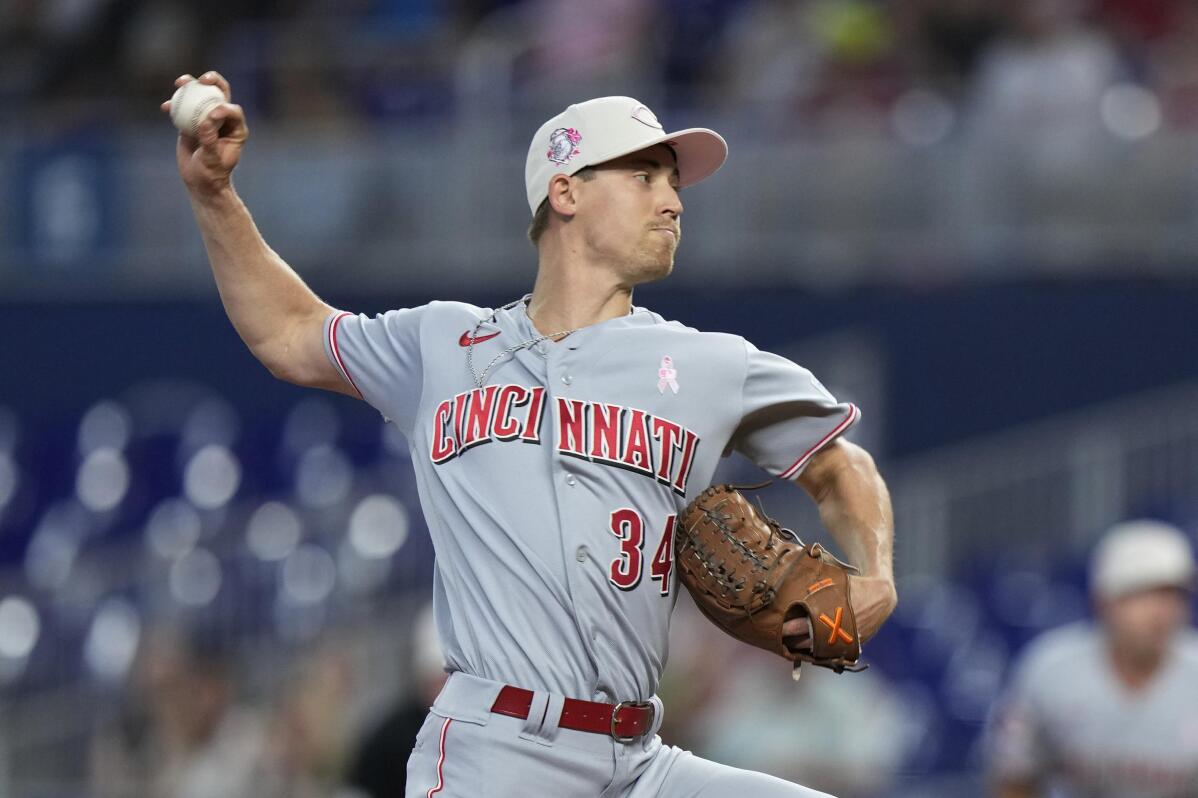 3 of 4

|
Cincinnati Reds' Luke Weaver delivers a pitch during the first inning of a baseball game against the Miami Marlins, Sunday, May 14, 2023, in Miami. (AP Photo/Wilfredo Lee)
3 of 4
Cincinnati Reds' Luke Weaver delivers a pitch during the first inning of a baseball game against the Miami Marlins, Sunday, May 14, 2023, in Miami. (AP Photo/Wilfredo Lee)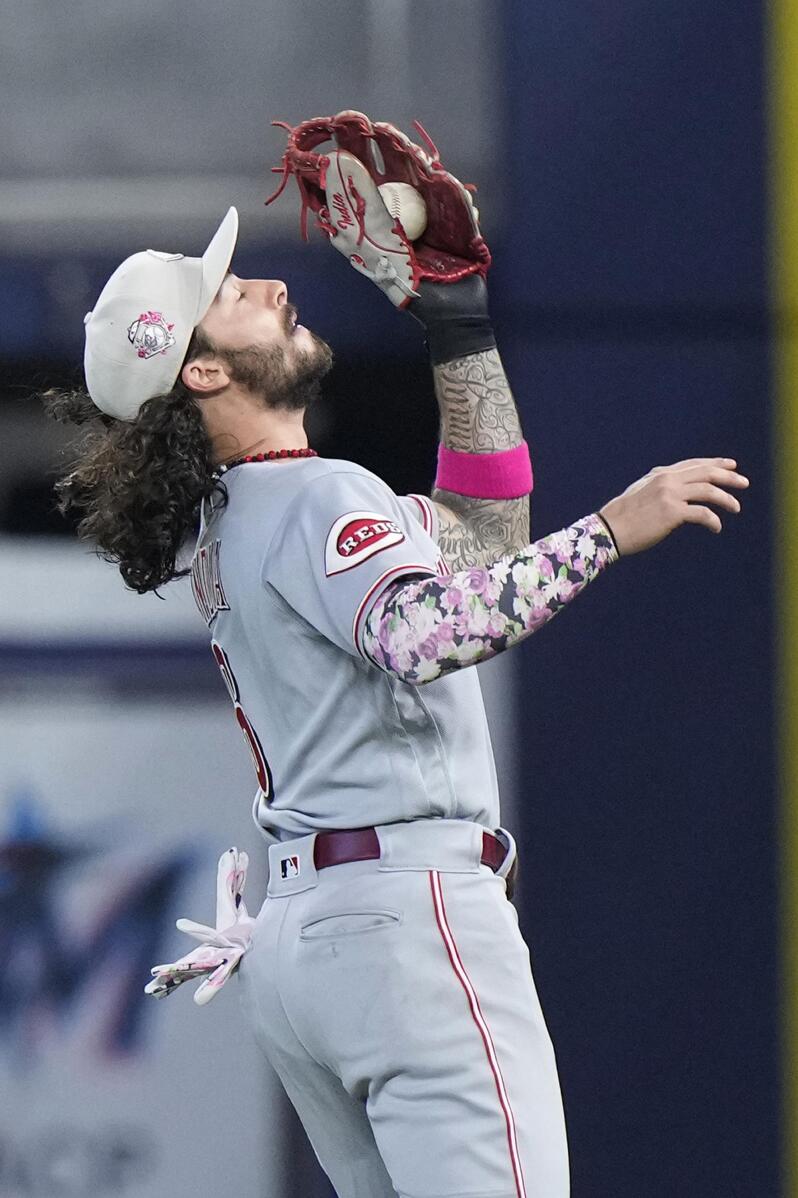 4 of 4

|
Cincinnati Reds second baseman Jonathan India catches a ball hit by Miami Marlins' Jon Berti during the eighth inning of a baseball game, Sunday, May 14, 2023, in Miami. (AP Photo/Wilfredo Lee)
4 of 4
Cincinnati Reds second baseman Jonathan India catches a ball hit by Miami Marlins' Jon Berti during the eighth inning of a baseball game, Sunday, May 14, 2023, in Miami. (AP Photo/Wilfredo Lee)
MIAMI (AP) — Bryan De La Cruz doubled twice and singled and the Miami Marlins avoided a three-game sweep against Cincinnati with a 3-1 win over the Reds on Sunday.
Activated from the injured list earlier Sunday, Garrett Cooper had two hits and drove in a run for the Marlins, who snapped a five-game home losing skid. Cooper missed 12 games because of an inner ear infection.
"It started before I went on the IL and I tried to play through it for about 10 days," Cooper said. "It kind of got to a point where you are not seeing pitches at the plate, it's better to take some time off, take some medicine and get back to feeling yourself because this game is hard as it is. You can't see the ball at the plate, it makes it even harder."
Cooper's RBI double and De La Cruz's run-scoring single in the seventh broke a 1-1 tie. Garrett Hampson doubled against Kevin Herget (1-1) to lead off the inning and scored on Cooper's one-out line drive.
Luis Arraez singled and Jorge Soler was intentionally walked to load the bases before De La Cruz singled to score Cooper.
"It's nice to have Cooper back in the lineup," Marlins manager Skip Schumaker said. "He's a big presence, does damage. He had the big blow. Up and down the lineup, I thought we had good at-bats."
Tanner Scott (3-1) pitched a scoreless seventh and Huascar Brazoban got two outs in the eighth around a walk and single. Steven Okert retired Jake Fraley on a fly out to end Cincinnati's threat.
Dylan Floro closed with a scoreless ninth for his second save.
The Reds stranded eight and were 0-for-9 with runners in scoring position.
"That's always a key to the game for sure," Cincinnati manager David Bell said. "I still liked the at-bats we're having. I love the way our team is playing."
The game was scoreless through the first five innings until the Reds broke through on Tyler Stephenson's RBI groundout with the bases loaded in the sixth. Jonathan India reached on a leadoff walk and Nick Senzel then singled, ending Marlins starter Braxton Garrett's outing.
Bryan Hoeing relieved Garrett and walked Spencer Steer before Stephenson hit a soft check-swing grounder fielded by Cooper near the first base line that allowed India to score from third.
Garrett allowed one run, three hits and struck out eight in five innings.
Benefiting from a cut fastball he started using two weeks ago, Garrett had six of his strikeouts in the first two innings.
"I take pride in making adjustments and try to get better always," Garrett said. "I harp on it — I don't have the stuff that some of our guys have. I just feel I have to be adaptable and learn how to get guys out different ways."
The Marlins tied it in the bottom of the sixth and chased Reds starter Luke Weaver on De La Cruz's one-out double and Jean Segura's run-scoring single.
Weaver gave up one run, seven hits, walked one and struck out six in 5 1/3 innings.
ROSTER MOVES
The Reds recalled Herget and selected the contracts of RHP Alan Busenitz and RHP Silvino Bracho from Triple-A Louisville and optioned RHP Levi Stoudt to the same minor league club. LHP Nick Lodolo (left calf tendinosis) and RHP Casey Legumina (right ankle contusion) were placed on the 15-day injured list.
The Marlins placed OF Jesús Sánchez (right hamstring strain) on the 10-day injured list.
PET DAY AT THE PARK
The Marlins featured another "Bark in the Park" promotion Sunday. In addition to the announced crowd of 11,216 there were 202 dogs accompanied by their owners.
TRAINER'S ROOM
Reds: LHP Reiver Sanmartin (left elbow stress reaction) and RHP Connor Overton (right elbow strain) were transferred to the 60-day injured list. OF TJ Friedl (left oblique soreness) sat out the series.
Marlins: LHP A.J. Puk (left elbow nerve irritation) was placed on the 15-day injured list. OF Jazz Chisholm Jr. (right foot contusion) didn't play and will visit a specialist to determine if he could miss additional time.
UP NEXT
Reds: RHP Hunter Greene (0-3, 3.69 ERA) will start the opener of a three-game road set at Colorado on Monday against Rockies RHP Connor Seabold (1-0, 4.56).
Marlins: LHP Jesús Luzardo (3-2, 3.38) will start the opener of a three-game home series against Washington on Tuesday. The Nationals have not announced their starter.
___
AP MLB: https://apnews.com/hub/MLB and https://twitter.com/AP_Sports